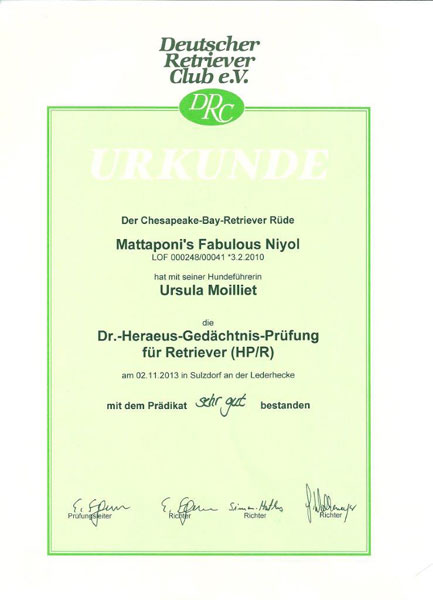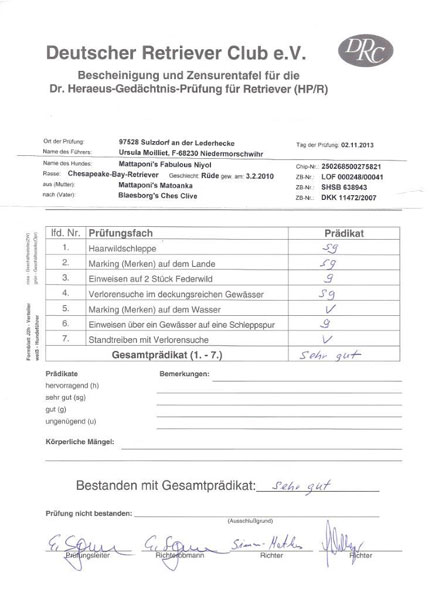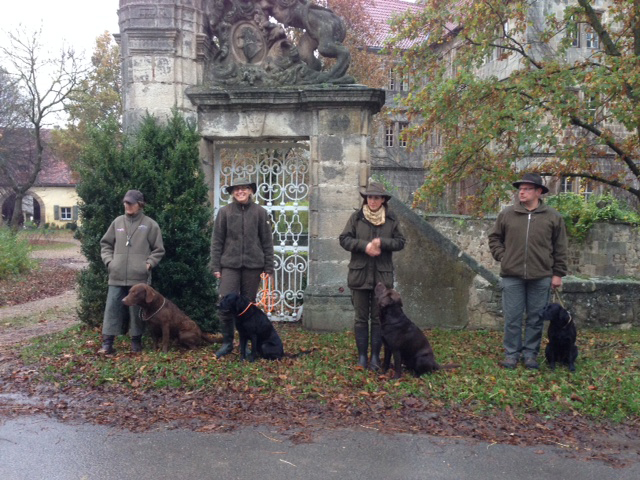 The four teams: me and Niyol, Karin Klein and "Ally", Daniela Peter and "Bones", Jürgen Knab and "Lily"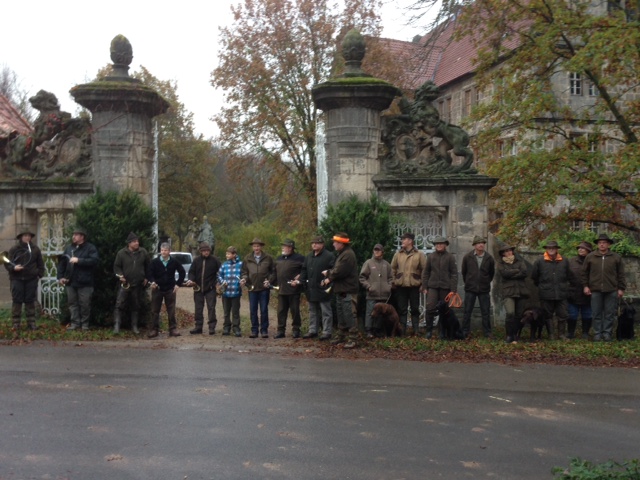 Even the weather was really bad a group of hunting horn blowers bid us welcome, just lovely!
---
CHESAPEAKE WEEKEND PETWORTH (GB) September 28./29. 2013
---
A huge number of Chesapeake's participated in the autumn training and WT weekend organized by the British Chessie Club.
It was a great event, superb training grounds, woods and open fields and the area for the WT was just outstanding.
The tests where set up along, in and over water surrounded by reed. Not an easy terrain but most of the brown dogs did well and you could see only happy faces at the end of the day.
To my surprise Niyol placed 1st. in the Open class beating his mother Mato who placed 2nd.
Many thanks to the organizers Jason, Jacky and Chrissie as well as Mr. Chris Rose who was judging and last but not least to all the helpers and participants for those wonderful, exciting days!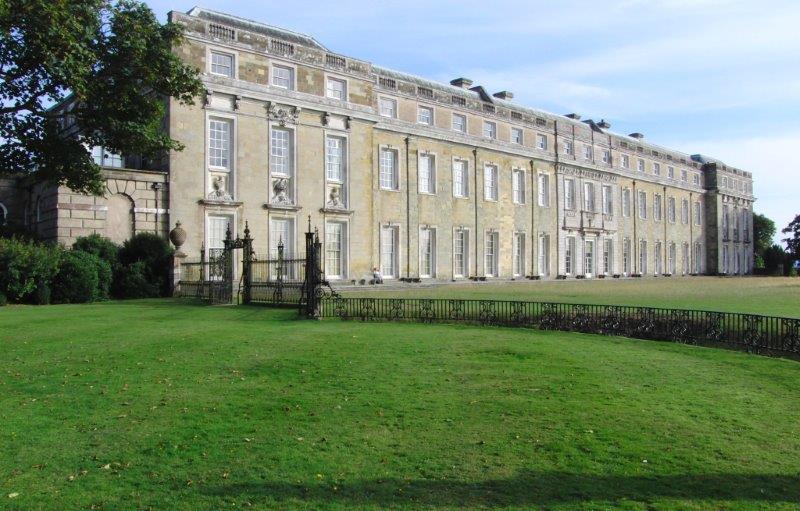 Petworth House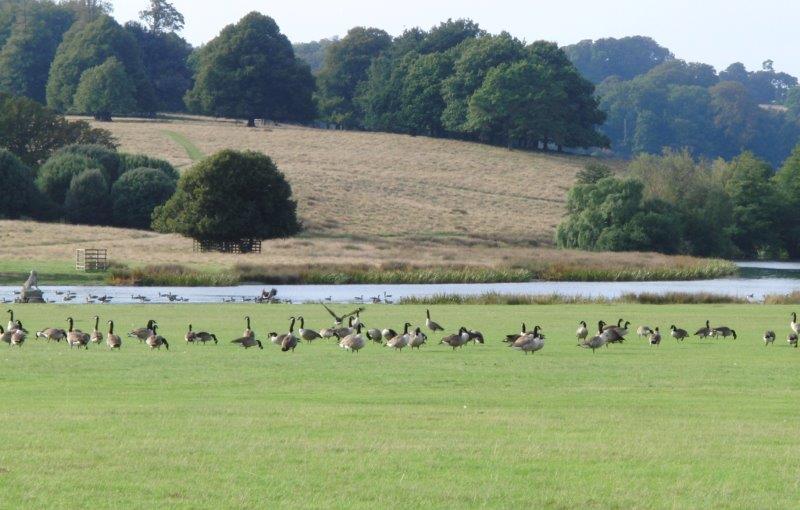 Petworth Park (open to the public)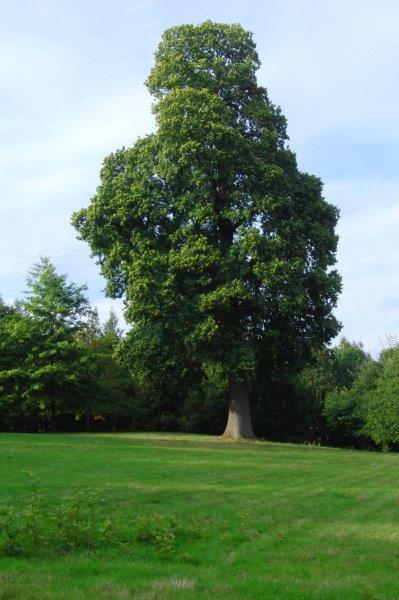 Have you ever seen such a huge chestnut-tree?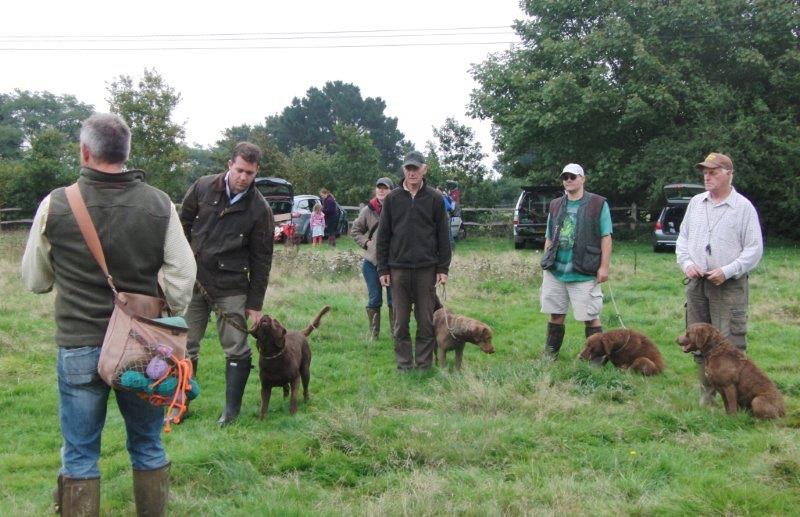 In the morning Jason Mayhew took the beginners, in the afternoon the advanced under his wings and...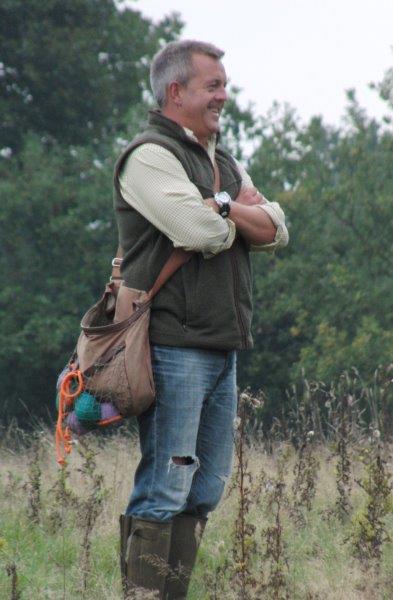 ... he always had a smile on his face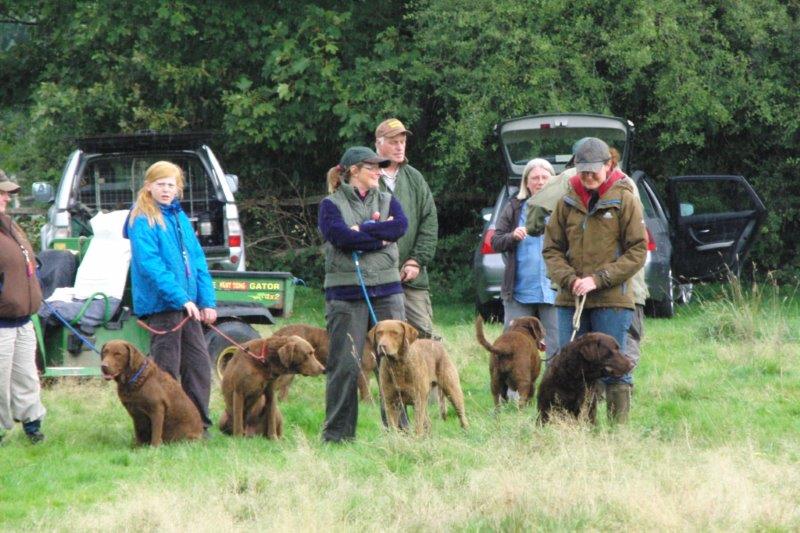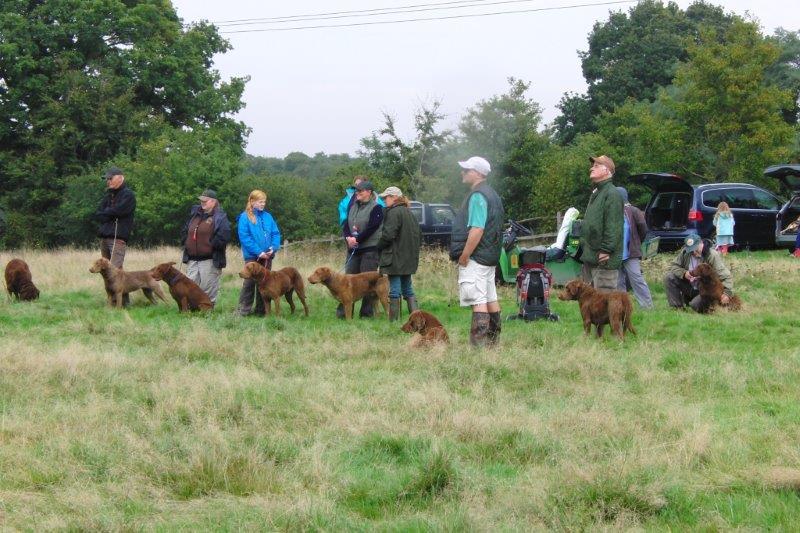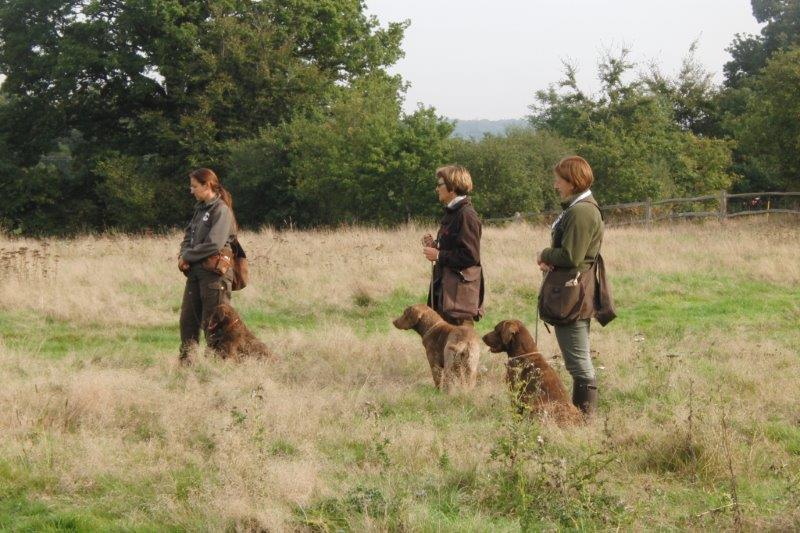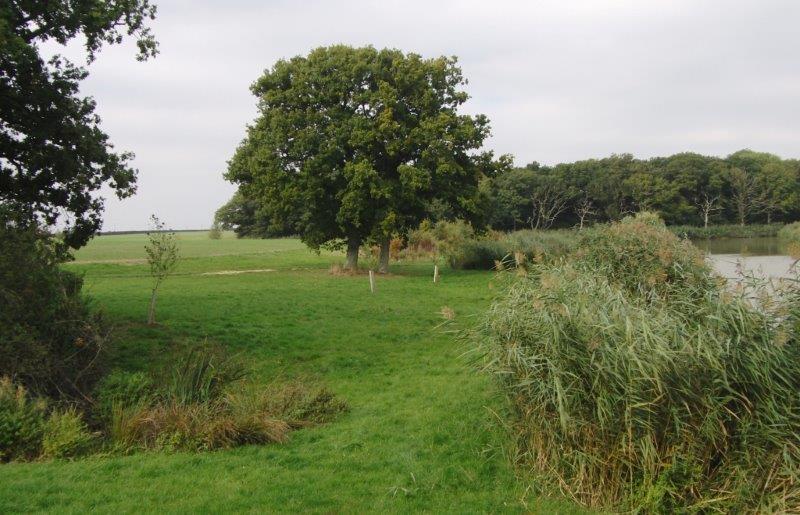 The WT took place on Sunday. The entry: 38 Chesapeake's, wow! The grounds where just fantastic!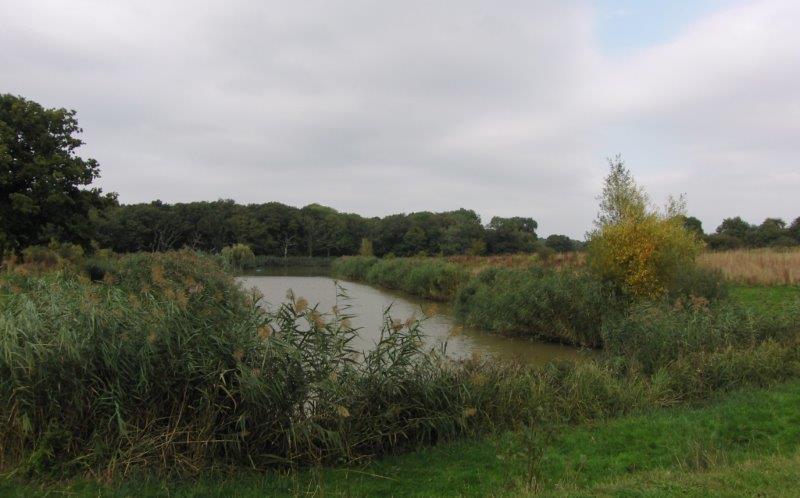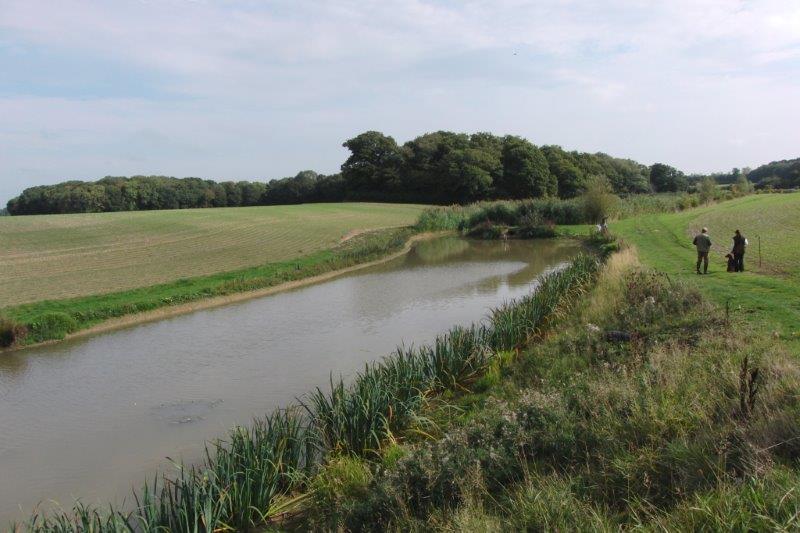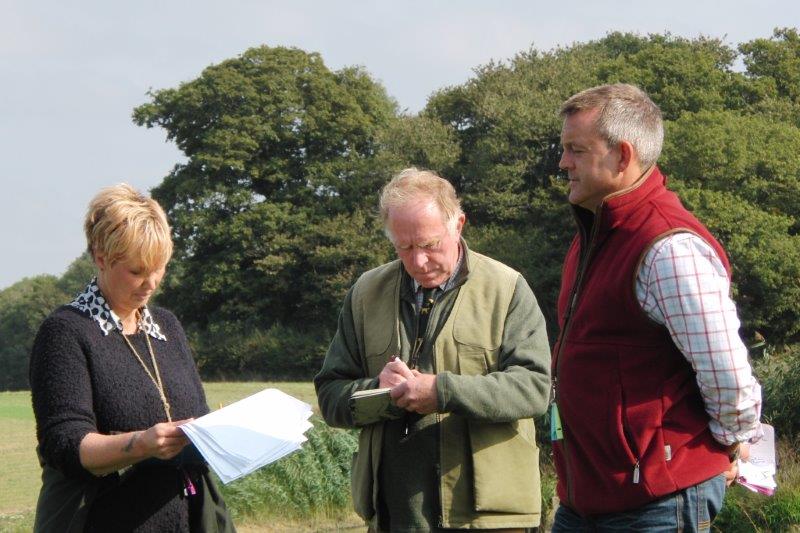 Jacky, the Judge Mr. Chris Rose and Jason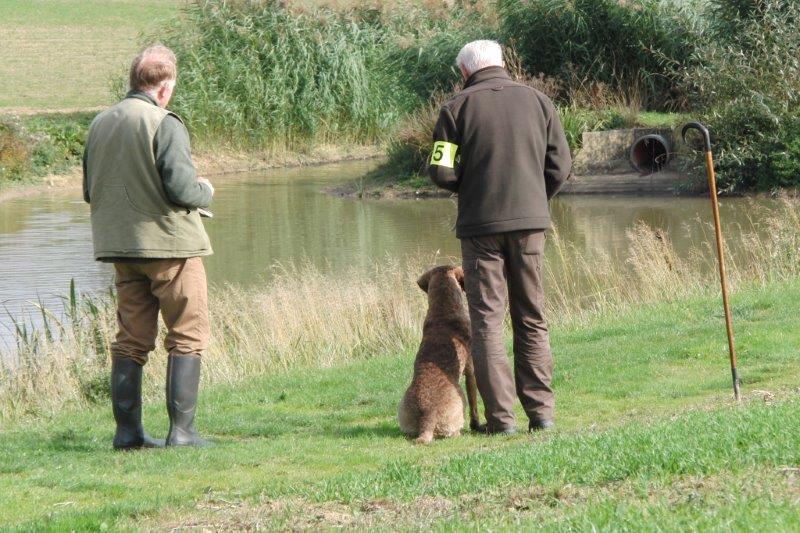 Guy competed with Gleam, they begun well but later on Gleam was running in, she just couldn't resist the water anymore... :(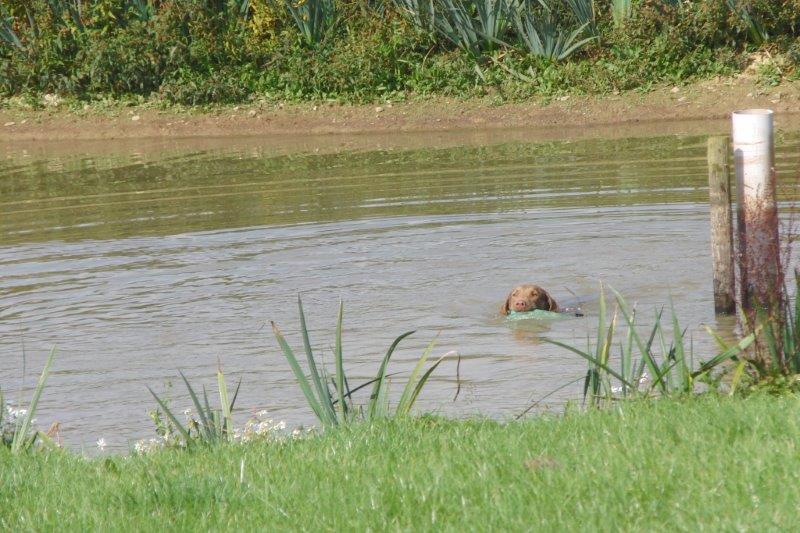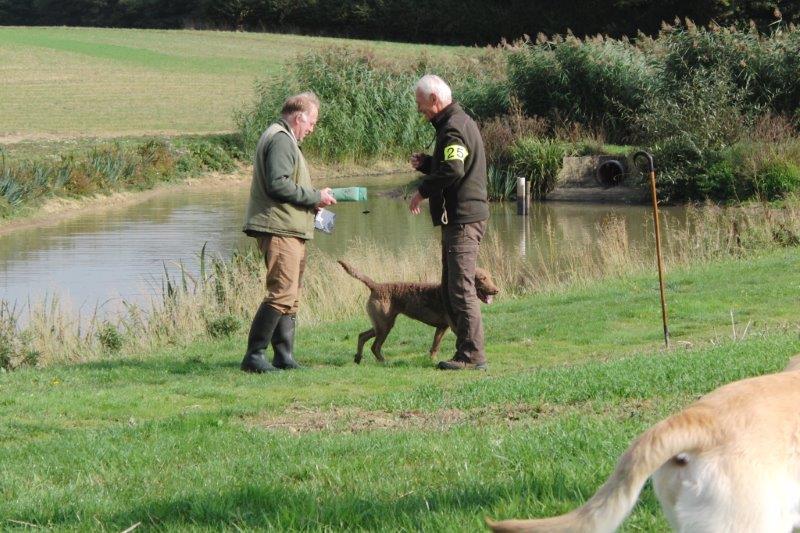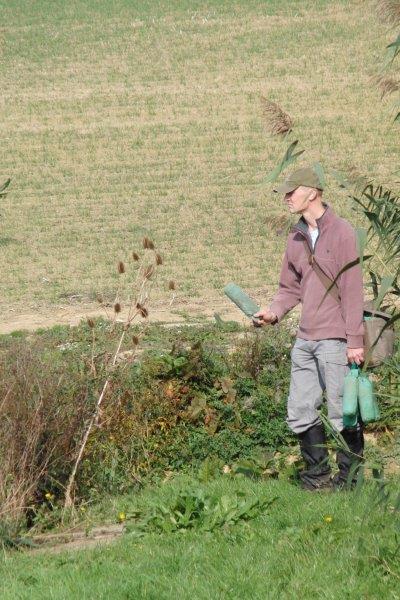 One of the indefatigable helpers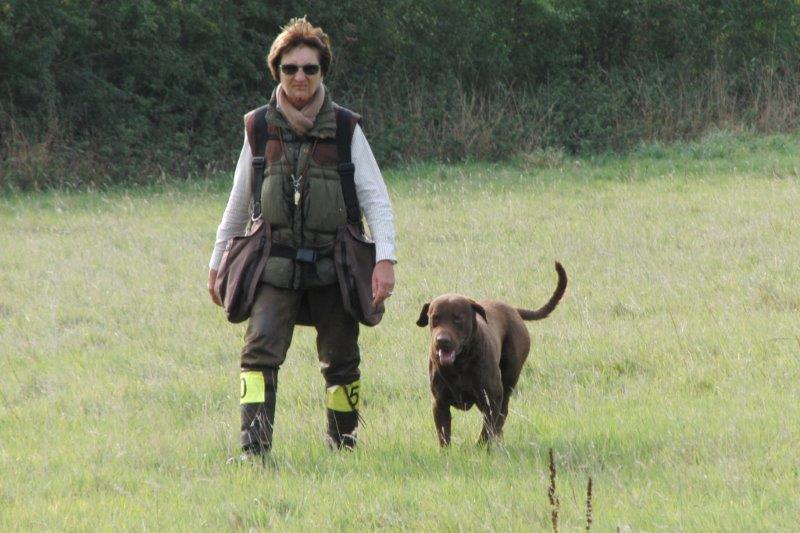 Niyol showed off his best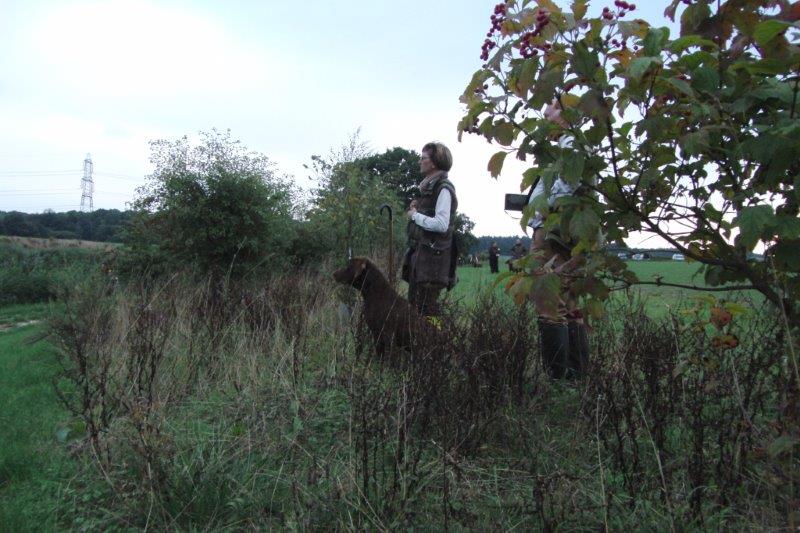 Blind retrieve on the other side of the stream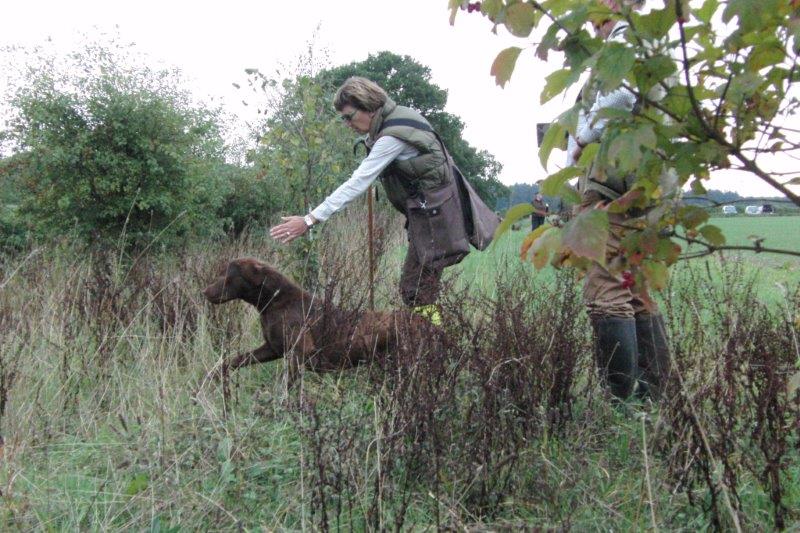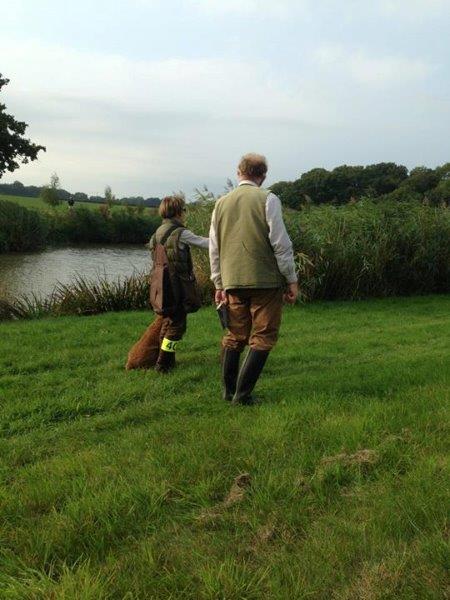 Mato; Mark retrieve along the water but first there was a blind over the water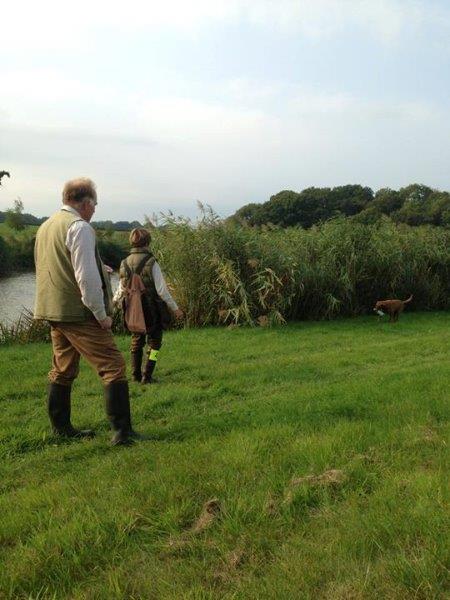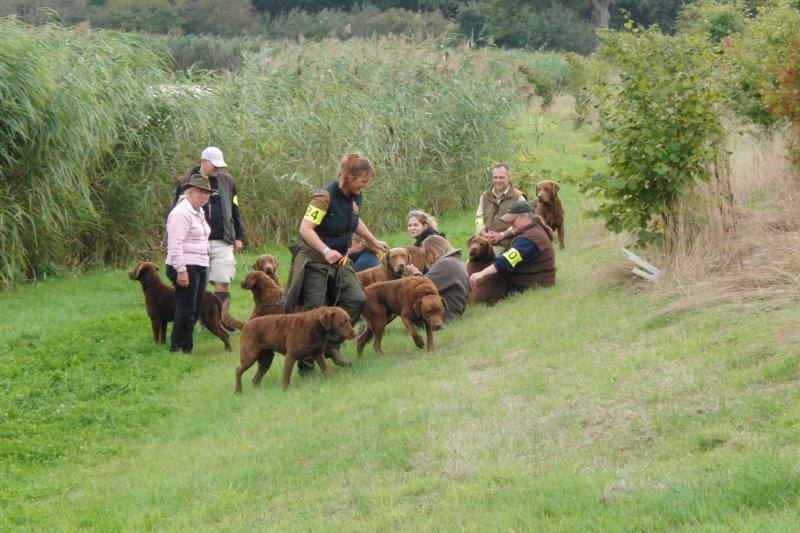 Everybody was in good humour, no matter what happened and this spirit I love about the English!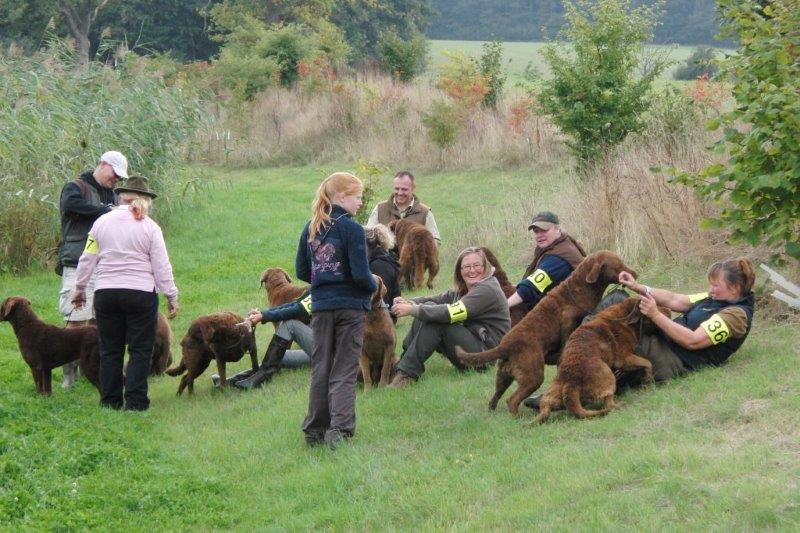 ---
WT SCHAUINSLAND (D) 07. September 2013
Judges: Guy Matter (CH) Ursula Friedrich (D) Petra Beringer (D)
Photos by Claudia Borchert
---
Schauinsland is a mountain in the black forest. It's a hiking, mountain biking and winter sport area close to Freiburg i.B.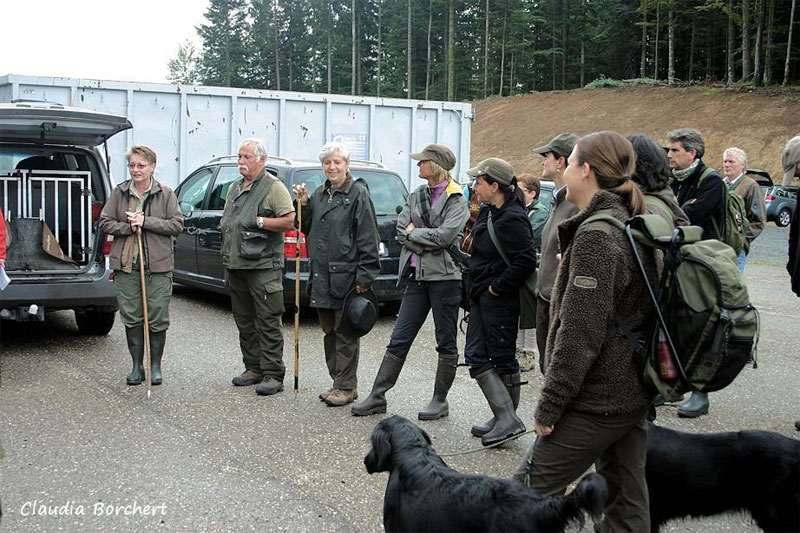 A warm welcome, last instructions and advises by the judges before the moving off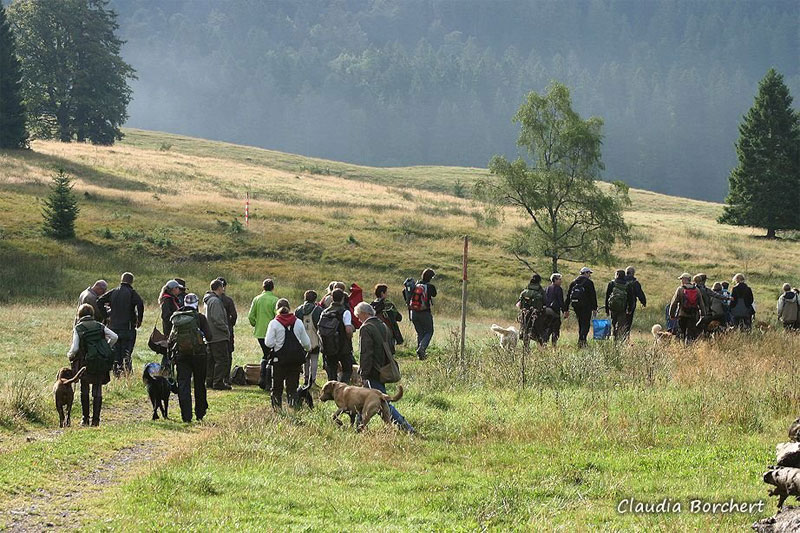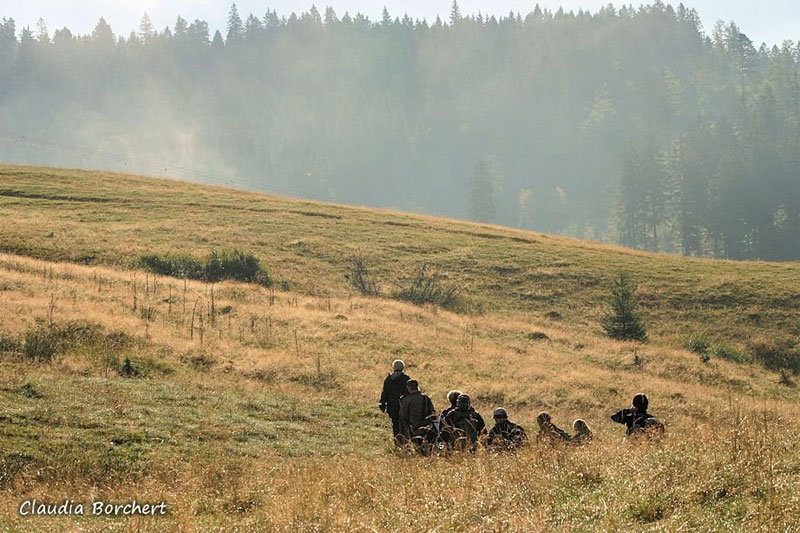 Impressions of the varied country side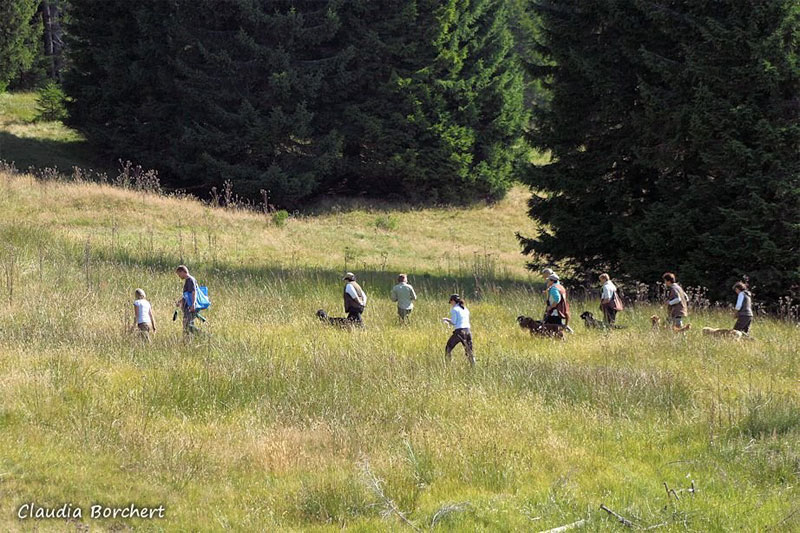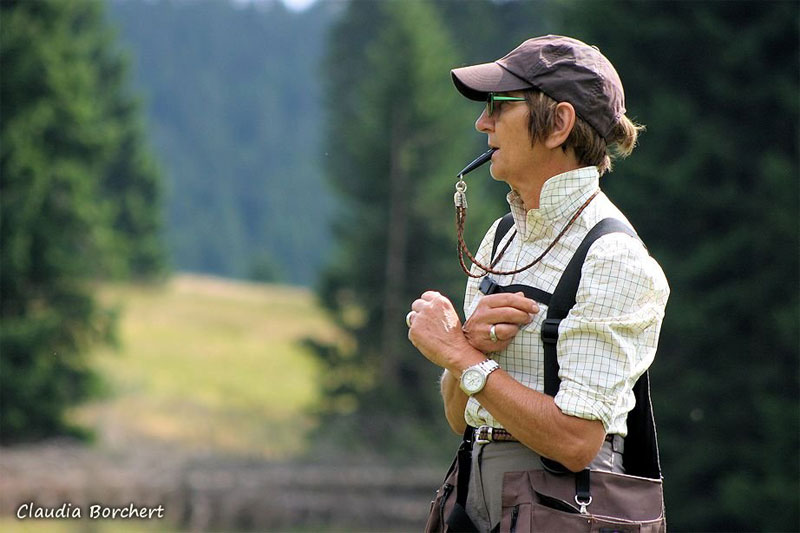 In the early morning it was rather chilly but later on it became a nice sunny day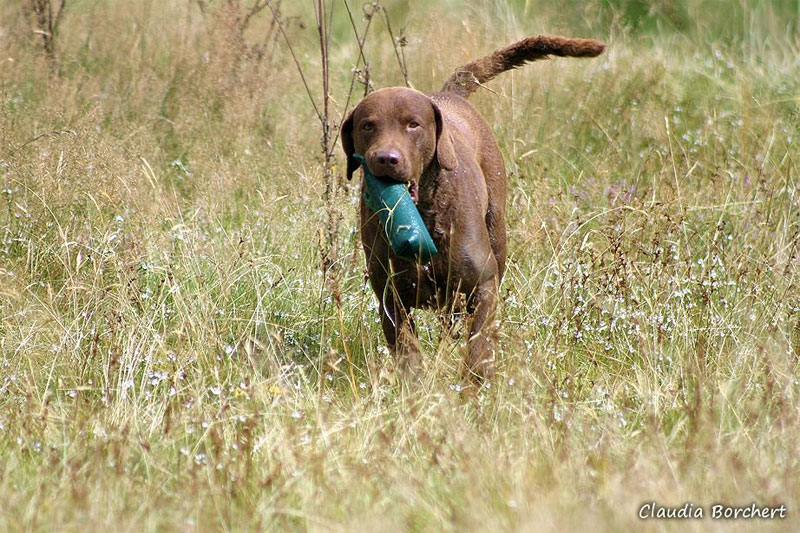 Niyol worked nicely but he lost many points because of sloppy retrieving...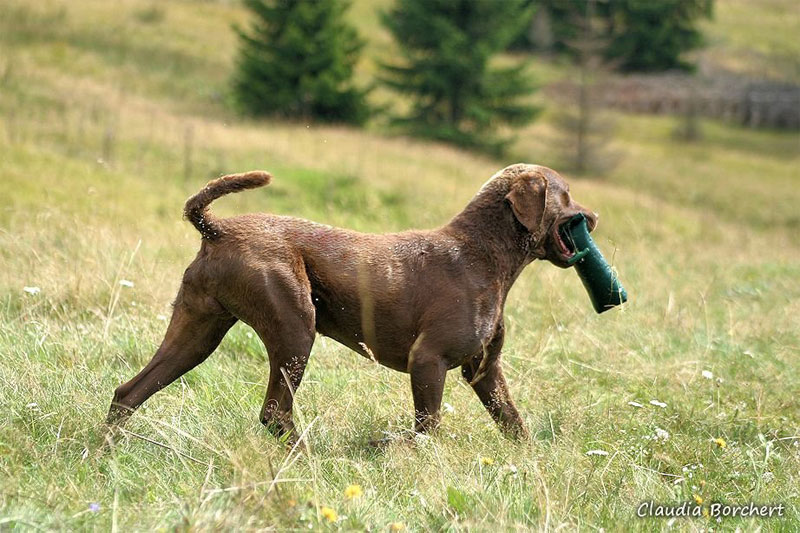 ... he ended up with the qualification "good", he could do much better...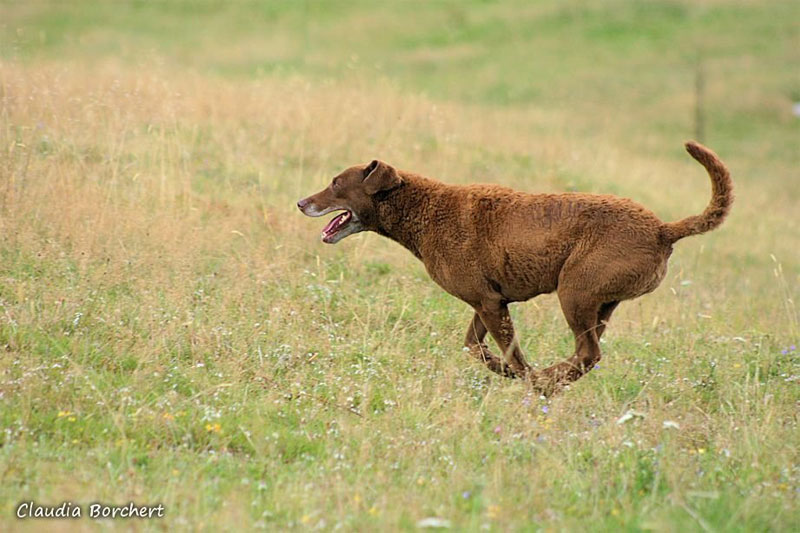 Mato was full motivated but she marked badly, therefore the qualification "good"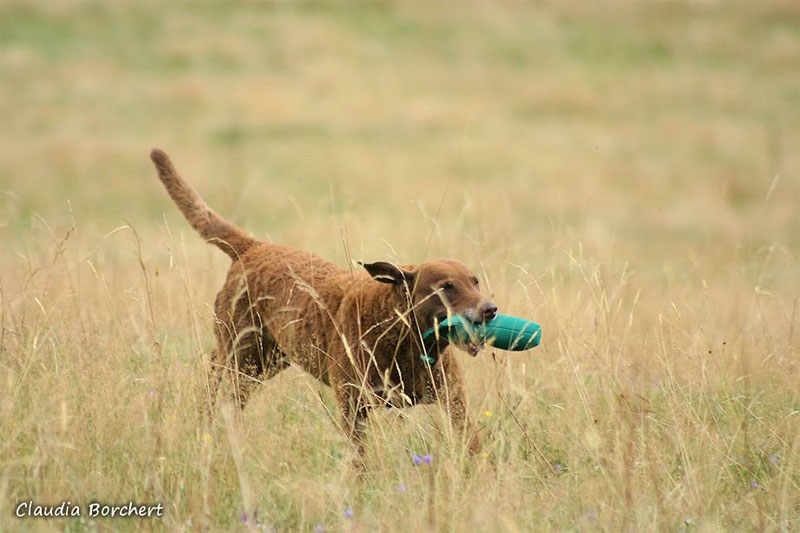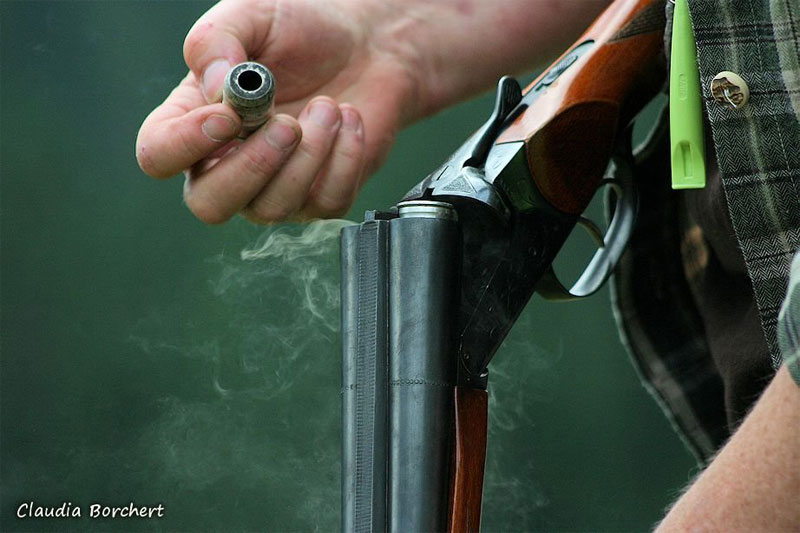 ---
MY DOGS
---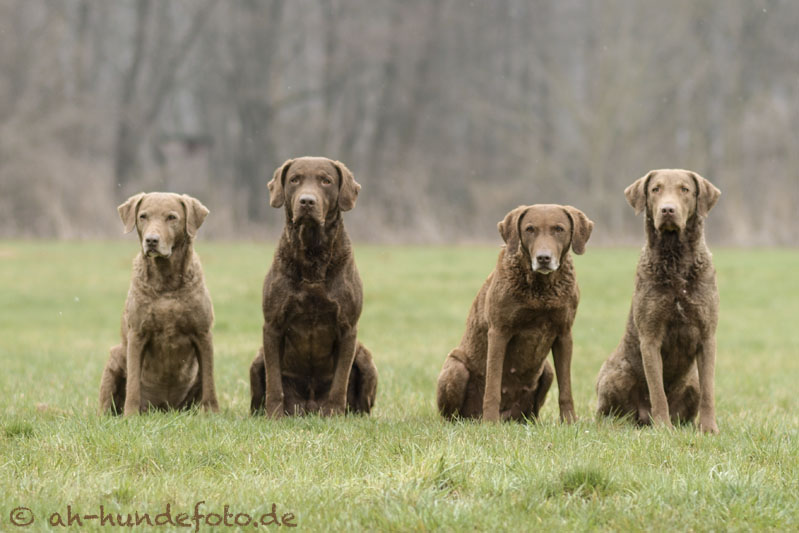 Wakanda, Niyol, Matoanka + Gleam
---
WT AND COLD GAME TRIAL CH-S'CHANF August 17th /18th 2013
Judges: Sue Hutton, Liz Smith, Judy Reiny, Glenys Caldwell all GB and Christine Schirato CH
Photos by Heike Jansky and Andrea Feist
---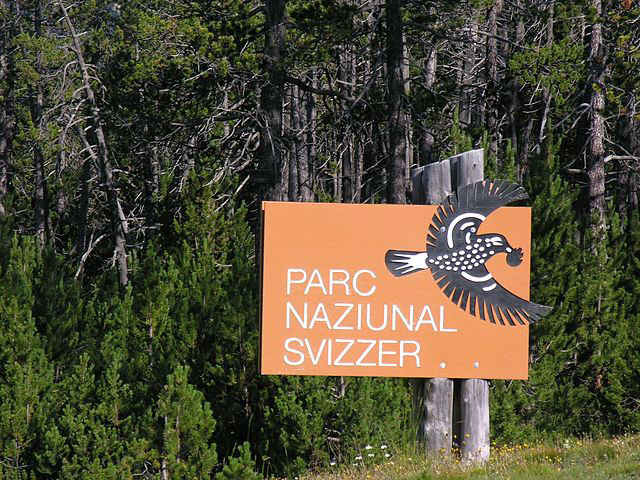 Two wonderful days in the Swiss National Park.
On Saturday there was a WT, all classes. On Sunday a Cold Game Trial, for Novice and Open dogs.
Both days ended up successfully for my dogs. Neither top nor flop and once more the spoke highly of my brown ones.
The tests were fair but not at all easy.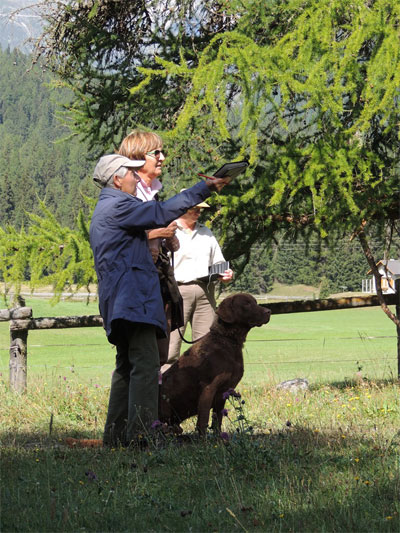 Niyol Cold Game Novice class, test 5, single mark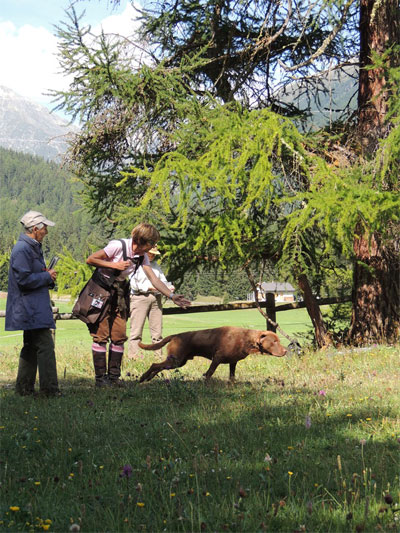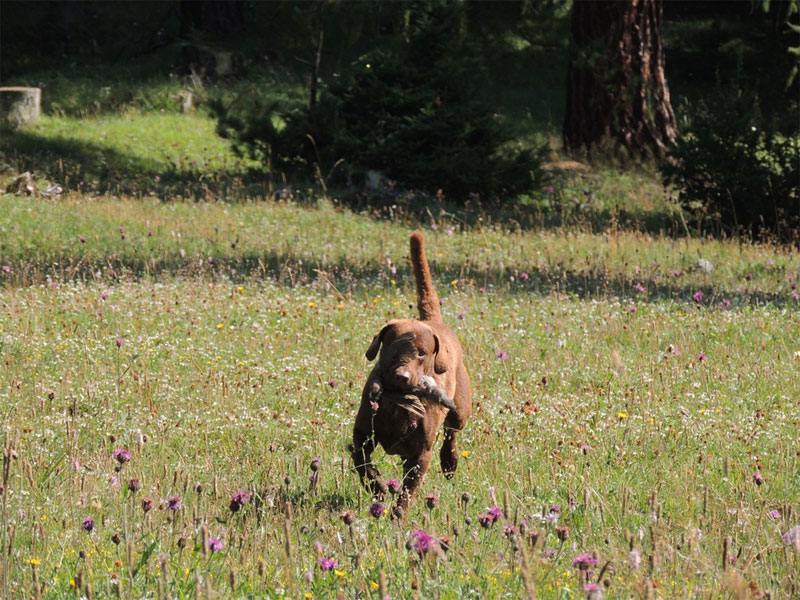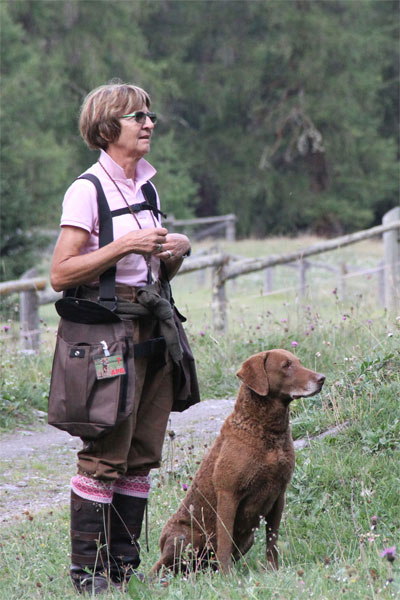 Mato Cold Game Open class, test 2, two blinds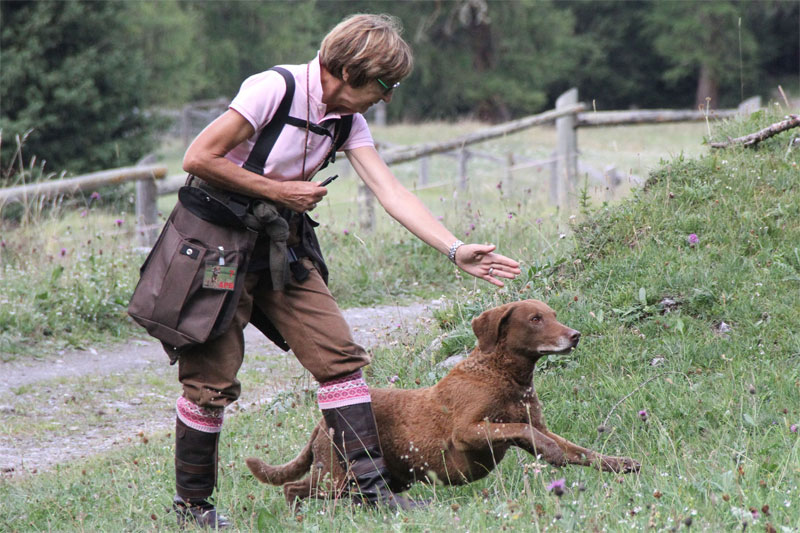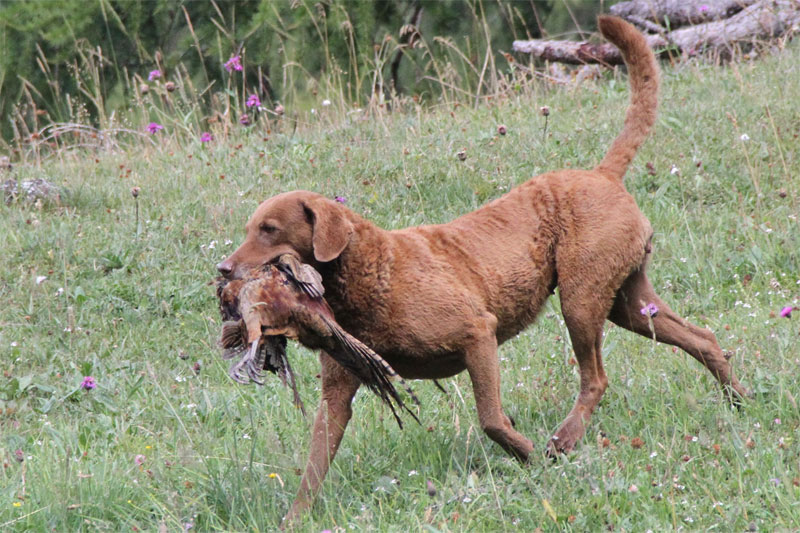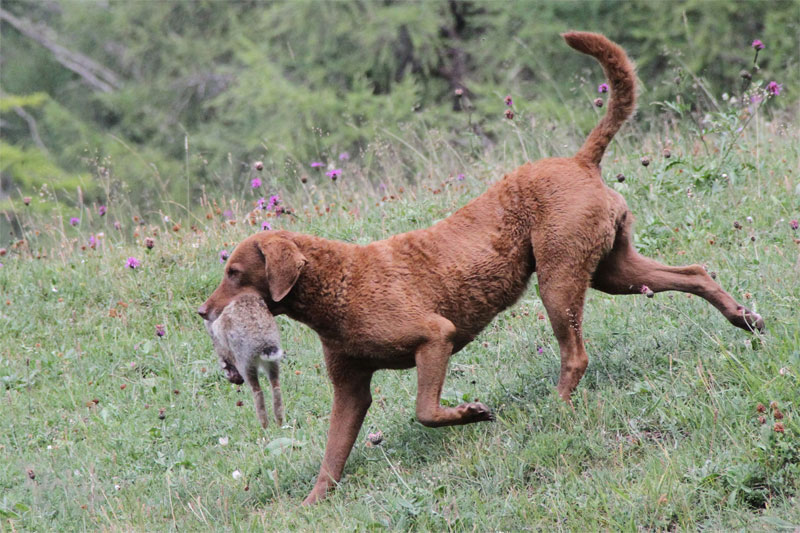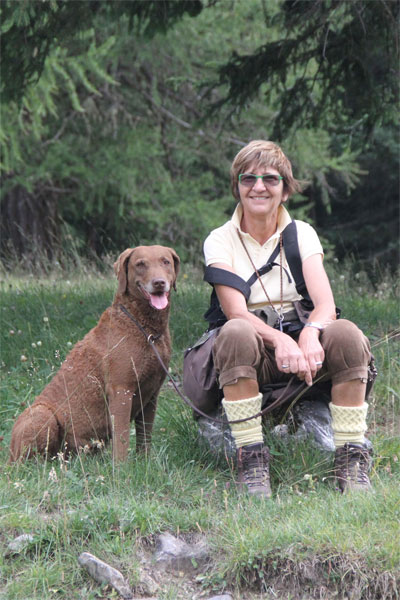 Mato looks like and is already a veteran; but working wise she keeps up easily with the youngsters :-)
---
CLA GAME FAIR RAGLEY HALL EURO CHALLENGE July 2013
Judges: Mrs. Sara Gadd and Mr. Mike Tallamy
Photos by G.M. / U.M. / Michi Stöckli
---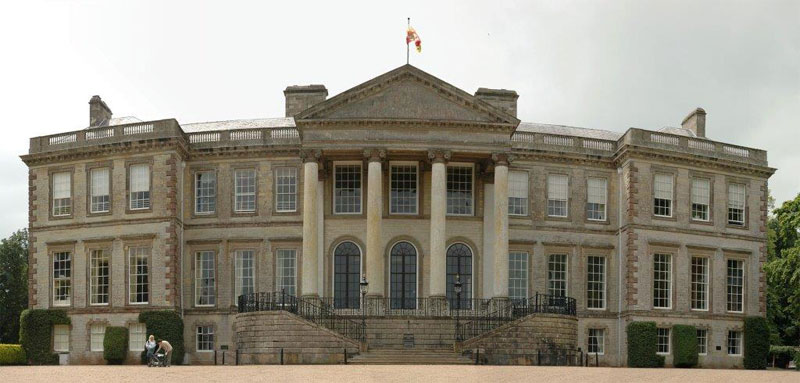 RAGLEY HALL Alcester, Warwickshire
This year the Swiss Team fought very unluckily, everything which can go wrong went wrong...
Out of eight teams we ended up on 7th place.
Nevertheless we have had a good time in GB and on top of this the weather was fantastic during the whole week not even one raindrop was falling!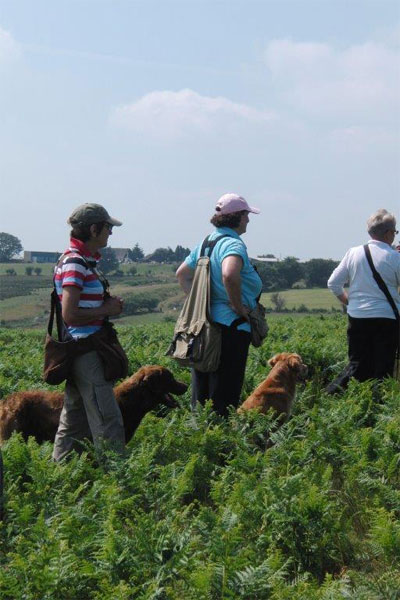 before the big event Mark and Jamie Bettinson put the finishing touch to Niyol and Pippi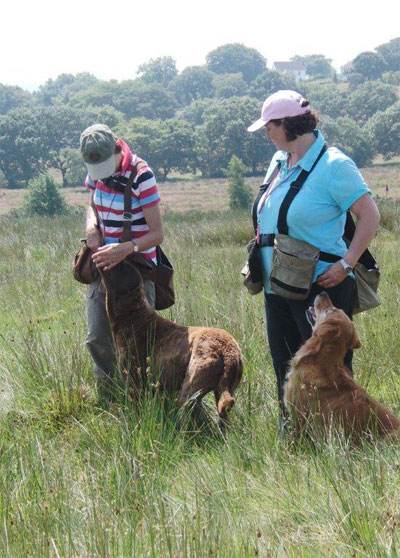 both dogs worked well and the end of the world was far away...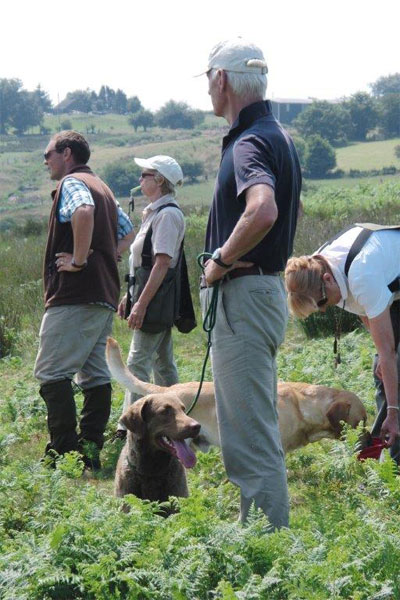 Gleam practiced steadiness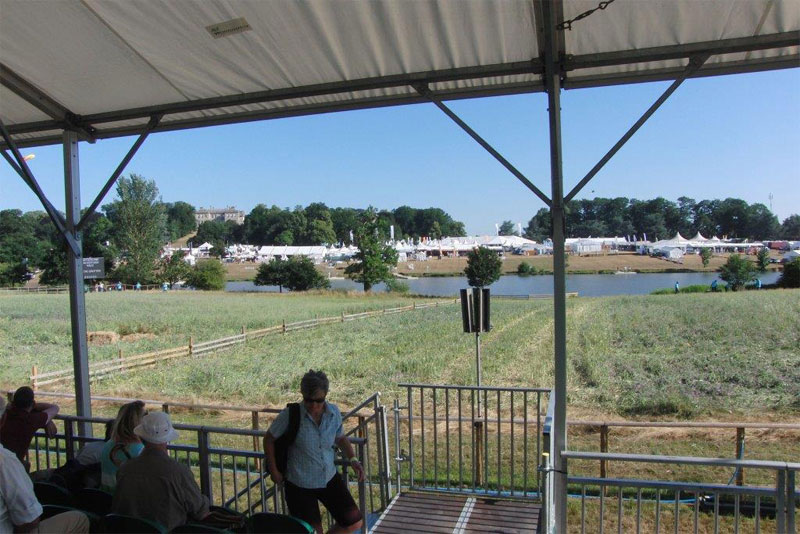 early morning at the Euro Challenge arena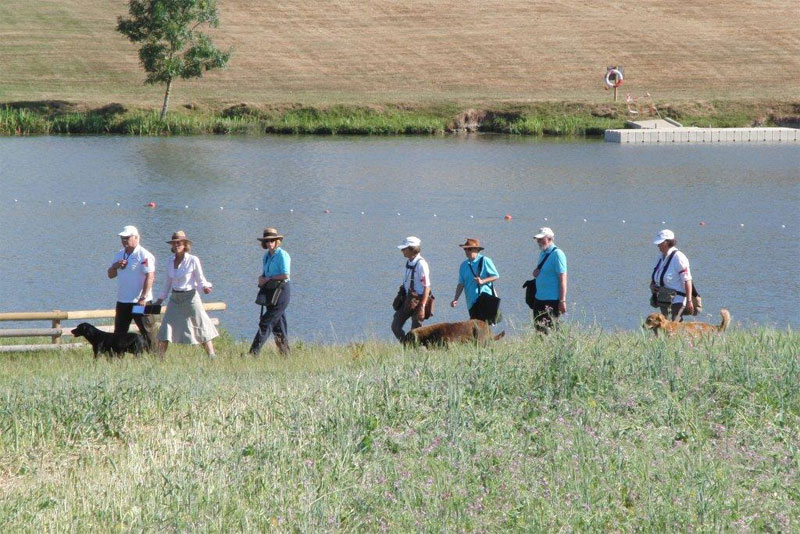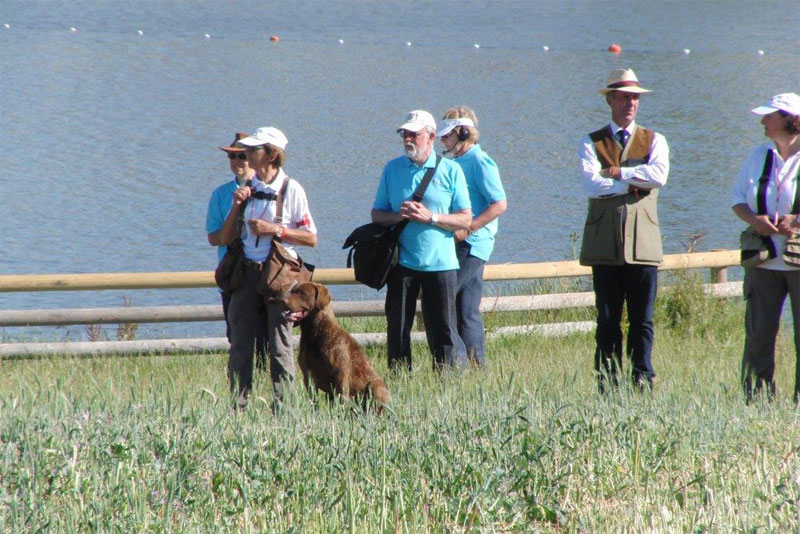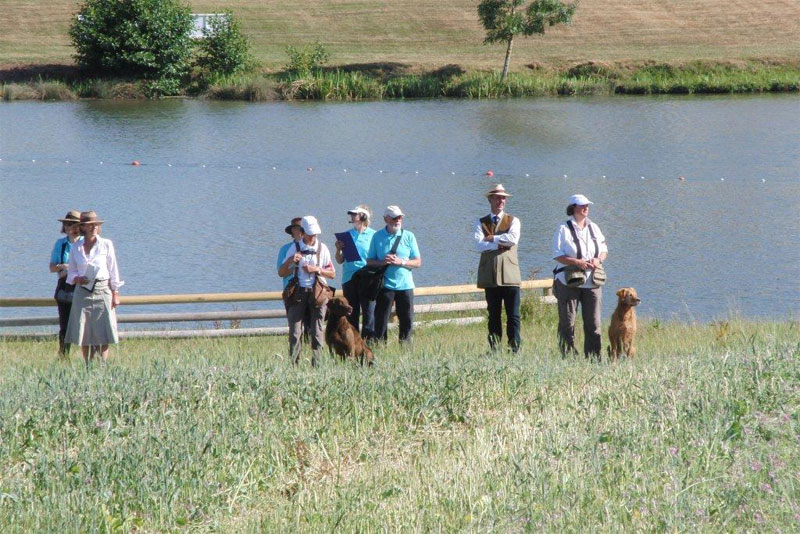 ups, there comes a running rabbit...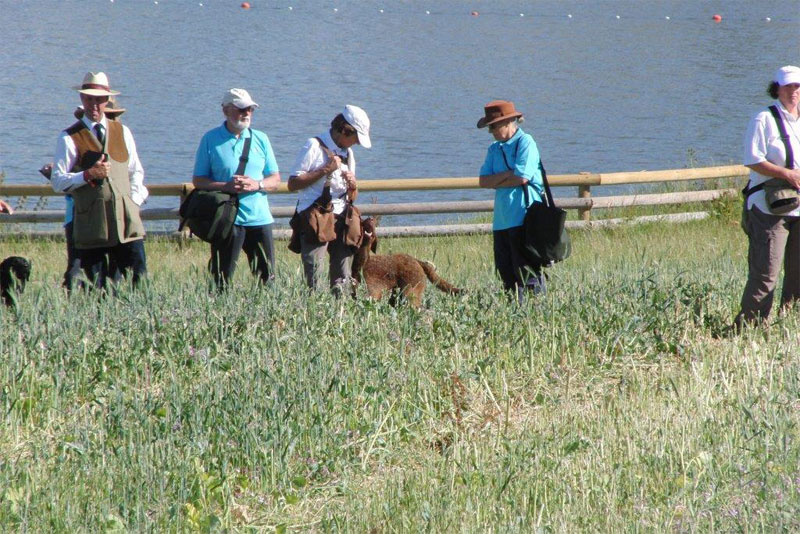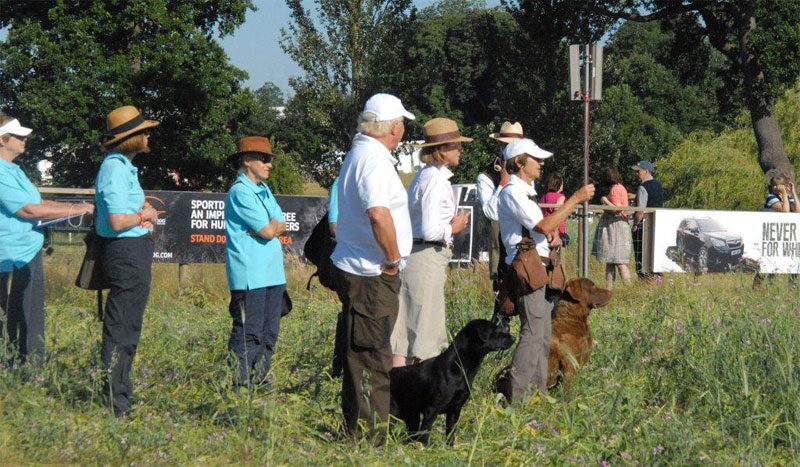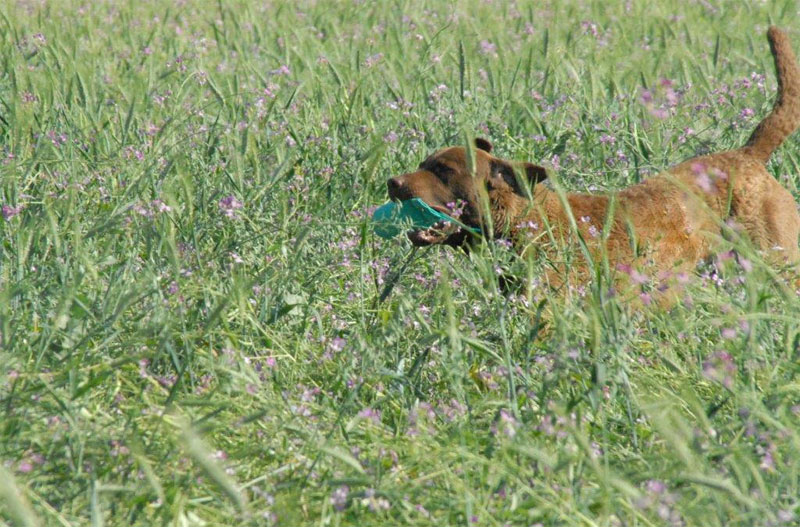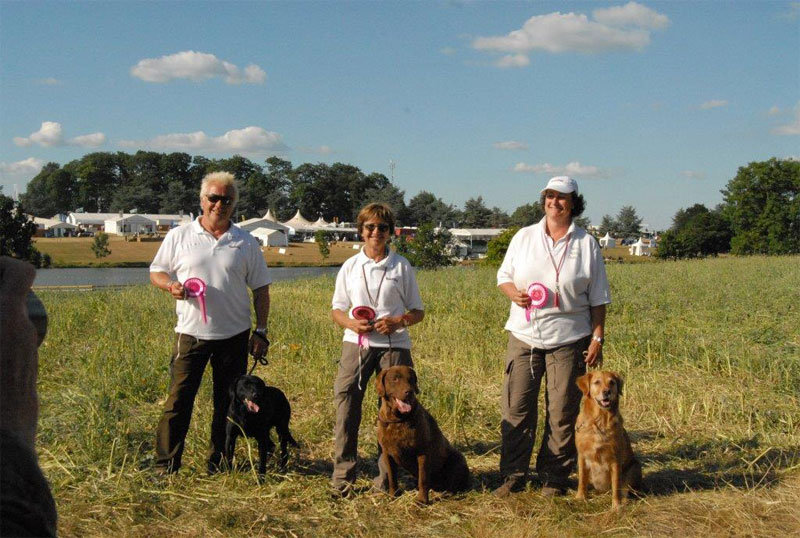 the Swiss team Steve and Benny, me and Niyol, Heidrun and Pippi; Pippi did a great job: best team dog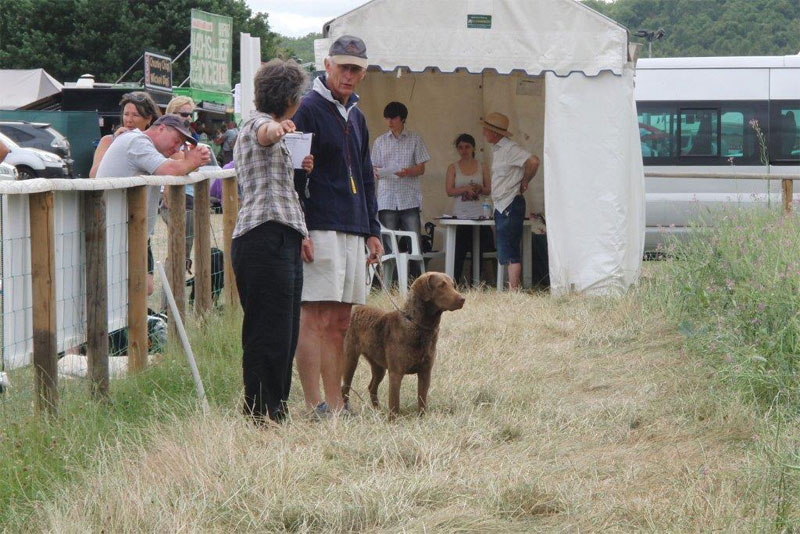 during the CLA any handler had the possibility competing with non-experienced gundog in different WT classes.
Guy and Gleam took their chance and fought quite well. Guy showed steady nerves :)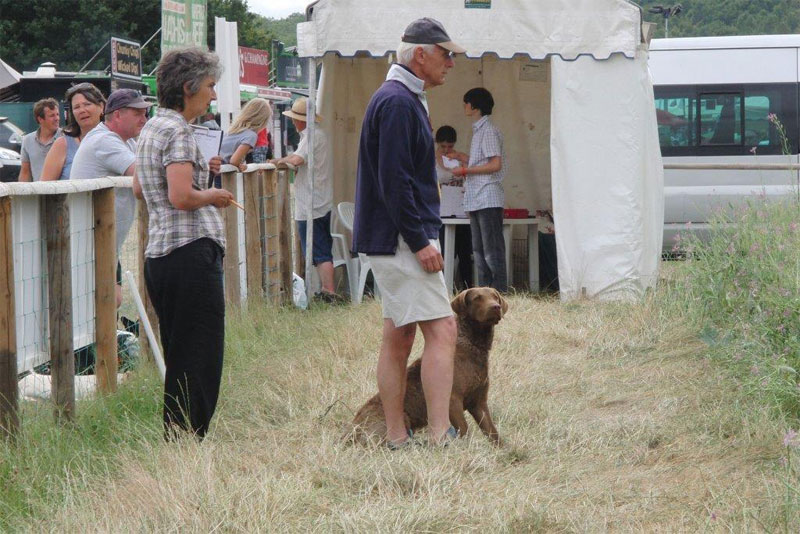 full concentration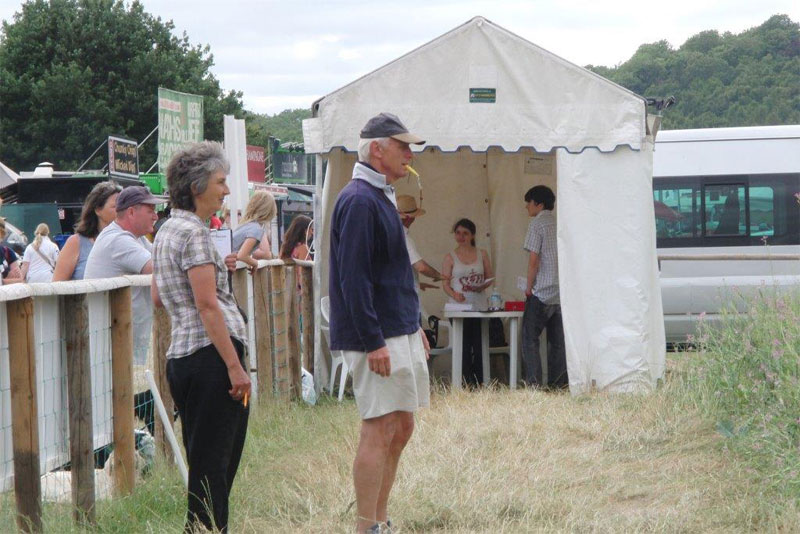 Guy seems to be a little bit strained...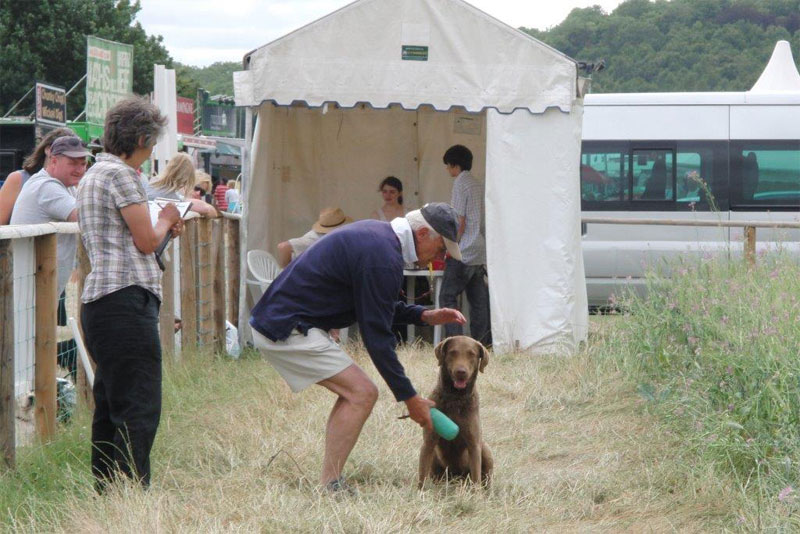 but the strain was for nothing :)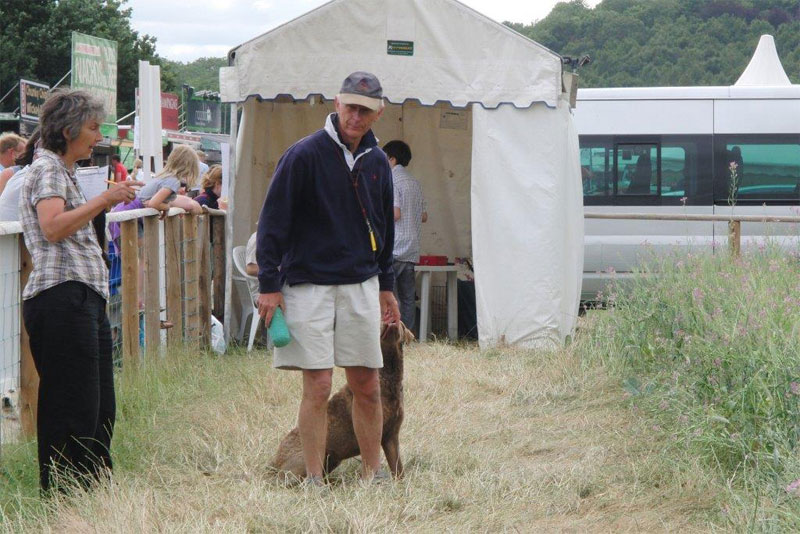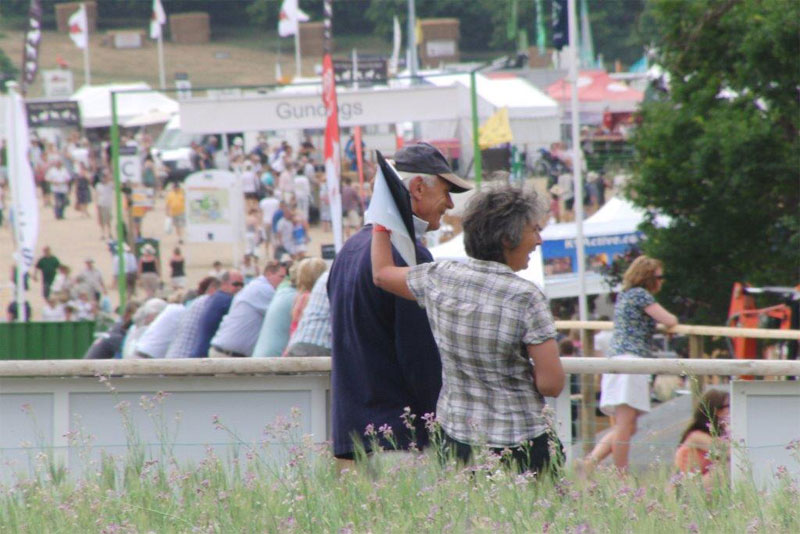 Gleam did something unexpected which made them laugh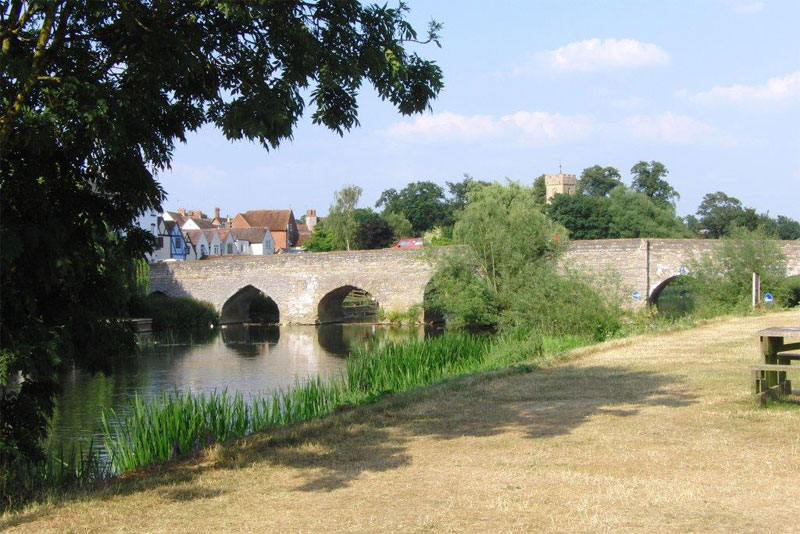 we stayed at a farm house B&B closed to the picturesque village Bidford on the river Avon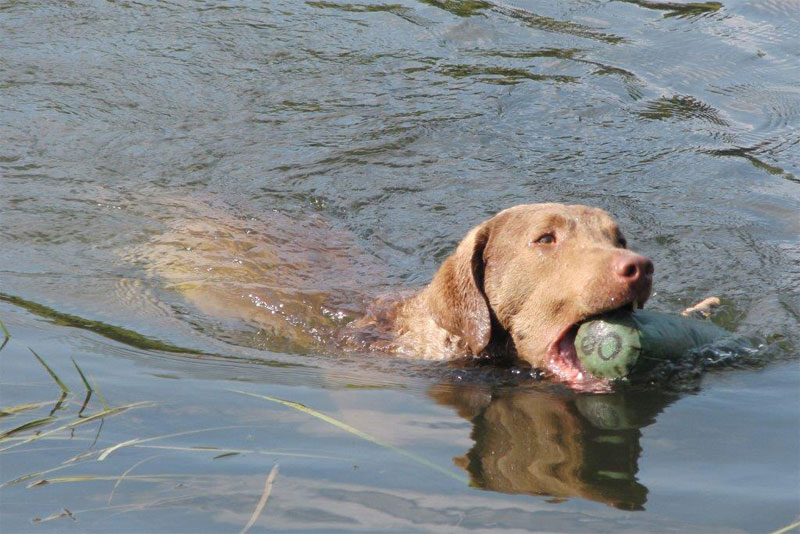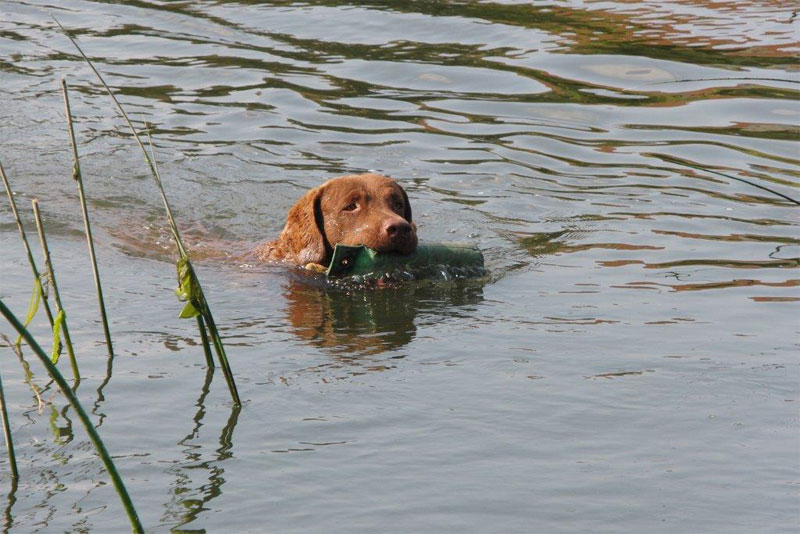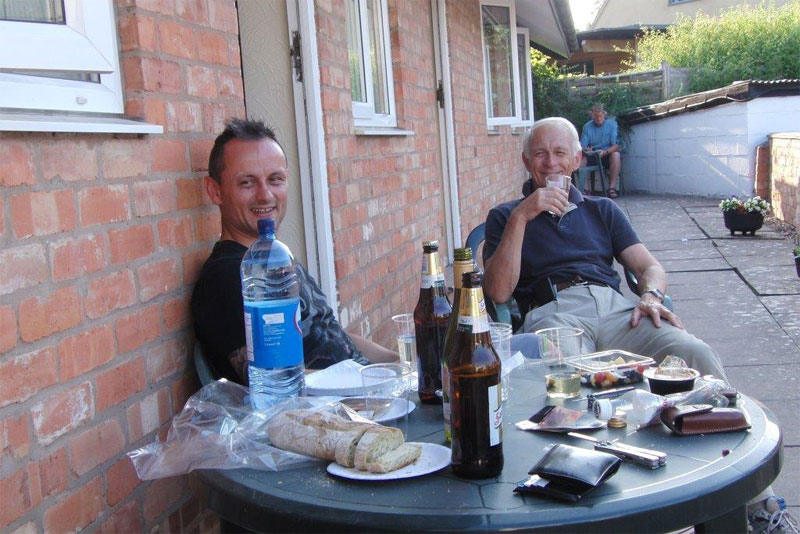 it needs little to keep the guy's happy (Stefan and Guy in front of our cottage at the farm house)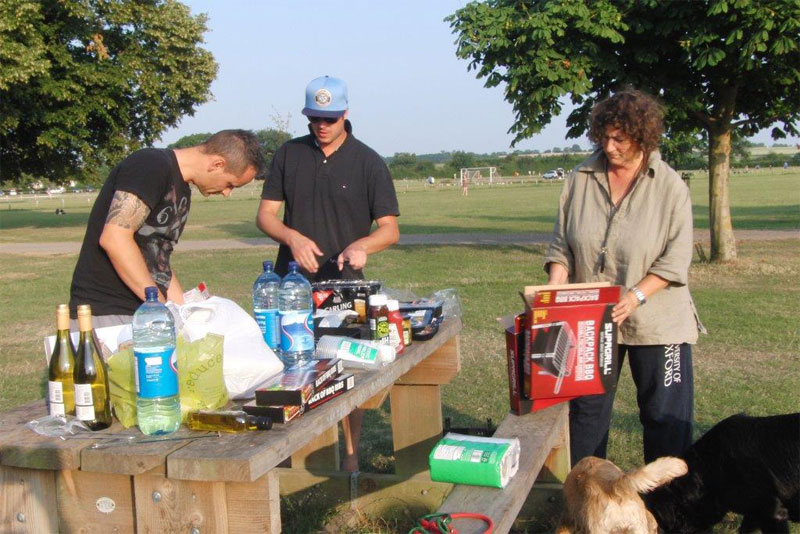 because the weather was absolutely gorgeous we had a BBQ on the Avon. Stefan, Christian and Heidrun were preparing it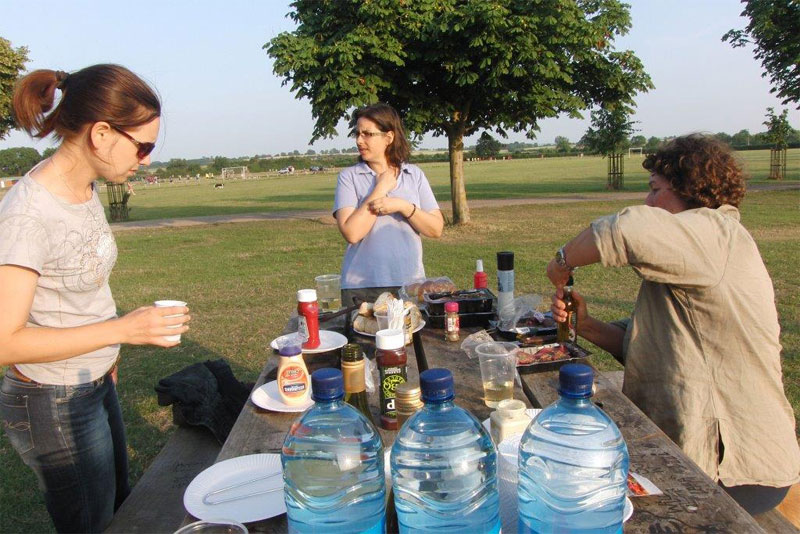 Irena looks rather suspicious while Michi fights the bugs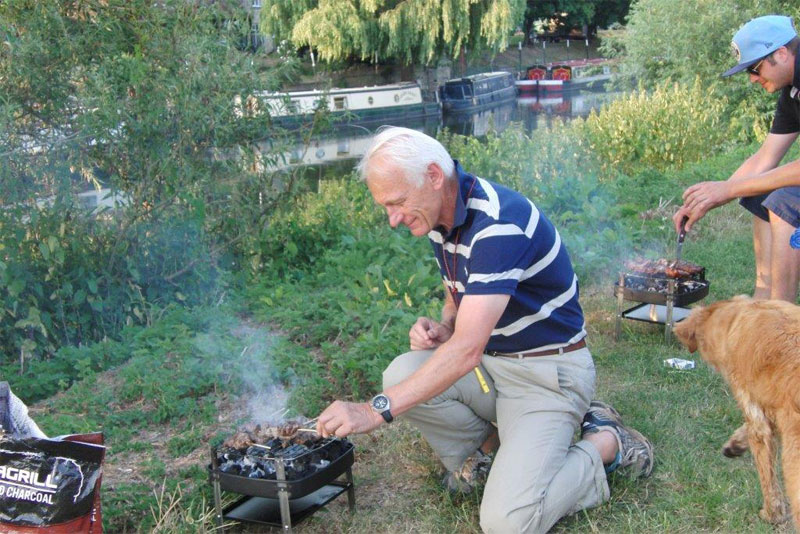 I must say, the cooks did a great job!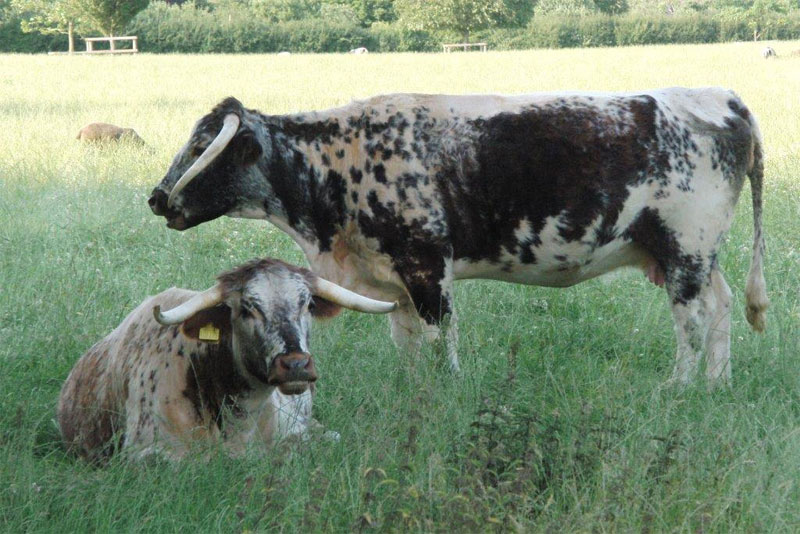 English Park Cattle
---
Niyol and Kanda July 2013
---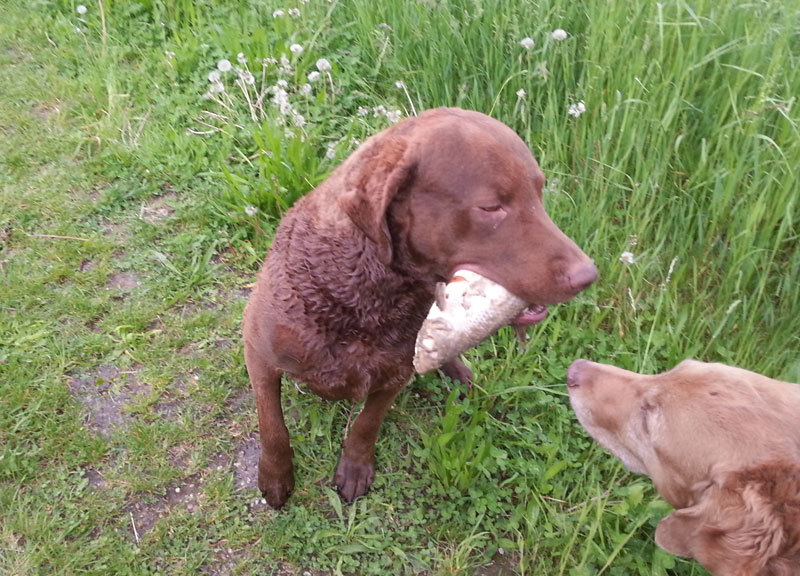 No way, I am not sharing! Catch your own fish!
---
WT CH-SCHANGNAU 07.07.2013
Judges: Mrs. V. Morize (F), Mr. R. Kaserer (A), F. Exelmans (B)
Photo by Yvonne Jaussi
---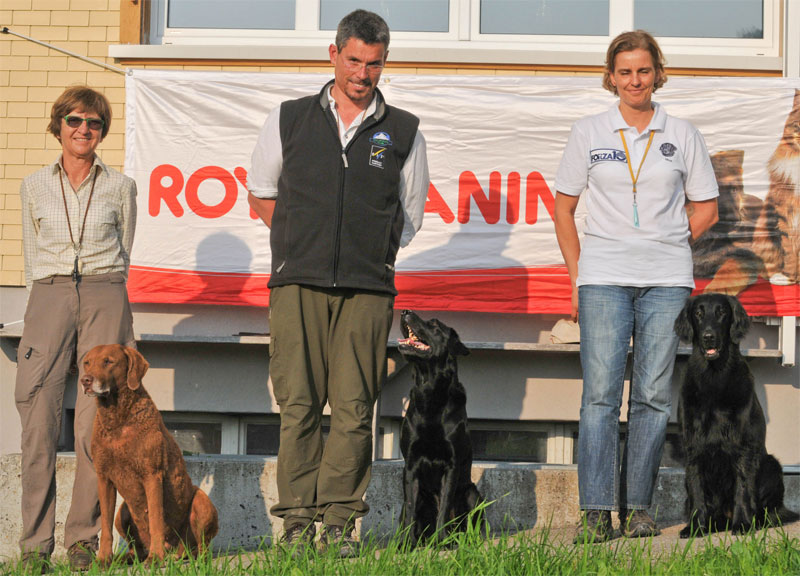 Great success for Mato: 2nd place and JUDGES CHOICE Open Class!
Left to right: me and Mato; Bernhard Schöpf and Flash 1st place; Olivia Erfurth and Elfi 3rd place
---
Brownie *15.03.1999 †21.06.2013
---
The soul would have no rainbow if the eyes had no tears.
(Native American proverb; tribe: Minquass)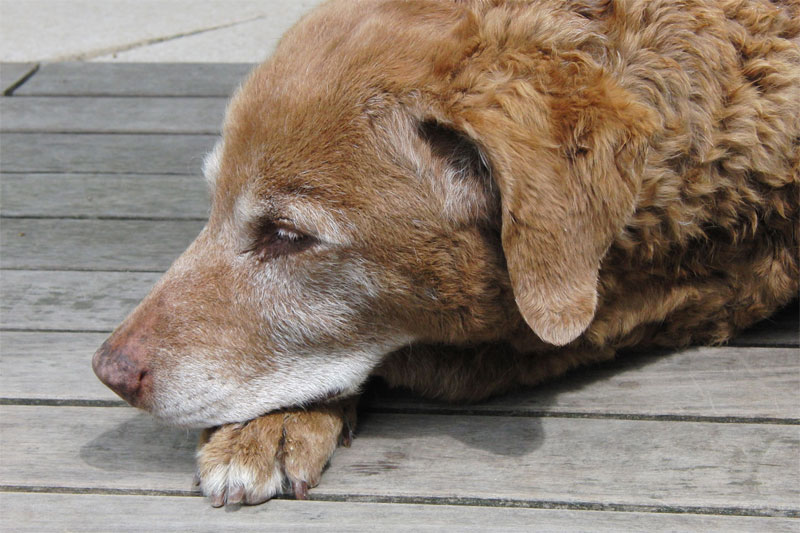 June 5th 2013; last picture of Brownie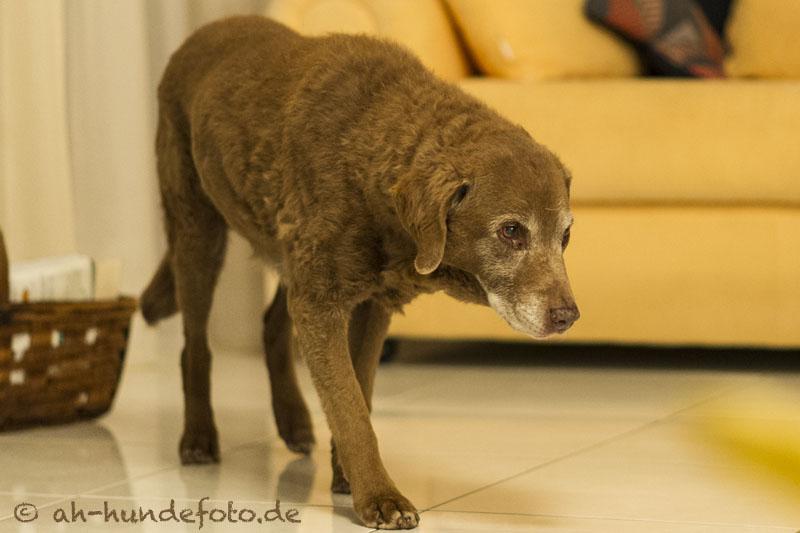 ---
THE KENNEL CLUB INTERNATIONAL RETRIEVER TEAM EVENT MAY 30/31 2013
CHATSWORTH ESTATE / Devonshire UK

Judges: Jayne Coley, Polly Dunkley, Lynn Mitchell, Phil Highfield
Chief Stewart: Graham Jones
---


For the first time in history of the International Team Event at Chatsworth Estate a Chesapeake was competing and of all it was Niyol, what a feeling!
The great variety of grounds - moorland, woodlands, lakes, walls everything ensured a challenging competition and the tests weren't easy at all.
Niyol, one of the youngest, inexperienced dogs tried his best, he always wanted to please me and the points we lost where simply because of bad handling on my side.
Even though we past all tests without any zeros. I have had the fortune being part of this wonderful, exciting, unforgettable gundog event!
A special thanks to my team members Steve; Heike and Jerémie which believed in Niyol and always encouraged me!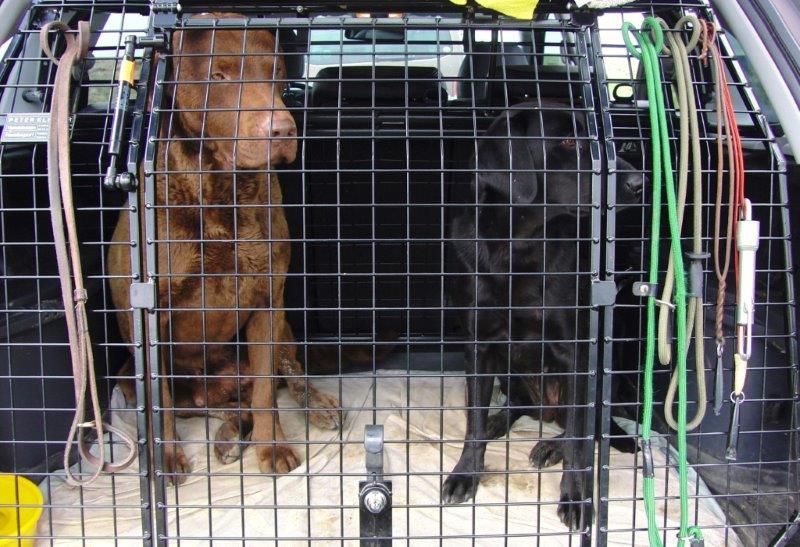 I travelled together with Heike and Niyol with sweet little Anna; I gave her a nick name: "half portion" because she is about half as tall as Niyol :)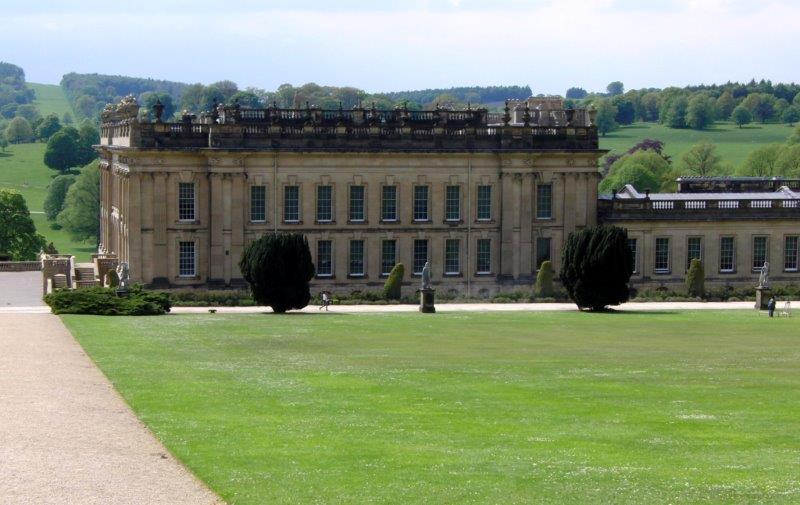 Chatsworth House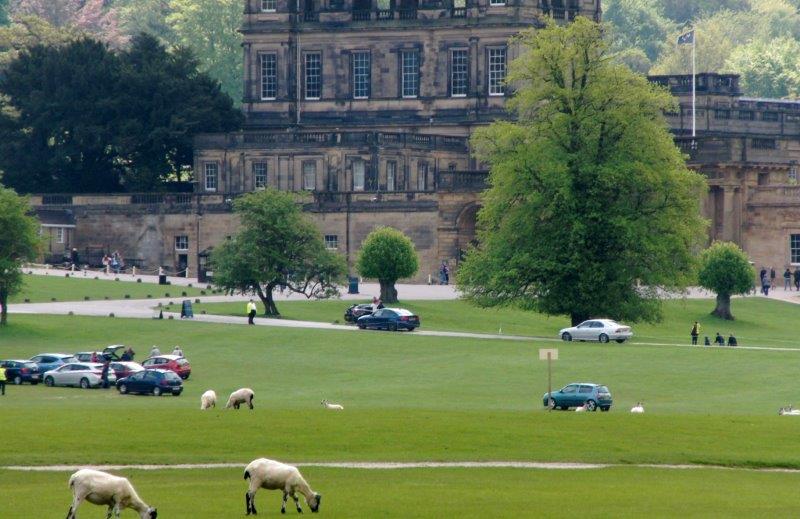 Sheep's everywhere as well as...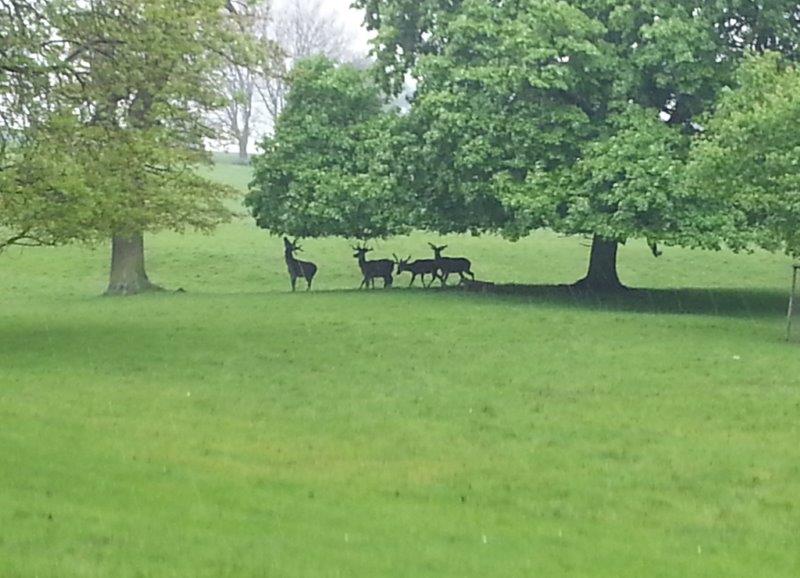 ... Red Deer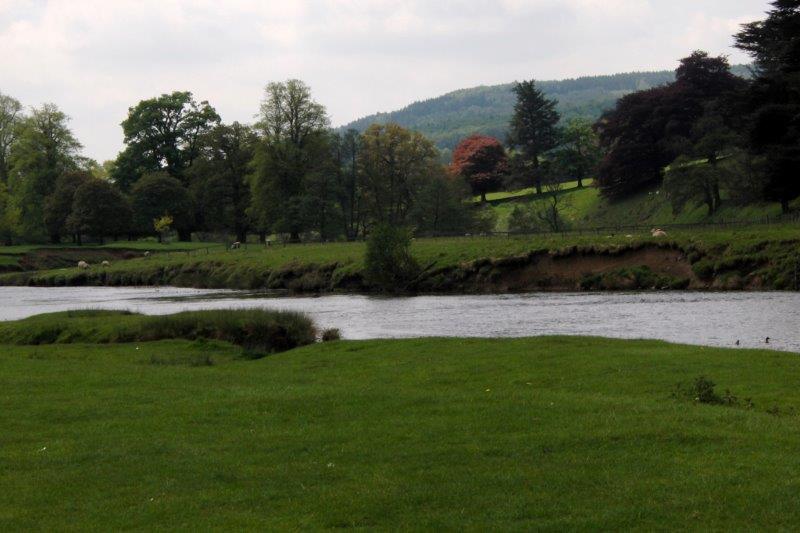 The park covers 400 hectares (river Derwent)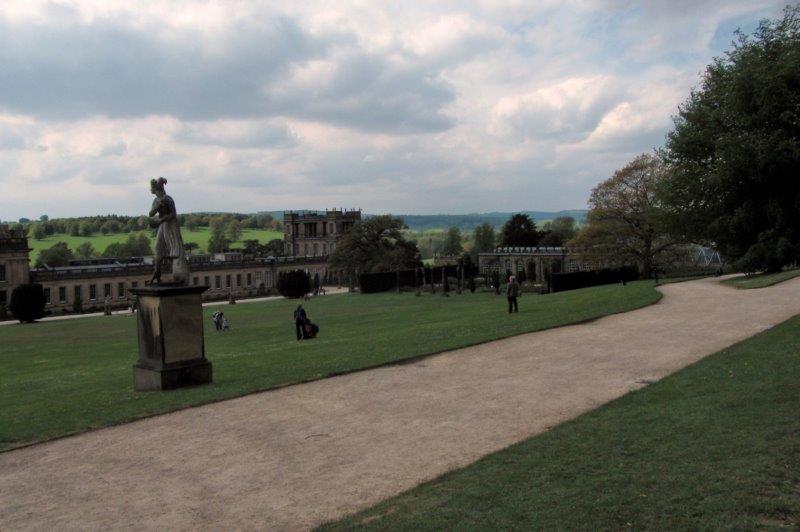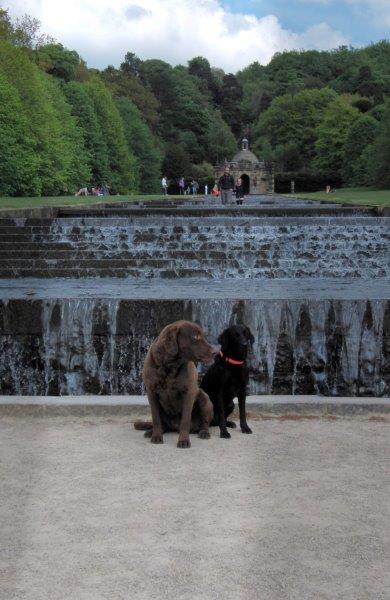 Niyol and Anna in front of the cascade (formal garden)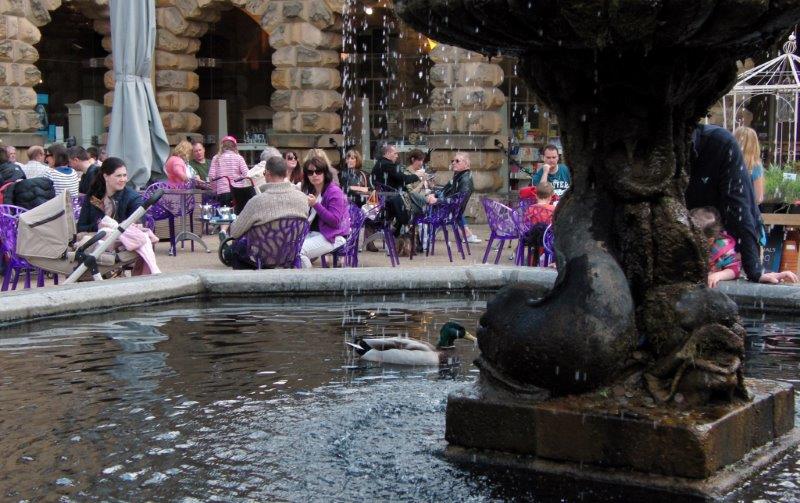 Restaurants, shops and event rooms at the former stables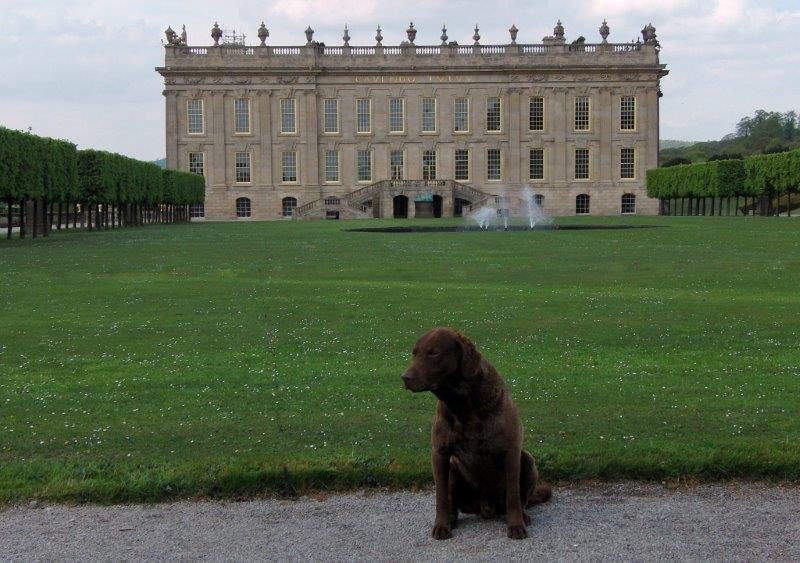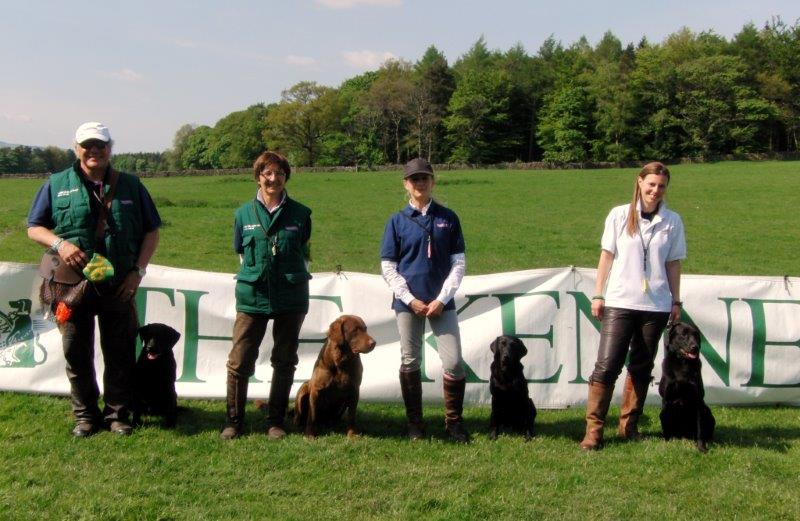 Swiss Team: Steve & Beni; me & Niyol; Heike & Anna; Jerémie & Chudley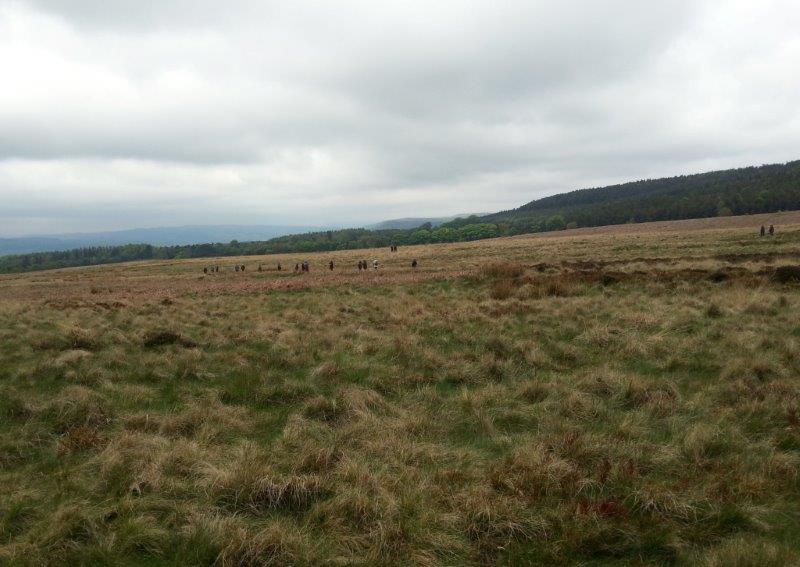 Team walk up in rather difficult grounds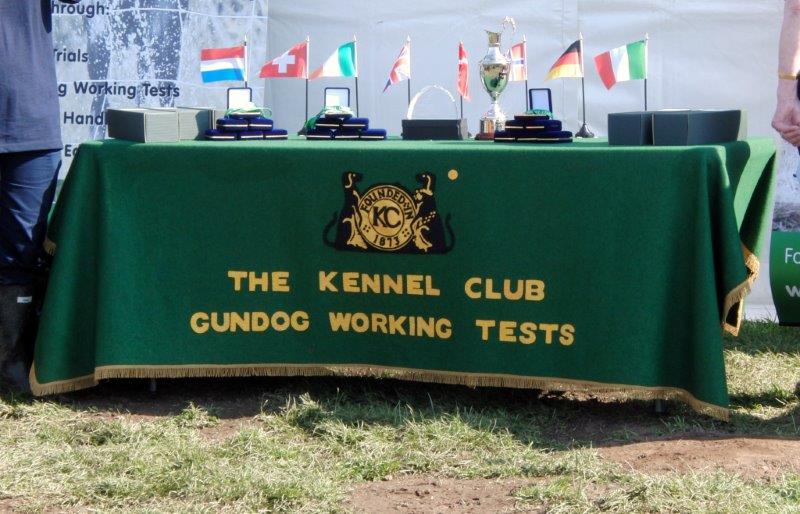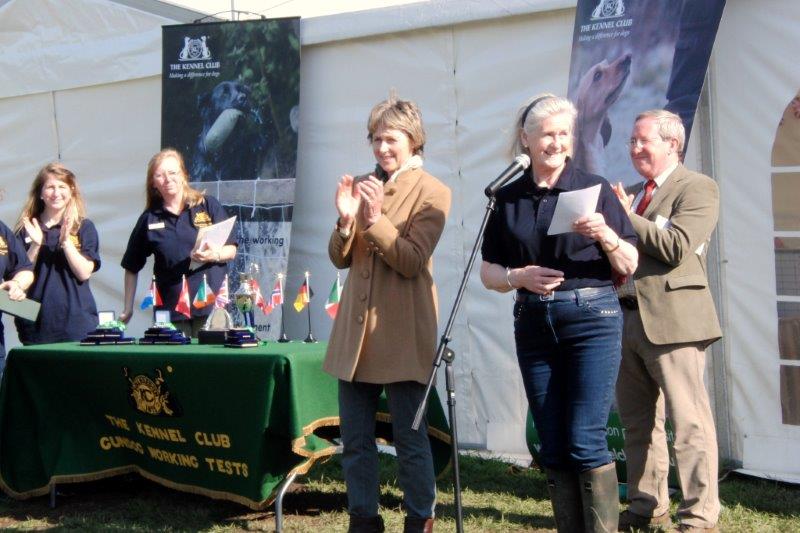 From left to right: the Duchess of Devonshire; the Chairman Anne Heading; the KC FT secretary Nigel Dear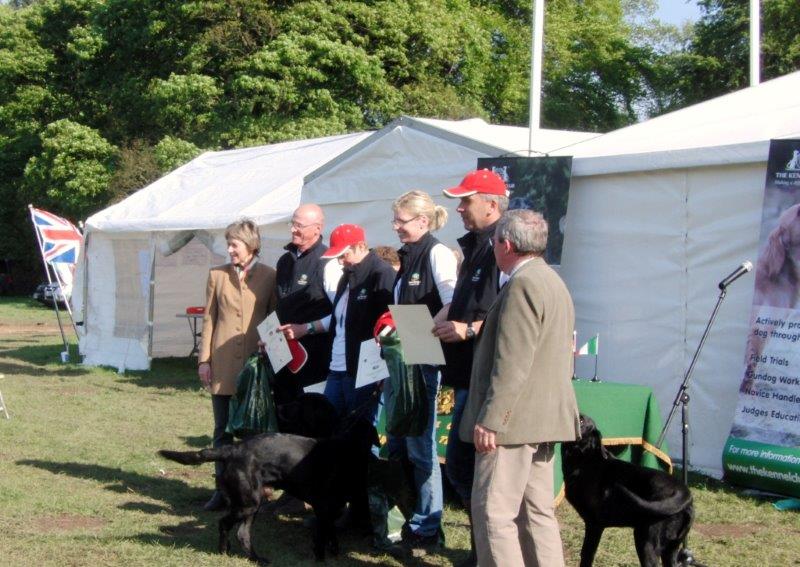 Price giving: 3rd Team Germany (Günter Kohler/Beate Perick/Bernd Janich/Doris Albrecht)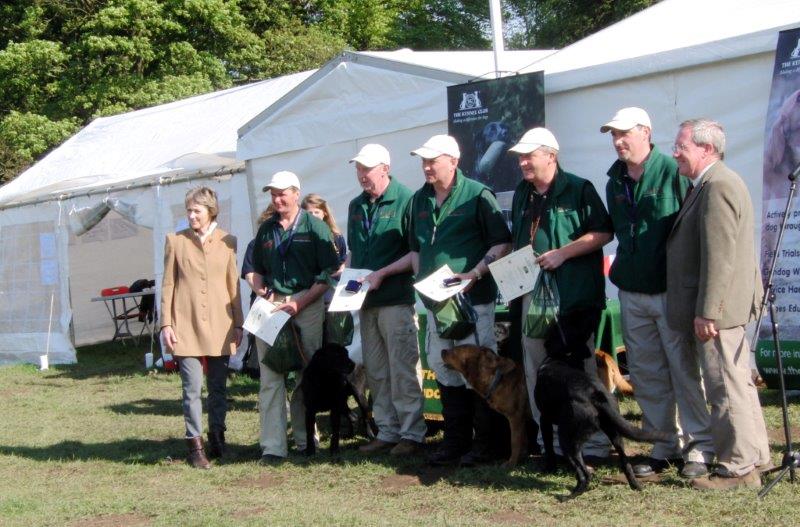 Price giving: 2nd Team Ireland (Nigel Carville/Sean Nolan/Stephen Mc Fadden/Sean Diamond)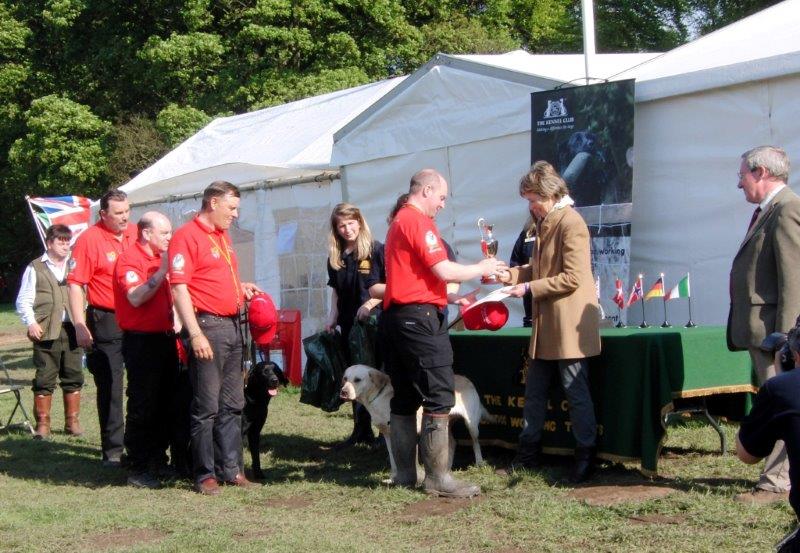 And the winning Team is: United Kingdom (Richard Johnston/Andrew Fisher/Stan Payne/John Halsted jun.)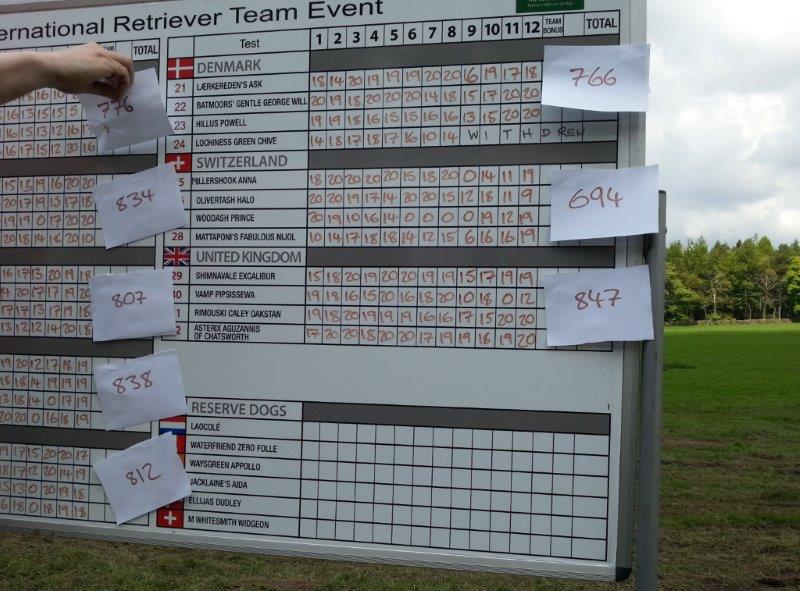 ---
CHARITY WORKING TEST WINDSOR GREAT PARK (GB) Saturday 20th April 2013
Judges: Tess Lawrence / Steve Pollay / Steve Crookes / Phil Allen / Derrick Capel / Roger Phillips
---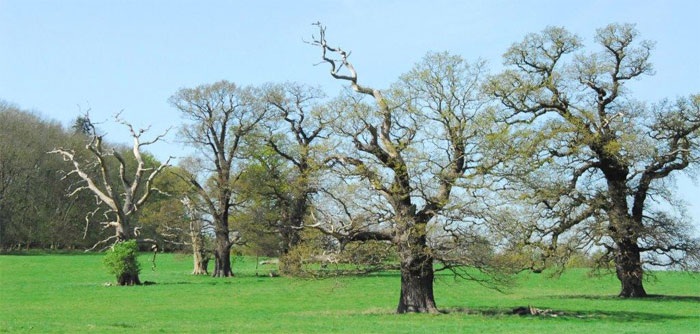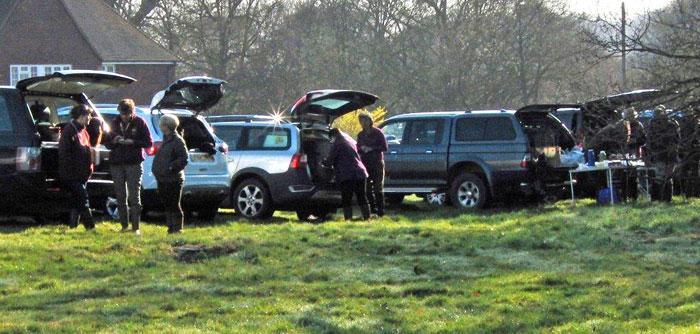 Early morning - still cool but the sun promises to come out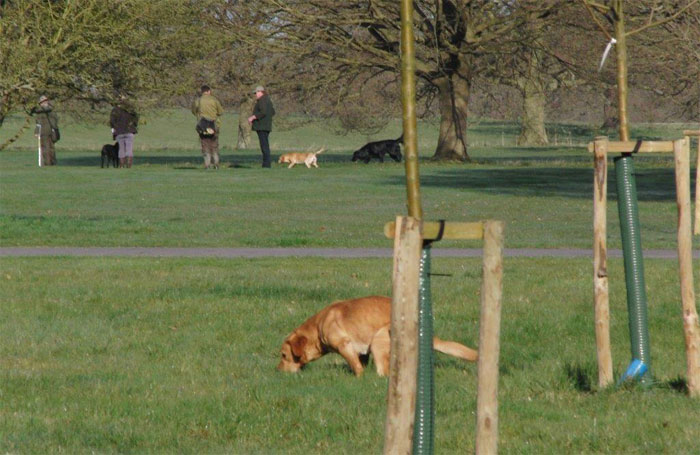 Some start their warm up, while others are still in the bath room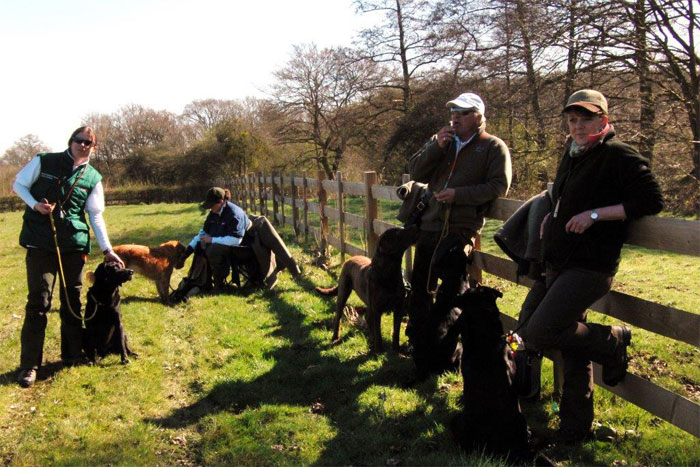 Waiting for test No. 5 where first difficulties were faced after a smooth start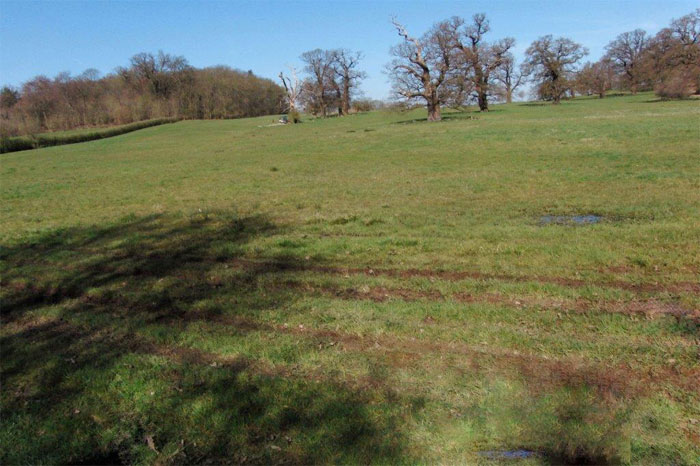 Test No. 5: what a distance to go!
Double mark in a straight line on the hill top. First thrown dummy laying closer to be started with.
Bad luck for Pipi as she went right away for the second throw, but she was in good company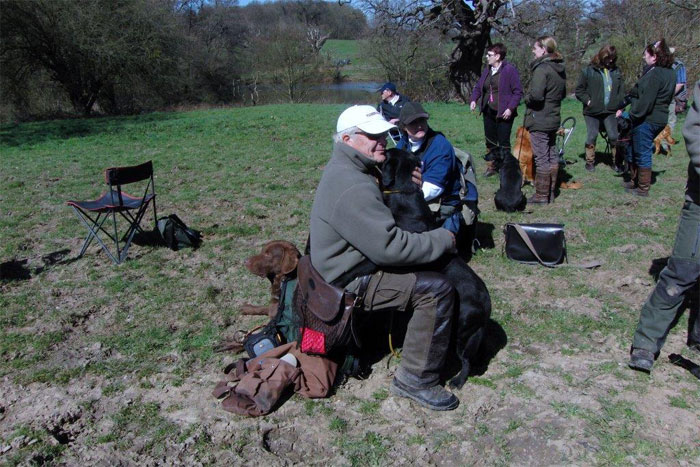 Test No. 6: waiting zone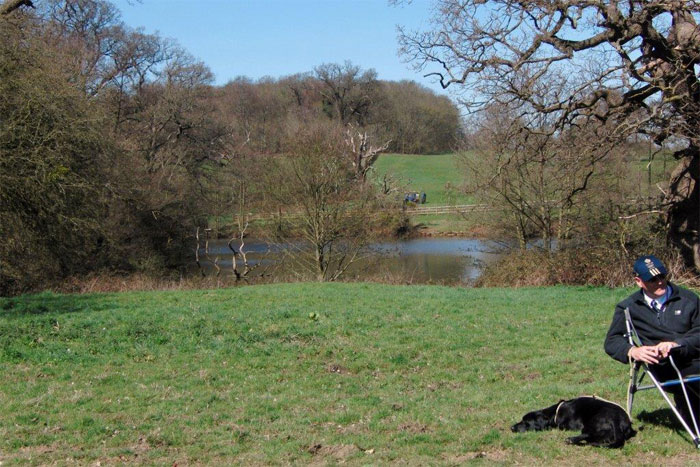 Test No. 6:
still waiting and looking on to the pond, which had to be crossed by the dogs from the left to retrieve a dummy hidden in the woods on the right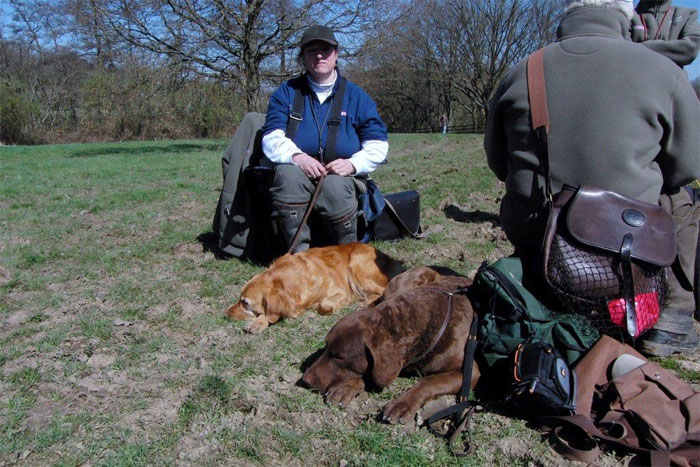 Test No. 6: still waiting and everybody using the time for a nap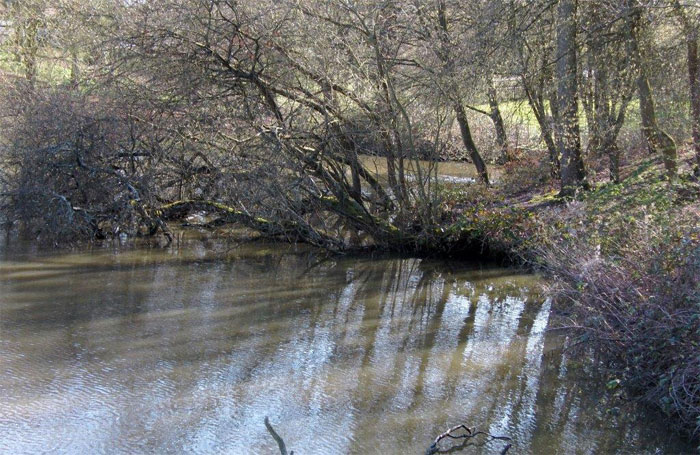 Run off: running for first place; dogs had to retrieve a blind form the pasture after crossing this tricky pond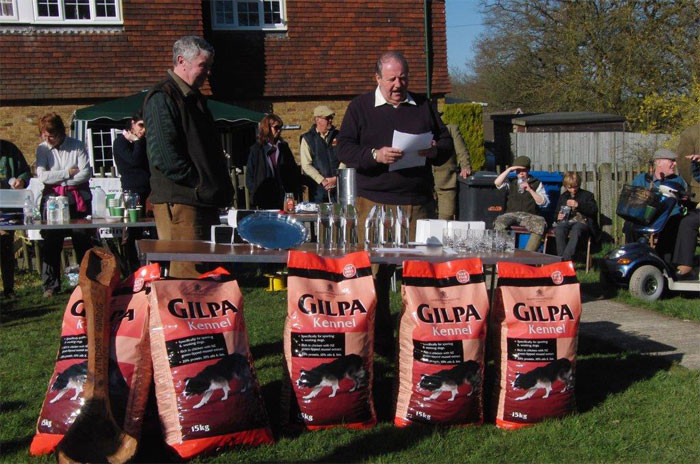 Price giving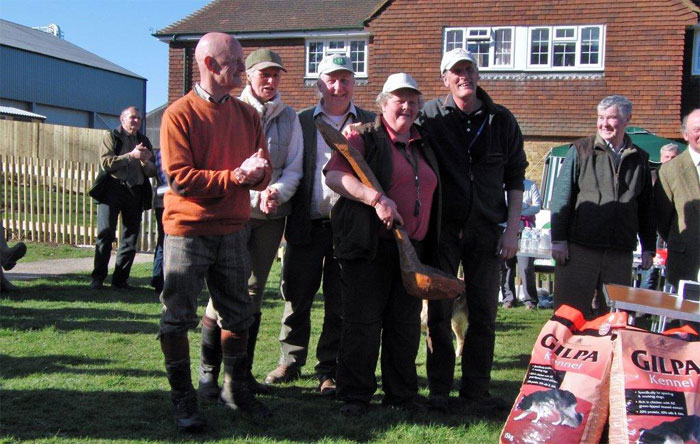 Team No. 14 with captain Anne Crooks "the happy winners" of the wooden spoon for coming in last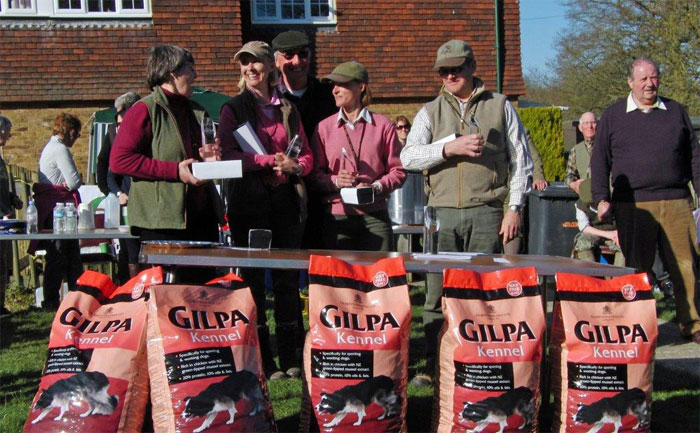 Team No. 16 the winners with captain Linda Partridge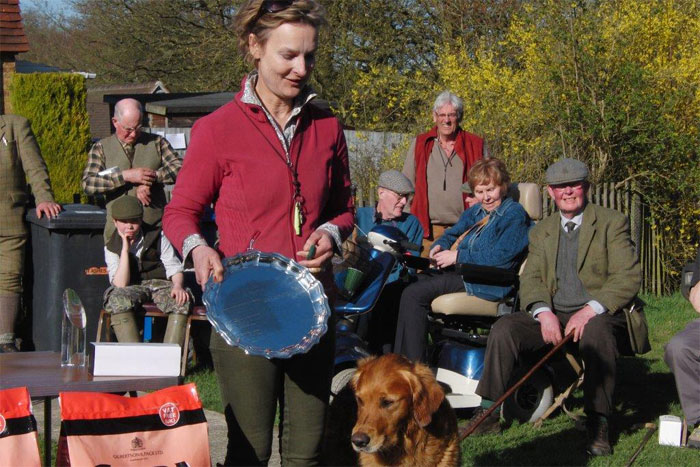 The individual winner Jacqui Crew after the run off against Robin Cray ( both scored 116 points)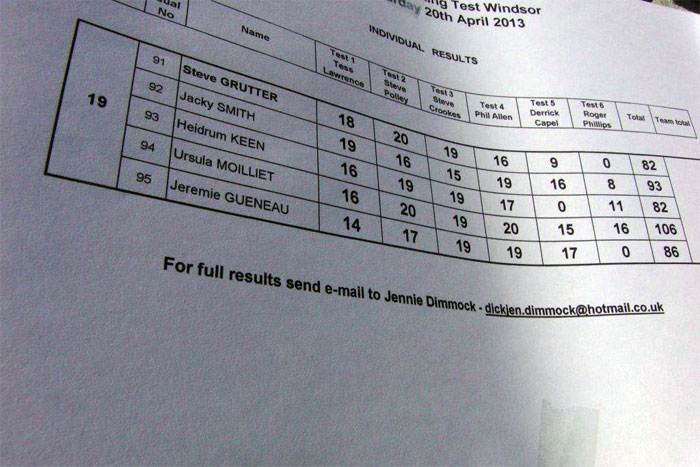 And the Swiss winner is ..... :)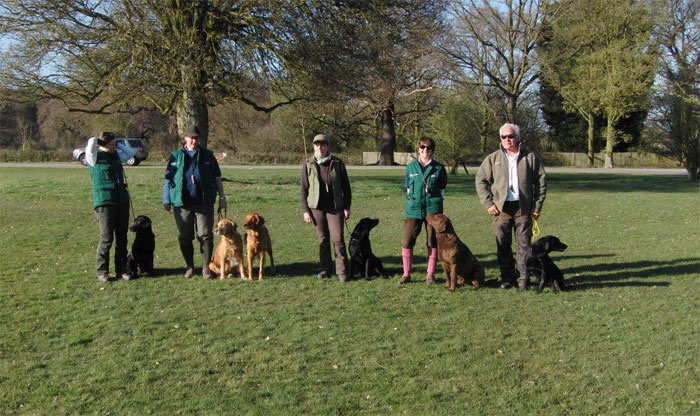 The Swiss team from left to right:
Jeremy with Chudley, Heidrun with Pipi, our friend Jacky from Wales filling in at the last minute, Ursula with Niyol and Steve with Beny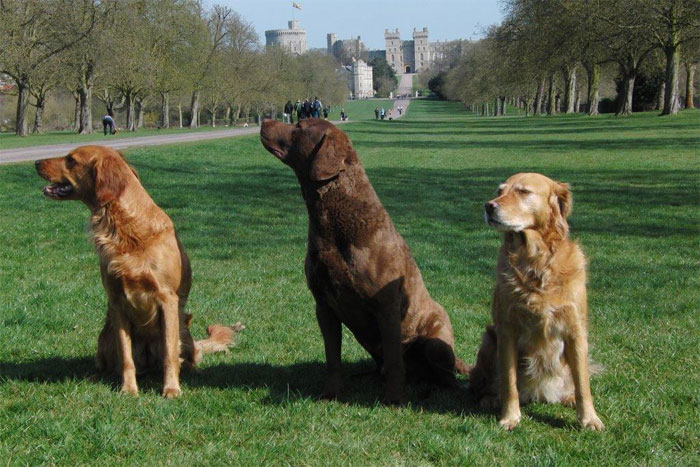 A must! Taking pictures in front of Windsor castle.....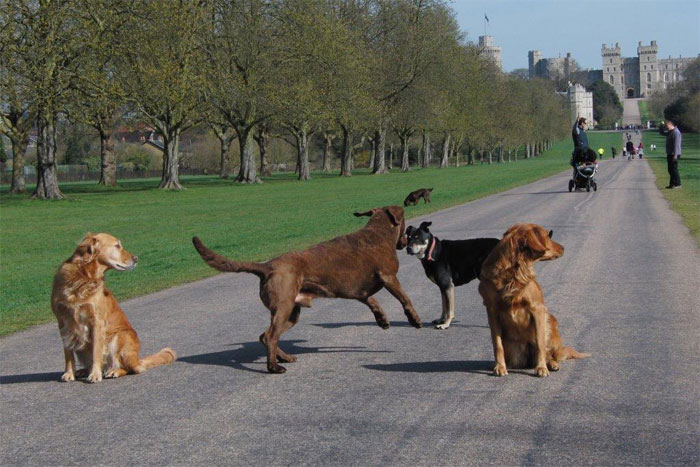 ......but Niyol shows more interest in to a charming English lady...
---
NIYOL AND MATO March 2013
Photos by Angela Hänicke
www.ah-hundefoto.de
---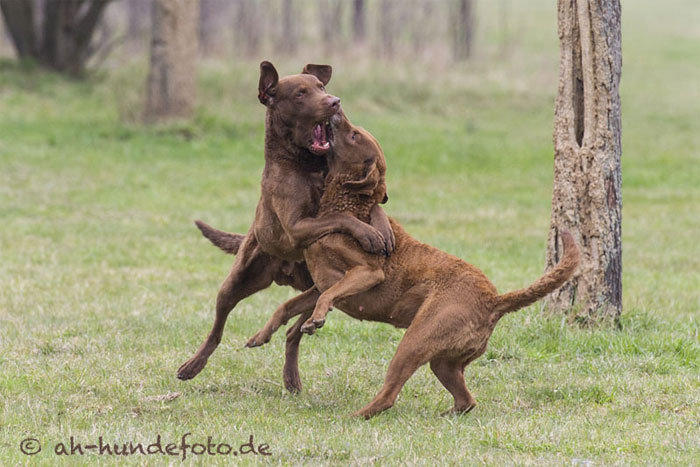 Don't worry it's just playtime between mother and son; sometimes they have their crazy moments!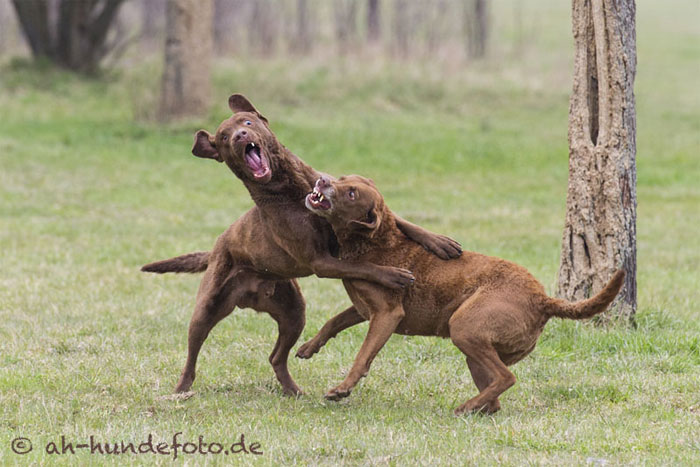 ---
INT. DOG SHOW D-OFFENBURG 09.03.2013
Judge: Mrs. C. Rossier CH (Pictures by A. Zaugg)
---

Kanda Veteran Class;
part of judges report: "lovely 10 years old bitch in excellent condition"
Kanda earned exc.1 / CAC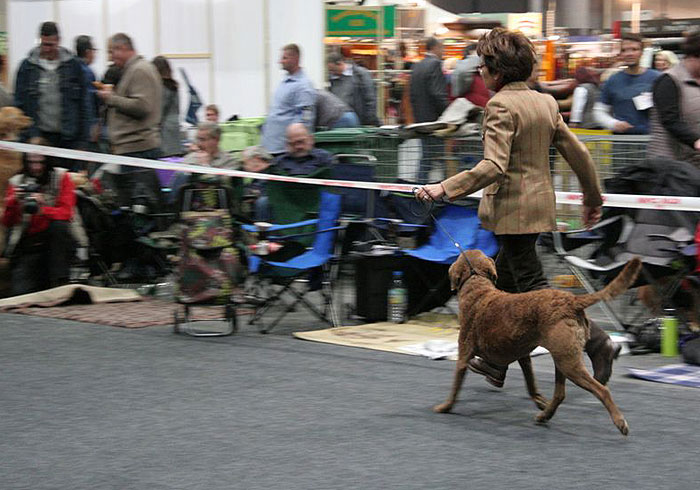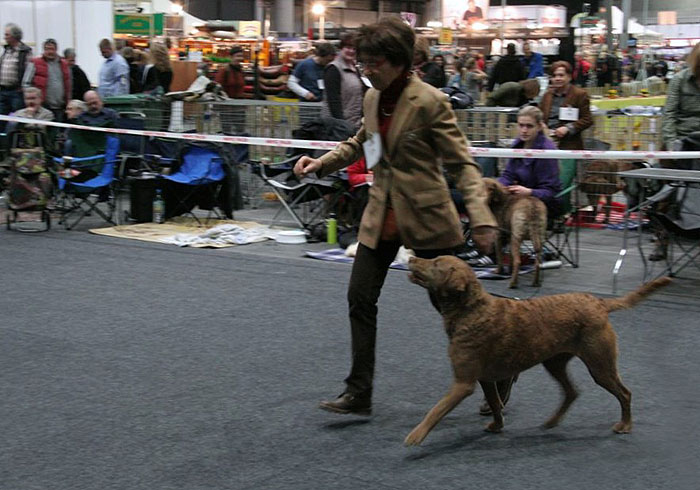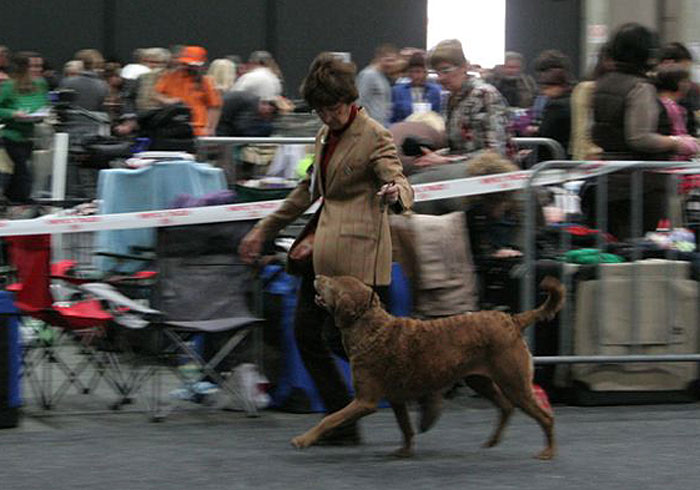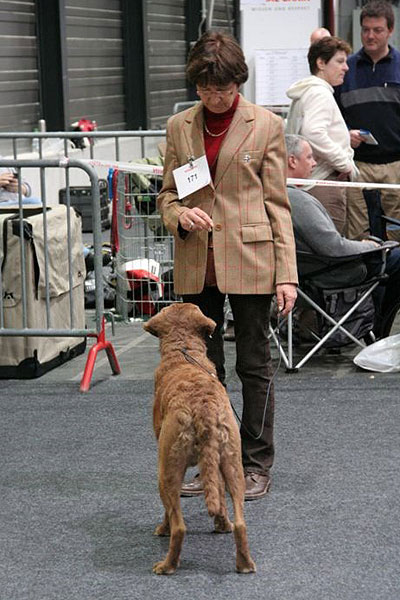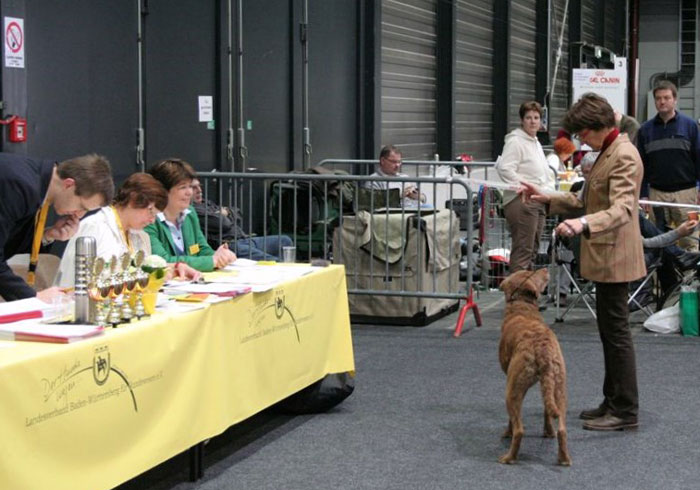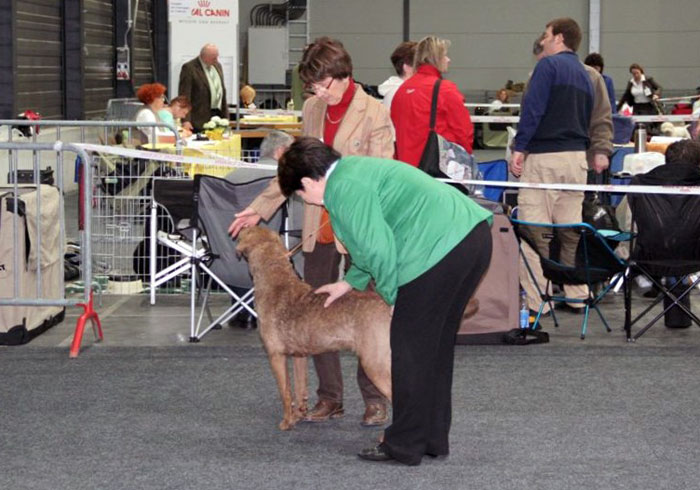 Gleam Intermediate Class;
part of judges report: "correct proportions and top line; nice feminine head; good coat; free mover"
Gleam earned exc.2 /R-CAC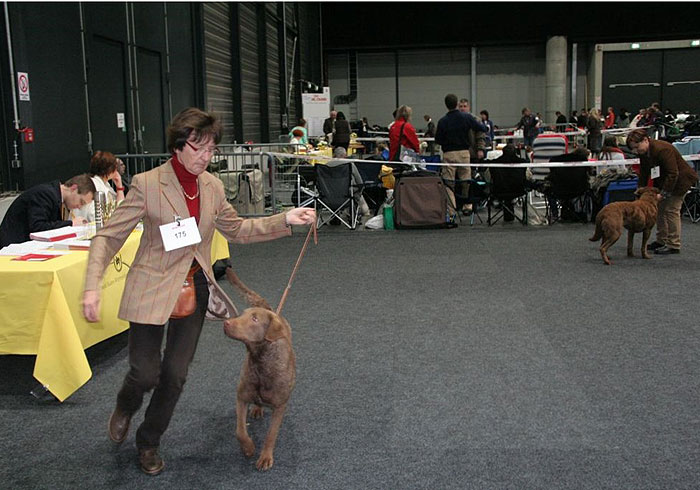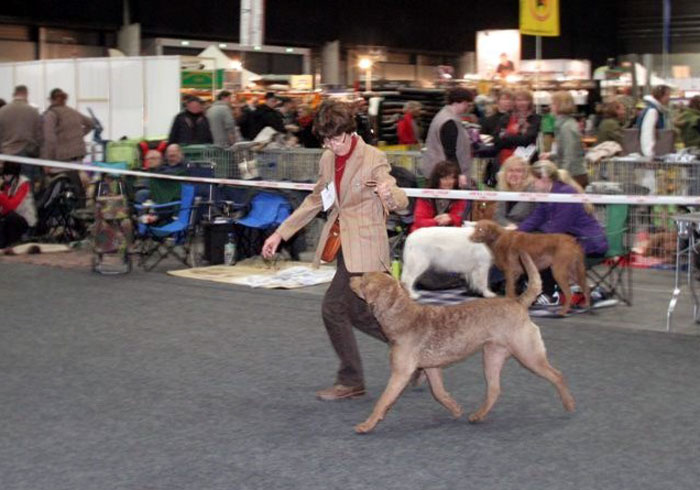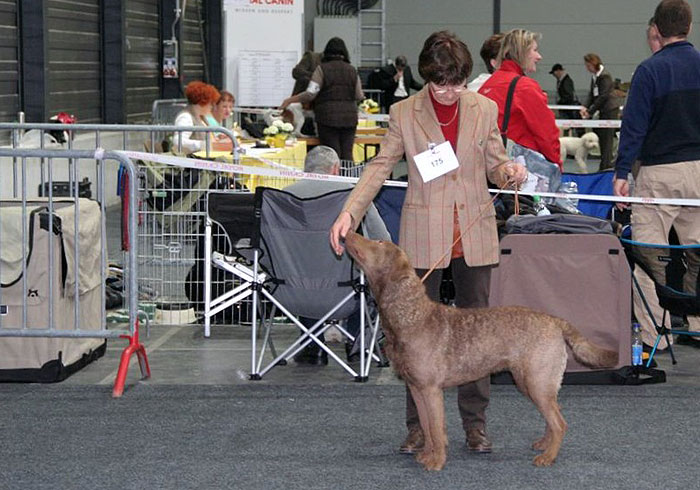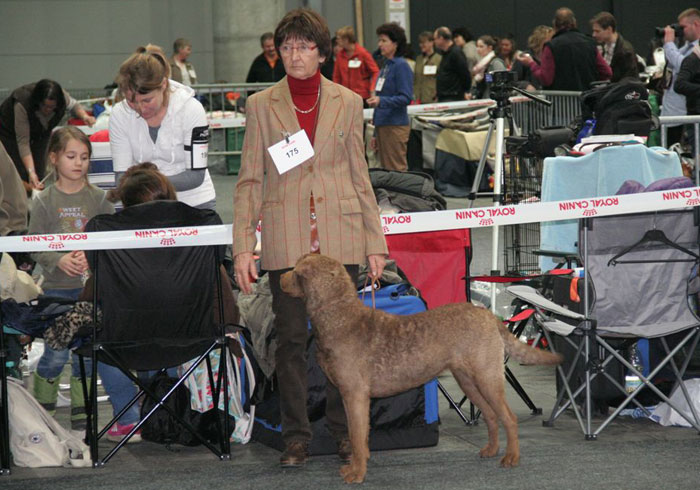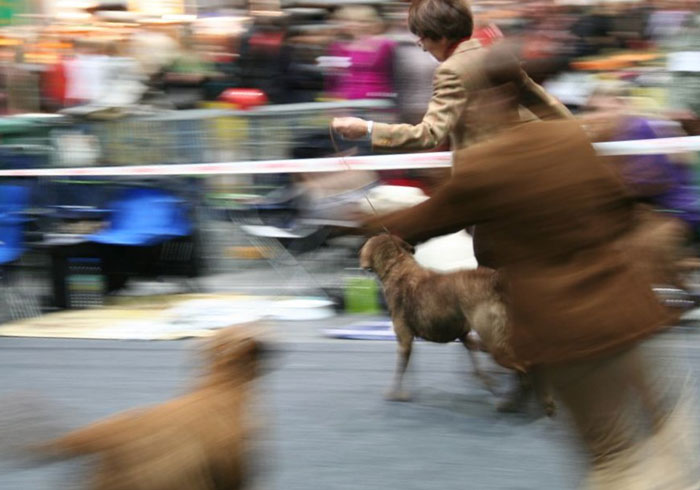 Show Dynamics

---
WT "Lakeland Trophy" CH-Meienried March 02.03.2013
Single and Team Event
---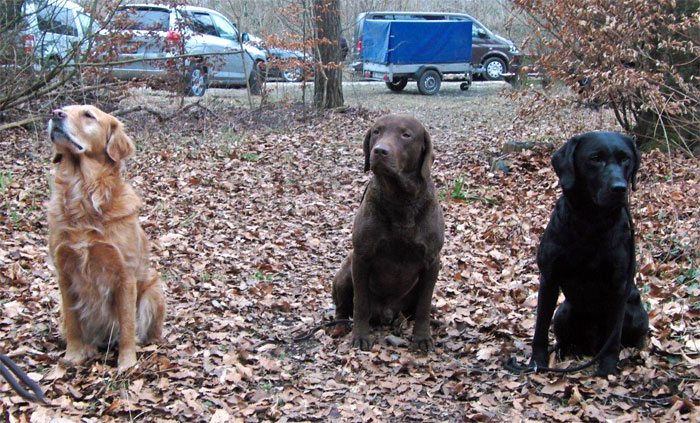 The dream team dogs: Pipi (open class), Niyol (intermediate class), Lynx (novice class)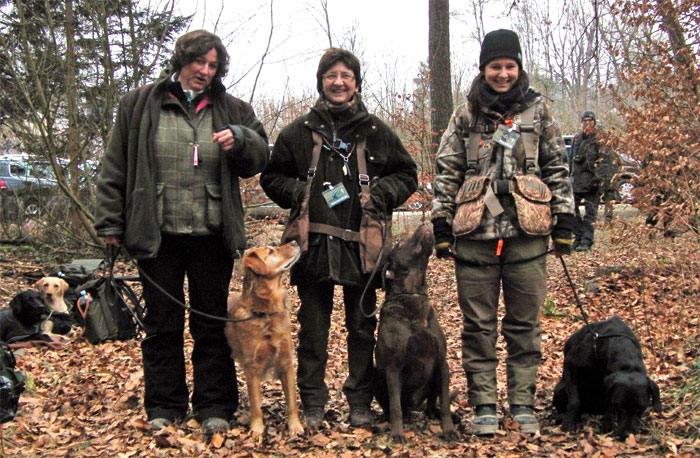 The dream team Heidrun Keen, Irena Smolcic and my humble self;
we have had a lot of fun, a great time and we ended up on 8th place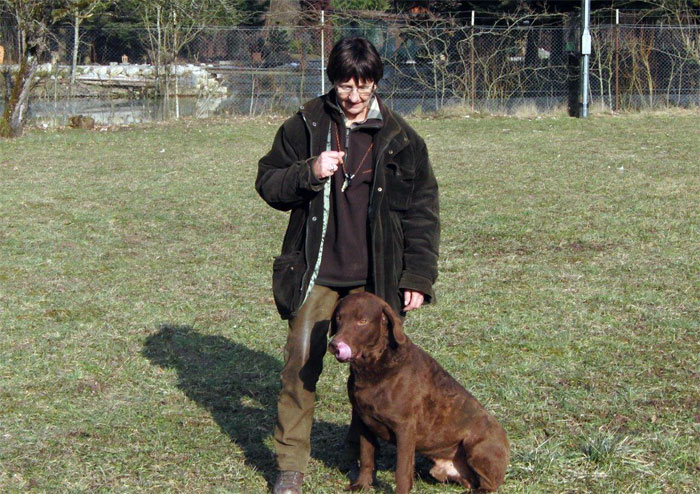 I can be very proud of Niyol; out of 18 dogs only 3 have been successful... Niyol was the runner up! :)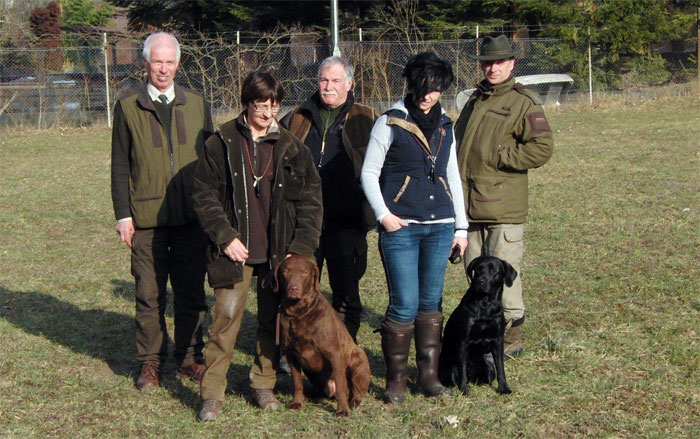 Victory's photo with the judges J. Mente (D) G. Matter (CH) and W. Haag (D)
Unfortunately the 3rd placed dog was absent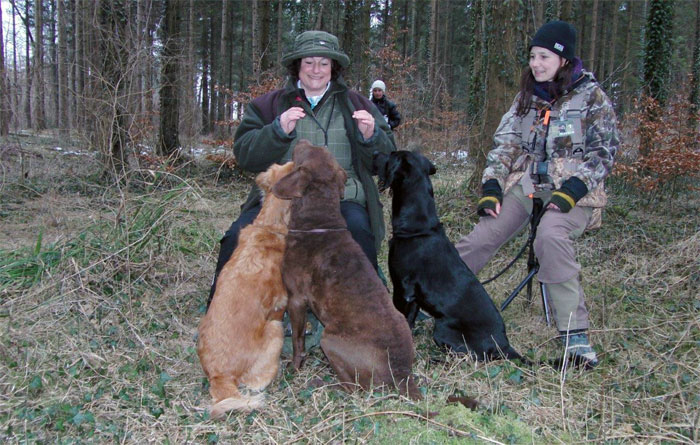 In aunt Heidrun's pocket you find always a titbit :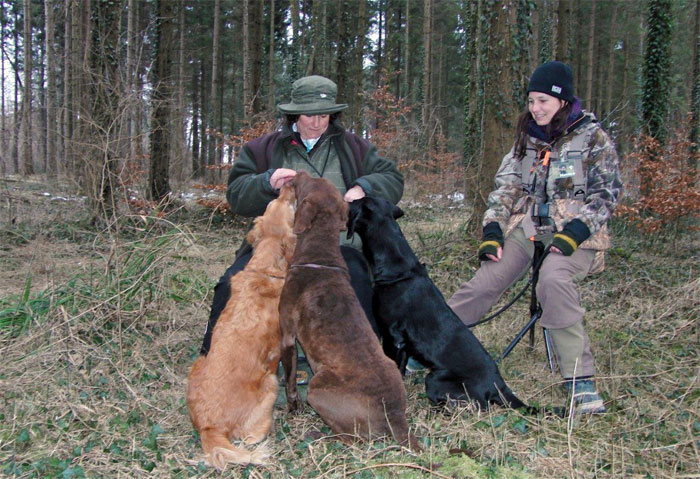 ---
SAD NEWS
---
There is a reason for everything why the dogs didn't mate. Therefore the litter planning has to be postponed.
Leider kam es, aus was für Gründen auch immer, zu keinem Deck-Akt.
Demzufolge muss die Wurfplanung bis auf Weiteres verschoben werden.
We plan a litter / Wir planen einen Wurf:
Sire/Vater:
Dame/Mutter:

Cheslabben Sneak Peake JP/R WD/X/Q D-Champion VDH
* 06.10.2009
Pedigree

Hips: A/A
Elbows: 0/0
DM/EIC clear
Eyes: HC/PRA/RD clear (Dec. 2012)
PRA genetically clear

HD: A/A
ED: 0/0
DM/EIC frei
Augen: HC/PRA/RD frei (Dez. 2012)
PRA genetisch frei




Mattaponi's Matoanka
*14.02.2005
Ahnentafel


Hips: B/B
Elbows: clear/clear
DM/EIC clear
Eyes: HC/PRA/RD clear (Dec. 2012)
PRA genetically clear

HD: B/B
ED: frei/frei
DM/EIC frei
Augen: HC/PRA/RD frei (Dez. 2012)
PRA genetisch frei

Cheslabben Sneak Peake

Sneak has a wonderful, friendly disposition, nothing disturbs his equanimity. His hunting abilities are well proven, either with Dummy's or with game. In the show ring he is an over flyer.
On top of this his health records are excellent an additional reason to choose him as a stud dog.

"Sneak" hat ein freundliches, ausgeglichenes Wesen, nichts bringt ihn aus der Ruhe. Er zeigt sehr gute jagdliche Eigenschaften sei es mit Dummy's oder mit Wild. Auf Ausstellungen besticht er durch das Motto "Kam, Sah und Siegte"…
Zudem hat er hervorragende Gesundheitswerte; mit ein Grund weshalb ich ihn als Deckrüde ausgewählt habe.

More information about "Sneak's" work and show results as well as more pictures
Weiter Infos / Fotos/ Resultate von "Sneak"
www.chesapeake-labrador-magdeburg.de
---
THE CHESAPEAKE IN CONTEMPORARY HYSTORY
---
I took the pictures from a CBR CD which was given to me; author: B. Baldwin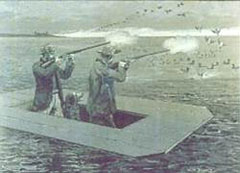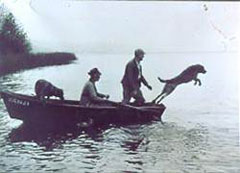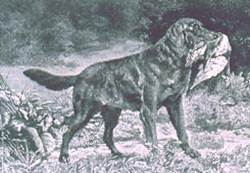 Left: Early duck shooting on Chesapeake Bay
Middle: The dogs worked from boats (1940)
Right: A Chesapeake 1880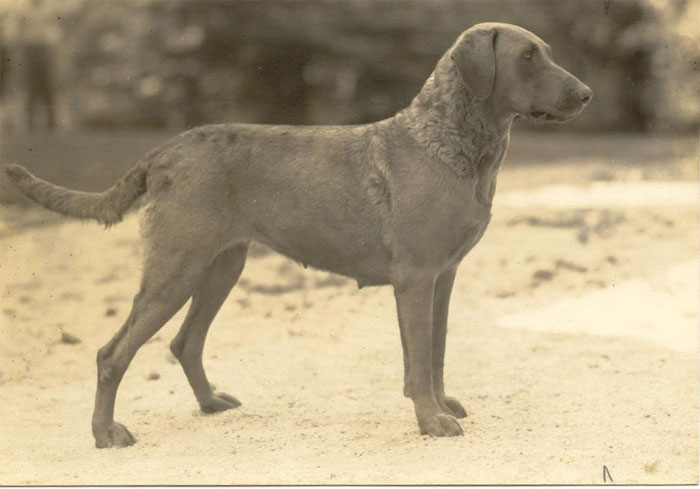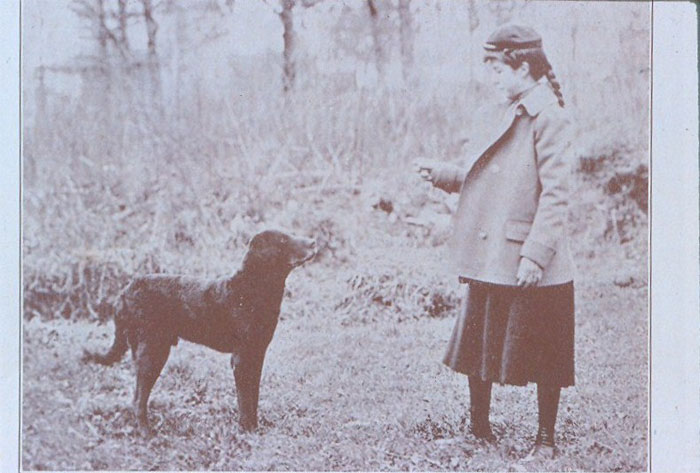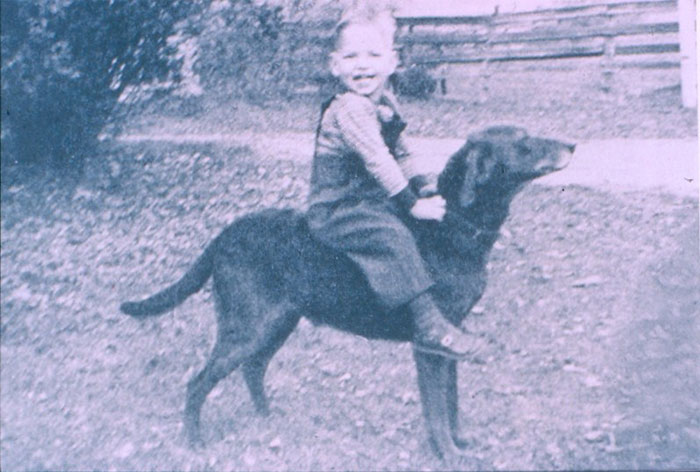 ---