---
TADI'S SISTER TOSKI
---

Toski lives France and does a great job. Her owner is enthusiastic about her working abilities :-)
---
TADI DECEMBER
---

Tadi December 2017 Photo by: Roberta Brenna
---
GWC / GUNDOG WORKING CERTIFICATE BY THE BRITISH KC November 3rd 2017
---
For the first time in Italy Mirko Galli and his wife Stefania organized a GWC under the rules of the British Kennel Club at Piacenza. This event was a great success. All the participants liked it because it was something new and so far unknown in Italy.
Judge and instructor: Mrs. Anthea Lawrence GB

From left to right: Mirko, Anthea, the interpreter, Stefania

In the morning there was a steadiness/walk-up/marking training.
The test begun after lunch. 16 dogs participated divided in 2 groups. The final step was a drive, all dogs worked together. Quite exiting :-)

During the training in the waiting area Tadi was completely relaxed

Tadi is concentrating to mark…

After lunch Tadi is ready for the test

Walk-up in the woods with blinds behind and marks in front of the line while the other group had to show steadiness

My group during the steadiness

After the steadiness the dogs have been sent for a free search

Tadi passed the GWC meaning if I ever show him on the famous dog show Cruft's he is qualified for the gundog/working class :-)
---
TADI'S FIRST FT TRAINING WITH LIVE GAME Treviolo November 1st 2017
---

Photo by Davide Momini

Photo by Davide Momini

Photo by Davide Cavedagna

Photo by Marzia Arzenton

Photo by Michela Zampoleri
---
WT CASTEGGIO October 14th 2017
Judges: Mrs. B. Campi (I) Mr. C. Karai (H) Mr. C. Szantay (H) Mr. T. Shields (I)
---

Wonderful country side

Tadi's sister Theya

Even Theya didn't work as desired Catherine always was in good mood :-)

Tadi didn't work as usual according to ones wishes in Novice class :-( Anyhow, we enjoyed the day!
---
RCI WORK & SHOW WEEKEND FOR CBR / TOLLER / FLAT September 23./24 Zibido San Giacomo
Judges WT: Raffaele Navone, Gianluca Renier, Olivia Erfurt Judge Show: Mrs. J. Szilayi (HU)
---
Tadi was placed 2nd at the WT Novice Class / RCAC at the Show meaning best Chesapeake Work&Show Gleam failed at the WT Open Class but was BOS at the Show

Tadi RCAC

Gleam BOS

Price giving

The next generation

The successful participants of Work&Show
---
RIVERRUN DARE TO DREAM X TUGBOAT N' MATTAPONI'S GLEAM OF HOPE
MATED ON SEPTEMBER 7th
---
I FEEL REALLY SORRY BECAUSE UNFORTUNATELY THERE WONT BE PUPPIES!
NO ONE KNOWS WHY BUT GLEAM DIDN'T GET PREGNANT. WELL, THAT'S NATURE AND THINGS LIKE THIS HAPPEN QUITE OFTEN EVEN A BITCH HAD A LITTER BEFORE.
BECAUSE I BELIEVE IN THIS MATING I'LL TRY AGAIN NEXT SPRING.
I truly hope it will work out next time because I definitely would like having a female out of this mating…
My thank goes to the people which were interested in a puppy.
---
HOLIDAYS WITH FRIENDS AND DOGS DENMARK AUGUST 2017
---

Drøsselberg Strand. The beach was in walking distance from out holiday home

Lighthouse Røs Næs Fyr

Training Day with cold game

A rabbit, something new for Tadi's sister Theya

Tadi thinks finally a duck and not a boring Dummy

The fabulous Louisiana Museum at Humlebæk

JPG Meeting Point at Arrangør where the WT and Markprøve took place

Tadi at the WT Åben Klasse . 9 dogs participated, 2 passed. Tadi placed 2nd

Tadi's sister Theya worked nicely in the Beginder Klasse but she was running in twice...

Tadi's brother Wunu, Beginder Klasse, worked excellent except he was running in once...

The winning dogs of all classes. There weren't many...

Markprøve B
Tadi worked excellent but Guy touched him... It's not allowed touching the dog!
That was the only reason why Tadi could not pass cold game test. Real bad luck...

Club Show Kobæk Strand, Skælskør.
Gleam placed 3rd in Champion Class. Tadi exc. in Intermedia Class

Cathedral of Roskilde where almost all the Danish Kings and Queens are buried

The marble sarcophagus of king Christian V. †1699

The chapel was built by king Christian I. (†1481) for himself and his queen

The Viking Museum at Roskilde. Shipbuilder restore old and rebuild new Viking ships

Market-place Roskilde

Gleam at the beach of Gørlev

Minster of Sorø built 1161

At The beach of Eskebjerg. Have you ever seen cows on a beach? I have...
---
WELL DONE, CONGRATULATION TO THE SUCCESSFUL MATTAPONI'S
June 2017
---

From GB: Andy Kinta with "Tanner" (Mattaponi's Tainn)
WT beginner class 2nd place. June 2017

From Italy: Claudio Cazzaniga with "Mave" (Mattaponi's Tewa)
Water Rescue Dog Test in France 1st place. June 2017

From Czechoslovakia: Blanka Novotna with Int. Champion "Cathy" (Mattaponi's Fabulous Catori)

Expo Bled (SVN) Double CAC/CACIB/BOB
---
"BEHIND THE CAMERA"
I was invited to judge at the
WT GR8 at Mantova / "Al Laghet", June 11th 2017
Many thanks to the organizer for inviting me, it was a wonderful day and a great event!
Photos by: Giulia Giorgini
---

From left to right: The organizing team Mario & Michela, me and my co judges Ronny Farelly (IRL), Matthew Lamben (IRL) and Francis Bisagno (I)

Francis built up his tests on and in the water

What a surprise: a Chessie among the competitors. There were also two Duck Tolling Retrievers!

This team found a shady space

One of my fantastic dummy throwers

Taxi service - for judges only

After a long, very hot day congrats to the happy competitors
---
WORK SHOP ONLY FOR CHESAPEAKE AND DUCK TOLLING RETRIEVER
June 3rd / 4th 2017 at Treviolo (BG)
---
I invited Jason Mayhew (GB) to Italy because he is an excellent trainer not only for Labradors and Goldens but also for Chesapeake's and Toller's. We worked in two groups, advanced and beginner. Saturday it was a real hot day on Sunday it was cooling down with some rain in the morning. Everybody was very pleased about the way how Jason is training gun dogs. He had a lot of patience and at the end every dog, every handler was successful. We all hope he'll comes back once more to Italy.

The beginner group

"Sushi" one of the Toller's learned how to hold a Dummy properly

Each beginner dog had its "private lesson"

This Chessie is called "Curly" but she is definitely not a Curly

Jason explains always to everybody why one should train this or the other way

Jason looks very critical at the dogs of the advanced class, no "sneaking off", no excuses...

Part of the advanced group. A lucky Flat could participate because a Chessie couldn't come
---
WORKING TEST TREVIOLO (BG) May 21st 2017
Judges: Melanie Brooks (GB), Diana Stevens (GB), Gian-Luca Renier (I), Raffaele Navone (I)
---
Tadi handled by Guy competed in beginner class and they had a day to remember...

walk-up

another walk-up but...

... no Dummy; Tadi had to wait for further orders

Price giving. What a great surprise, Tadis' 1st victory, 75 out of 80 points!

Like Formula One: all the winners received a Champagne shower and...

... as you see Guy got a heavy one

The winning teams beginner class
---
TRAING DAY AT TREVIOLO (BG)
Photos by: Davide Momini
---
Even the weather wasn't really pleasant Gleam and Tadi enjoyed the very demanding training day with Chicco Argostanza.
Thank you Davide for the lovely photos!
---
TEAM WT PAVIA / Il Biancospino May 1st 2017
Photos by Giorgio Roccetta Judges: Jürgen Laux (D); Tom Shiels (IRL); Mirco Galli (I); Jean-Louis Recchia (F)
---

The appropriate name of our team: THE EXOTICS
Our team captain Chicco handled his excellent Toller Enigma

Tadi

Gleam

Tom Shiles is ready for judging

Jürgen Laux watches carefully Gleam; Chicco and Enigma in waiting position

The Exotics ended up on 2nd place
---
WITH FRIENDS AND DOGS IN GREAT BRITAIN
March 2017
---

We rented a lovely, and cozy holiday home at Stedham/West Sussex

The "backyard": all public fields and footpaths, great for dog walking and they just loved to run and fool around

The remains of Cowdray House / Midhurst.
Burnt-out in 1793

We had very challenging training days with Jason Mayhew. Catherine with Theya. She looks very alike her mother Gleam

Unfortunately Gaby's dog Wuno (Tadis brother) was injured. Therefore she handled Tadi and she handled him extremely well. The brown dog sitting aside is Tanner another daughter of Gleam.

We also worked on big fields. Gaby and Tadi

Tadi

The youngsters had do deal with long marks, Gleam as an advanced dog with real long markings and blinds

Myself and Gleam

Jason, Gaby, myself, Catherine and Andy. We had a wonderful, exiting time together

In the town of Winchester

jpg Market square in town center

Winchester Cathedral is one of the largest cathedrals in Europe. Founded in 642. In 1079 began work on a completely new cathedral. The building was consecrated in 1093
---
THE CHESAPEAKE COLOUR DEADGRASS 17/03/2017
---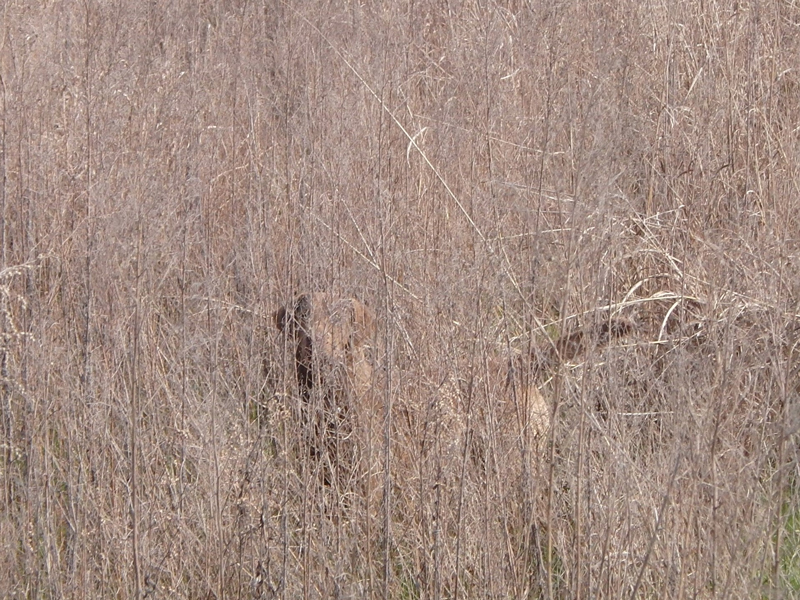 For all the people which are not so familiar with the colour Deadgrass in Chesapeake's I show you a nice example of my Gleam. As you see in a dry (dead) grassland she is almost invisible.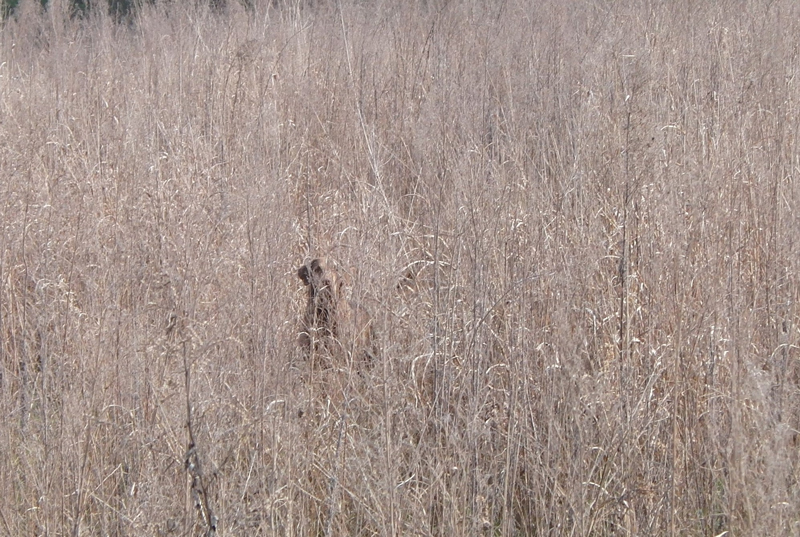 ---
DOG SHOW PADOVA ITALY 15/01/2017
Judge: E. Drudi (I)
---

Gleam Open Class 1° Exc. CAC / BOS
---
FIELD TRIAL CLASSICS AND EARLY CHESAPEAKES February 2017
---

IGL Championship 1929 / Dear Park, Muncaster, Ravenglass Cumberland GB

Studio photo Chesapeake 1895

FTC/AFC Atom Bob 1953 owned/showed by Dr. J. Lundy ACC President 1957-1959

7 Chesapeake puppies
1929 / Marshy Point, Long Island USA

A Chesapeake and a ? at work 1890

Chesapeake about 1900
---