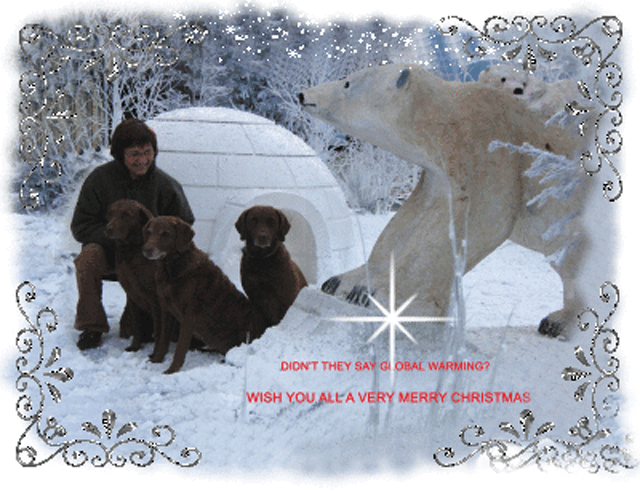 ---
ARHUS (DK) November 30. - December 03.2009
Mato was ready to be mated, thats why we went to Denmark
---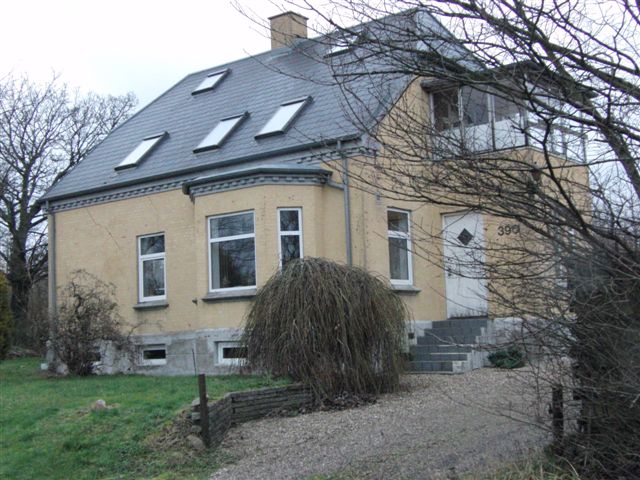 The home of Johnny and Judith Sorensen, the proud owners of the male Clive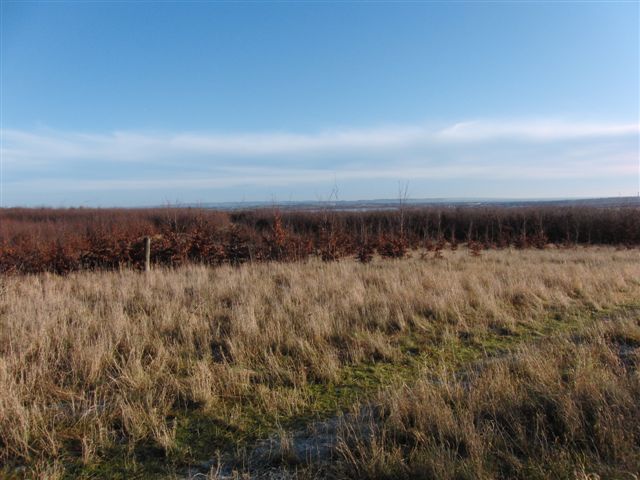 The house is surrounded by wonderful country side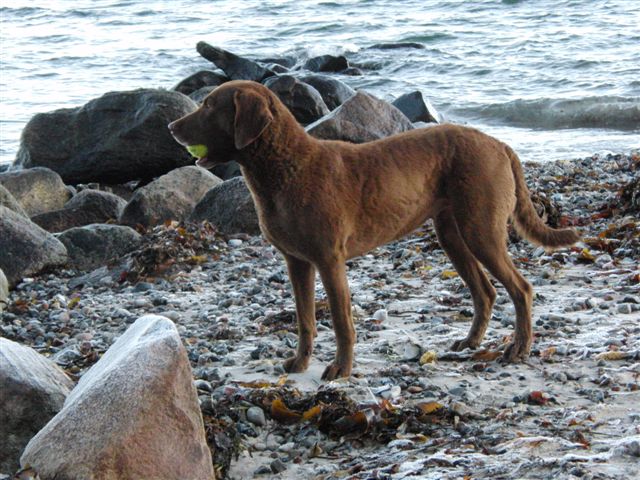 Mato enjoyed very much the beach at Arhus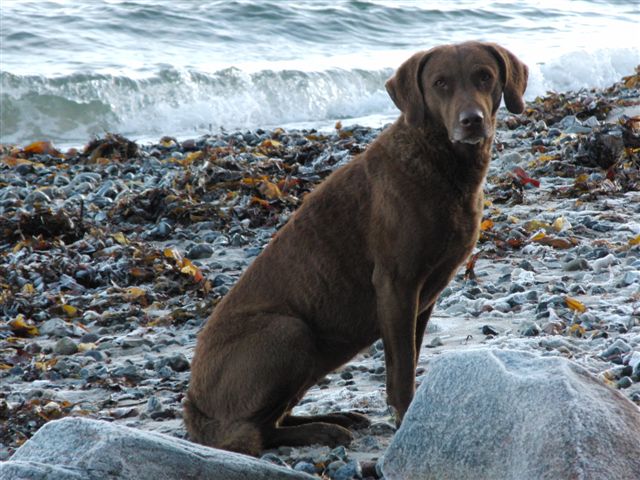 ---
SUCCESSFUL MATTAPONI'S ON SWISS DOG GAMES October 2009
---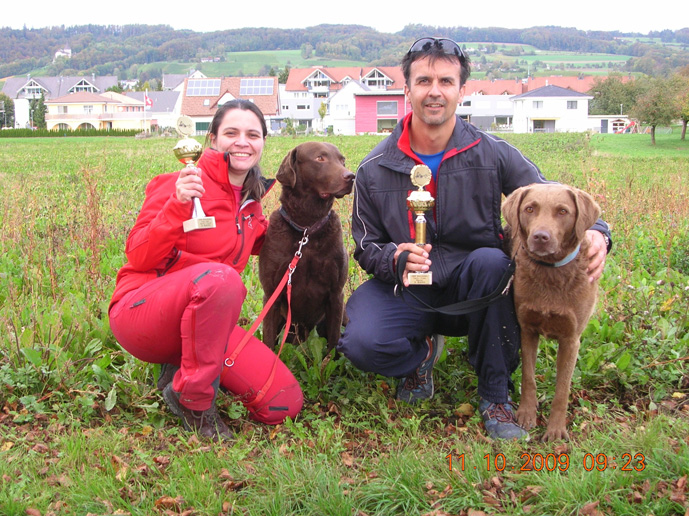 Christina Thönen with Mato's brother "Milo" and Daniel Graf with littermate "Mika"
---
FT ERSTEIN (F) September 26th 2009
Photos: D. Bratschi
---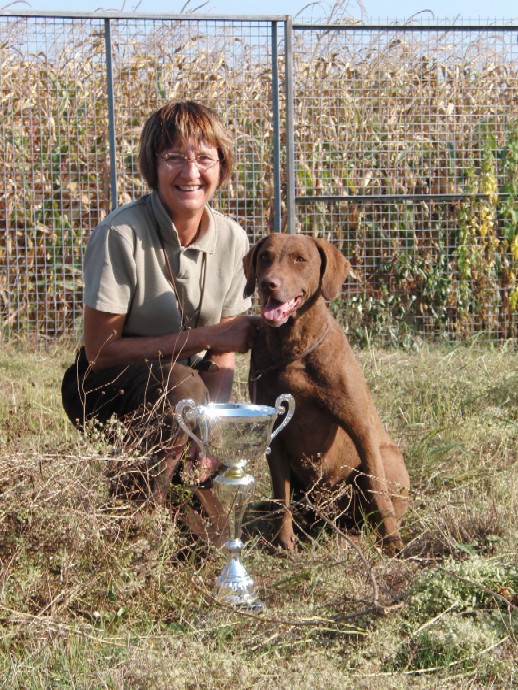 Mato's phenomenal victory; open class 1st exc. CACIT (Judge: P. Lammens)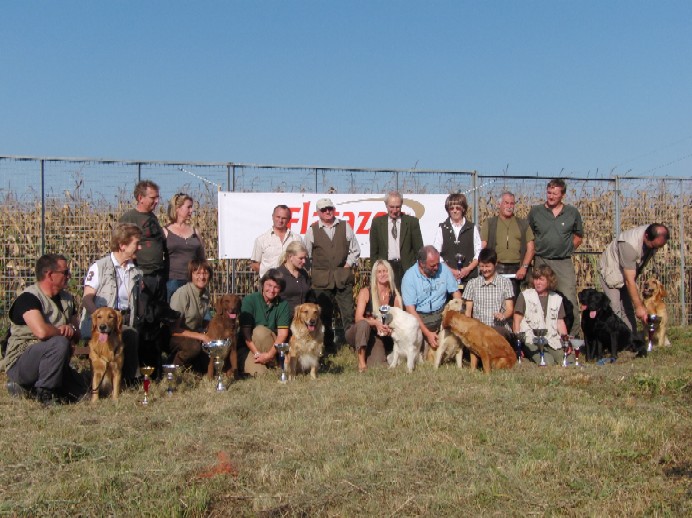 The judges and the classified teams at intermediate as well as open classes.
---
CHARITY WT WIESBADEN (D) September 12./13. 2009
---
This event was organised by "VITA Assistenzhunde", a non profit organisation who trains dogs for handicapped adults and children. These dogs assist their owners in their daily routine and do Dummy work in their free time.
Well known judges such as R. Hill (GB),W. Haag (CH), Dr. R. Kaserer (A), L. and M. Stringer (GB) and H. Marcussen (D) supported the event as well as all participants.
Enjoy the pictures and if you want to know more about "VITA" see www.vita-assistenzhunde.de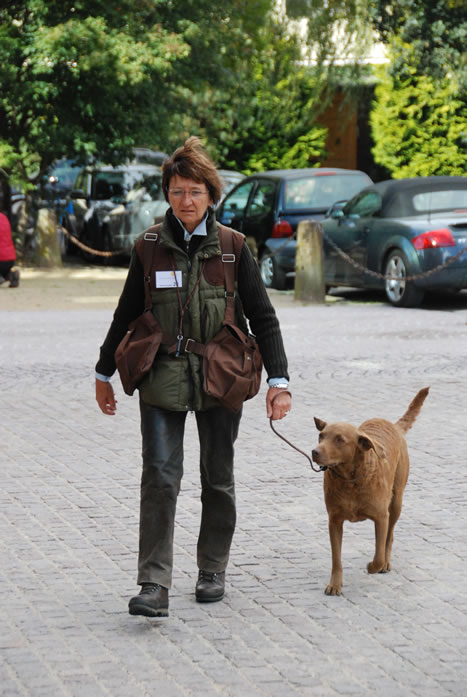 It was a real pleasure for me and Kanda competing at the Charity Working Test. (Photo: Dr. G. Mittelbach)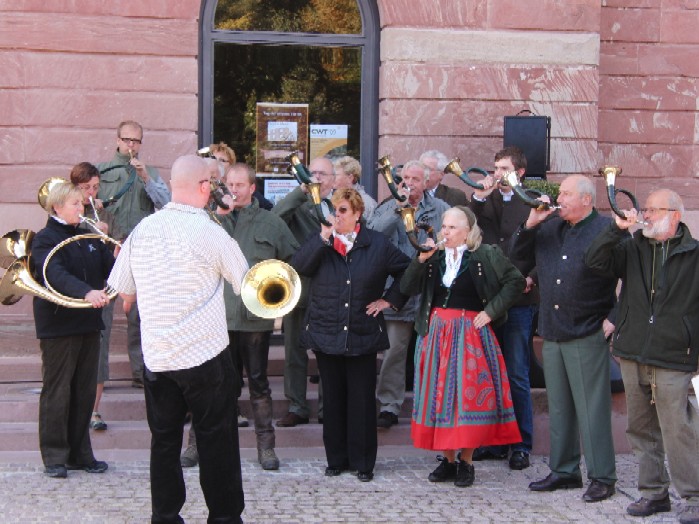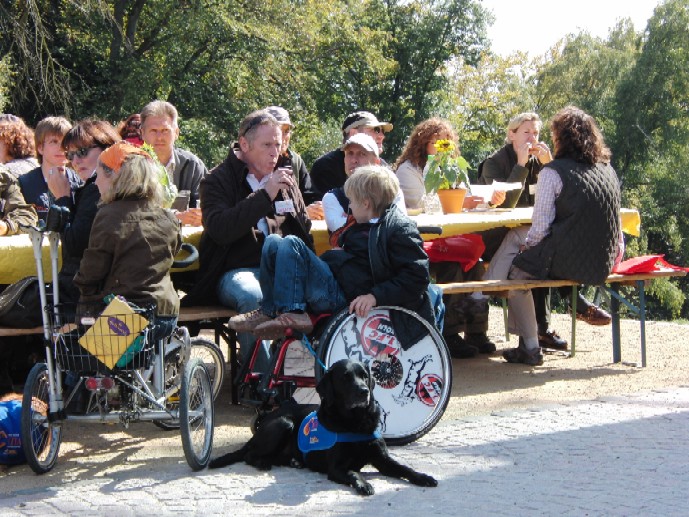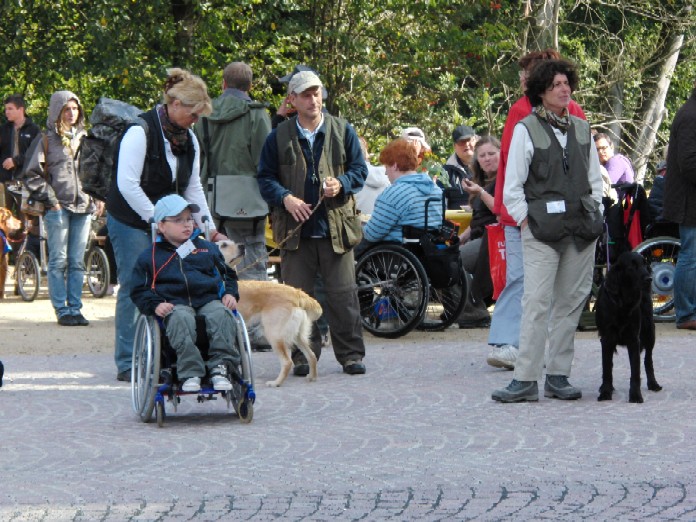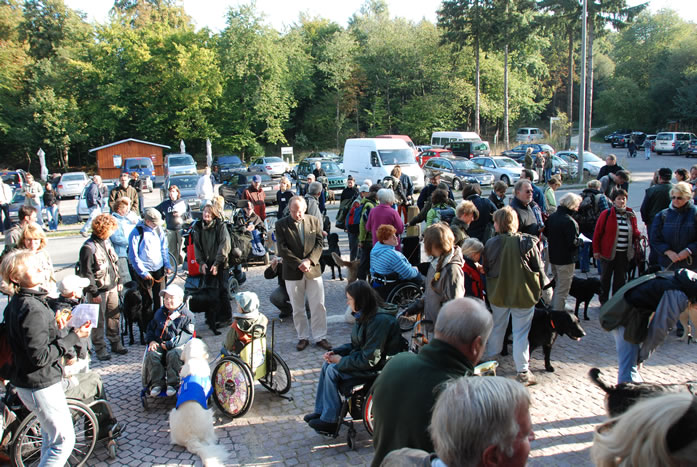 (Photo: Dr. G. Mittelbach)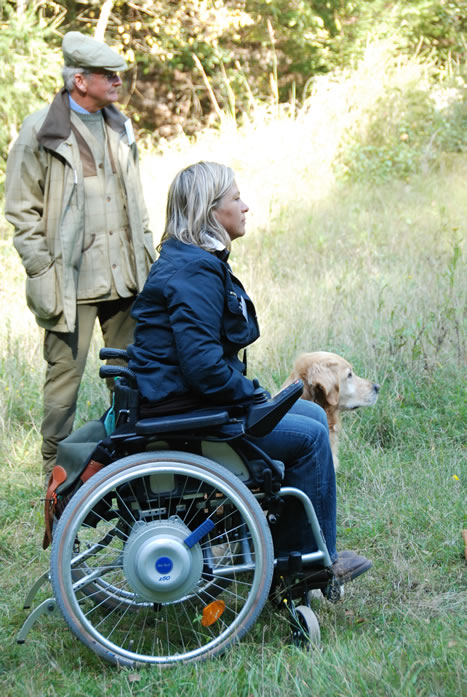 Dr. Robert Kaserer (A) and competitor (Photo: Dr. G. Mittelbach)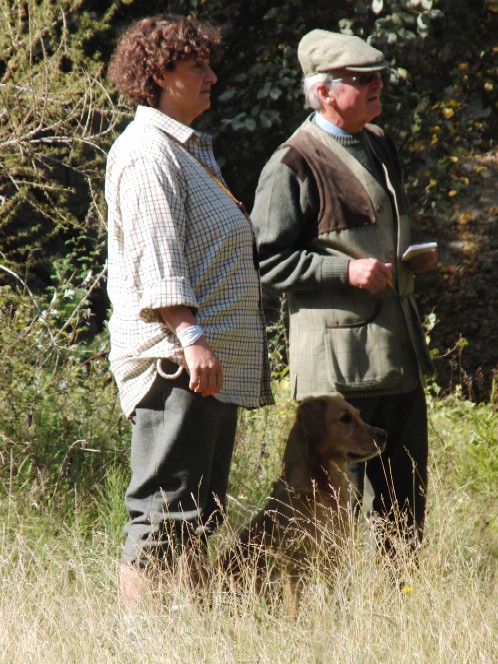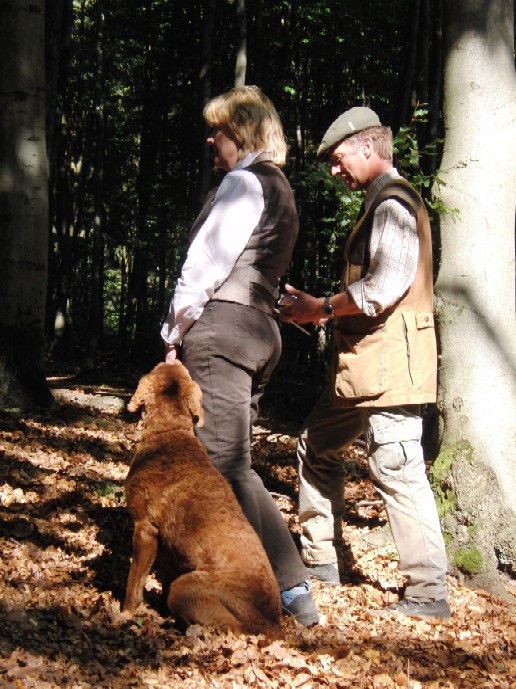 Werner Haag (CH) and competitor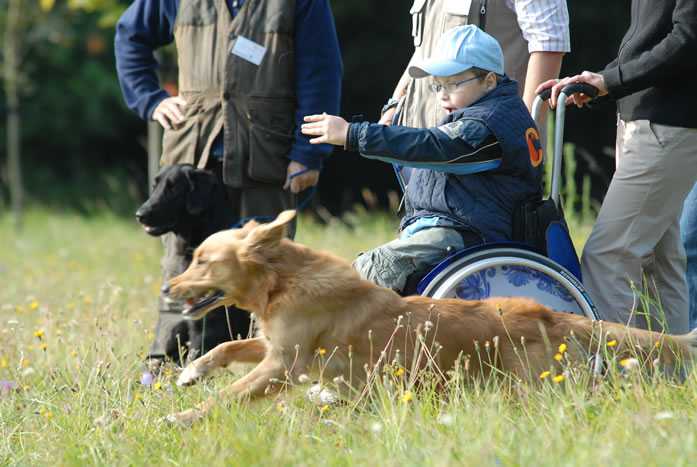 (Photo: Dr. G. Mittelbach)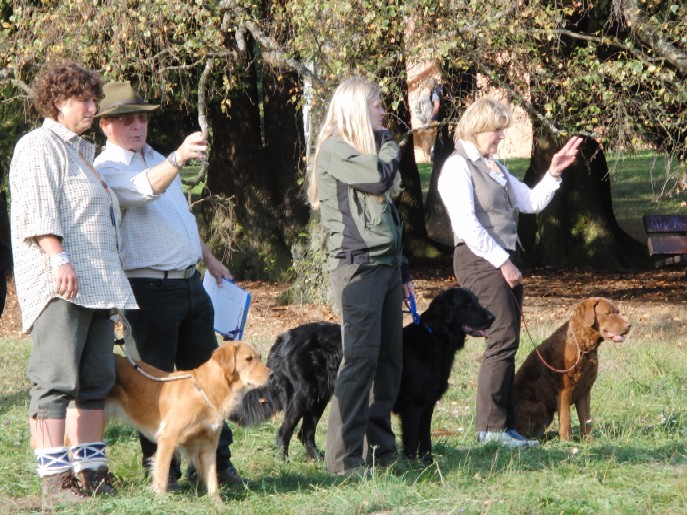 Malcolm Stringer (GB) and competitors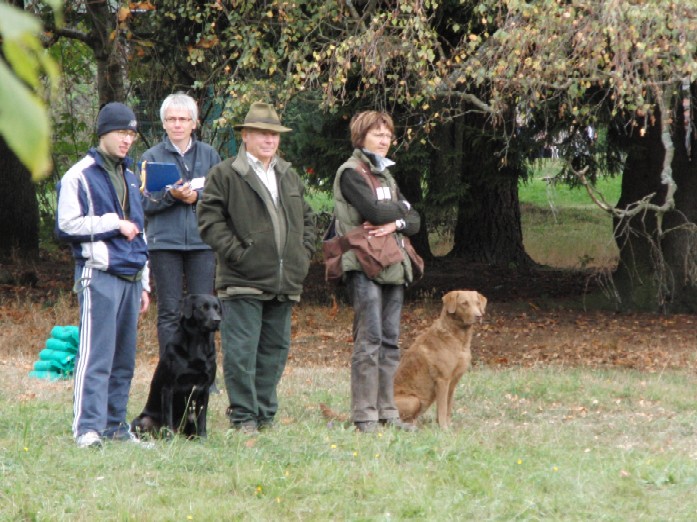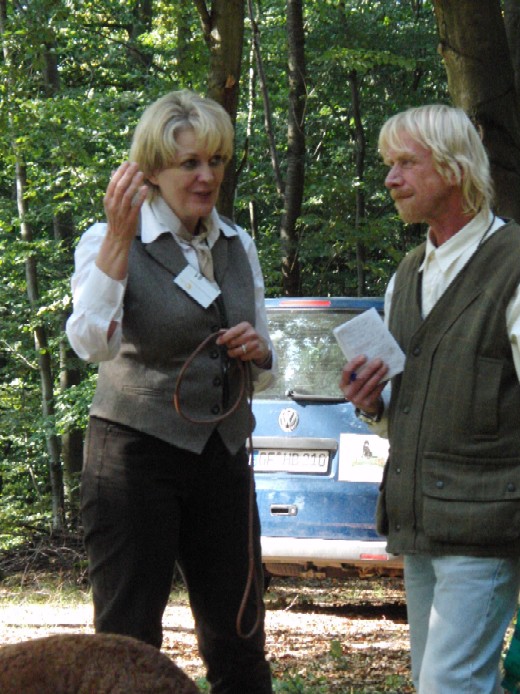 Henning Marcusson (D) and competitor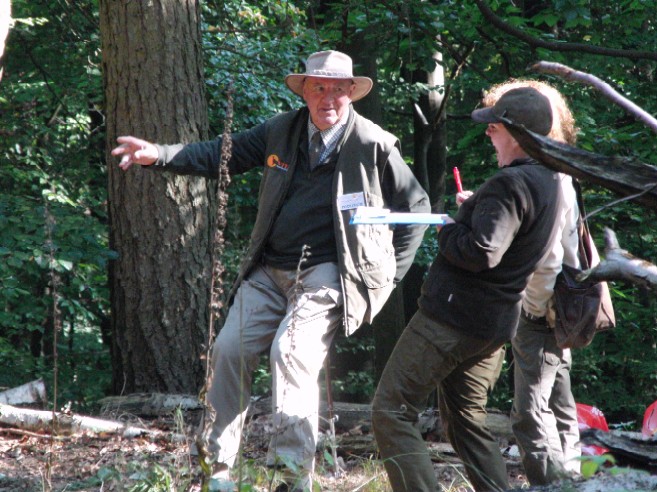 Rupert Hill (GB) and Stewart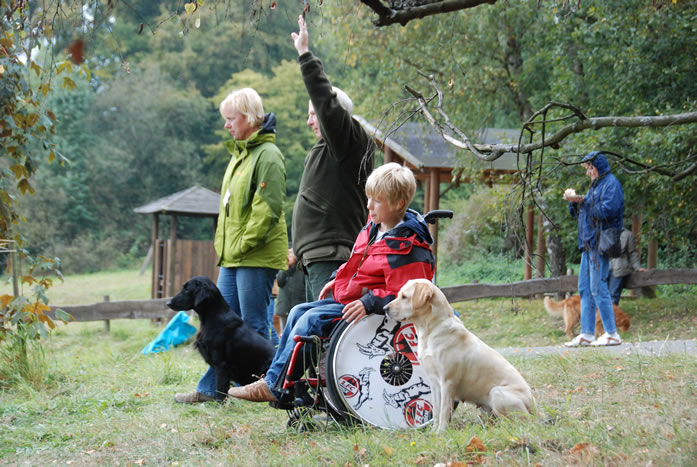 (Photo: Dr. G. Mittelbach)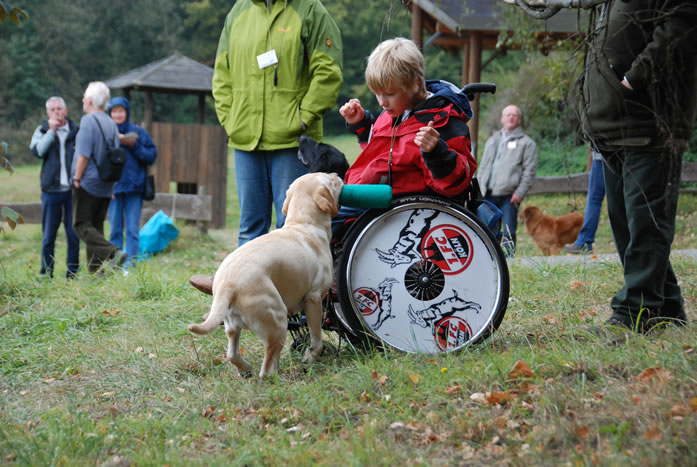 (Photo: Dr. G. Mittelbach)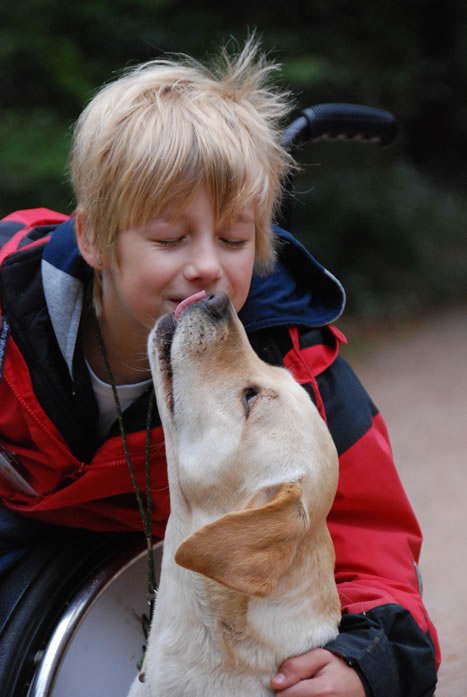 This picture tells more than 1000 words! (Photo: Dr. G. Mittelbach)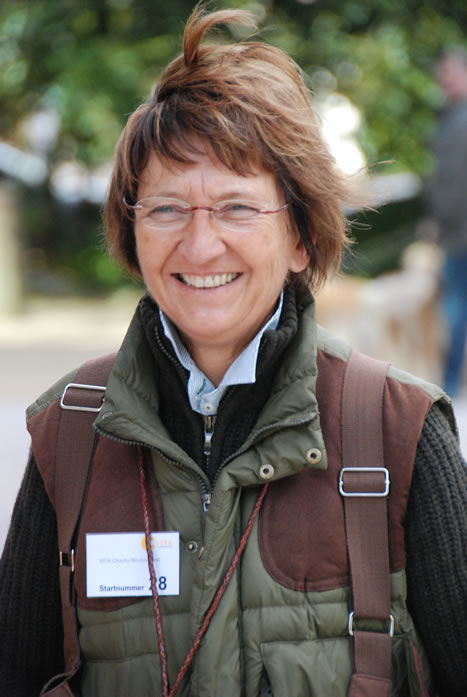 It was an wonderful, unforgettable event and I am looking forward being part of it next year!
(Photo: Dr. G. Mittelbach)
---
MUNICH - CUP 2009 August 30th
Photos: Dr. G. Mittelbach
---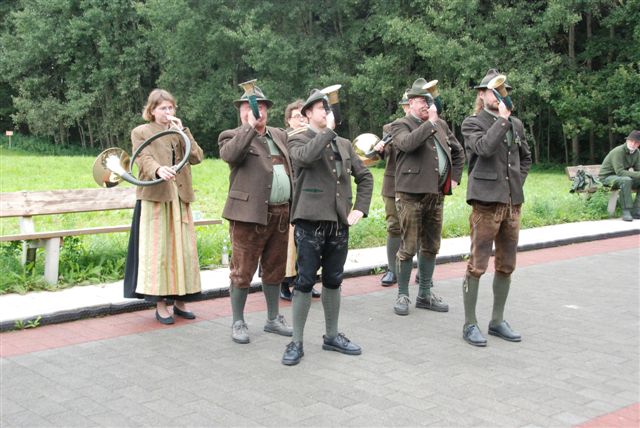 The wind-players bid welcome to everyone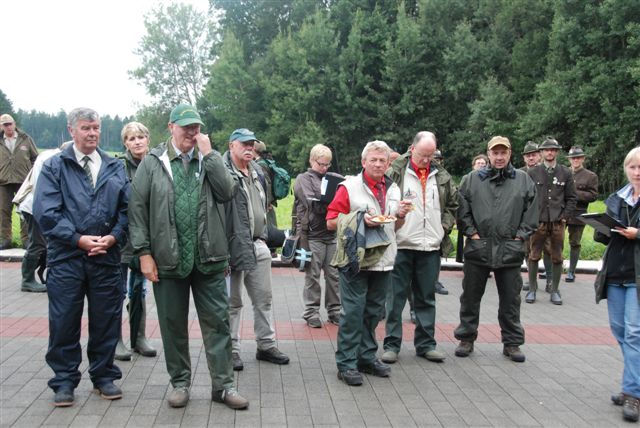 The judges John Stubbs, Rupert Hill, Roger Touzer, Mark Bettinson, Phil Parkins (all GB)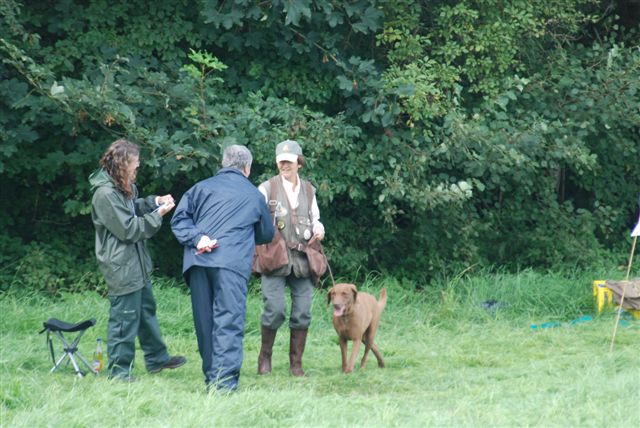 Welcome and good luck!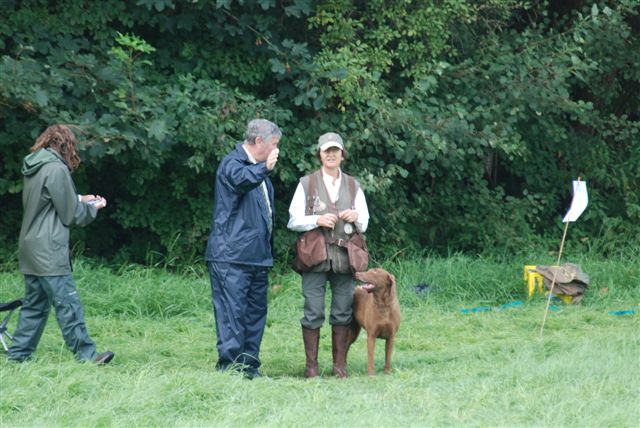 Explanation of the task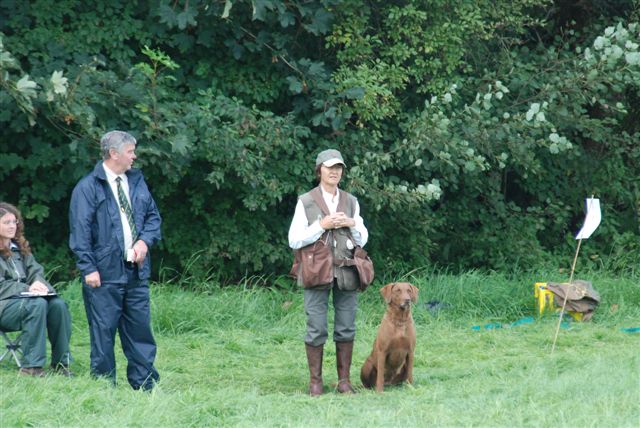 Mato seems to be very concentrated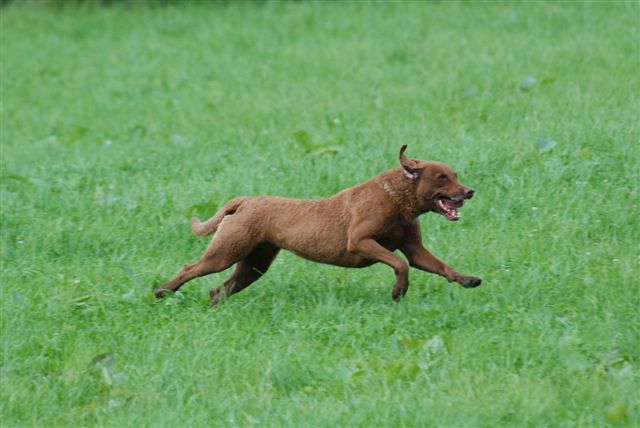 She takes off like a shot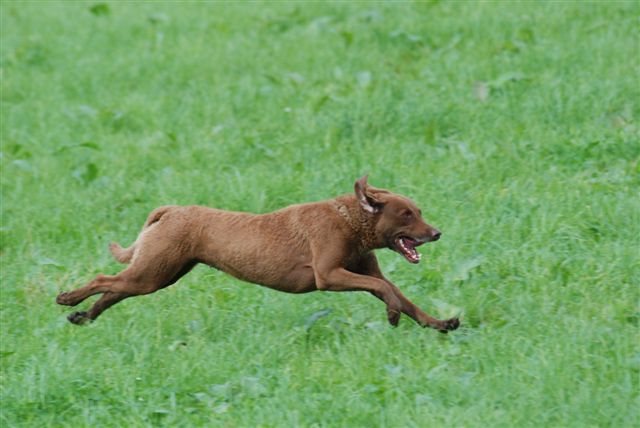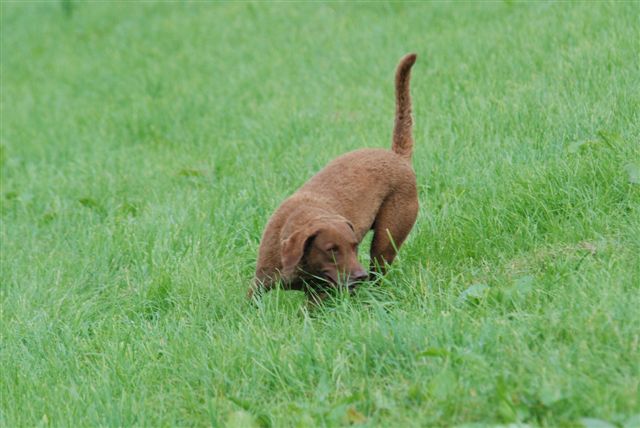 Mind the Dummy!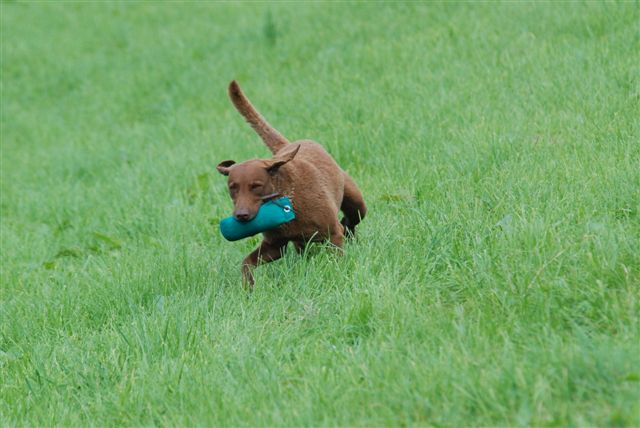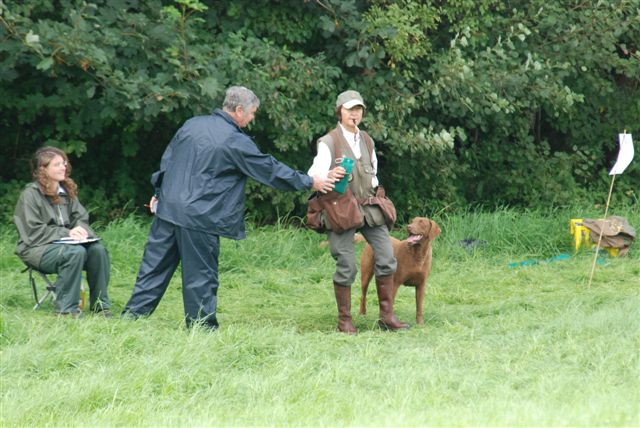 As the whistle is still "alert", the task might continue...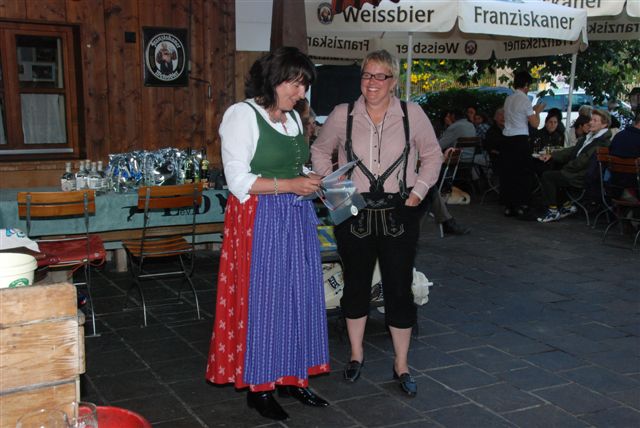 Real stylish: The lady's of the organization team dressed up in traditional Bavarian peasant costumes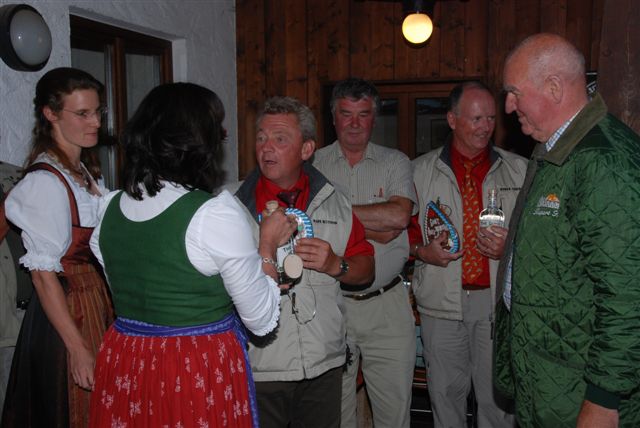 Souvenirs for all judges: Baverian specialities.
Mato and me, we didn't win anything, but at least we passed the WT open class with the qualification "Good" :)
---
WORKING TEST S'CHANF (CH) August 15th 2009
Photos: Dr.G.Mittelbach
---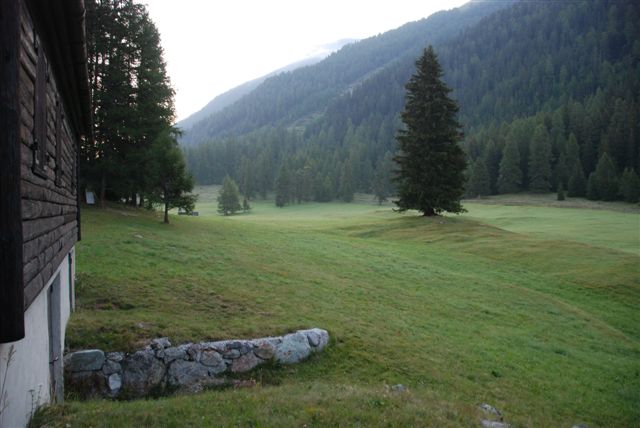 Beautyful Engadine!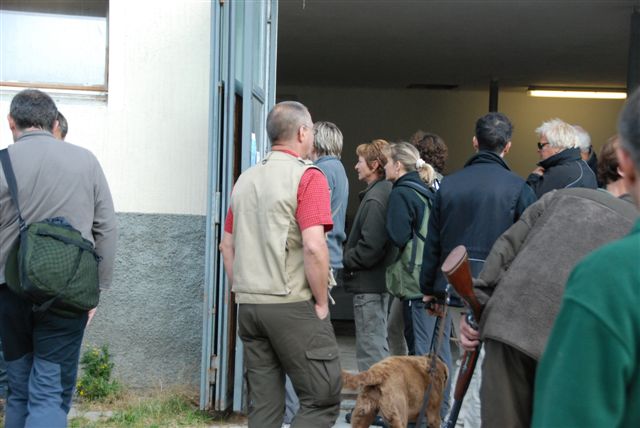 The participants are checking the starting list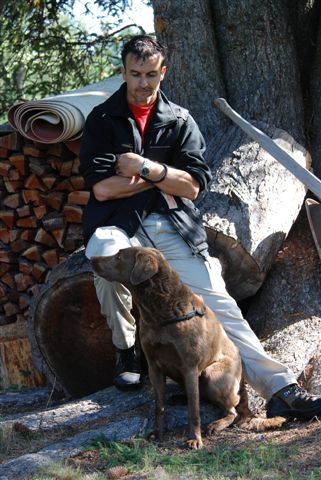 Mato's sister "Mika" competed very well!
From now on she is eligible to enter the Intermediate class. BRAVO!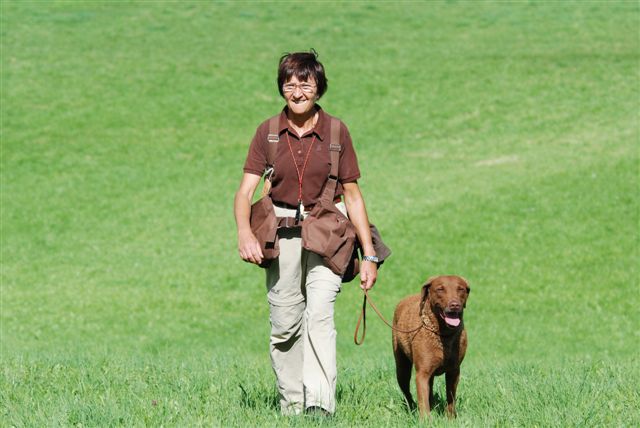 The Open class began in the afternoon and the sun was burning...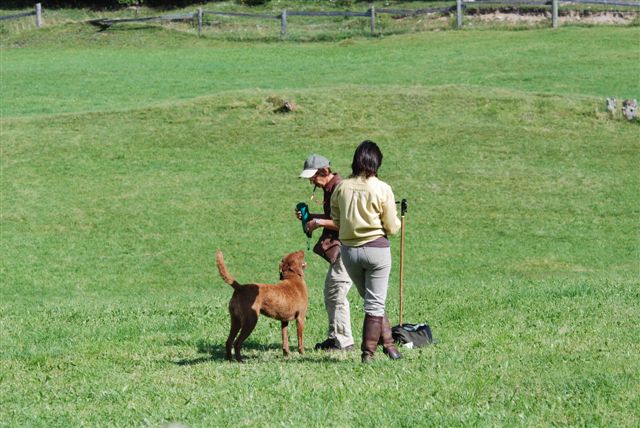 ...Nevertheless Mato worked well, not brilliant, but still we ended up with a "Good"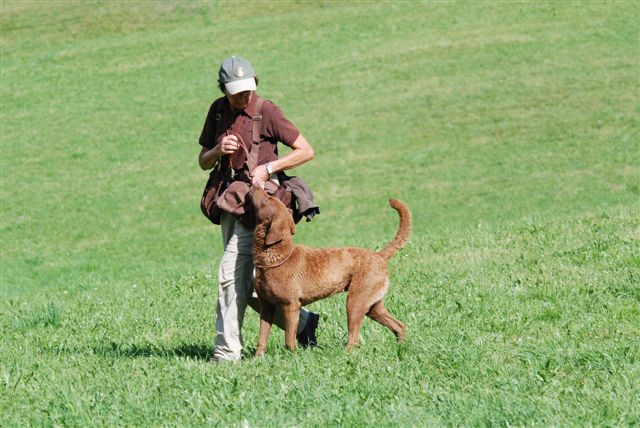 Unmistakable: Mato wants her tennis ball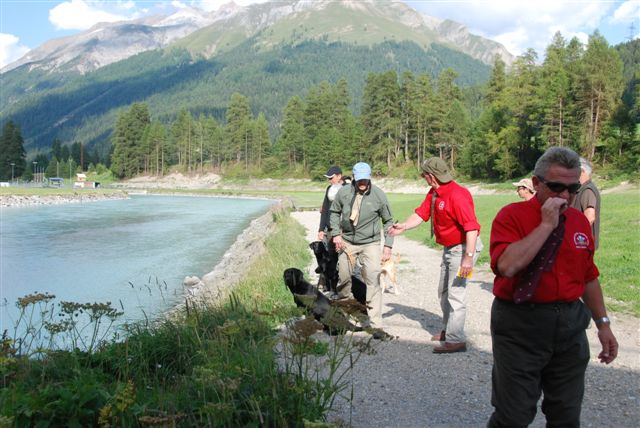 Preparing for the water test at the river Inn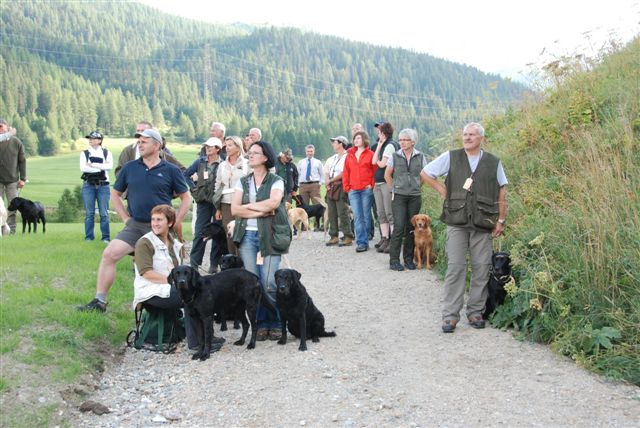 Queue up for the water test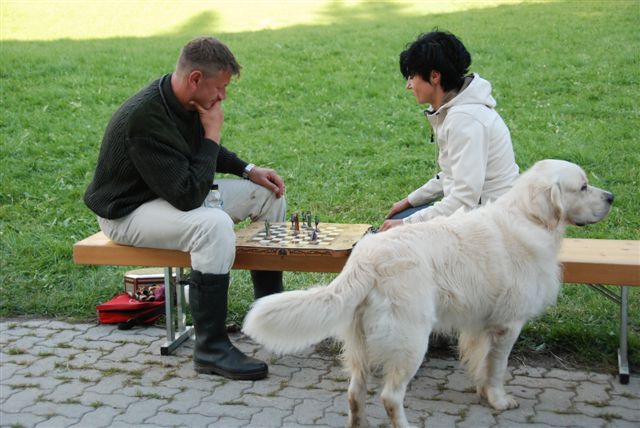 Time of waiting: I am wondering which one was more difficult: the WT or the game of chess?
---
CLA GAME FAIR BELVOIR CASTLE 2009 (GB)
Photos were taken by my fan club: Res, Heidrun, Guy and Jérémie
---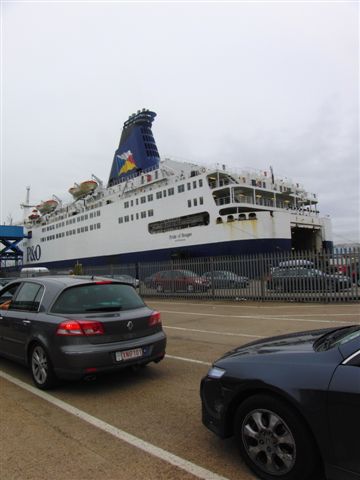 Take off to the big event July 20th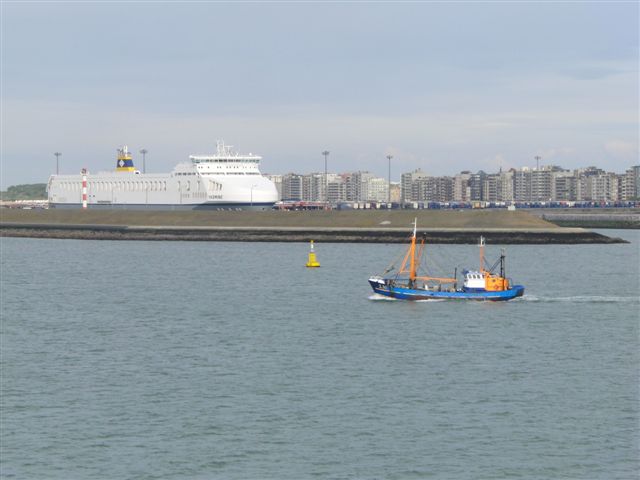 Leaving the harbour of Zeebrugge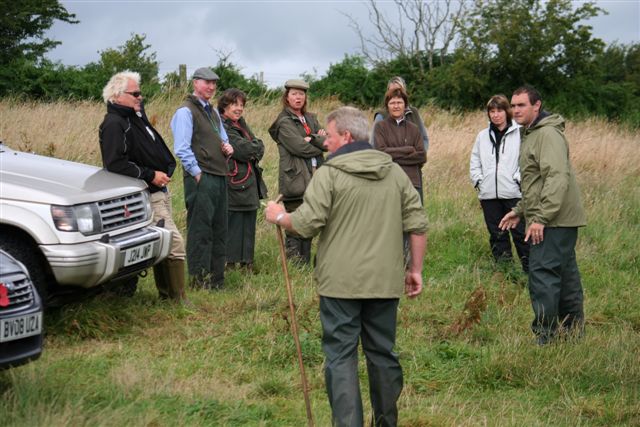 21st: The Bettinson's put the finishing touches to our team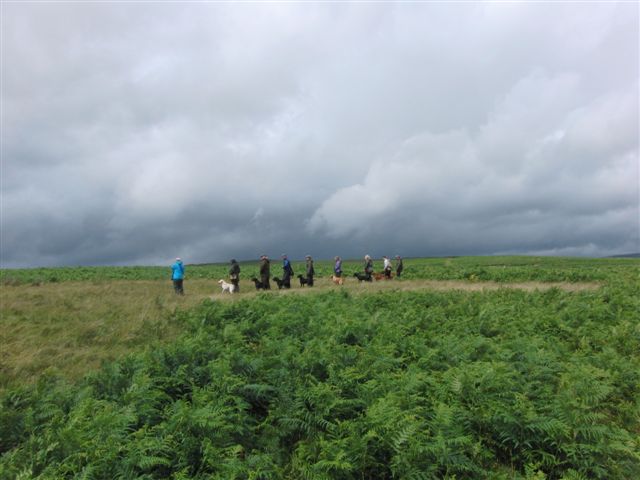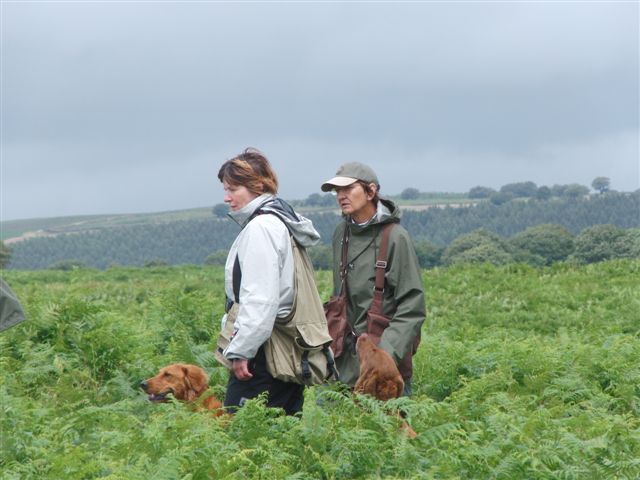 Christine and Lara; me and Mato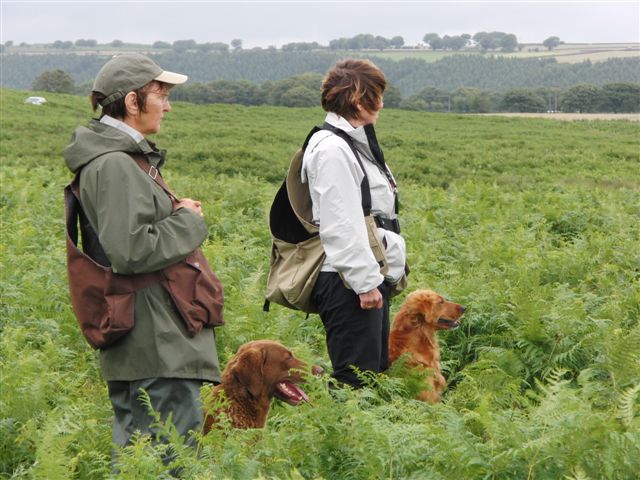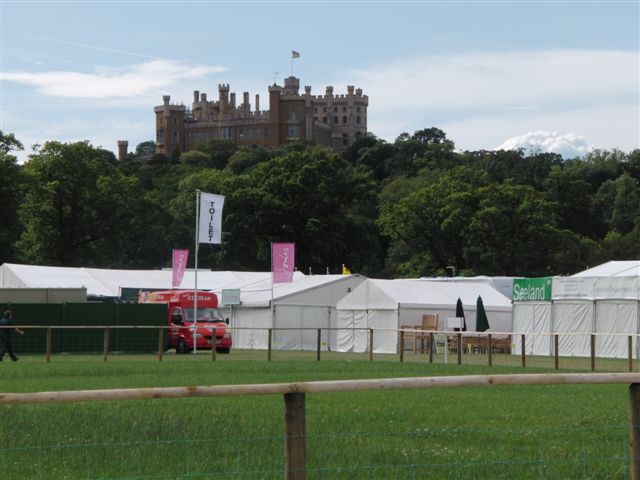 Arriving at the Fair Grounds: Lull before the storm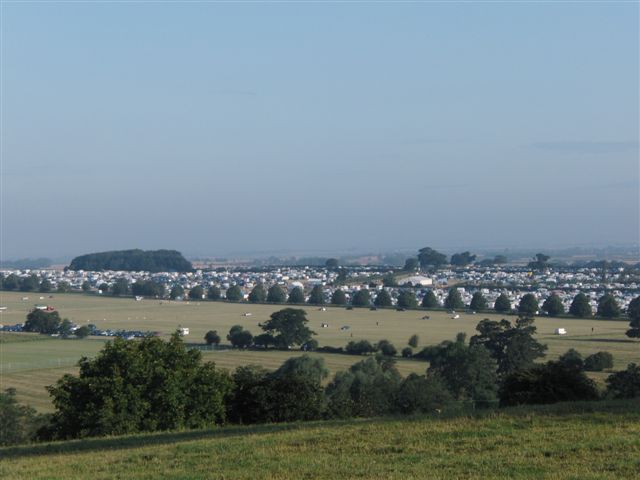 Rear: Visitors camping parking lot; Front: Visitors car parking lot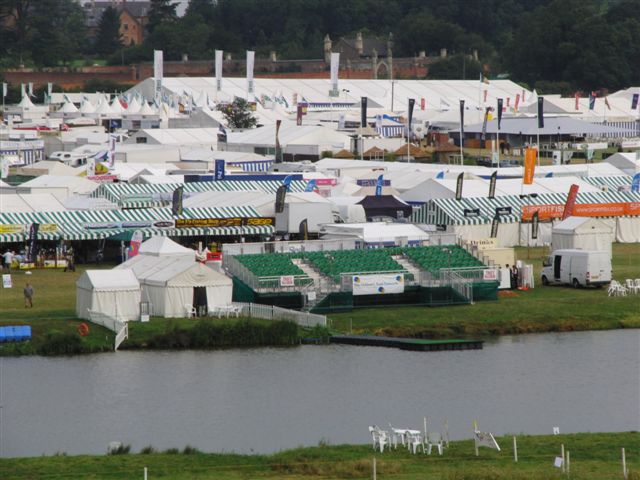 A city under canvas: shops, restaurants, information centres, shooting arenas,
garden centres, children's activities, dog crèche, falconry and much, much more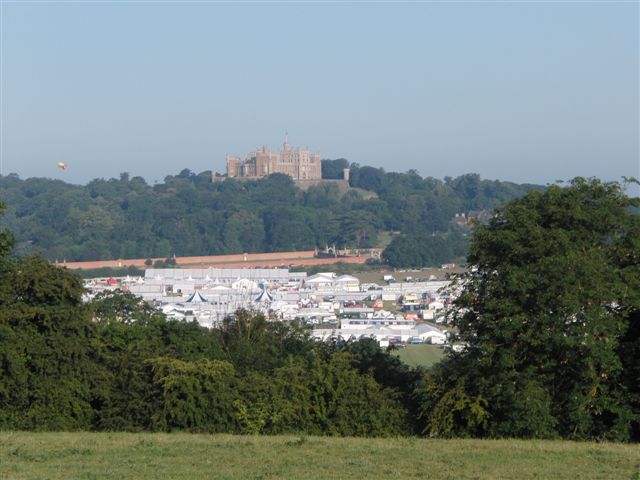 The crowd arrives...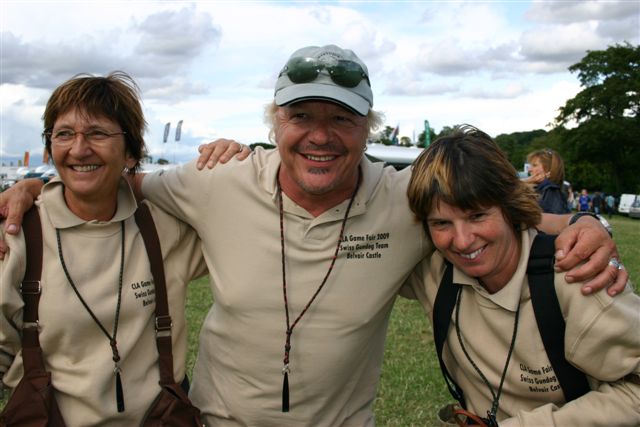 ... We where in a good mood and...

... The first of three trial days began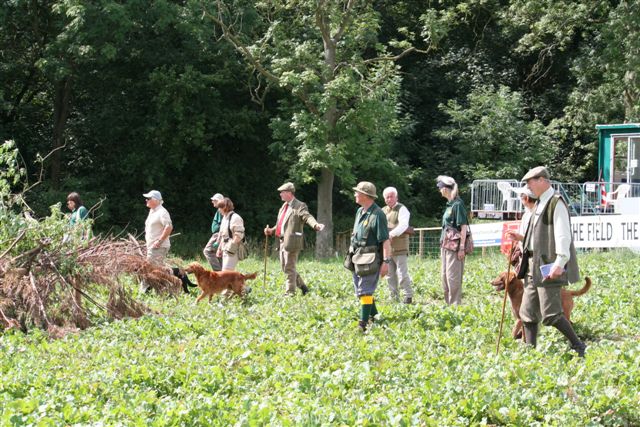 We started with a walk-up, several markings for each dog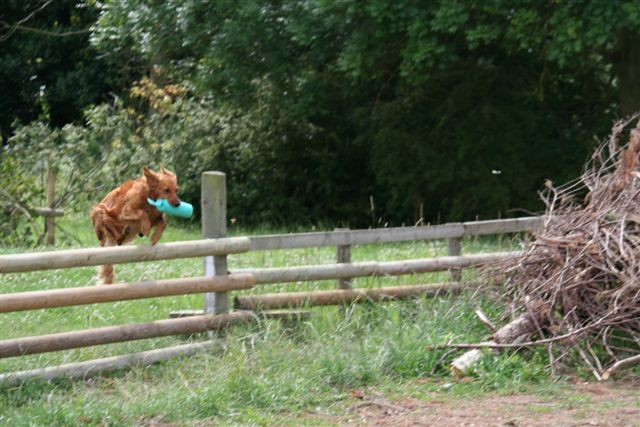 Christine's Golden Lara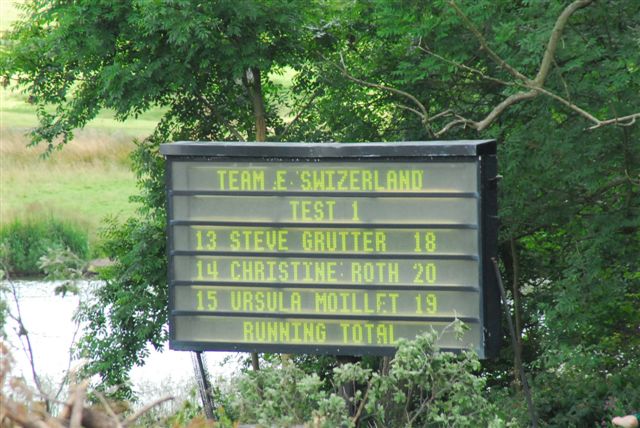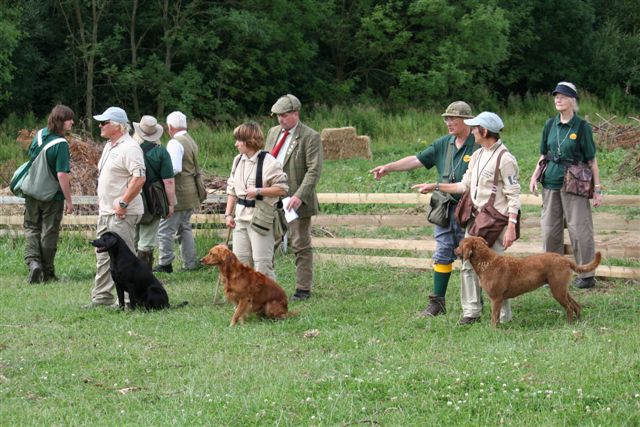 We worked all out: marks and blinds either on land or in the water even running rabbits
and the judges always kept an eye on the steadiness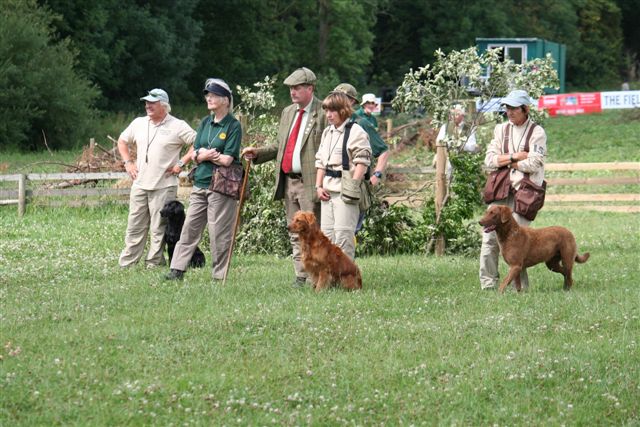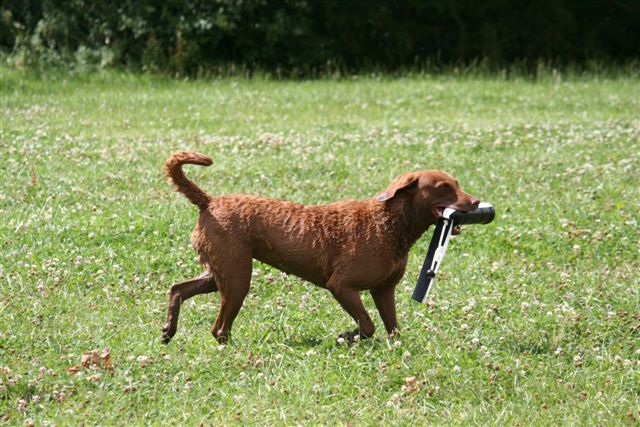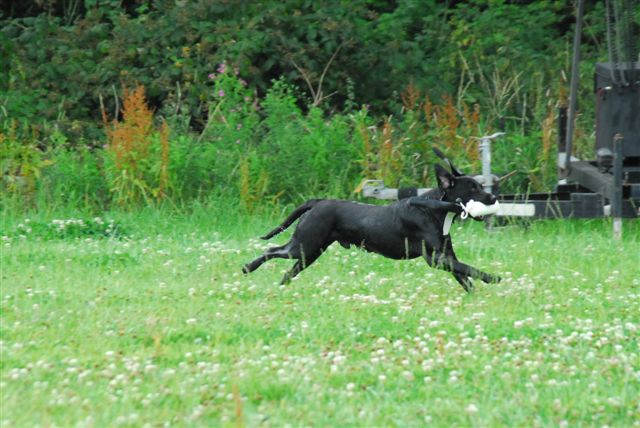 Steve's Lab Diesel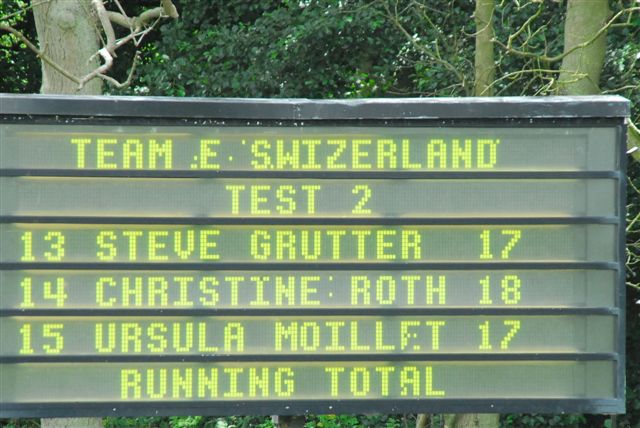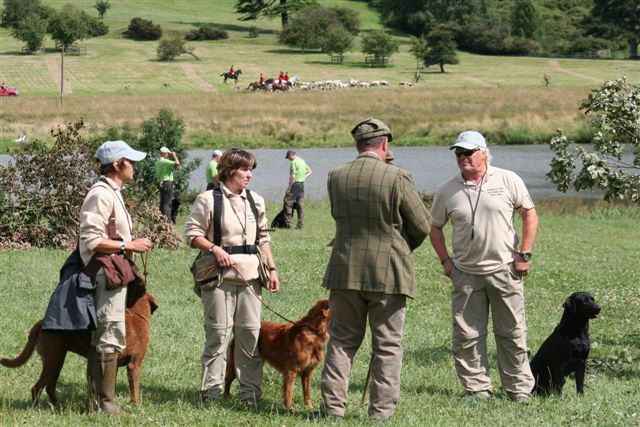 The judge G. Stephenson explains the exercise and...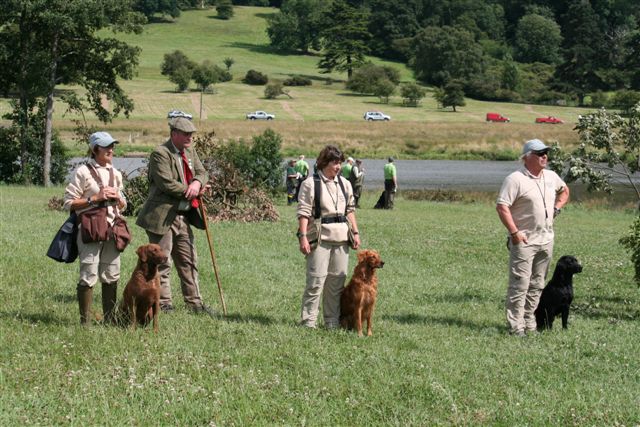 ... The dogs are fully concentrated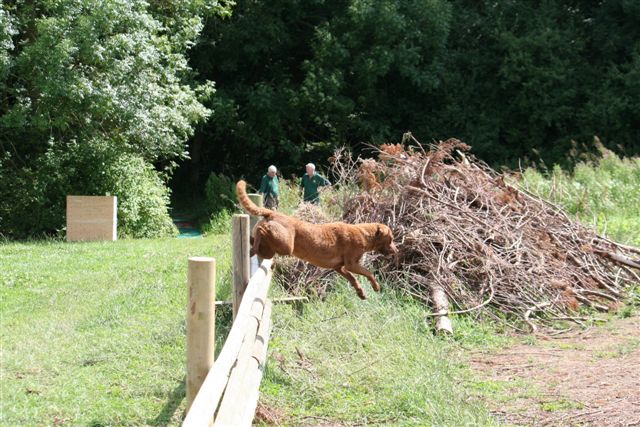 Mato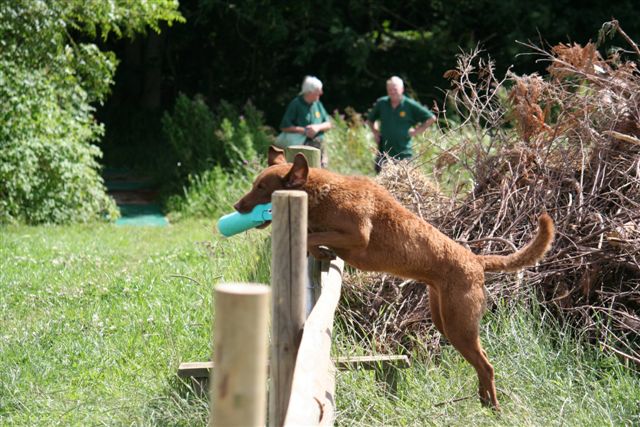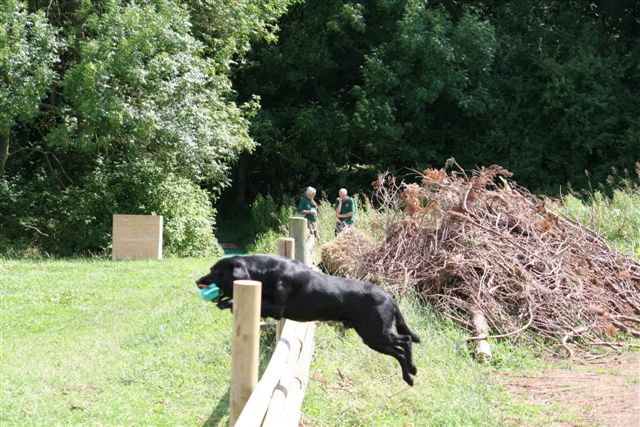 Diesel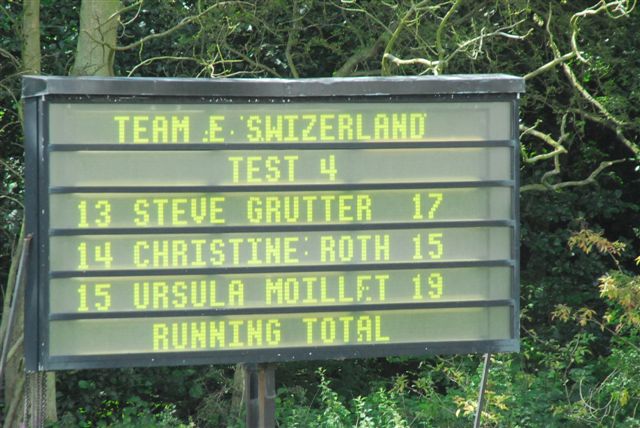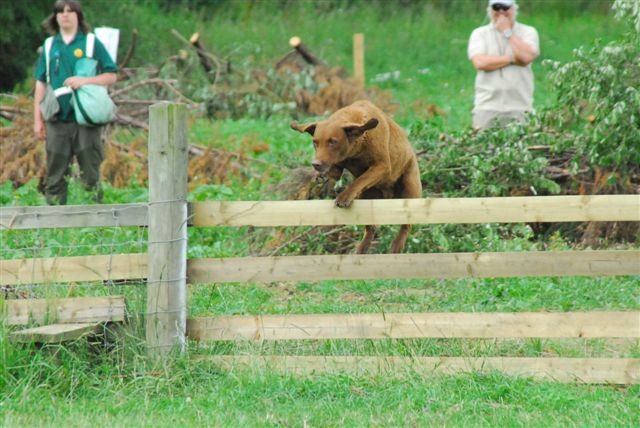 Mato just loved to jump as well as...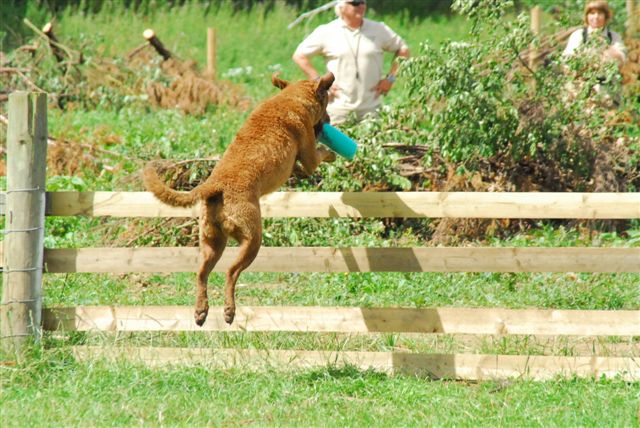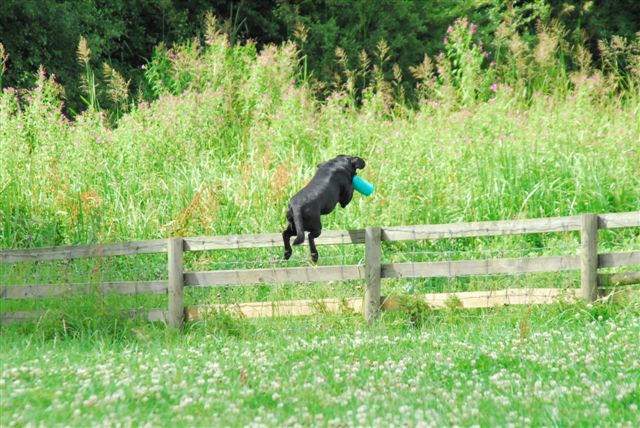 ...Diesel and...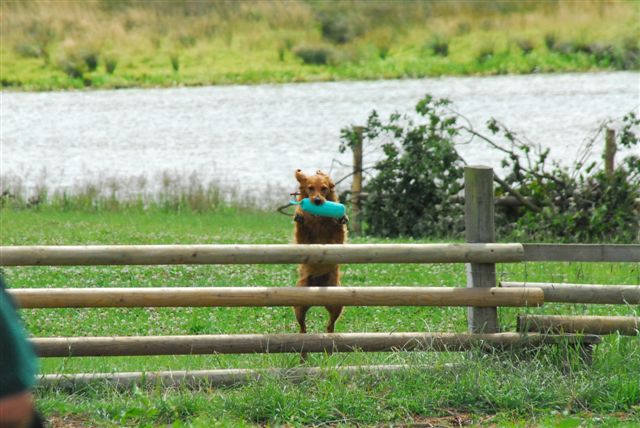 ...Lara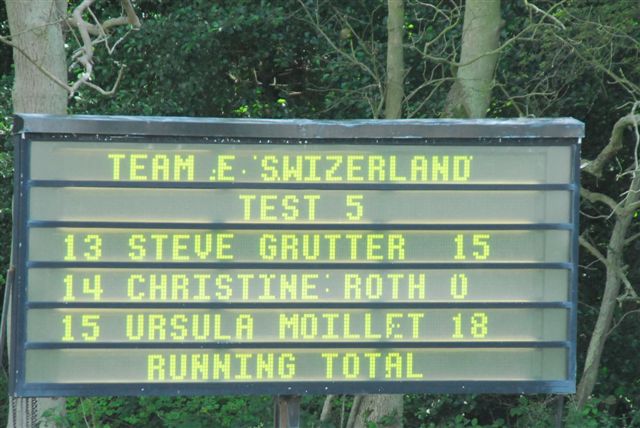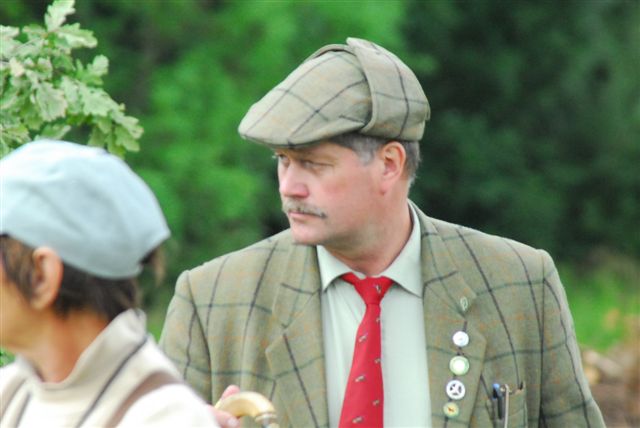 G.Stephenson looks quite critical but...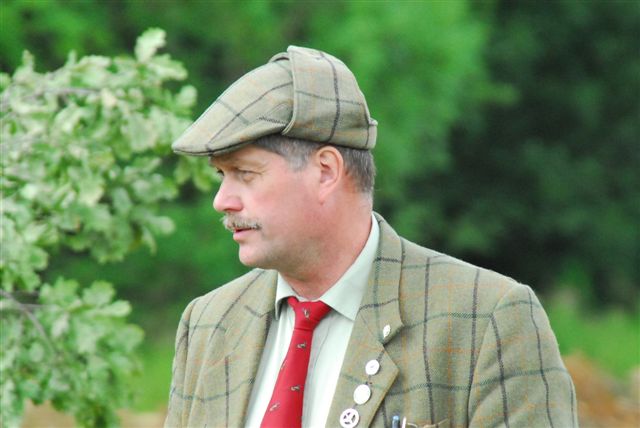 ...a little smile on his face says that it was not bad at all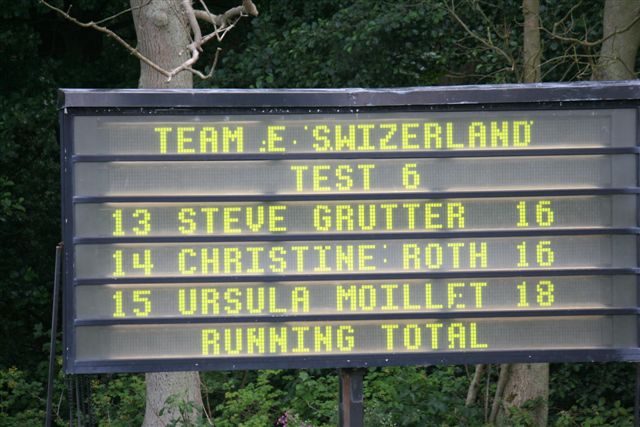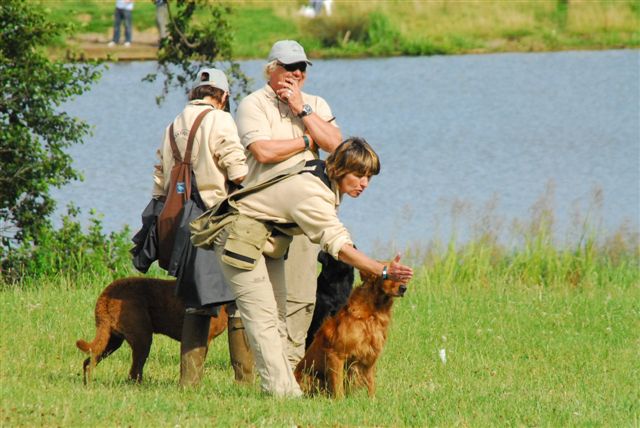 Christine and Lara, both are fully concentrated...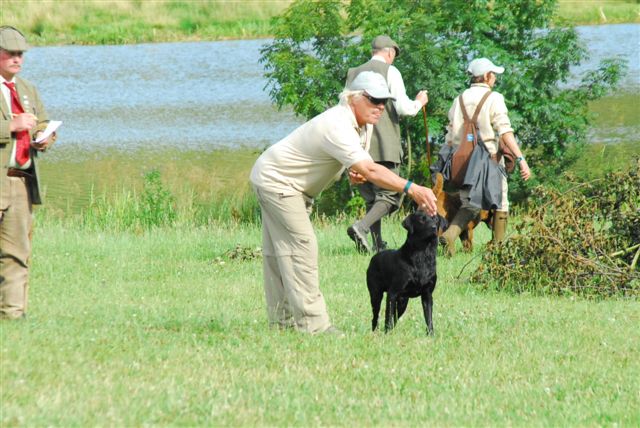 ...also Steve and Diesel, instead...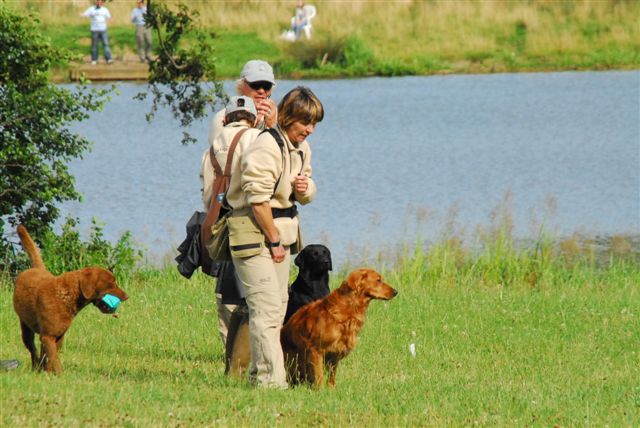 ...Mato has gone in a roundabout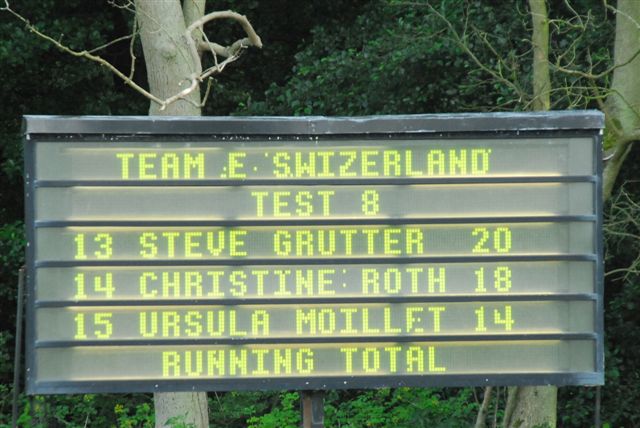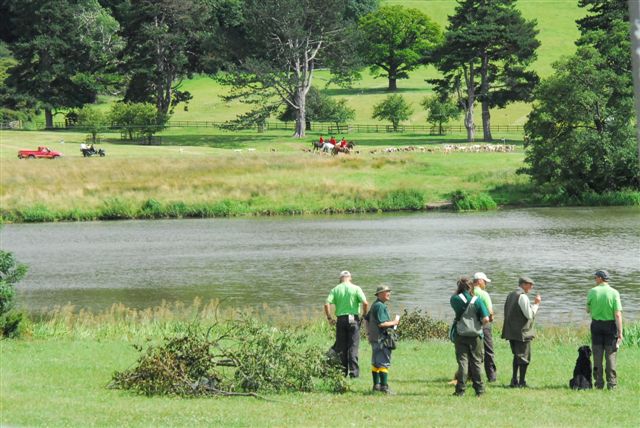 Lovely sceneries on the water test (Belgium team)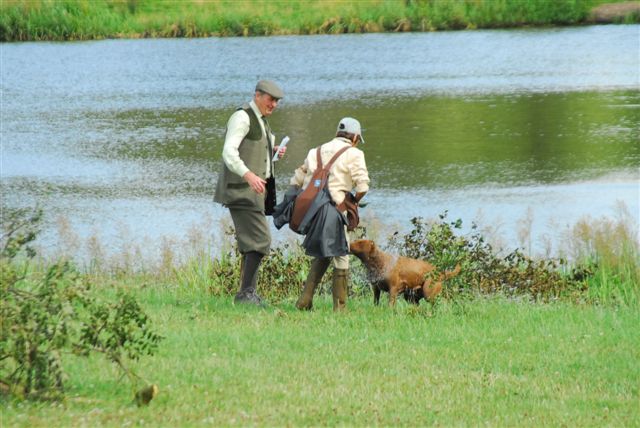 The judge M. Newsham was quite pleased with Mato's work in the water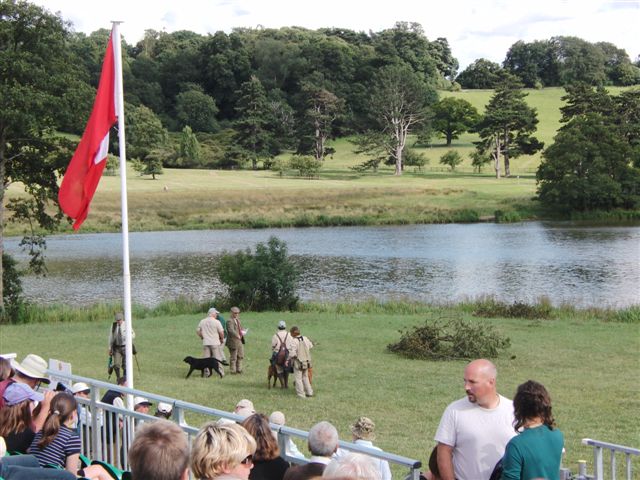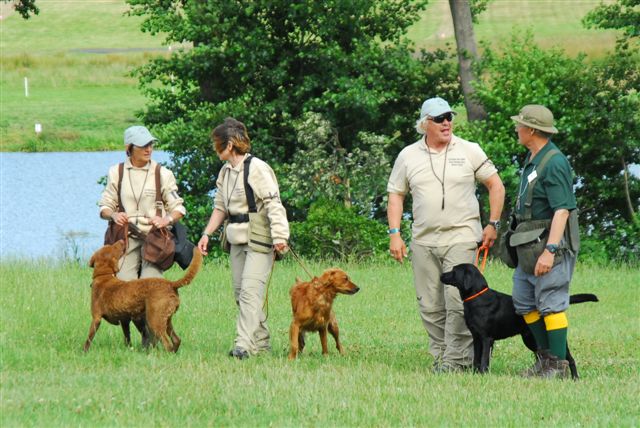 Together with the chief Stewart P. Wagland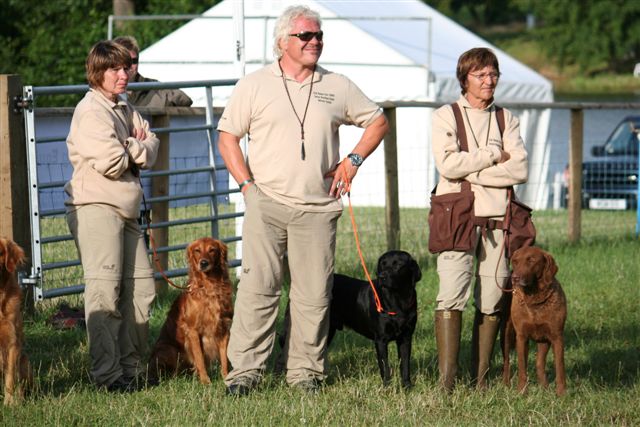 Waiting for the distribution of prizes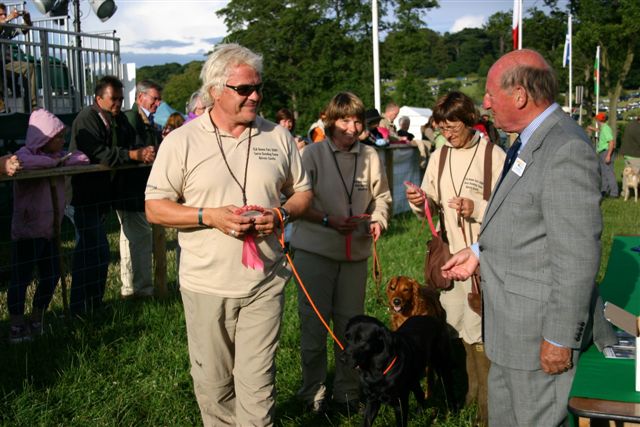 What a lovely surprise: at the Euro Challenge we ended up 5th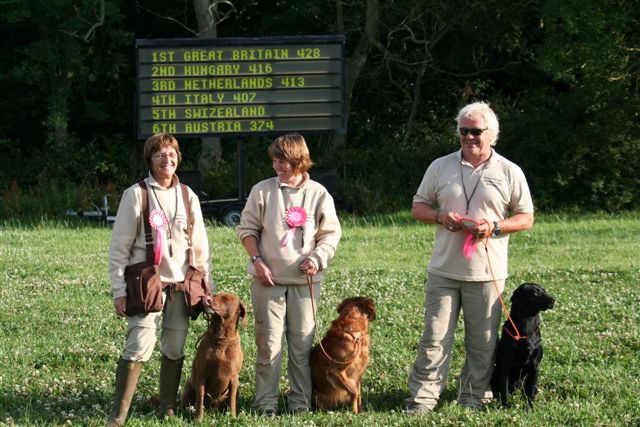 July 25th and 26th Edgar Winter Trophy.
Unfortunately most of our photographers went shopping or went to the various arenas to see some events. Therfore there were not many pictures taken...
After the first day the Swiss team was in the 1st place and Mato was one of the 3 leading dogs, they all had 78pts. out of 80 and our team had a dream...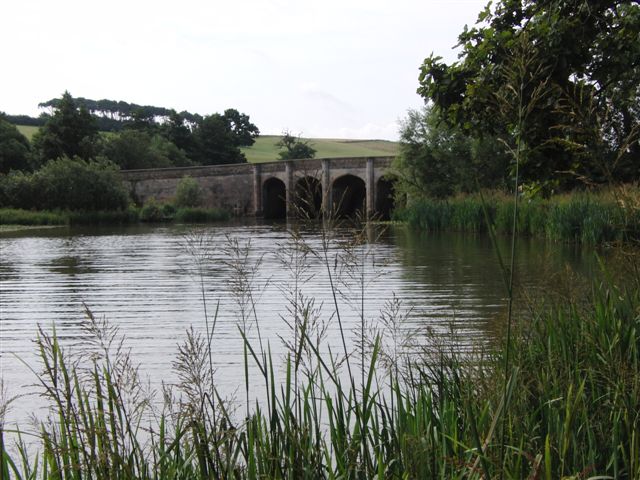 2nd day, 1st test: it began with a gorgeous water exercise including...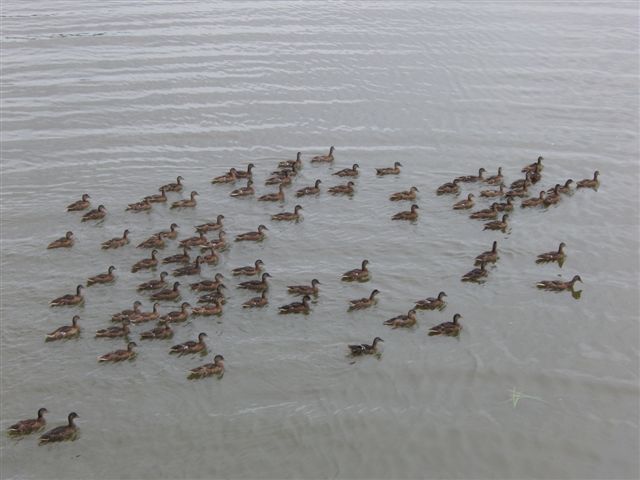 ...living destructions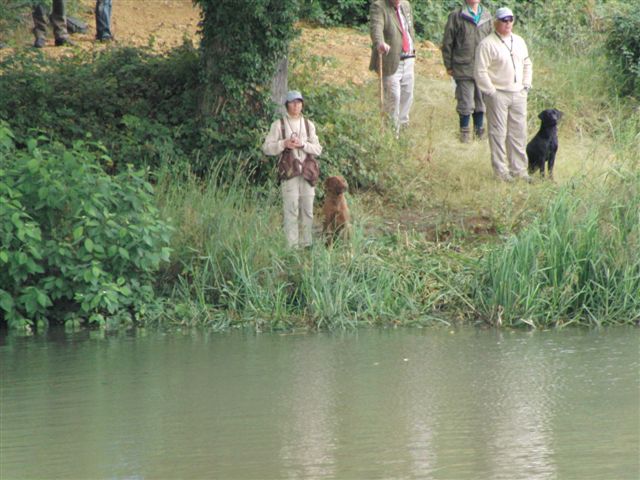 The dogs had to work a mark retrieve at the opposite side and a blind somewhere in the reed.
Mato earned an excellent marking score, but in the reed she almost failed...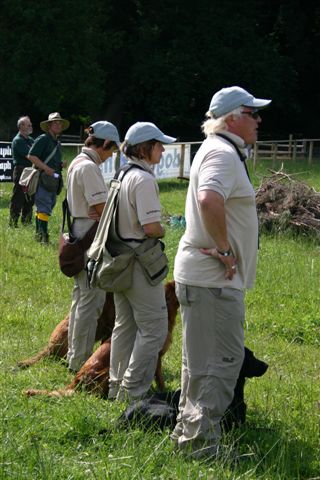 The trial went on and Diesel and Lara worked real well; Mato however struggled once more and the dream of the victory blow away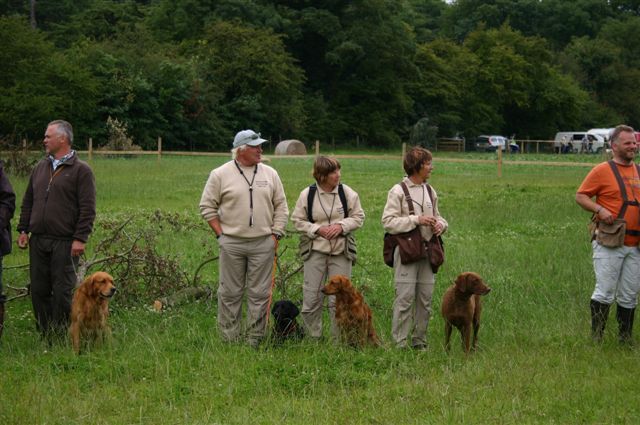 Waiting for the final team score and...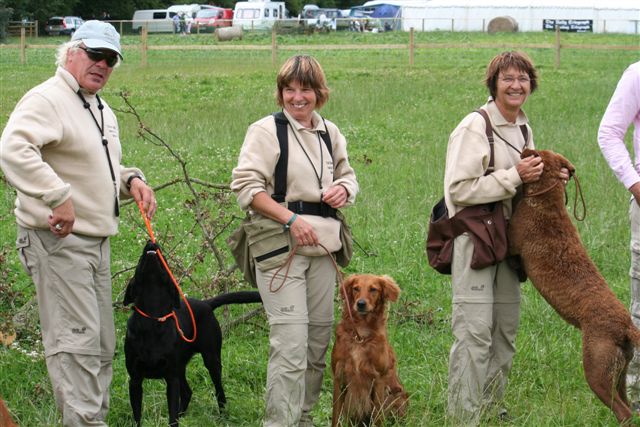 ...I still love my brown "wash-out"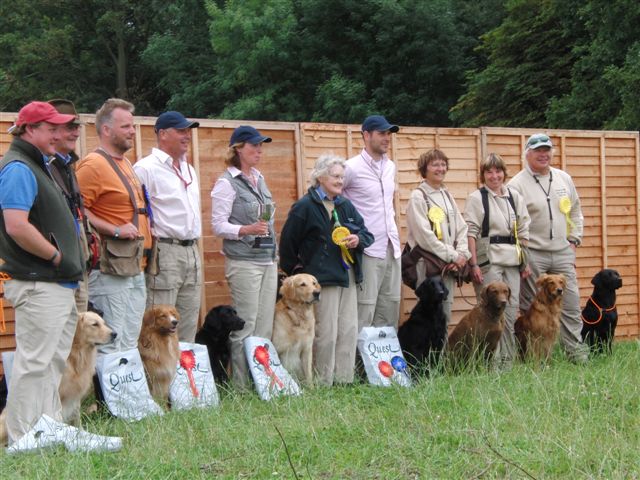 HURRAH, we are on 3rd place! We can be very proud and very happy!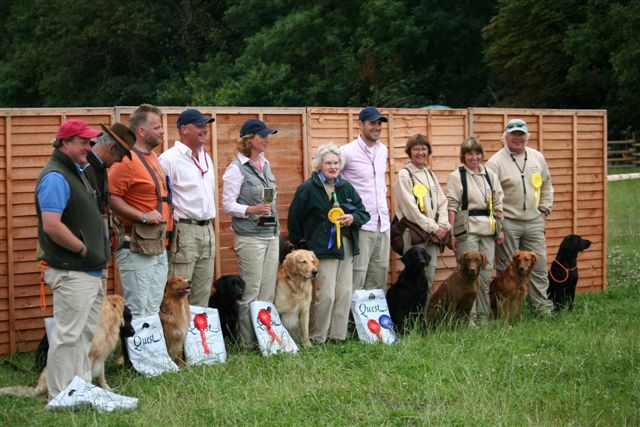 1st Netherlands, 2nd Austria, 3rd Switzerland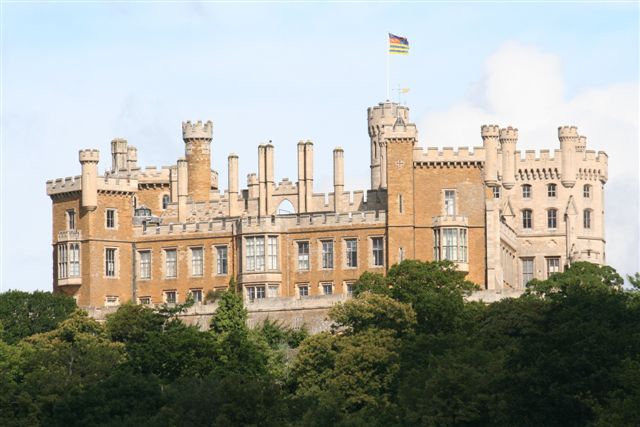 Bye bye Belvoir Castle, we'll carry on beautiful memories on you!

---
TEAM EVENT "STORMY WEATHER" D-ALLERSBERG July 12th
Photos: Dr. G. Mittelbach
---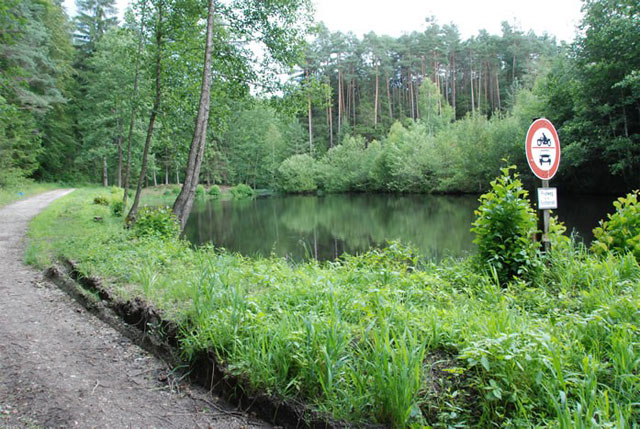 A gorgeous country side was predistinated for this event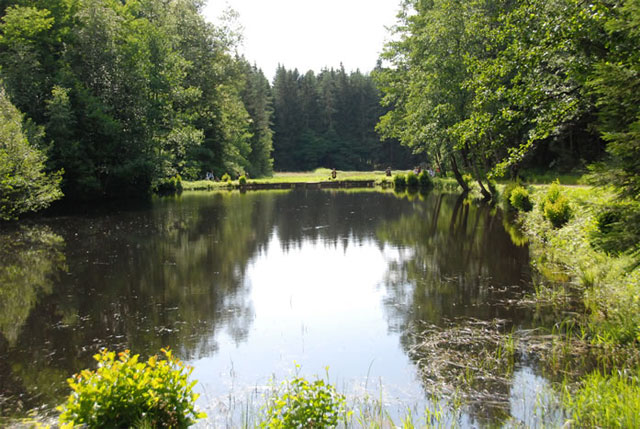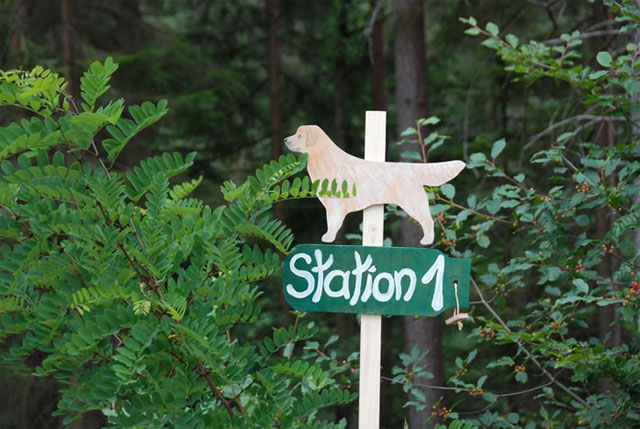 Lovely details!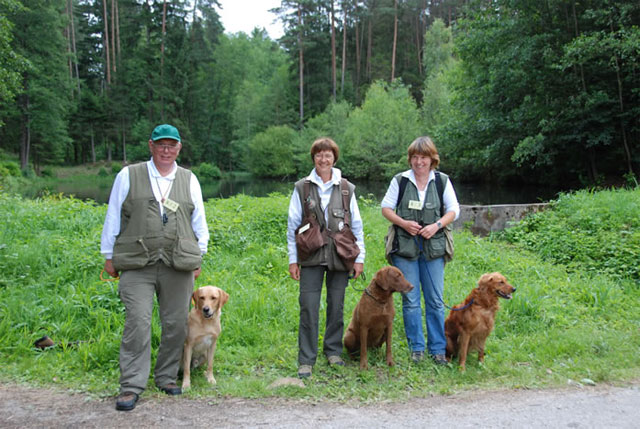 Our Team: Roland Glaser and Pit, me and Mato, Christine Roth and Lara
We have had an absolutely wonderful day together!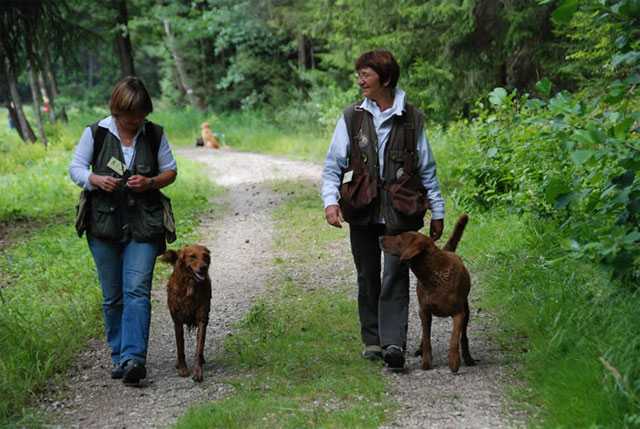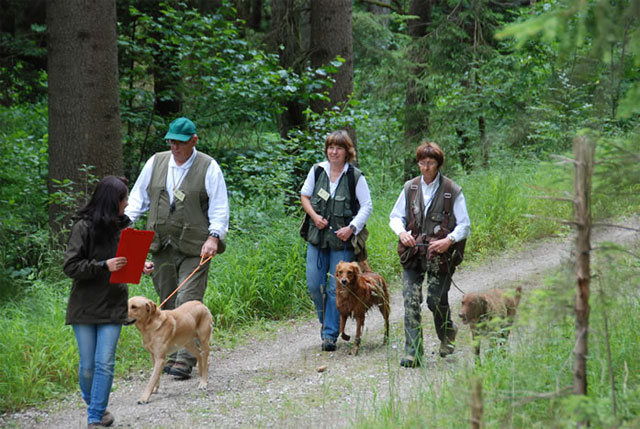 The Stewart led us to the next task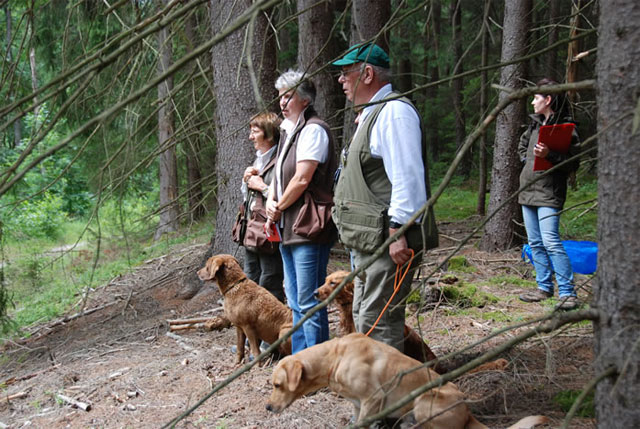 The judge (in the middle) commanded a few seconds later: Leads off!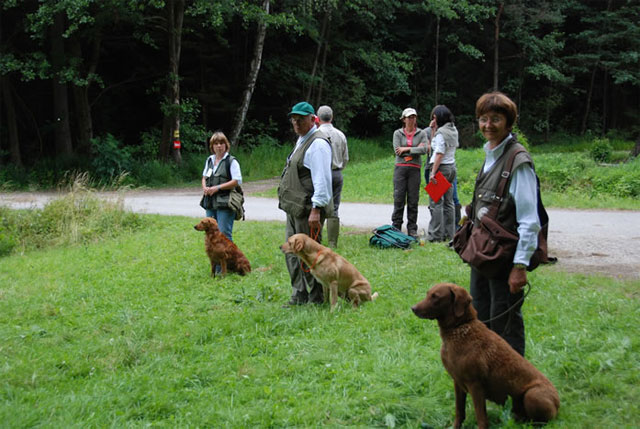 Preparing for the last exercise; but...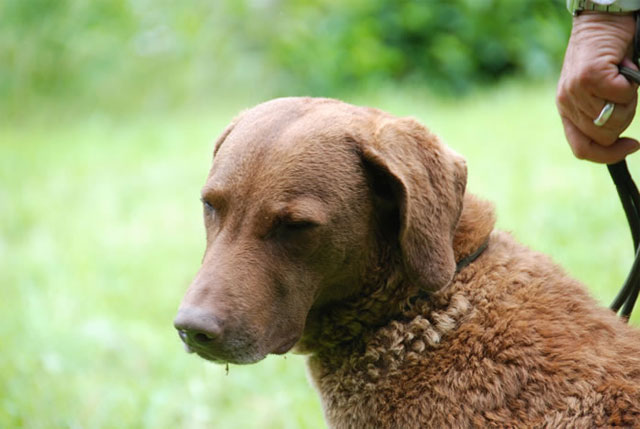 ...Mato please, don't fall asleep before we get started!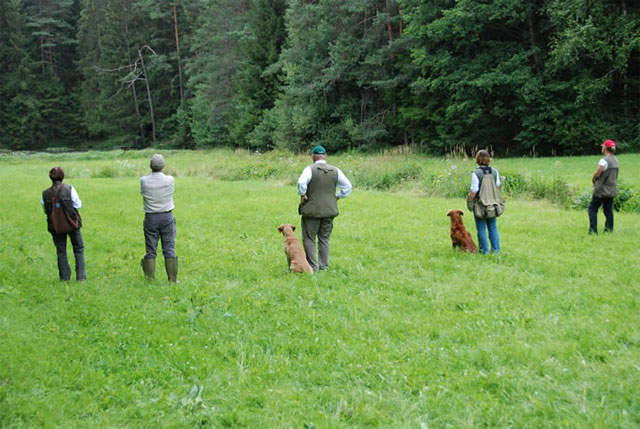 Mato had not fallen asleep! Instead she had found the Blind :)

---
WORK & SHOW D-AICHACH June 27./28. 2009
Photos: Heidrun Keen
---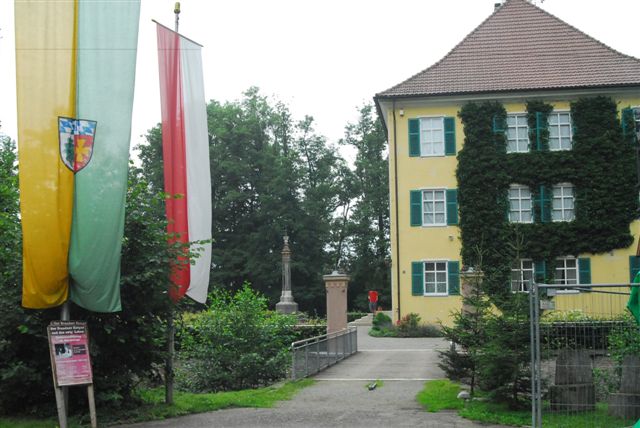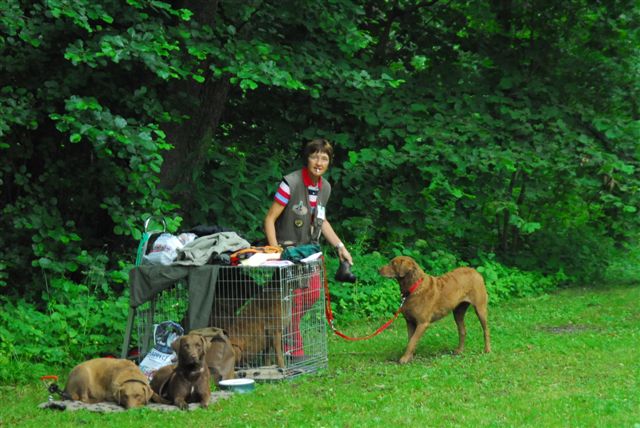 If you show several dogs it's useful having a cage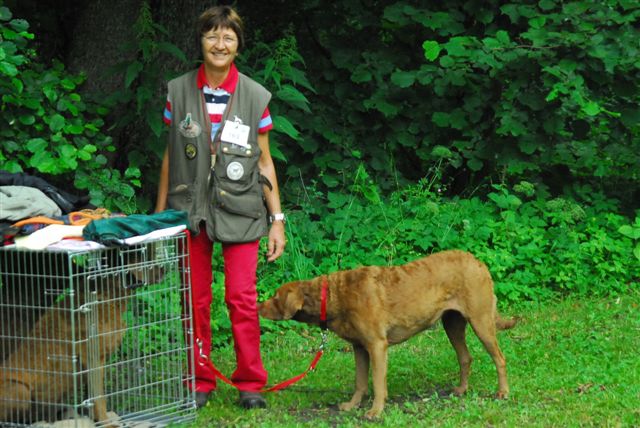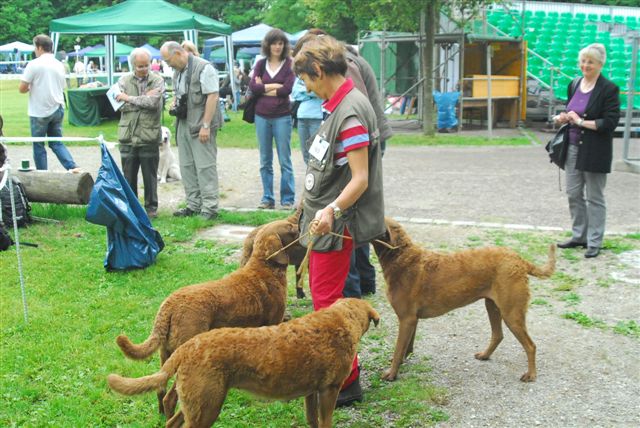 Mato, Brownie and Kanda are ready to be judged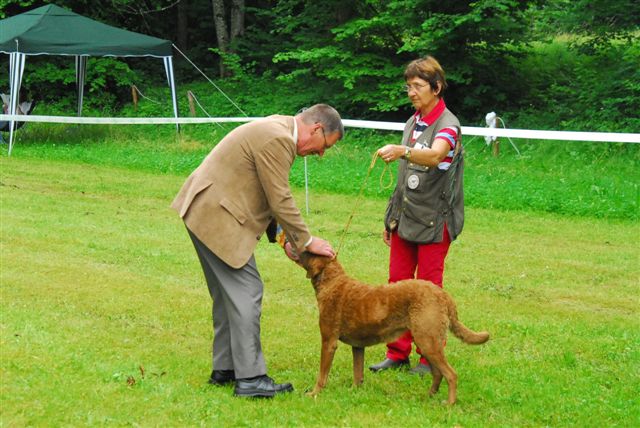 Brownie Veteran Class. She earned the CAC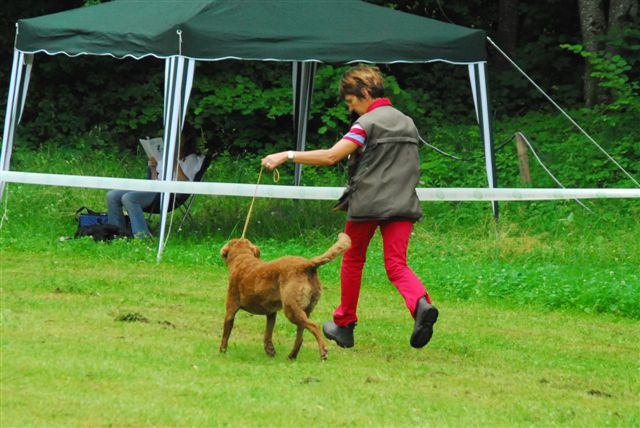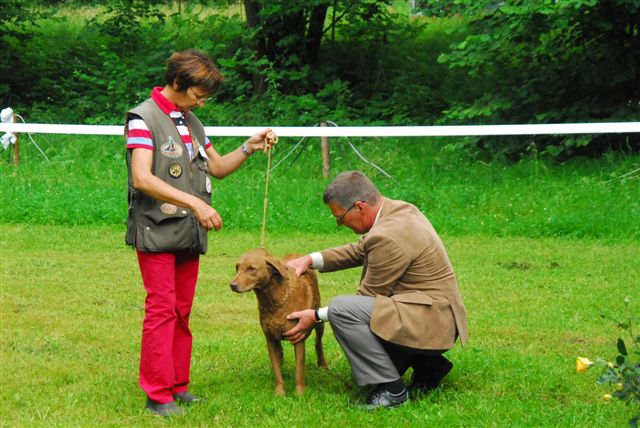 Kanda Champion Class. She also earned the CAC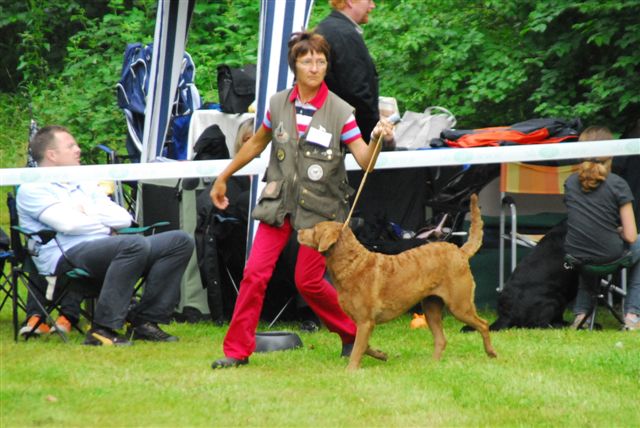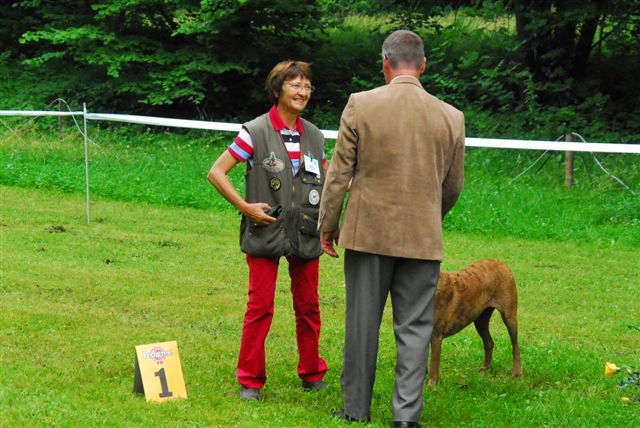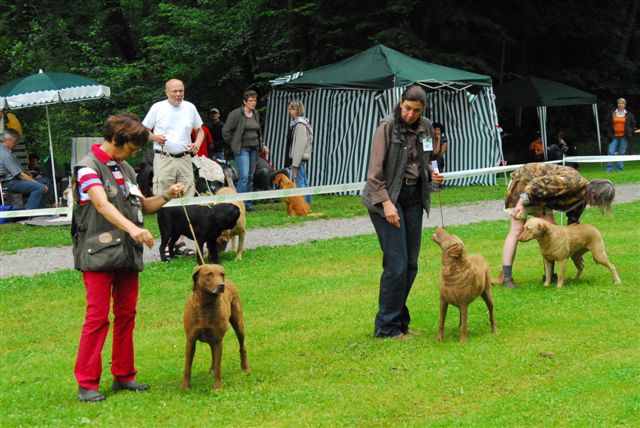 Mato Working Class. She earned the Res.CAC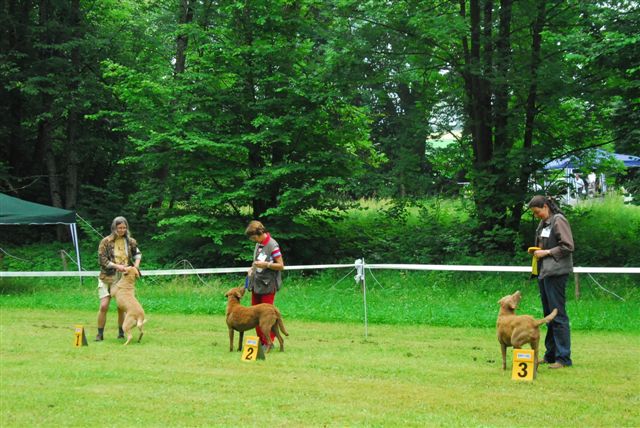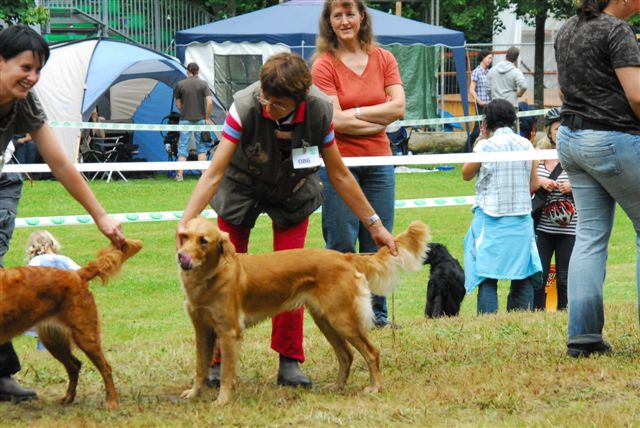 It's not a hoax! But I still don't make a change of front!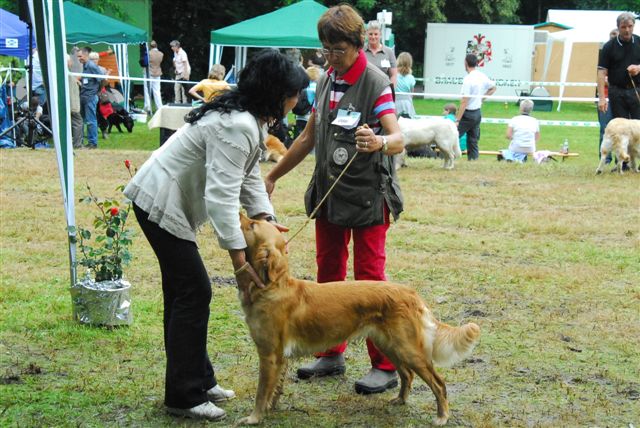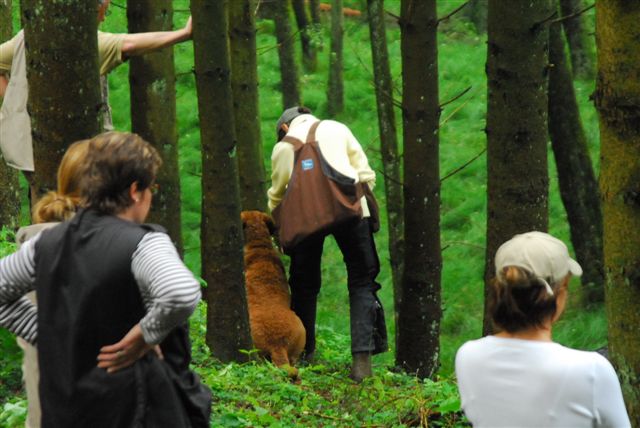 Mato's first appearance WT Open Class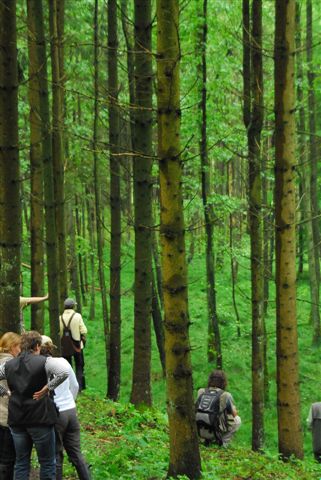 Hopefully she finds the Dummy in the no-man's-land...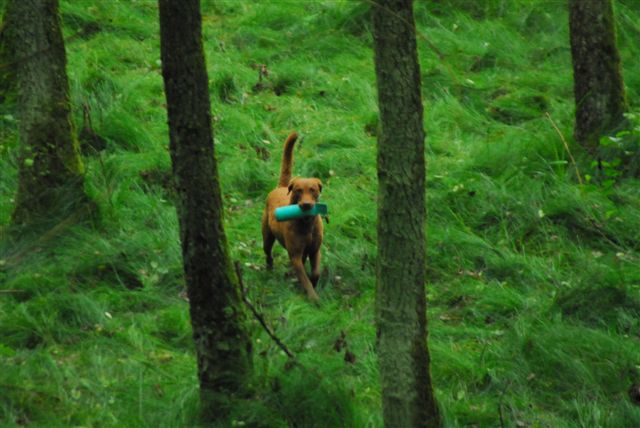 ...great, she made it!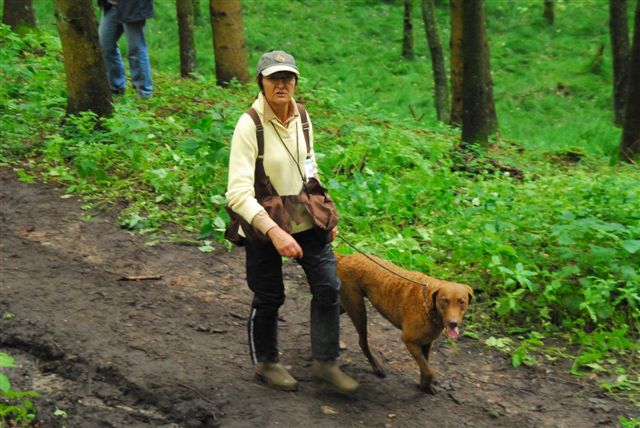 At the end of the day I was very pleased with her.
She ended up with the qualification "good", it's more than I expected!

---
CH-BÜLACH MAY 29th COURSE WITH...
---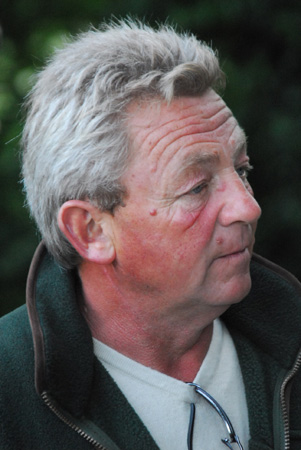 ... MARK and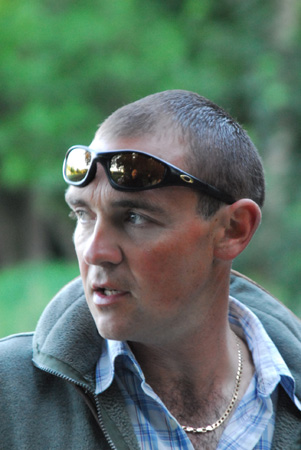 JAMIE BETTINSON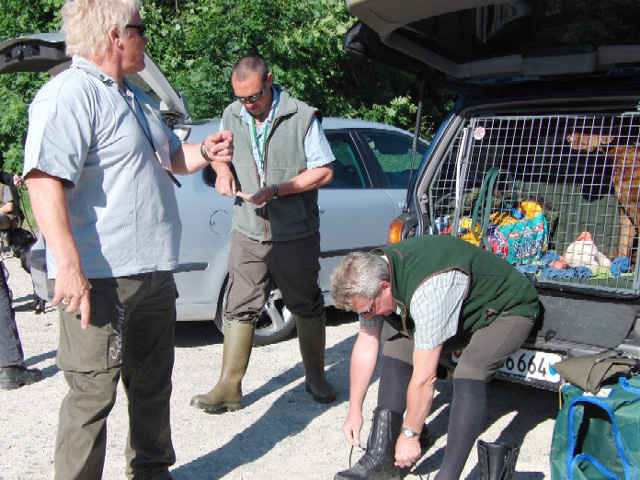 Getting prepared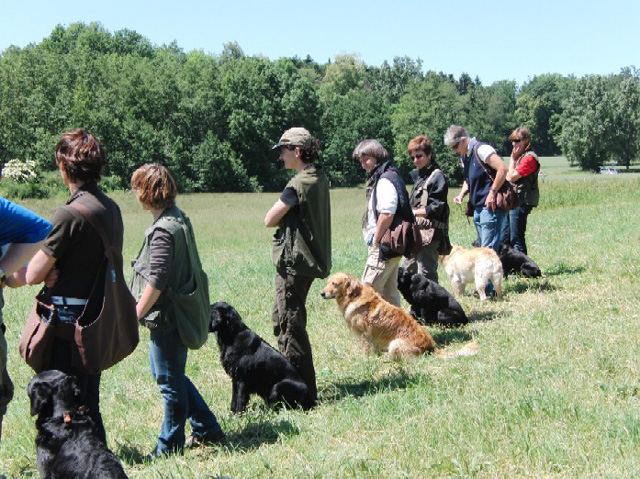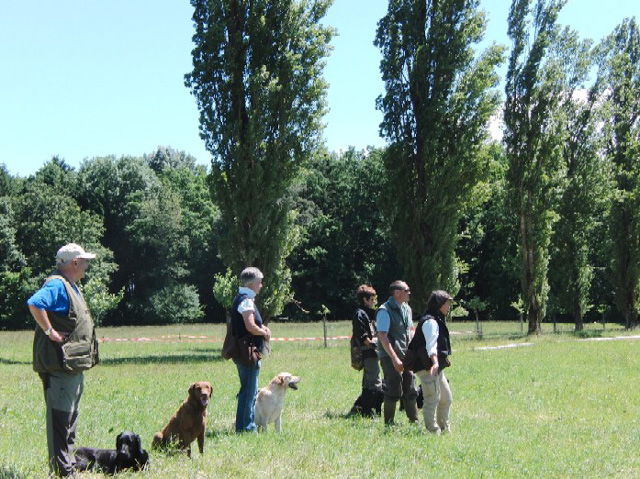 As Mato never ever (?) is running in, I had time taking some pictures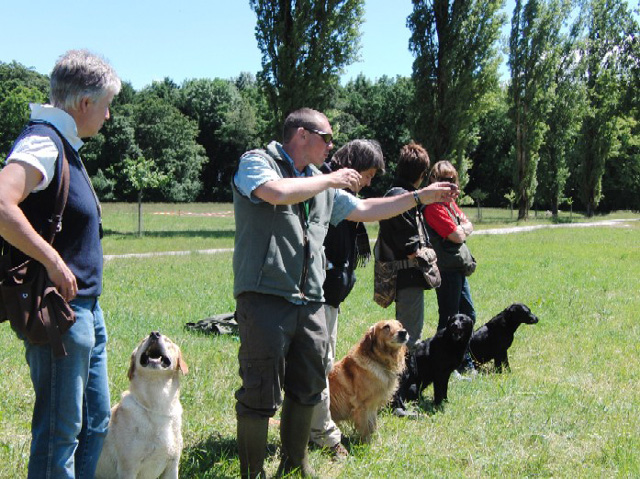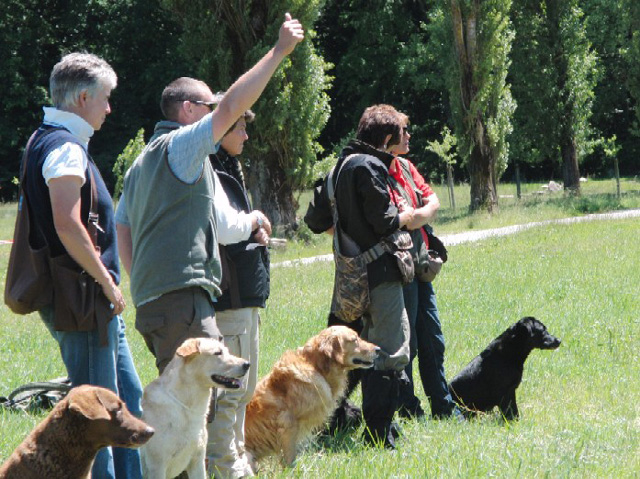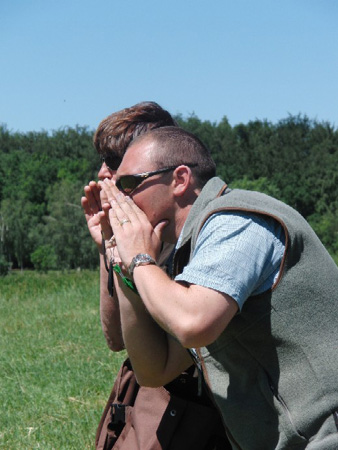 Jamie is the very image of his father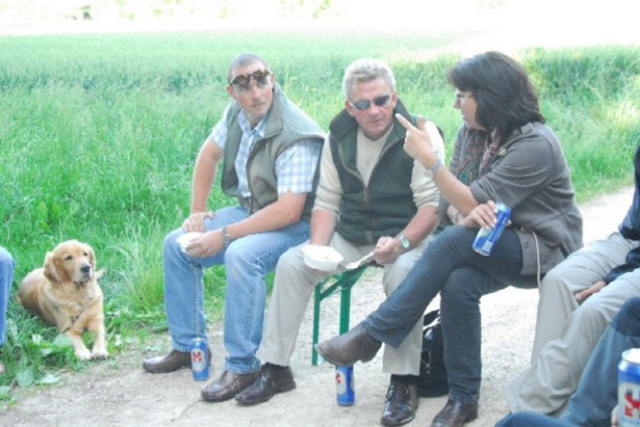 After an instructive day there was a brownie named Heidrun which surprised us with a delicious meal!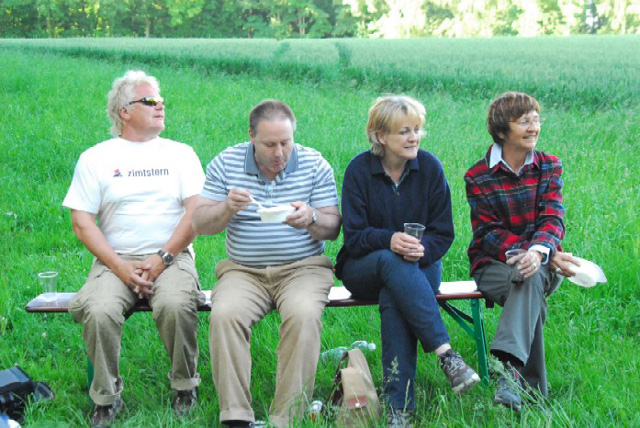 ---
WT FOR VETERANS "FORST RUNDSHORN" D-BERKHOF MAY 23th 2009
---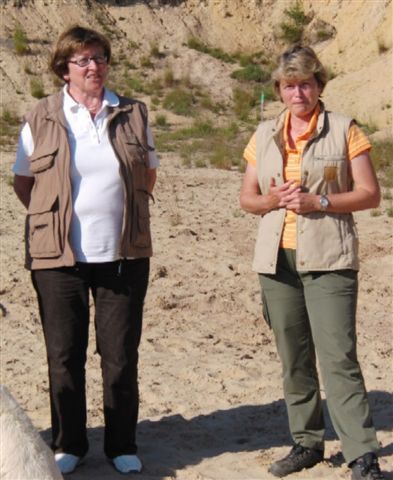 The judges: Mrs. H. Rudolph / Mrs. C. Herzog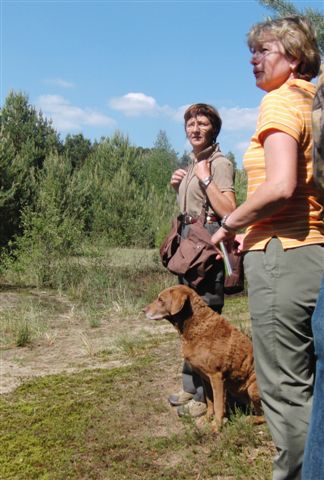 We are next to go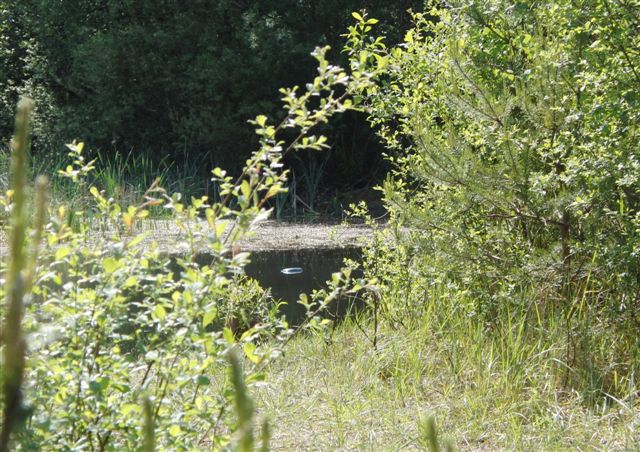 There is the Dummy...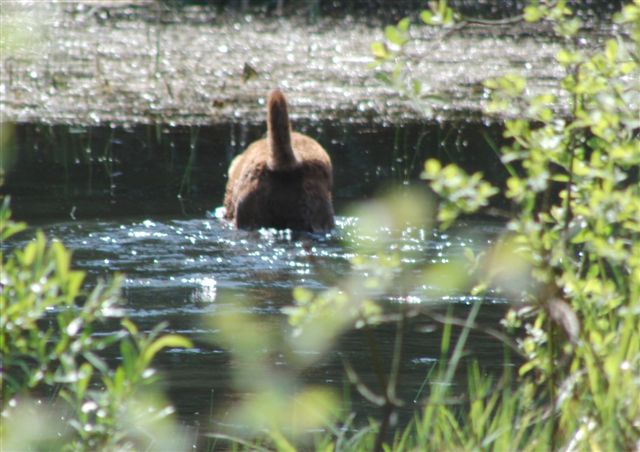 ...and there is Brownie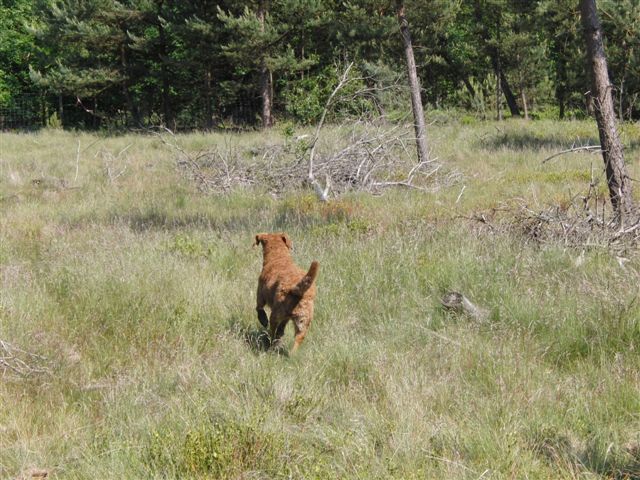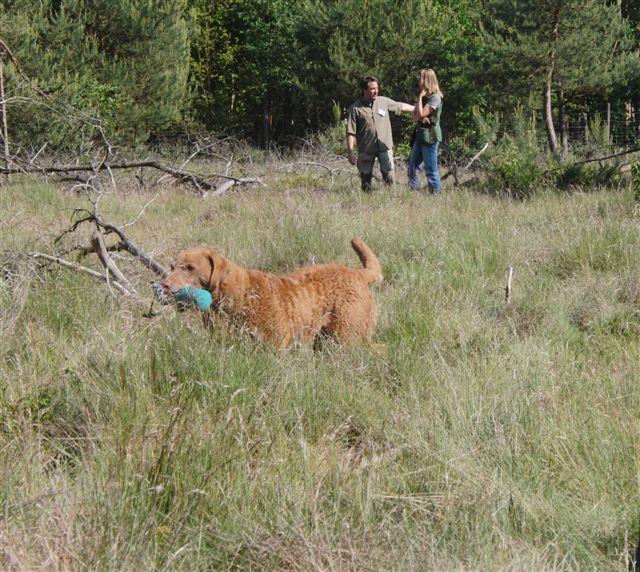 Poor veterans! It was extremely warm and rather tough grounds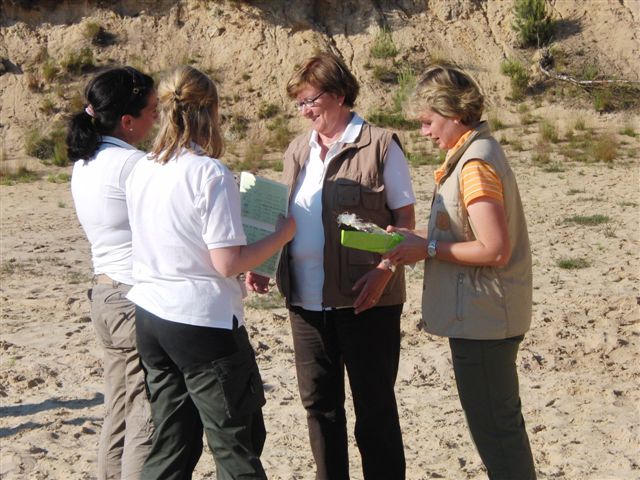 Many thanks to the judges, they did a great job!
It wasn't Brownie's best day but nevertheless she passed with the qualification "good"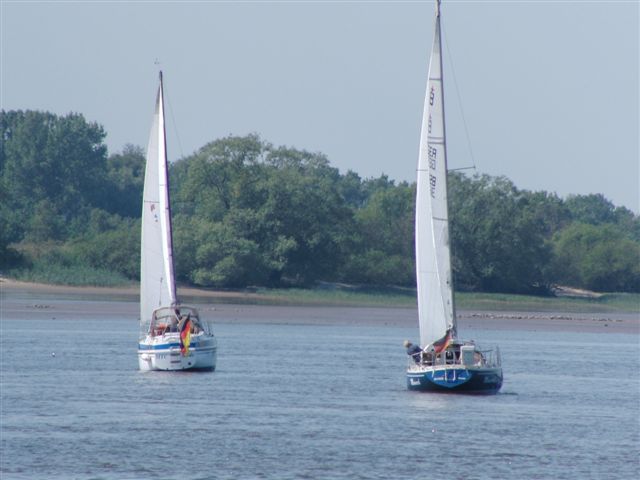 Next day we spent at Hamburg, and we went for a stroll at the shore of the Elbe...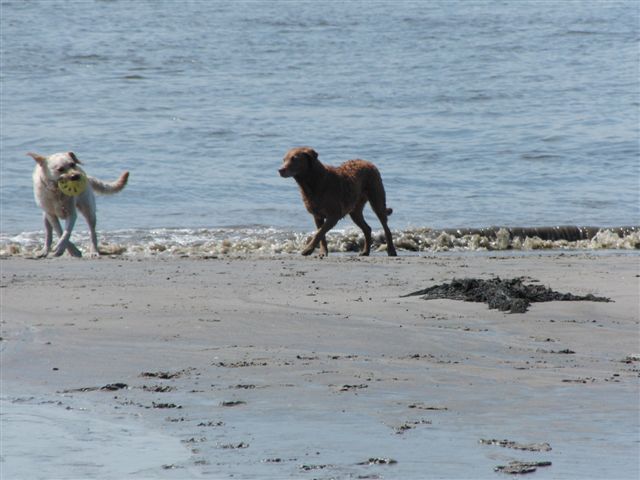 ...and Brownie had much fun finding a friend to play with, far better then any WT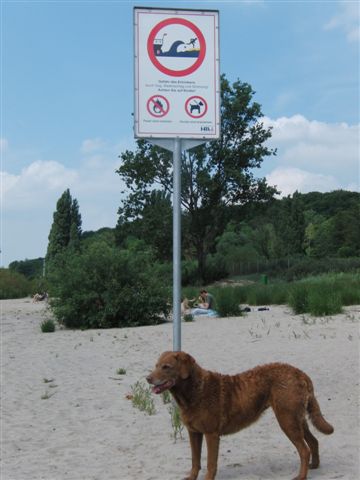 ---
FT-WORKSHOP WITH PERTA SOONS Germany May 1./2. 2009
Photos: Manuela Schneller
---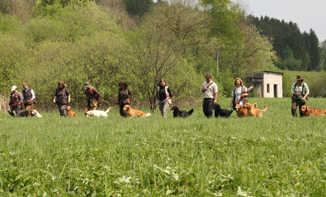 A nice group of Retriever's had the chance being part of the well organized Workshop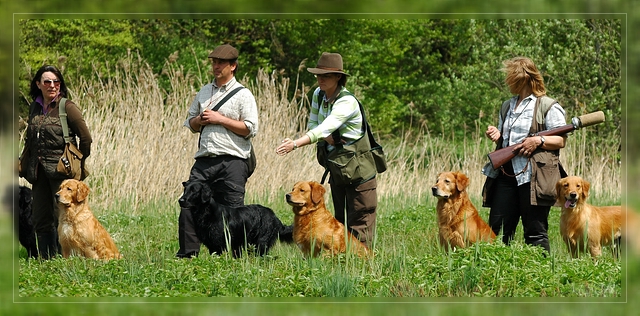 "The Gun" Petra Soons with her dogs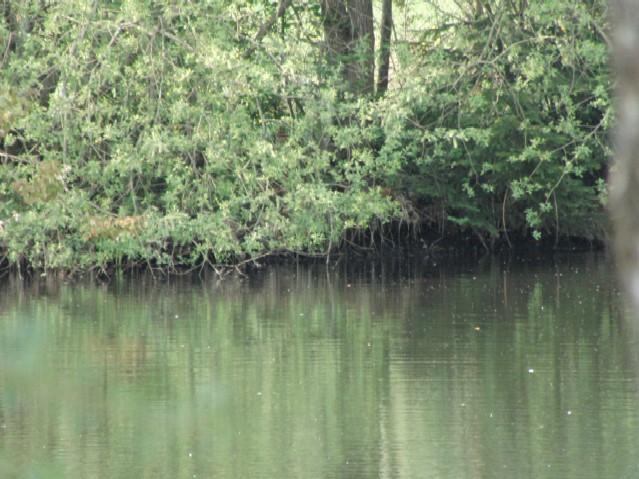 The grounds where just fantastic!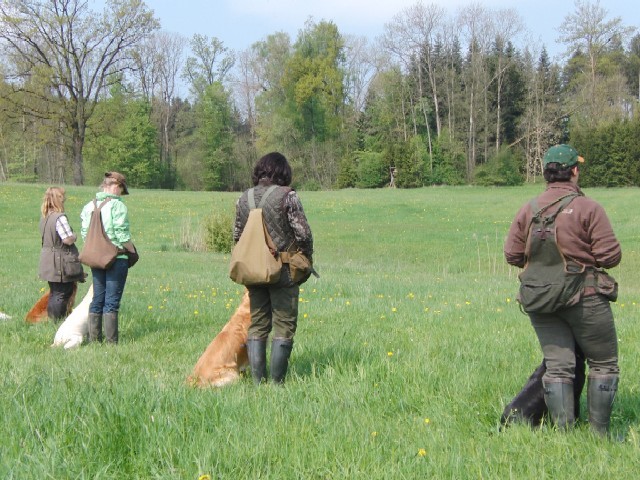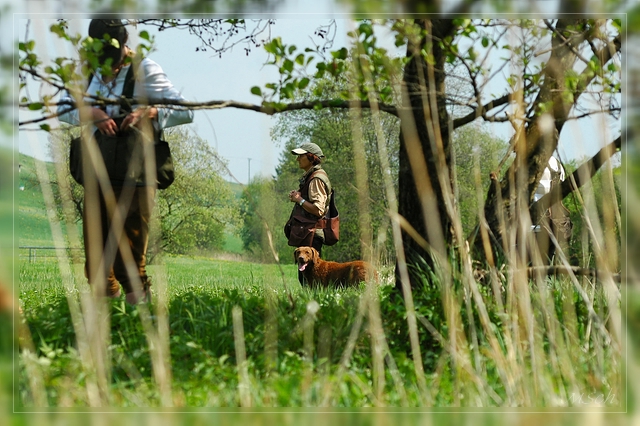 Of course Mato was the "one and only" Chessie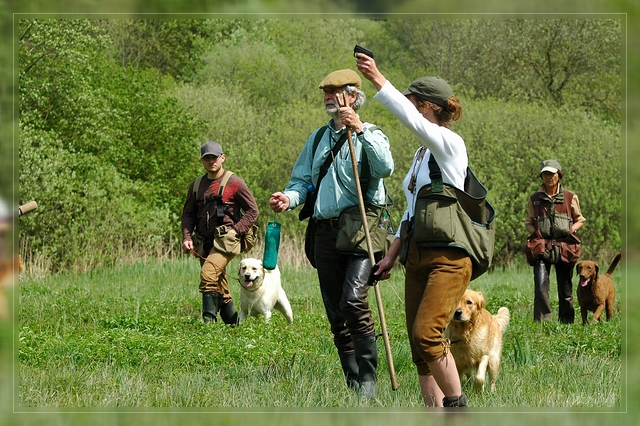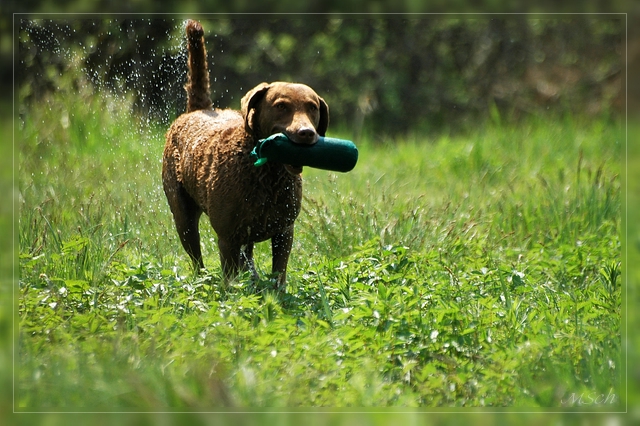 Nice retrieve out of a rather deep ditch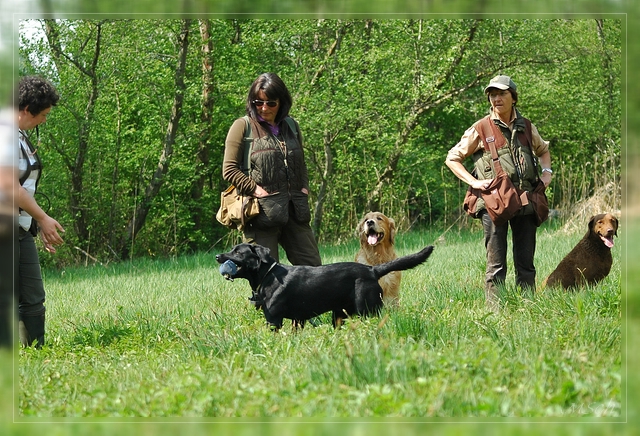 ---
WT AARAU (CH) April 25th 2009
Photos: Sibylle Hampton
---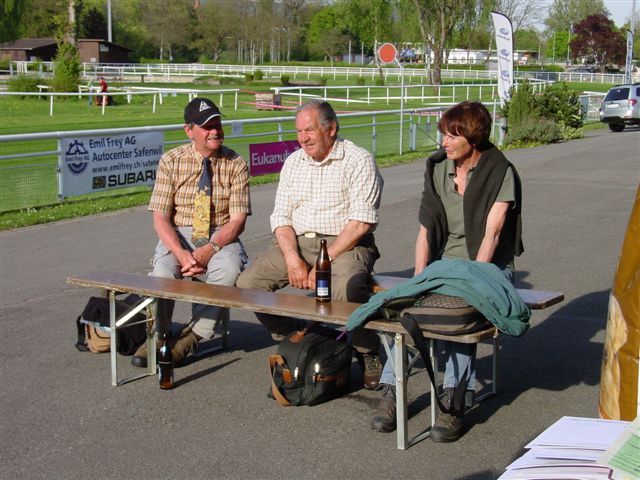 Finally, after a long day the judges could relax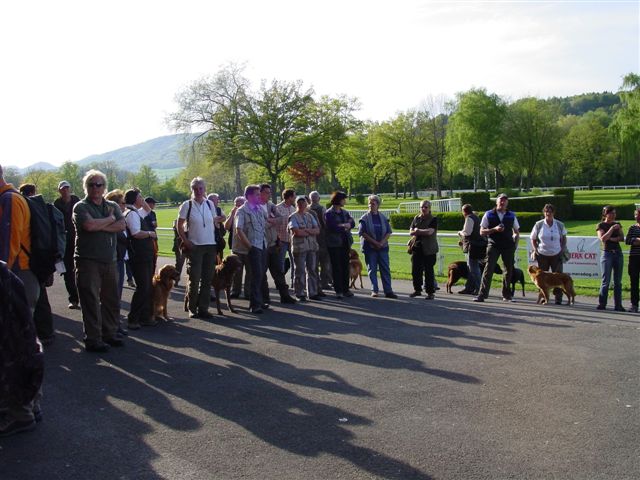 Close attention... who are the winners?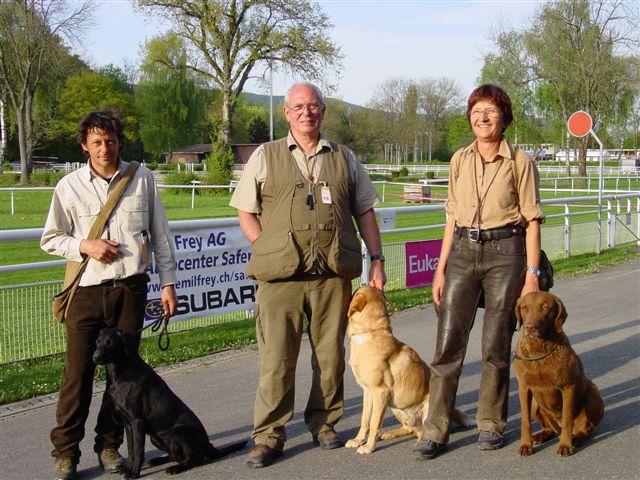 And the winners are: Intermediate class 1° Roland Glaser with Pan 2° Angelo Zoccali with Black, 3° Myself with Mato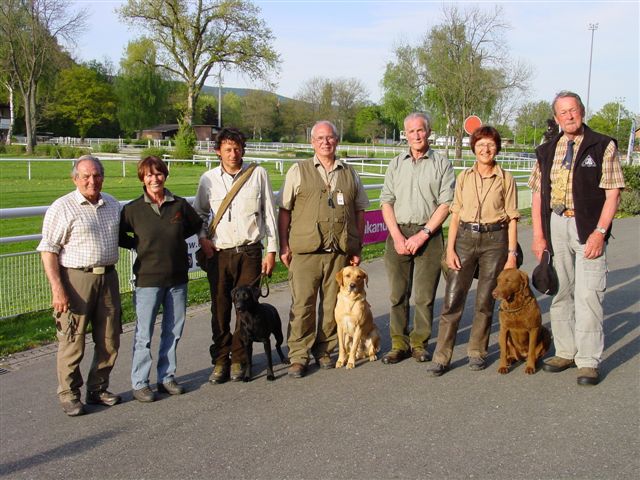 Together with the judges T. Parnell (GB) R. Berger (A) J. Drury (GB) G. Nevitt (GB)

---
MOCK TRIAL RUPERT HILL TROPHY Danneberg (D) April 18th 2009
Photos: S. Heissmann
---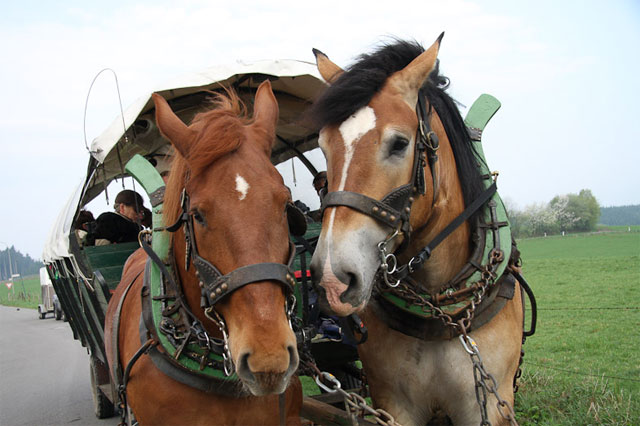 Different kinds of horsepower brought the participants and their dogs to the grounds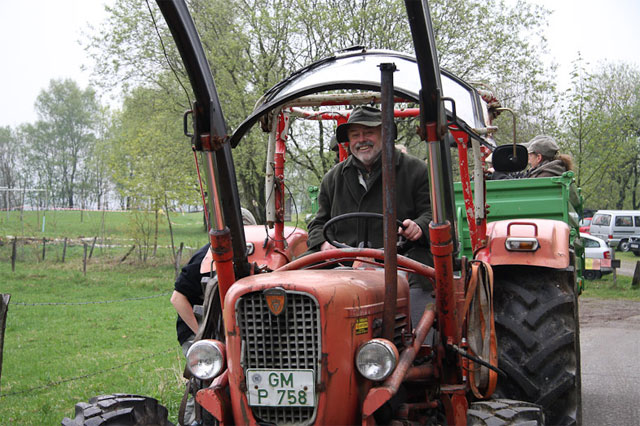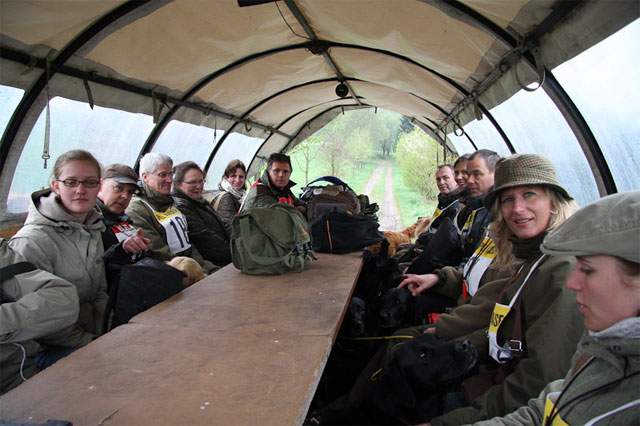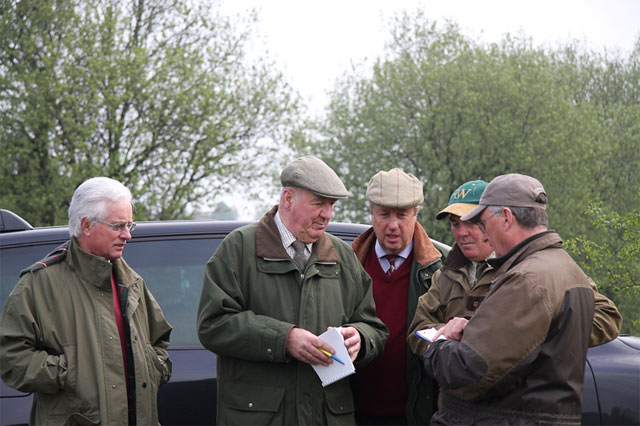 The judges R. Hill, J Birkett, K. Sandercock, R. Wade (all GB)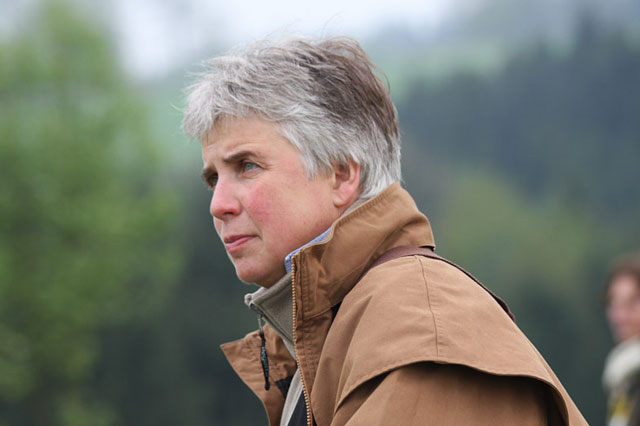 The chief stewart Betty Schwieren (D)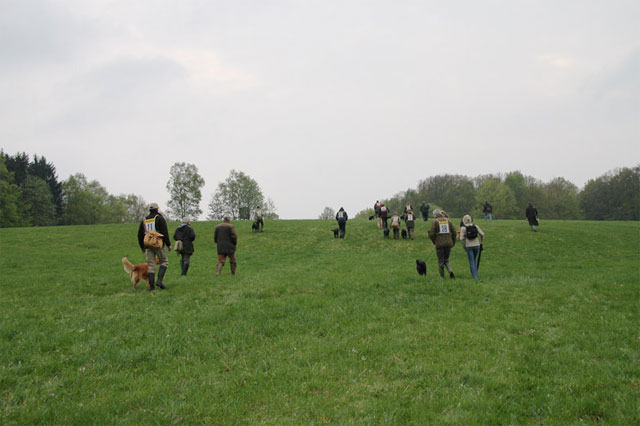 Gorgeous country side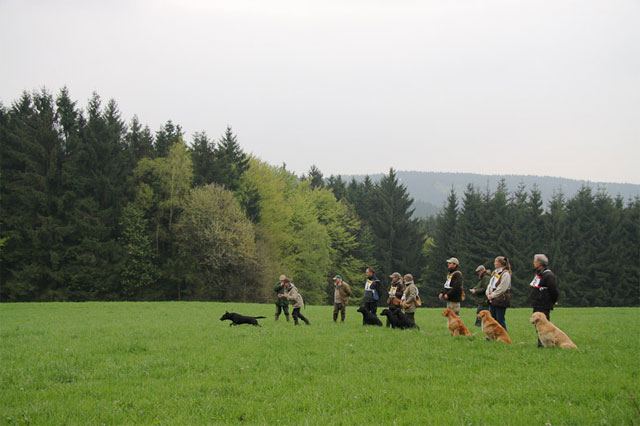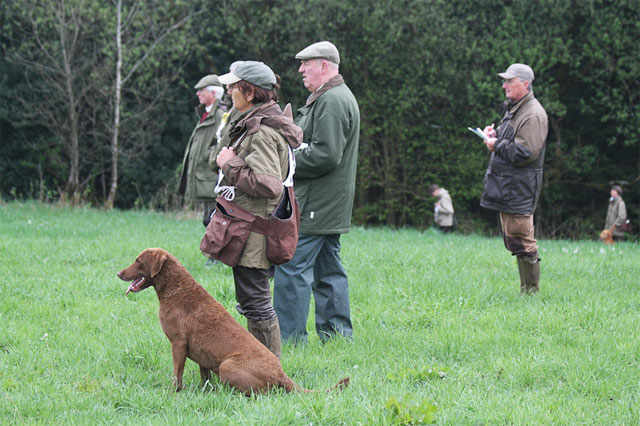 At this point Mato was still competitive, thereafter she failed – and she was not the only one, she was in good company…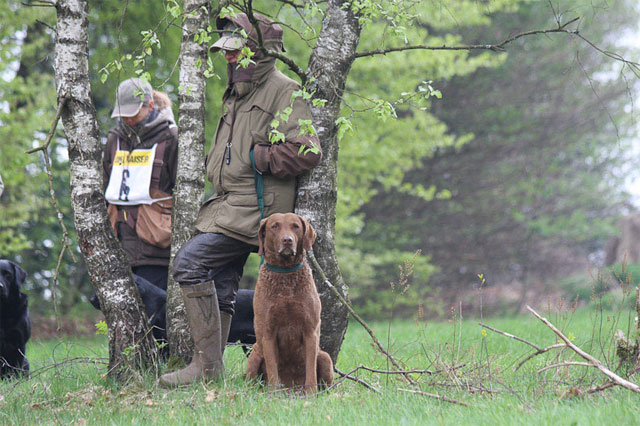 It was damned cold…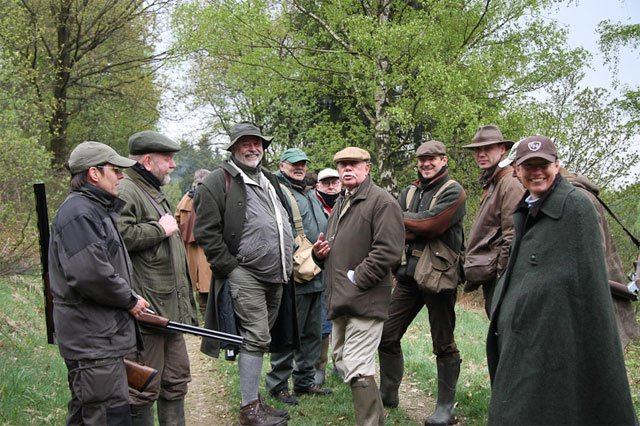 … nevertheless nobody lost the good mood…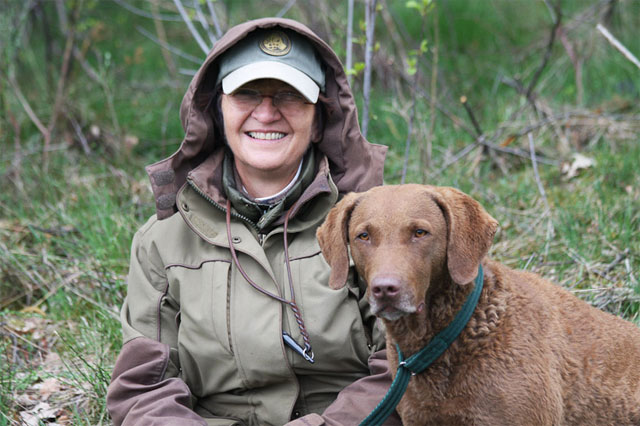 There was no reason loosing the sense of humour because the Trial was a great experience!

---
HIMMELCUP CH-HETTENSCHWIL 14./15. March 2009
Fotos: Doris Reck
---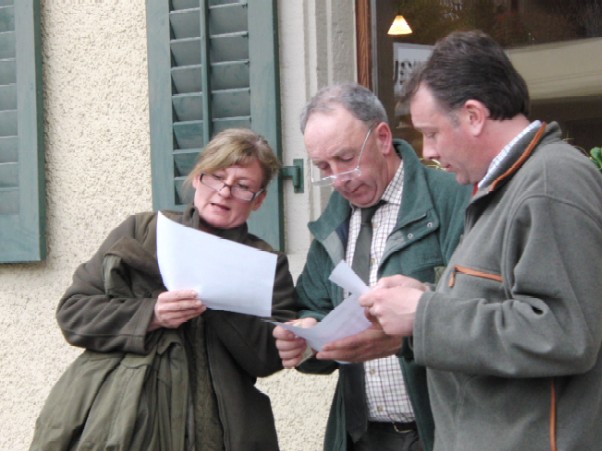 The Judges Birgitta Staflund (S), Roger Philips (GB), Simon Hansell (GB)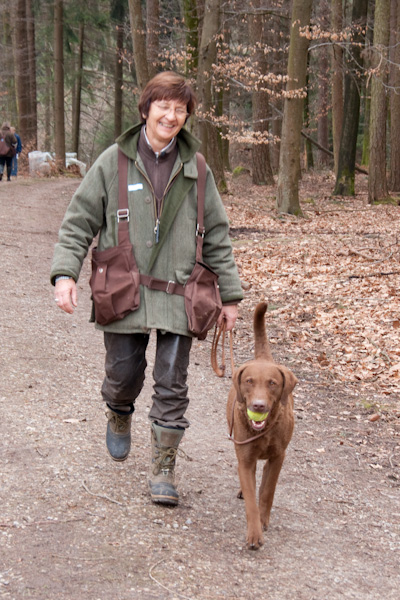 As a reward Mato always gets her dearly loved tennis ball (at the end lacking 2points of exc.)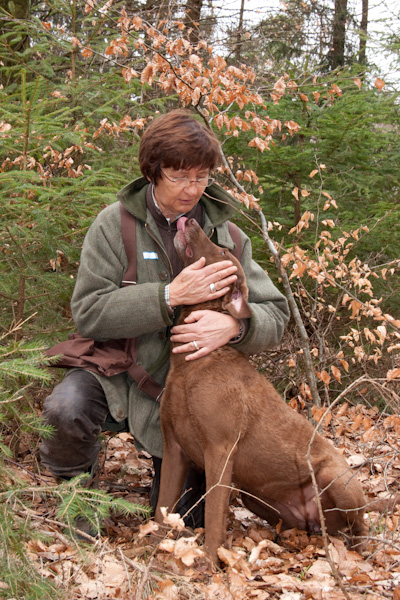 Not only on Saturday but also on Sunday at the team event she showed her will to please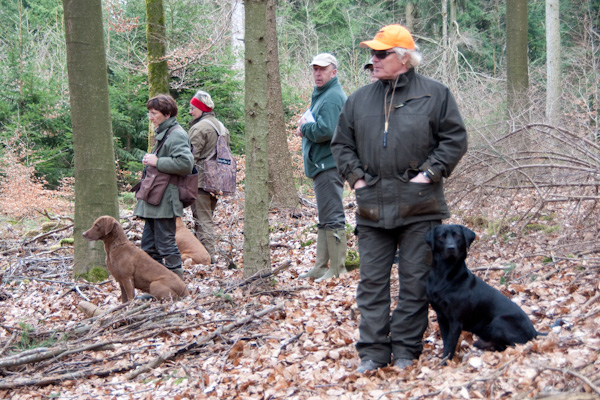 Our team: Steve and Diesel, myself and Mato, Maya and Sari.
Even we haven't been one of the winning teams, we have had a great day!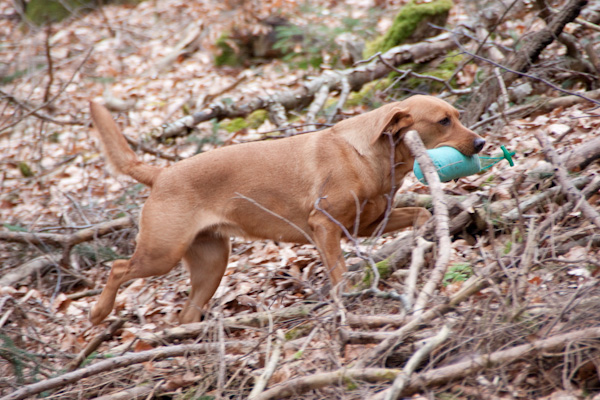 Maya's Sari is a real lovely and eager Labrador!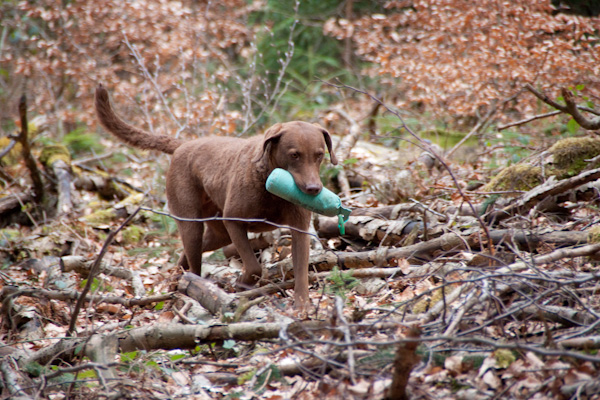 Mato struggled herself thru the woods

---
LONG DISTANCE RABBIT DRAG Glonn (D) March 8th 2009
Fotos: Simone Heissmann
---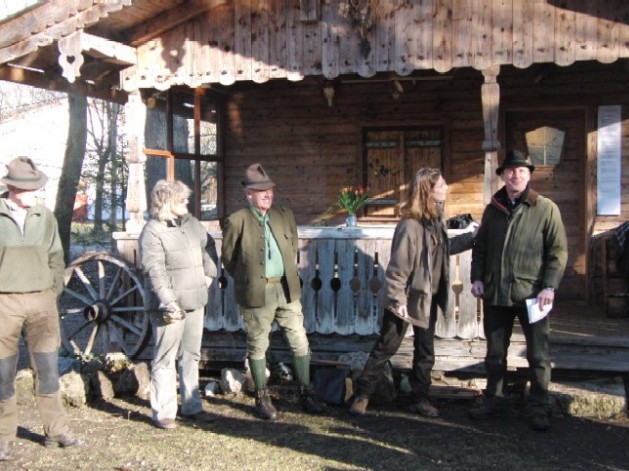 Anja presents judges and helpers...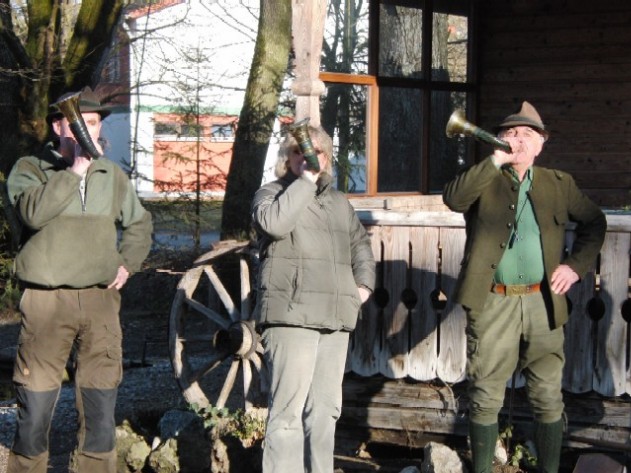 ... And they blew the hunting-horn like professional players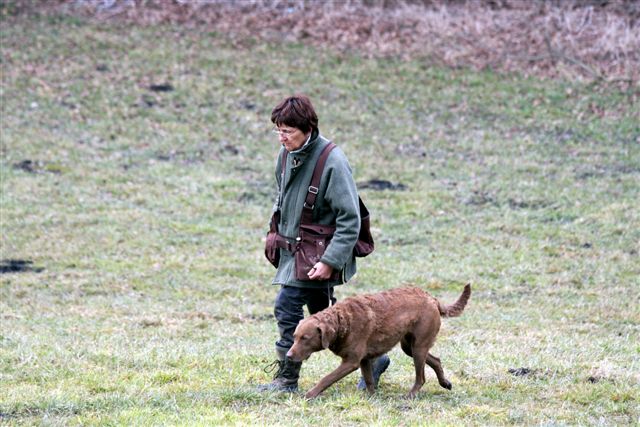 Towards to the wound-shot spot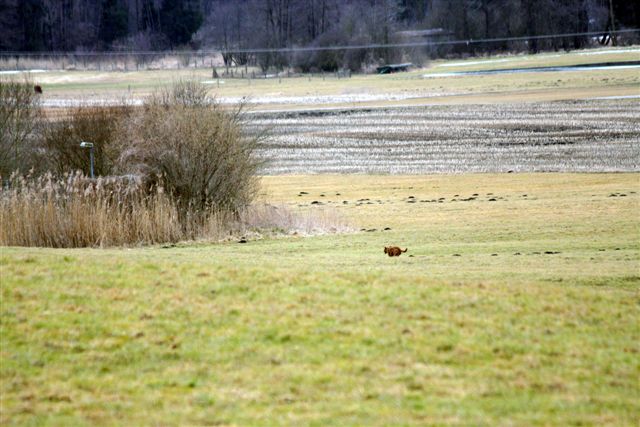 Kanda followed the drag without any problem...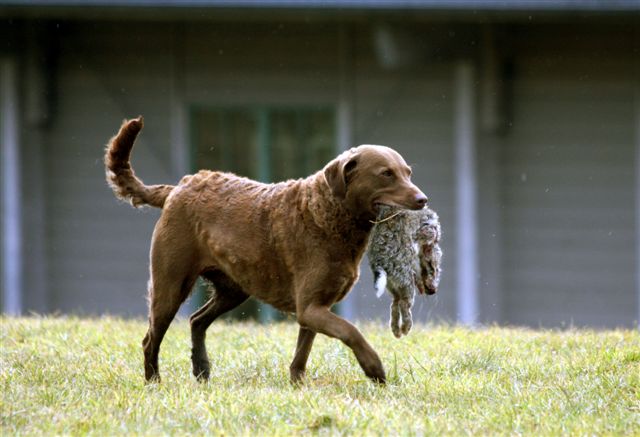 ... And returned proudly with the game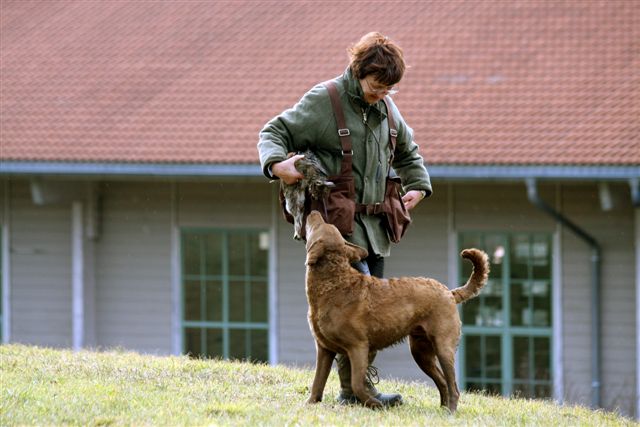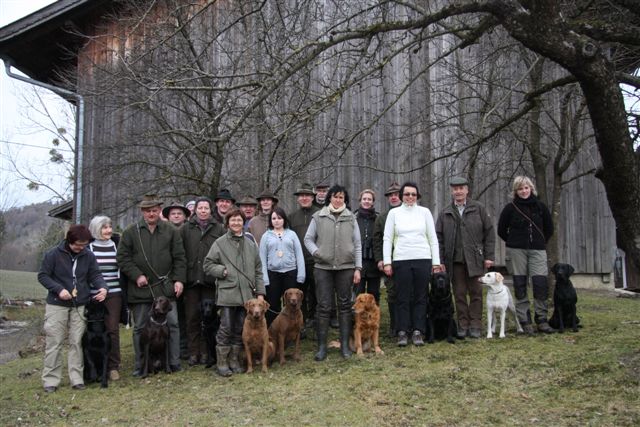 After a gorgeous day: the happy participants
Mato also participated but she failed. Nevertheless, we try again next year!

---
RETRIEVER SHOW D-HERRENBERG January 31th 2009
Fotos: L.Filoglou & G.Bäuerle
---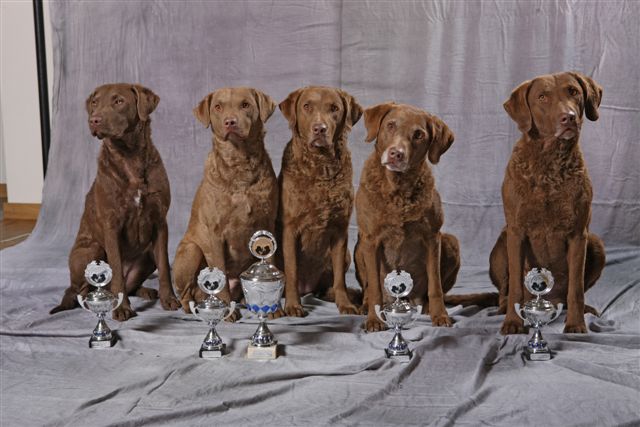 Sweep for Mattaponi's!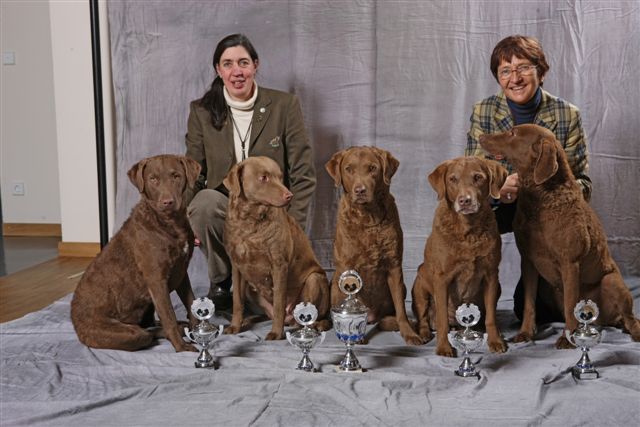 The proud owners with the champs:
From left to right: Ahyoka (daughter of Wihakayda) CAC Junior Class, Wihakayda Res.CAC Working Class,
Wakanda CAC Ch.Class + BOB, Brownie CAC Vet. Class, Matoanka CAC Working Class

---
FAMILY RACE January 2009
---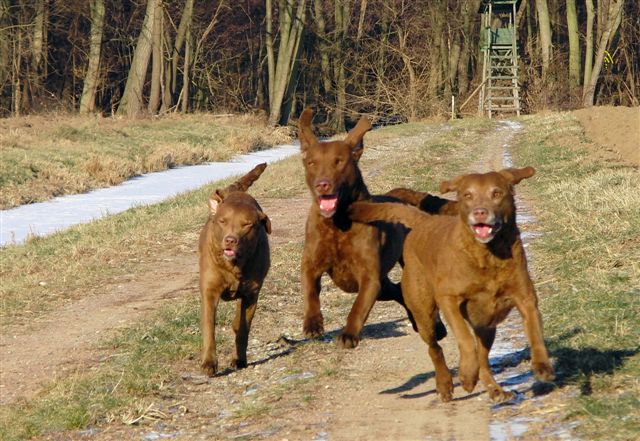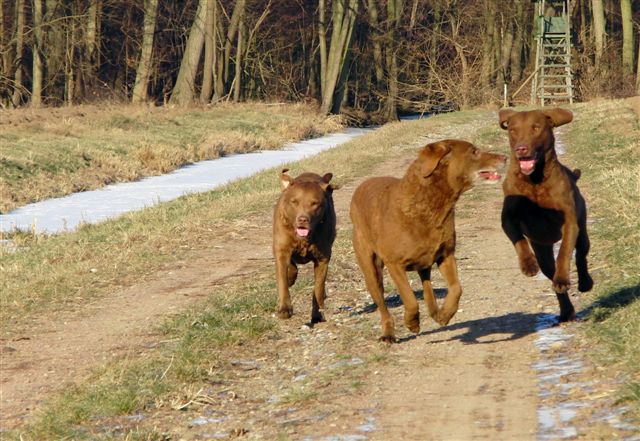 Don't out-pace me, because I would like to be the winner
---
SOME LITTLE EXERCISES ON A FROSTY DAY January 2009
---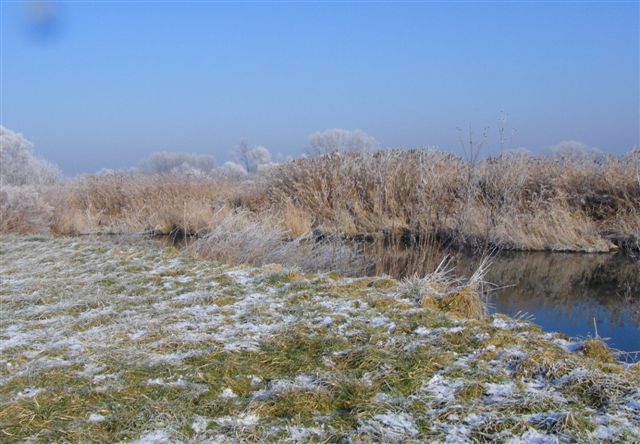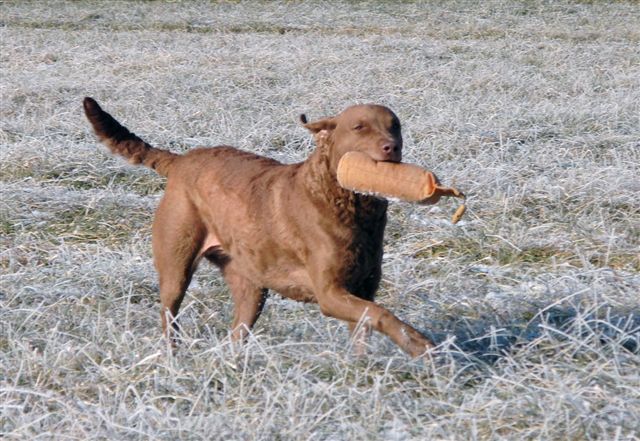 Kanda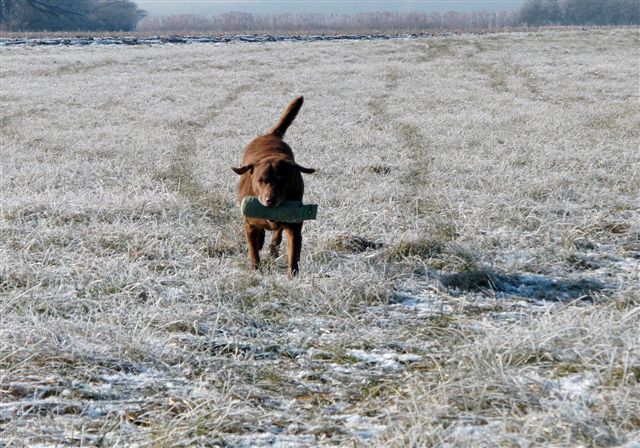 Brownie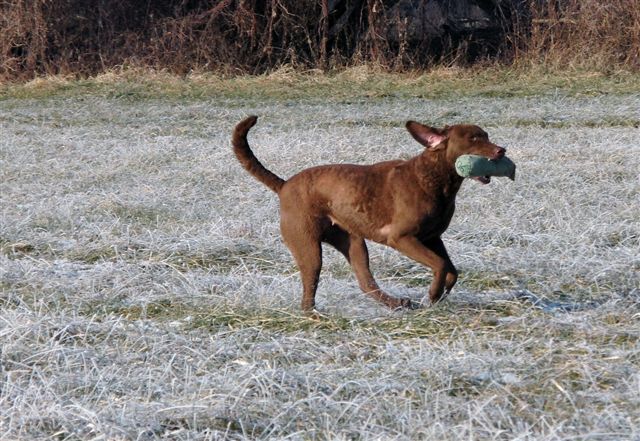 Mato