---
FROM AUGUST TO SEPTEMBER 2018 IT WAS TIME TO SAY GOOD BYE TO THE GANG
---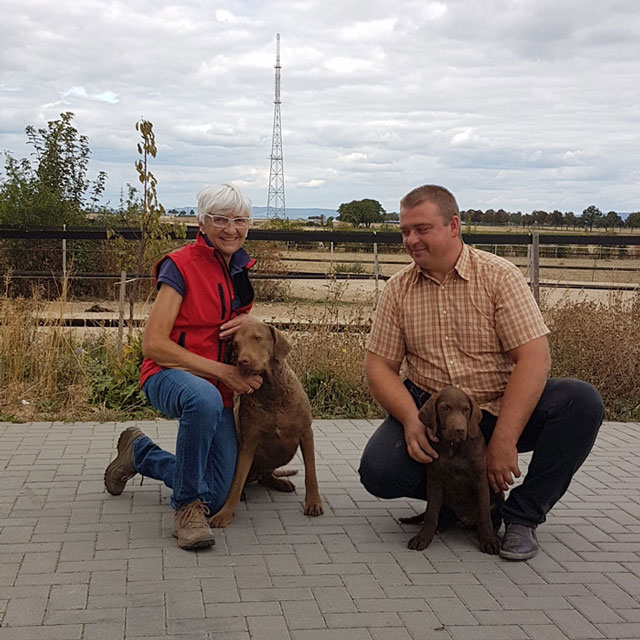 NIKAN he went to Poland

NAHACOMENCE he went to Germany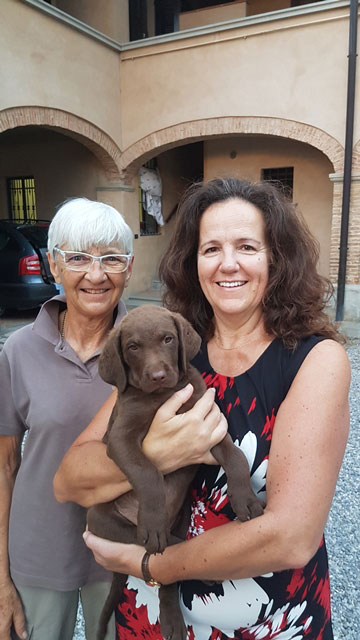 NOKISI she went to Portugal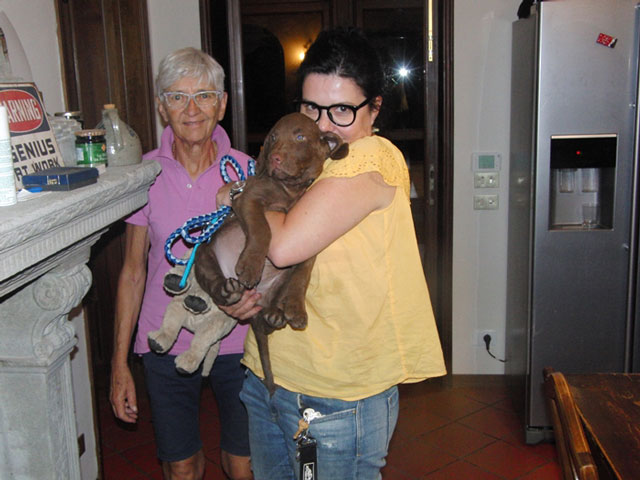 NASHOBA he went to Germany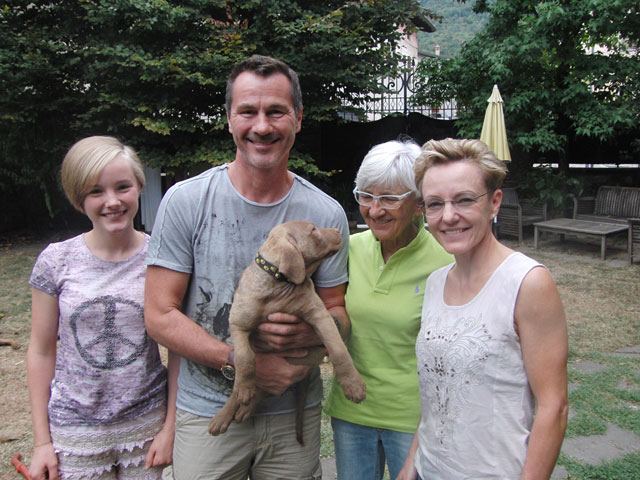 NASHASHUK he went to Switzerland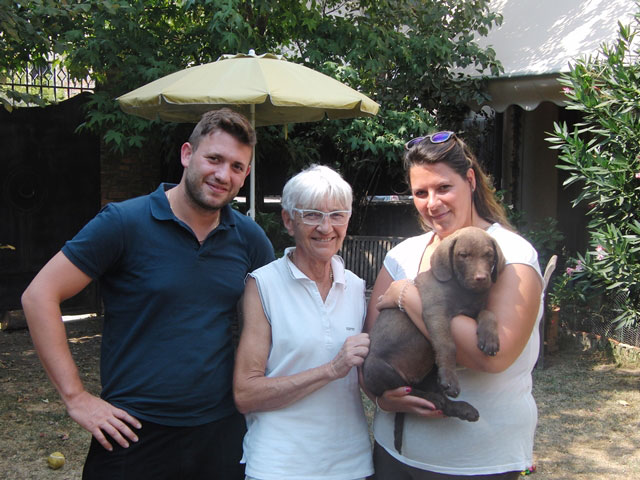 NEHA he remains in Italy
---
PUPPY LIFE, HAPPY LIFE
---

Blue and Lilac male

Yellow male, Pink female

Lilac and Yellow male

Paul with White female

Dark yellow, Lightyellow male and Pink female

Mother and kids

Blue male

Pink female and turtle

Red and yellow male

Mother and youngsters on a walk

Red and yellow male

Defending the duck wing

Red male with duck wing

Yellow male

Lilac male

Life is beautiful

Yellow male

Lilac male

Swimming in the ditch

Red male retrieving a teal
---
June 28th The puppies are one week old
---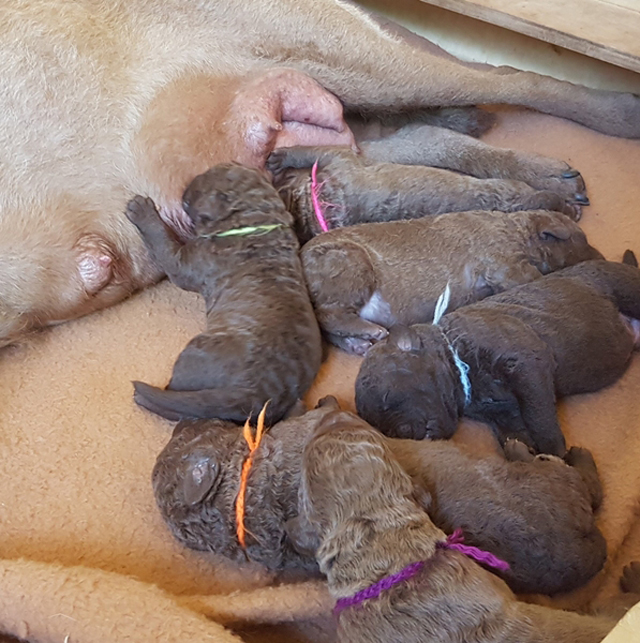 ---
21/06/2018
PUPPIES DELIVERED / DIE WELPEN SIND DA / I CUCCIOLI SONO NATI / LES CHIOTS SONT NÉS
---
5 males/3 females
For more information as well as pictures click here.

5 Rüden/ 3 Hündinnen
Für weitere Infos und Fotos hier anklicken.


5 maschi / 3 femmine
Per maggiori informazioni e foto clicca qui.

5 mâles / 3 femelles
Pour avoir des informations supplémentaires cliques ici où vous trouves aussi des photos.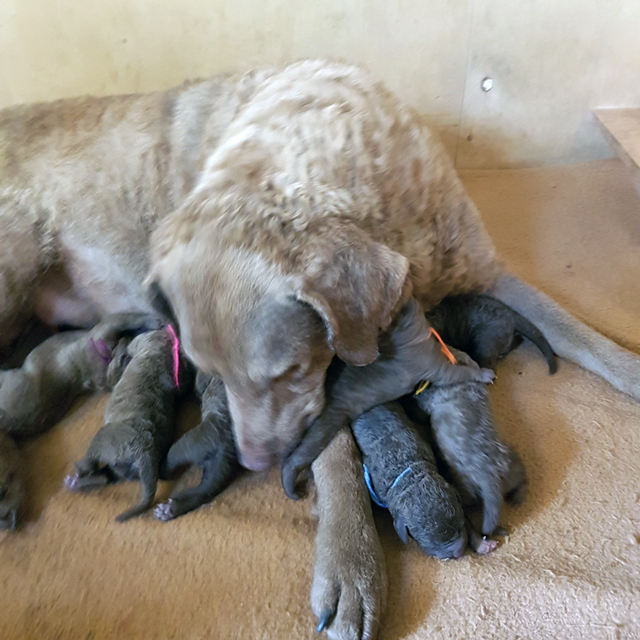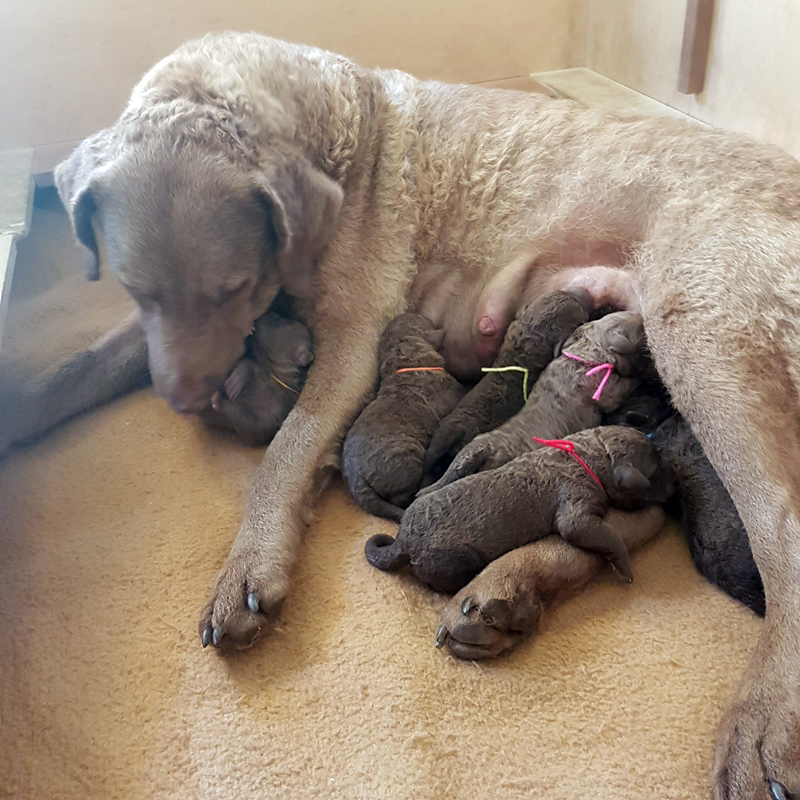 ---
GLEAM AND TADI AT THE LAKE OF ISEO June 16th 2018
---
Gleam 8 weeks pregnant but still wants to exercise, well in her own pace… :-)
As it is rather warm weather we often go to the lake of Iseo. There she loves to swim together with Tadi. Of course she is not anymore a long distance swimmer but she could stroll all day long in the shallow water :-)
---
WT MANTOVA June 3rd 2018
Judges: John Barr (IRL), Matthew Lambden (IRL), Chicco Argostanza (I), Raffaele Navone (I)
Part of the pictures by Giuliana Giorgini
---
Tadi handled by Guy in Novice Class worked well. They made it up to the run-off against Paolo Guardamagna con Django for 1st and 2nd place. It was an almost invisible marking in the water, the dogs started in the field, crossing a little ditch, a footpath and the shore. First dog to go was Django, he crossed the ditch, the footpath and was searching for the Dummy on the shore and needed some commands until he entered the water. Anyhow he came back with the Dummy. Then it was Tadi's turn and as he is a clever dog he didn't jump the ditch instead he took the "chicken way" the passage where he entered the field J and entered the water right away, found the Dummy and on the way back he even jumped the ditch. Well, the judges decided that both dogs made a mistake and therefore there was a 2nd run-off. It was a really long mark in the middle of the field. Needless to say Django did an excellent job on this marked retrieve, instead Tadi had some difficulties finding the Dummy. Therefore Paolo and Django have been the winning team, Guy and Tade ended up 2nd which was a great success for them.

The judges

In the waiting area before the run-off

The 2nd run-off. You see Tad's "Chicken way" :-)

Price giving.
1st Paolo Guardamaga/Django 2nd Guy Moilliet/Tadi 3rd Angelo Castelli/Bop
---
DARE AND GLEAM ARE EXPECTING PUPPIES
---
The puppies are due end of June / Der Wurf wird Ende Juni erwartet
La portée est prevue à la fin juin /I cuccioli saranno previsti fine Giugno
---
SUCCESSFUL MATTAPONI'S
---

Andy Kinta and "Tanner" worked superb at the CBR weekend WT held at Sandlund Farms /Hampshire UK.
First they competed in Novice Class and continued right away in the Open Class. The winner of BOTH classes was famous Tanner!

Claudio Cazzaniga trains Mave as a water rescue dog. In Italy and France they compete already in the 2nd degree.
At May 12th they competed for the first time in Germany, Westerburg and there they had to begin with the 1st degree.
They ended up very successful 191 out of 200 points, qualification excellent. Congrats to fabulous Mave!
---
DUMMY TRAINING WITH ANDY KINTA (UK) 13th /14th April 2018 AT GHISALBA (BG)
---
I invited Andy Kinta to initiate us not in a mystery but in working with Dummy's. We had a great weekend on the marvelous grounds at Ghisalba. A nice group of different Retriever breeds participated. Andy set up very interesting exercises either on land or on / in the water. Not so easy but after two days every dog ended up successfully. I am sure all of us learned something new and took some inputs back home. Thank you Andy for your patience and many thanks to his lovely wife Lynda, she was an untiring Dummy thrower!
---
TADI February 2018
Picture by Matteo Signorini
---
---
TRAINING DAY WITH FRIENDS January 27th Cappella Cantone (CR)

Photos by Matteo Signorini
---
We met at 9:30 am and at the same time the mist came down:-( The best we could do in the foggy condition was working on blinds… There was one good thing about it: no over handling, you just had to trust the dogs because they disappeared immediately in the fog… :-) :-) :-)
Many thanks to the Dummy throwers and to Matteo who made those amazing pictures

Guy and Tadi on the right

Guy and Tadi

On the left Tadi beside Gleam

Tadi

Gleam

Gleam
---
CAMARGUE January 2018
---
We spent some wonderful days in the fantastic Camargue / southern France. We have been invited for duck hunting.
It was interesting to see how my Chessies worked together with the flushing dogs, real good team work. Unfortunately on the 2nd day Tadi got bitten in a front paw by a nutria. Unlucky Tadi :-(

In the middle of nowhere the hunting lodge where we stayed

Rather tough grounds

Gleam furthermost attentive

Gleam turned back from a successful retrieve

Last but not least the white horses of the Camargue. Not all of them are white, once in a while you also see a black or a bay one…
---
EARLY CHESAPEAKES
---

1878 Happy Easter

Circa 1900 Hand tinted portrait

Walter Roesler and his doughter with CH Storm Cloud. Mr Roesler was an early FT supporter and FT judge

1903 A Chessie named Beaver

Brattleboro / Vermont 1900 from a glass negative