---
KAYER'RIE NOW 7 WEEKS OLD AND HER MOM GLEAM
December 23th 2019
---
---
LITTLE PRINCESS' FIRST VISIT AT THE VET 9.12.2019
---
She is now 5½ weeks old. She was very brave and not shy at all. The vet was very pleased with the 5,8kg cute fatty :-)
---
NOKO AT THE NATIONAL DOG SHOW ERBA (Italy) 7.12.2019
Judge: Mrs. E. Cartledge (GB)
---
---
November 10th 2019
Balingen-Ostdorf (Germany) on the JAS/R
---
I participated with Noko at Balingen-Ostdorf (Germany) on the JAS/R. I think it's a great opportunity showing a young dog's attitudes in different hunting situations like tracking, searching, marking on land and in the water... The dog works with different game like rabbits, ducks, pheasants.
It was a great experience for me and Noko and after a long day in very nice company Noko got the certificate "passed" (only passed or failed)
I was very pleased with my girl, she really showed very good hunting attitudes :-)
😍
---
WELCOME LITTLE PRINCESS
---
November 2nd 2019 Toni's & Gleam's only child was born, 11h30 AM, caesarean section, no way to avoid it.
Anyhow, Gleam and the very active little princess are doing fine, no problems at all and this is the most important thing 😍
Well, for me it's the first time having "a single child", it will be a new experience watching little princess growing up on her own...
the first pic shows the princess 15 minutes after the birth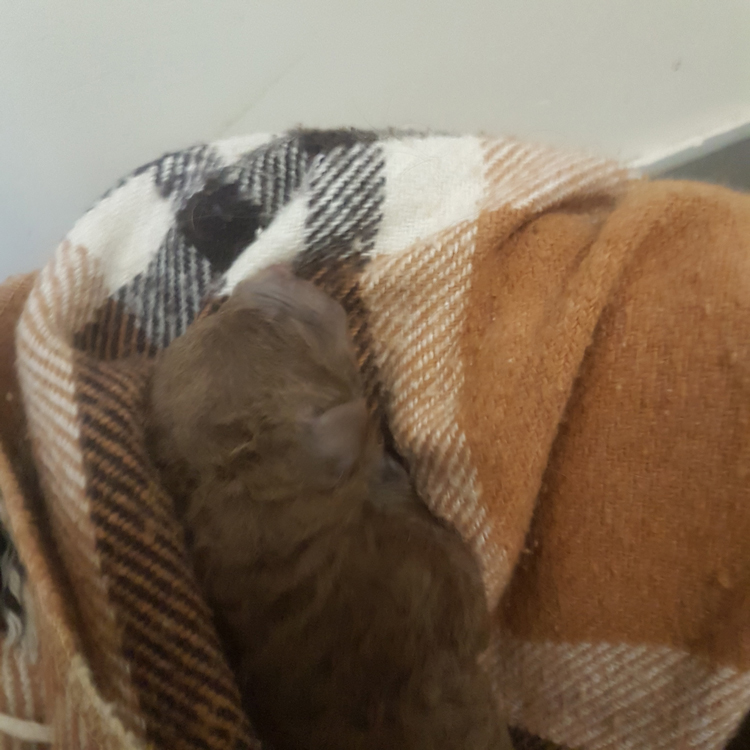 (click here to see the video »)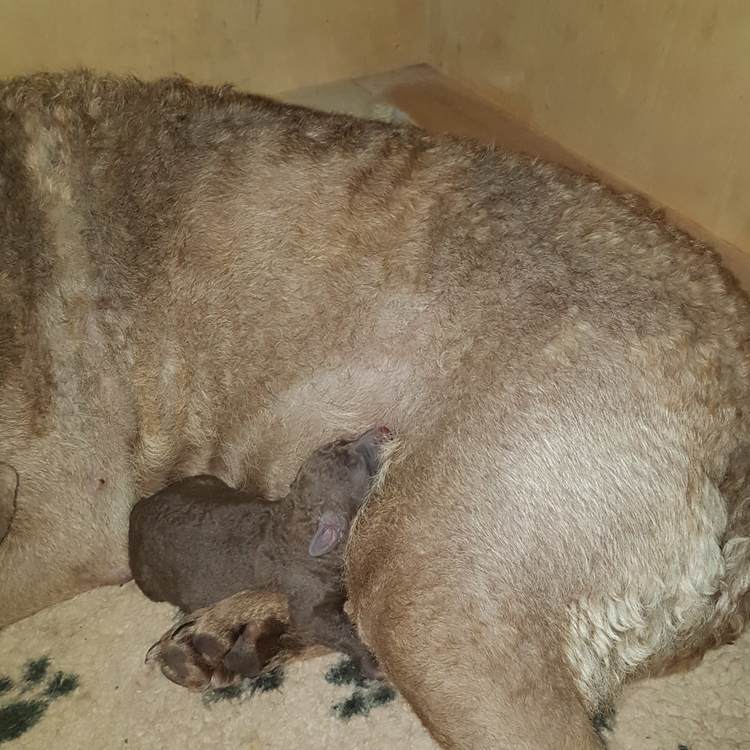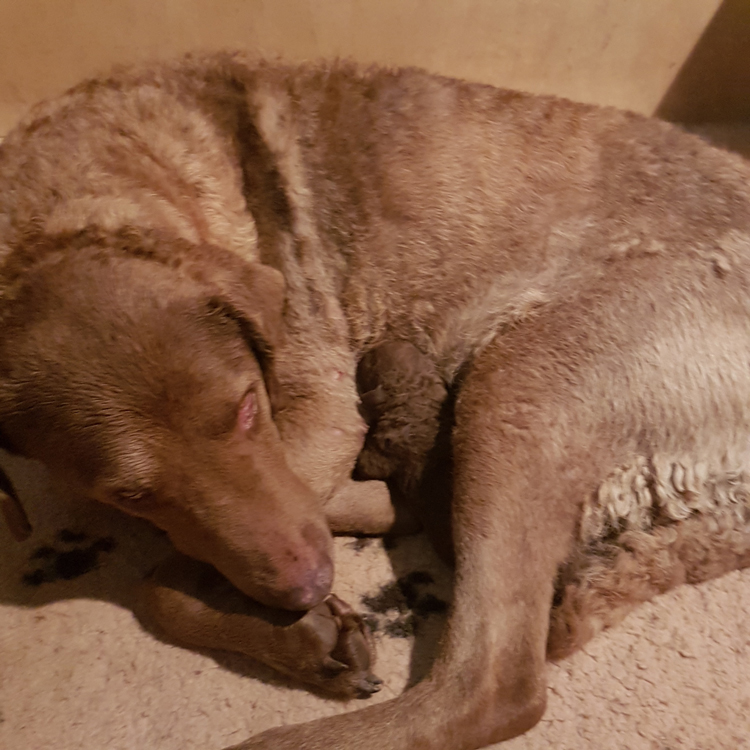 ---
October 2019: Gleam is pregnant and will deliver soon
---

Unfortunately there won't be many puppies, probably one or two…
Well, this is nature and it happens for what reason so ever…
I just feel sorry for all the wonderful people who have been waiting for a puppy…
---
WT CASTEGGIO HOSTED BY "IL BIANCO SPINO" October 13th 2019
Judges: Mr. S. Franchi; Mr. C.Szantay
---

For the first time I entered Noko in an official WT in beginners class. I was astonished how well she behaved and especially how well she worked :-)
She ended up on 4th place leaving behind her some real experienced dogs :-) If the heel work and the delivery would have been just a little bit better… loosing points on this kind it's really my fault, I can't blame Noko! :-)
Unfortunately nobody made any pictures :-(
---
INTERNATIONAL DOG SHOW BERGAMO AT ORNAGO (MB) September 29th 2019
Judge: Mr. S. Sacarpelli
---

2nd day at Ornago. This time Noko wasn't the only Chesapeake. A nice surprise not being alone in the ring. I showed Noko against another nice female but Noko was the winning dog CAC/CACIB/BOS. She lost the BOB "battle" against a lovely Champion dog. Never mind, I am very happy and pleased with the result :-)
---
INTERNATIONAL DOG SHOW LECCO AT ORNAGO (MB) September 28th 2019
Judge: Mrs. N. Davidović
---

I showed Noko in the intermediate class and she behaved well, the judge liked her and honored her with the CAC/CACIB
---
GUNDOG TRAINING WITH JASON MAYHEW (GB) JUNE 2019 AT STAGNO LOMBARDO (CR)
Pictures by: Ursula Venetz
www.ursulavenetz.ch
---
I invited my friend Jason Mayhew, a famous and well known gundog trainer in Great Britain to Italy for a clinic.
I must admit these 2 training where just fantastic! Jason knows exactly how to "deal" in a wonderful, straight forward way with the dogs and their handlers because he works with the motto K.I.S.S meaning KEEP IT SIMPLE STUPID :-) And he is absolutely right: the less you fuss about your dog, the better he works!
All the participants enjoyed the days very much and everybody is looking forward seeing Jason again in April 2020!

Walk-Up

Susan and Tashi

Noko

Gaby and Wunu

Part of the group

Jason, always very relaxed

Marco and Indiana

Alessandro and Kubrik

Jason

Catarina and Porter

Philip and Lass

Elisabetta and Tasha

Jason

Tadi

Gleam is just crazy about Jason…

…he can do anything with her :-)

Time to say goodbye, next year we meet again…
---
LITTER PLANING / WURFPLANUNG / PORTÉE PLANIFIÉE / CUCCIOLATA PIANIFICATO
---
C.I.B. /D/LUX. Ch Anton vom Brachvogelfeld
x
CH/IT Ch Tugboat's N'Mattaponi's Gleam Of Hope
Toni is a good looking 3 years old male living in Germany, bred in
Austria. He is very friendly and a good working dog and has a lovely temper. He has the breeding license to to special hunting performance.
Toni ist ein ausgewogener 3 jähriger Rüde aus Österreichischen Zucht und lebt in
Deutschland. Er ist äußerst liebenswert, arbeitet freudig und gut. Er hat einen
einwandfreien Charakter. TAUGL.F.SP.Jagdl.LZ
Toni ha 3 anni, è un equilibrato maschio allevato in Austriaca e vive in
Germania. È molto gentile, lavora bene con entusiasmo e ha senza dubbio un
buon carattere. Ha l'approvazione di allevamento delle prestazioni di caccia.
Toni est un male très équilibré de 3 ans. Il provient d'un élevage
Autrichienne, vivant en Allemagne. Il est très aimable, travail avec de la verve et
de l'enthousiasme et est d'un caractère très bon. Il a le permis de reproduction à l'élevage spécial de performance de chasse.
Health records/Gesundheits Befunde/État de santé/Stato di salute TONI:
Hips A2/A2; Elbows 0/0; Scissor Bite-full dentition
PRA –DM clear by parentage; EIC clear; ED/SFS clear; Longhair K/I; prcd-PRA HC/RD clear (May 2019);
Health records/Gesundheits Befunde/État de santé/Stato di salute GLEAM:
Hips A/A; Elbows 0/0; Scissor Bite-full dentition
OC-FKN clear/clear; LS-ÜGW clear; DM: EIC: ED/SFS: MH: prcd-PRA: GENOTYPE N/N
Longhair Genotype L/L HC/RD clear (May 2019)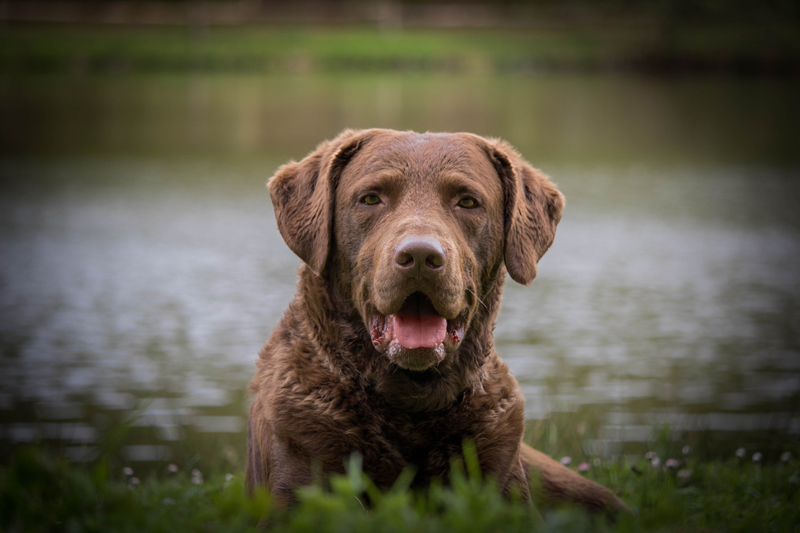 C.I.B. /D/LUX. Ch Anton vom Brachvogelfeld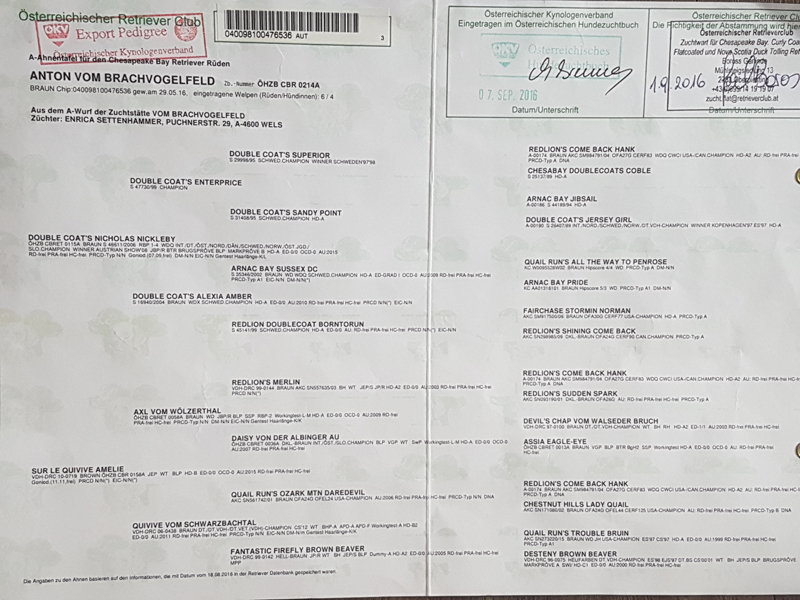 For more pictures, work and show results of Toni see: www.clyjack-retriever.jimdo.com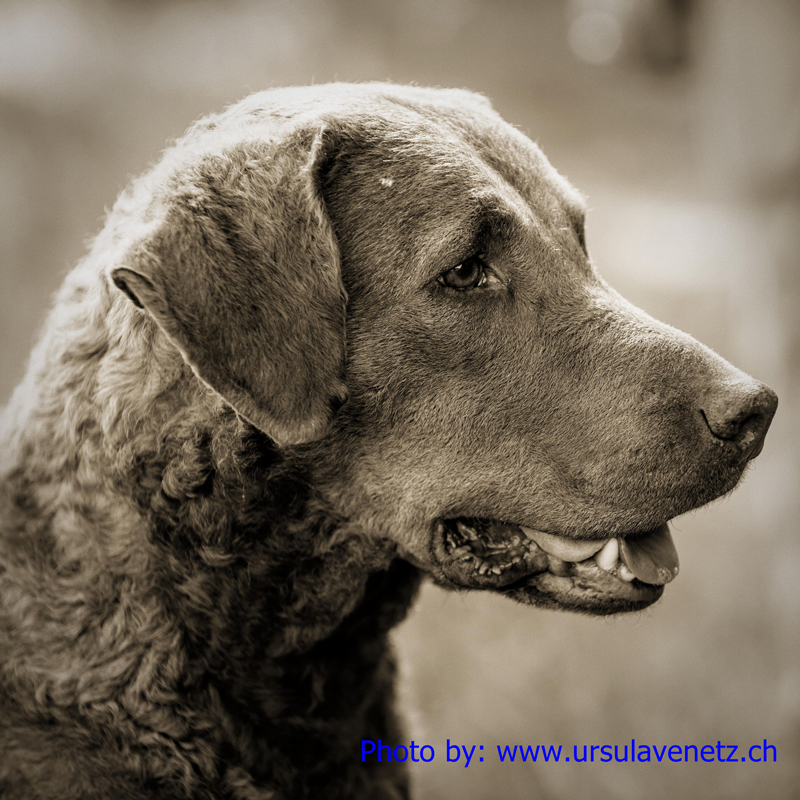 CH/IT Ch Tugboat's N'Mattaponi's Gleam Of Hope
---
TADIS KIDS WHERE BORN APRIL 9th 2019
---
Sometimes nature goes its own way… Unfortunately there are only two puppies, but those two boys are just lovely :- :-) :-)
If you want to know more about Tadi's kids have a look at www.bbs-chesapeake-retriever.ch
---
WT TEST MANTOVA – SAN NICOLÒ PO 14./04./2019
Judges: Matthew Lambden (IRL), John Barr (IRL), Franco Abati (I), Francesco Pavone (I)
Pictures of Gleam and Tadi by Alessandro Ribeiro Pinto
---
NOKO'S FIRST WT :-)
I handeld her in the Training Class noncompetitive because the Italian rule says: if one competed in Open Class one can't run competitive in Training Class… Anyhow Noko did really well, was very cool and I was very pleased. Her scores between 16-18, no 0 :-) brightened up a real nasty, cold and rainy day. I think I can be proud of this 9 month old puppy :-)
Beside Tadi was placed 4th and Gleam 7th in Novice Class allover a successful event.
---
INTERNATIONAL DOG SHOW MONTICHIARI BS (ITALY)
Judge: Mr. R. Di Carlo (I)
---
NOKO'S COMMENT: Now I am not a puppy anymore, now I am a junior and I still don't like showing my teeth but I had to… :-(
Anyhow, the judge liked me and gave me the 1st Exc/Best Junior of Breed. To be honest I was the only one but an Exc. is an Exc. :-)
Then I had to "fight" for BOB, no chance beside a dog in the Champion Class but the BOS was left over, meaning my 1st BOS :-)
Then it took a long time until we were called to the Ring Of Honour together with all the best Juniors of different breeds. That was fun, I have seen dogs I have never seen before. After this exiting day I finally could turn back home and relax…
---
BECOMING A FATHER IS NOT DIFFICULT… TADI X YASKA
---
After a successful mating in February Yaska is pregnant and the puppies will be delivered 2nd week of April.
If you want to know more about Tadi's bride have a look at www.bbs-chesapeake-retriever.ch

After some quite exciting days Yaska had enough of her lover and she didn't want to pose any more for a nice wedding picture…
---
NOKO'S FIRST SHOW AT RIVA DEL GARDA (TN) ITALY 2nd of March 2019
---
At the age of 8 month Noko started her show carrier. I showed in the junior class, 6 to 9 month old dogs. In the ring she was easy to handle and the judge liked her: "a very promising puppy" :-)
Maybe Noko follows the footsteps of her parents Gleam and Dare…
---
OUR NEW HOME AT BOTTICINO
---
We moved to a new home. It's nicely situated in the hills above Brescia.
The house is rather small but there is a lot of space for the dogs, we have our own olive trees and therefore also our own olive oil :-) there are also some fruit, walnut, almond and pomegranate trees as well as hedges of rosemary… Anyhow, Noko, Tadi and Gleam love the terrain to stroll around and I like it because you just step out in the back yard and you can do some Dummy training…

Part of the back yard

Part of the front yard

Also a part of the back yard

Tadi and Noko in the olive grove

The dogs racing track in the back yard

Backyard view