---
DECEMBER 27th 2011
---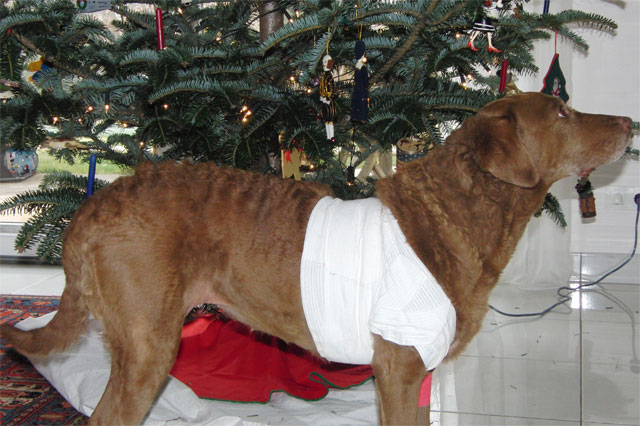 During a walk in the woods December 25th Kanda got in trouble with a wild boar. Result: we spent X-Mas day at the vets emergency room...



TO ALL OUR FRIENDS A PEACEFUL AND HAPPY CHRISTMAS
---
WOKSHOP AT VIENNA (A) November 2011
Photos by Werner Schragel
---
With big pleasure I took the opportunity being Steve Grütter's co-trainer at the Workshop at Vienna.
Jérémie and Irena joined us and I can't count the Dummy's they threw during those days, they did a great job!
We have had three wonderful, exiting and very intensive days at Vienna, not only because we have been spoiled, but also because of the spontaneous and enthusiastic participants with their lovely dogs!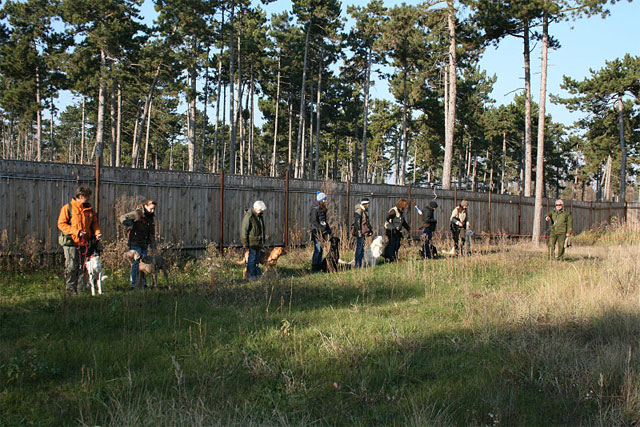 Steve took care about the beginners group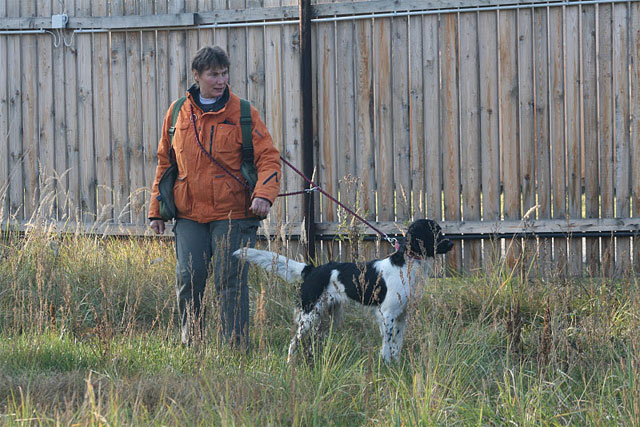 In the beginners group not only Flats, Golden, Chessies and Labs showed their abilities but also two flushing dogs…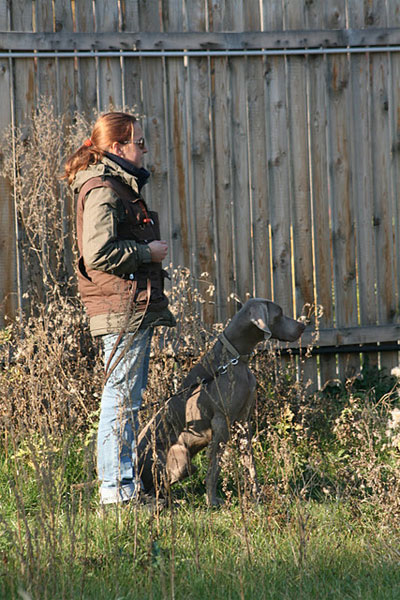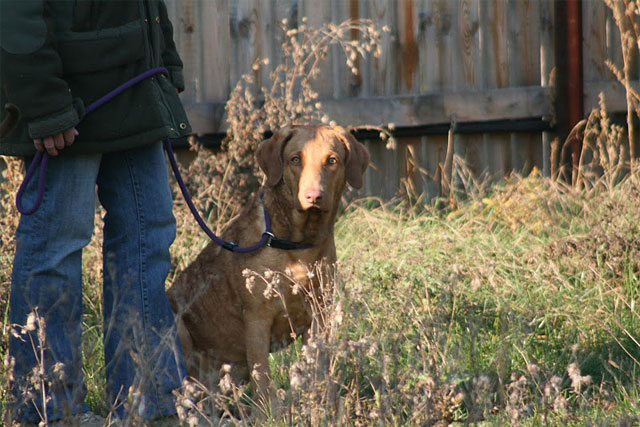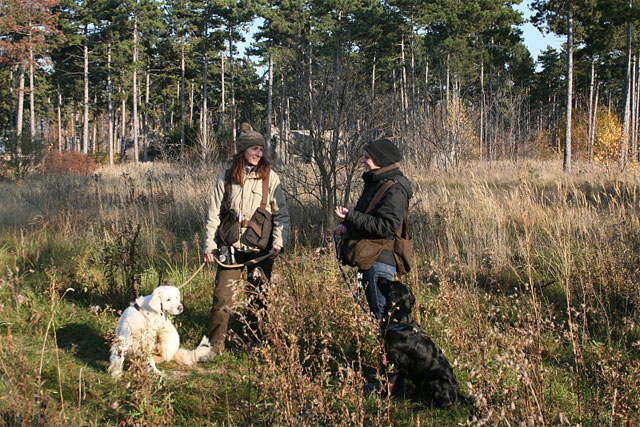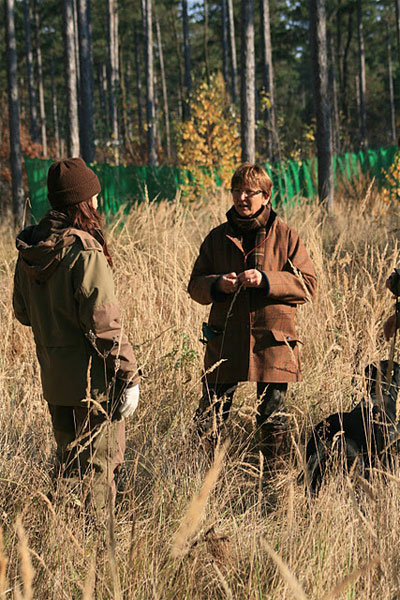 I worked with the advanced dogs/handlers and I've got a lot of support from Irena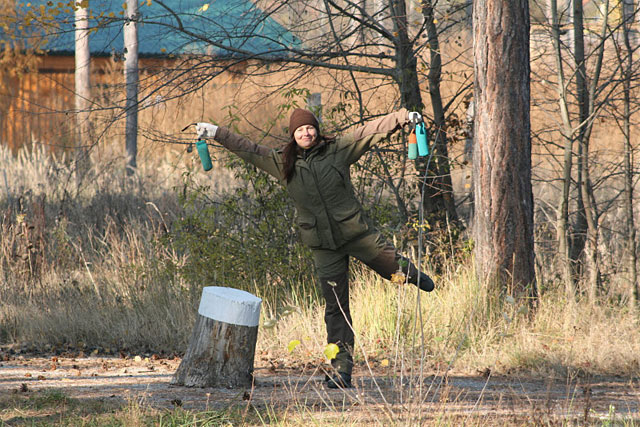 Irena always has a special sense of humour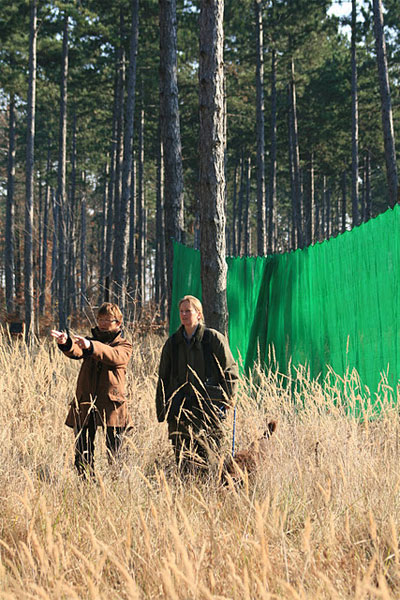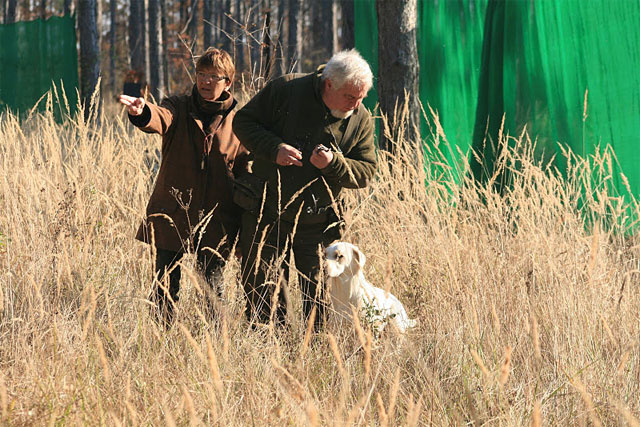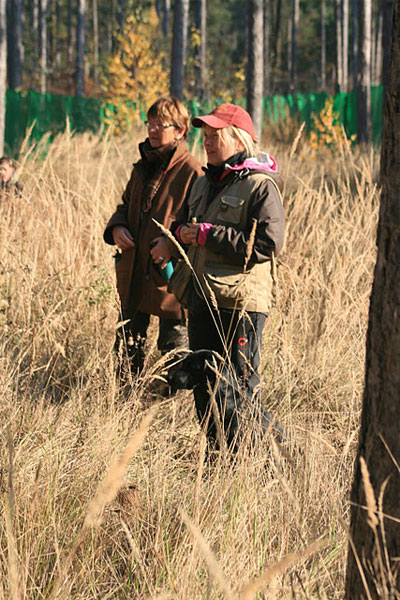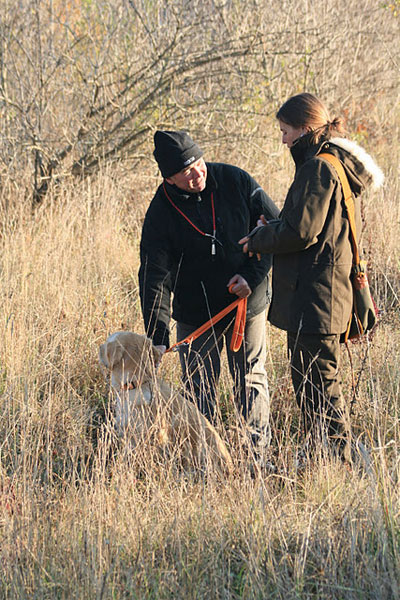 Jérémie trained some youngsters, meanwhile…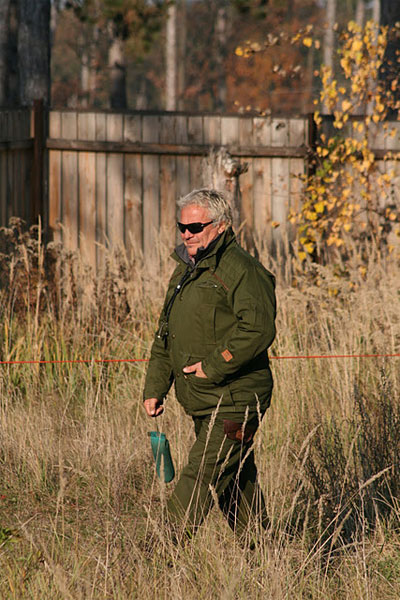 …Steve had to throw the Dummy's on its own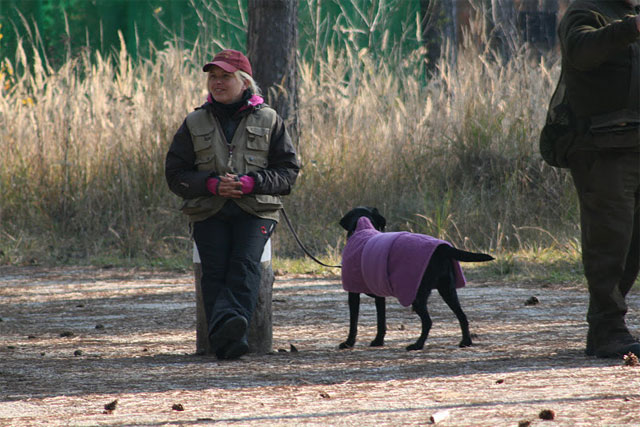 As it was bitterly cold not only the handlers wore warm jackets

---
HUNTING-PARTY AT THE ALSACE November 2011
Photos by Isabelle Osmane
---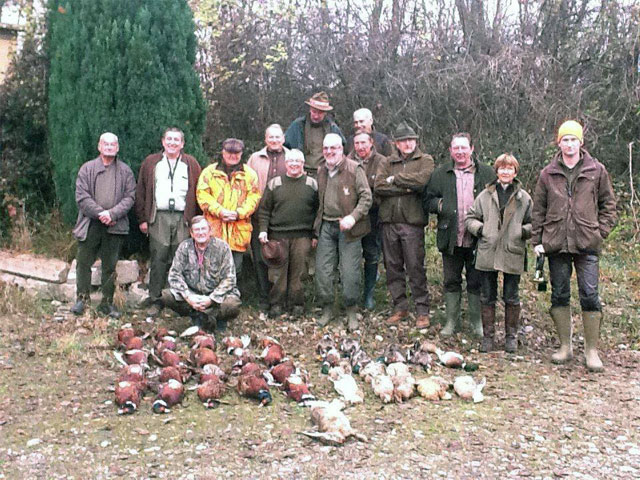 Keen huntsmen and drovers. For everybody it was an unforgettable day!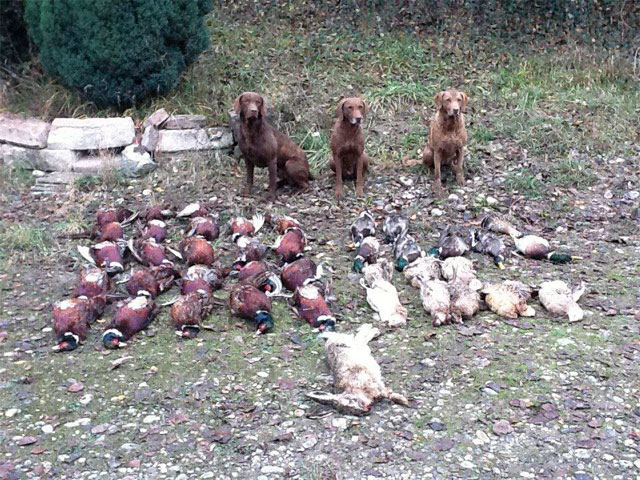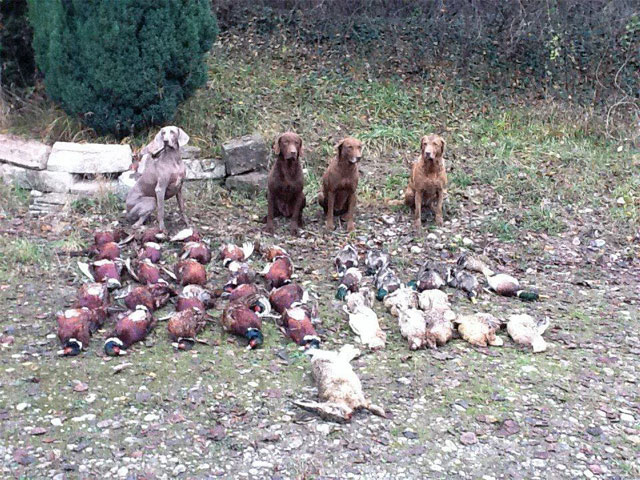 The only "help" Niyol, Mato and Kanda had was a pointing dog (Weimaraner) and he did an excellent job
---
WT HEART OF SWITZERLAND /Eigental October 29./30. 2011
Photos by Dr. G. Mittelbach
---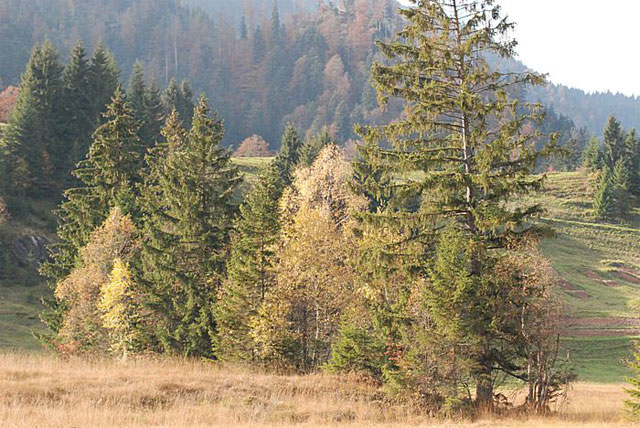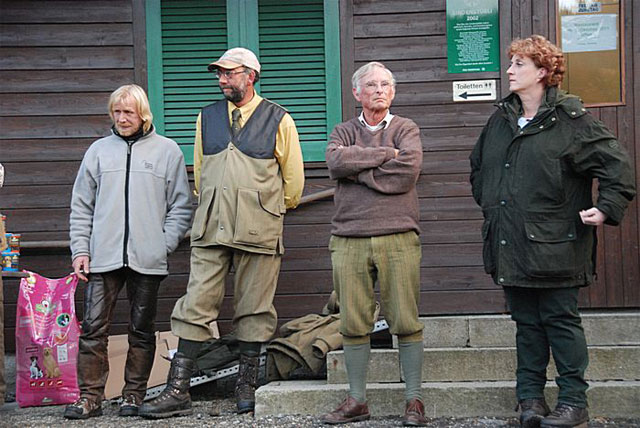 This time I left my dogs at home and stood "behind the camera" in the expectation of judgeship.
Those present judges Peter Burton (GB), Anja Helber (D), Henny Marcussen (D) and Pieter Rooijakkers (NL) have taken me under one's wing and have given me real good advises and I did learn a lot. There are thousand things you have to think about when you are judging…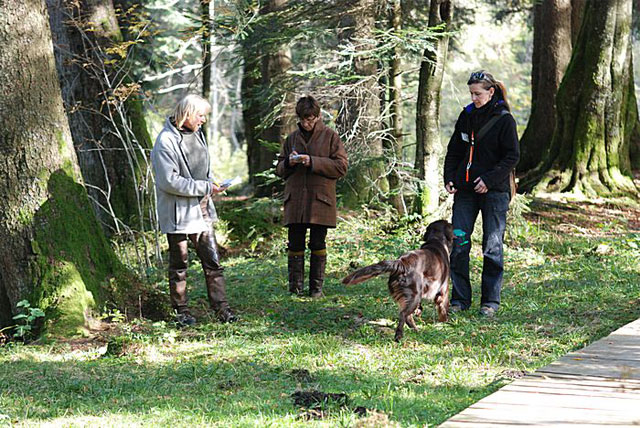 Henny Marcussen and my humble self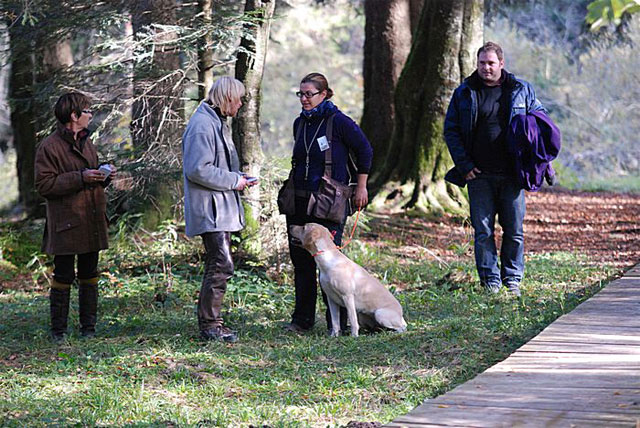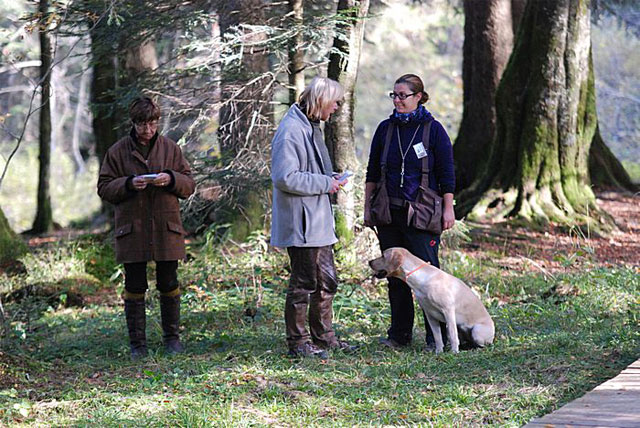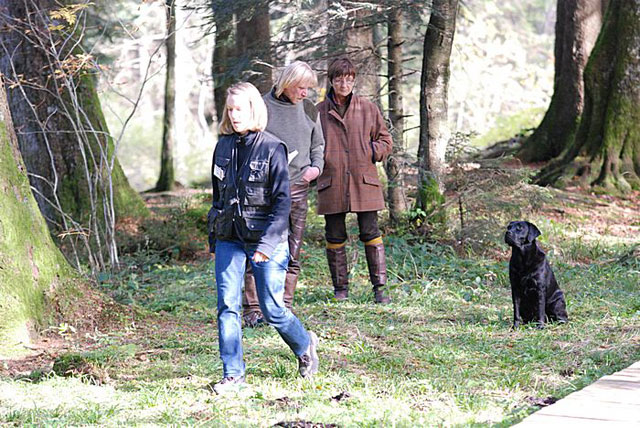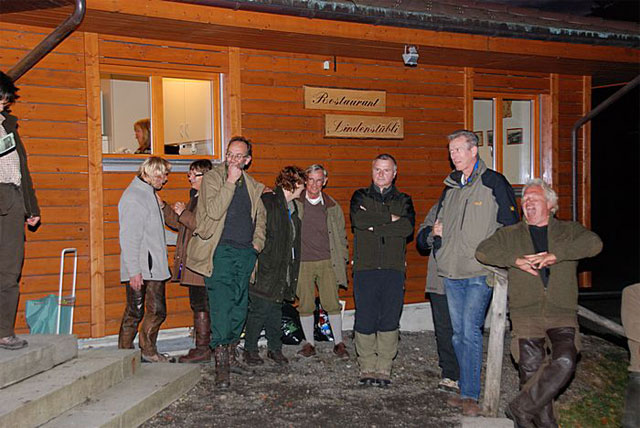 After two long and exiting days in a beautiful country side not only the judges have been tired…


---
2011 NATIONAL SPECIALTY CARLISLE (PA) USA
September 2011
---
During my holidays I stayed at the home of my old friend Janice in beautiful Virginia.
From there we went to Carlisle (Pennsylvania)visiting the CBR National Specialty.
Once in a live time a Chessie freak has to be part of it!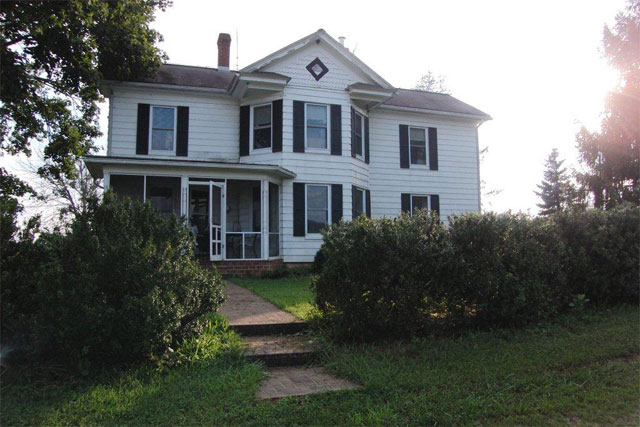 Home and surroundings of Janice. Isn't it a lovely place.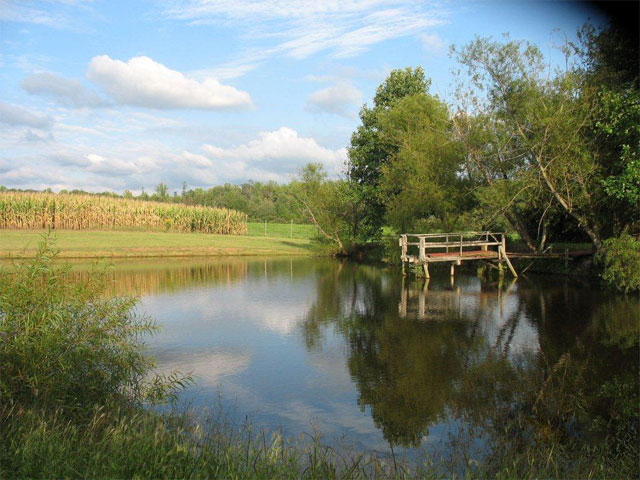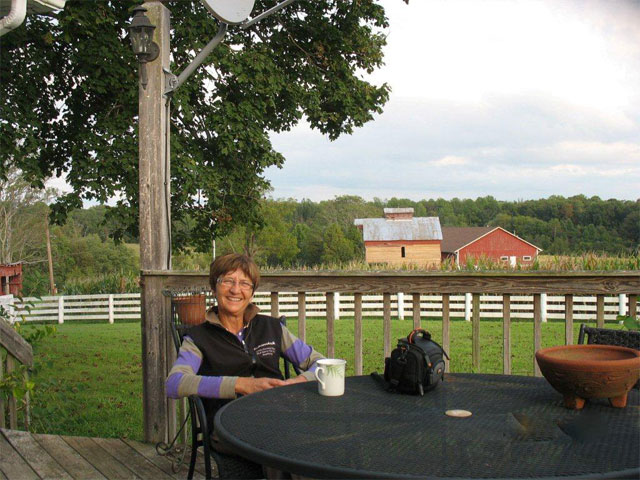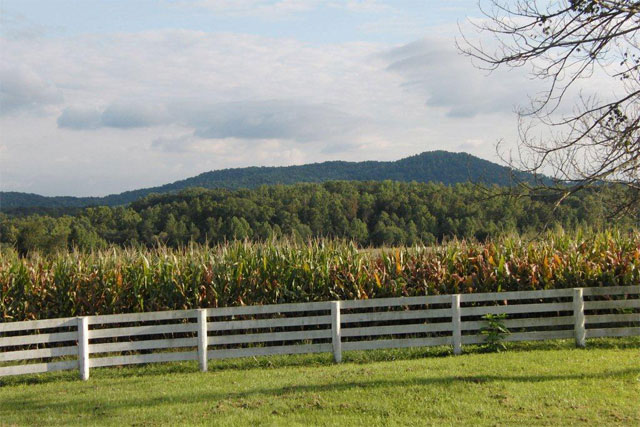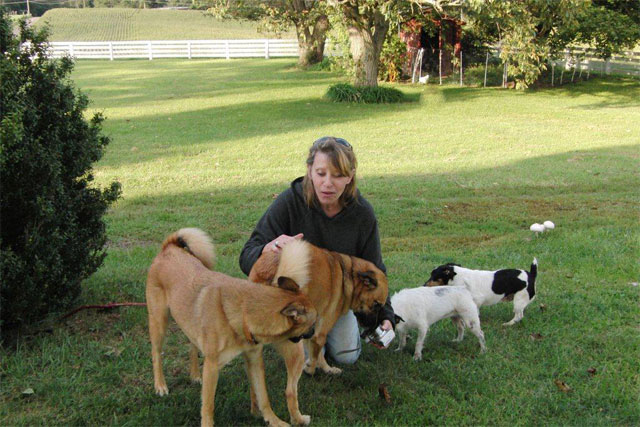 Janice and her dogs
Impressions of the Specialty.
339 dogs have been entered in this show!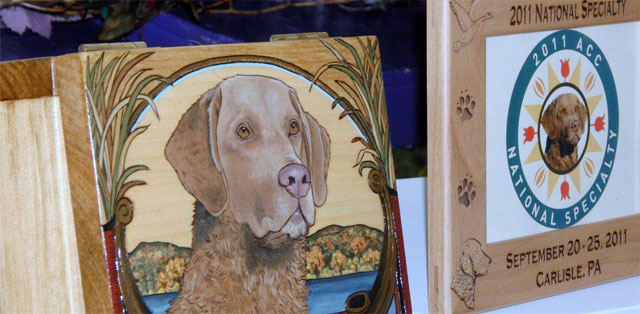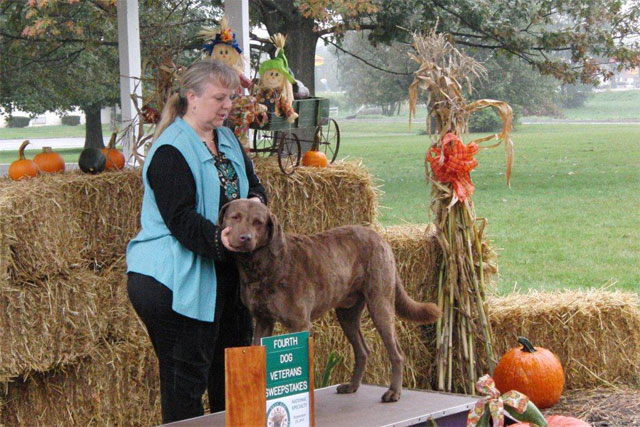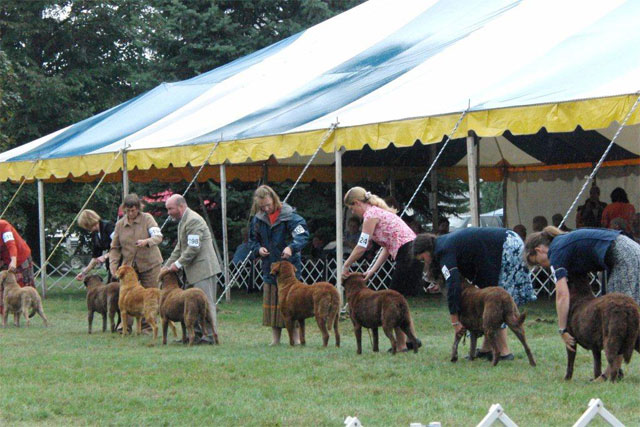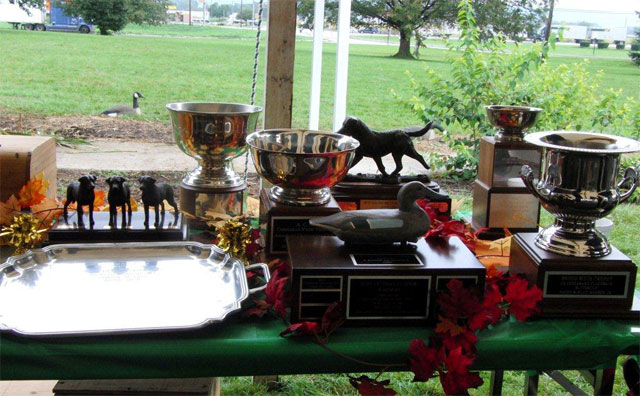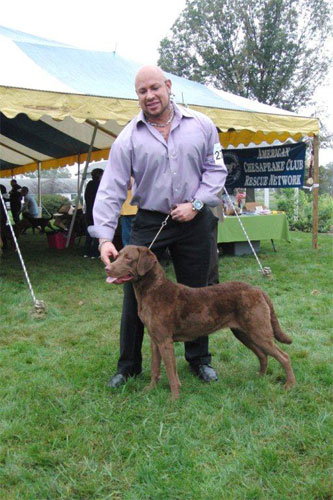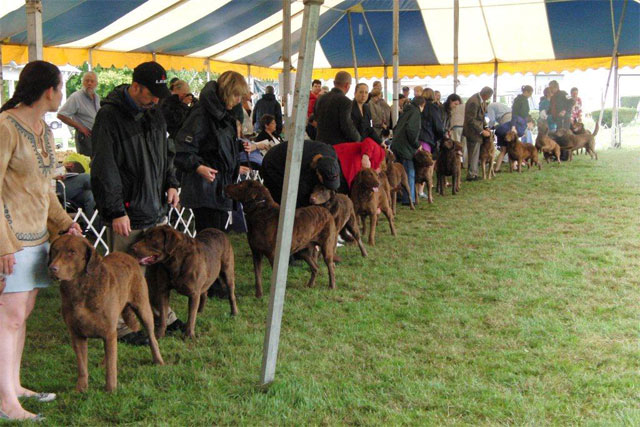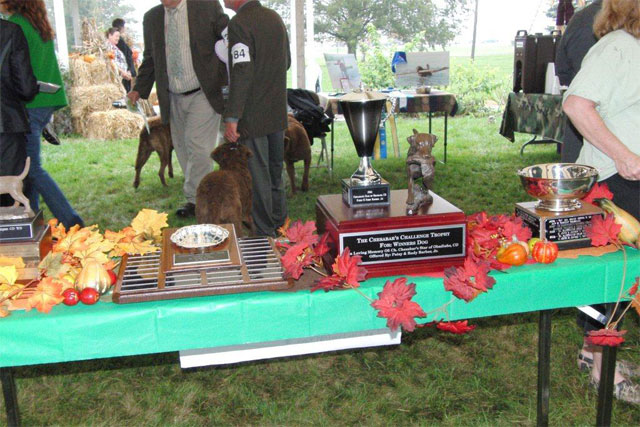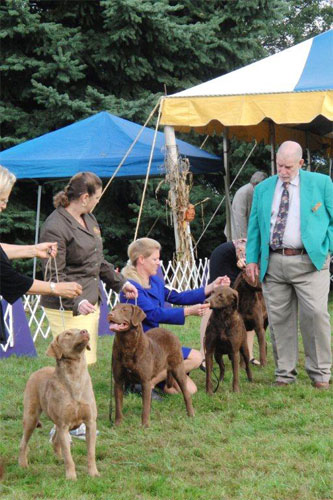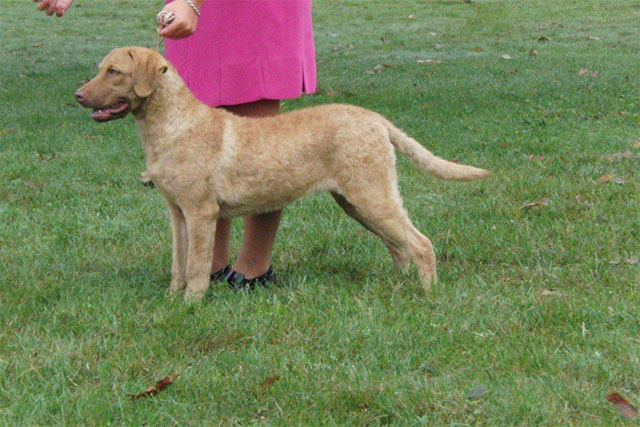 Winning dog Puppy's 4 to 6 month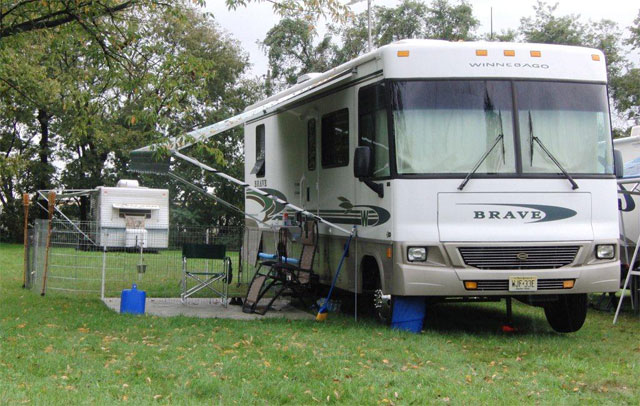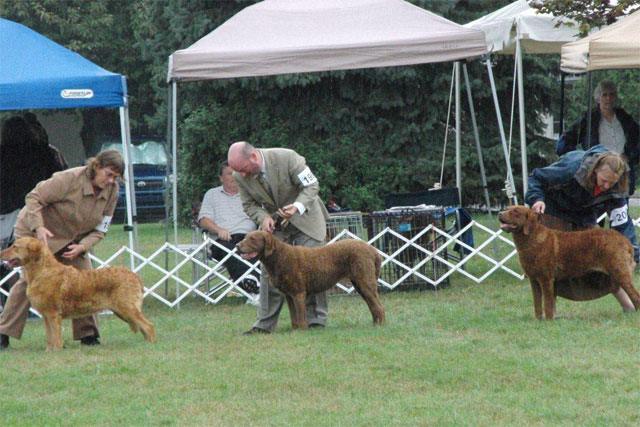 Number 193: 3rd place Open Dog Class
---
GLEAM IS THE NEW KID IN TOWN
September 28th 2011
---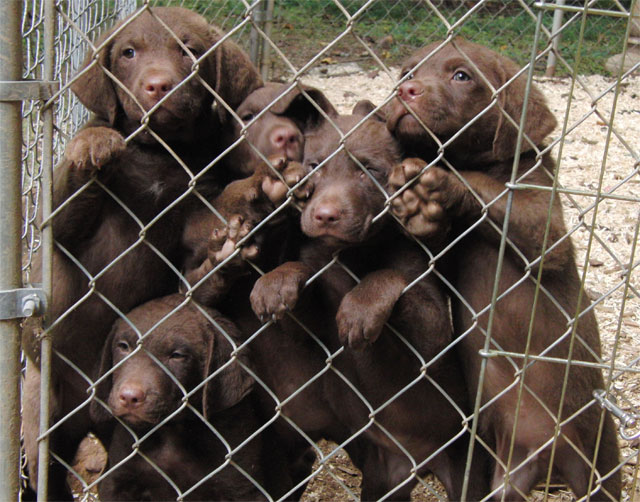 Gleam 7 weeks old. She is the one with the little white spot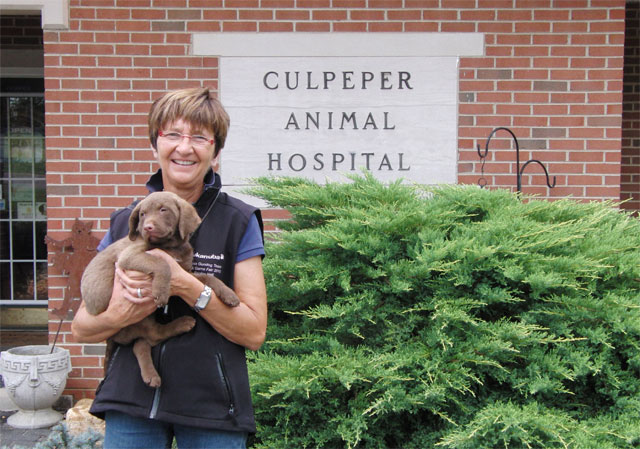 September 21st first visit by the vet: vaccination, microchip, examination, she is gone to rest…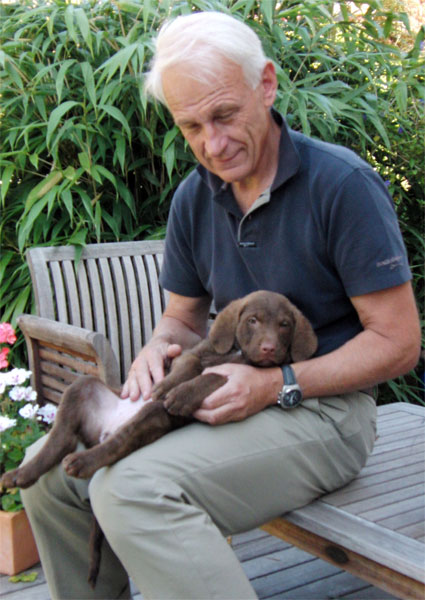 After a long trip home: Guy and Gleam: they seems to like each other
---
RÉGIONAL D'ÉLEVAGE AND ÉPREUVE B CHATILLON LA PALUD (F)
September 03./04. 2011
---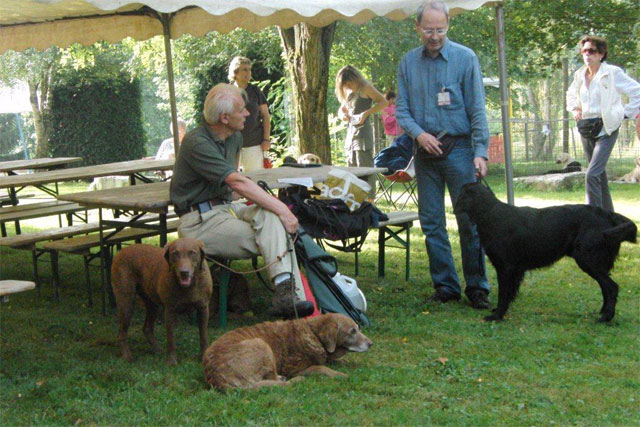 I was really happy that Guy came along giving me a hand with the dogs; made live much easier!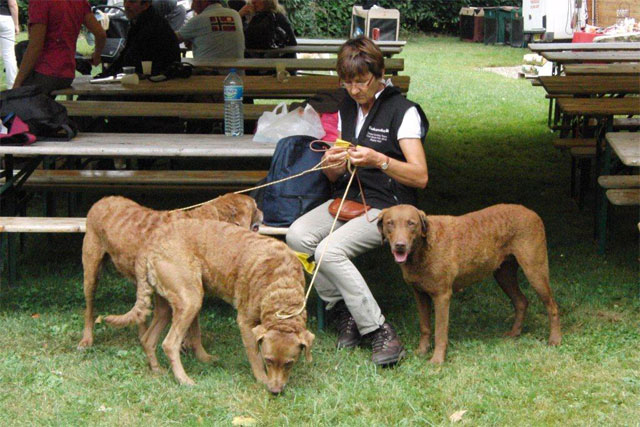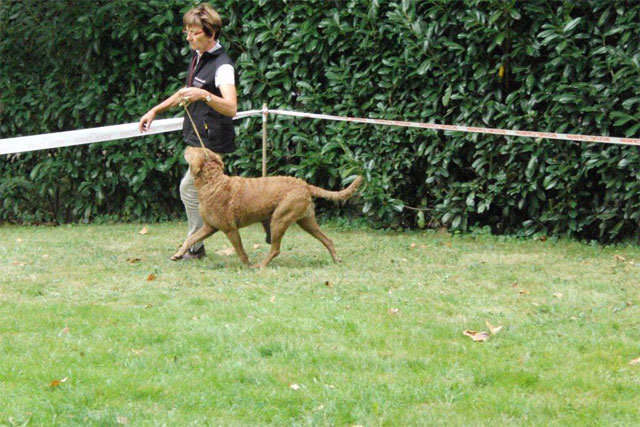 Kanda; Champion Class 1st exc. (because it was a "Régional d'Élevage" no CAC's have been awarded)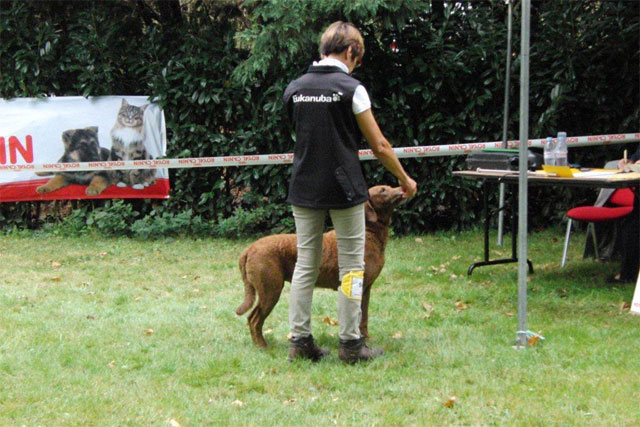 Mato; Field Trial Class 1st exc. BOB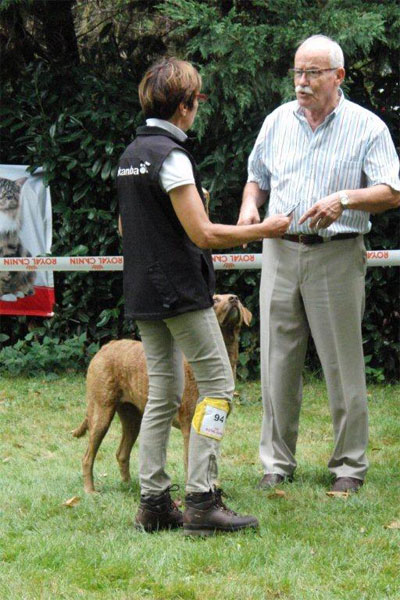 Mr. J. Monçavoir was judging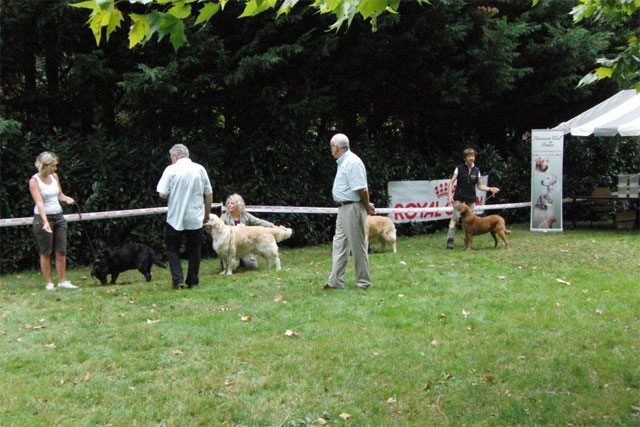 Brownie; Veteran Class 1st exc.; you see her in the ring for best veteran in show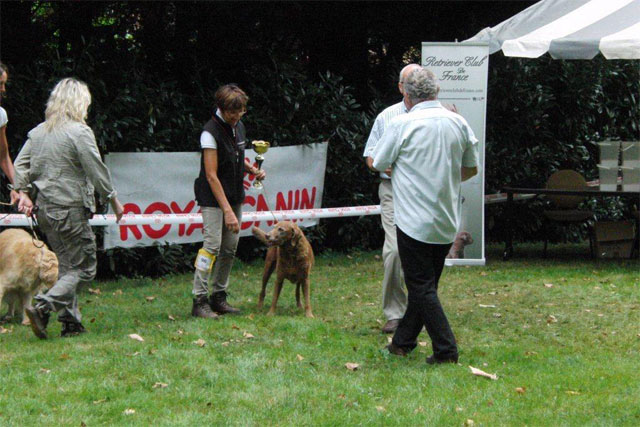 I never thought of it but Brownie was honored "Best Veteran in Show" WOW!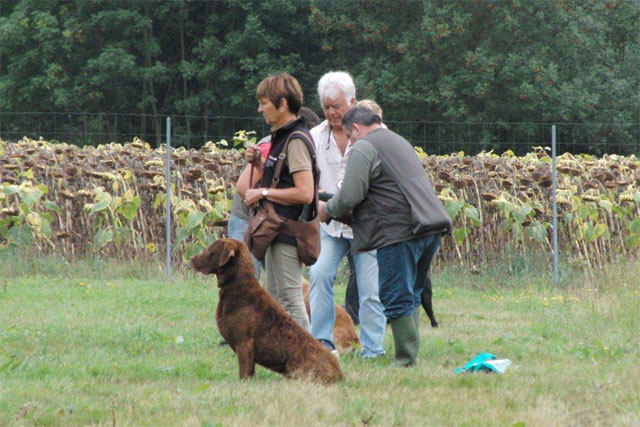 Niyol was competing at the Épreuve B; he was one of the best dogs and passed easily.
Now we have the opportunity competing on FT in France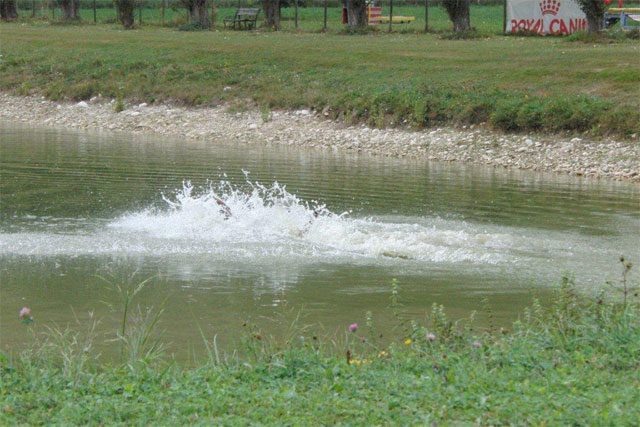 Can you see Niyol?...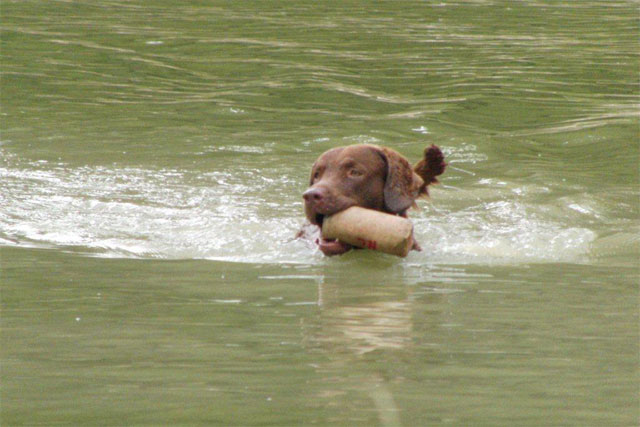 ... Now you can
---
WORKING TEST S'CHANF (CH) August 20st 2011

Great event: Niyol was placed 3rd at the Novice Class out of 29 dogs.
Judges: Phil Allen, Mark and Jamie Bettinson, Jim Gale (all UK)
---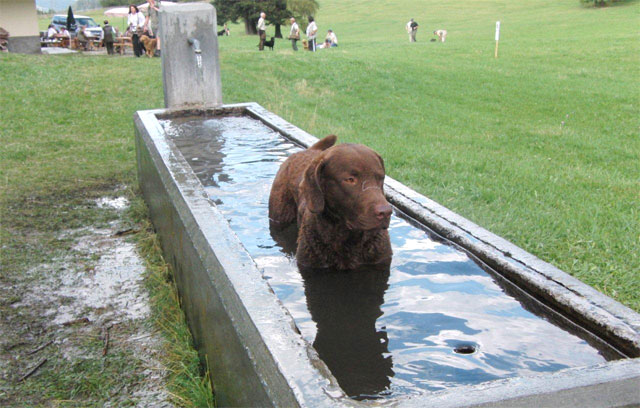 As it was a rather hot day high up in the mountains Niyol took a bath after the work was done.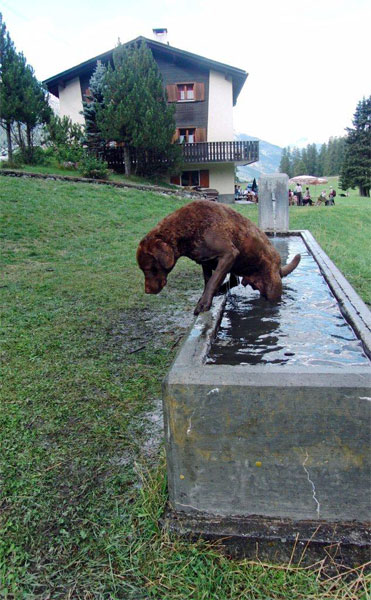 The mountain spring water was even for a Chessie real cold, after a short while Niyol had enough...
---
CLA GAME FAIR BLENHEIM PALACE (UK) July 2011

Photos by my friends Andreas and Heidrun and me
---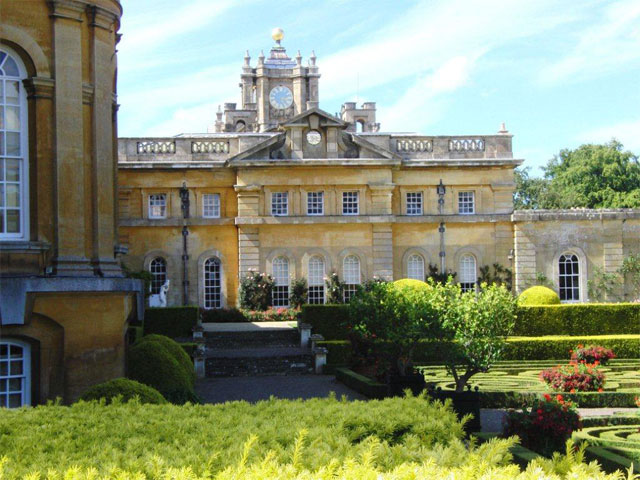 Blenheim Palace and its gardens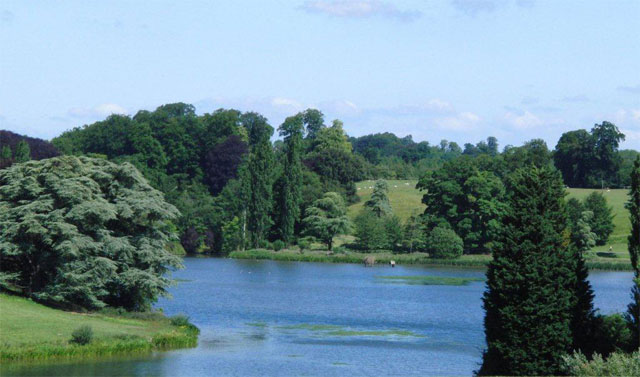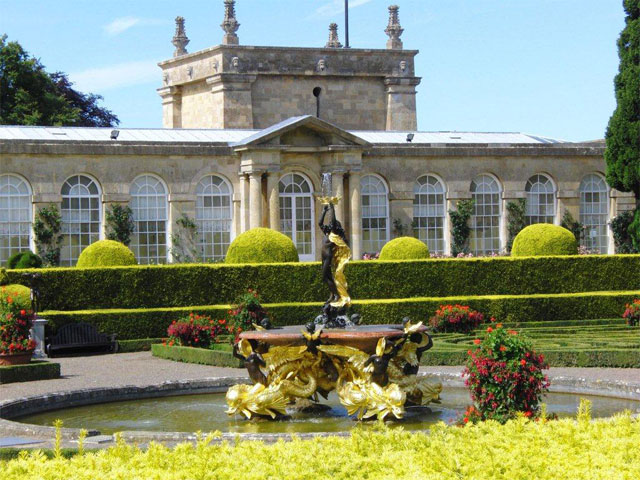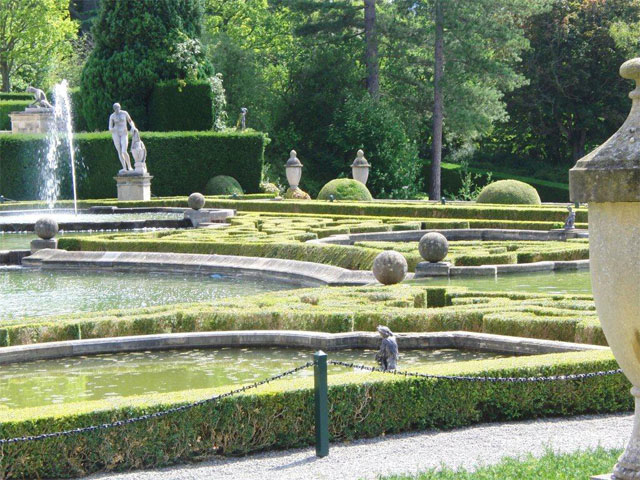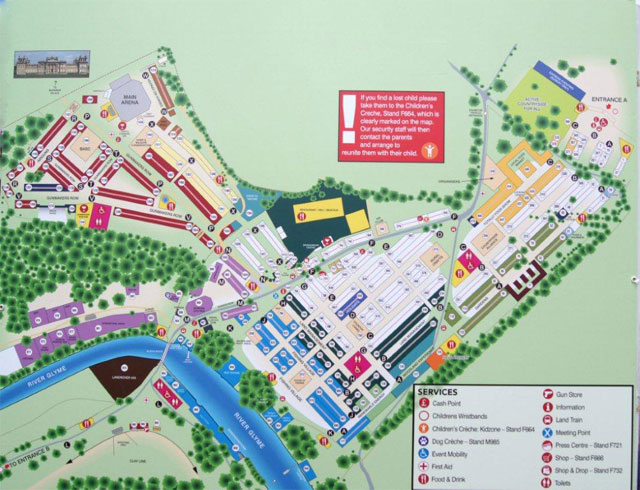 Game Fair map, it looks like an town map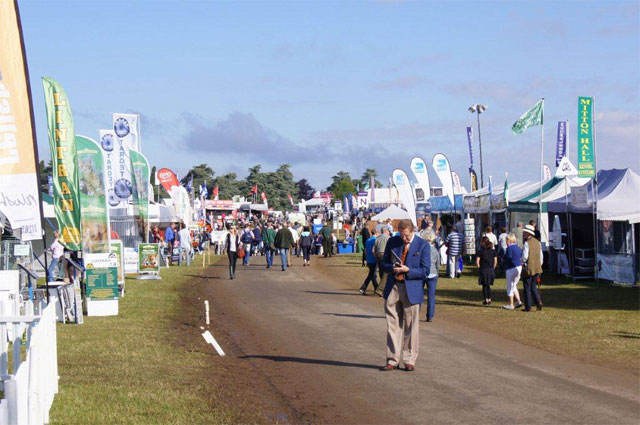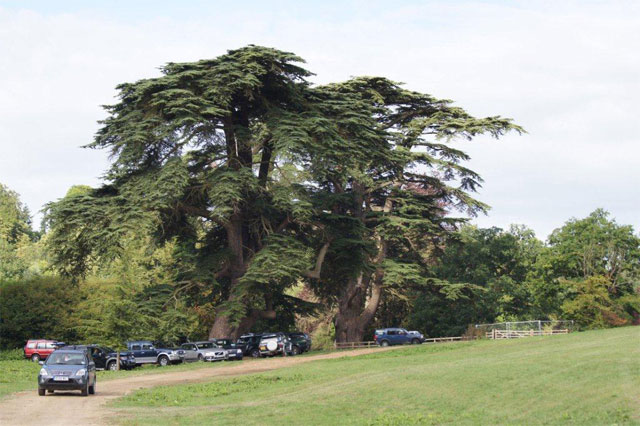 Part of the gundog parking and...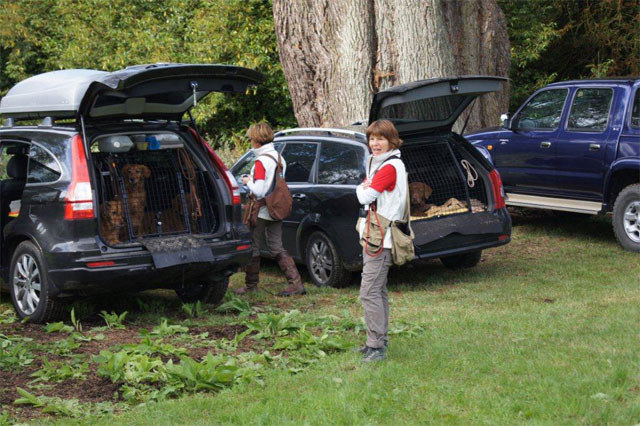 ... fortunately we could park in the shadow of the trees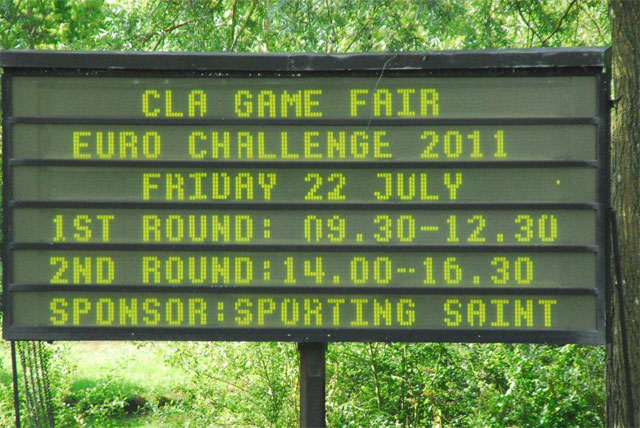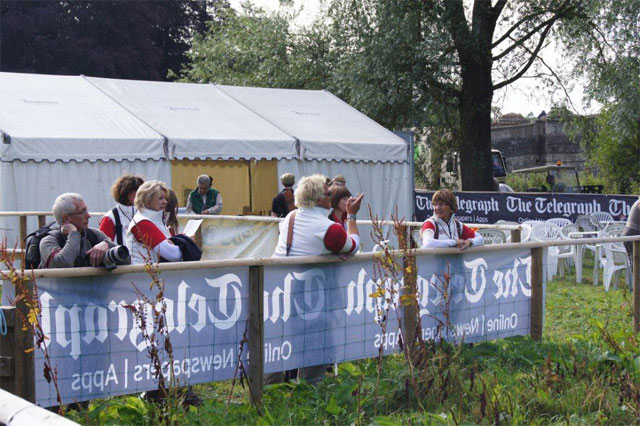 We look cool at the waiting zone but...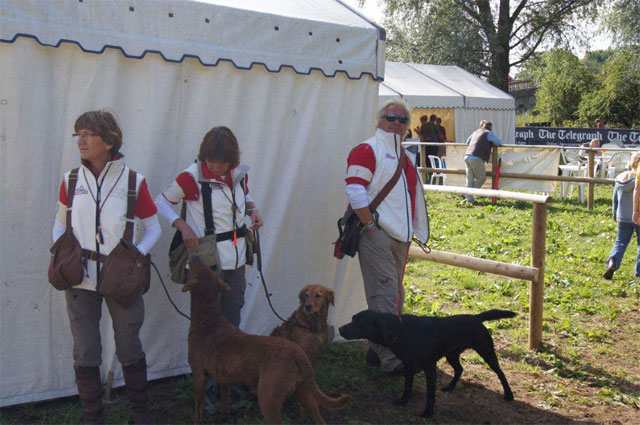 ...the tension rises...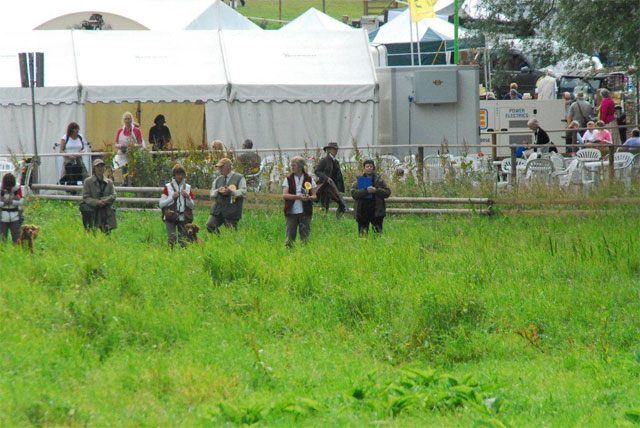 ...breathe deeply and face the facts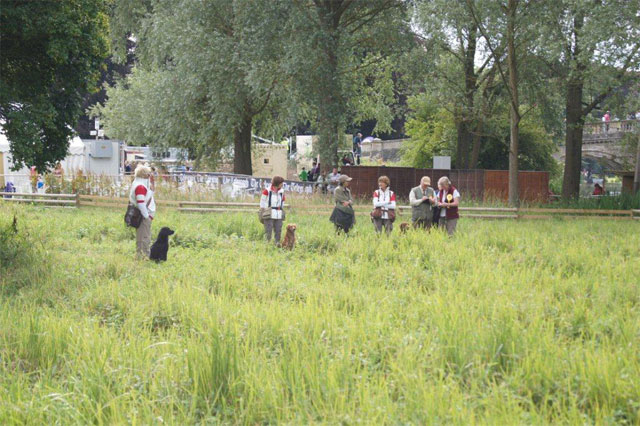 Mrs. Judy Rainey and Mr. Roger Wade have been judging. Chef Stewart: Mrs. Mary-Jane Opie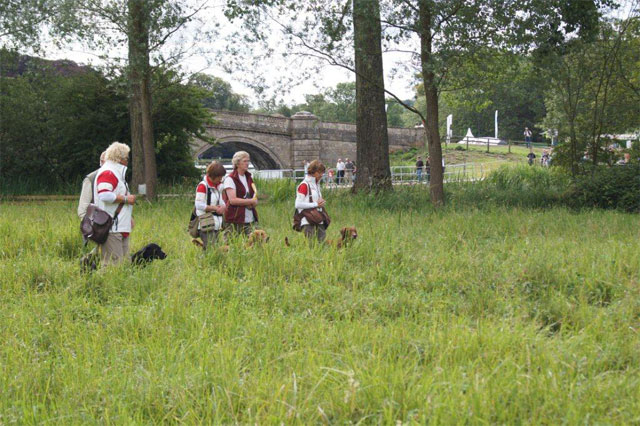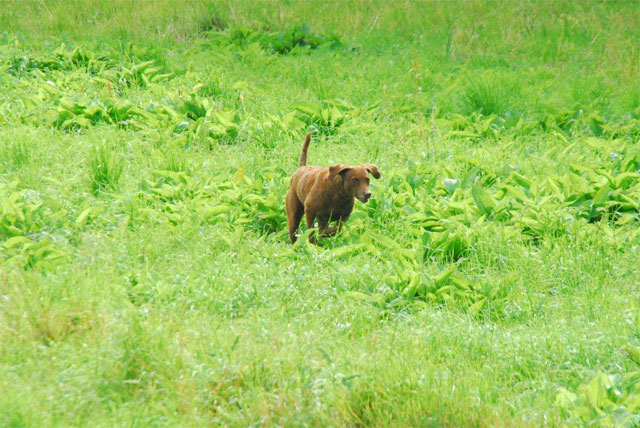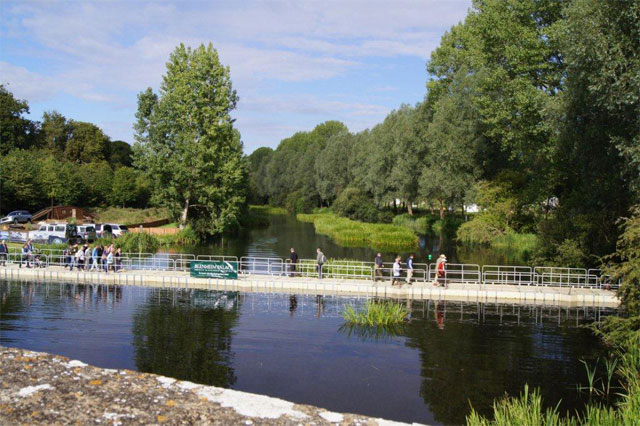 Behind the pedestrian bridge you see the area where the water tests took place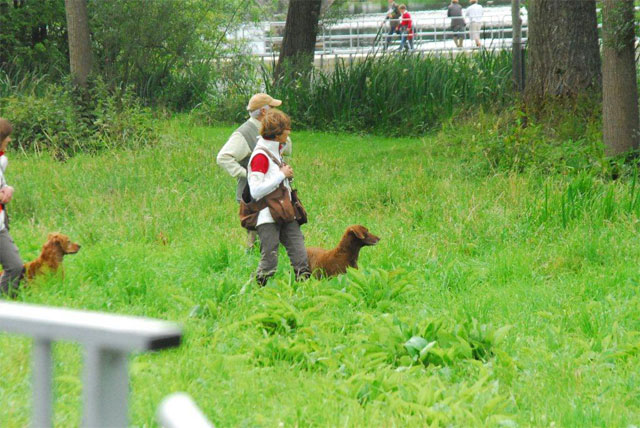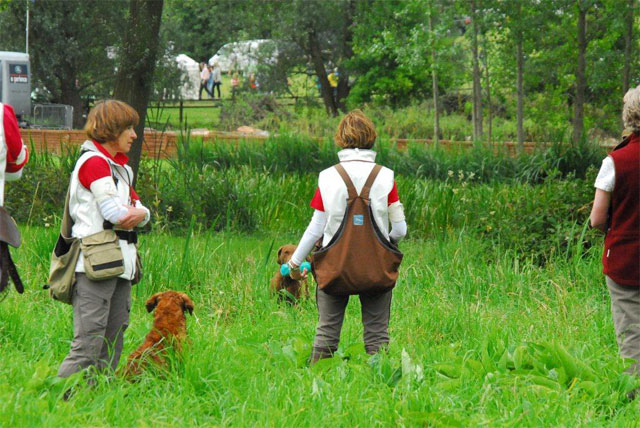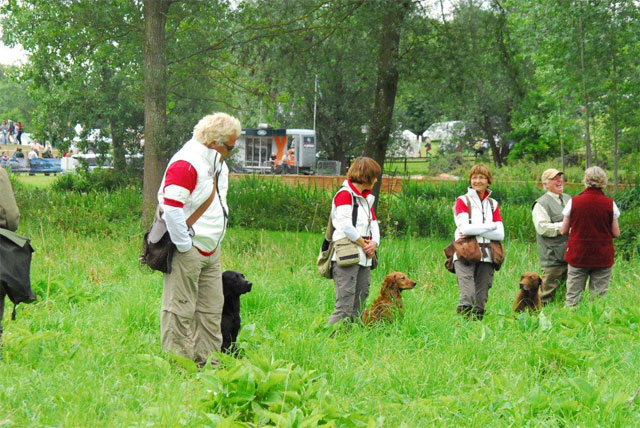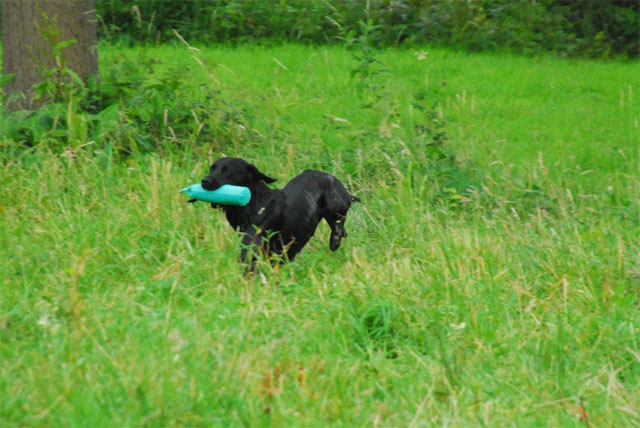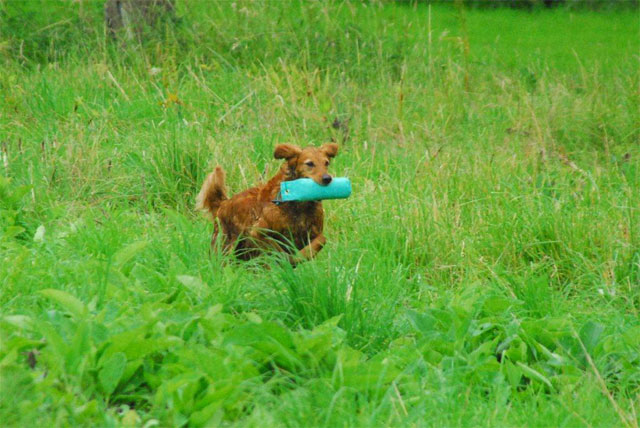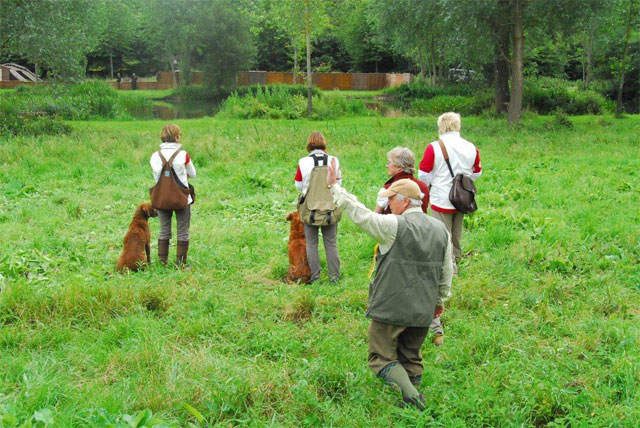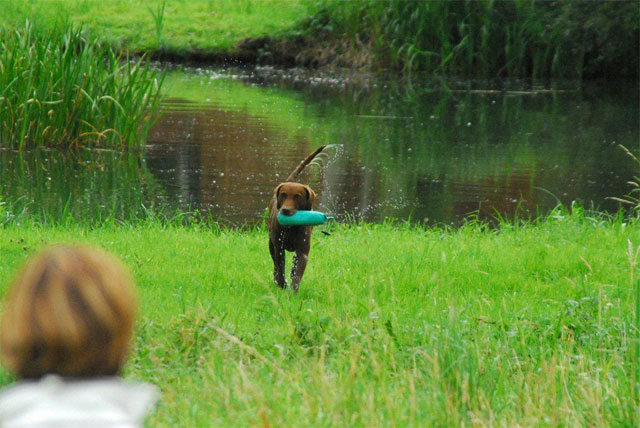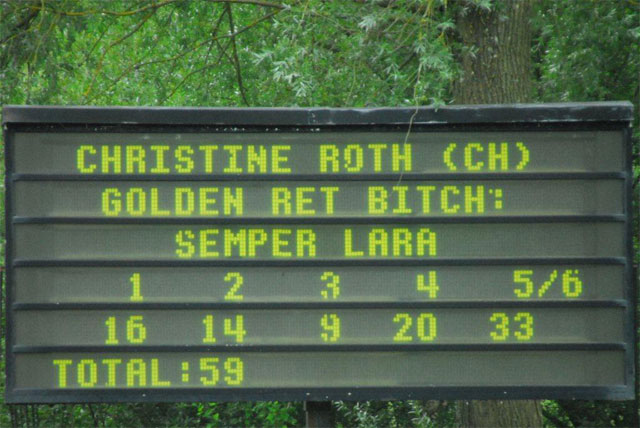 Fortune is brittle as glass!
During the competition "Diesel" got injured and we couldn't work miracles but we kept the team spirit at live!

The Swiss team ended up 5th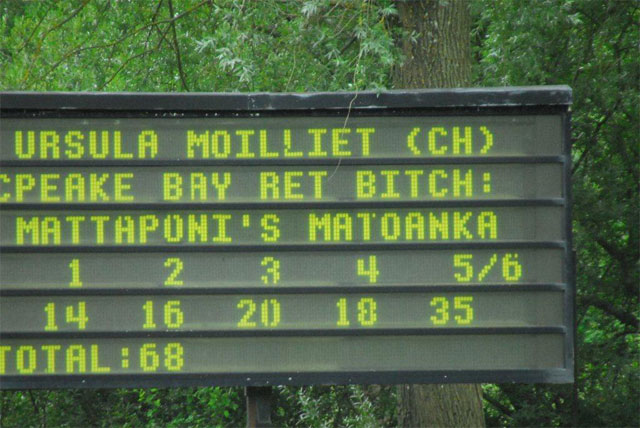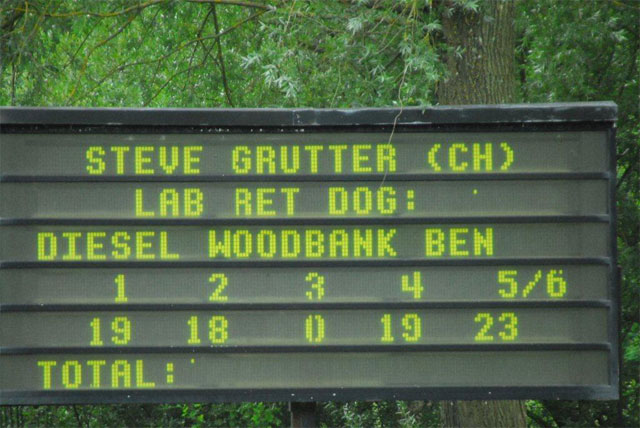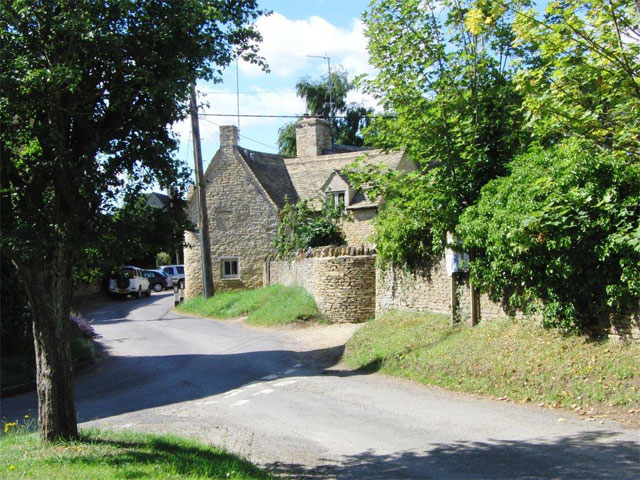 After exiting days we said good bye to the tiny, little village we stayed. There was nothing else than: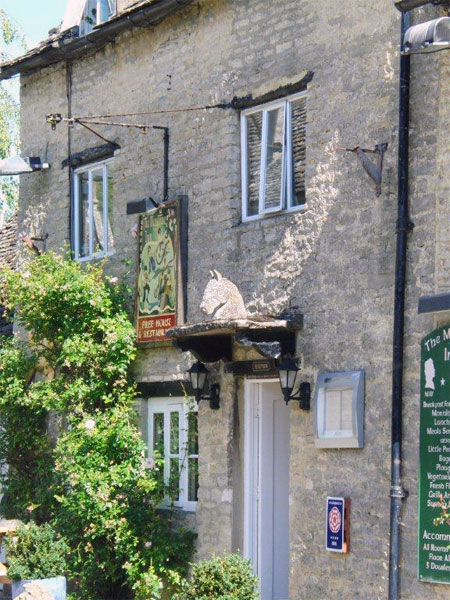 our pleasant, cosy hotel...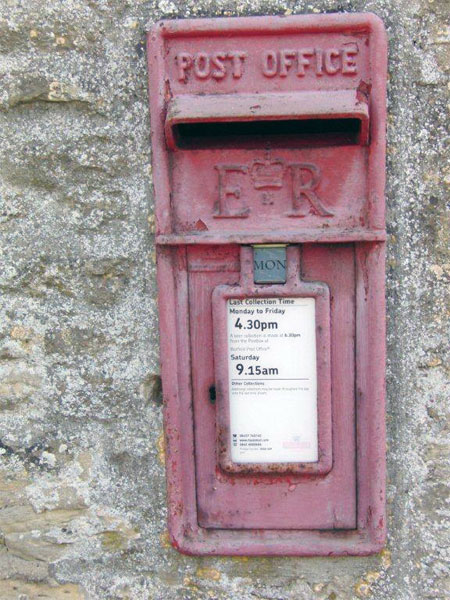 ...a letter box...
<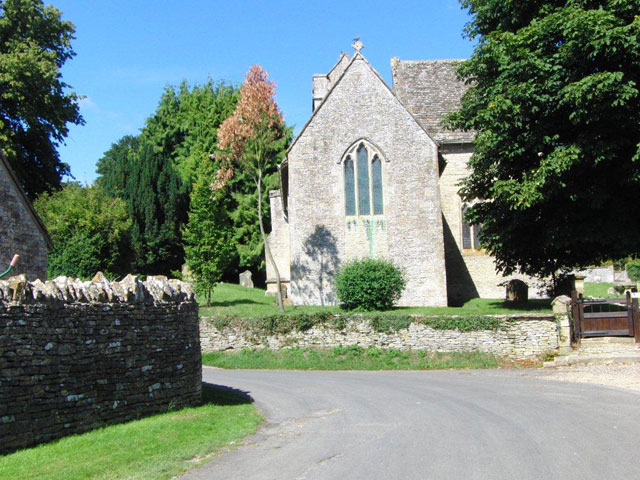 ...a church and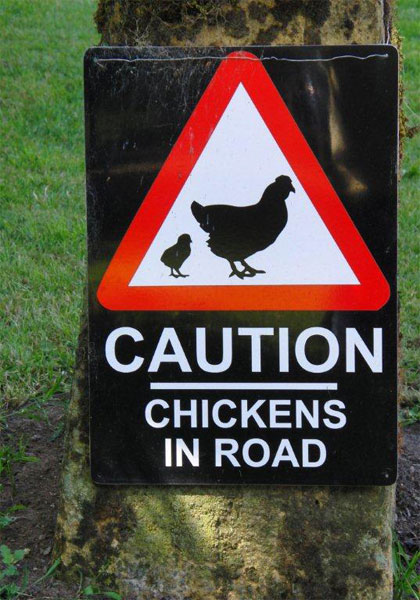 a lot of chickens!
---
WORKSHOP WALES May 2011

Photos by Stefan & Heidrun
---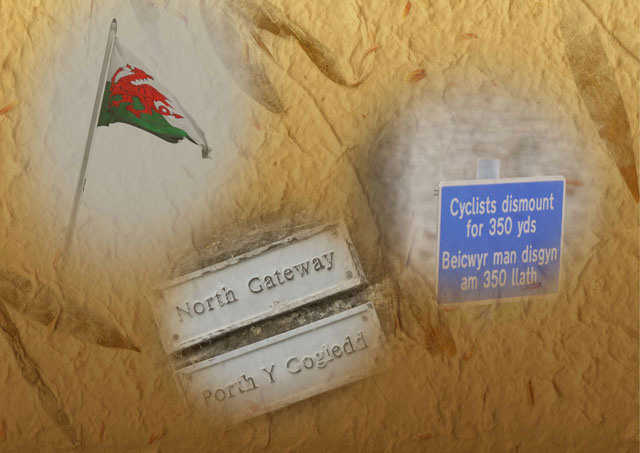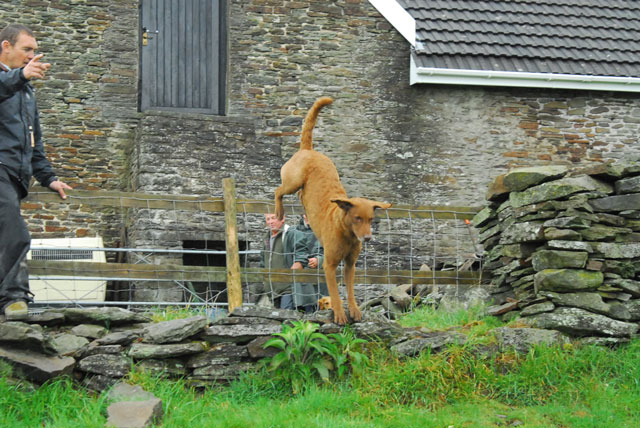 The entrance to the training ground could be a little bit easier…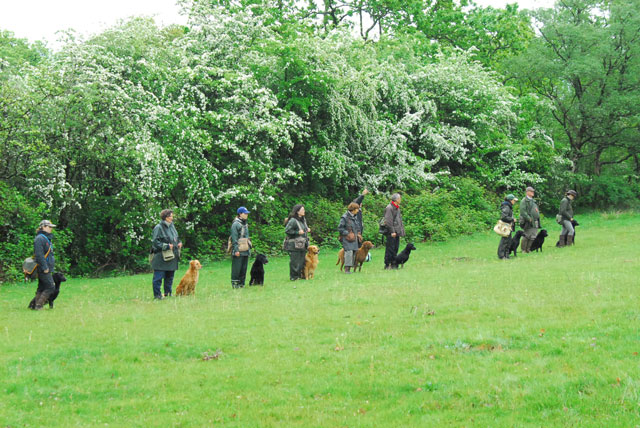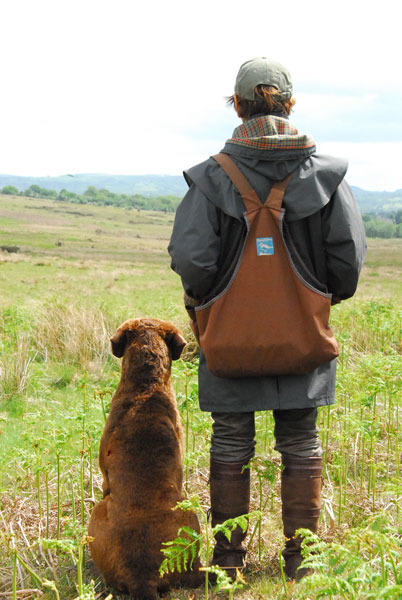 For the first time Niyol saw the wideness of Wales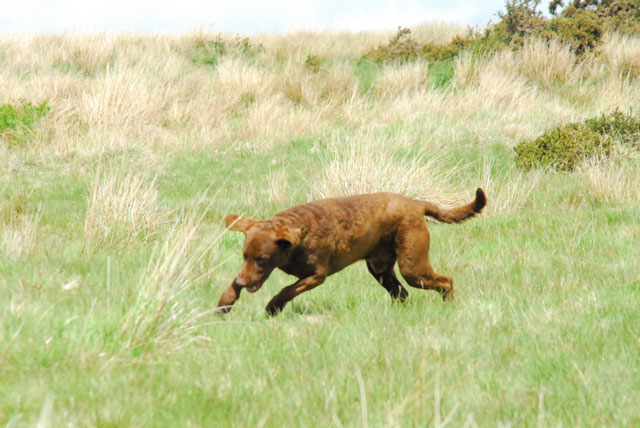 If I can trust my nose there must be a Dummy…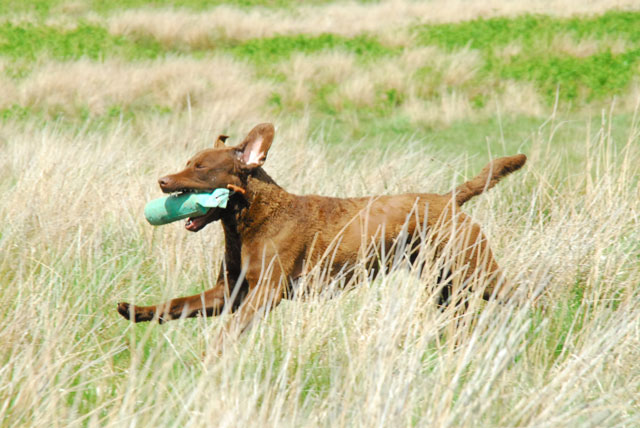 … of course I can trust my nose!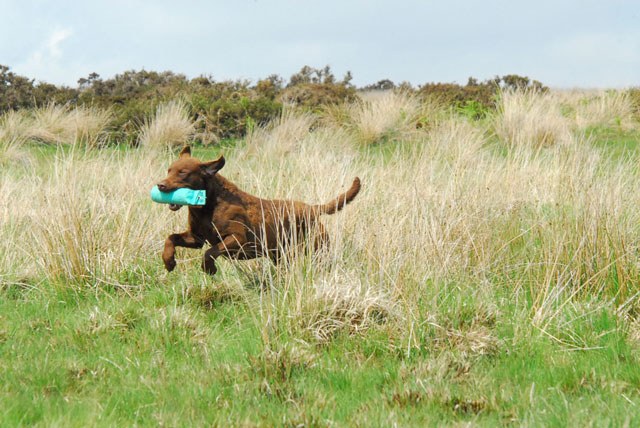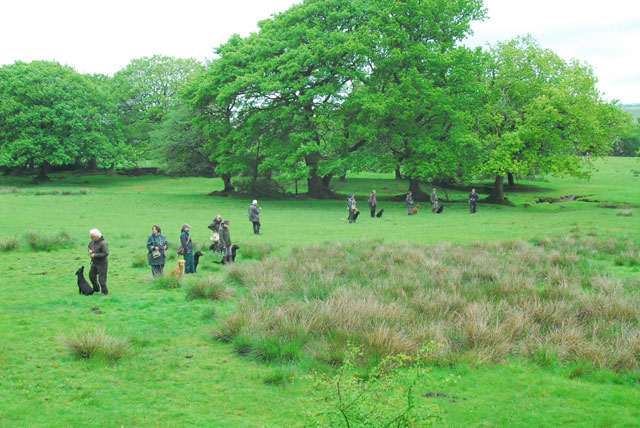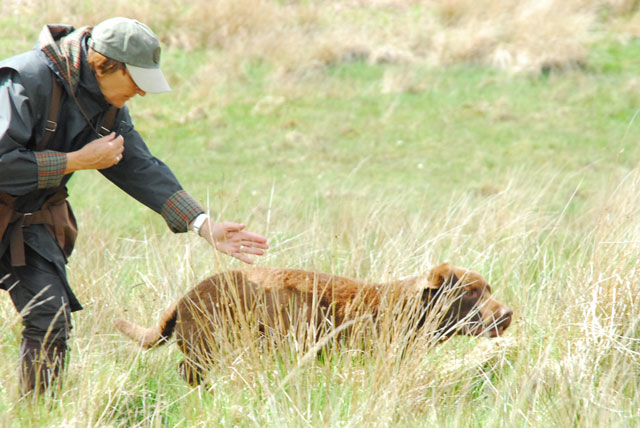 Niyol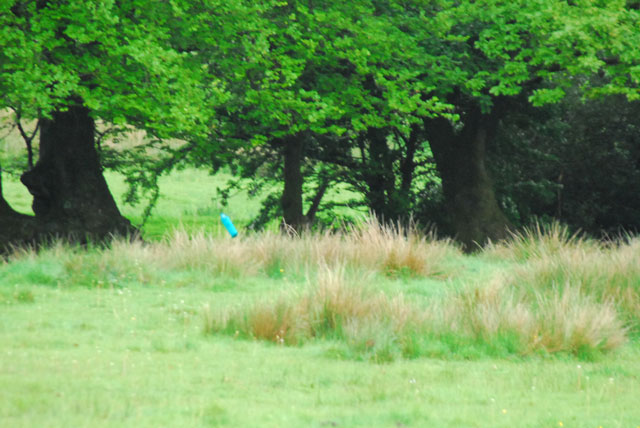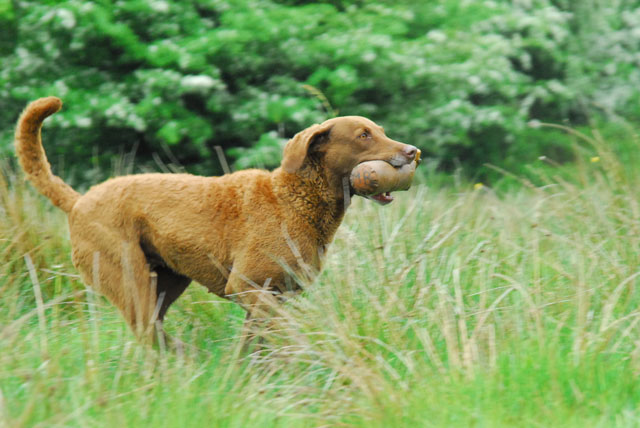 Mato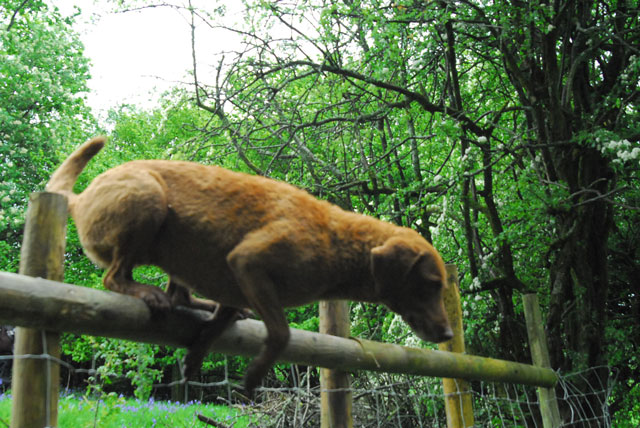 Mato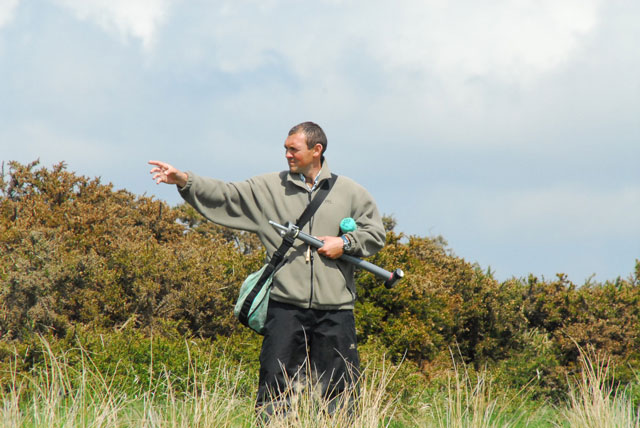 Jamie Bettinson is the very image of his father Mark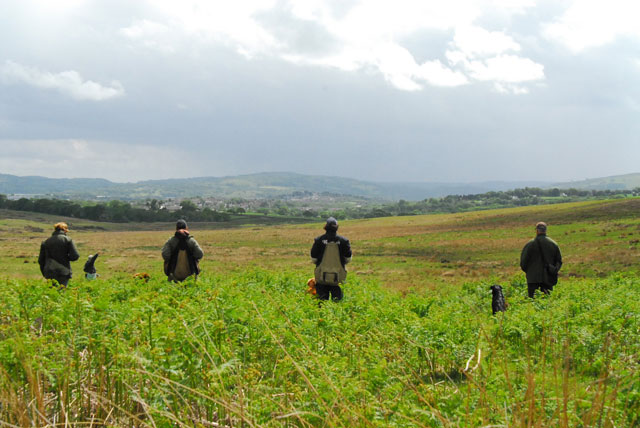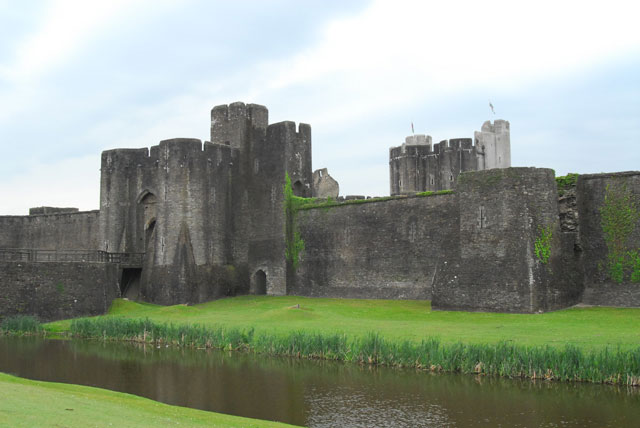 Caerphilly Castle. The largest castle in Wales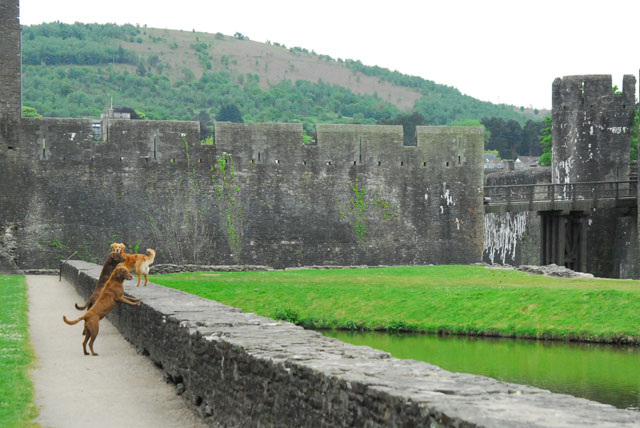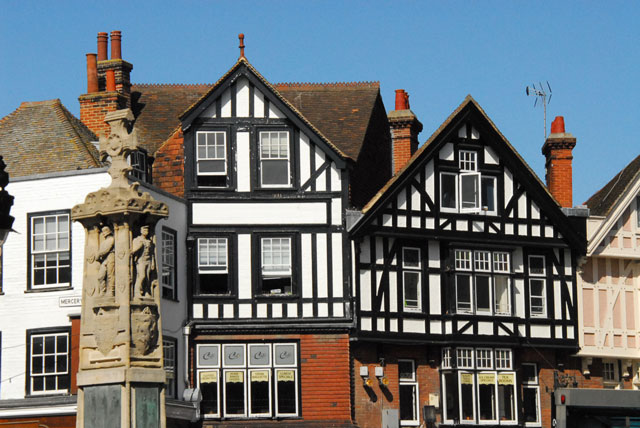 On the way back home I took the chance visiting the historic town of Canterbury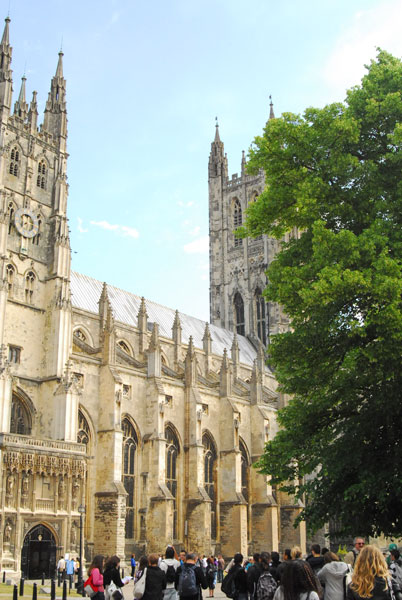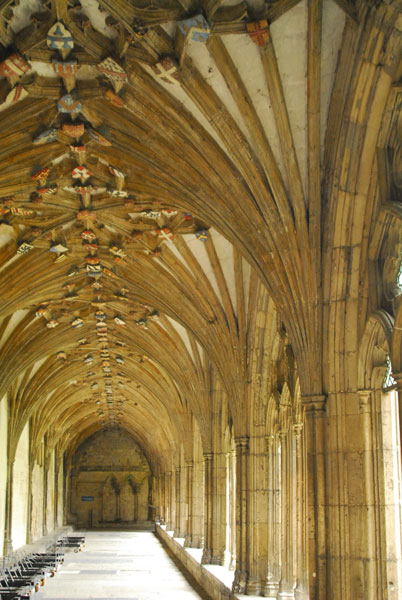 The most famous cathedral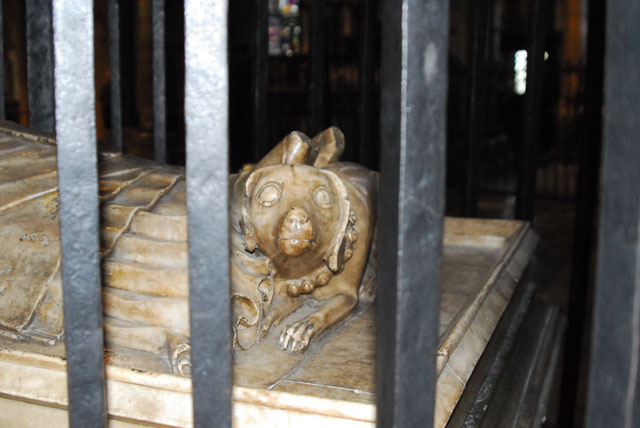 Tomb of Edward, "the black prince" with his dog (1376)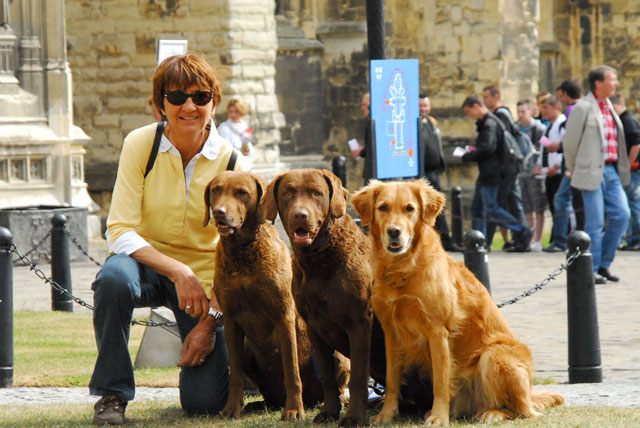 I would have loved staying a little bit longer at that historical place whereas Mato, Niyol and Pippi had enough of cultural asset…
---
THE WINDSOR CHARITY GUNDOG TEST BY KIND INVITATION OF HER MAJESTY THE QUEEN AND THE CROWN ESTATE April 09th 2011
Judges: John Stubbs, Richard Beckerlegs, Phil Allen, Judy Rainey, Graham Stanley, Kate Smith and Diane Ryan
Pictures by H.K. and J.G.
---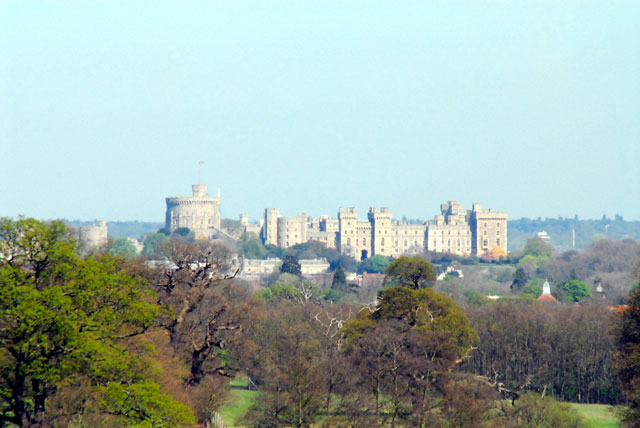 Windsor Castle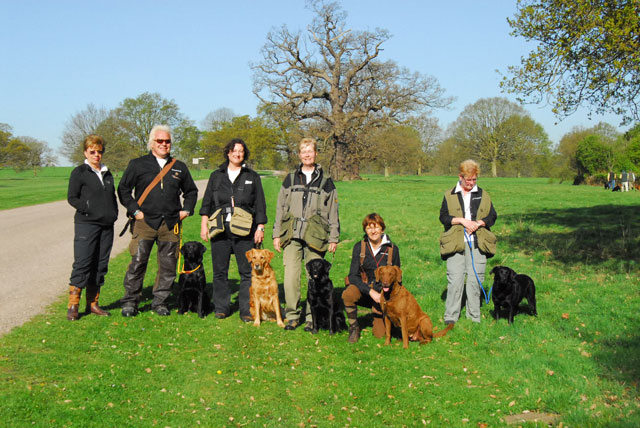 The Swiss Team: Steve Grütter / "Diesel", Helene Bosshard /"Flicka", Heidrun Keen /"Pippi", Ruth Brandenberg /"Amira", me and "Mato"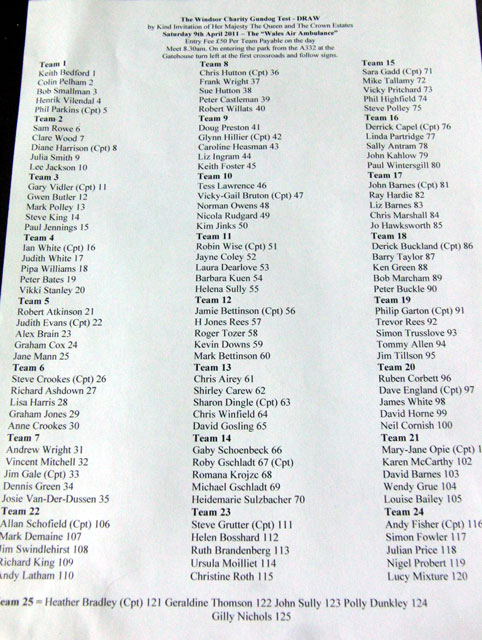 The 25 participating teams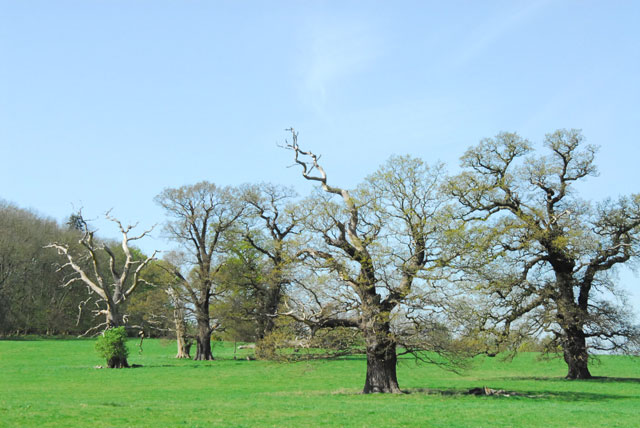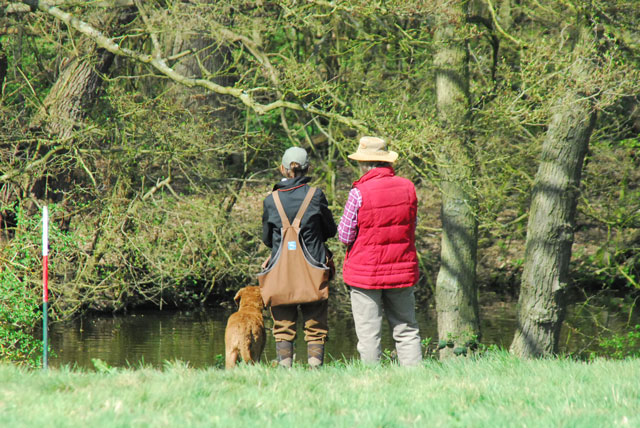 Test Judy Rainey: blind beside the pond buried in bushes and water mark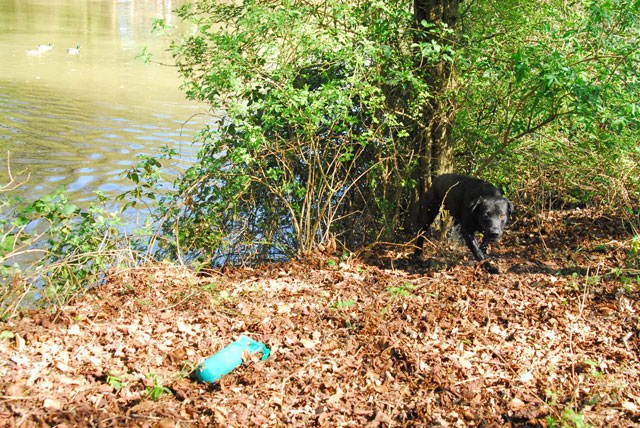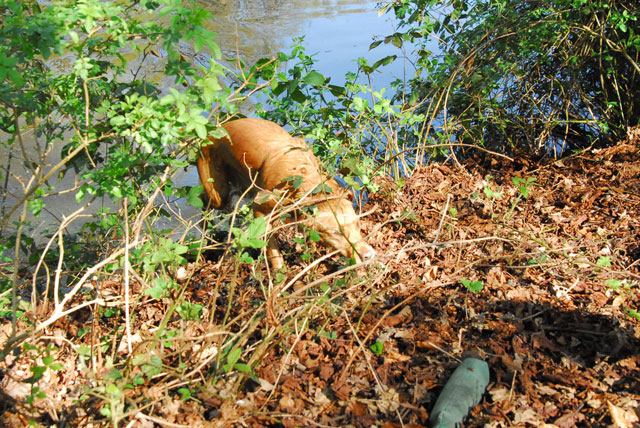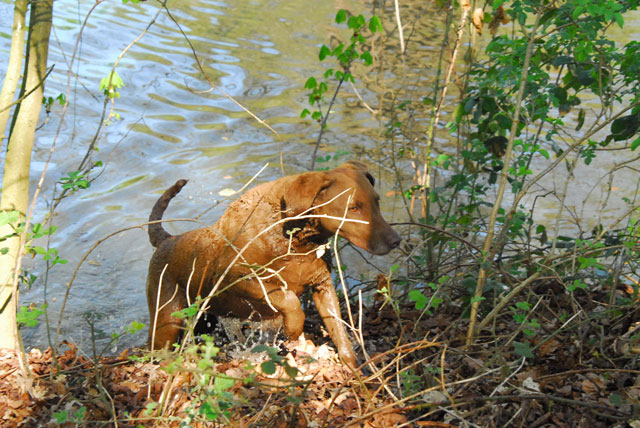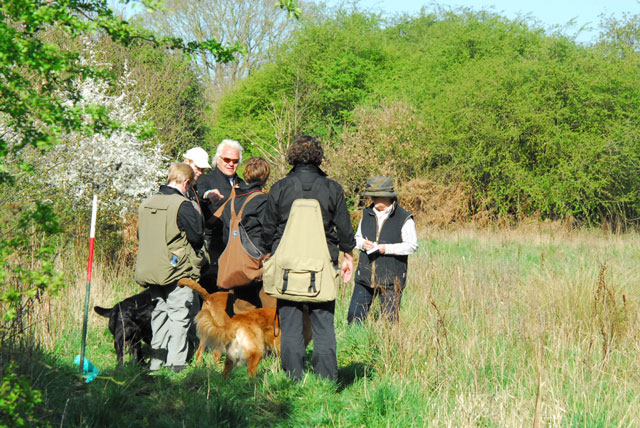 Test Diane Ryan: 5 blinds in an aria of rough grass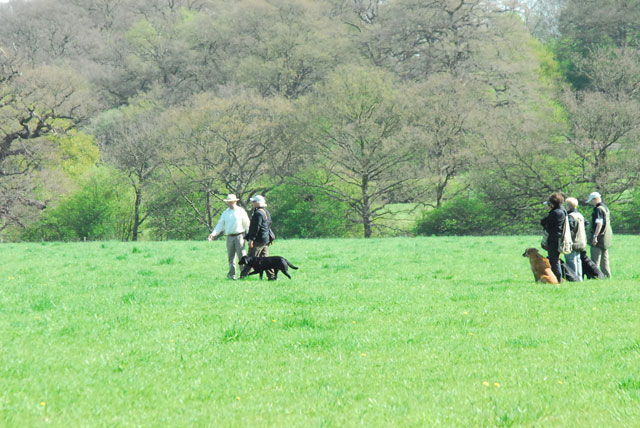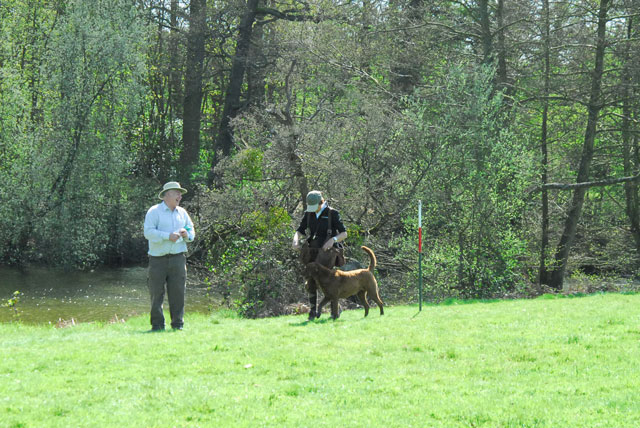 Test Graham Stanley: long blind along the pond over a fence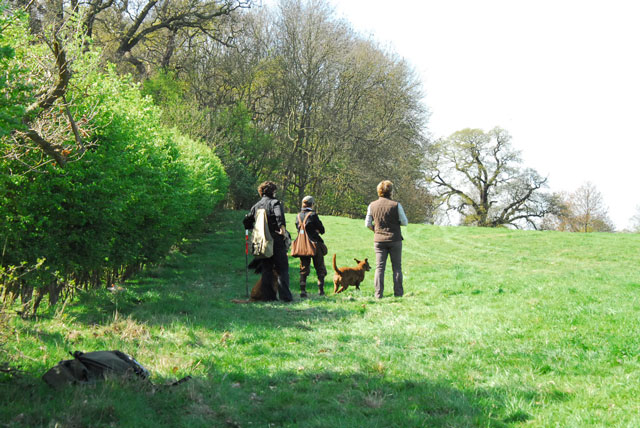 Test Kate Smith: long mark uphill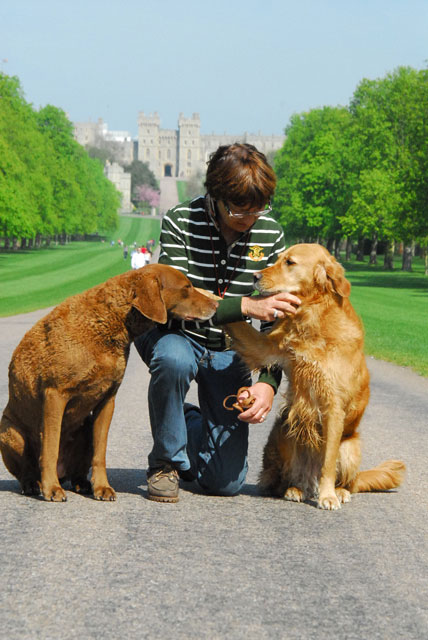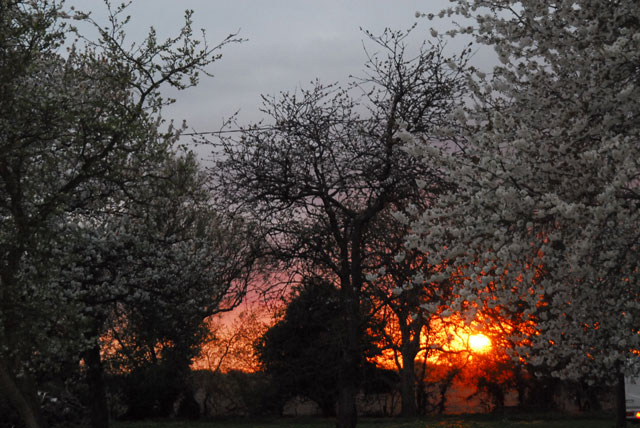 Good bye Windsor, we'll return next year!
---
HIMMEL-CUP (CH) TEAM EVENT March 13th 2011
Pictures by G. Mittelbach
---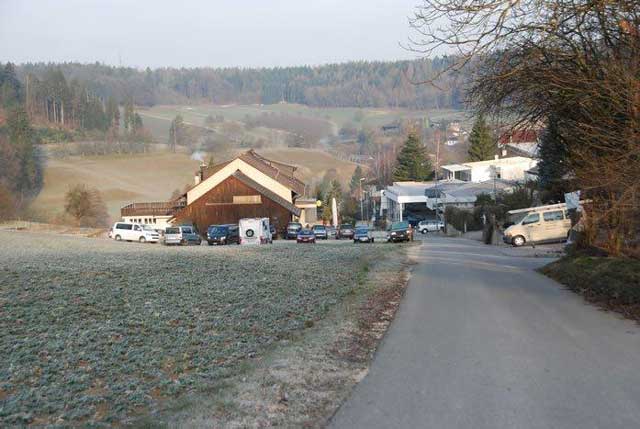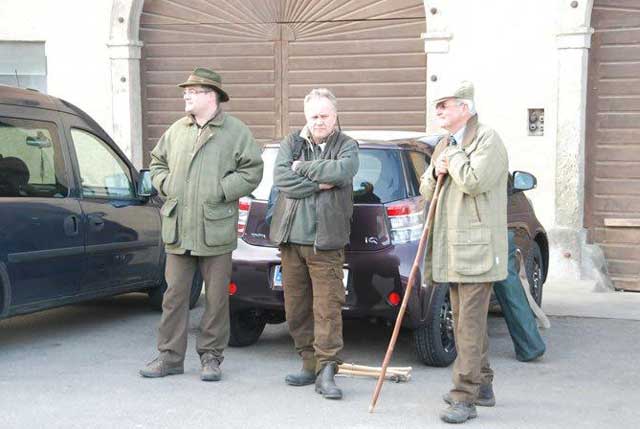 D. Henrich (D) L. Hedman (S) and R. Kaserer have been judging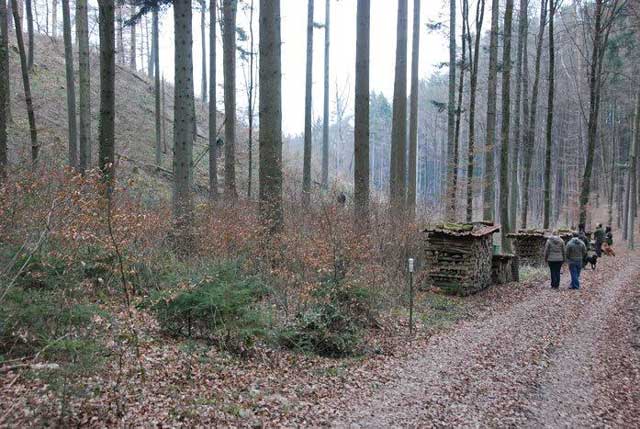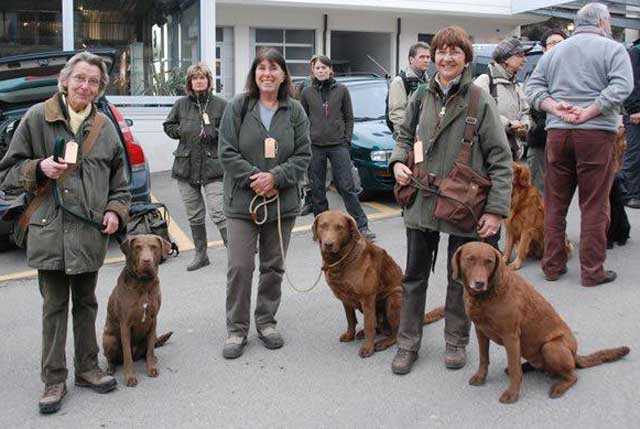 My Chessie team:
Ursula with Aponi (beginners), Cecilia with Naïm (intermediate), me and Mato (open)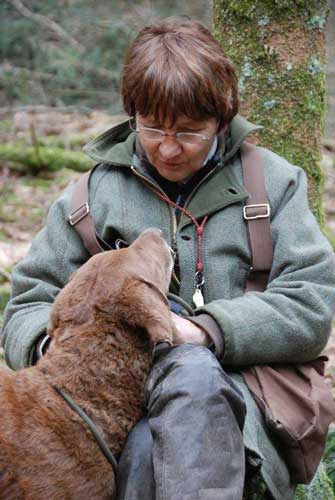 I still don't know what was wrong with Mato;
she was kind of listless and weak. Because of this she wasn't any help for the team and the final result turned out badly...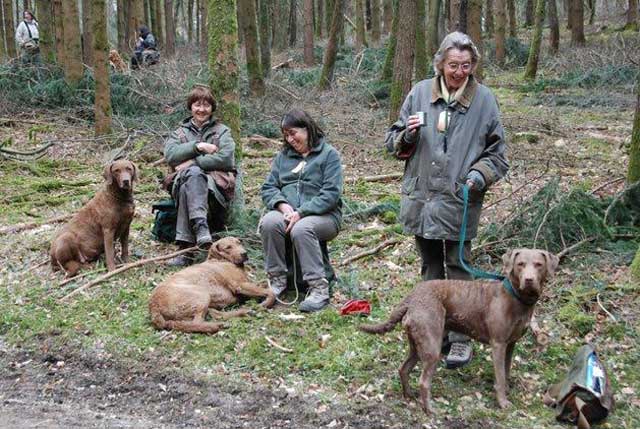 Even though we have had fun and it was quite an experience showing up with a Chessie Team on a team event competition.
---
DUMMY SEMINAR IN VIENNA (A)
March 4th til 6th
Pictures by W. Schragel
---
Steve Grütter (Banner's Dog School) was invited to hold a Dummy seminar in Vienna and he took me along to assist him.
Jérémie joined us and she did a great job as Dummy thrower.
Those three days have been very impressive:
enthusiastic participants with lovely Labs, Flats and Chessies at any age (amazingly no Goldens),
grounds we only can dream of, sunny but real cold weather
and last but not least: the Austrian hospitality and friendliness was outstanding!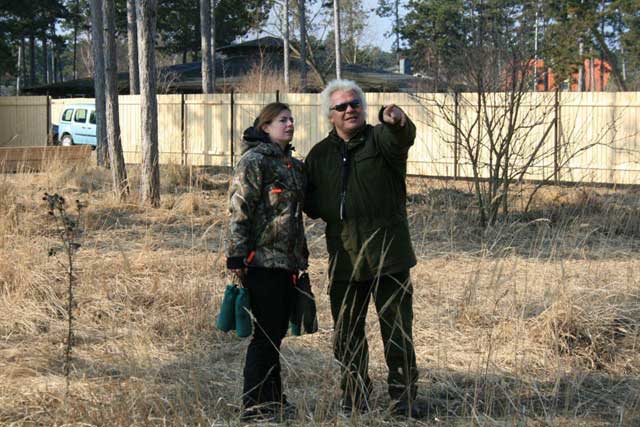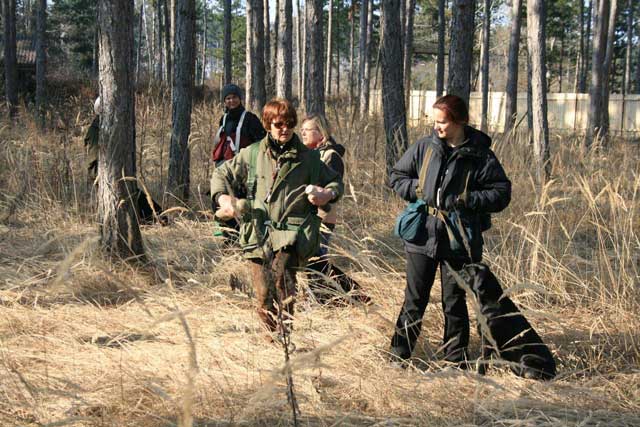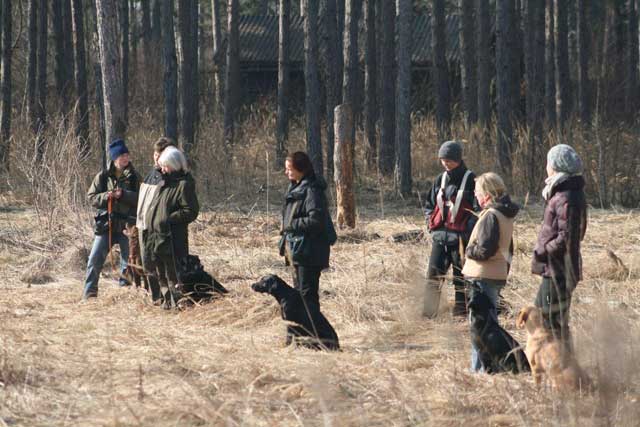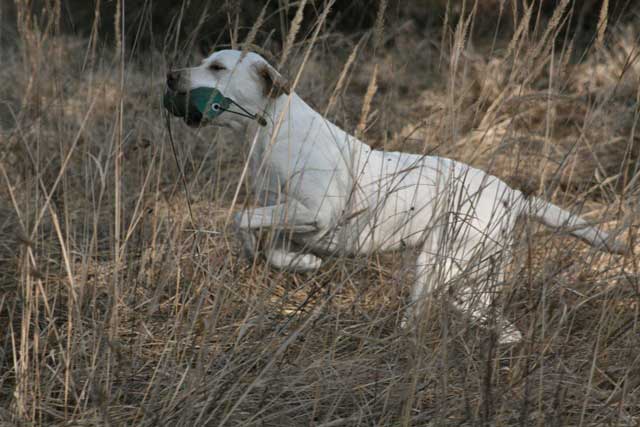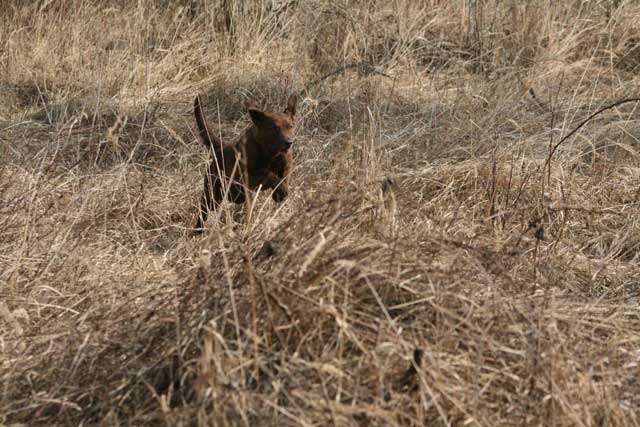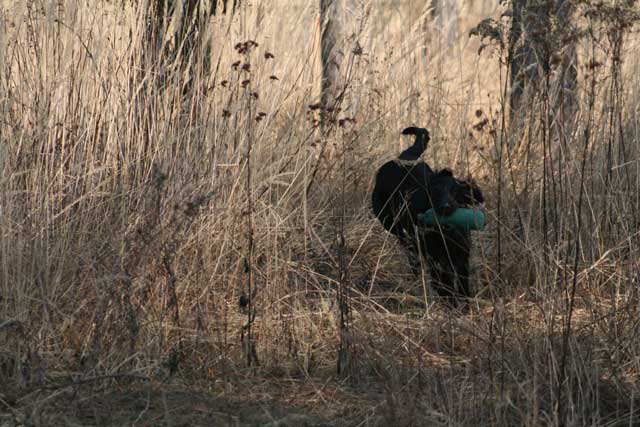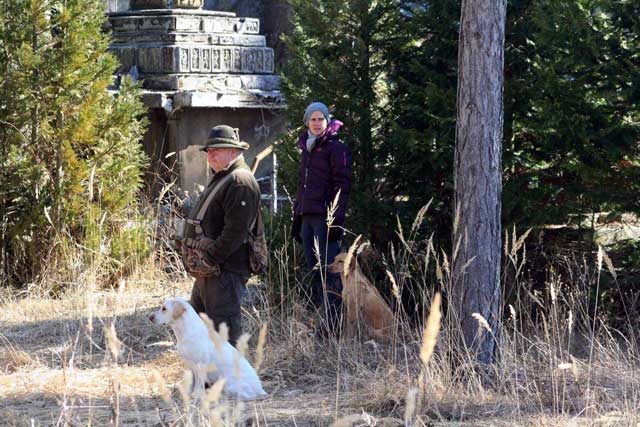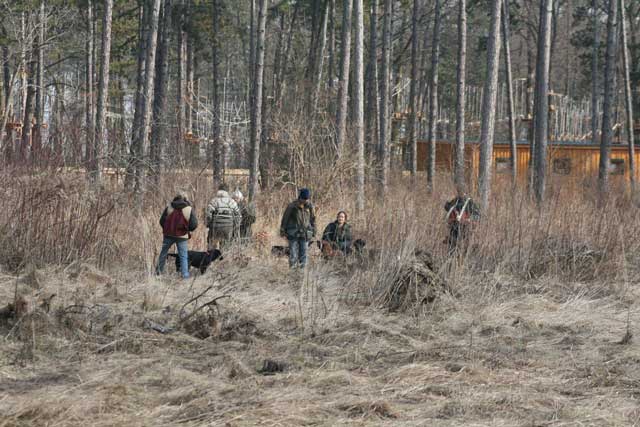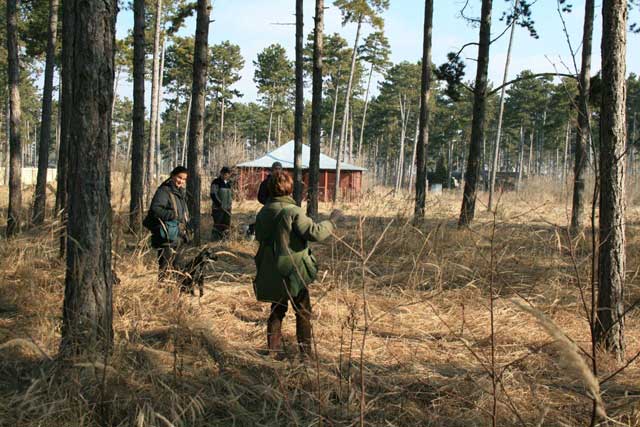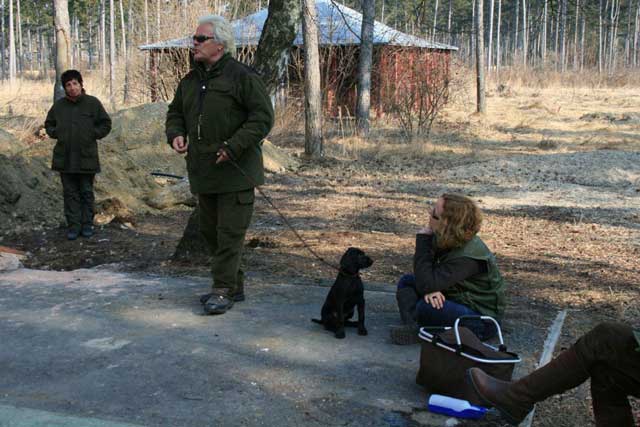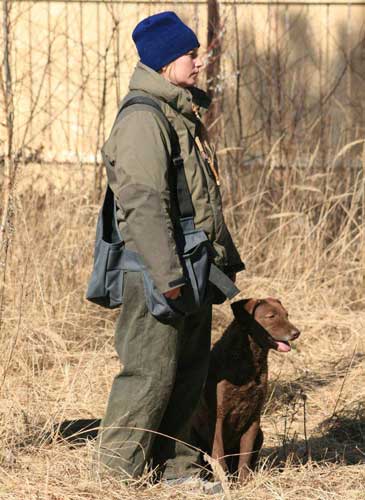 ---
A SPLENDID WINTER DAY
Januar 2011
---