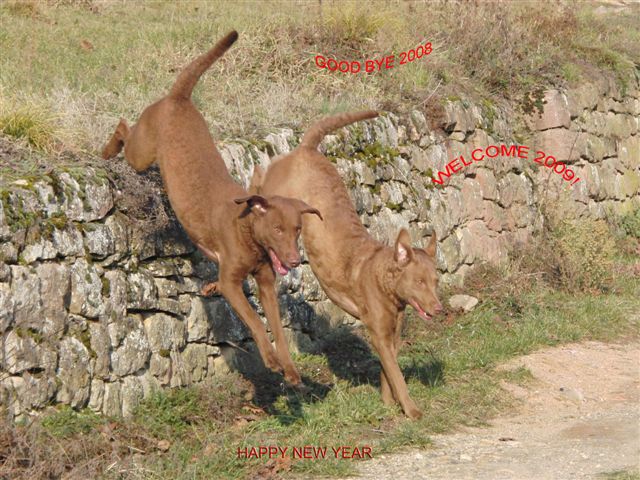 ---
WHAT'S GOING ON?
---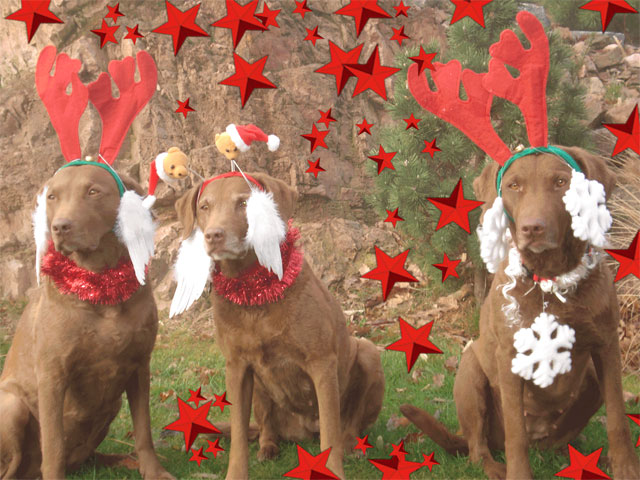 First we thought it must be carnival, but...

…we have been taught it's Yule tide!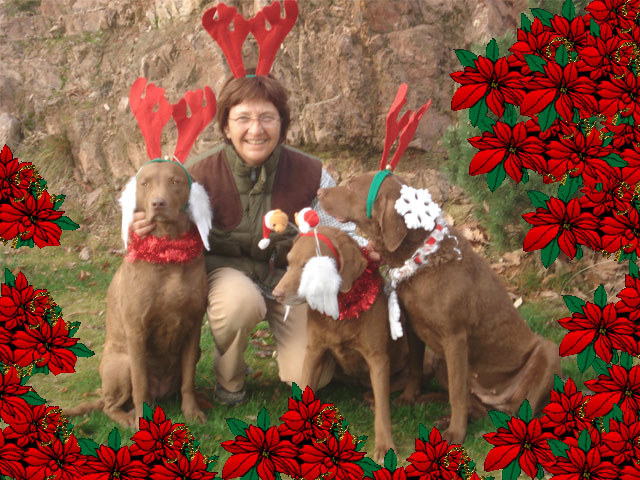 WISHING YOU ALL A VERY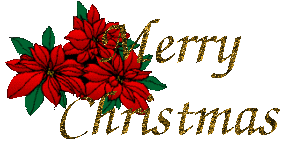 AND THE HAPPIEST OF NEW YEAR!

---
BATTUE KEMBS (F) October 18th
---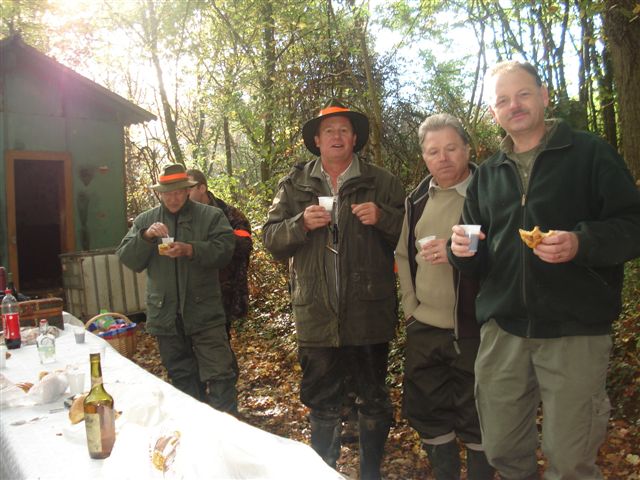 Some members of the shooting-party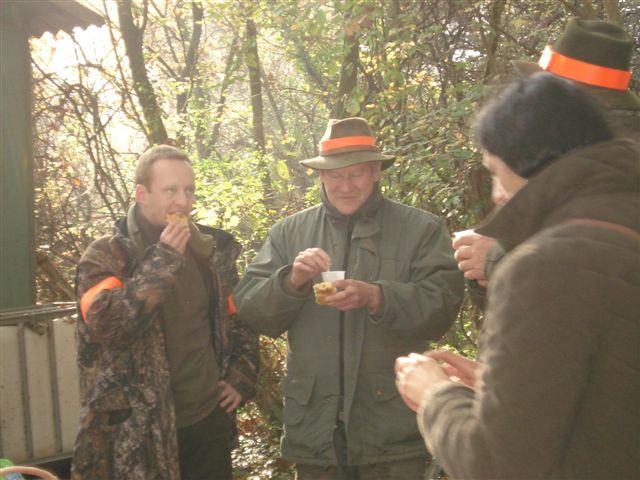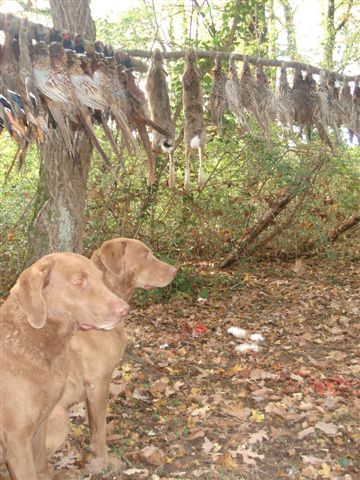 Mato and Kanda obvious tired after a long, exciting and exacting day in the field
---
KANDA'S TRIP TO WALES September 2008
---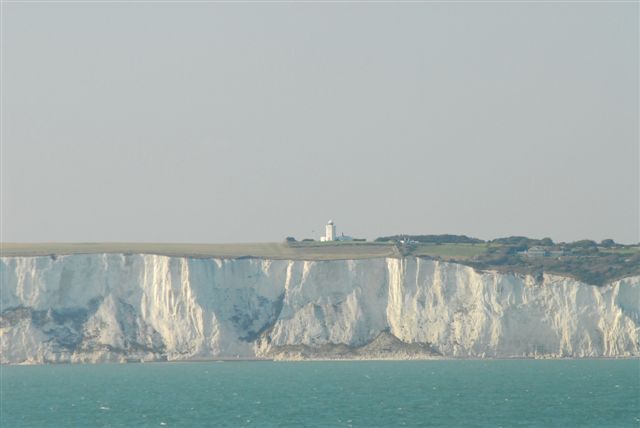 The magic coast of Dover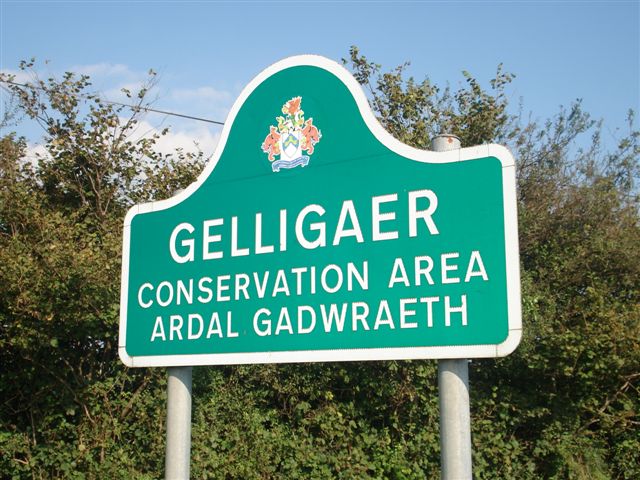 Arriving at Galligaer...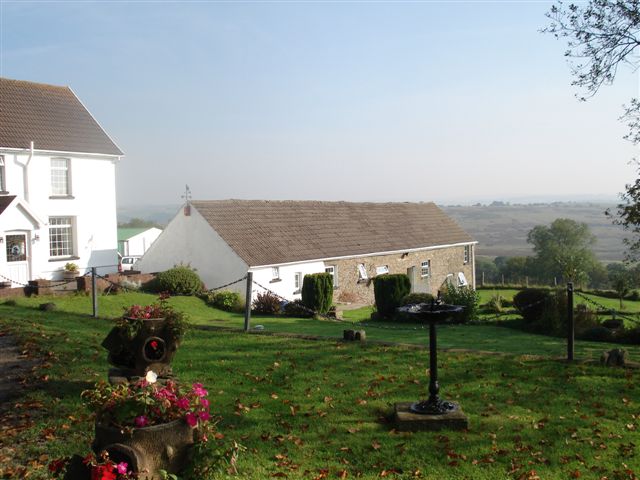 ... where Mark and Jamie Bettinson are living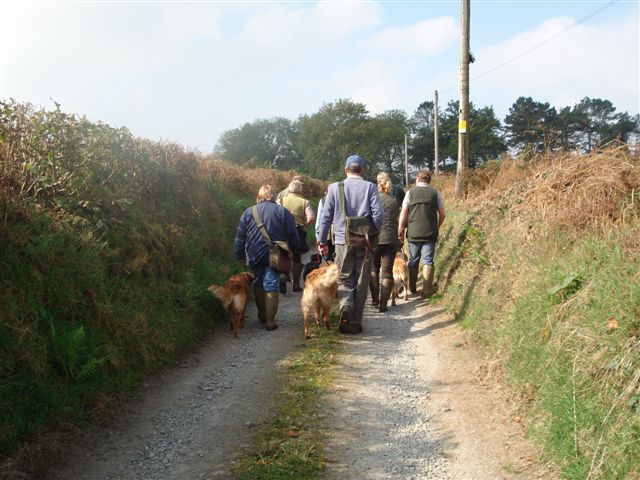 This lovely path leeds to the training grounds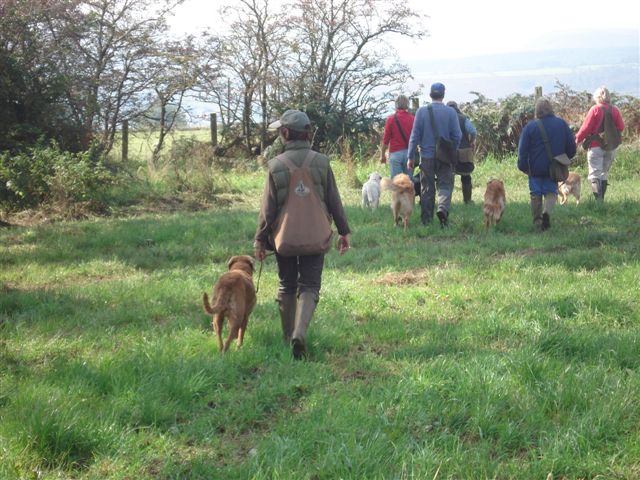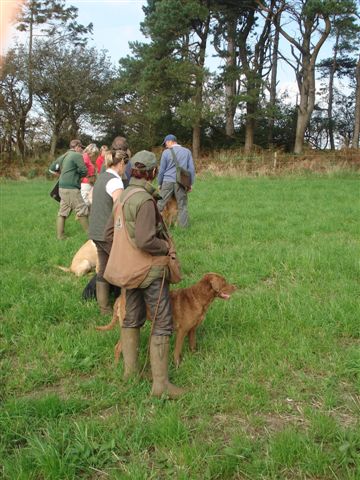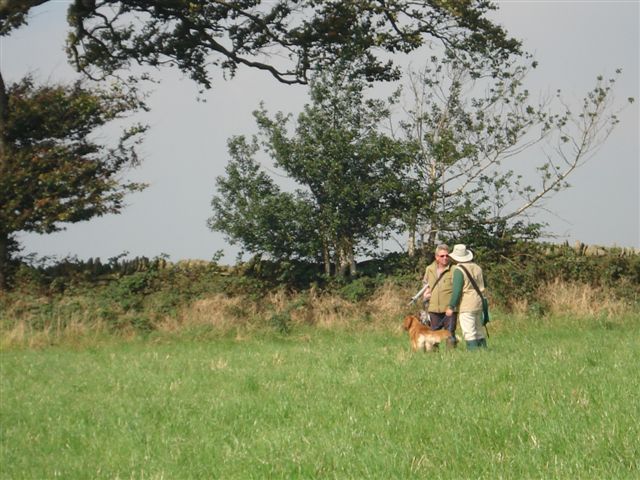 Building up the training, Mark and...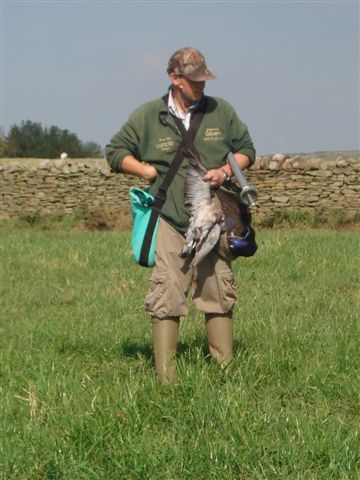 ... Jamie took benefit of the stone walls and ditches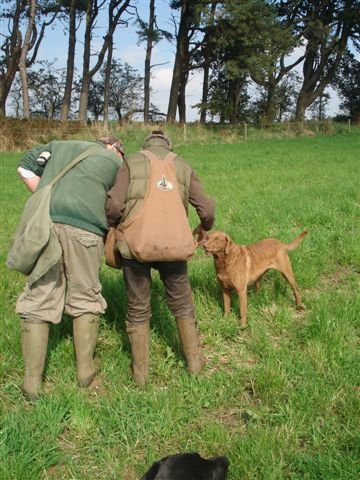 Wherefore Jamie got into Kanda's bad books???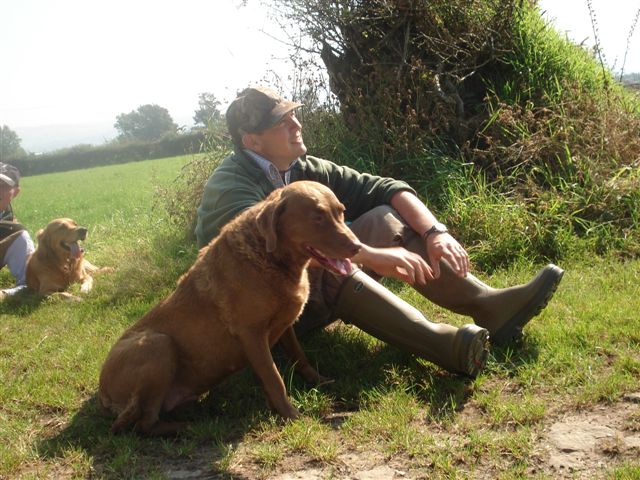 A little bit later they renew their friendship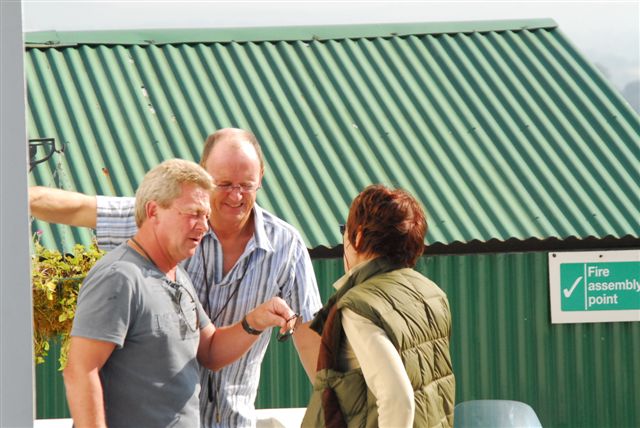 Talk shop with Mark and Roger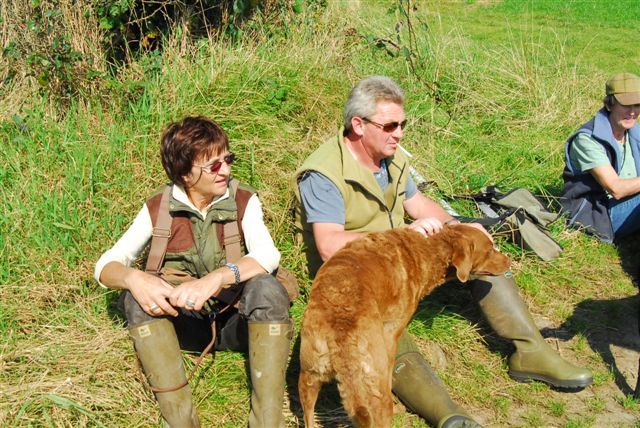 Even Mark learned to relax with a Chessie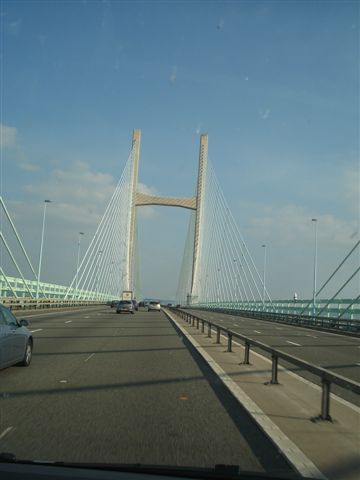 Homeward journey - we are already close to home - only an other 1000 km drive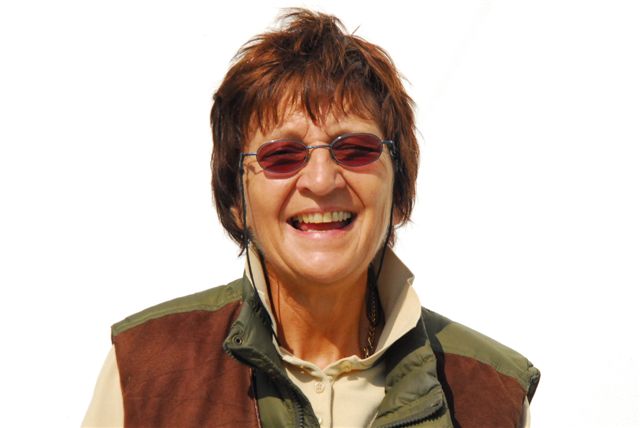 I have had splendid days in Wales!
Many thanks to Jamie, Mark and last but not least to my fabulous, forbearing companion Steve!
---
WORK & SHOW AICHACH (D) June 27./28. 2008
The show took place at the beautiful gardens of the Watercastle also called "Sissi Castle".
Sissi, the empress of Austria spent many carefree days in this castle during her childhood.
---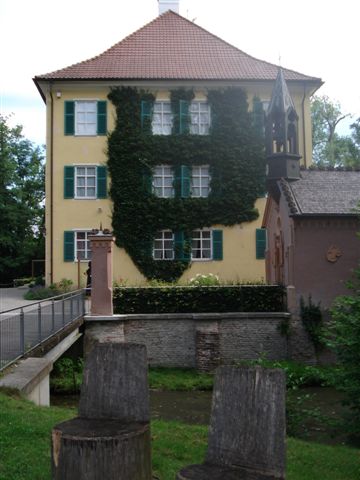 Sissi Castle" open to the public; nice museum!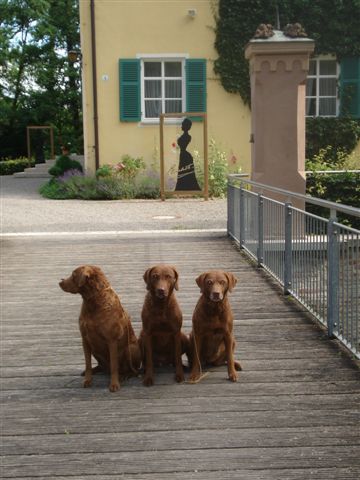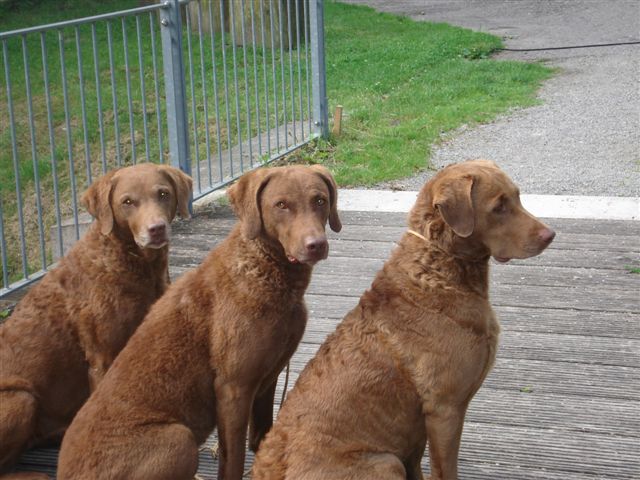 No pictures from the Working Test, but both, Mato and Kanda competed with success.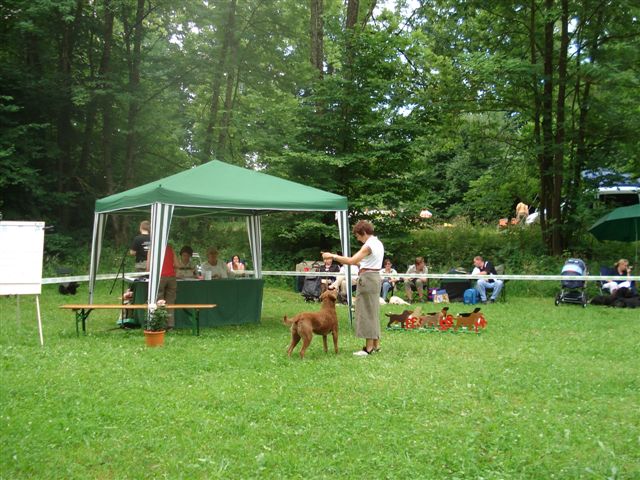 Brownie 1exc. CAC Veteran Class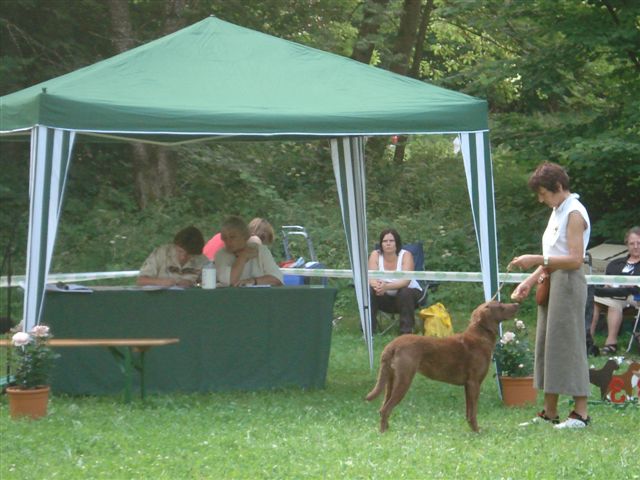 Mato 1exc. Working Class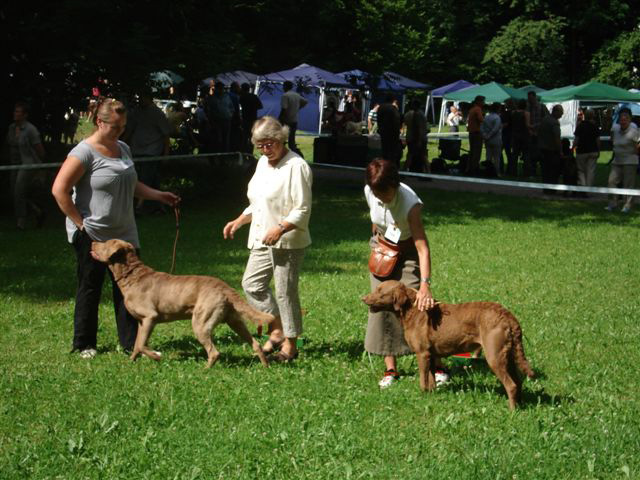 Kanda 1exc. CAC Champion Class BOS

---
COMPETITION FOR WATER RESCUE DOGS. VETERANS ONLY!
On the lake of Murten (CH) June 21st
---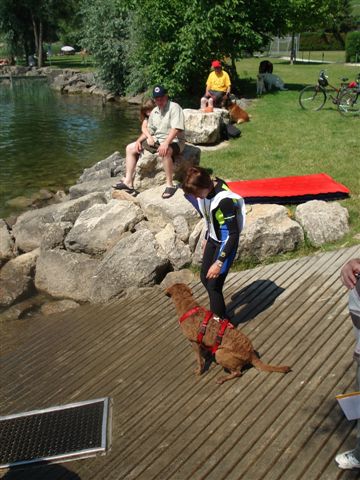 Even Brownie hasn't done anymore any of those exercises for the last 3 years;
she remembered all of them exactly!
At the end she placed 3rd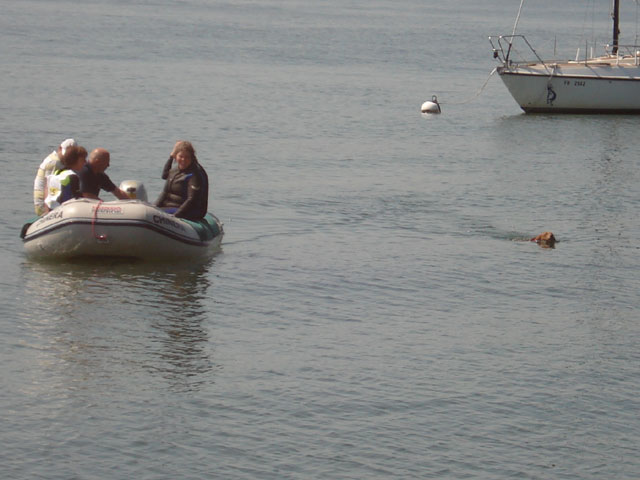 The competition began with the distance swimming beside or behind the boat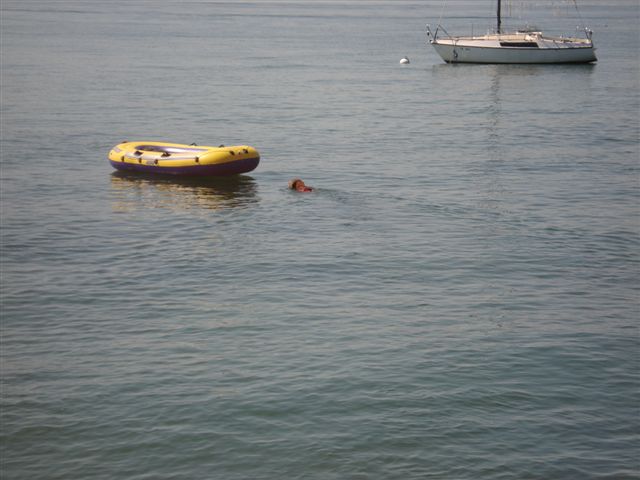 Searching for a lost canoe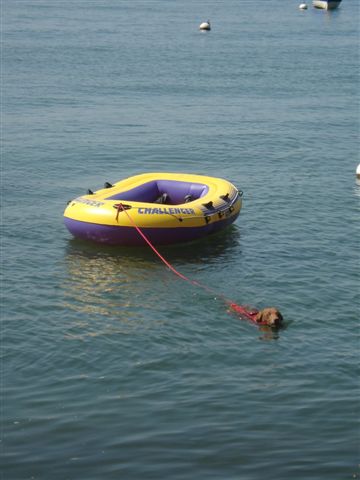 and pulling it back ashore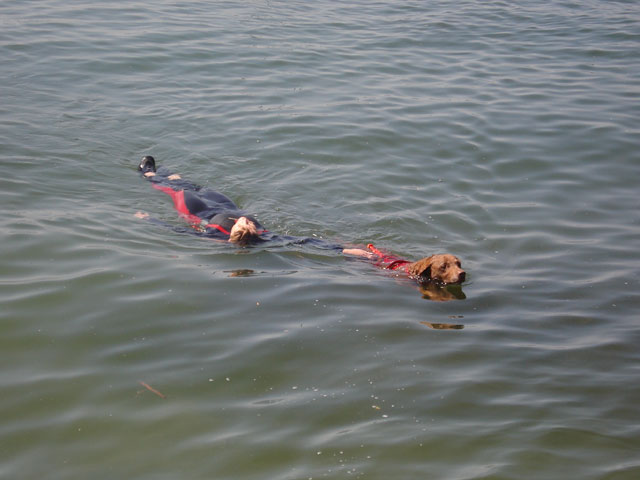 People in trouble; Brownie brought them always safely ashore, good old girl!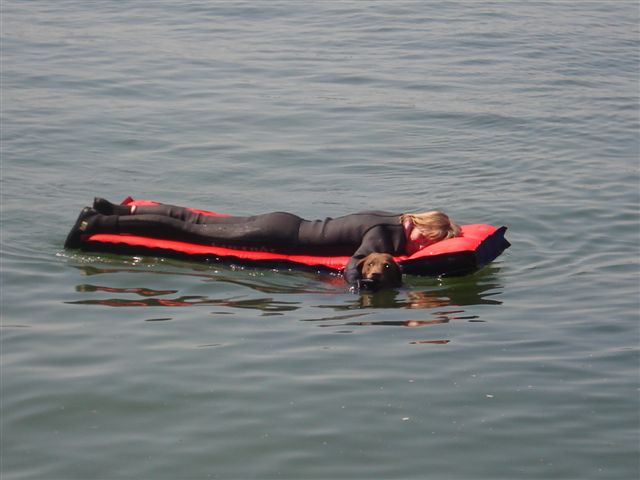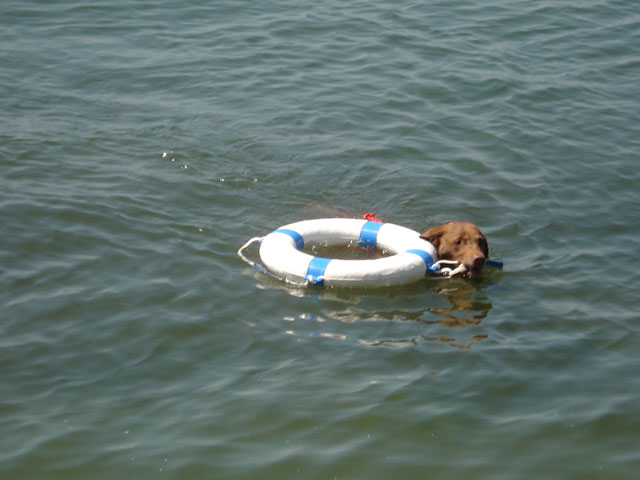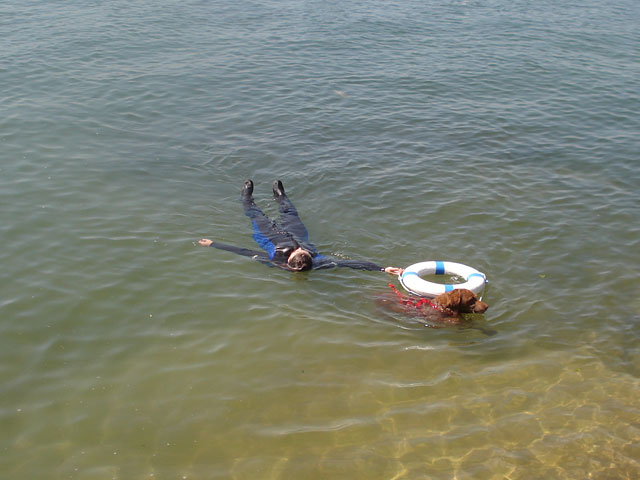 ---
SÉLECTIF B MATZENHEIM (F) June 2008
---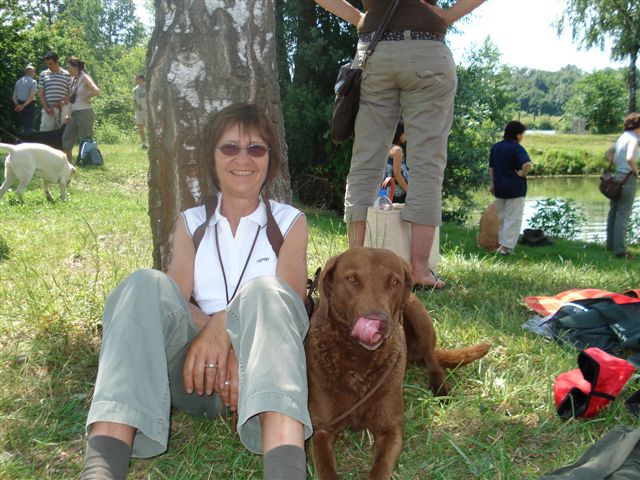 Nice and easy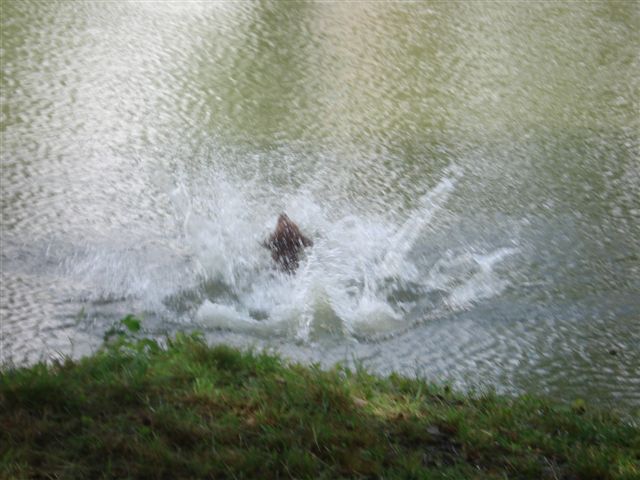 Impressions of the water exercises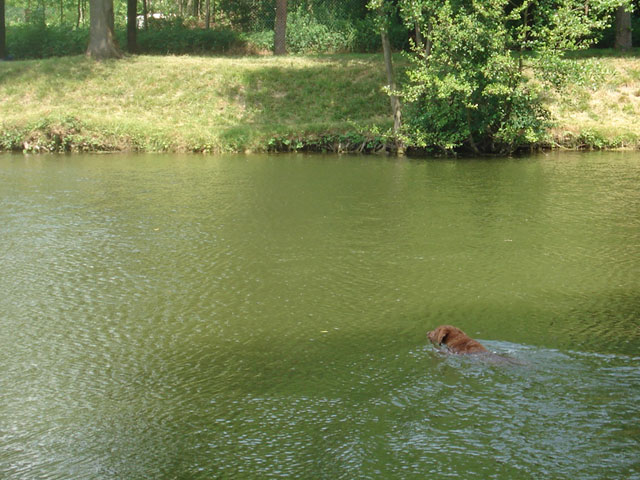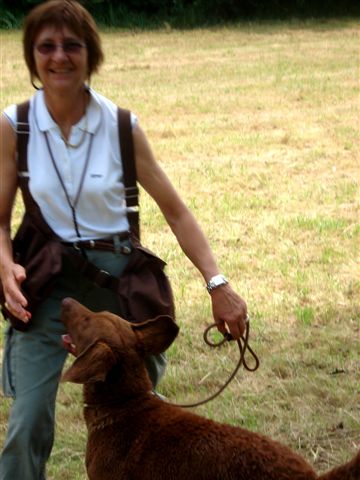 Mato passed, accordingly we had a successful day!
---
CHESSIE EVENT WD/WDX/WDQ PREIN AN DER RAX (A) June 6th - 8th 2008
Photos: O. Brinkhoff
---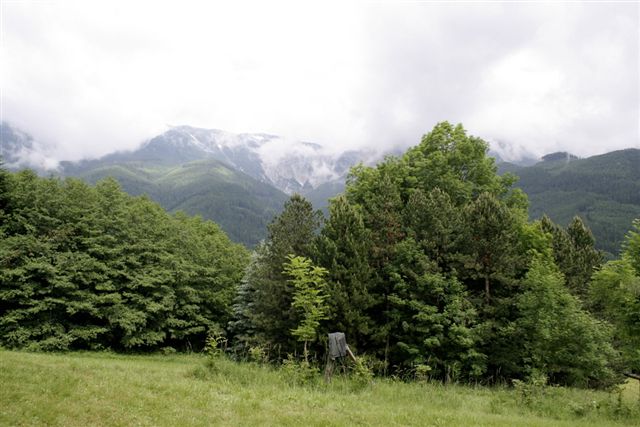 Gorgeous ground for arranging trials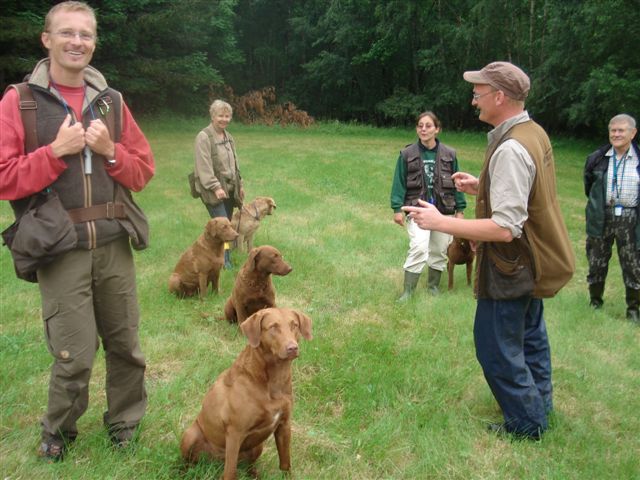 The WD/WSX/WSQ are American hunting tests, only for Chesapeake's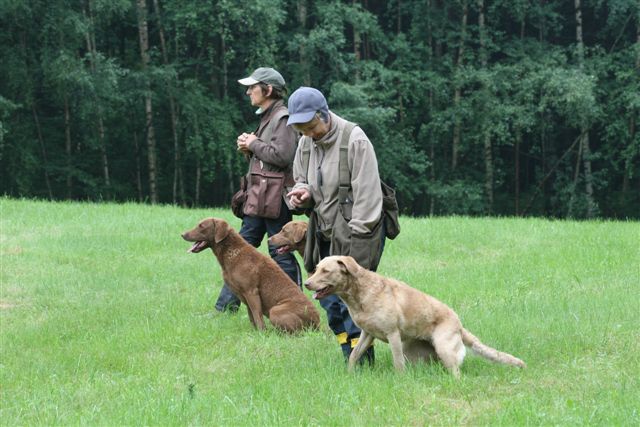 The day before the trials we had a chance to work the dogs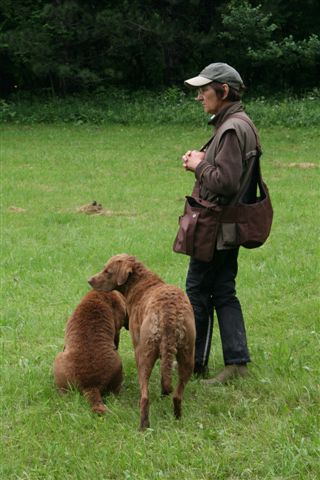 It's not our turn - not yet, but later on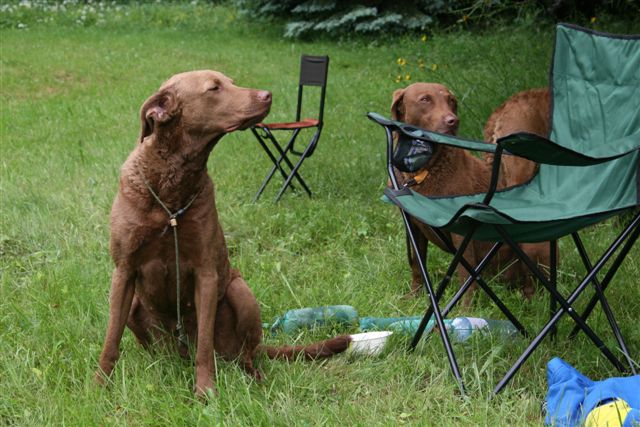 There must be a sandwich somewhere...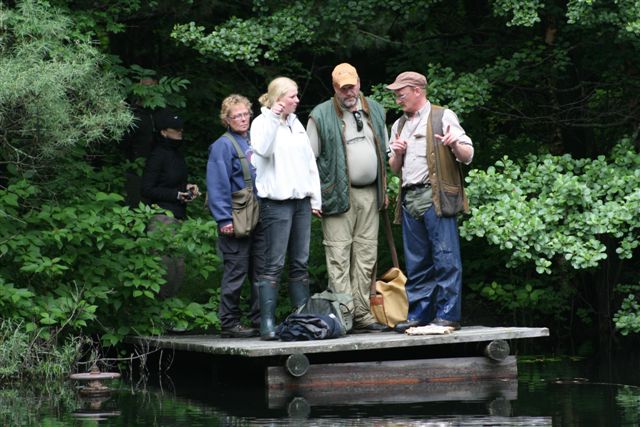 Judges and assistants are preparing an exersice on the water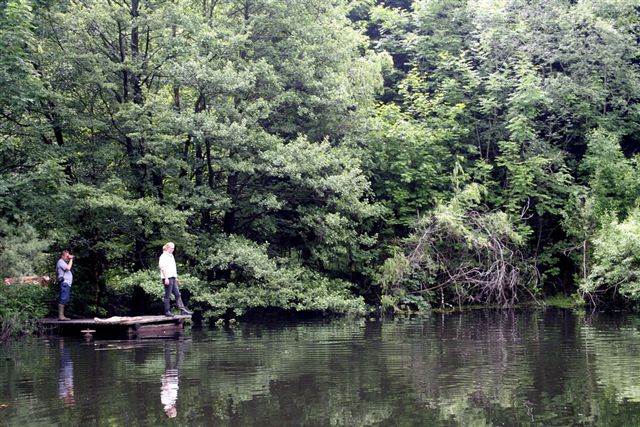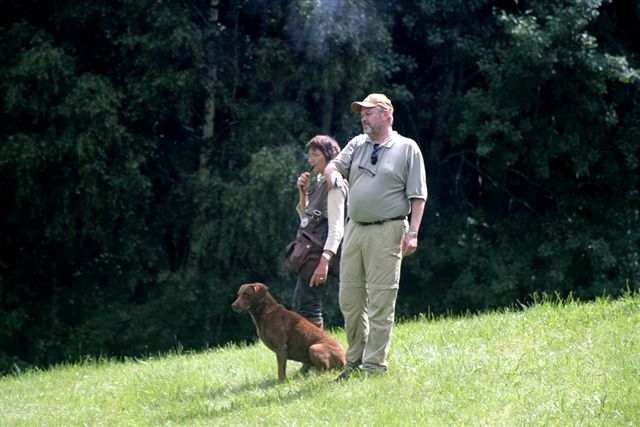 Mato during the WDX in the field and...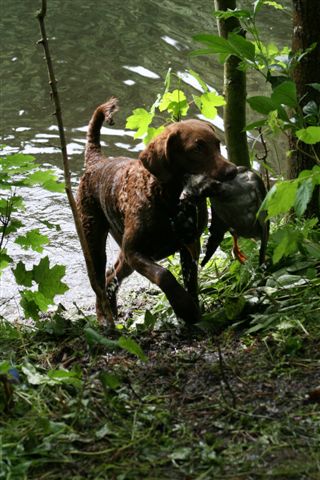 ... delivering a duck from the water. SHE PASSED THE WDX!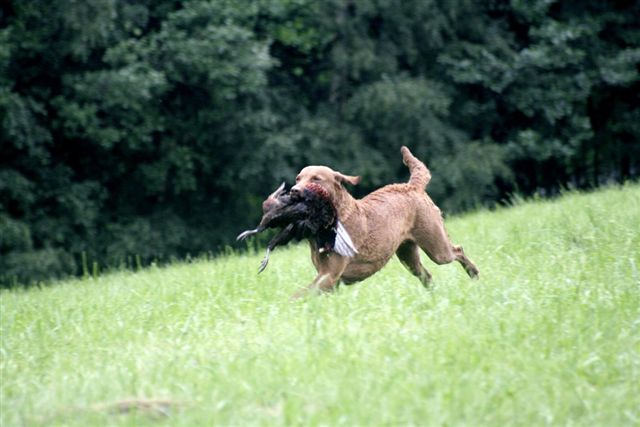 Kanda worked real brilliant, whether on land or in the water!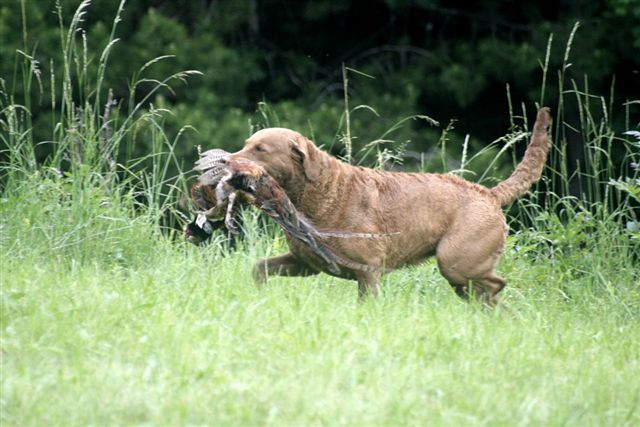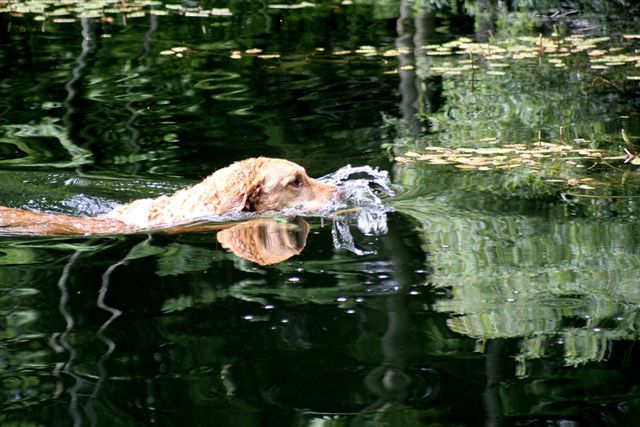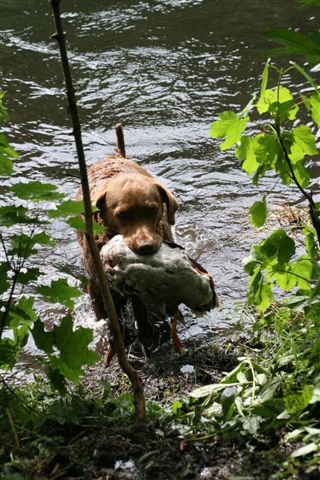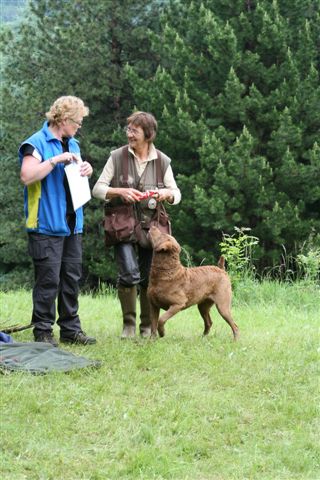 She did the Tripple, meaning came out victorious from the WD/WDX/WDQ in one day.
There are not many Chessie's which have done this before!

---
MAY 30 - JUNE 01 2008 WORKSHOP WITH MARK AND JAMIE BETTINSON GB
Photos: H. Keen
---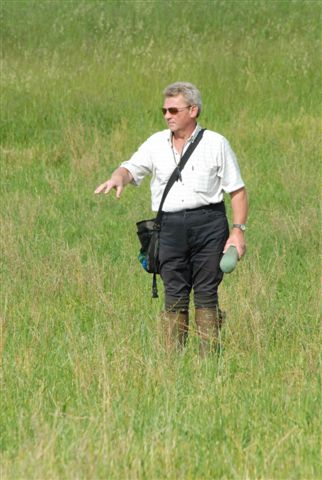 Father Mark: the cool-headed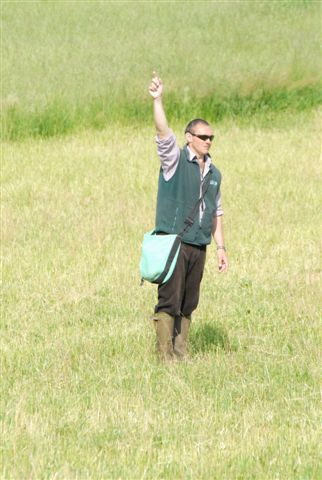 Son Jamie: the high-spirited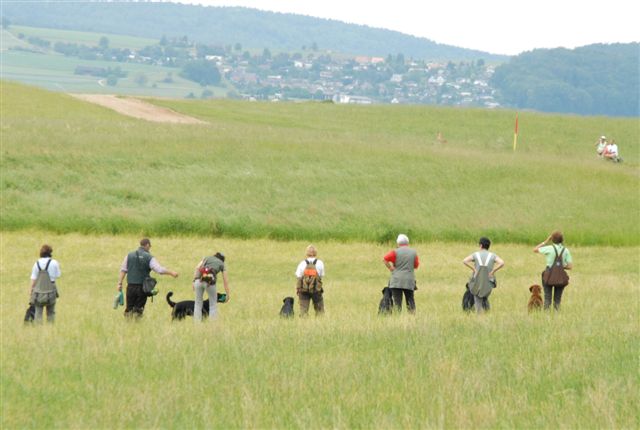 Most important: steadyness, steadyness, steadyness...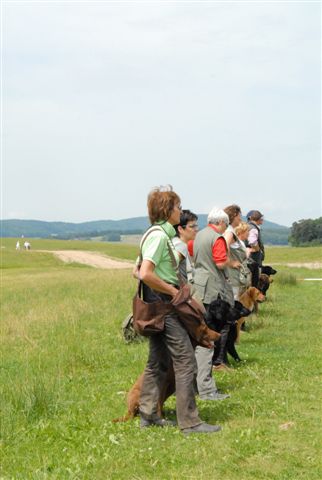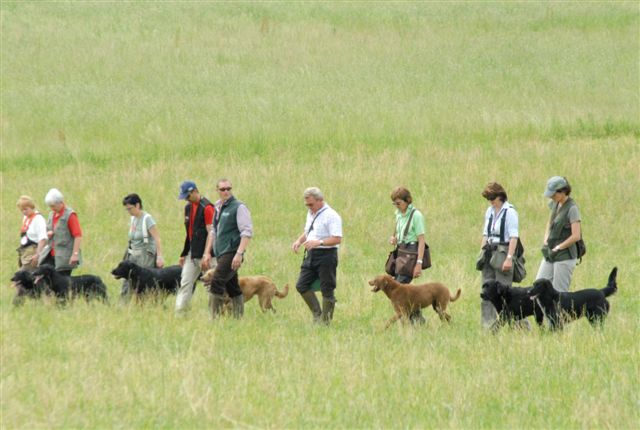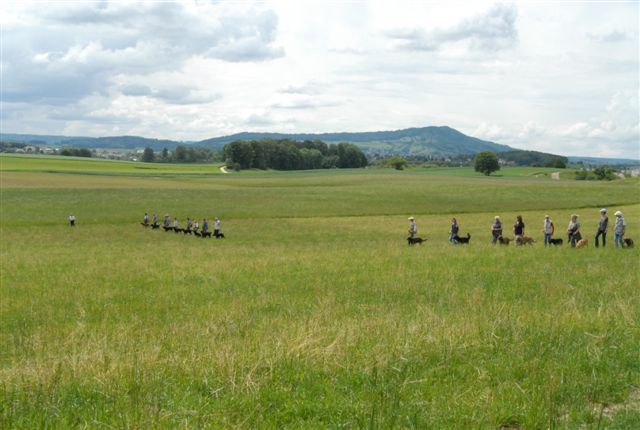 I never walked with as many dogs in line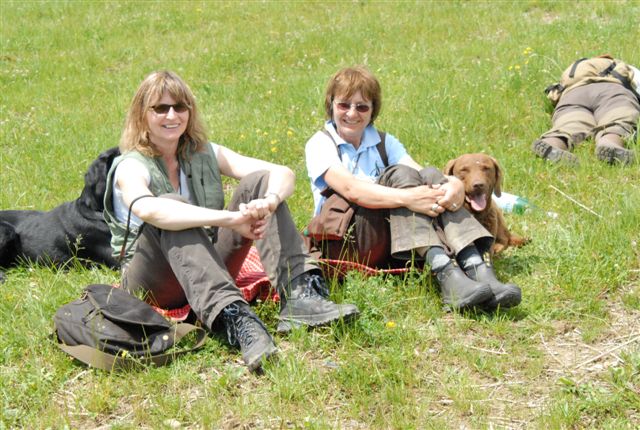 Thereafter we all needed a little break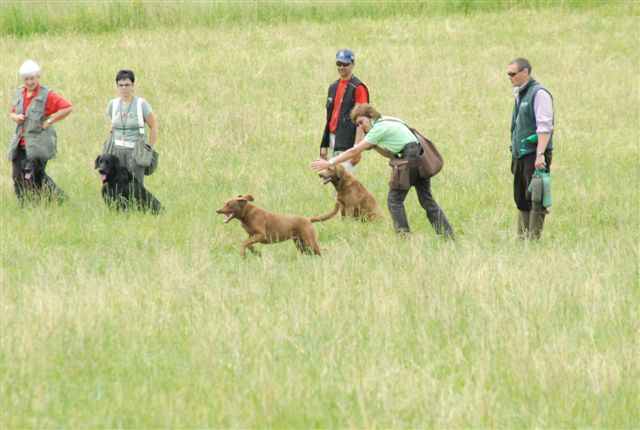 Mato, off she goes...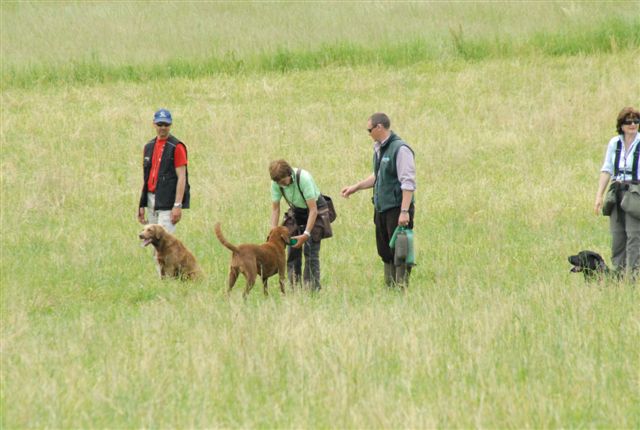 ... Well done! On her left: her sister Mika (Minipoka)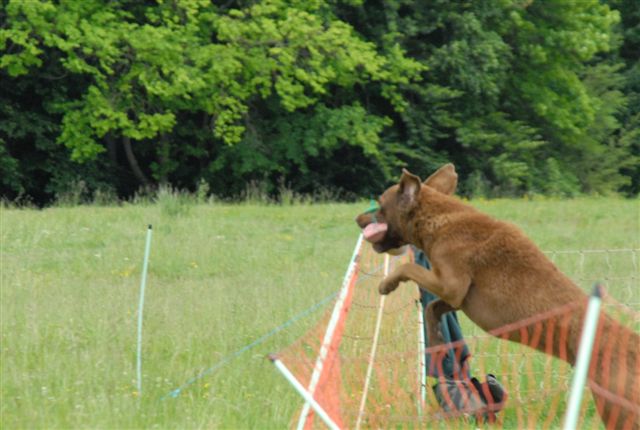 Of course the dogs also had to jump over fences (Mato)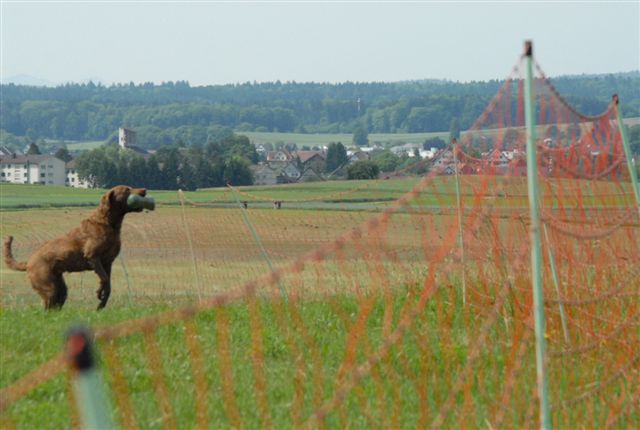 Kanda without any problems...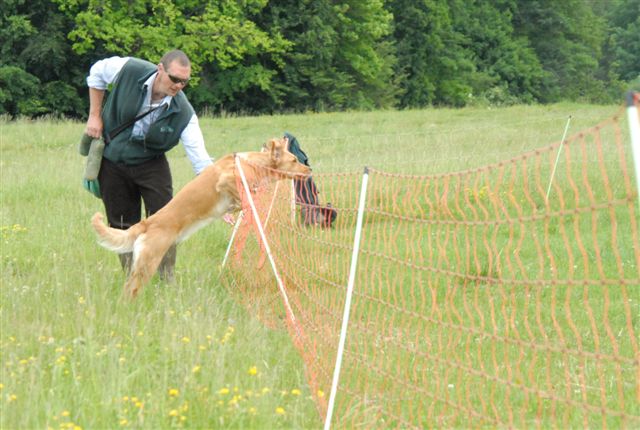 ... but if the dogs needed some help...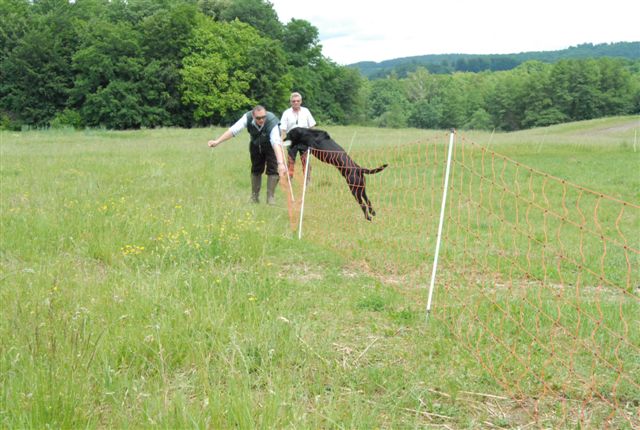 ... they always got it!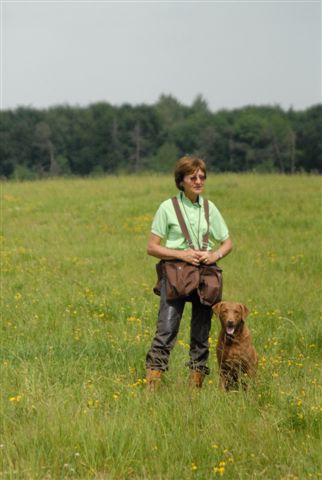 What's coming up next?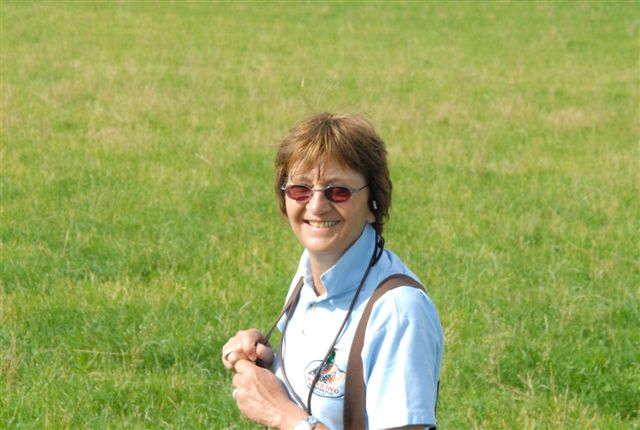 Many thanks to Mark and Jamie for the wonderful, thrilling course!


---
YEAR BY YEAR TRAINING ON THE ALPINE MEADOW SELLAMATT MAY 24th / 25th 2008
---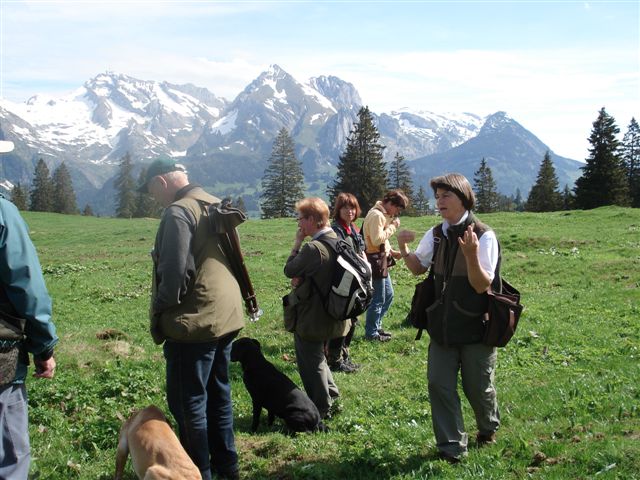 Helene Leimer in her element...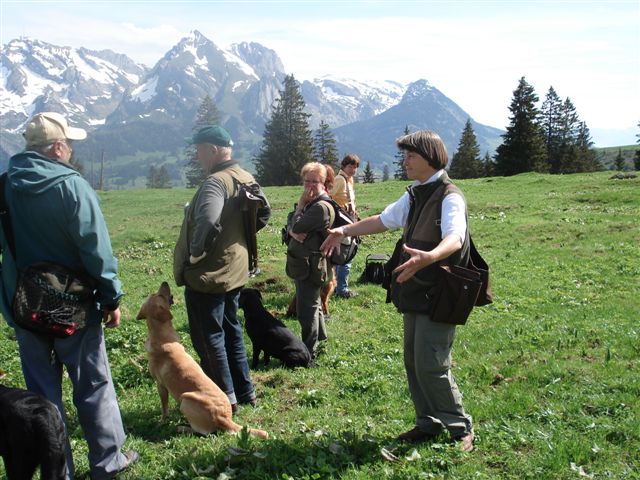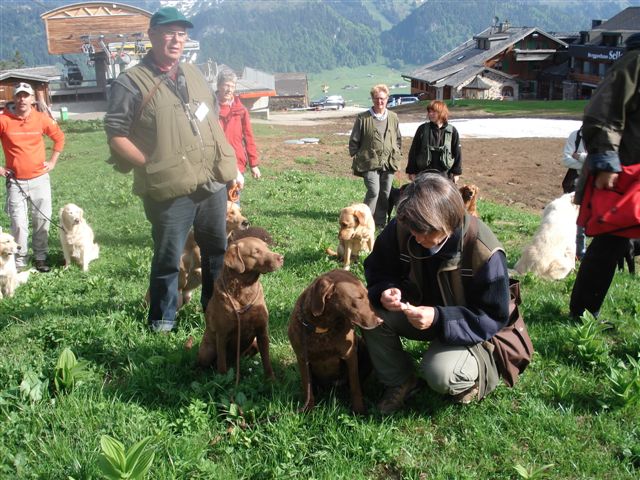 Helene is not only a an instructor, she also treats Mato's scar...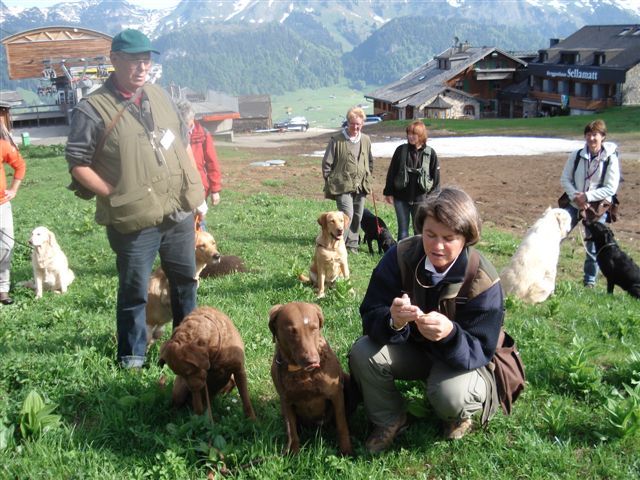 Don't I look special with sun-blocker on my face?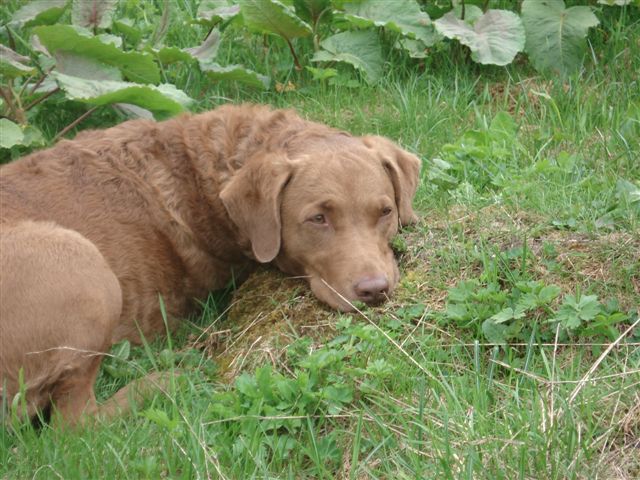 After two days of hard work Kanda is dead-tired!

---
IN THE COURSE OF THE WEEKLY TRAINING WITH STEVE (BANNER'S DOG SCHOOL)
MAY 2008
---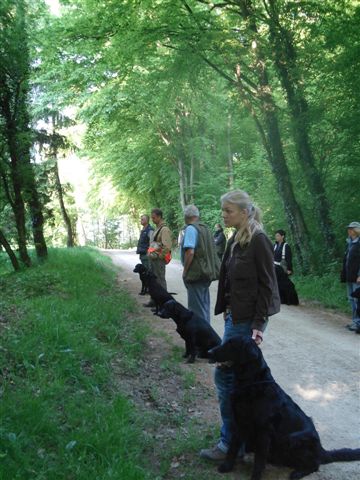 Steadyness is part of the game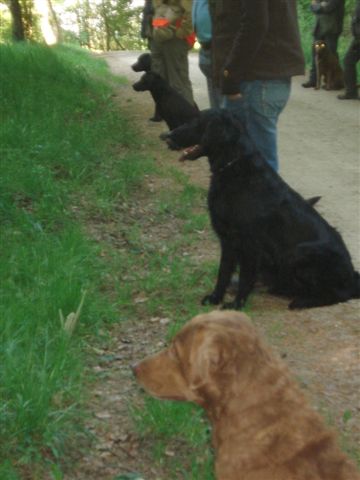 In Front Kanda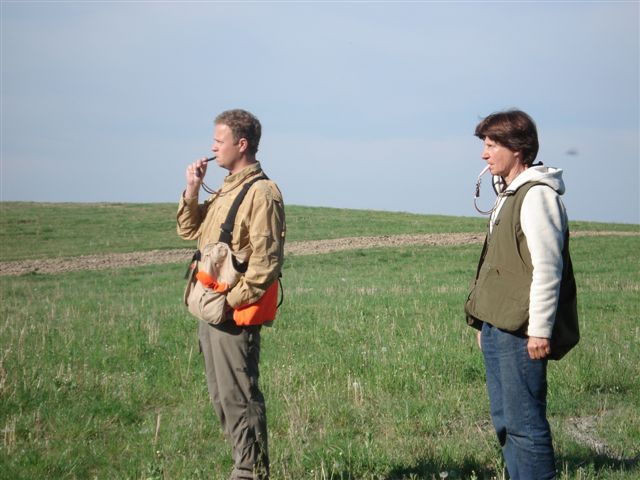 These guys look very concentrated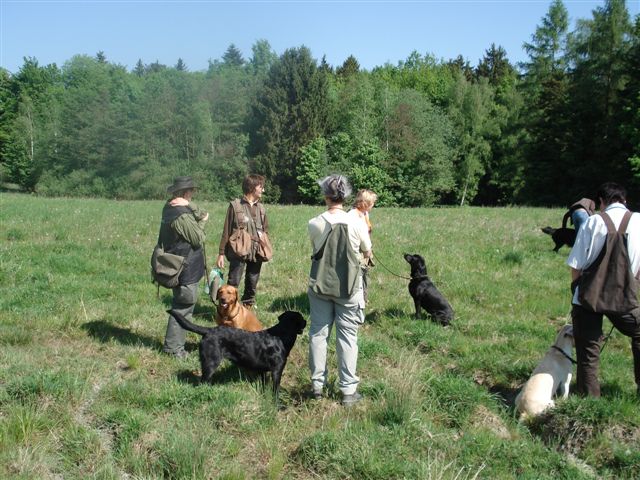 Waiting for the following exercise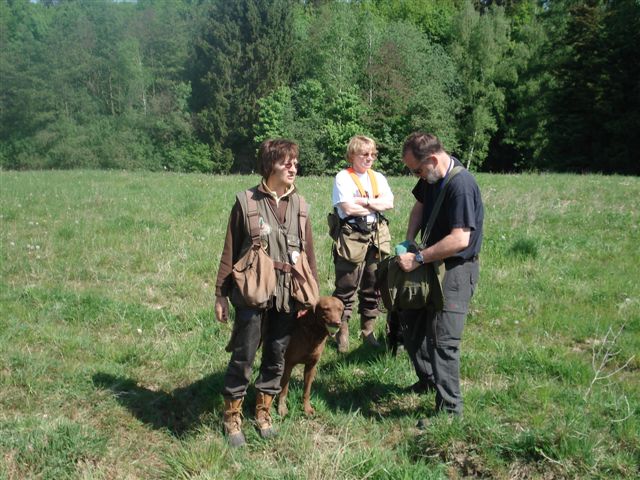 Mato can't relax without her tennis-ball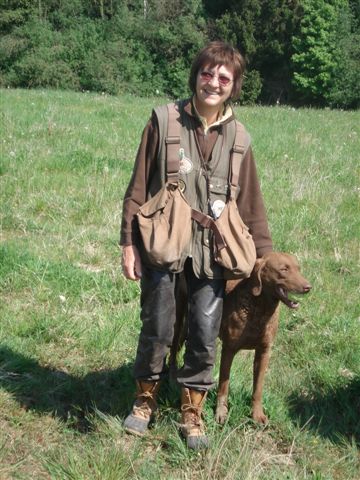 We had a wonderful morning, we all trained serious
and now: let's have some lunch!
---
IT'S NOT A WINTERDAY AT OUR HOME, IT'S ALREADY END OF MARCH 2008
---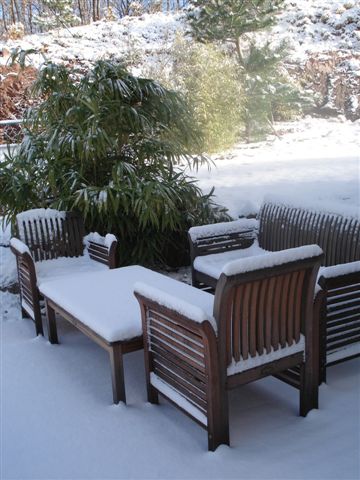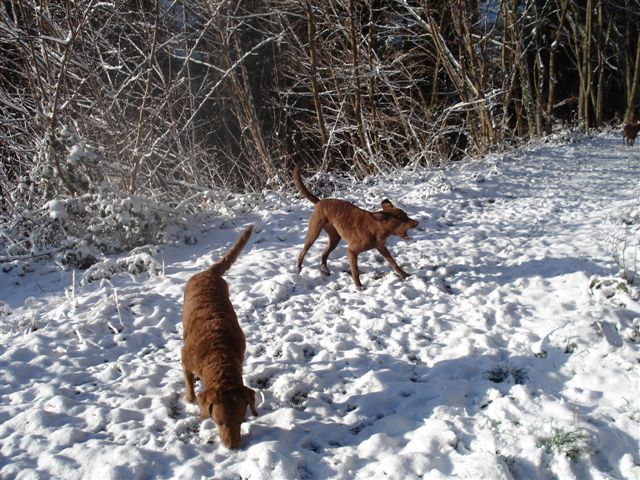 Brownie and crazy Mato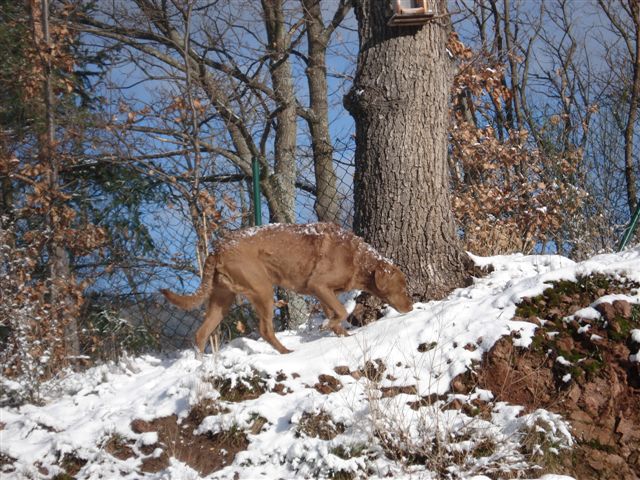 Kanda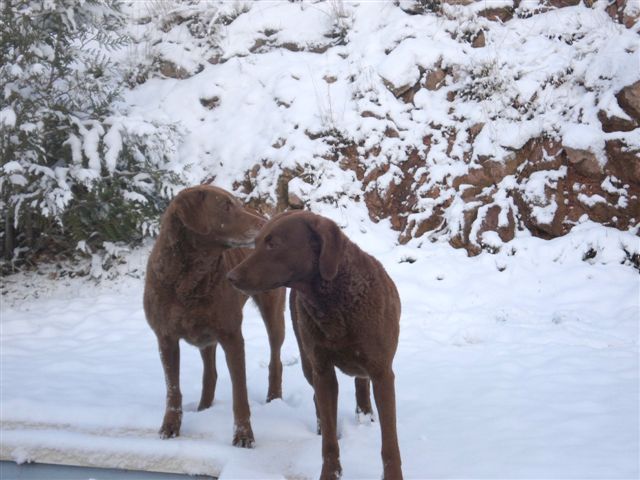 Brownie and Mato
---
TRAINING WITH GRAHAM STEVENSON AND DAVID SISSON (GB) FEBRUARY 2008
---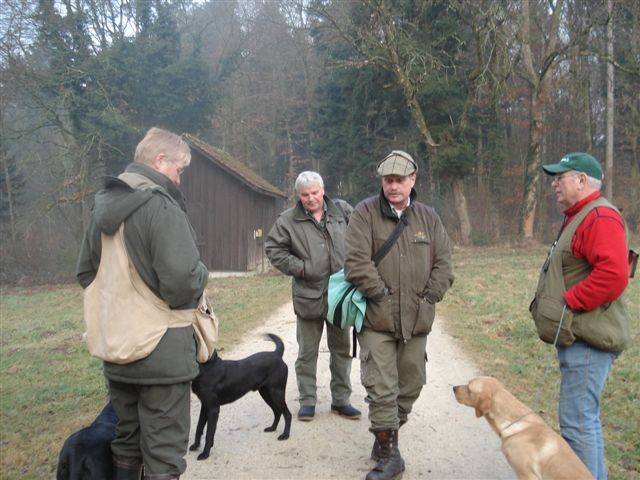 Graham and Dave instruct in a complete different way; there is a catch in it!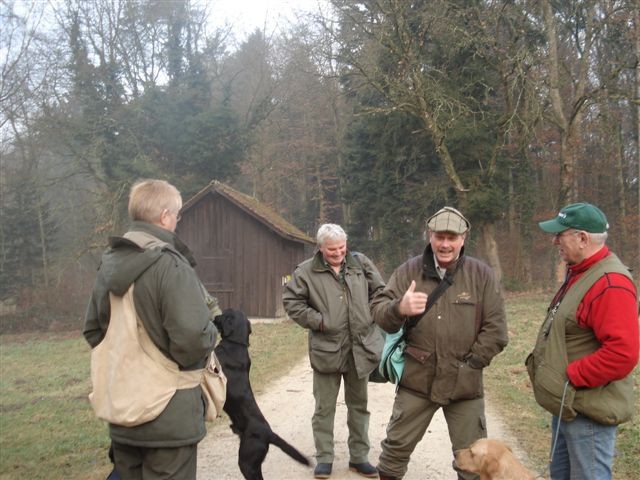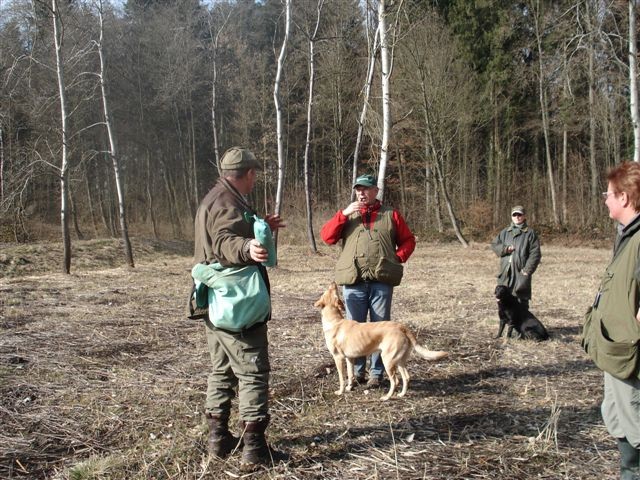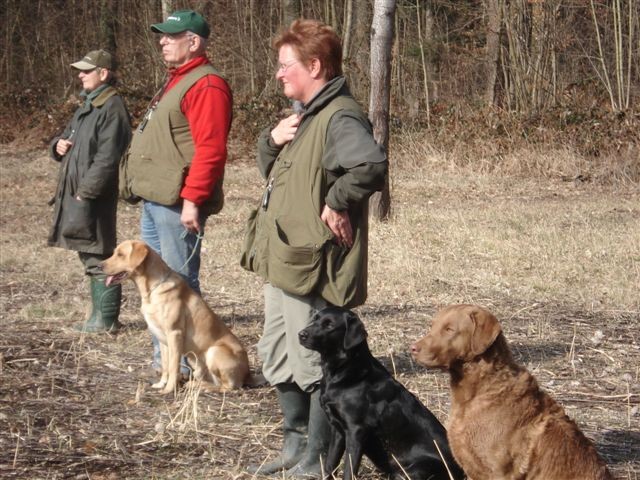 ---
KANDA'S FRUITLESS TRIP TO SWEDEN
---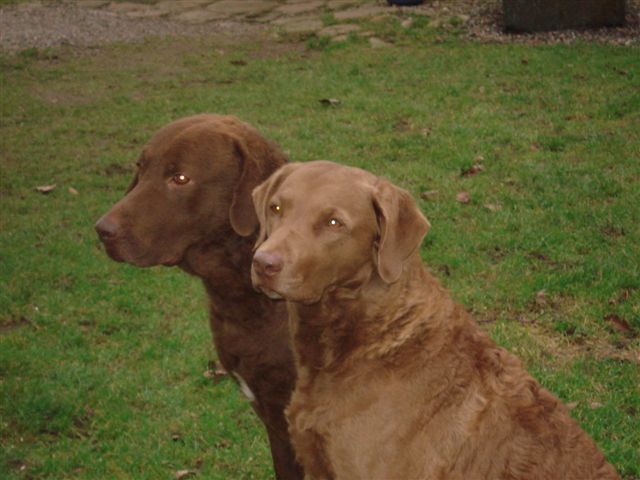 Kanda and Nils met each other for breeding reasons...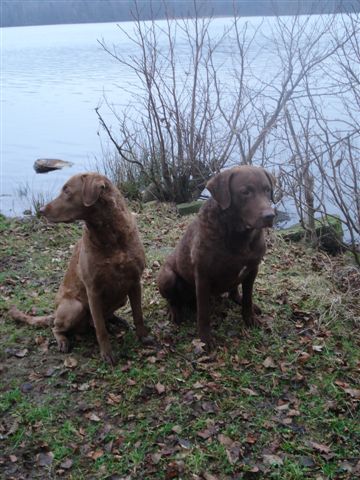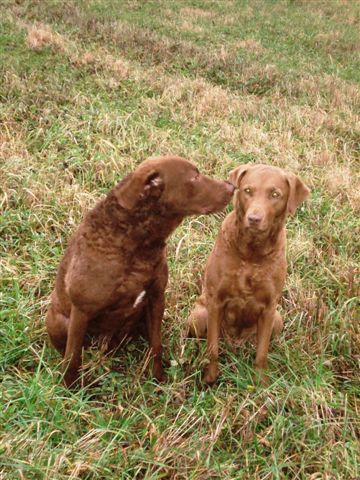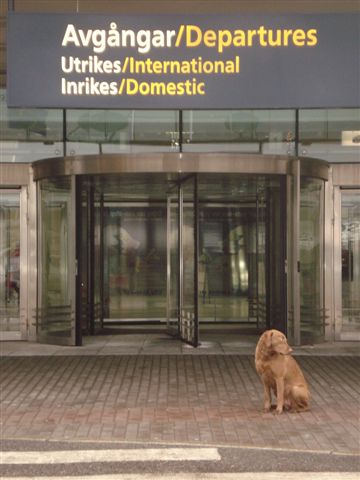 At the air-port the world was still going round...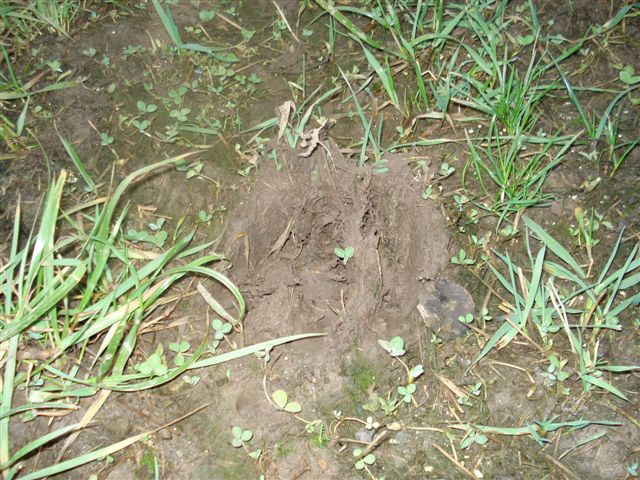 Unfortunately we'll never find a vestige of Kanda and Nils only a moose left its footprint...
---