---
LAJATICO, I-TUSCANY NOVEMBER 2004
We had not only splendid but also successful days at Lajatico. Thanks to my dear friend Gianni Dainotti you can see some lovely impressions.
---

Brownie



Kanda.



Kanda.



Distribution of prizes
---

FT LE PLANTAY (F) 16./17.10.2004
AND THE WINNER WAS: BROWNIE!

---
---
WAKANDA ON THE RIVER ELBE HAMBURG 2004
---
---
TUSCANY 2004
IN THE FAMILY CIRCLE. BROWNIE, WAKANDA AND WIHAKAYDA
---
---
AUGUST 2004
THE HEAD OF THE FAMILY FLASH AND HIS OFFSPRING BROWNIE, WAKANDA, AND WYNONO
---
---
AUGUST 2004
WHERE WAS YOUR BOUND FOR? WE MADE A TRIP TO DENMARK!

---
---
GERMANY, JULY 2004:
WAKANDA MET HER SISTERS WINONA AND WIHAKAYDA AS WELL AS HER BROTHER WAKIZA
---
---

TRAINING AT AZZATE (I) WITH ANKE BOGAERTS (NL) JUNE 2004

---
1° Theory, theory, theory... 2° Practis makes perfect...
3°Well deserved happy-end...

---

TRAINING AT BORGOSESIA (I) WITH GUNILLA WEDEEN
AND LARS-ERIK LOEF (S)

---
---

GAME FAIR ROM (I) 04.30. – 05.05.2004
---
Gladly I represented with the Working Retrivers Club of Italy my Chessie's Brownie and Kanda. It was great fun working the dogs in the middle of the crowd, a new experience. Thanks to my friend Gianni Dainotti you can see some expressions.
---
Mattaponi's Wakiza
---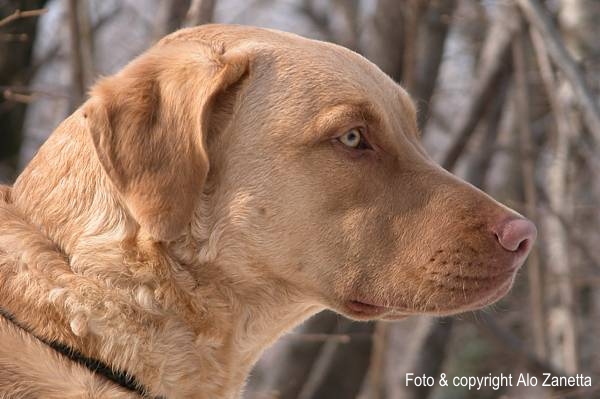 NEW HOME
13° of April 2004: Wakiza found a wonderful new home! He is living with Frank and Katja closed to Munich, Germany.
Instead of "Kiz" they call him "Fritz". He is as happy as he can be, and Frank and Katja just love him!