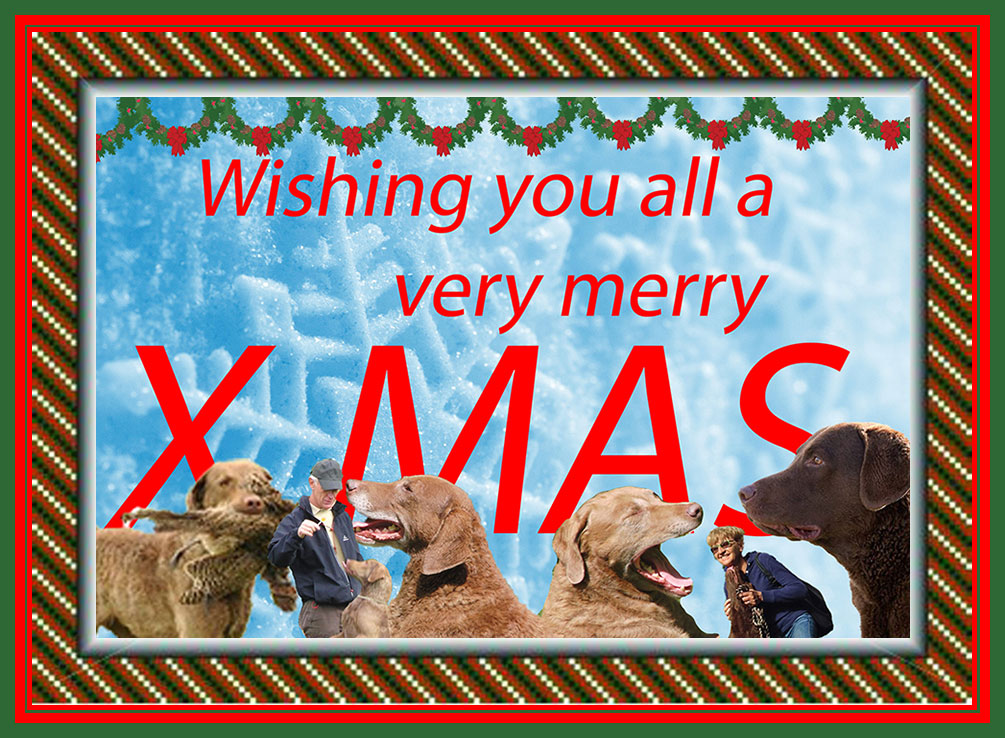 ---
HUNTING DAY IN KEMBS (F)

November 14th 2014
---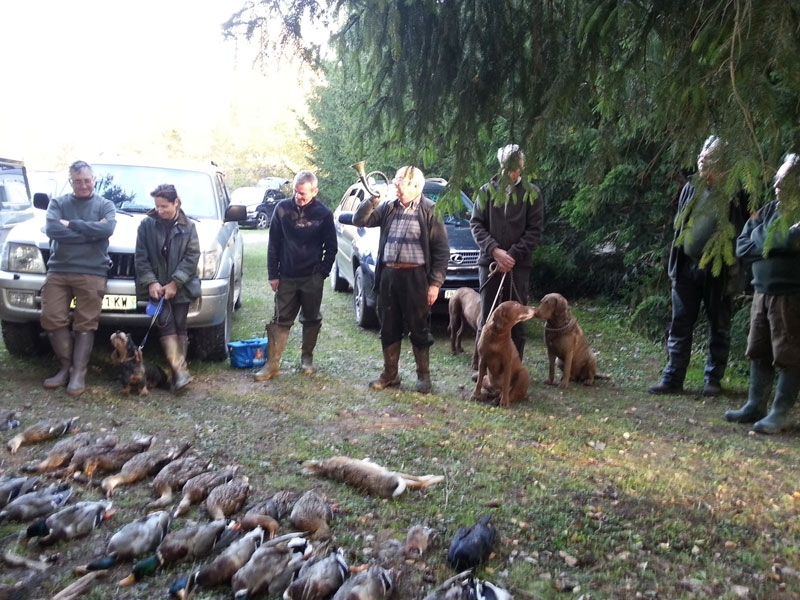 We have been invited to join a small shooting-party in the Alsace.
Mato, Gleam and Niyol worked hard and showed very well their quality as picking-up dogs. As much as to say we didn't lose any birds :-)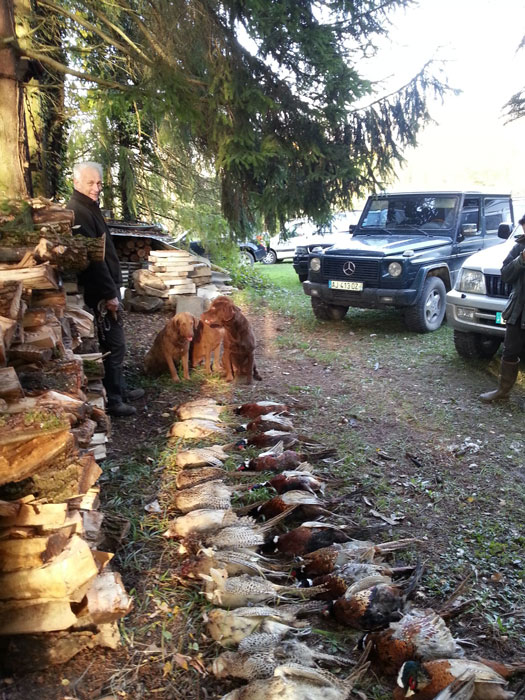 ---
NIYOL WORKED SUCCESSFUL THE 800M RABBIT DRAG
Dachau (D) November 9th
---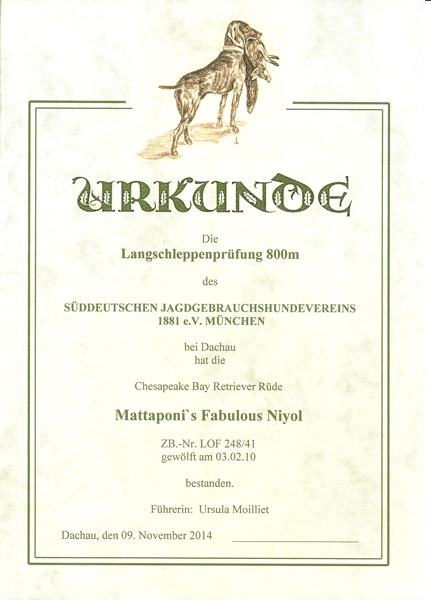 It took him only 3.10 minutes :-)
---
TRIP WITH MY FRIEND GABY TO GREAT BRITAIN INCLUDING THE CBR WEEKEND September 2014
Photos by Ursula, Gaby and Sue (Watersplash)
---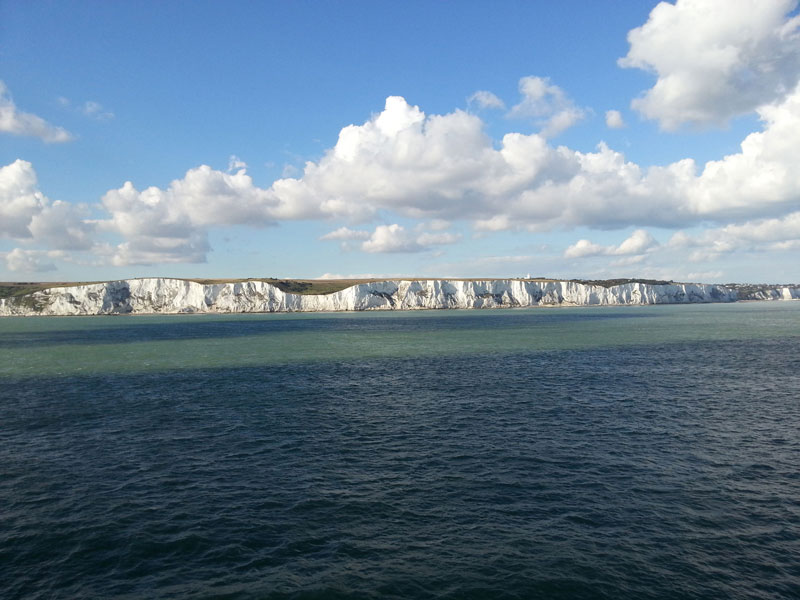 The impressing white cliffs of Dover. My friend Gaby saw them for the first time and she couldn't keep her eyes off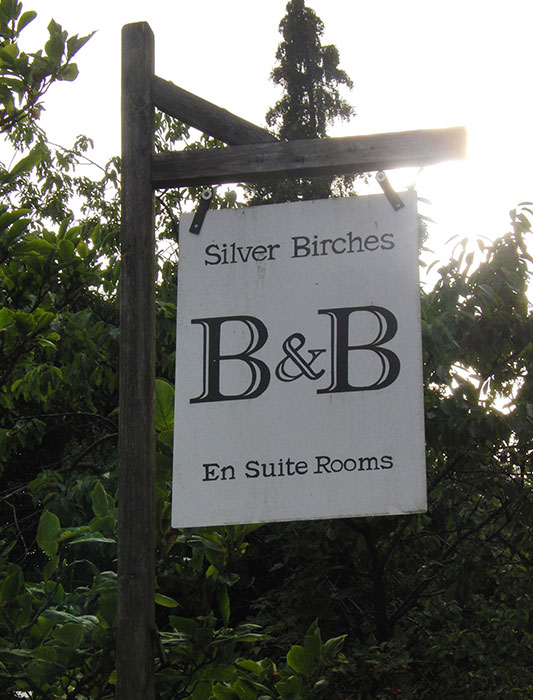 Our first stop John's B&B in Elsted. I really can recommend this B&B!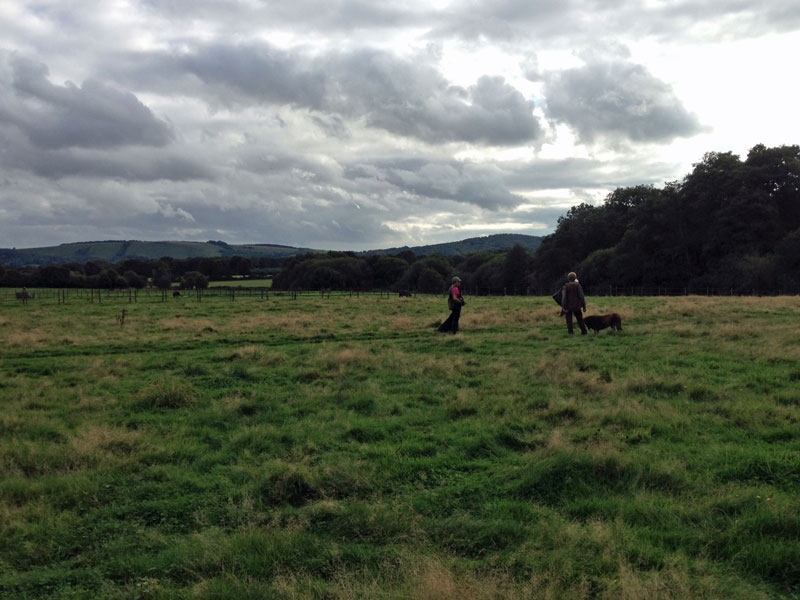 JPG Training Day with Jason Mayhew on Dumpford Manor Farm, the home of Chrissie's Arnac Bay Chesapeakes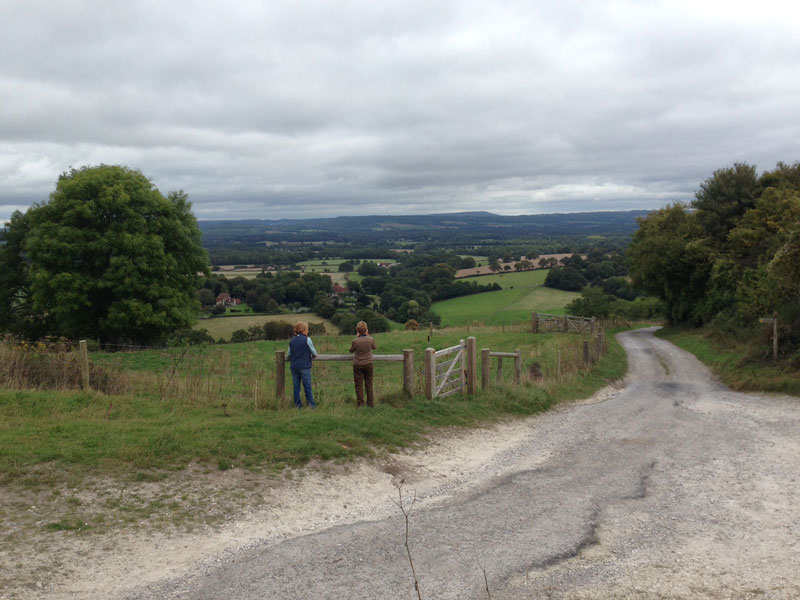 Chrissie showed us Hampshire's beautiful country side.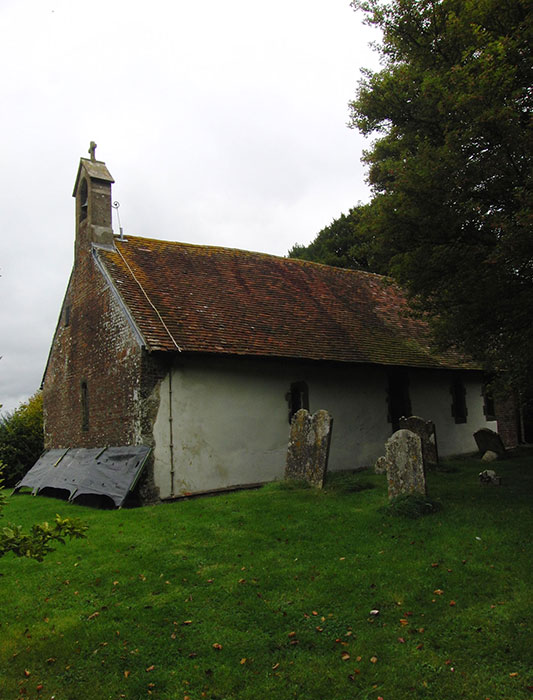 JPG A tiny old hidden chapel in the middle of nowhere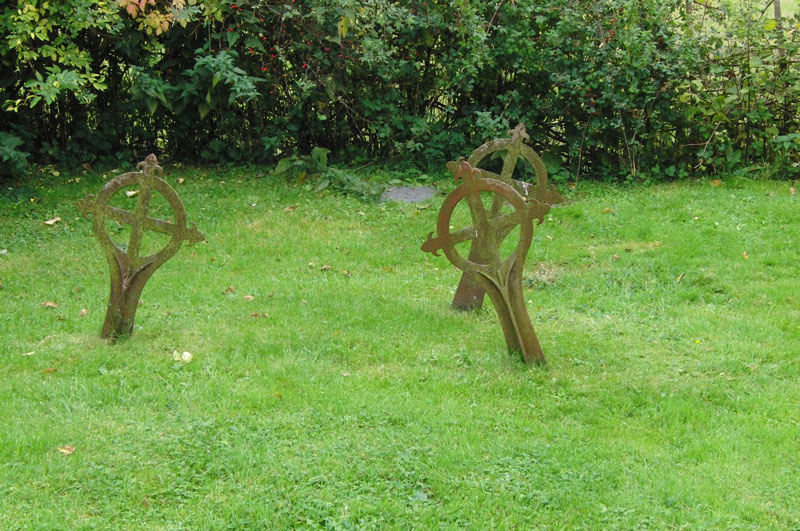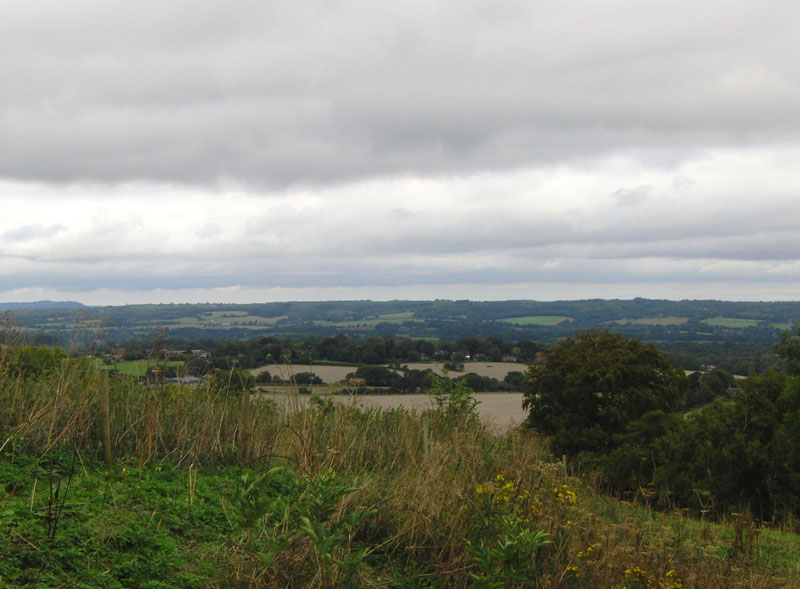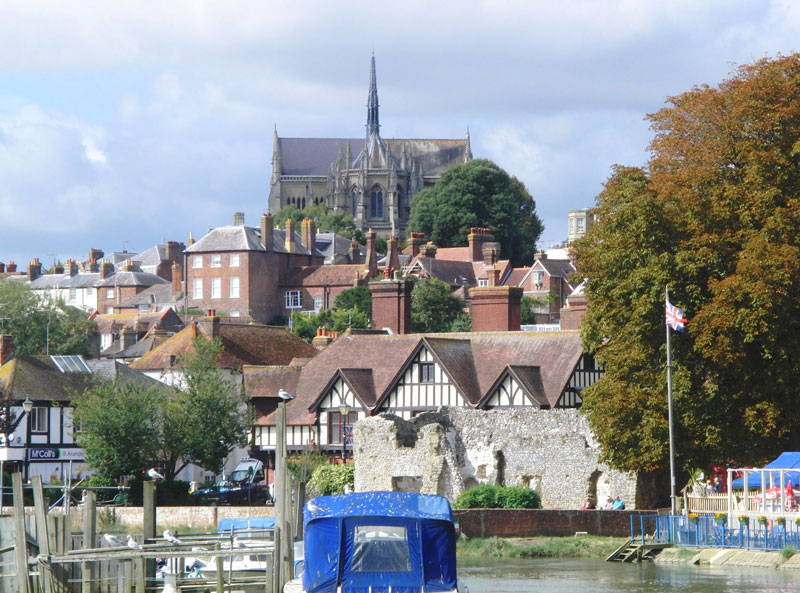 The Cathedral of our Lady and Saint Philip Howard above the town of Arundel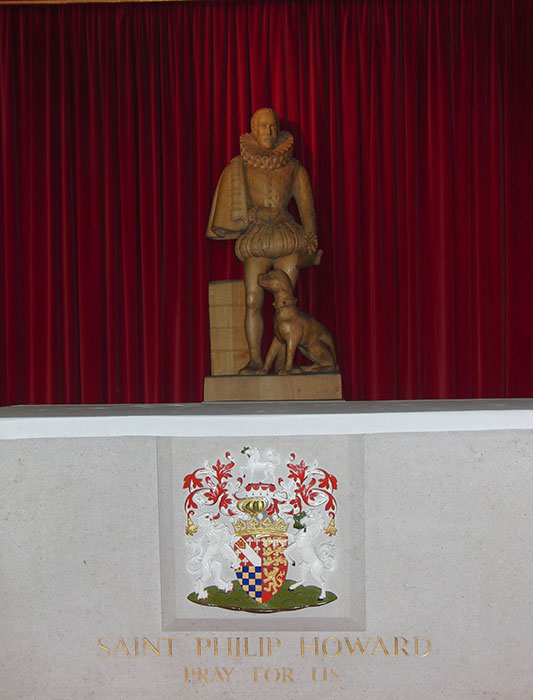 The relics of the martyr St. Philip Howard, Earl of Arundel (1557-1595) rest in this special shrine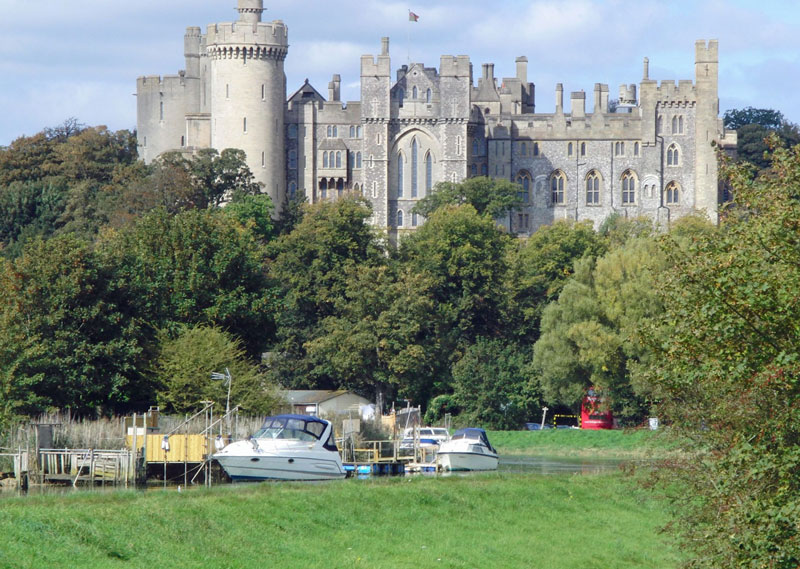 The castle of Arundel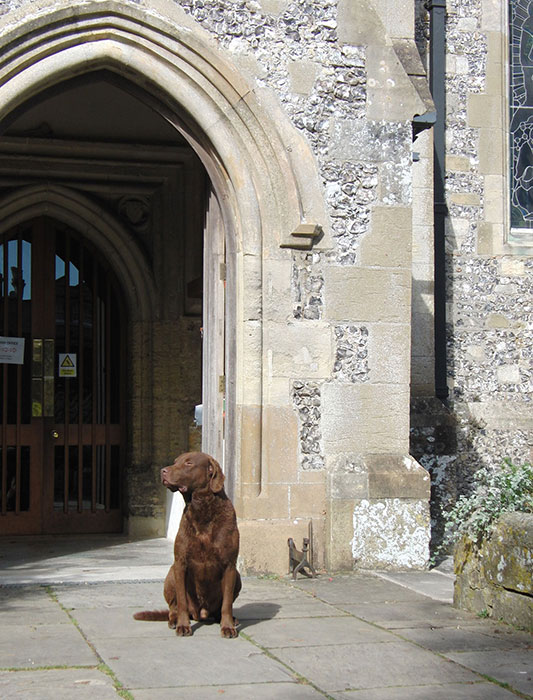 St. Nicholas 1580-1680 Arundel Parish Church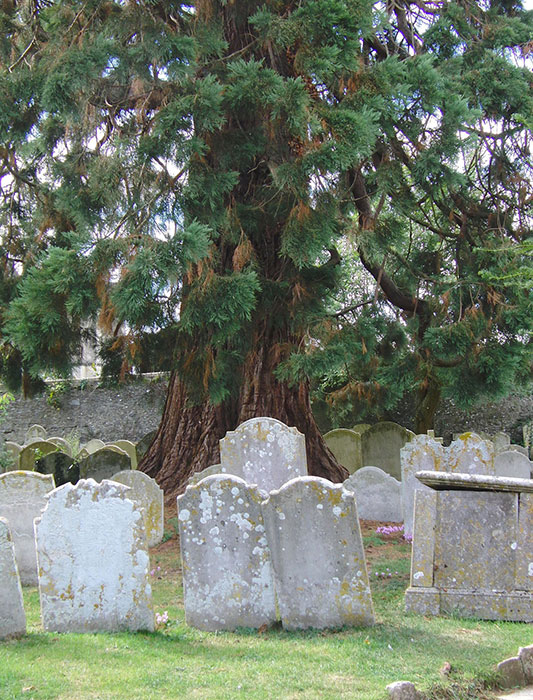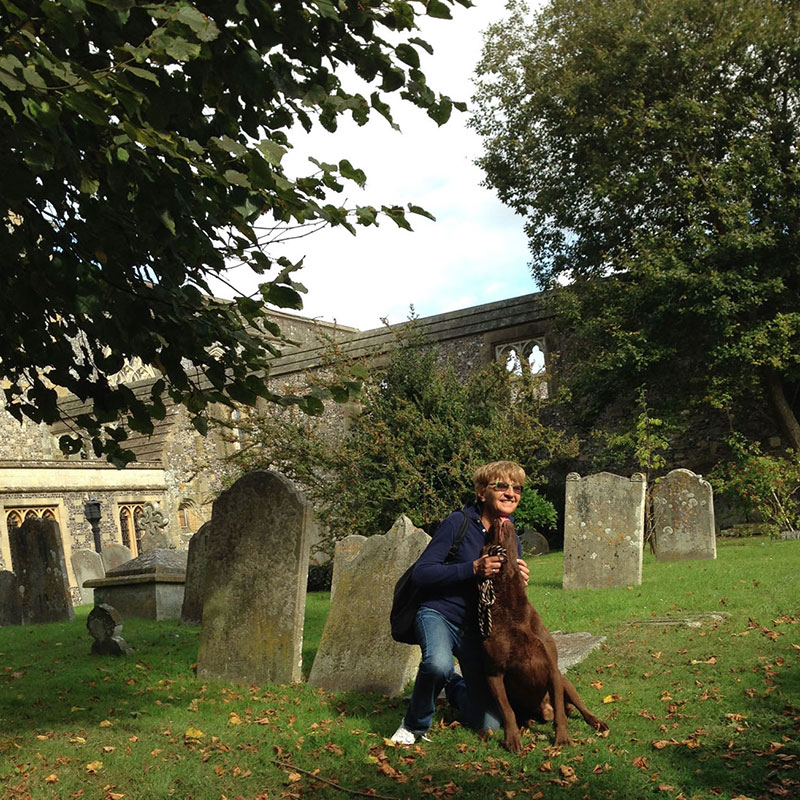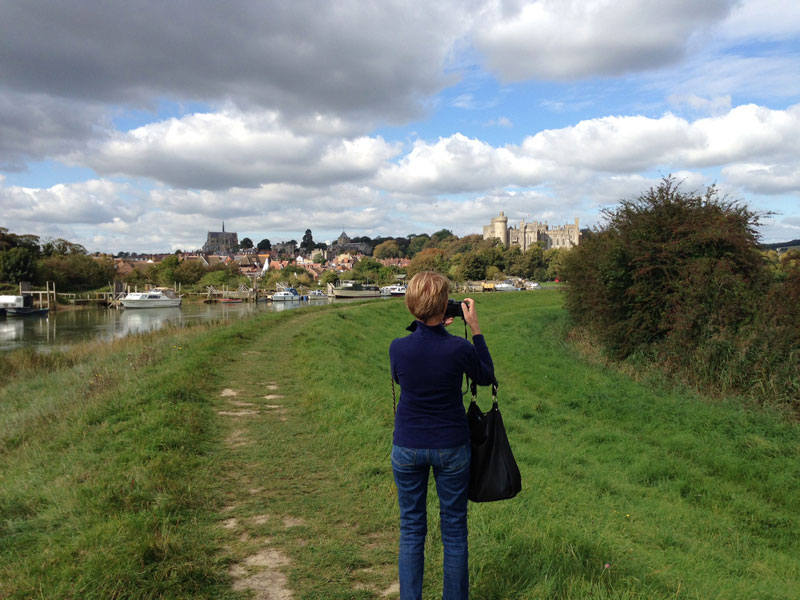 As Gaby and me where taking pictures Niyol took a chance for a swim in the river Arun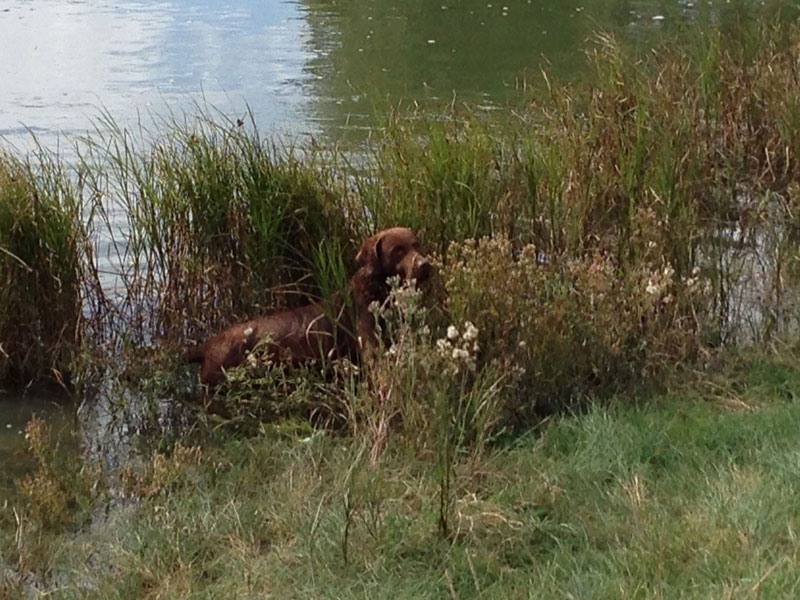 As we wanted to move on Niyol had to stop his swim marathon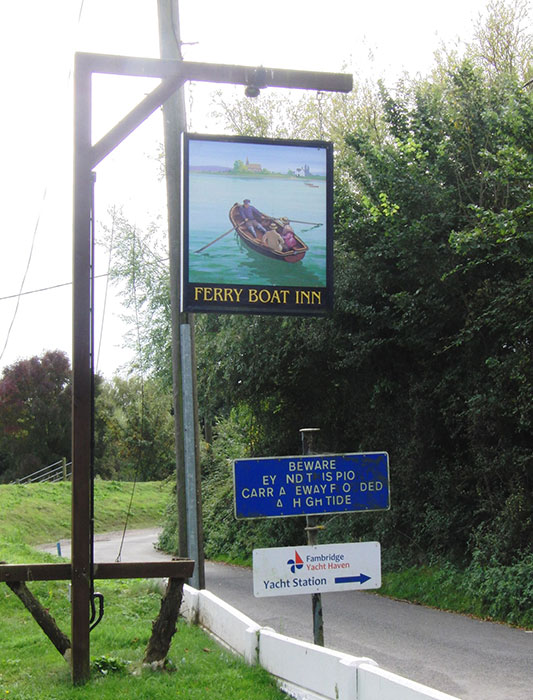 We travelled to Chelsmford close to the CBR meeting point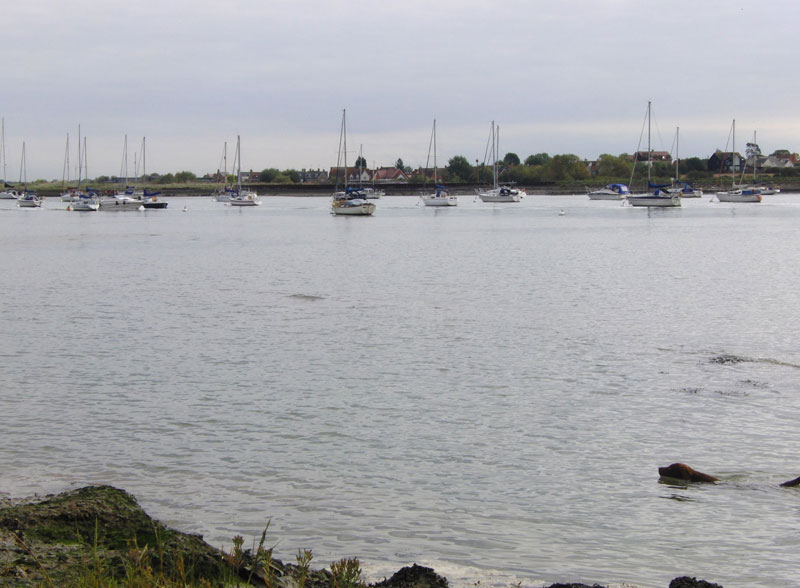 Great B&B for Niyol! He could jump out of the bed and right in to the sea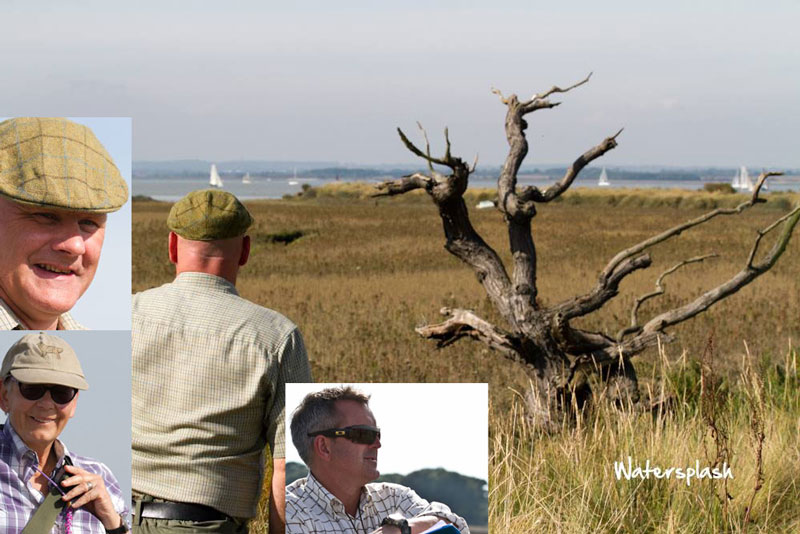 The CBR competition grounds at the Dengie Hundred Wildflowers Club (www.dhwc.co.uk)on Purleigh Barns Farm.
The judges and the stewart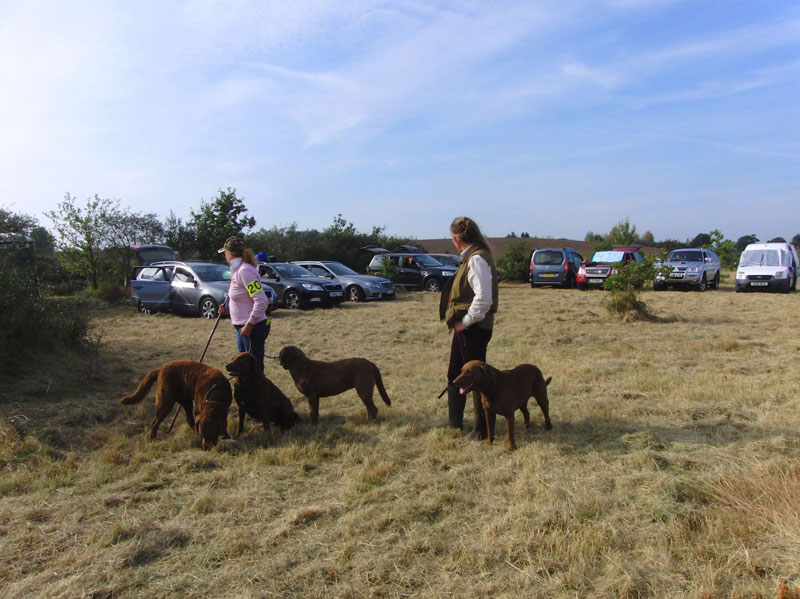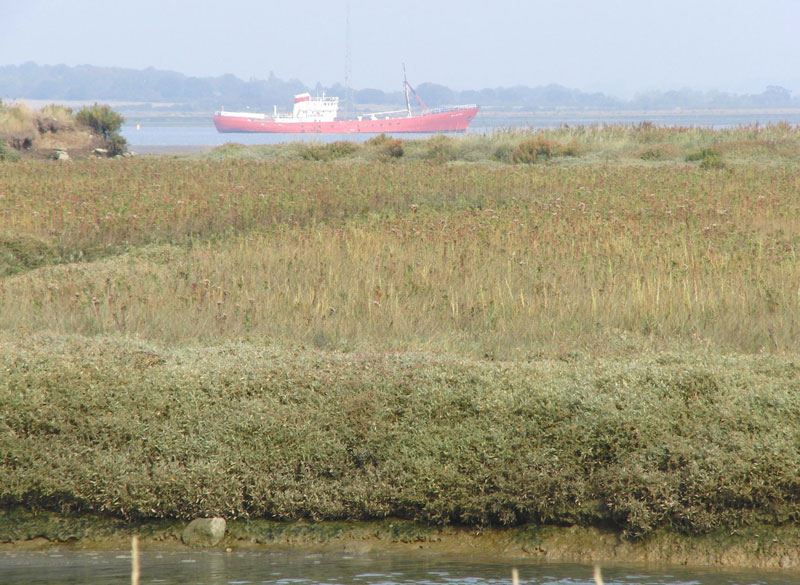 All tests where set up on Essex's coastline while the tide came in. New experience for Swiss mountaineers!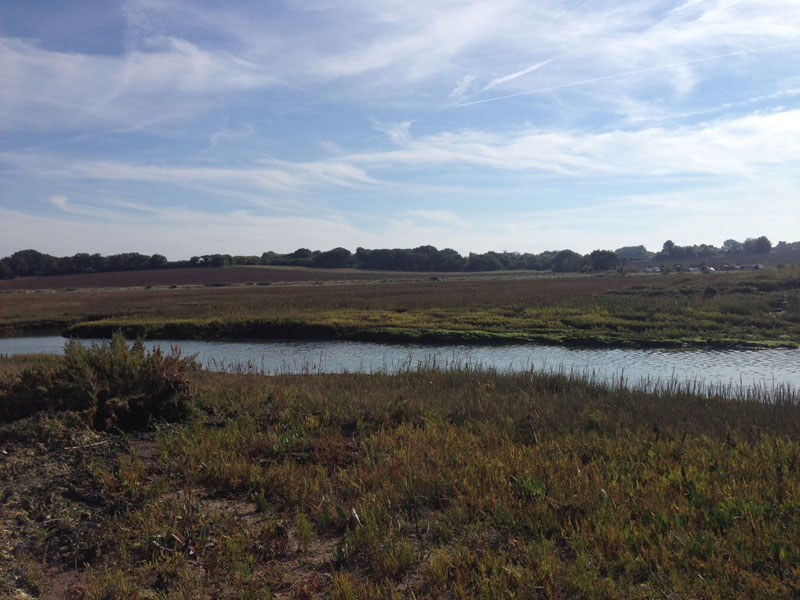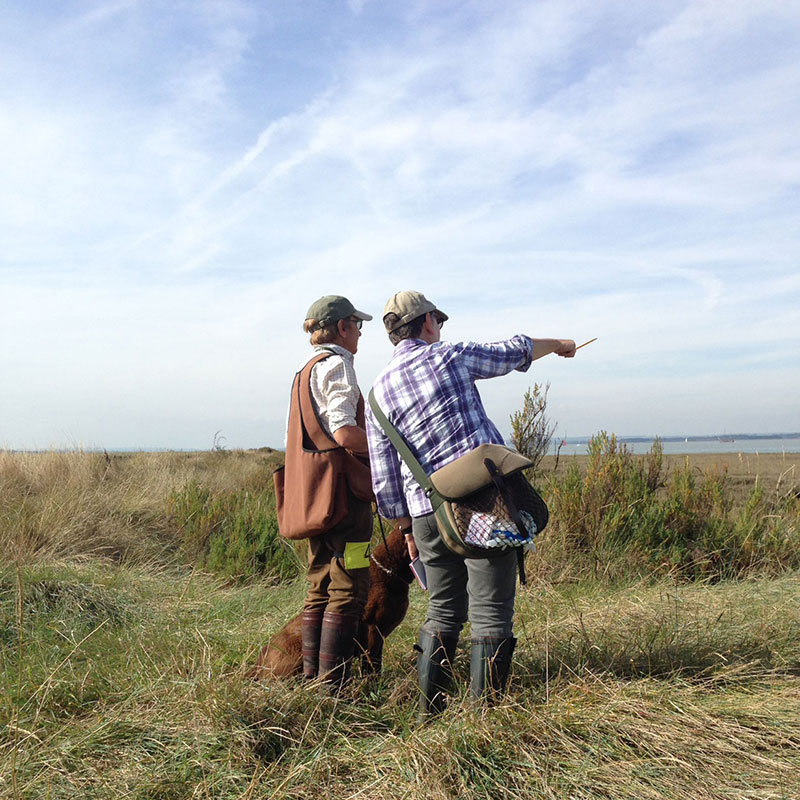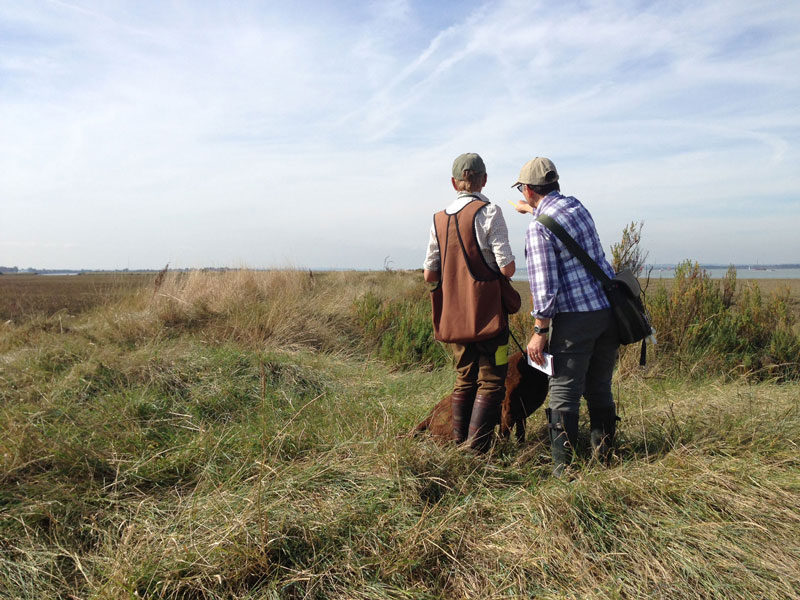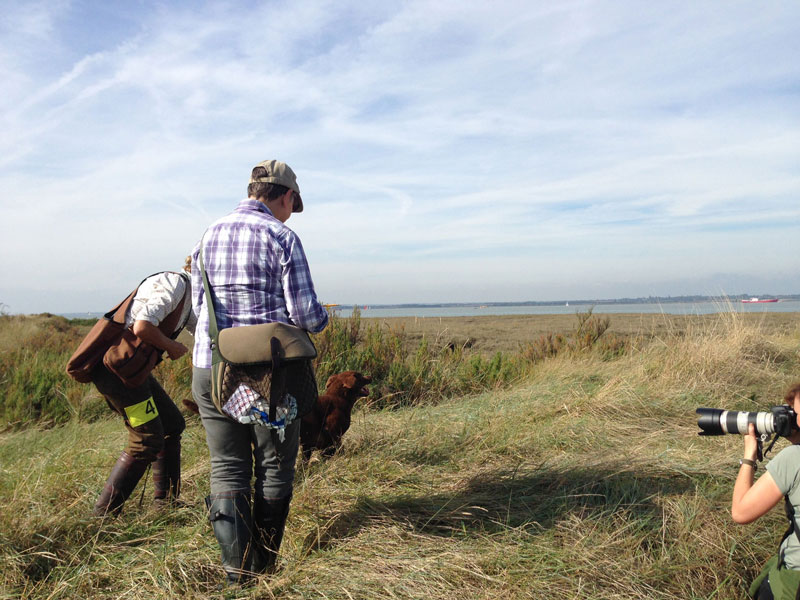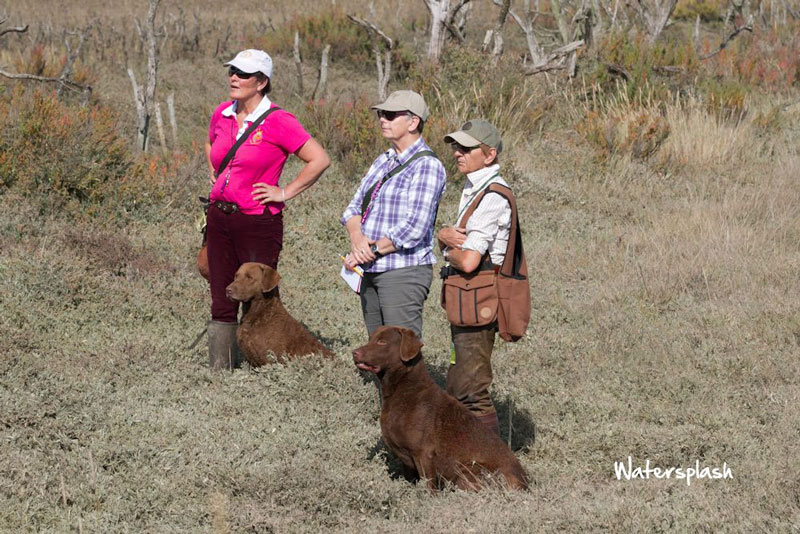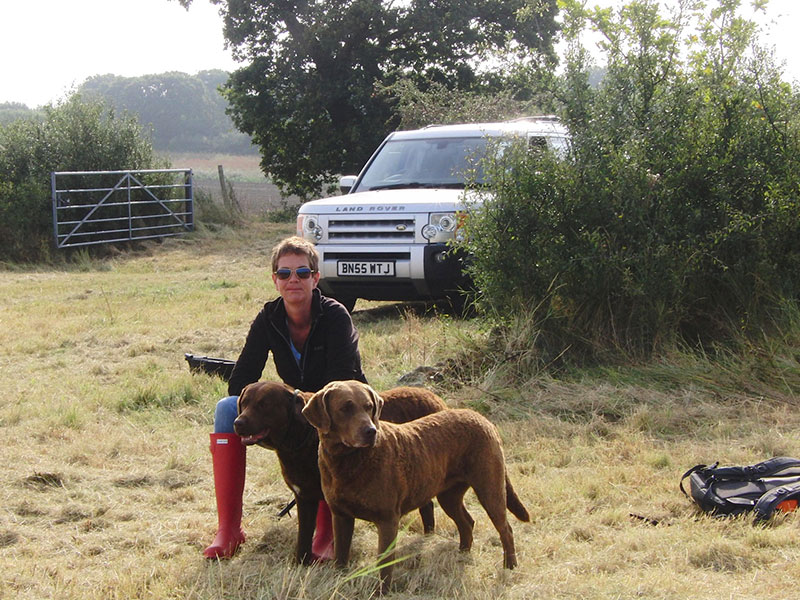 My travel companion Gaby was a well booked dog sitter!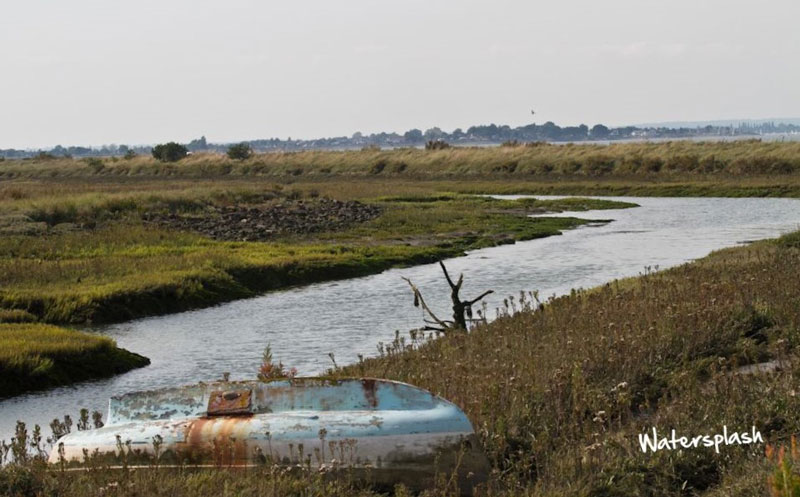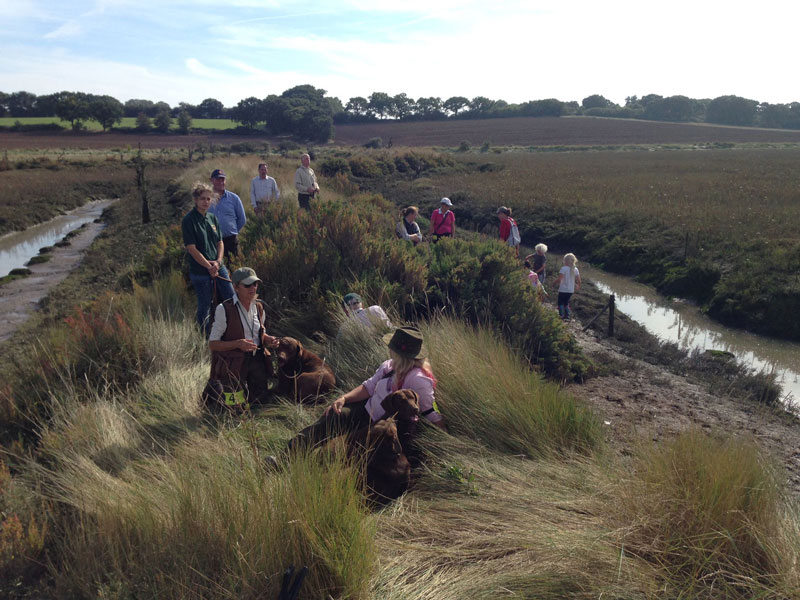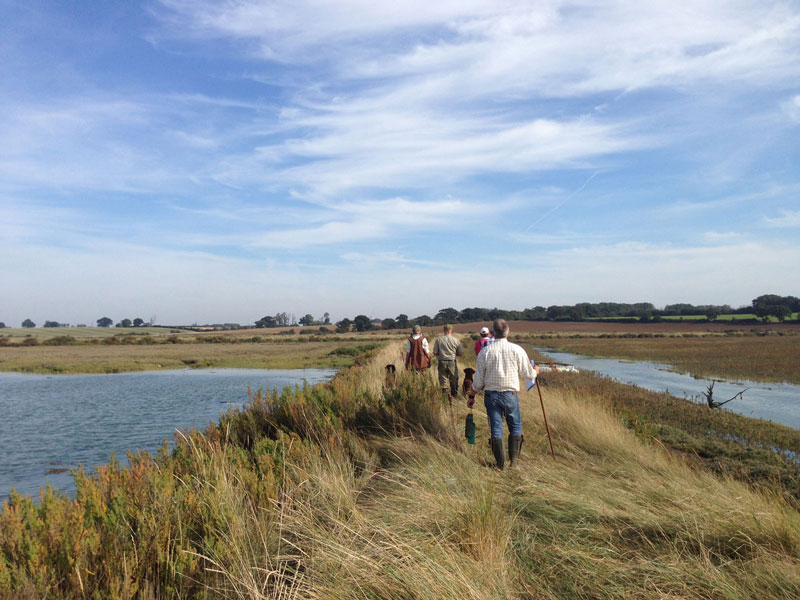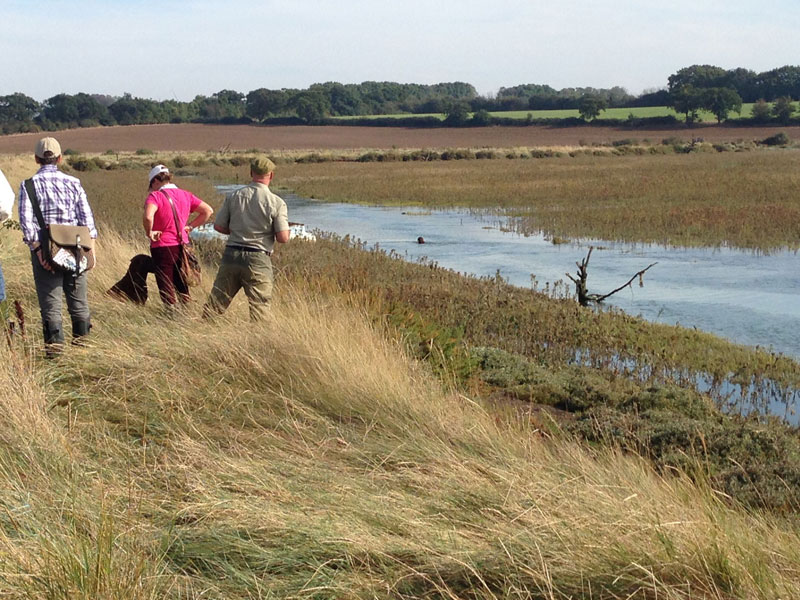 Niyol is looking for a Dummy which was floated away but he found it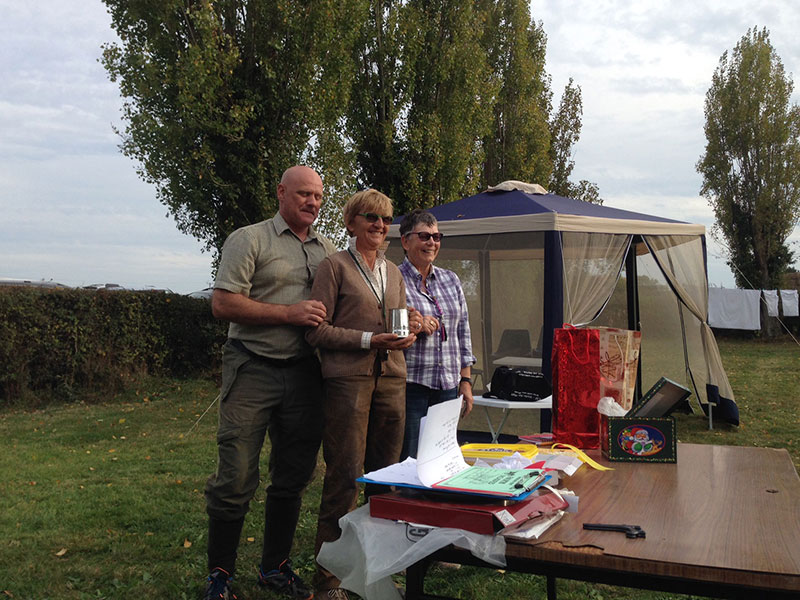 Judges joice: Niyol :) for me the best award one can get
---
CHERRY HARVEST July 2014
"Meggie" (a sister of "Mato") is anytime and always allowed to steal the cherries' because the orchard is owned by her master :-)
---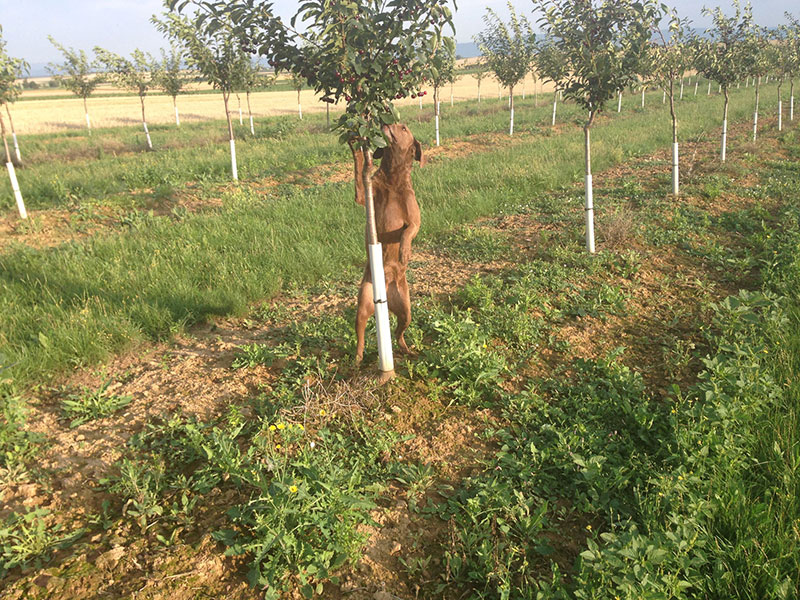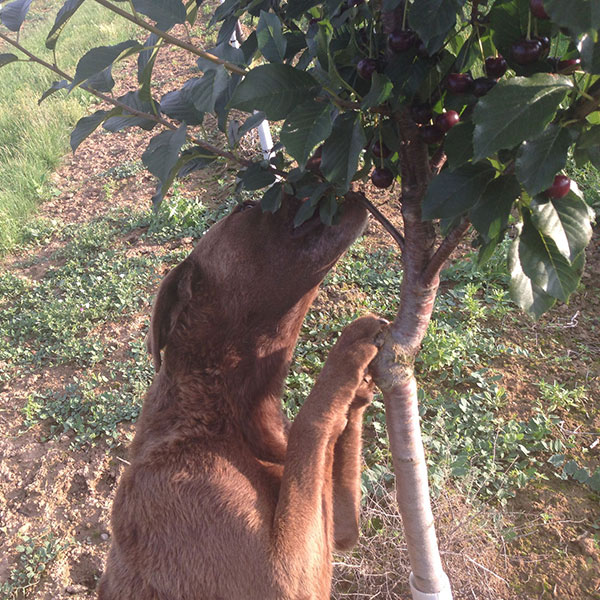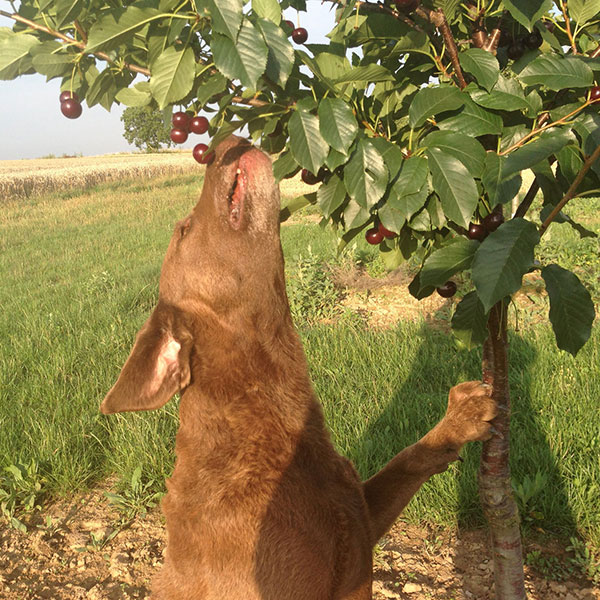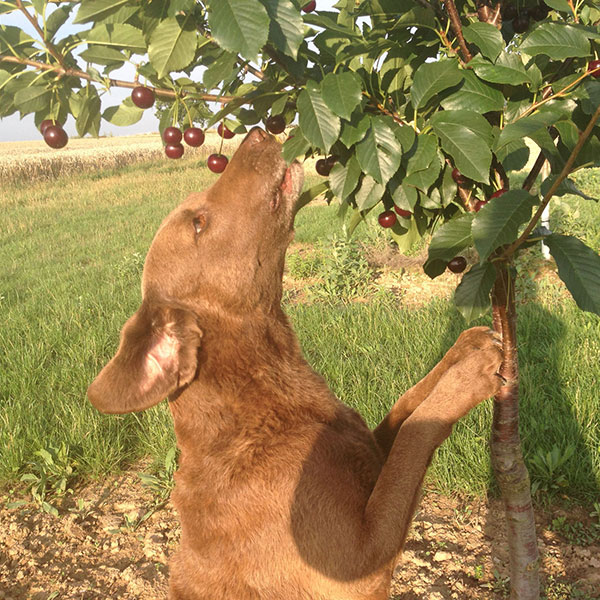 ---
CLA GAME FAIR 18th-20th JULY BLENHEIM PALACE UK
Judges Euro Challenge: Phil Bruton and Glynis Hillier Chief Steward: Mary Jane Opie
---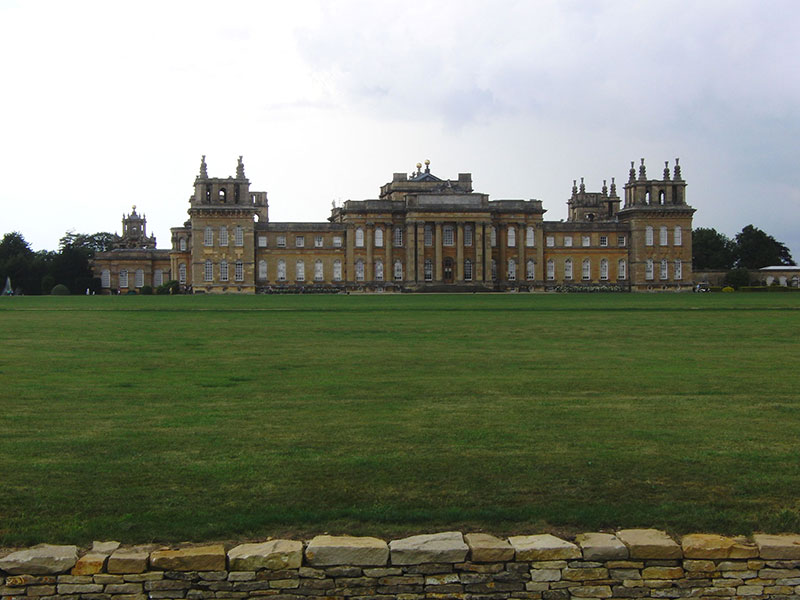 Blenheim Palace from the rear side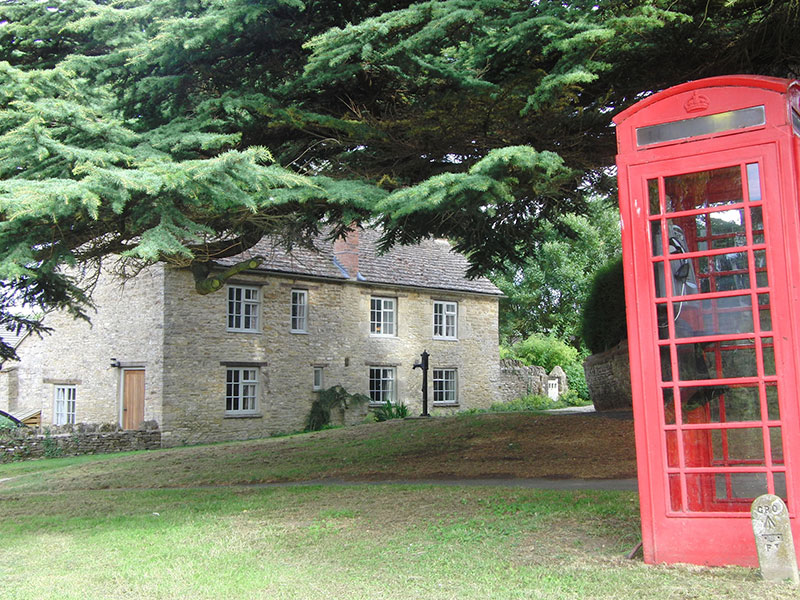 During the CLA we stayed in wonderful Witney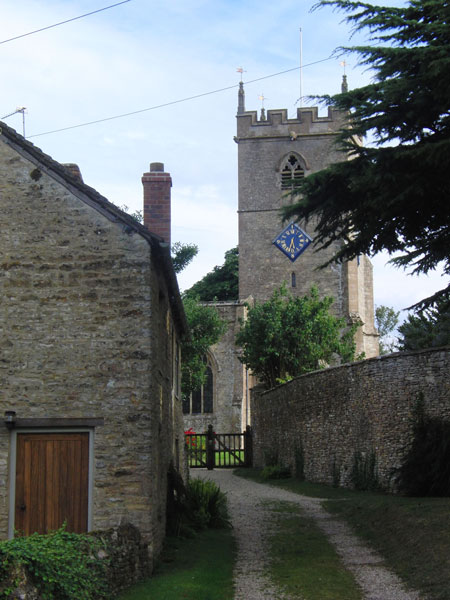 Witney's od church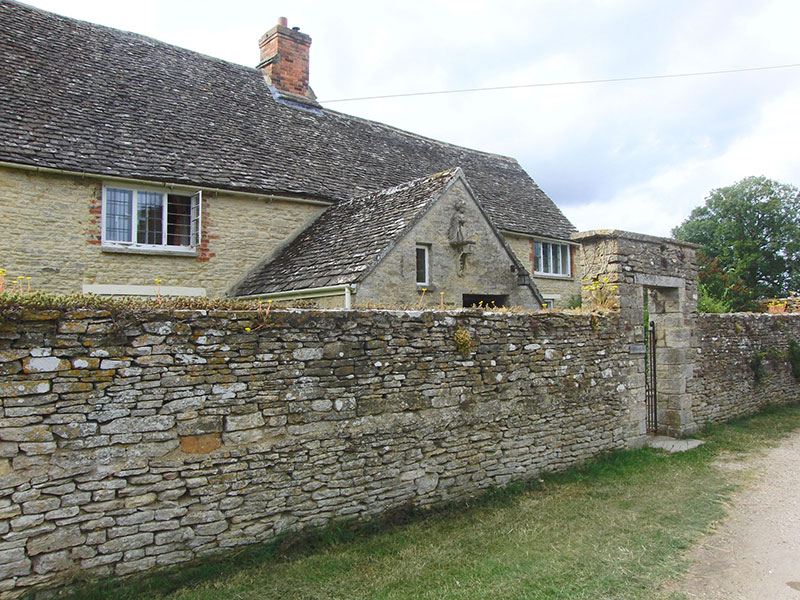 Our cosy B&B from the street and...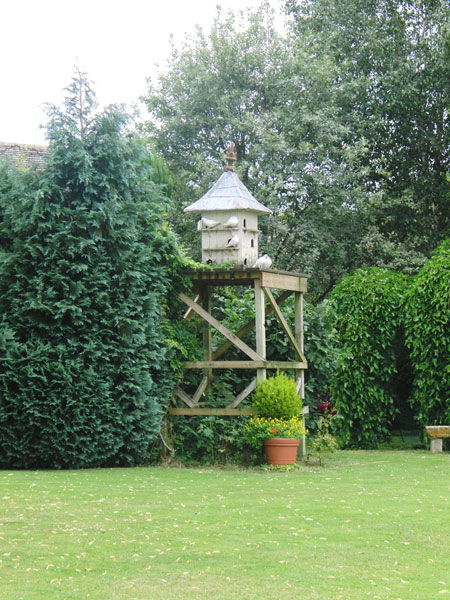 The pdgeon loft in the garden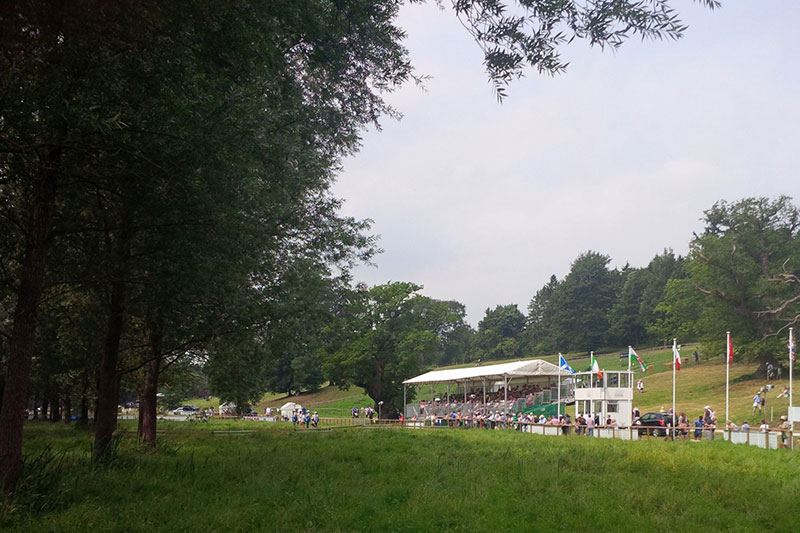 The international Gundog arena with well filled grand stand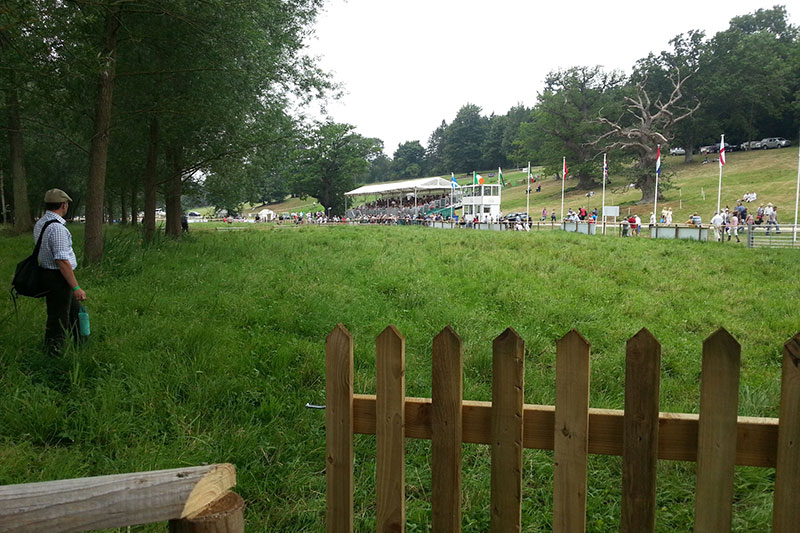 Ready to throw a dummy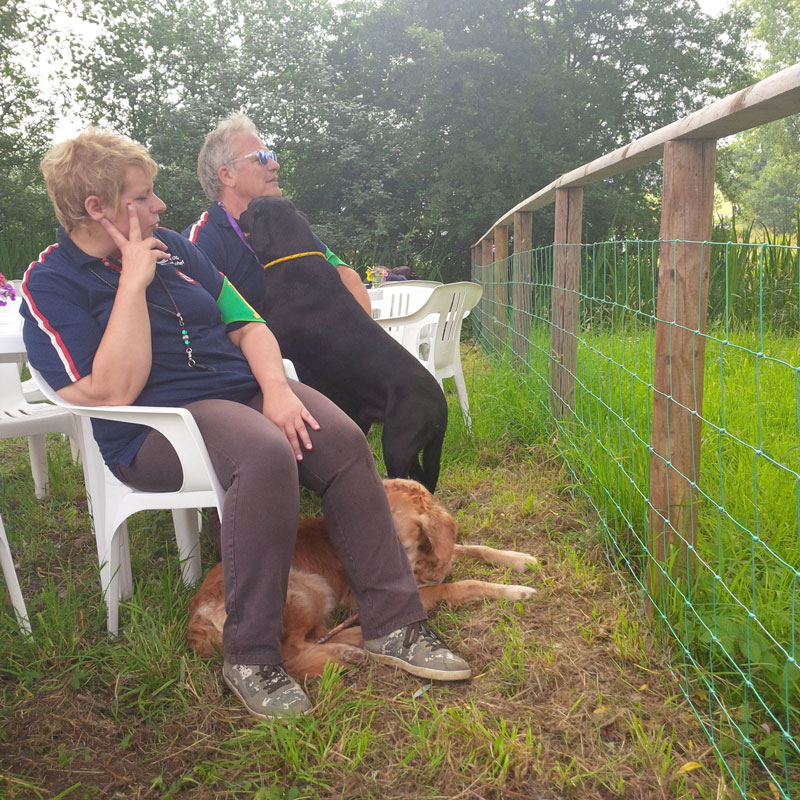 Beatrice and Steve with their dogs: do they look nervous?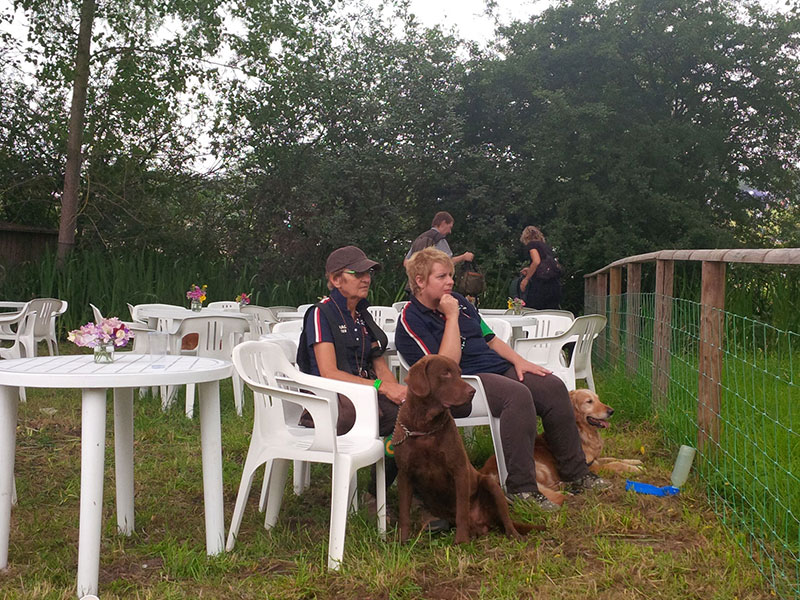 Beatrice, Ursula and dogs: definitely focused!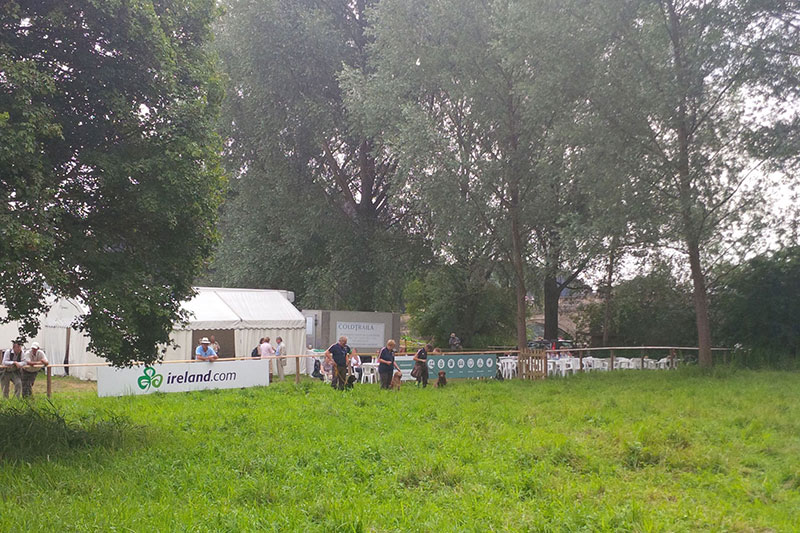 The Swiss Team ready for the first test...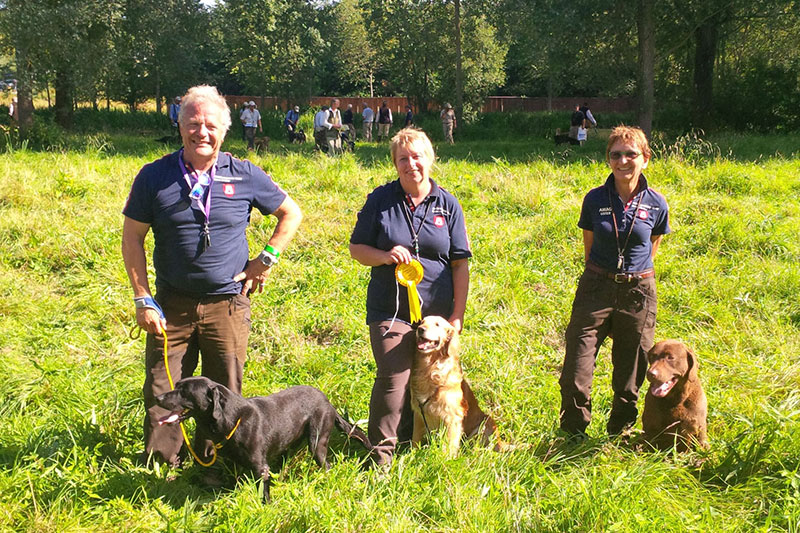 ...and very happy after finishing in 3rd place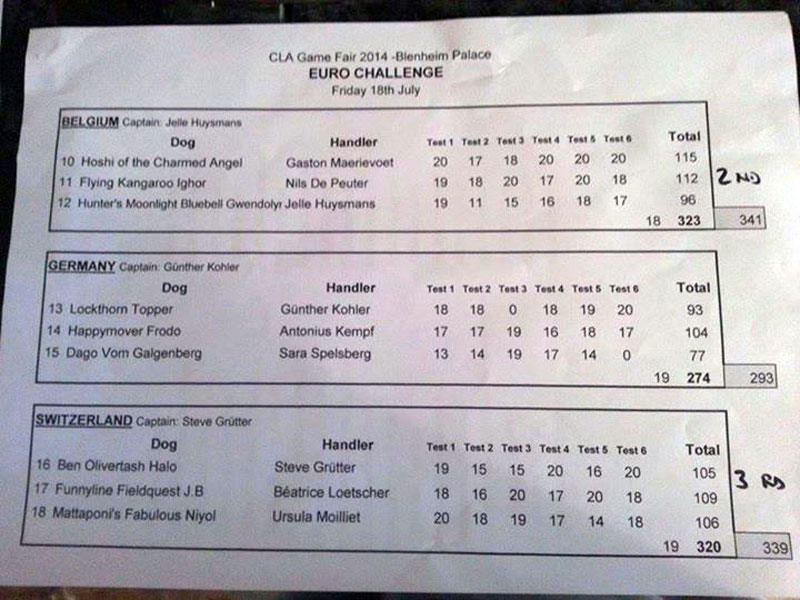 Foot-note: Martin Deeley of the Commentary Team "I have seen many Chessie's in my live but non of them was as good as Niyol"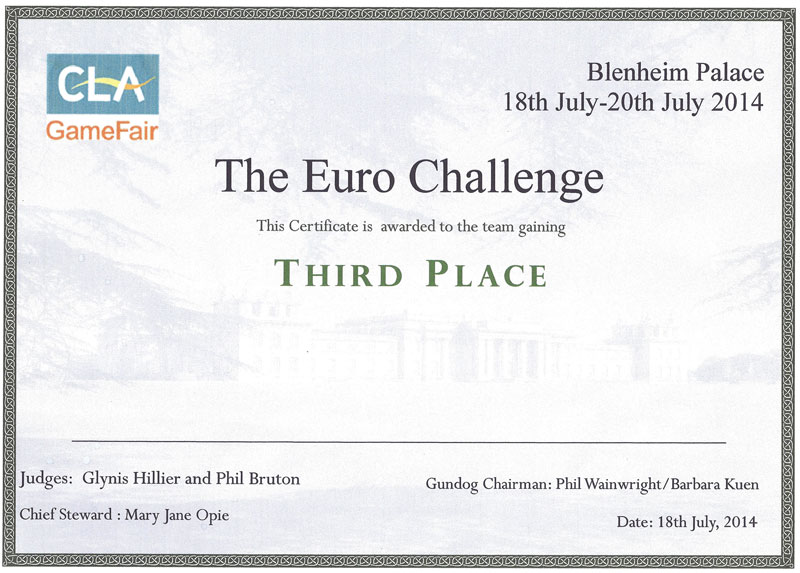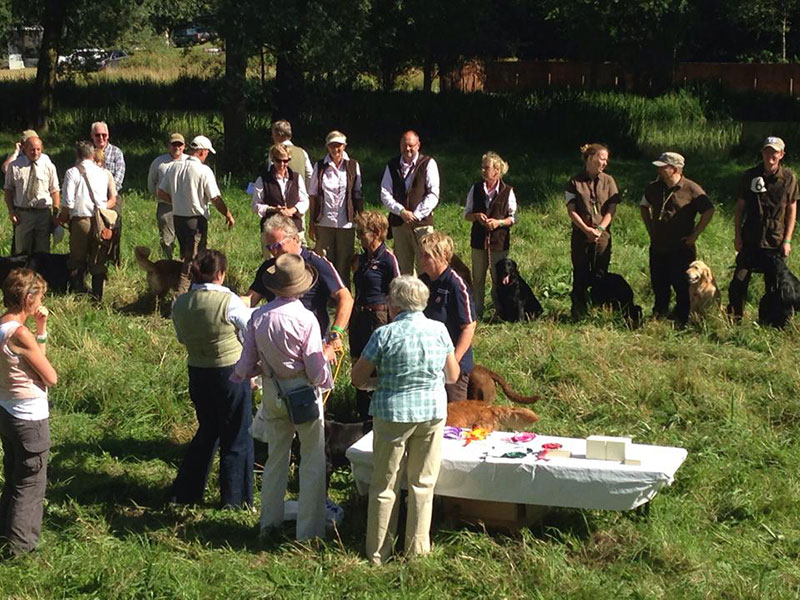 Price giving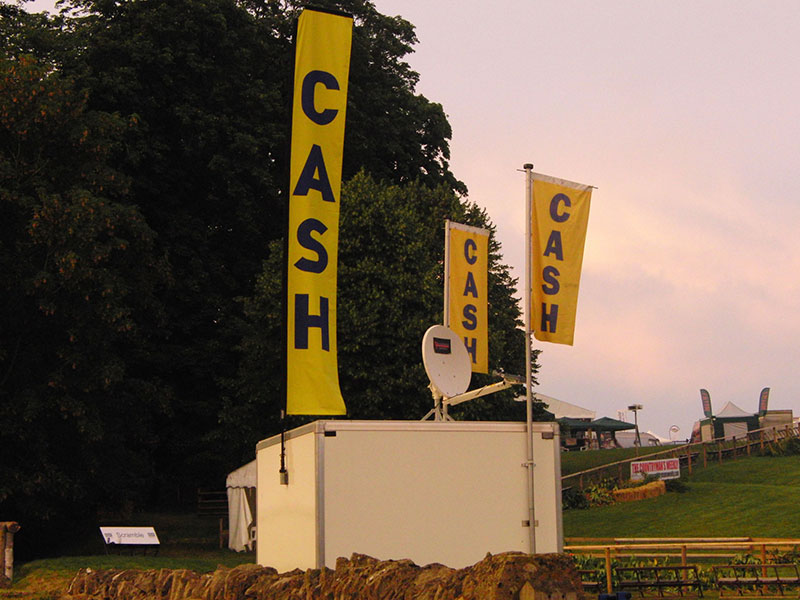 The place to go before starting the shopping adventure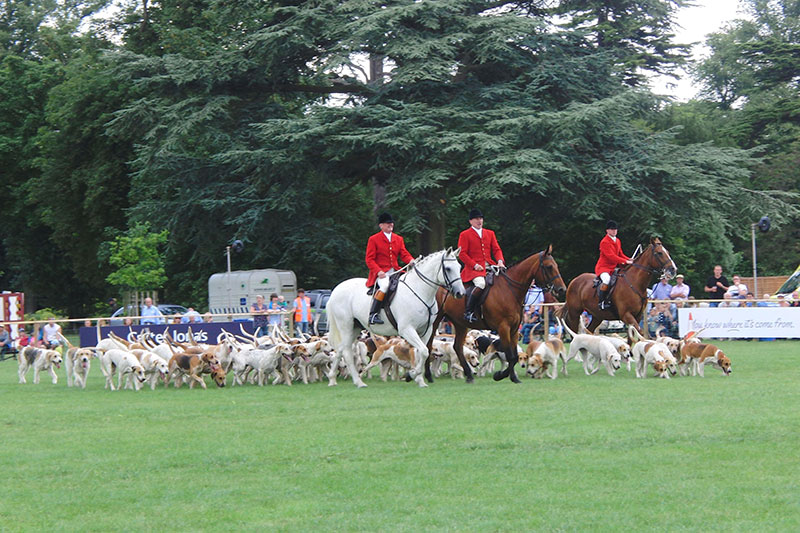 Old memorys of happy hunting in England. (Grafton Foxhounds joined by a pack of Bicester with Whaddon Chase Foxhounds)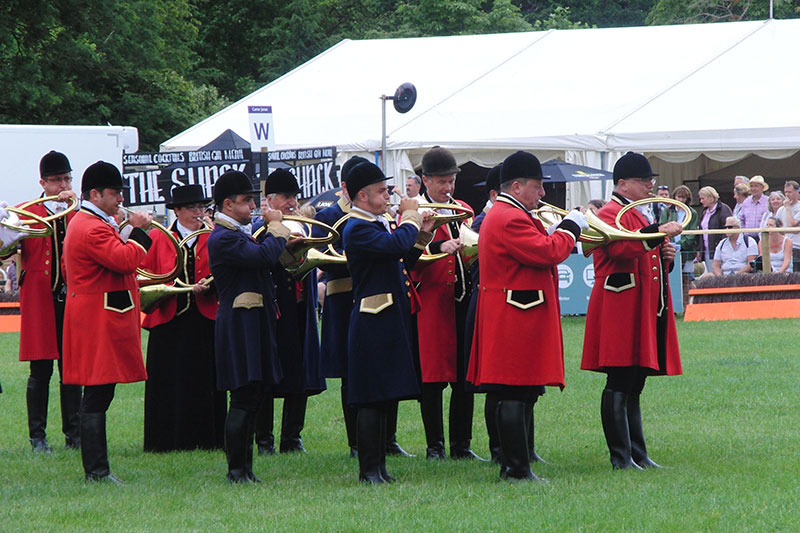 French hunting horns sending shivers through the crowd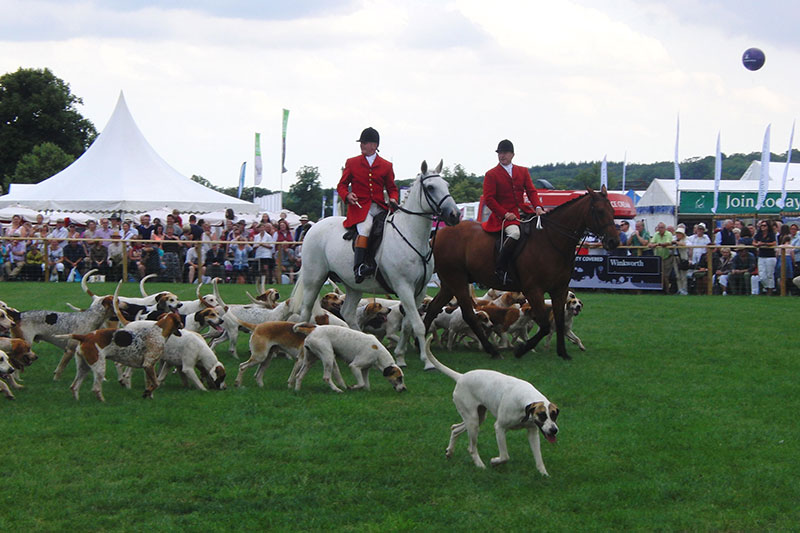 Beautiful hounds and hunting horses presented by their Masters and whippers-in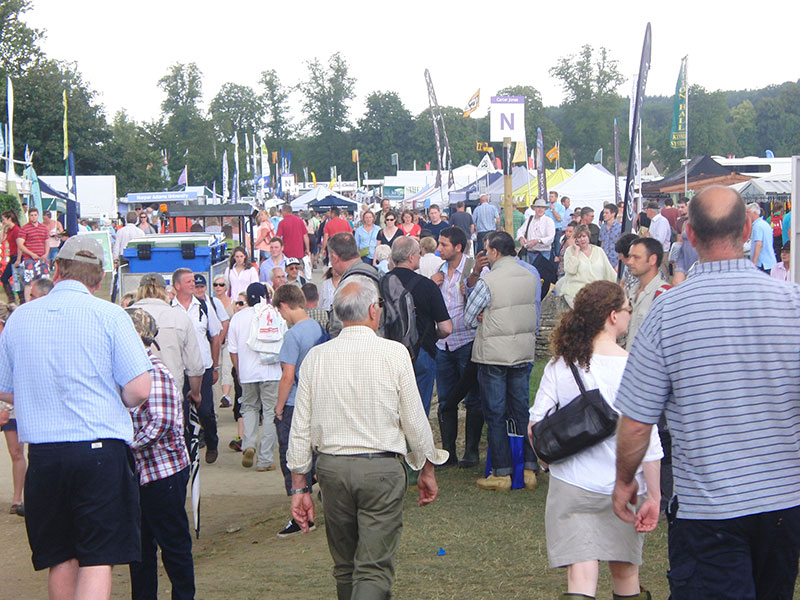 Crowds of people ready for watching, chatting, shopping and showing off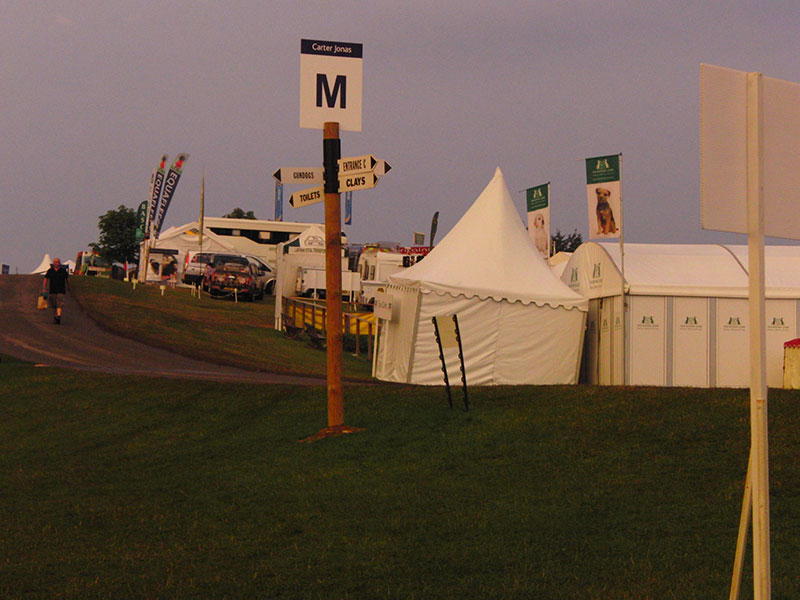 Quiet and peaceful after all visitors have left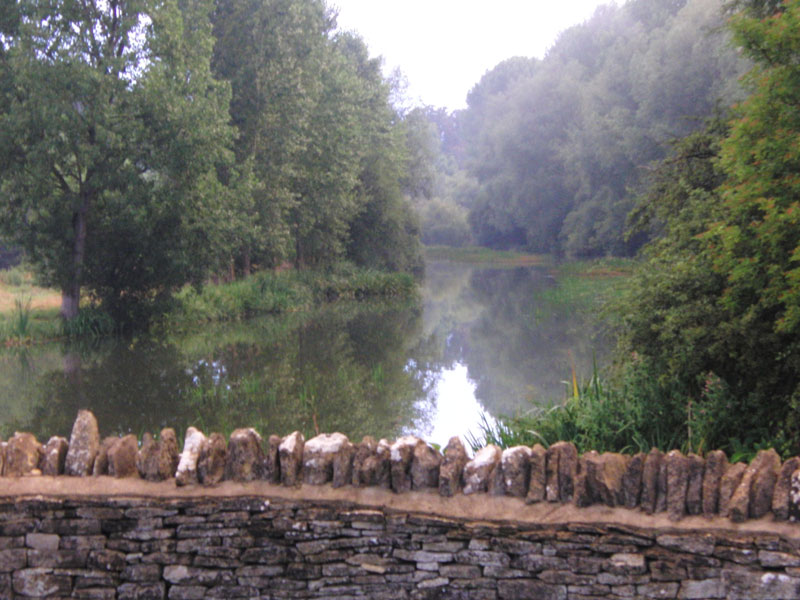 What a beautiful creek (river Glyme) seen from the old bridge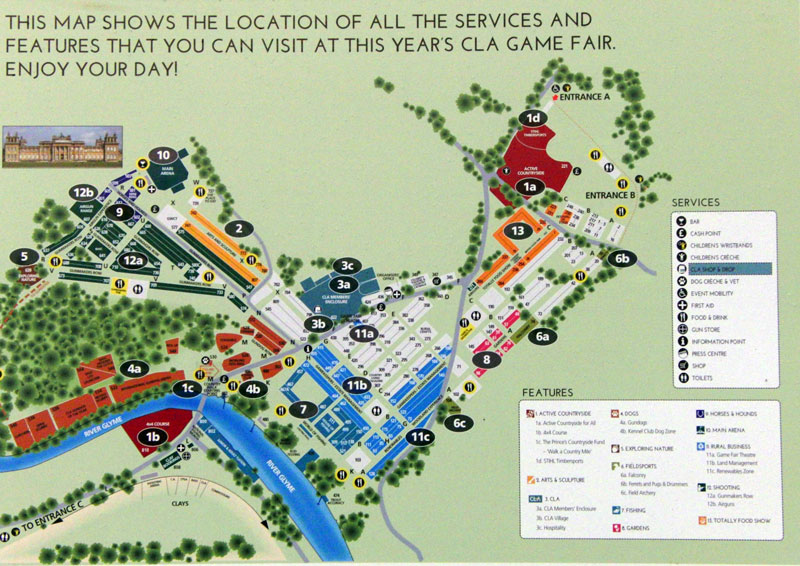 A city built for three days and 100 000 visitors!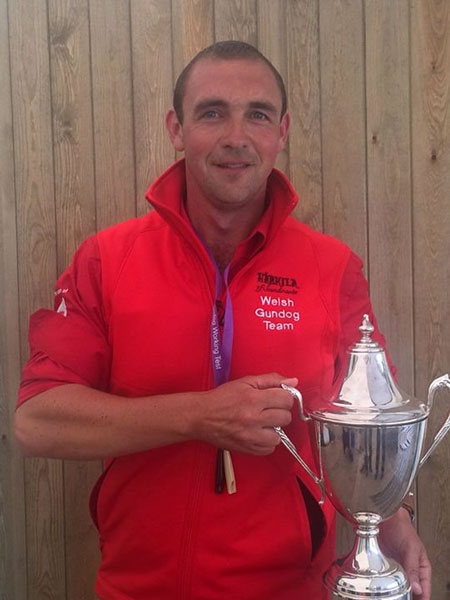 Jamie Bettinson presenting the trophy he won as trainer of the year. Congrats!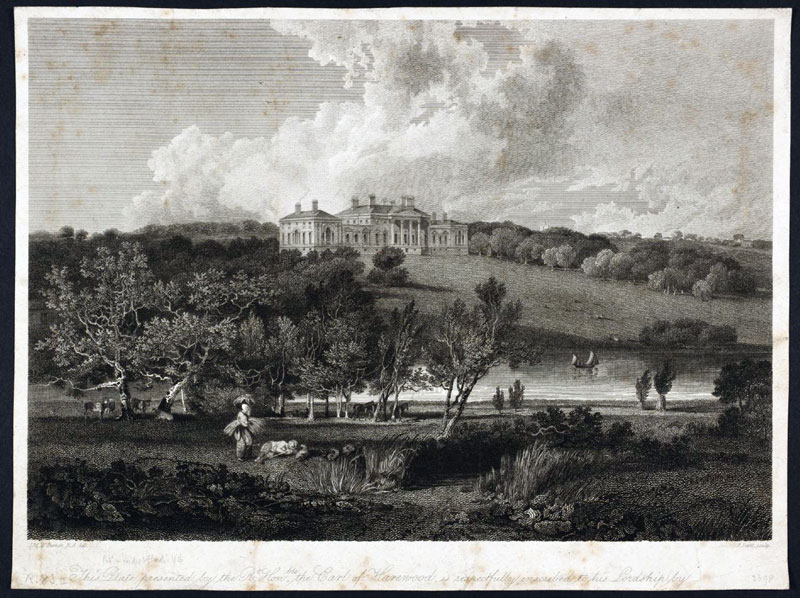 The CLA 2015 will take place on Harewood House. Come and join us!
---
CHESAPEAKES ONLY: CHESSIE WEEKEND GUTENBRUNN (A) June 20th - 22nd 2014
Pictures by: Chessie-Sachmet, Veronika Chromà / Moorhunde Fotografie, Elli Winter
---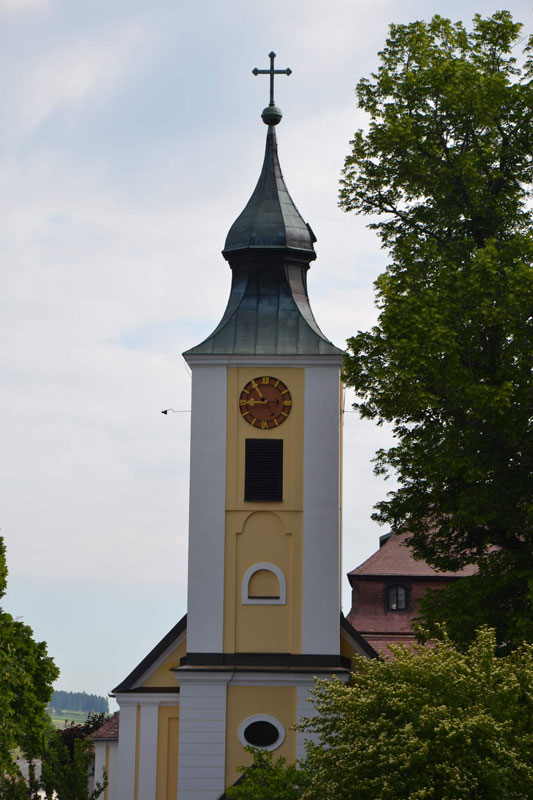 Gutenbrunn is a typical Austrian village surrounded by hills, lakes and open country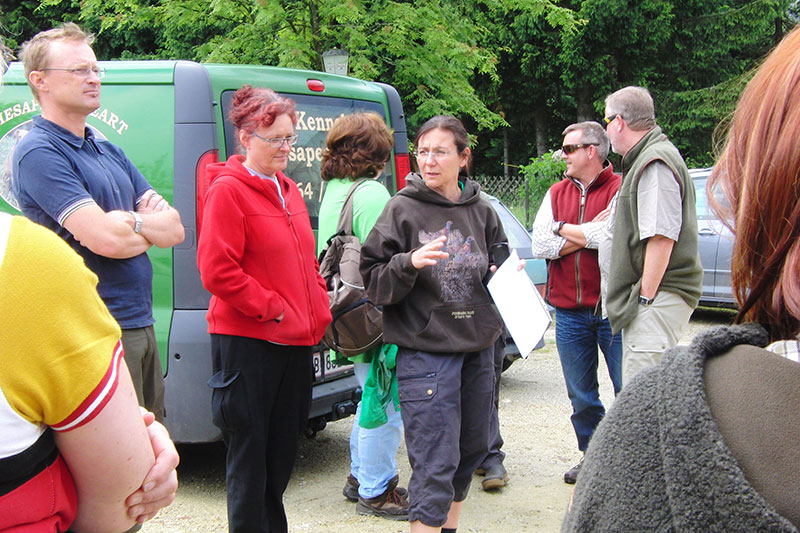 The organizer of the meeting Gerlinde explained the daily routines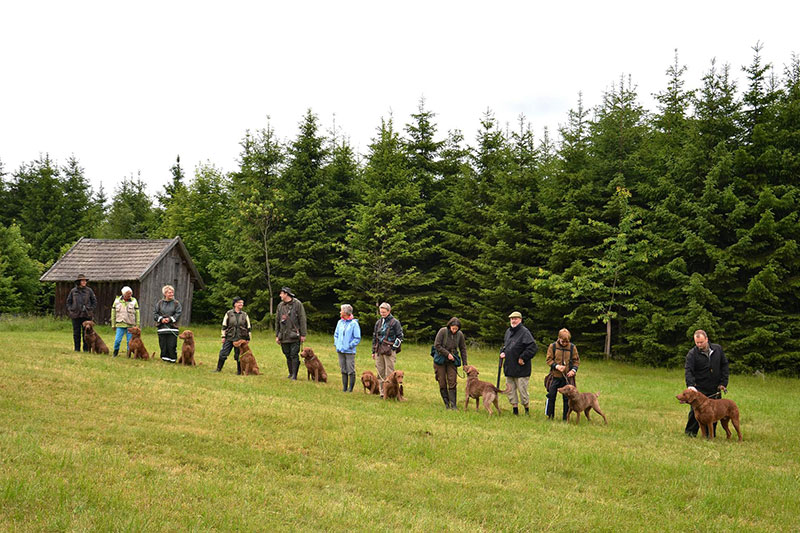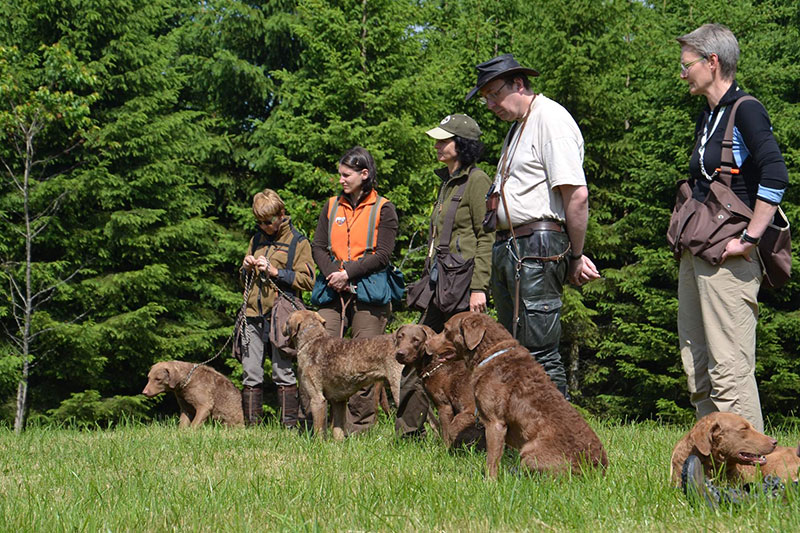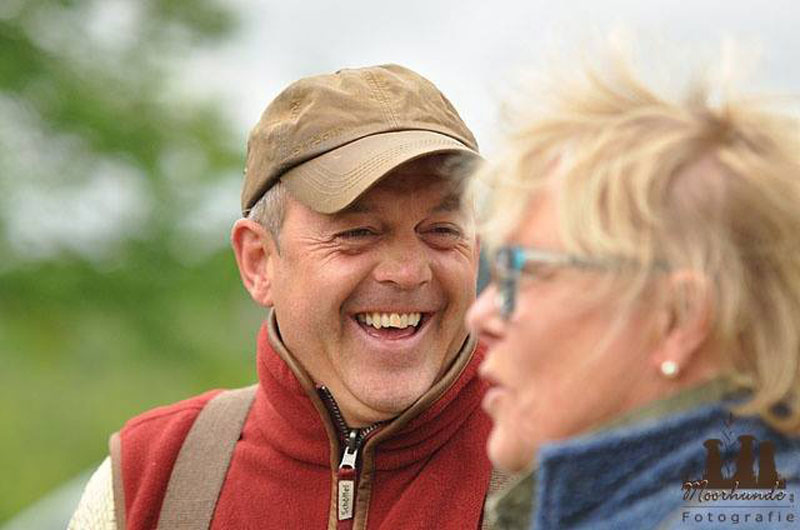 Jason Mayhew from GB, Catharina & Kaj Lindstrom from Sweden were invited to train and judge the "brown dogs"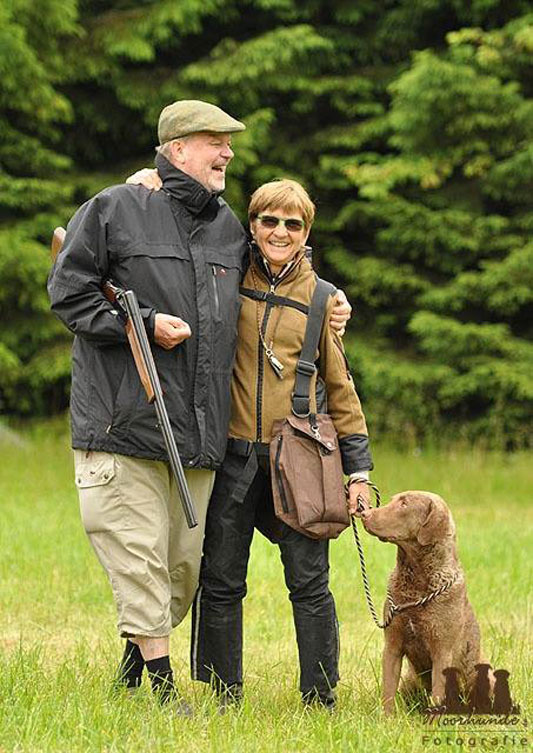 While Kaj Lindstrom and me had a good time and lots of fun, Gleam looked rather suspicious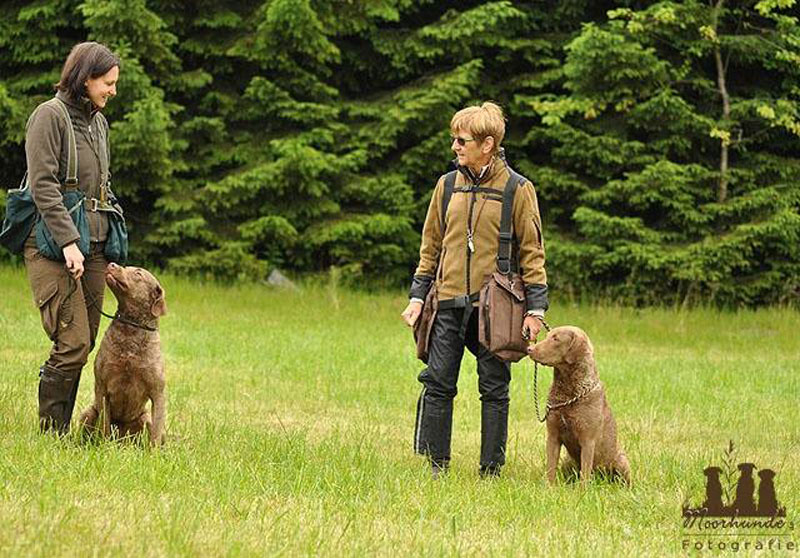 Chive looks really like Gleam's litter mate, but he is only her half brother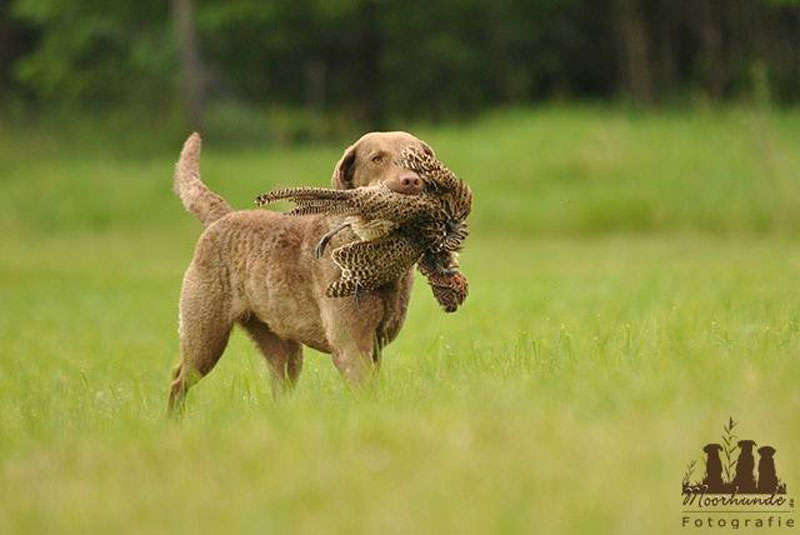 Gleam proudly retrieving a pheasant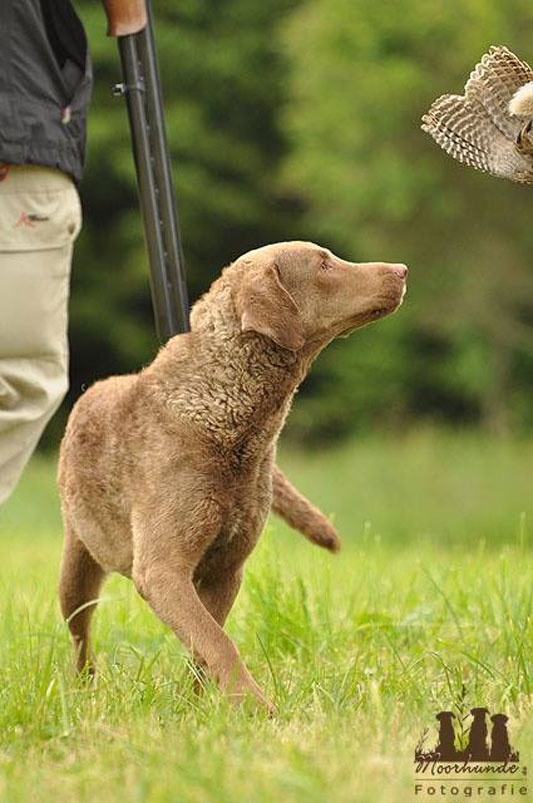 "To bad I can't keep it"...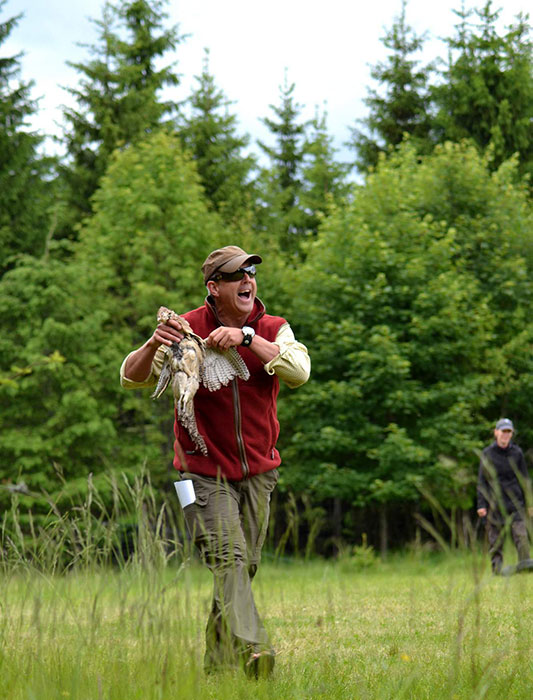 Trainers are retrieving too...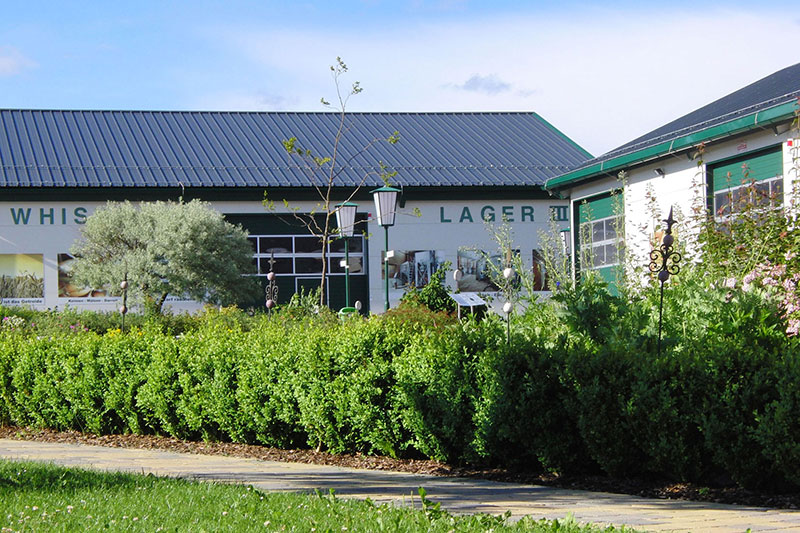 Austria's only whisky distillery founded 1995 in Roggenreith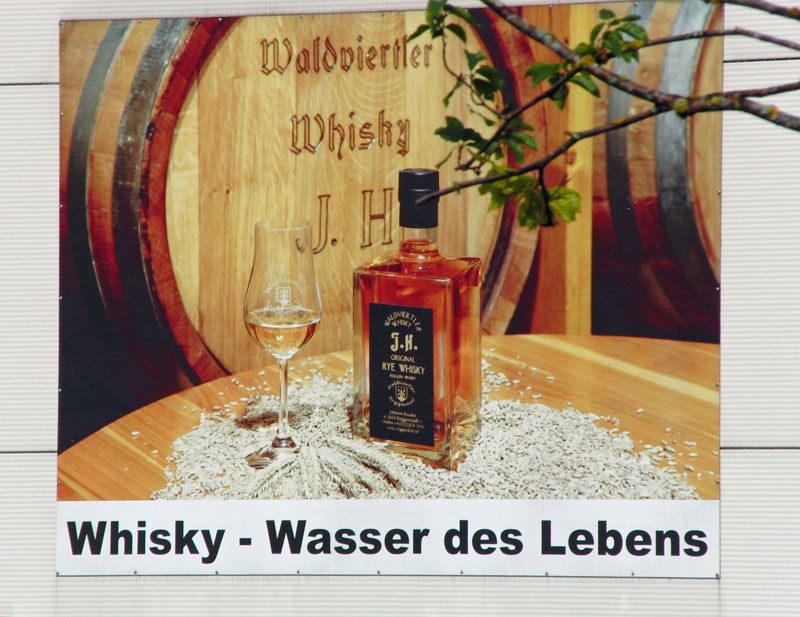 ---
CHARITY WT WINDSOR GB April 19th 2014
Judges: Alan Thornton, Phil Allen, Peter Clayton, Venetia Hugh-Smith, Judy Rainey, John Stubbs, Gareth Davis
---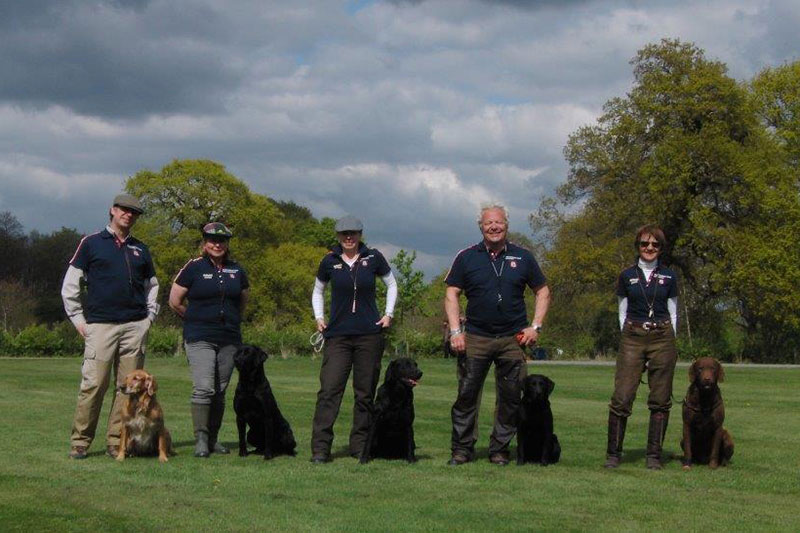 The Swiss Team from left to right: Werner Haag, Thelma Blumenthal, Jérémie Guéneau, Steve Grütter, Ursula Moilliet and their dogs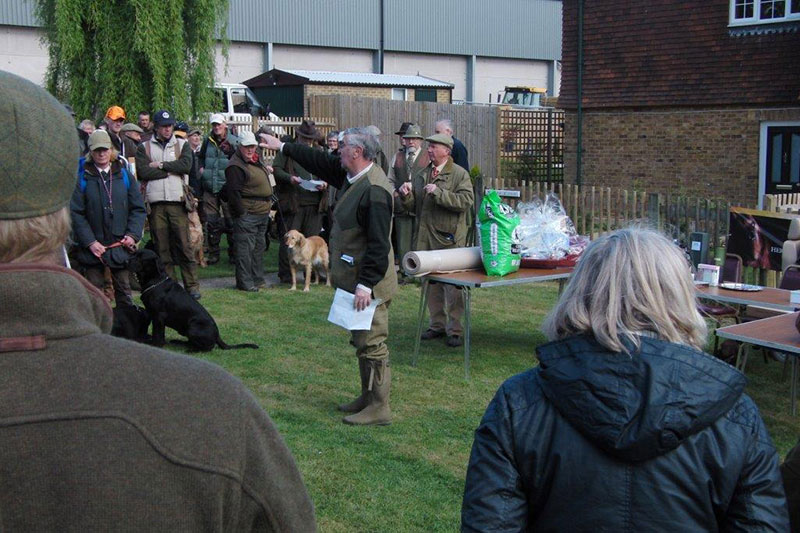 The keeper of the Queens Windsor Farm giving last instructions before the competition starts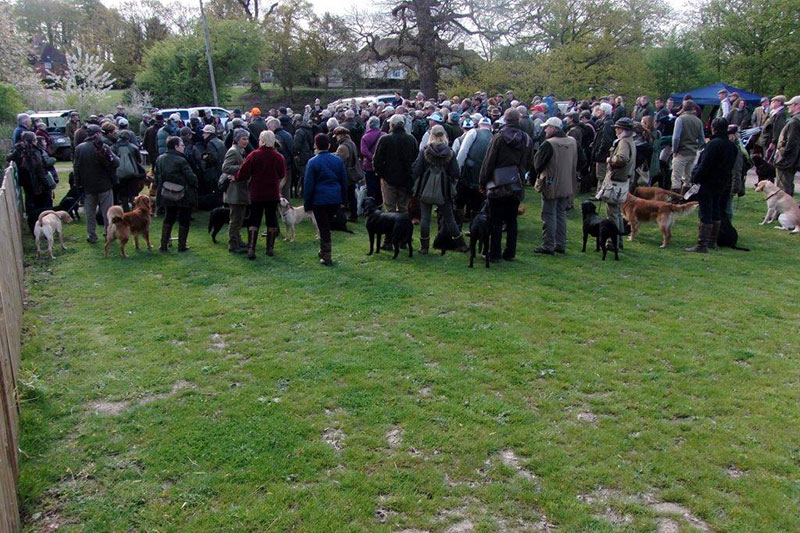 29 teams each with five dogs ready for the start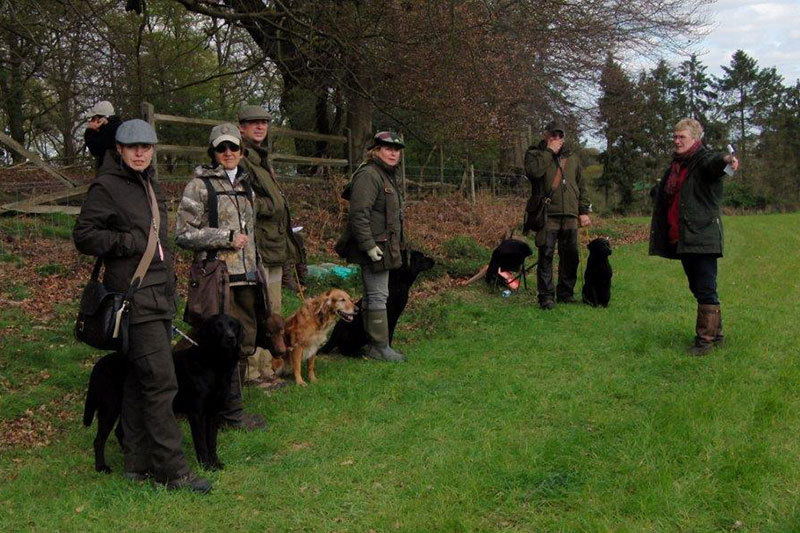 Test No. 5 with judge Judy Rainey explaining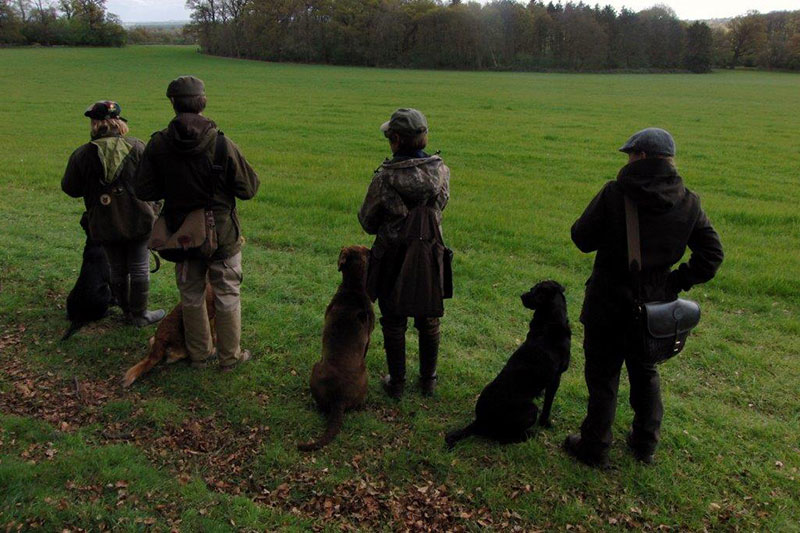 Swiss team members watching their captain working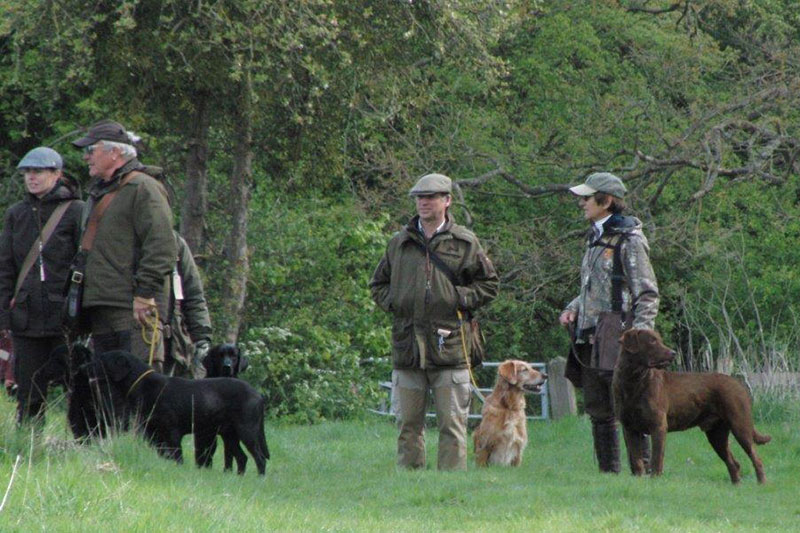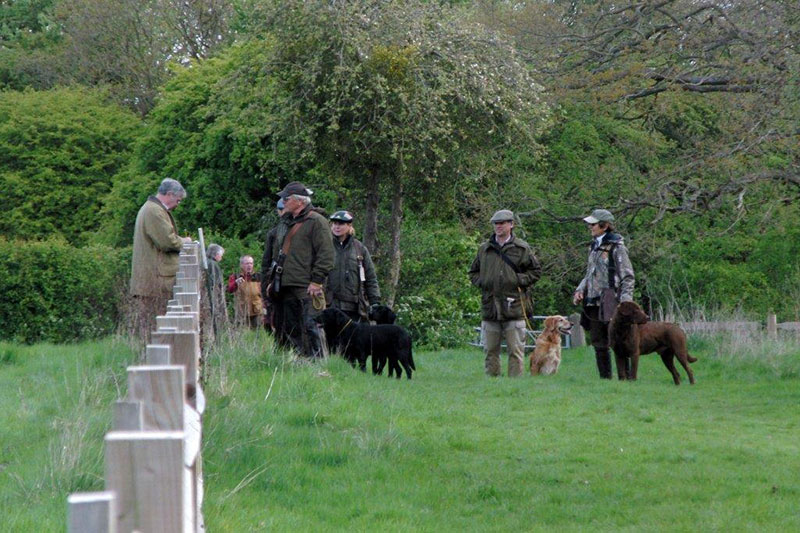 John Stubbs explaining test No. 6 on the water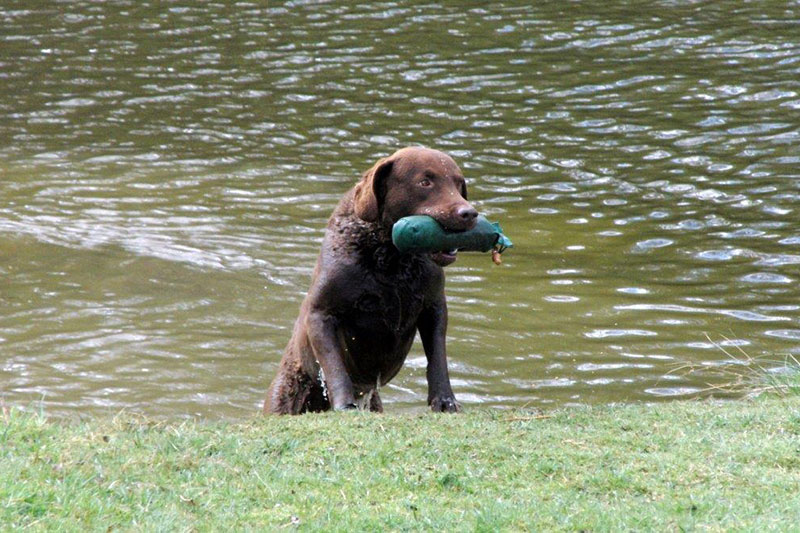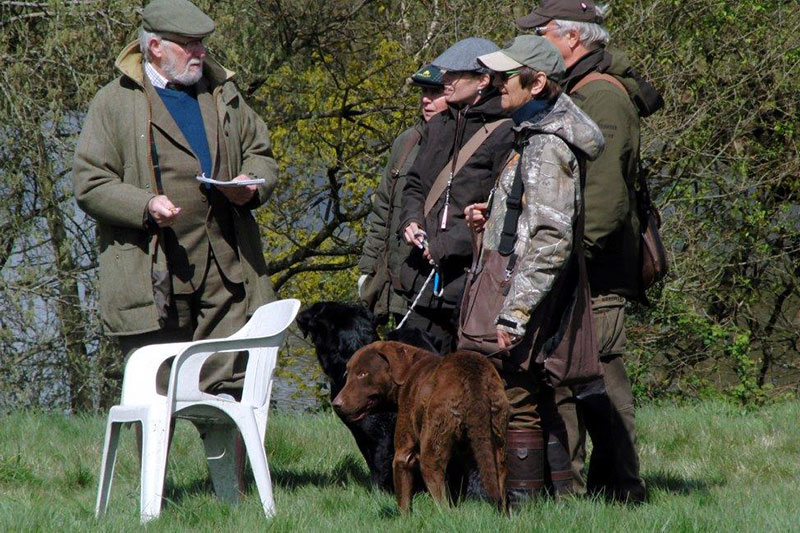 Gareth Davies preparing the team for test No. 7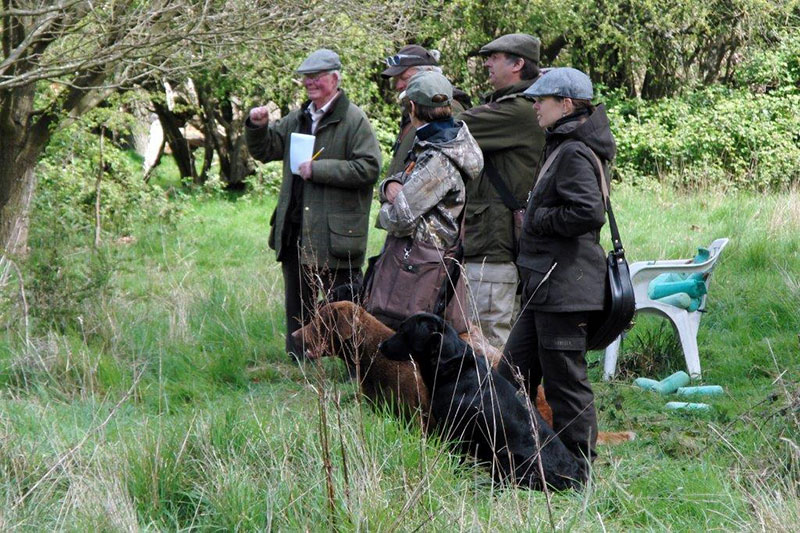 Alan Thornton judging test No. 1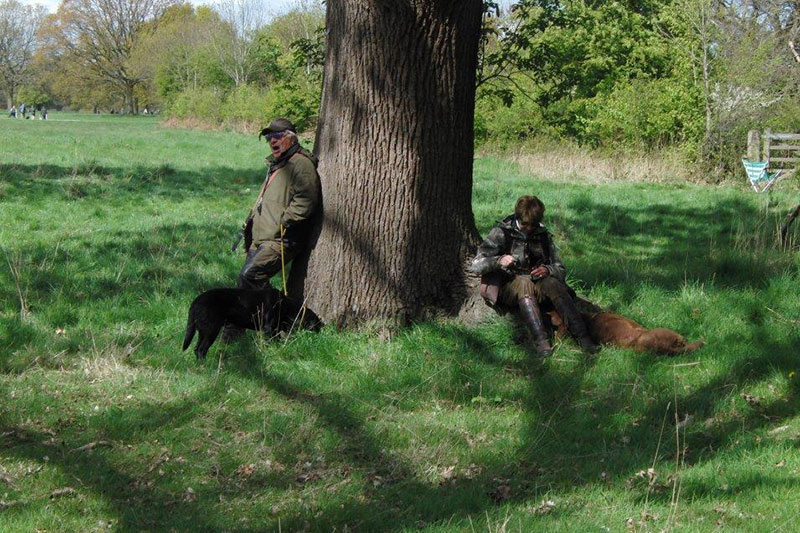 Man, woman and dogs ready for a nap...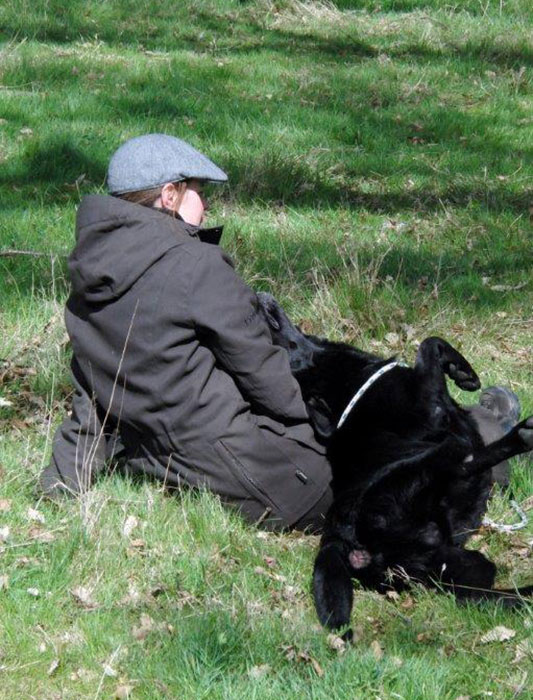 ...nap 2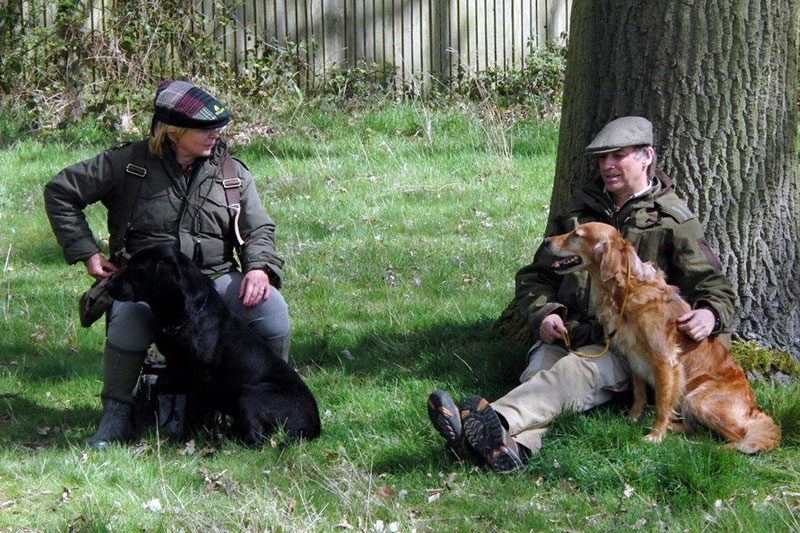 ...nap 3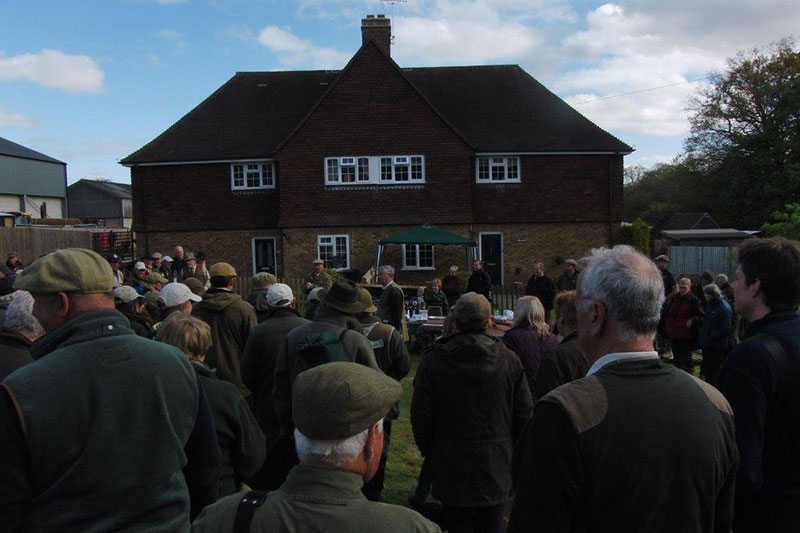 Price giving after a long eventful day. The start was at 9.00 am for 29 teams with 145 dogs, each doing 7 tests and the price giving at 5.30 pm; 1h lunch break included. What a difference to continental working tests!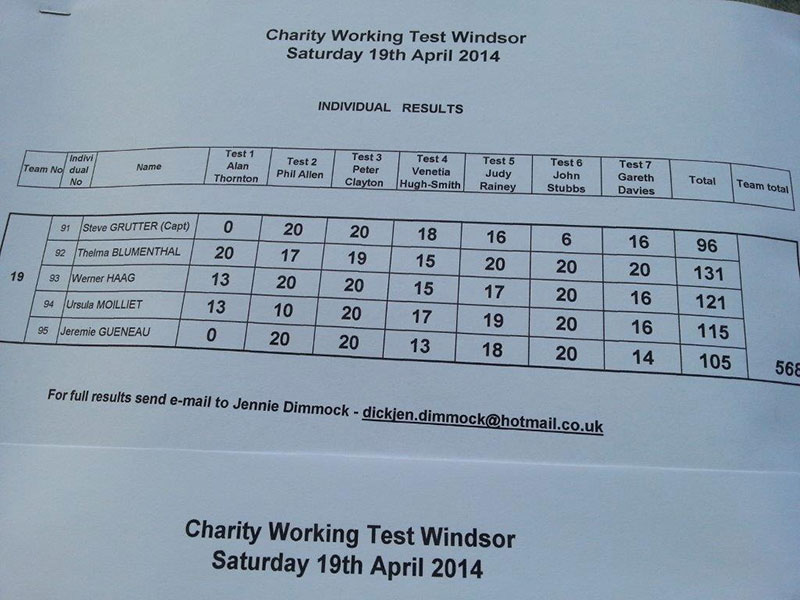 ---
TIME OUT IN WALES GB April 2014
Like every year in spring we spent a few days in Wales and like every year in spring the weather was lousy but you get used to it...
---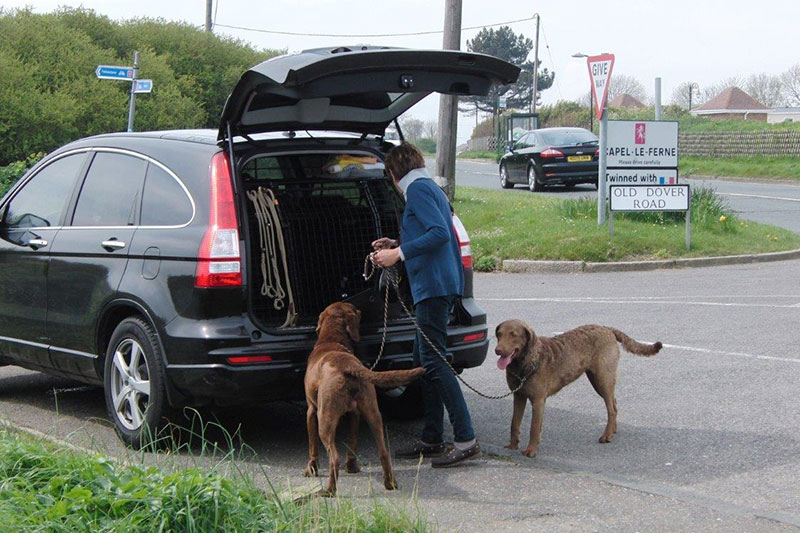 Shortly after arriving in GB Niyol and Gleam had a chance for a walk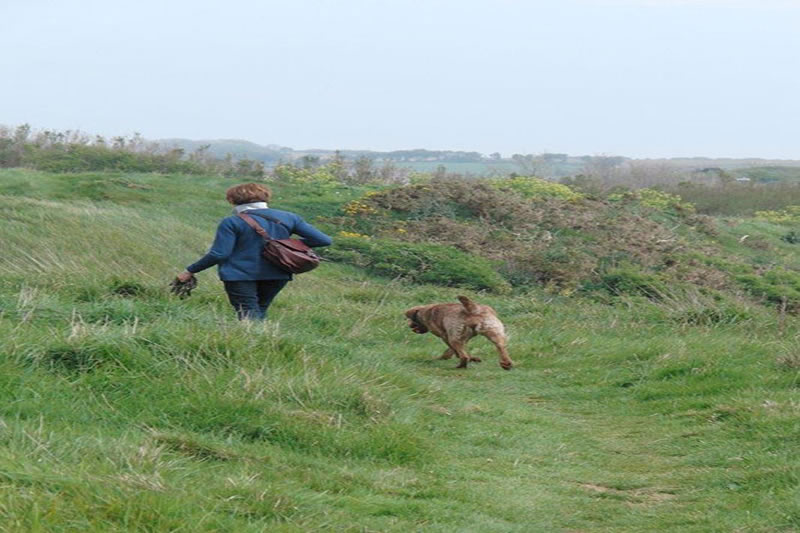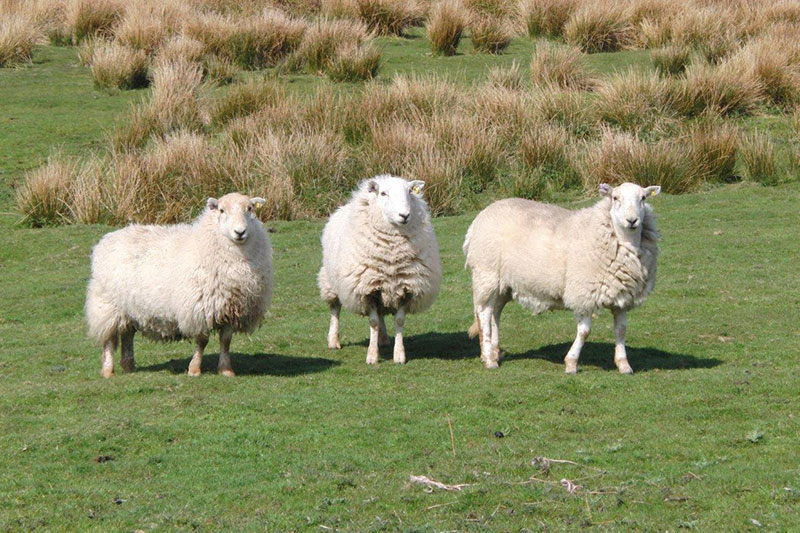 It seems that in Wales sheep's are all over the place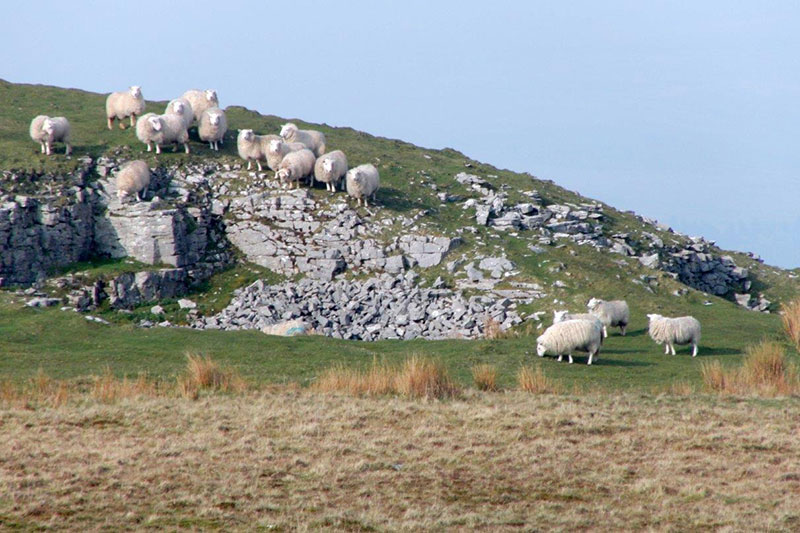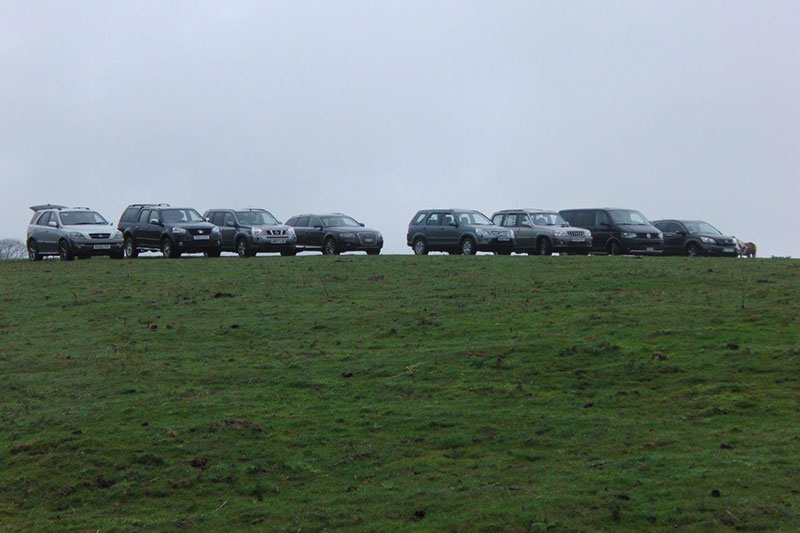 The participants of the training session with Mark and Jamie Bettinson are well educated - see the parking order!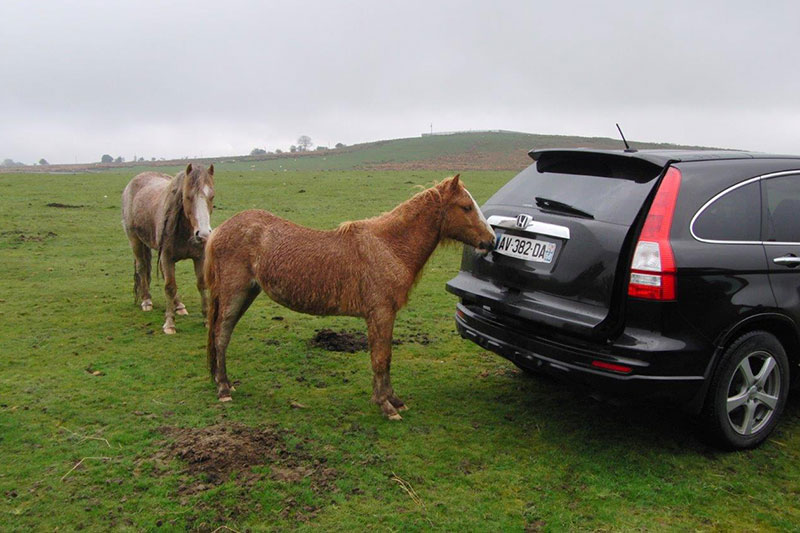 This Welsh pony obviously has never seen a French license plate before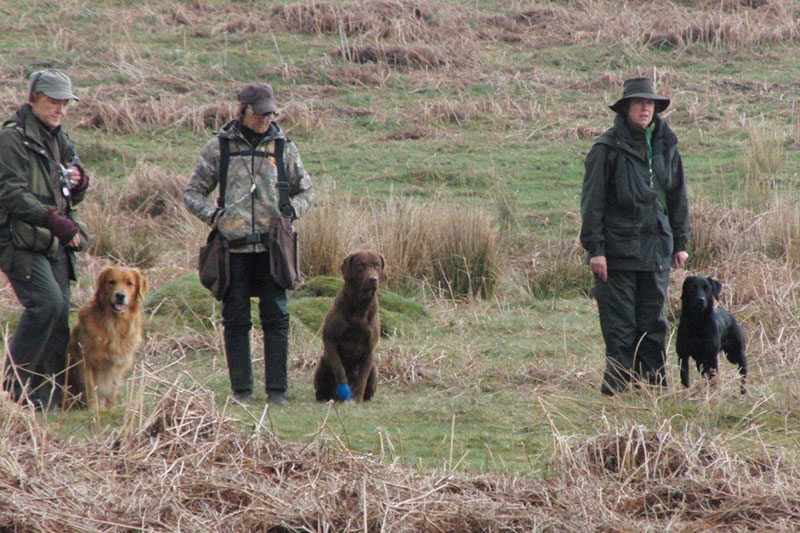 Over and over again we are getting our lousy weather and Niyol his minor injury on arrival in Wales :(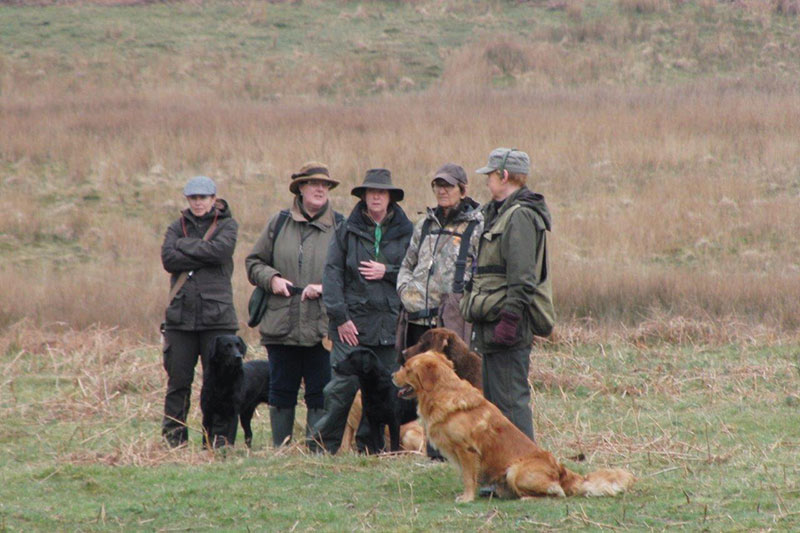 jpg Indeed it was chilly. But gloves in April...?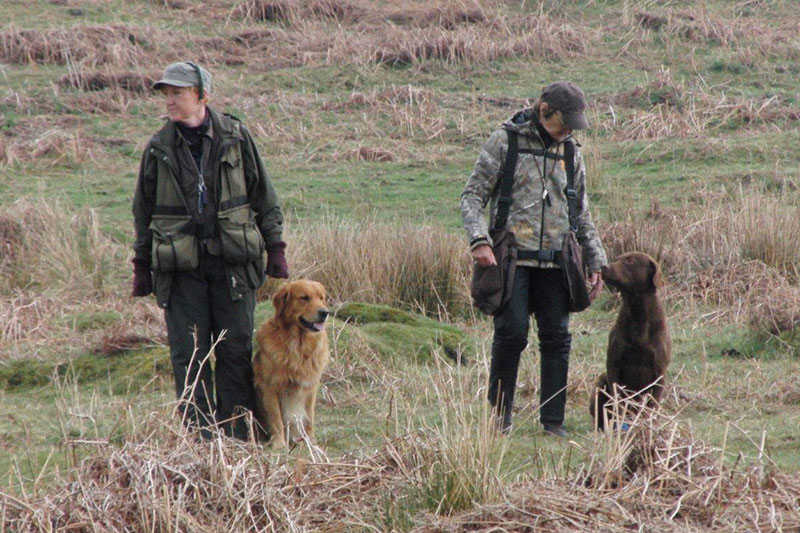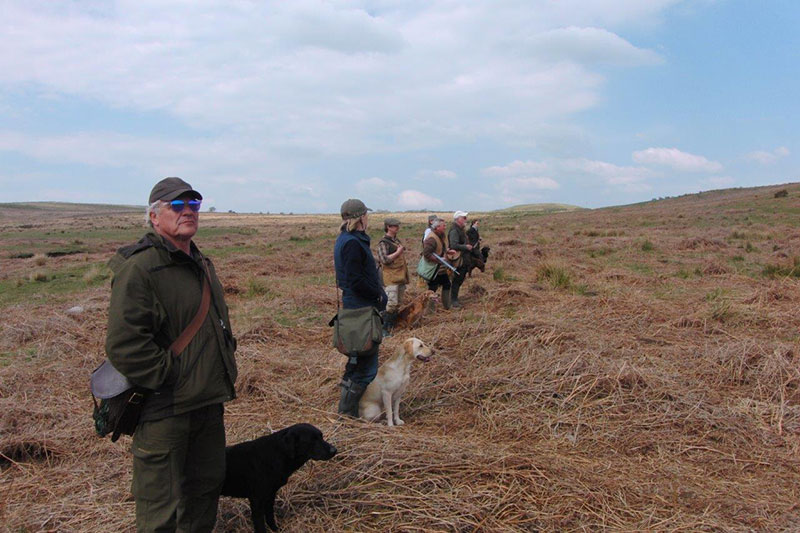 Some are wearing gloves while others rolled up the sleeves...
---
OUR NEW HOME
---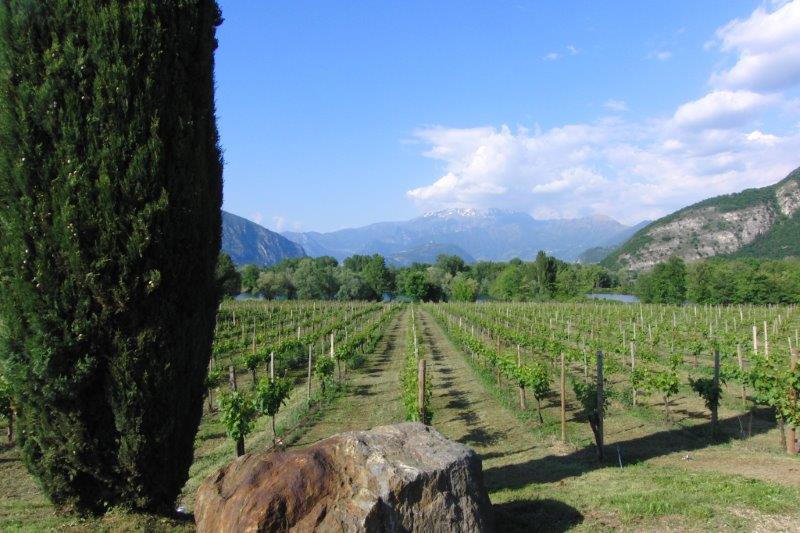 We live in the territory of Franciacorta, a section of the Province of Brescia, Lombardy. It's well known for its sparkling and still wines.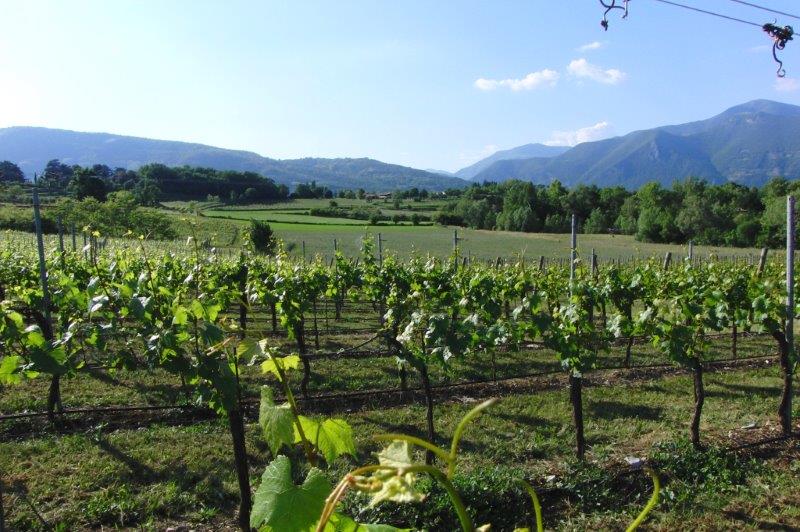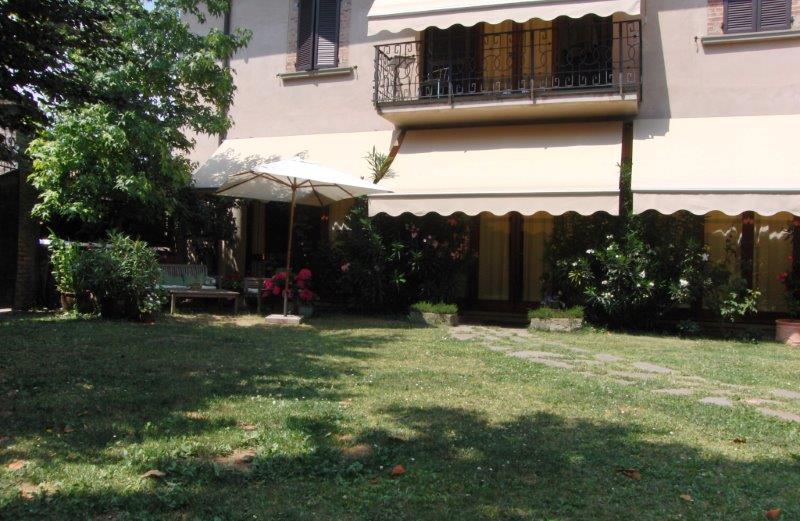 We live in an old town house in the middle of the village but as you see we don't miss a lovely garden.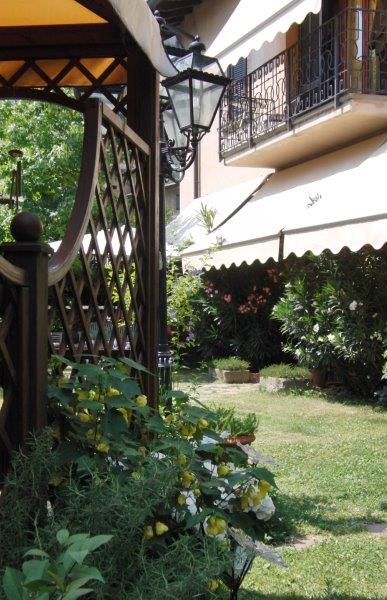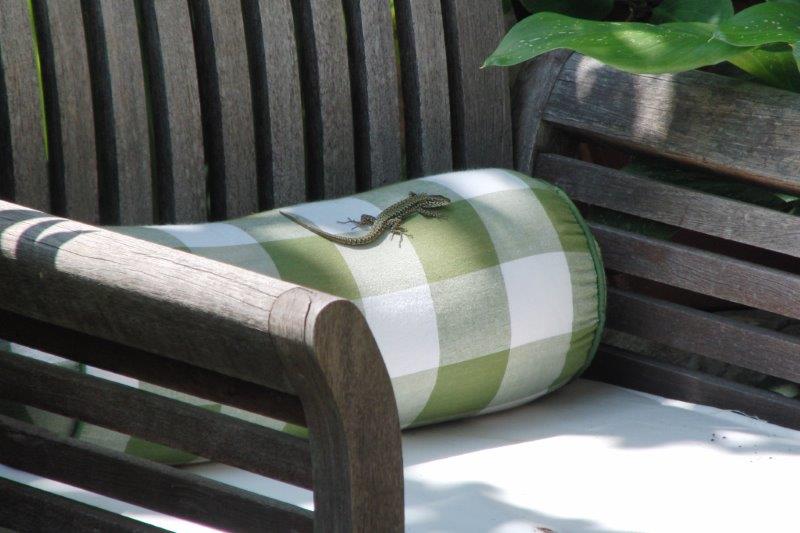 Not only the dogs love the garden but also lizards, a variety of birds and the turtles which have their own house.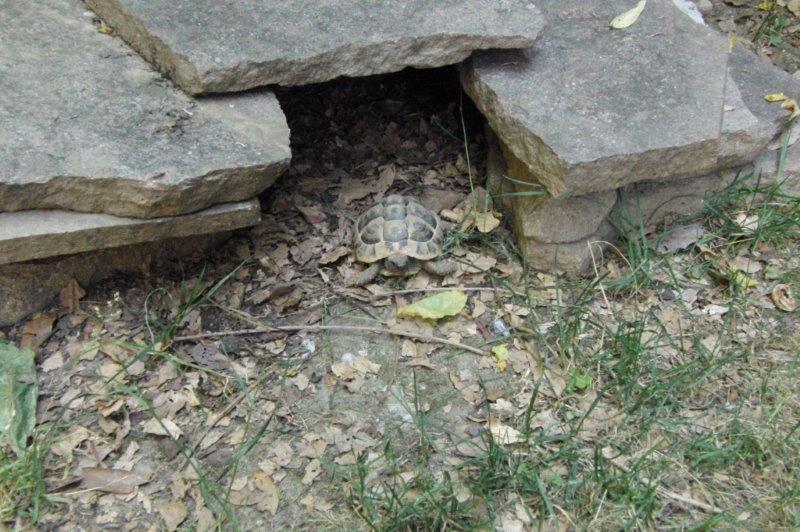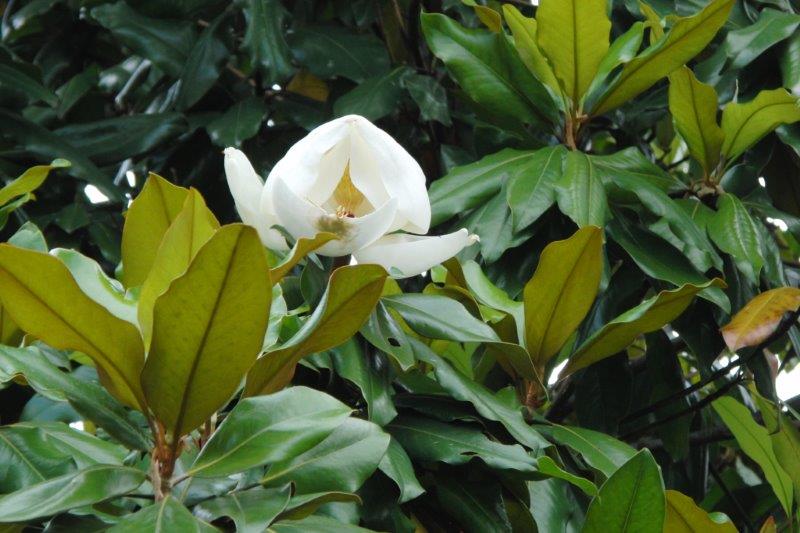 We have some large od trees which are flowering beautifully. Do you know the name of this tree? Let me know!!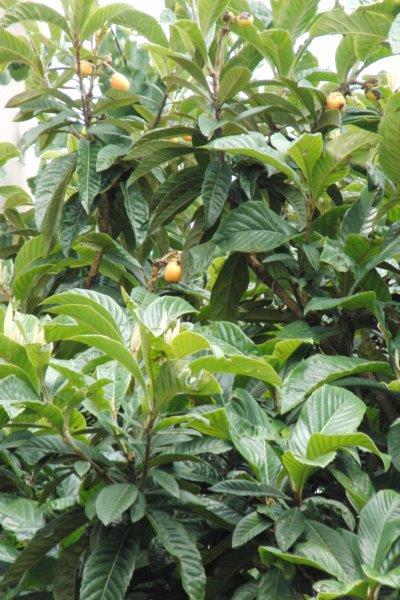 This is a huge Nespole fruit tree.
Either you like the fruits or not. I am not fond about them but the dogs are...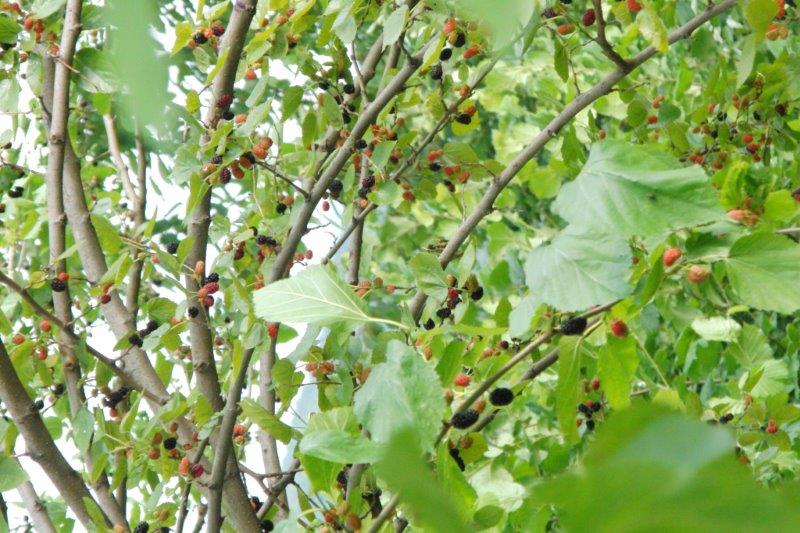 In earlier times people used to have sericulture's. Therefore you find many Mulberry trees...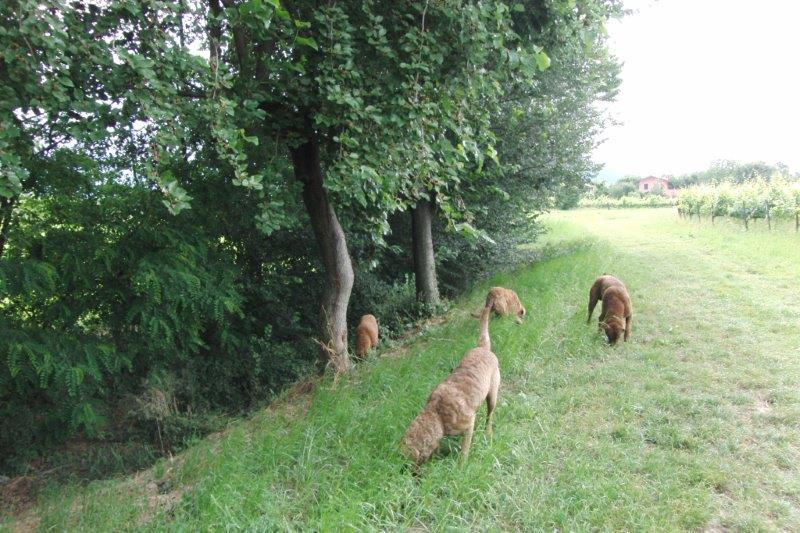 ... a welcome snack for the dogs and me because the mulberry's are real tasty!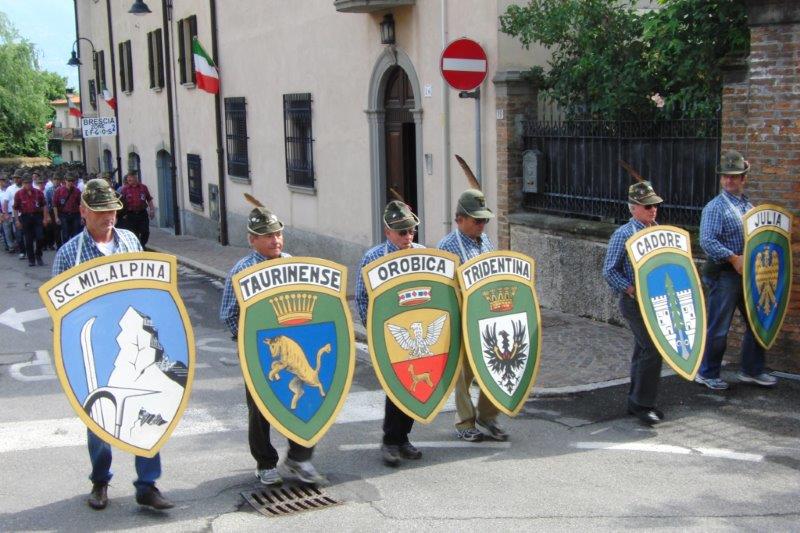 The "Alpini" are an elite mountain warfare military corps of the Italian Army. Every year in an different city the ANA (National Alpini Association) organizes a national reunion the "Veci" to celebrate. It was quite a spectacle when several hundred "Alpini" defiled in front of our house.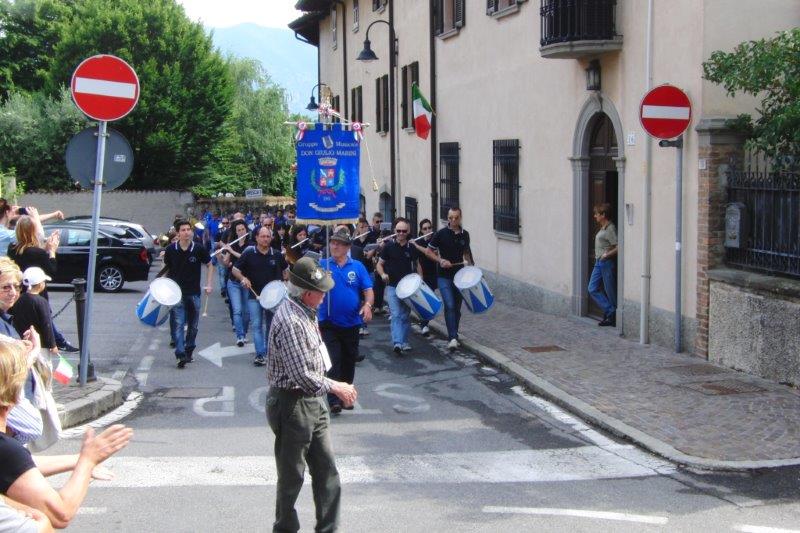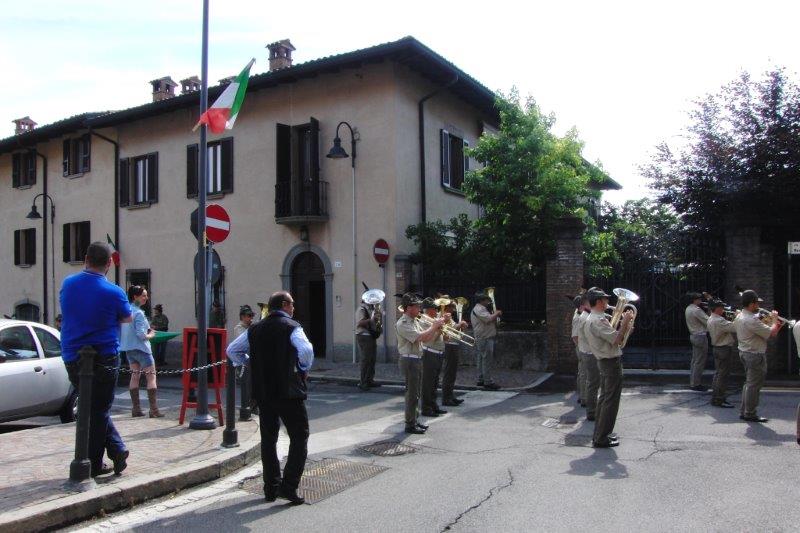 ---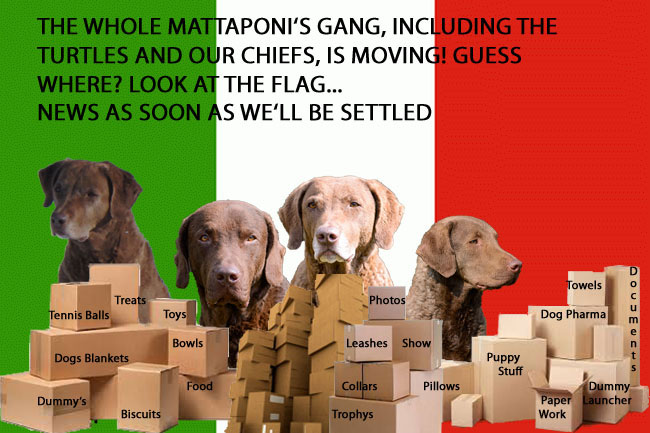 ---
A CHESAPEAKE BAY DOG WITH SOME COAT
---
Posted in Chesapeake Bay Retriever, Retriever History, tagged Chesapeake Bay Retriever, long-haired Chesapeake Bay Retriever on May 19th 2011 This bitch named Polly is featured in George O. Shields's The American Book of the Dog.
I don't know if we would call this particular dog a "Red Winchester," which was the early long-haired strain of Chesapeake Bay Retriever, but this dog has more coat than one typically finds on a Chesapeake of today. This dog is only slightly feathered, but she may have been groomed to look a "bit slicker" than she would look normally.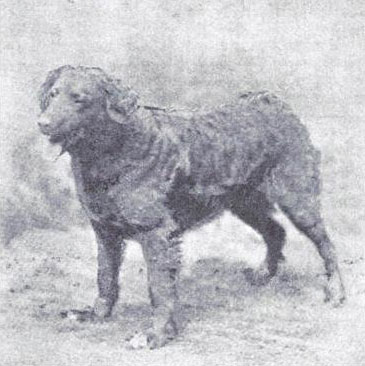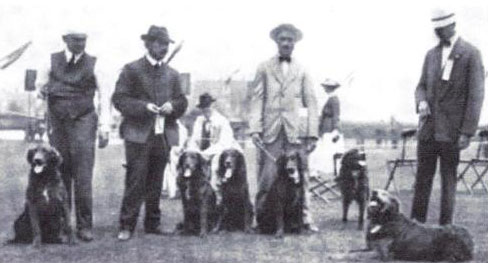 One could be forgiven for assuming that these were Flat-Coats, Wavy-Coats or Goldens. The shading of the dog in the lower right suggest that this dog is an e/e red which does exist in the Chesapeake Bay Retriever gene pool. However, black skin does not.
The dog's name was Trip owned by C.H. Tilghman of Easton Maryland. This particular dog won "first premium" at a dog show in New York in 1877 and it was a Chesapeake Bay Retriever.
The illustration comes from John Henry Walsh's The Dogs of Great Britain and other Countries. Walsh often got things wrong, but this description of the three types of Chesapeake that existed in the 1870's is very interesting: As there now appears to be three types of this dog, the members of the Maryland Poultry and Fancier's Association, at their first show, held at Baltimore January 1877, appointed a committee to draw up a standard of points for judging. On the evening of January 8th they met the members of the club, and made their report which was adopted. The committee consisted of the following gentlemen: Mr. John Stewart, representing the Otter Breed, in color a tawny sedge, with very short hair; Mr. O.D. Foulks, the long-haired, or Red Winchester and Mr. J.J. Turner Jr. the Curly-Coated, in color a red-brown - the bitches showing the color and approximating to the points of the class to which they belong, a white spot on the breast in either class not being unusual. Measurements: from fore toe to top of back 25in; from tip of nose to base of head 10in; girth of body back of fore leg 33in; breast 9in; around fore feet 6in; around fore arm below shoulder 7in; between eyes 2 ¼ in; length of ears 5in; from base of head to root of tail 35in; tail 16in in length; around muzzle below the eyes 10in.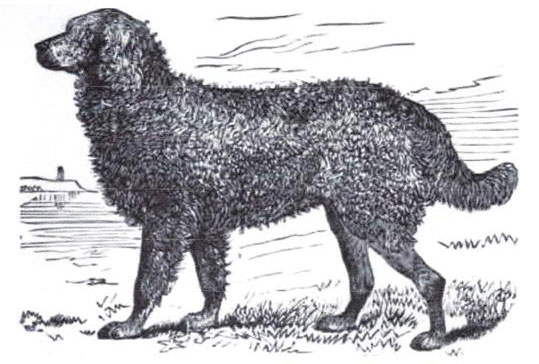 The Otter-type is the one that wound up taking over the Chesapeake breed. Long-haired ("Red Winchester") and Curly-coated varieties have since disappeared in the standardized form. (However long-haired Chesapeake's do pup up every once in a while) It's interesting that there were some different guesses on the identity of this dog. These long haired dogs were very often quite red in color and a whole strain of them was produced called a "Red Winchester". Many of the early show Chessies were of this Red Winchester type.

---