---
FIRST TIME AT THE RIVER BREMBO
December 16th 2020
---
COAHOMA AND CHAPA HAVE BEEN FOR THE FIRST TIME ON THE BEACH AND IN THE WATER.
AS YOU CAN SEE THEY ENJOYED IT VERY MUCH AND HAD A LOT OF FUN :-)

Coahoma

Chapa

Chapa

Chandra and Chapa
---
IF EVER GLEAM WOULD VISIT YOU...
---
... never ever leave your shoe closet open! :-)
---
THE PUPPIES ARE DEVELOPING WELL
---
SEPTEMBER 30th 2020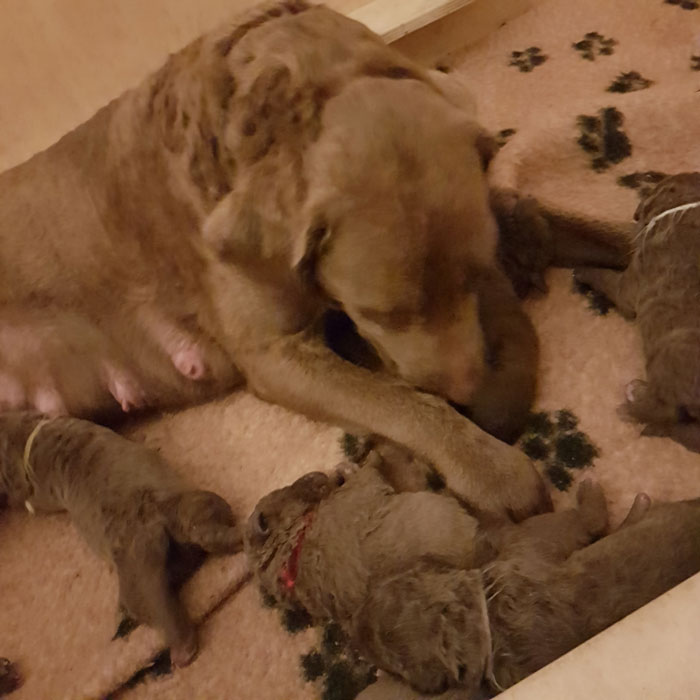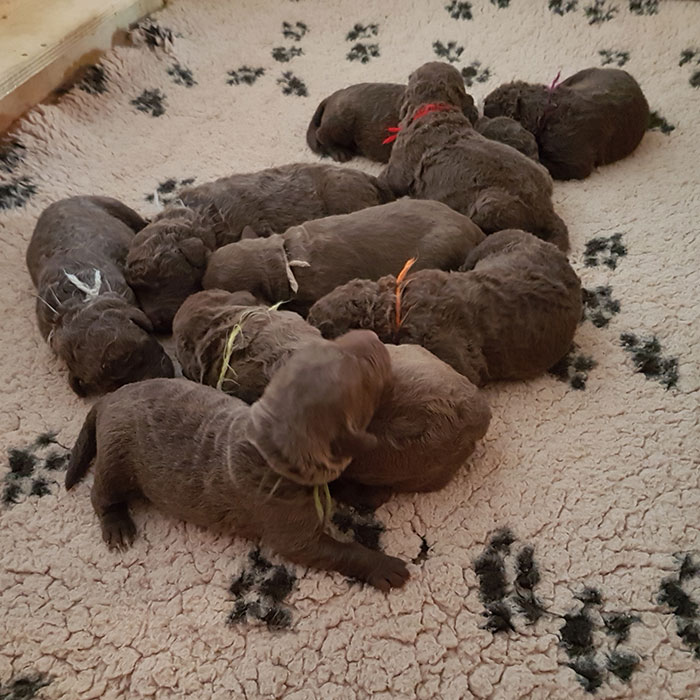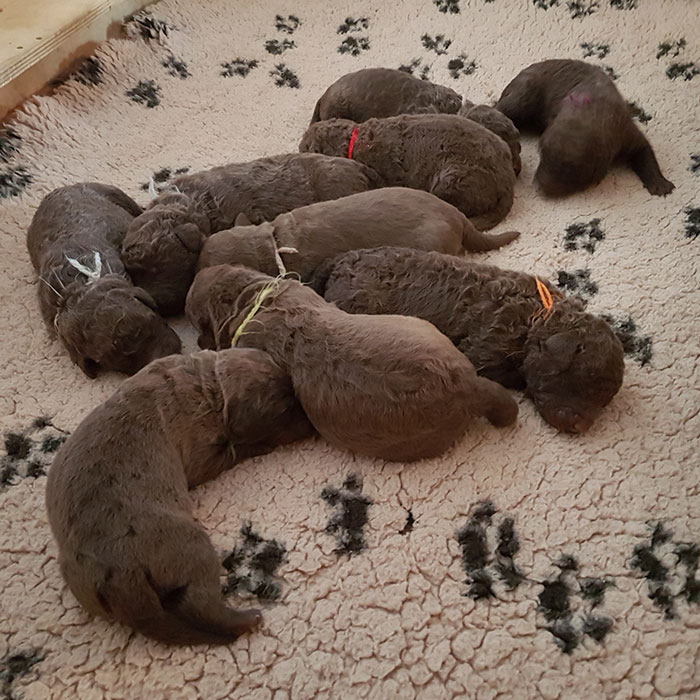 The puppies are developing well, they are now one week old.
Each one doubled its weight which is a really good sig. Mother and children are happy and relaxed :-)
See Litters for more pictures »
---
NOKO DELIVERED HER FIRST LITTER
---
SEPTEMBER 20th 2020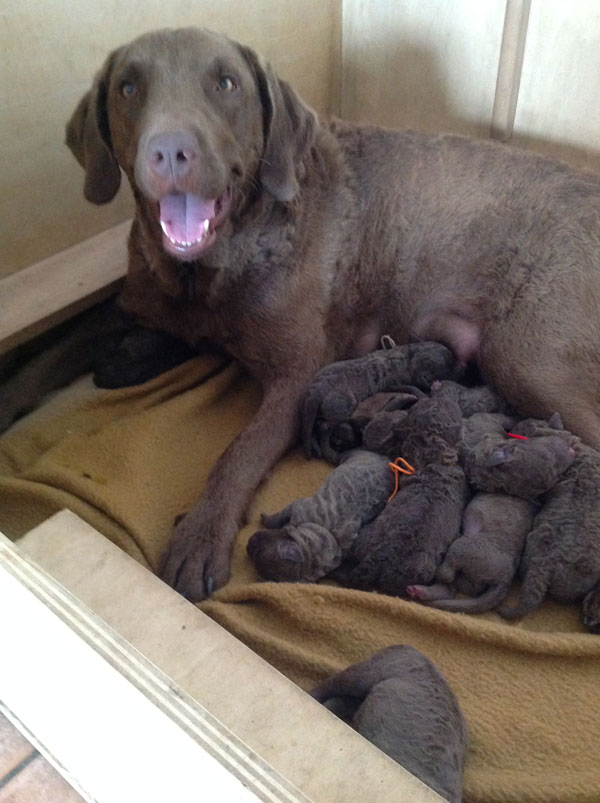 It will be a day to remember: Noko's first litter.
It was an easy birth, she did instinctively the right things without any problems. Noko and her gang are relaxed and happy :-)
See Litters for more pictures »
Der 20. September wird mir in Erinnerung bleiben.
Noko wölft instinktsicher und ohne Probleme ihren ersten Wurf, 5 Rüden, 4 Hündinnen. Noko und ihre Welpen sind wohlauf und munter :-)
Infos und mehr Fotos in Litters »
Le 20 settembre restera dans ma mémoire.
Noko donne naissance à sa première portée, 5 mâles, 4 femelles sans aucun problème. Noko et ses chiots sont sains et saufs :-)
Informations et d'autres photos sous Litters »
Il 20 settembre rimarrà nella mia memoria.
Noko partorisce la sua prima cucciolata, 5 maschi, 4 femmine senza problemi. Noko e i suoi cuccioli sono sani, rilassati e felice :-)
Informazioni e altre fotografie sotto Litters »
---
ONE MORE WEEK TO GO...
---
September 15th

Today we made an X-Ray and it shows 8 puppies :-)
One more week to go and then hopefully we can welcome 8 "little monsters"
---
A SLIGHTLY DIFFERENT PORTRAIT OF NOKO :-)
---
September 13th
---
NEWS FROM NOKO'S PREGNANCY
---
September 5th

Noko is now 46 days pregnant, her silhouette is changing but she still loves to swim in the lake
---
LITTER PLANING / WURFPLANUNG / PORTÉE PLANIFIÉE / CUCCIOLATA PIANIFICATO
September 2020
---
C.I.B. /D/LUX. Ch Anton vom Brachvogelfeld JPR /BLP
x
Italian Show Champion Mattaponi's Nokomis JAS/R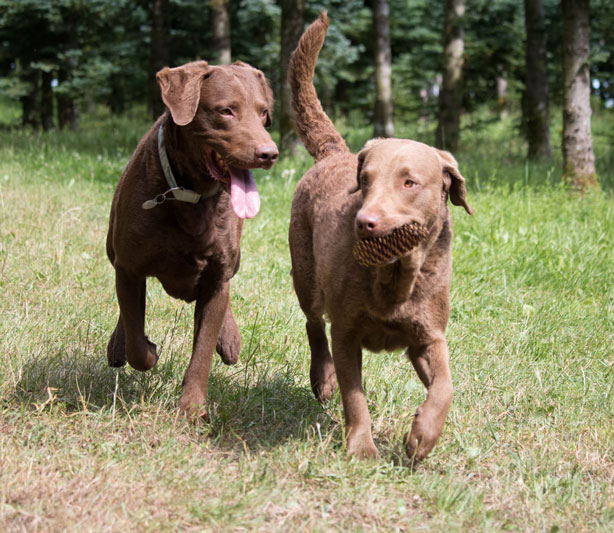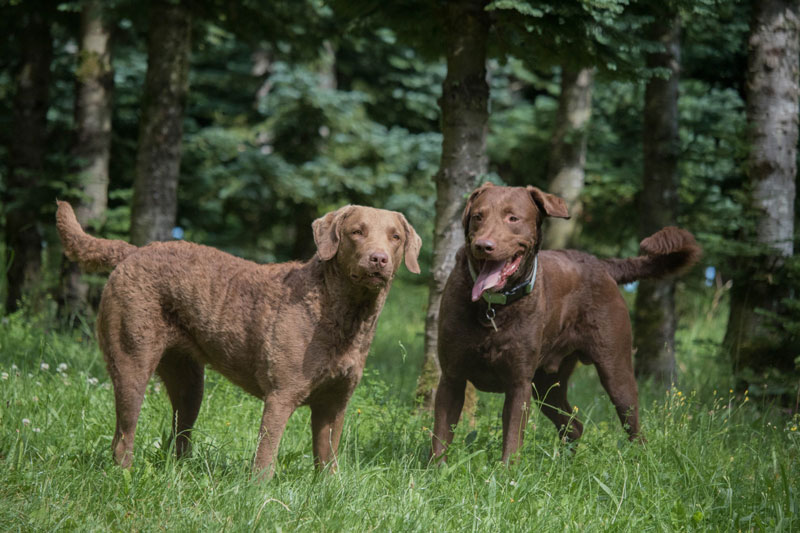 Toni is a good looking 4 years old male living in Germany, bred in Austria.
He is very friendly and a good working dog and has a lovely temper.
He has the breeding license to to special hunting performance.
Toni ist ein ausgewogener 4 jähriger Rüde aus Österreichischen Zucht und lebt in Deutschland.
Er ist äußerst liebenswert, arbeitet freudig und gut. Er hat einen einwandfreien Charakter.
TAUGL.F.SP.Jagdl.LZ
Toni ha 4 anni, è un equilibrato maschio allevato in Austriaca e vive in Germania.
È molto gentile, lavora bene con entusiasmo e ha senza dubbio un buon carattere.
Ha l'approvazione di allevamento delle prestazioni di caccia.
Toni est un male très équilibré de 4 ans. Il provient d'un élevage Autrichienne, vivant en Allemagne.
Il est très aimable, travail avec de la verve et de l'enthousiasme et est d'un caractère très bon.
Il a le permis de reproduction à l'élevage spécial de performance de chasse.
Health records/Gesundheits Befunde/État de santé/Stato di salute
TONI
NOKO
Hips A2/A2
Elbows 0/0
Scissor Bite-full dentition
PRA –DM clear by parentage
EIC clear
ED/SFS clear
Longhair K/I
prcd-PRA HC/RD clear (May 2019)
Hips A/A
Elbows 0/0
Scissor Bite-full dentition
OC-FKN clear/clear
LS-ÜGW clear
DM: EIC: ED/SFS: MH:
prcd-PRA: GENOTYPE N/N
Spondylosis: 0
Longhair Genotype L/L
HC/RD clear (May 2020)
C.I.B. /D/LUX. Ch Anton vom Brachvogelfeld JPR /BLP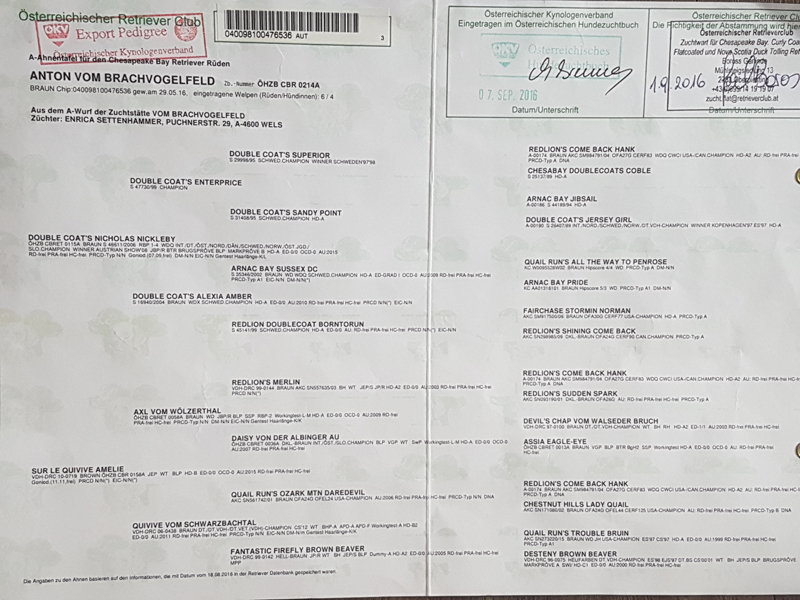 For more pictures, work and show results of Toni see: www.von-der-rauruwer.de
---
NOKO'S BROTHER "FRED" from Germany WAS VISITING US August 4th 2020
---

Fred, Noko's brother and his master and best friend Paul

The two boys Paul and Ludwig with Fred, Noko and Gleam
---
FAMILY MEETING IN ITALY July 14th 2020
---
Torben and Sussi, the owners of Dare spent their holydays in Italy.
As you see Noko had much fun with her father Dare instead Gleam didn't like her former lover anymore...

from left to right: Gleam, Noko, Dare

from left to right: Noko, Gleam, Dare

Noko and her father

the nasty Gleam

Noko
---
DEATH ALWAYS COMES OUF OF SEASON

Native American proverb; Pawnee
---
Tadi
*December 06 2015
†July 03 2020

Run free my friend, you left much too early, we'll always remember you
---
COVID19 April/May 2020
---
Because of the Covid19 here in Italy is not much to do.
Since mid of march everything is blocked, no group training, no shows, no events...
Therefore we train on our own in our backyard or we walk in the woods close to our home. Hopefully life will go back to normal, sooner or later...

Gleam

Noko

Tadi

Tadi and Noko are fooling around

Noko and one of the horses which are grazing on one of our fields
---
WE'VE GOT NOKOS CHAMPION CERTIFICATE
---
---
WT MONTICELLI D'ONGINA/ISOLA SERAFINA March 22nd 2020
Judges: Mrs. H. Siitari (SF), Mr. T. Luomanen (SF), Mrs. S. Gandolfi (I), Mr. F. Pavone (I)
---
It was an interesting Working Test, the first one this year on nice grounds on a rather hot day for this time of the year.
Noko, Beginner Class did quite well but she could have done it much better especially the heel work...
Anyhow, we finished all tests without a 0, other competitors weren't that lucky… We ended up on 8th place and went back home quite satisfy.
---
EARLY CHESAPEAKE'S
---

1890 Missed by a nose

1935 T.J. Borns Photo in Garden & Gun Magazine

1940 Brennan Isle / San Diego Rowing Club. Boy and his CBR diving together

Unknown

1929 Edward Wright on the pier at Marshy Point with his Chesapeake Sullivan's Waterfowl

1937 Advertisement in the Trapper-Hunting Magazine