CHAMPIONSHIP CRG 8 December 2015 Bedizzolo BS (Italy)
Photos by Davide Momini
---
Niyol was qualified for the Championship. The tests were set up like on Open FT in GB but certainly with Dummy's instead of game. It was a super event, very well but rather difficult tests with 4 dogs in line. Niyol worked real well but not good enough therefore we were out after the first round.
Nevertheless it was real exciting!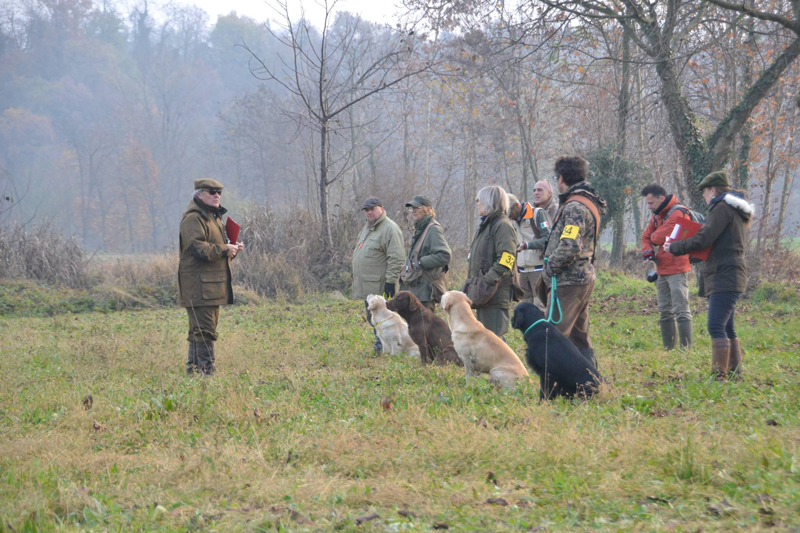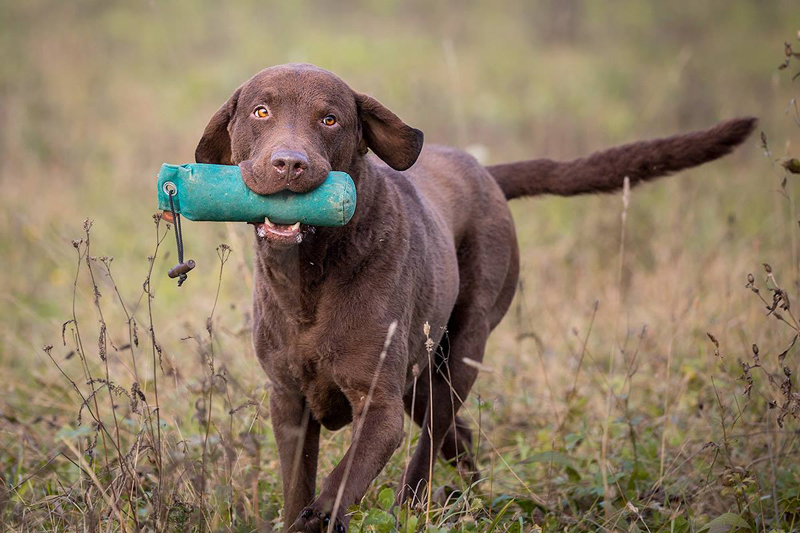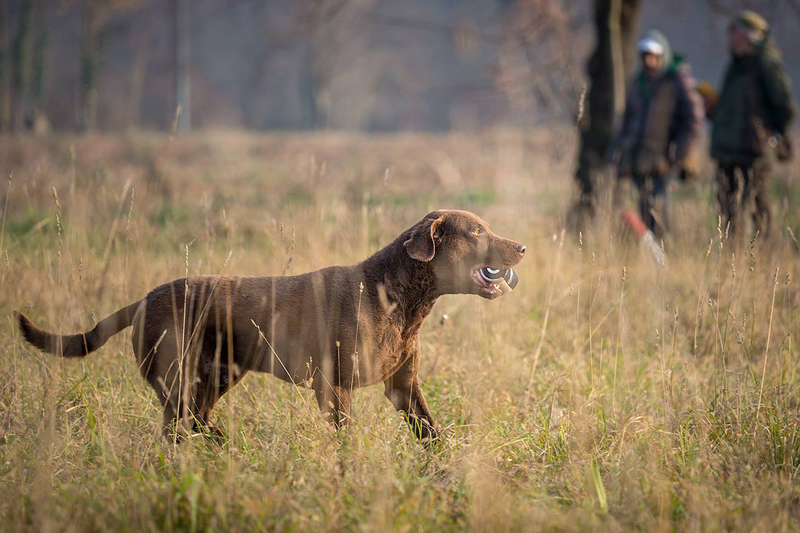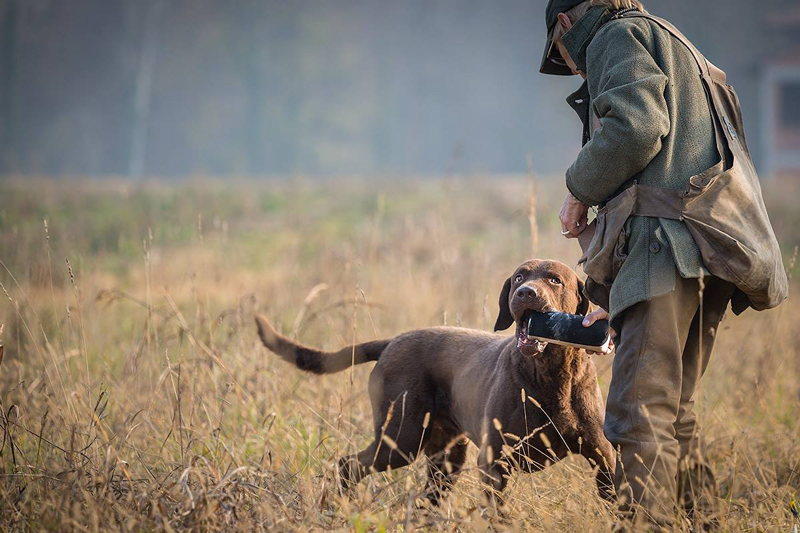 ---
GLEAM IS AN FANTASTIC MOTHER, SHE IS JUST FINE AS WELL AS THE KIDS December 6th 2015
---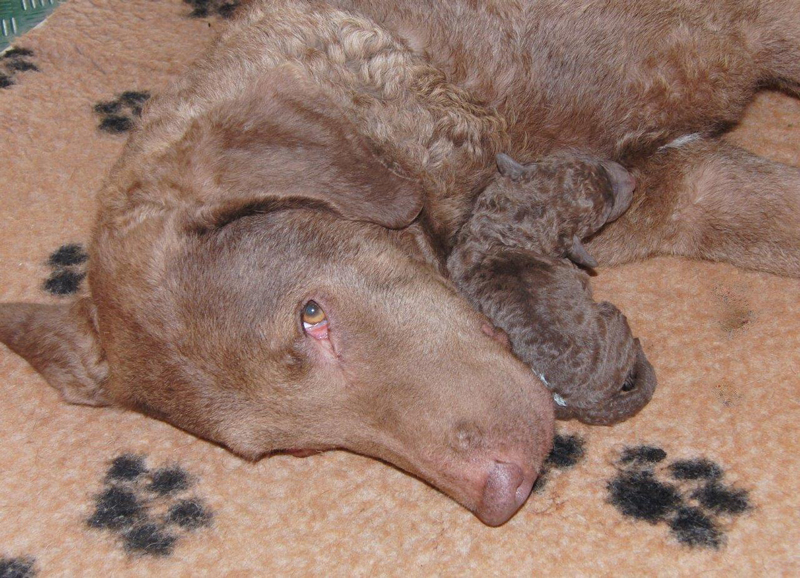 Find more pictures in "Litters" »
---
BANNERS X-MAS TRIAL CH-MEINISBERG November 28th 2015
---
Even it was bitterly cold, snow flurry in the morning and later on some rain all participants as well as the judges have been in good spirits.
It was an exciting event and overall super organized. At the end of the day I forgot my cold feet, hands and ears because Niyol was the winning dog in open class!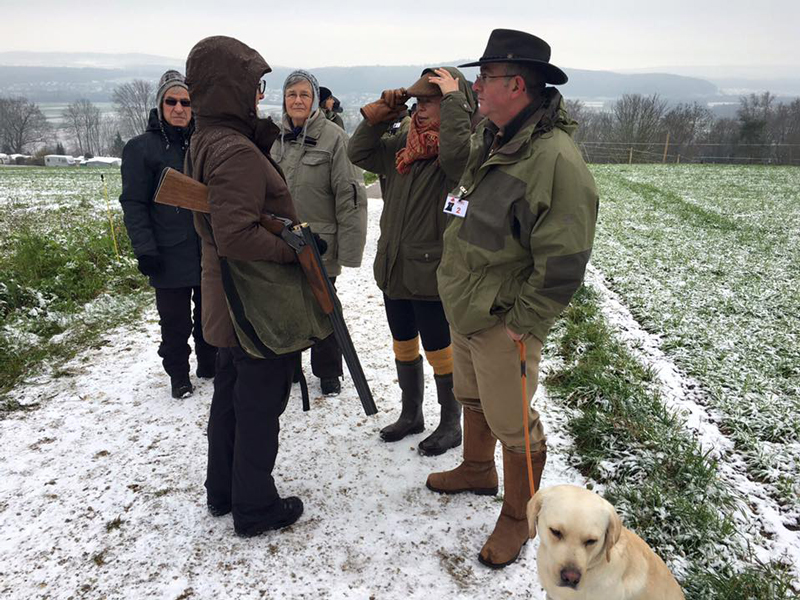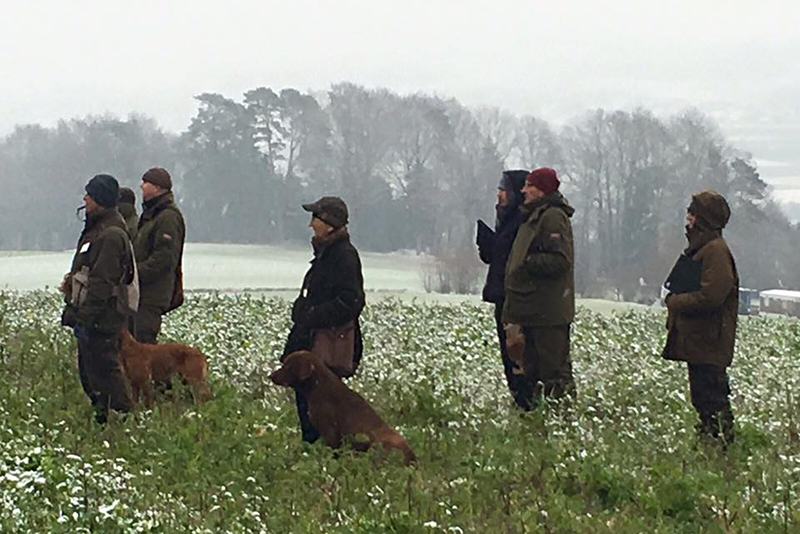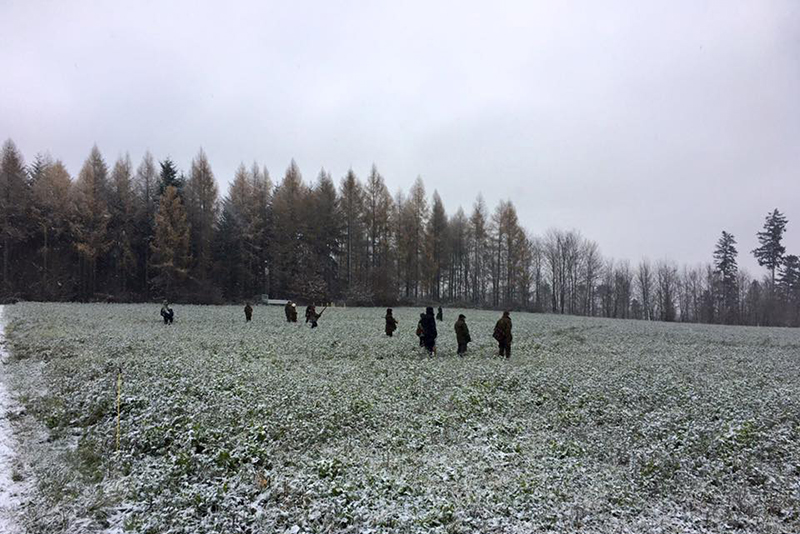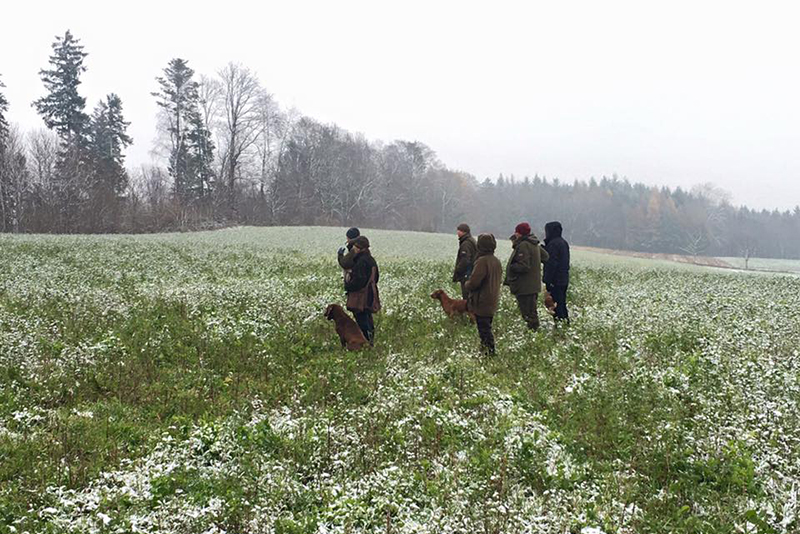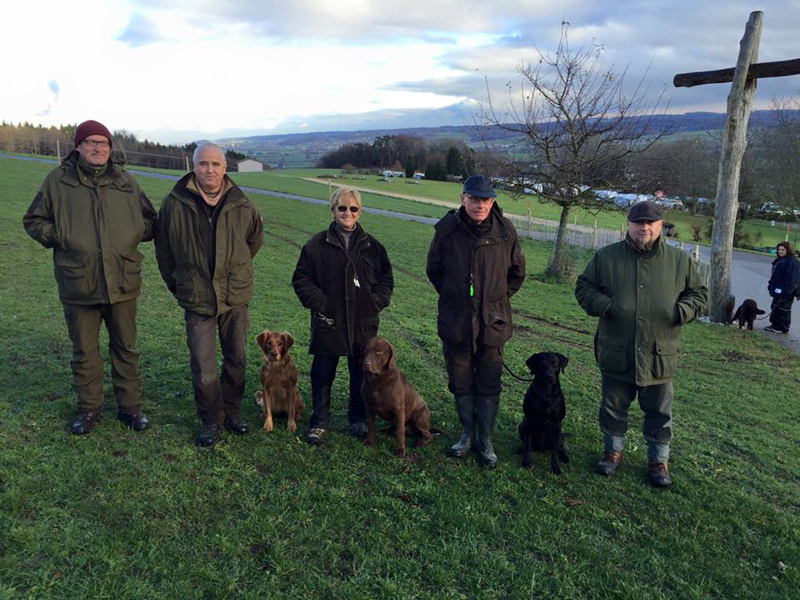 ---
TWO DAYS WT AT GAVARDO BS (I) 7./8. November 2015
Judges: Mr. D. Volders (BE), Mrs. S. Mc Groarty (IRL), Mrs. A Franchi (I), Mr. S. Zappavigna (I)
---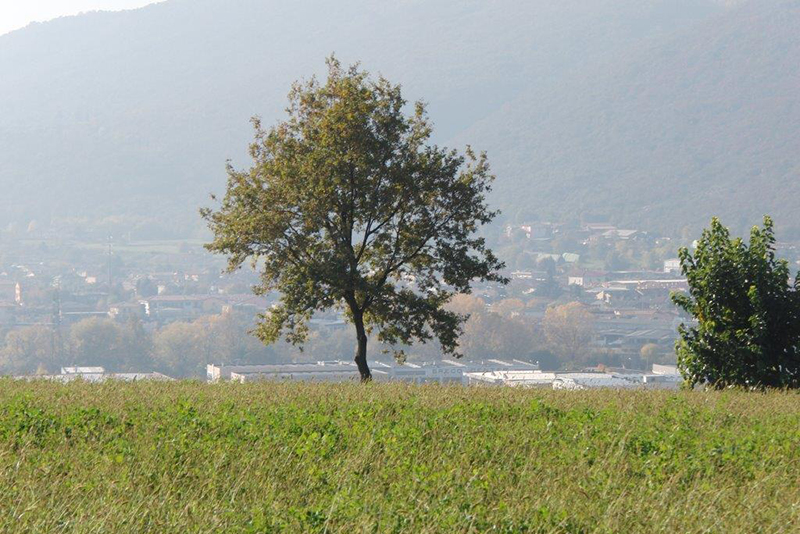 This WT weekend took place in a lively country side and the organization was excellent.
On top of this Niyol worked real well: 5th place on Saturday, 3rd on Sunday :-)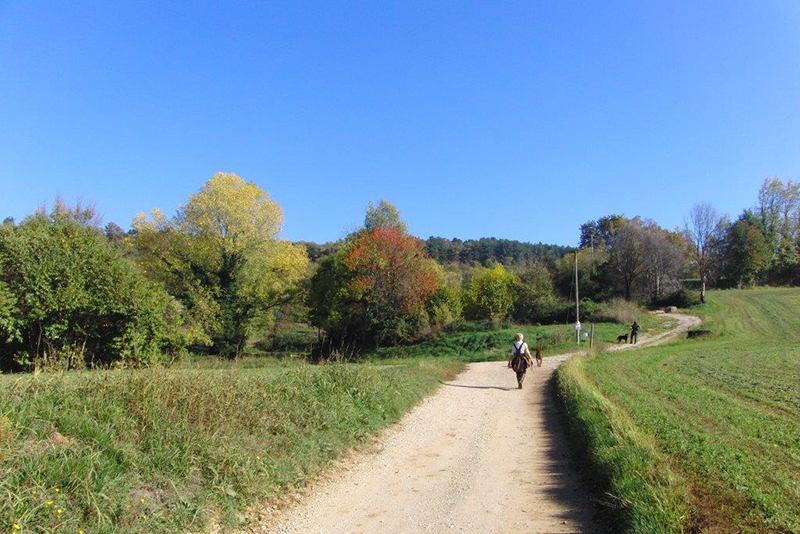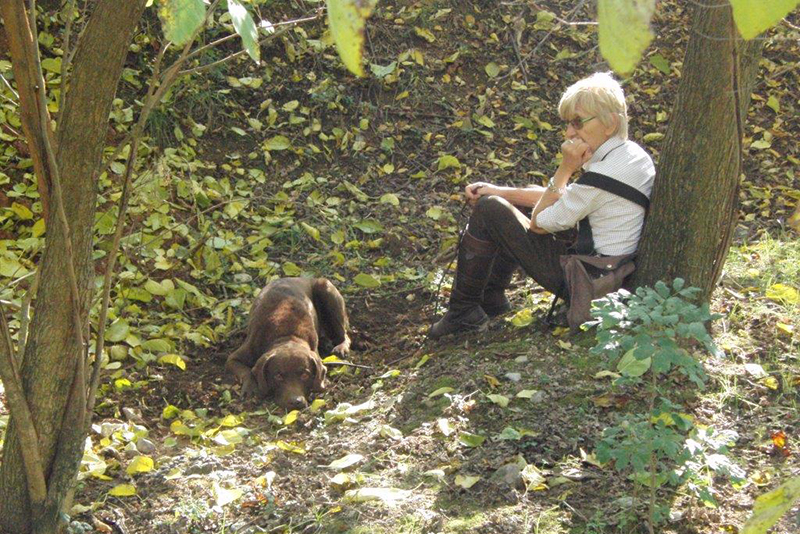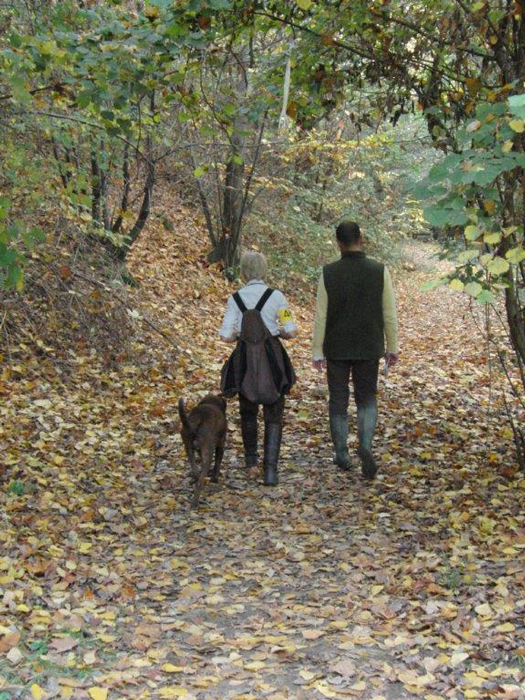 On Saturday Mr. Zappavigna set the test in the woods. (blinds with destructions)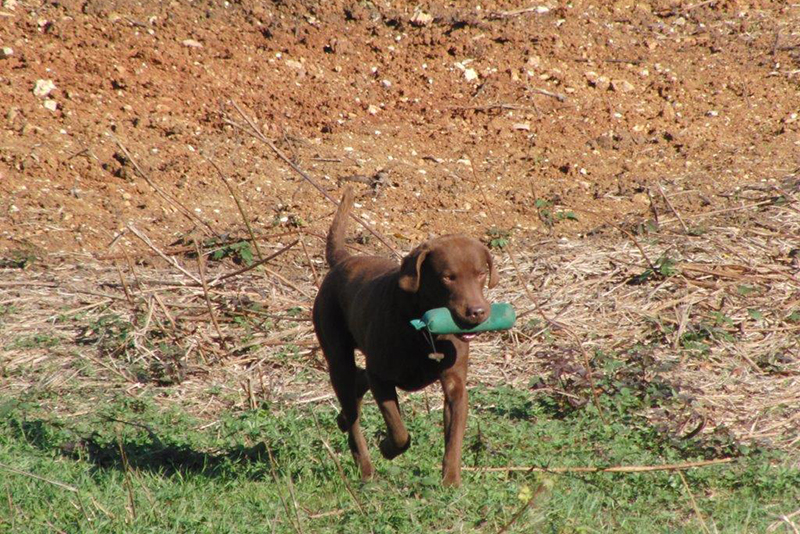 On both days Mrs. Franchi set up the tests where the dogs had to cross arable land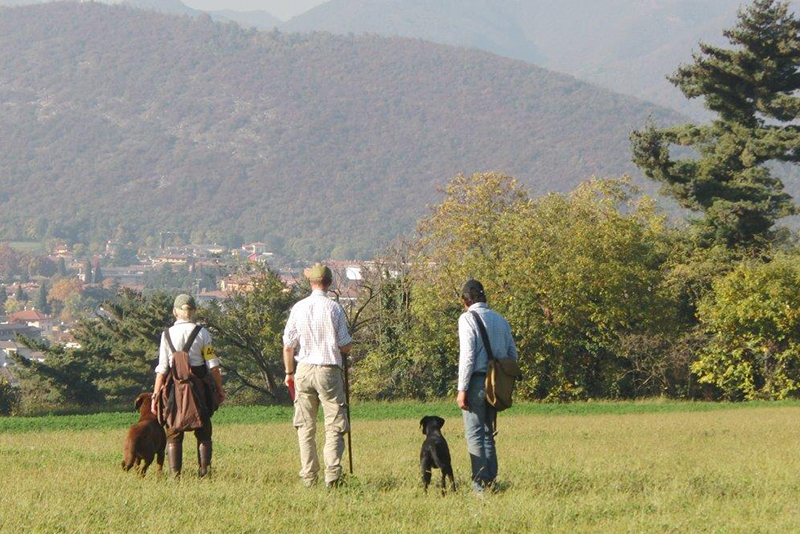 Mr. Volders test on Saturday was a walk up with marks and blinds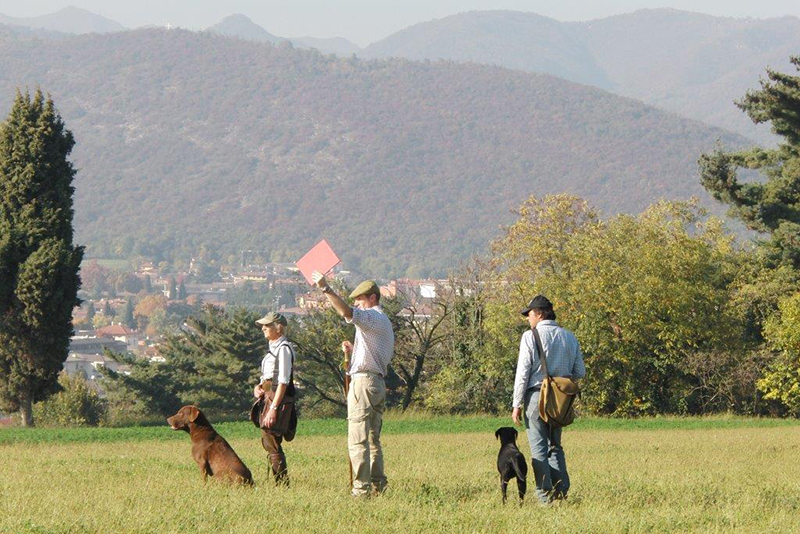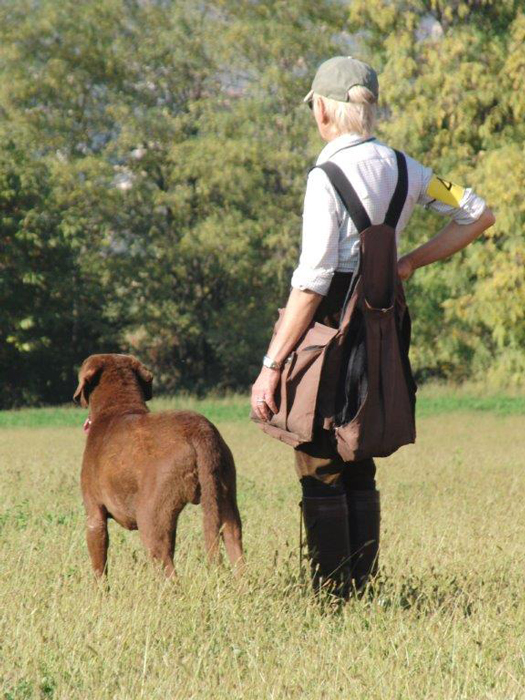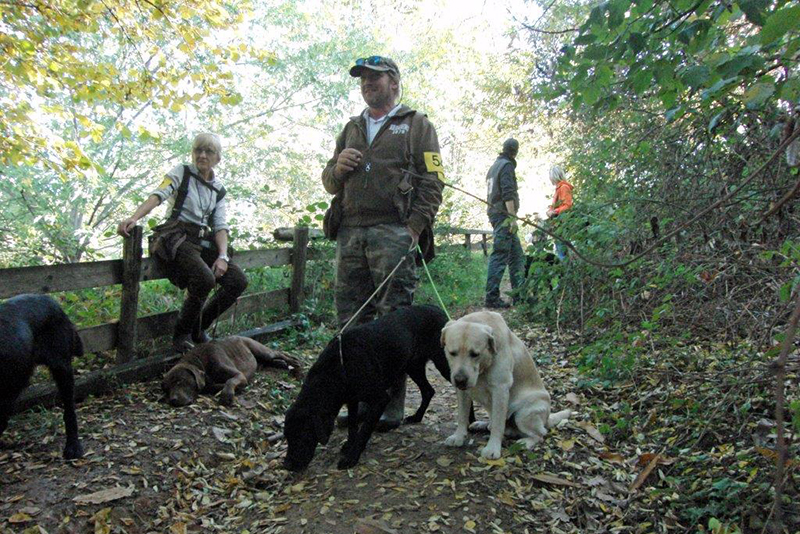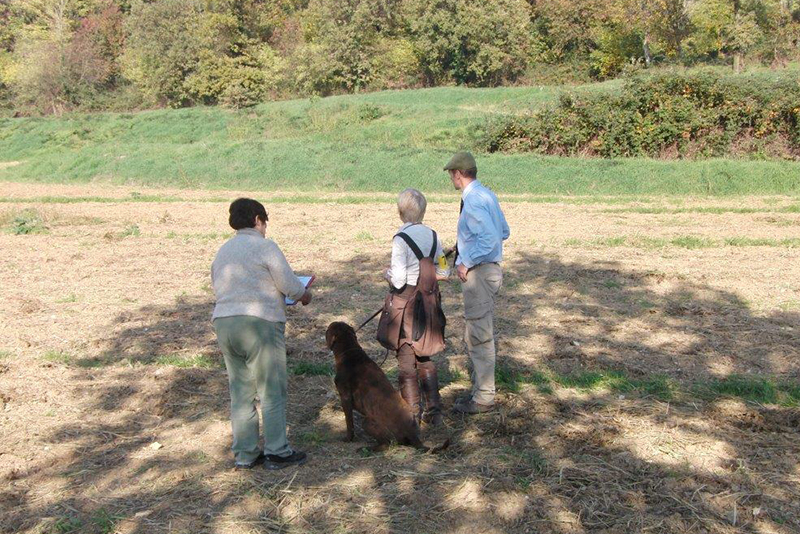 Mr. Volders test on Sunday was a rather difficult mark followed by a blind behind a hill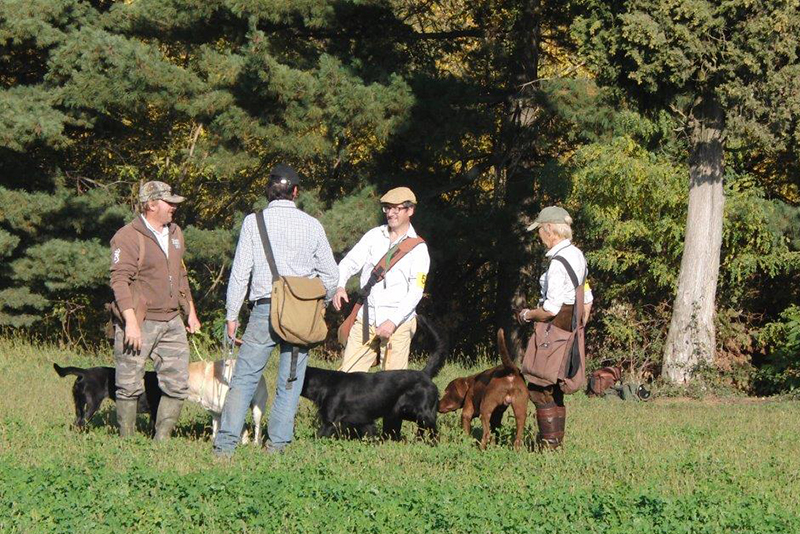 There was always time for a chat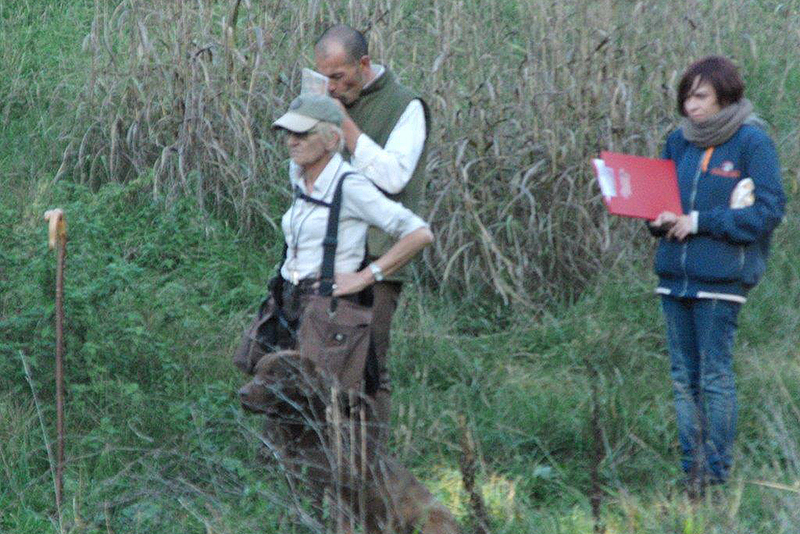 Mrs. Mc Groarty's test on Sunday: mark & blind, you had to trust your dog because he came out of sight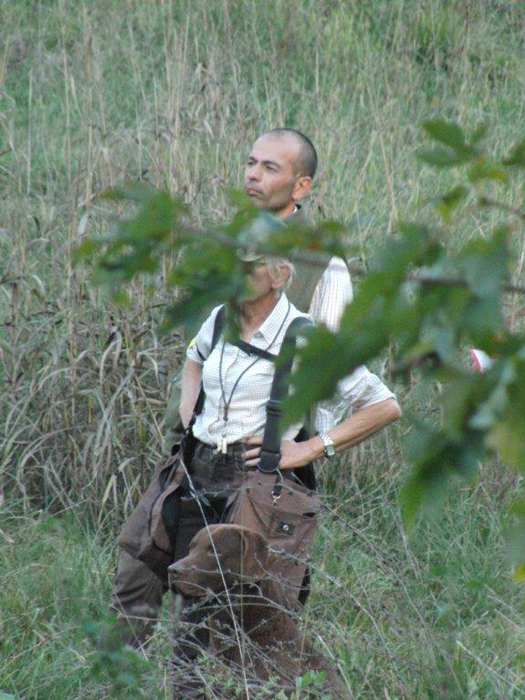 Mr. Zappavigna's test on Sunday was tricky: an almost invisible mark and a blind where you easily lost the dog if he didn't take a straight line.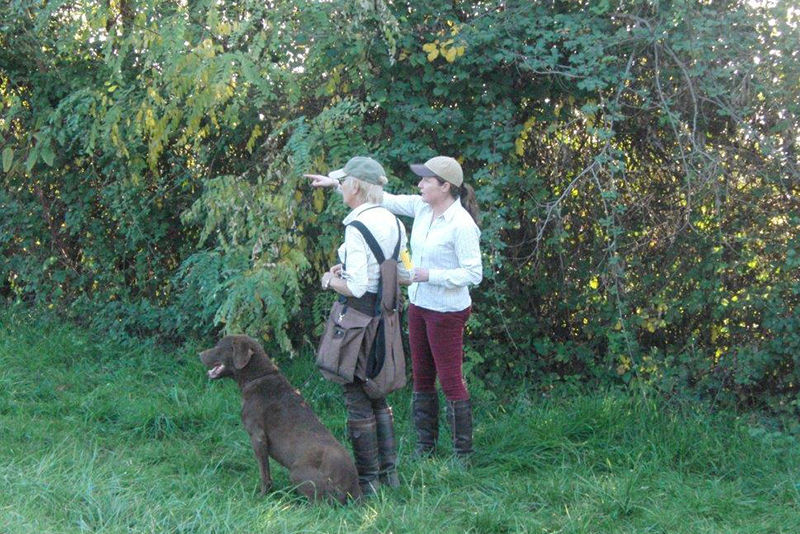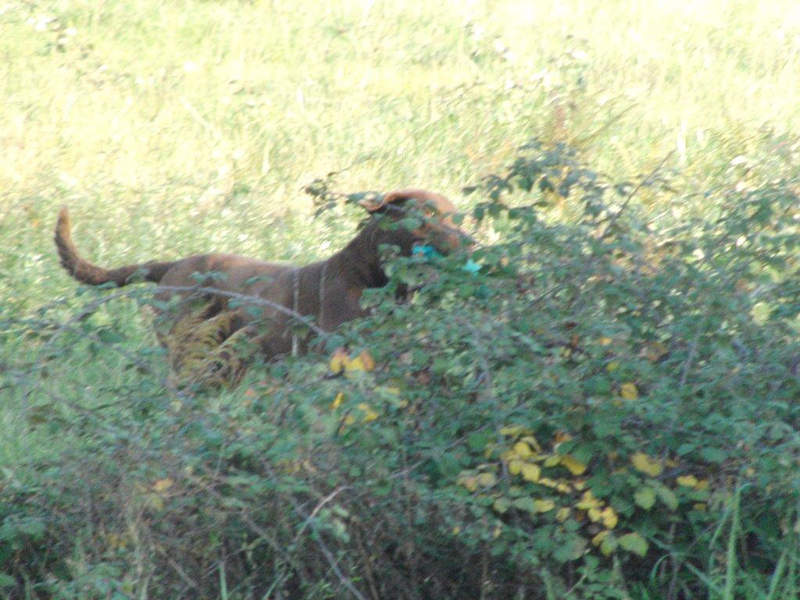 ---
FT TRAINING BEHIND SPANIELS Treviolo (I) 25th October 2015
Most of the photos by Davide Momini
---
It was an fantastic training day and I was very impressed about the Spaniels. They worked just wonderful!
Early in the morning the open dogs showed their ability's working crosswise off two lines. Later on it was the turn of the novice dogs and they learned a lot about trialing. Either for dogs or humans a superb day!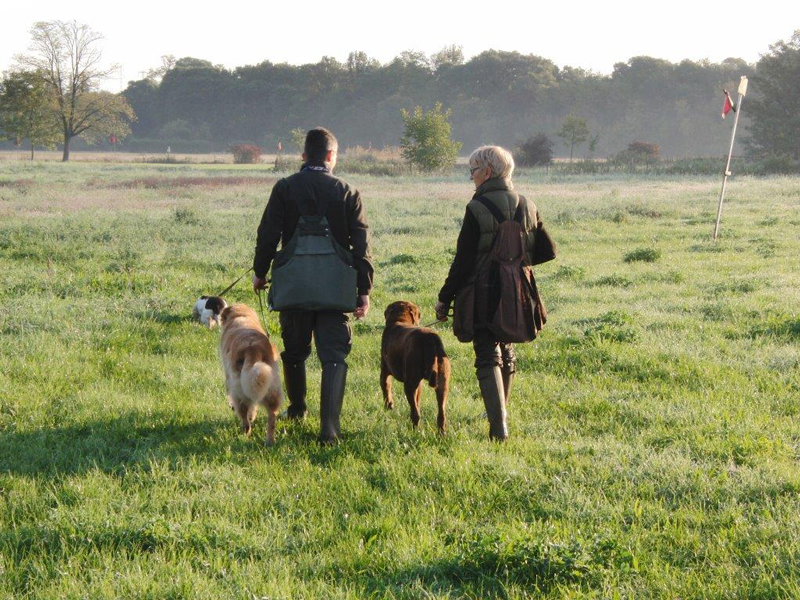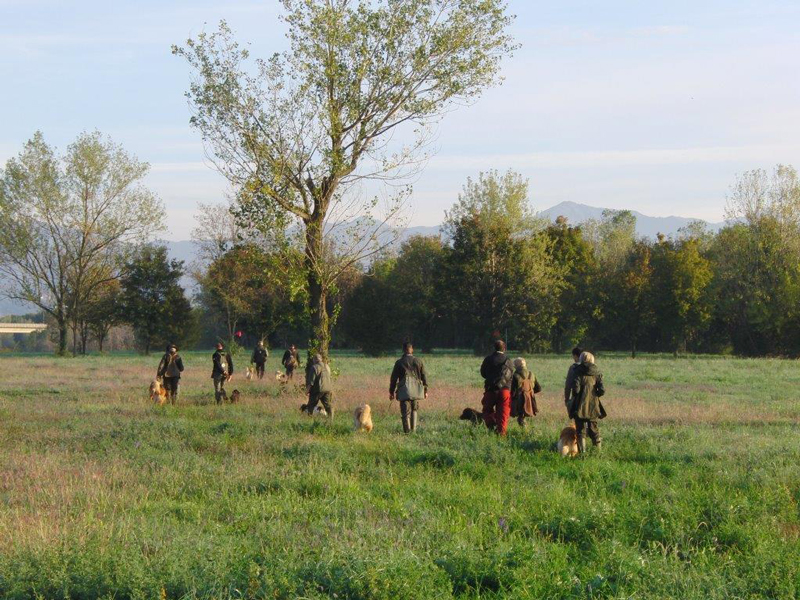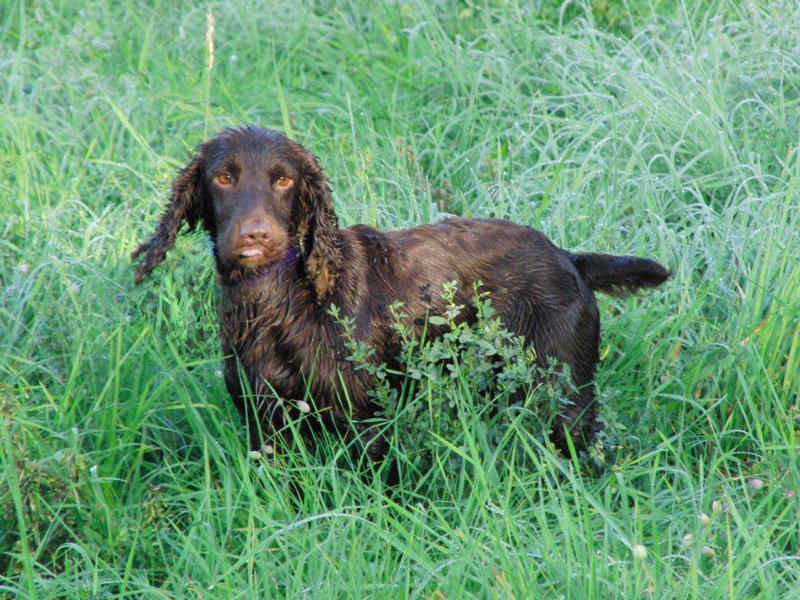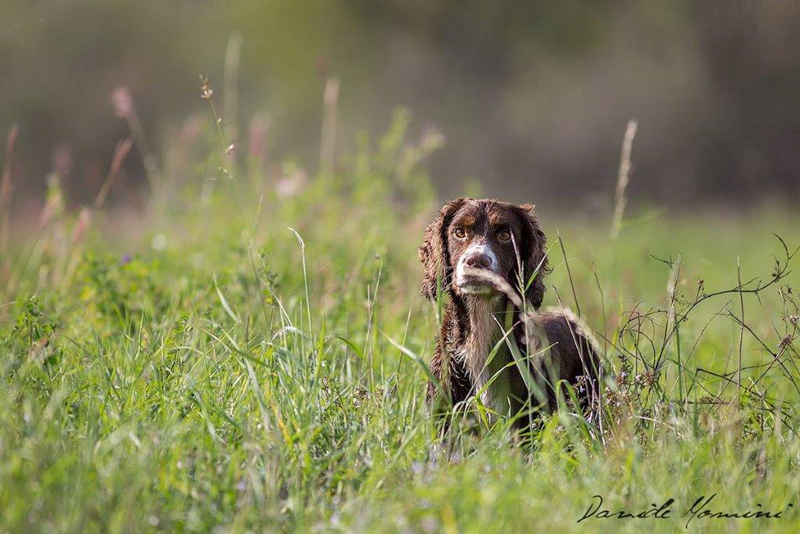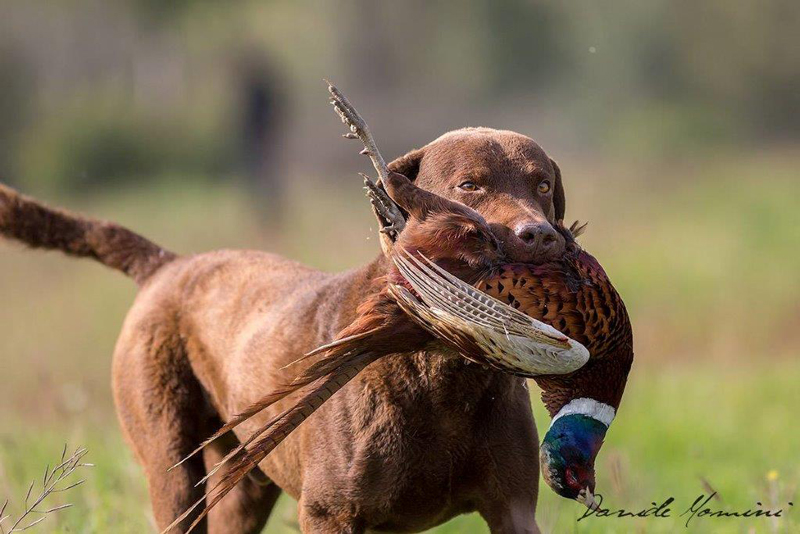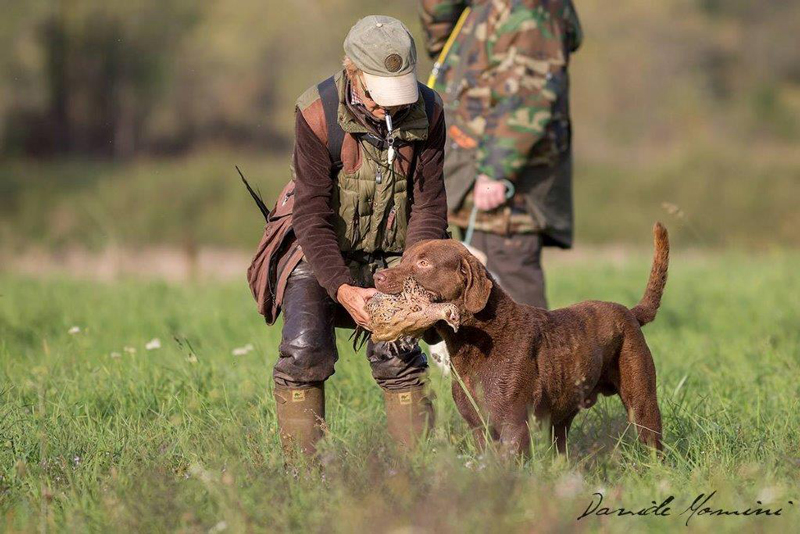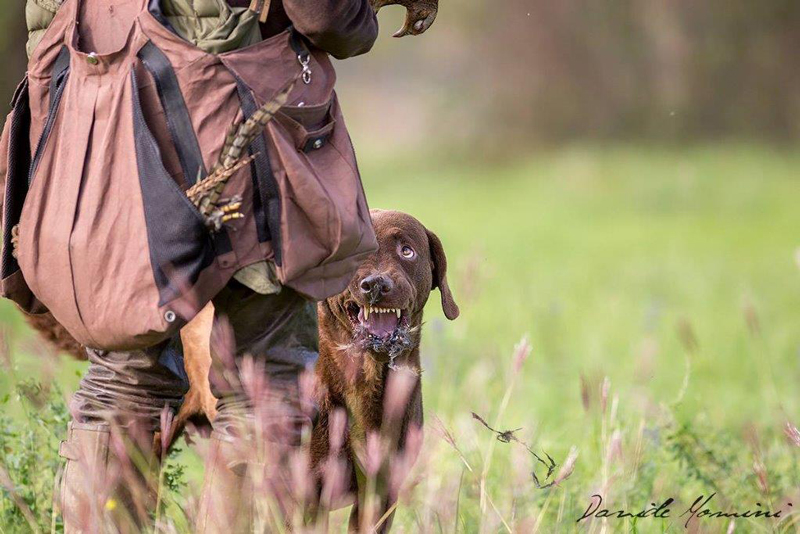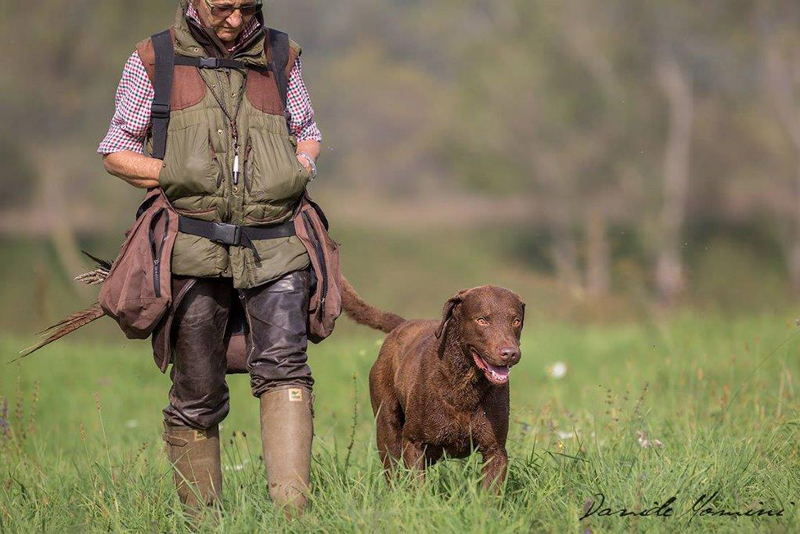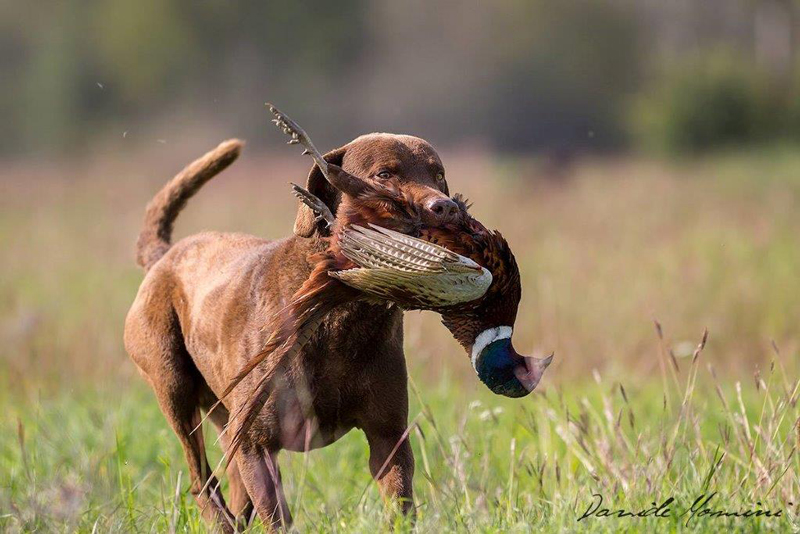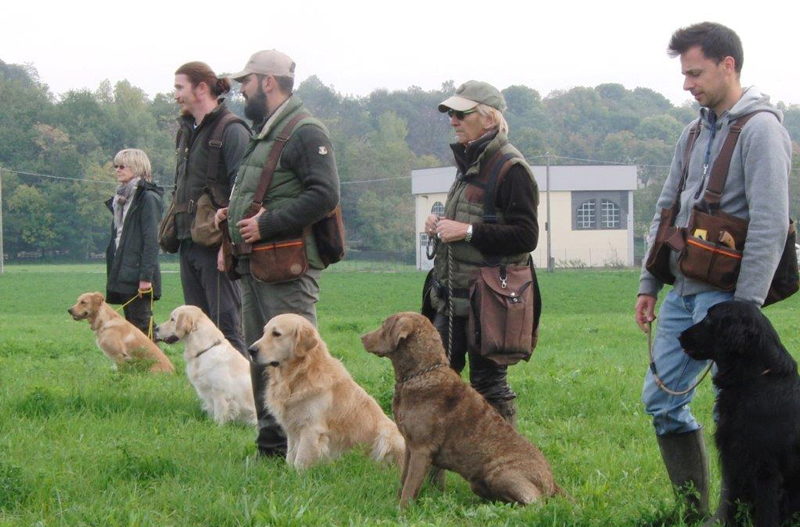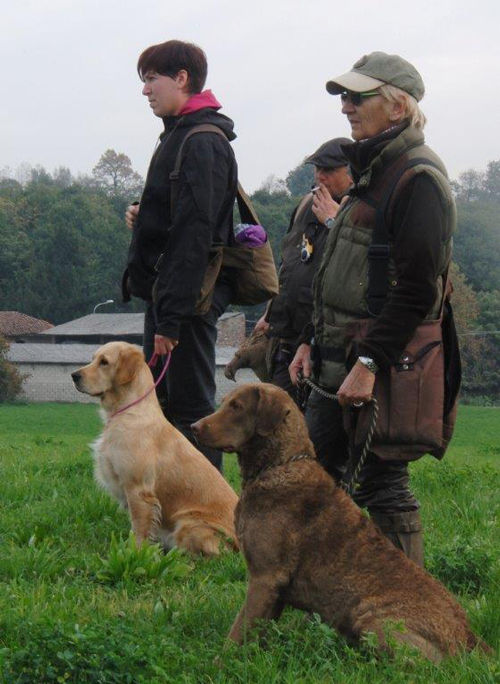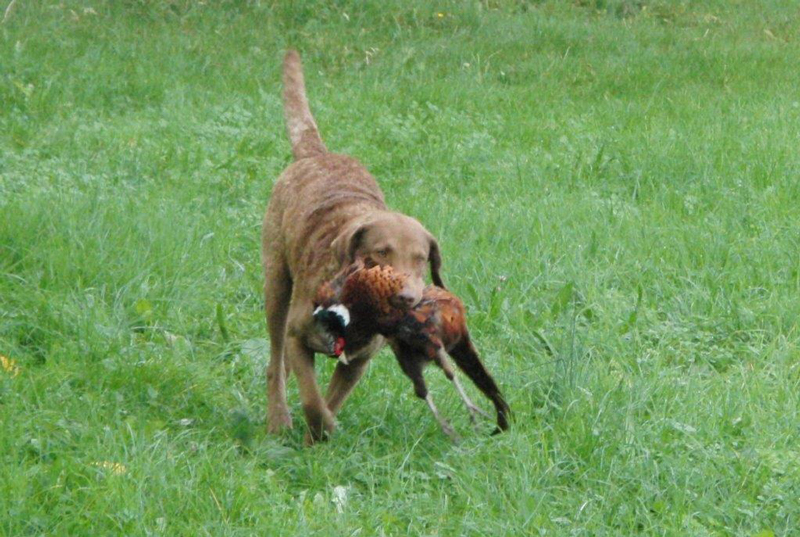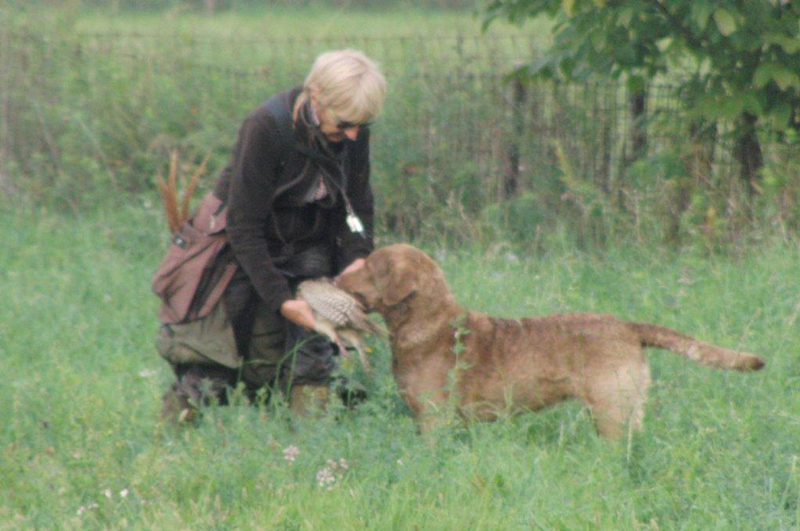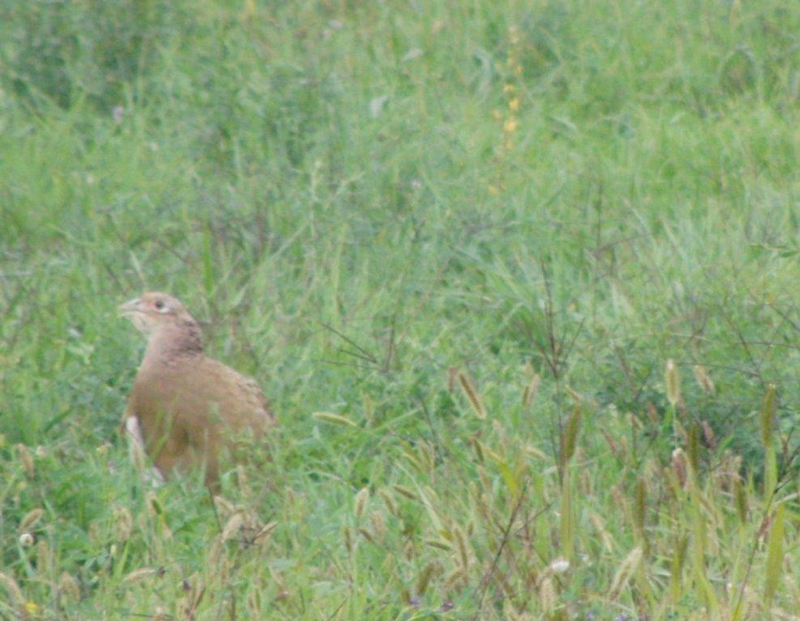 ---
WT CASTEGGIO (I) October 18th 2015
Judges: Mrs. B. Campi (I), Mr. Dall'Acqua (I), Mr. C. Arcostanzo (I)
---
It was a foggy, rainy day just once in a while the sun came out. Various nice grounds.
Gleam (beginners class) worked well. Unfortunately she struggled at the 3rd test, a long triple mark (!) Like always Niyol worked easy and well, he was the winning dog Open class :-)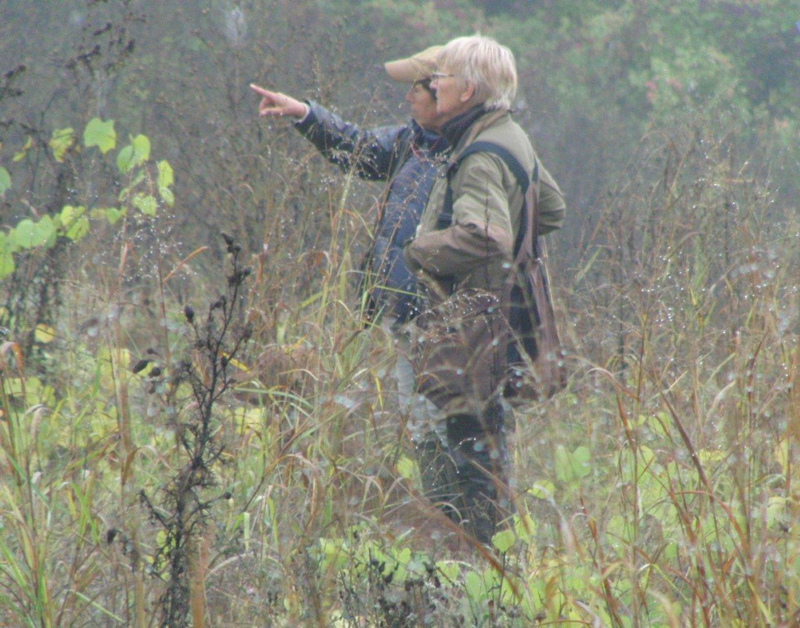 Are you able to see Gleam?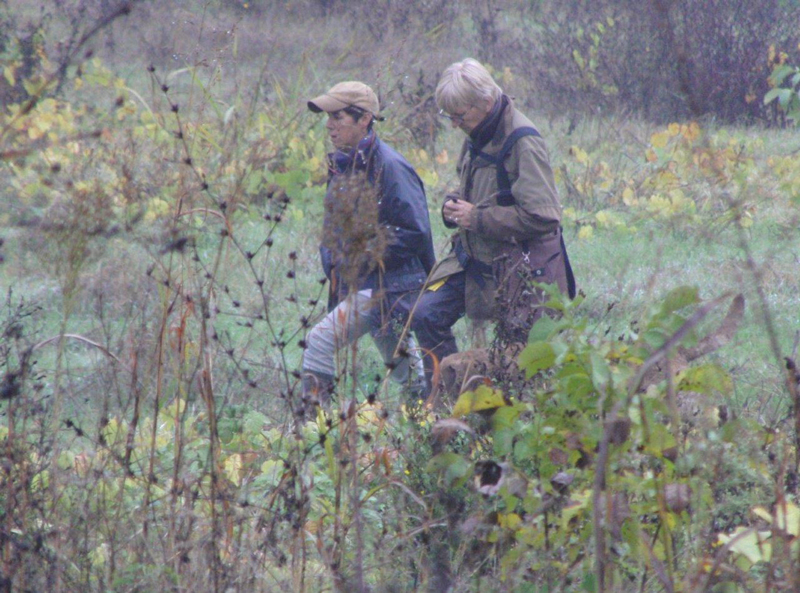 Walk up in the jungle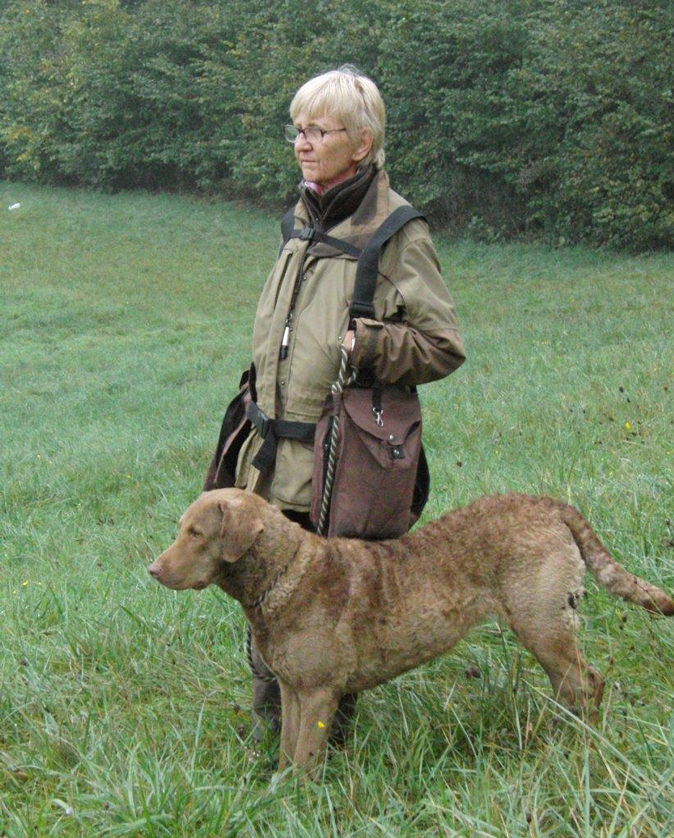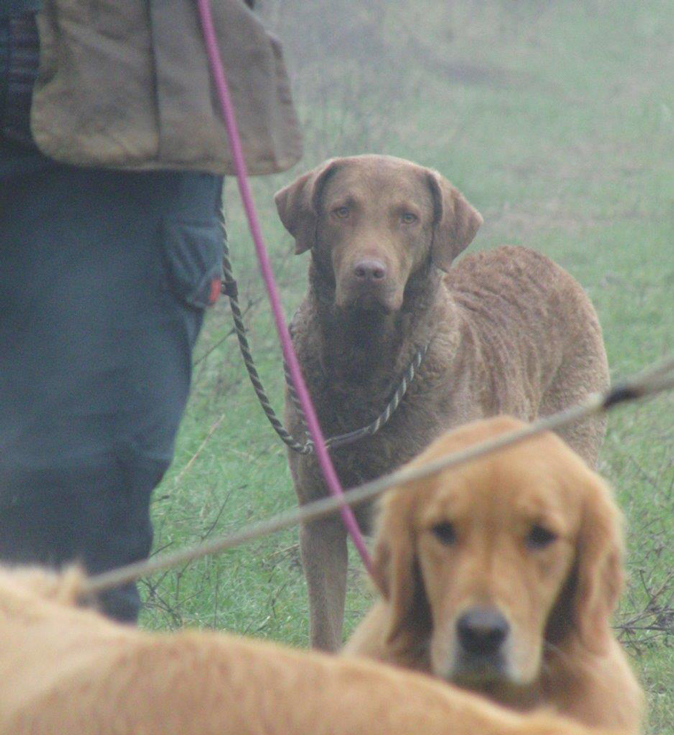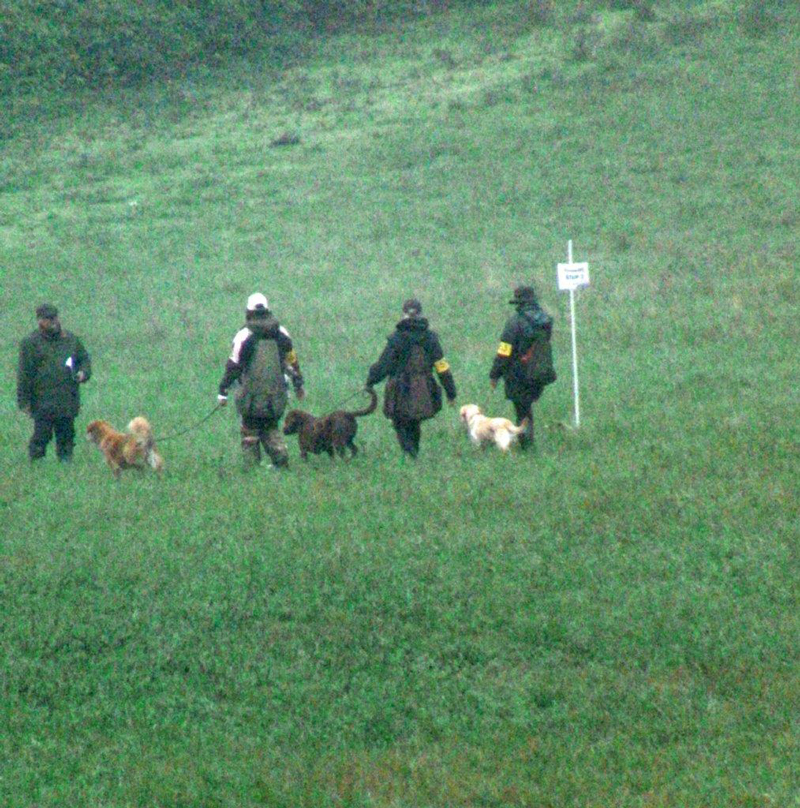 Towards test 4.
3 dogs in line, each one had to work 1 mark and 2 blinds. The handler could choose the blinds and as Niyol was the last dog to go there where only the longest ones left. No problems at all :-)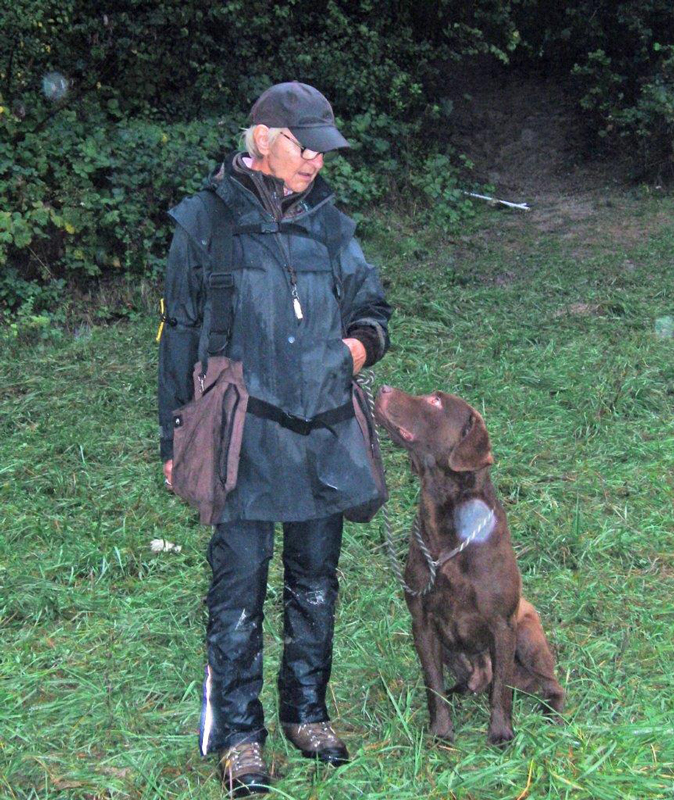 ---
OCTOBER 11th 26°!
A SUMMER DAY AT LAKE GARDA
---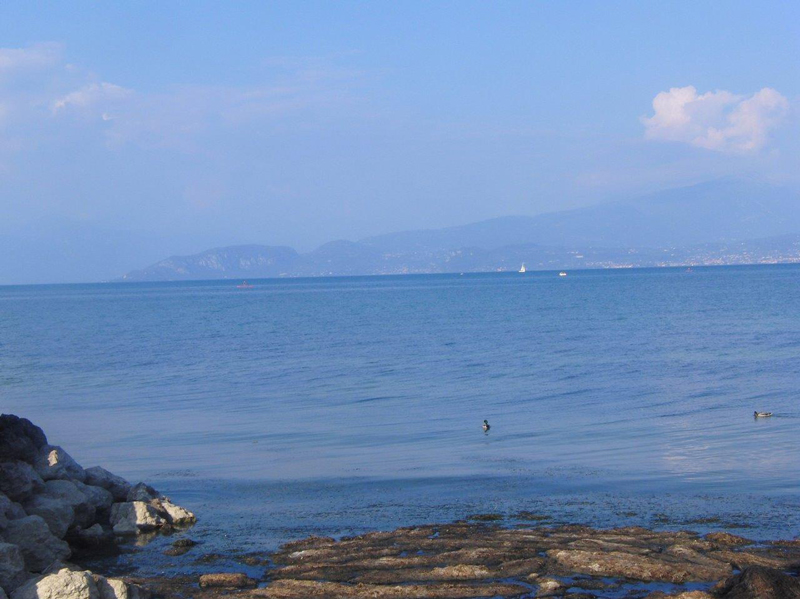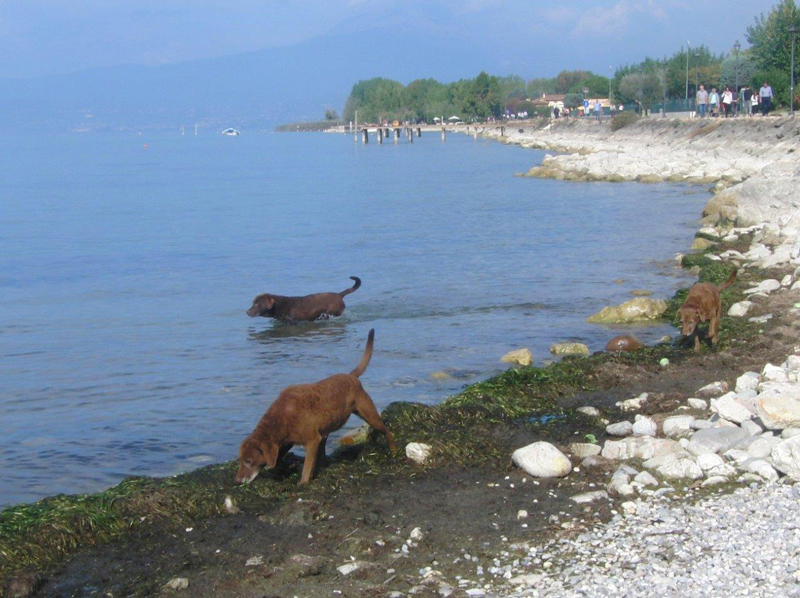 Mato, Kanda, Niyol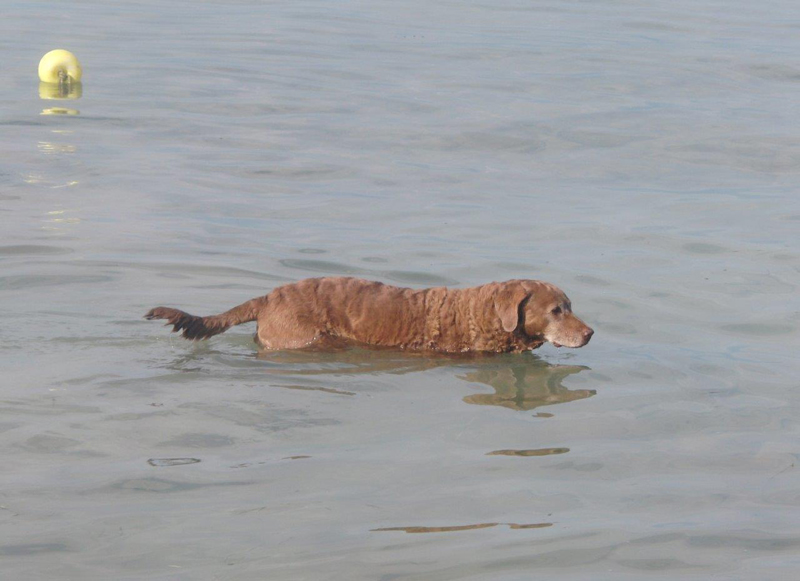 Grandmotherly like: my old lady Kanda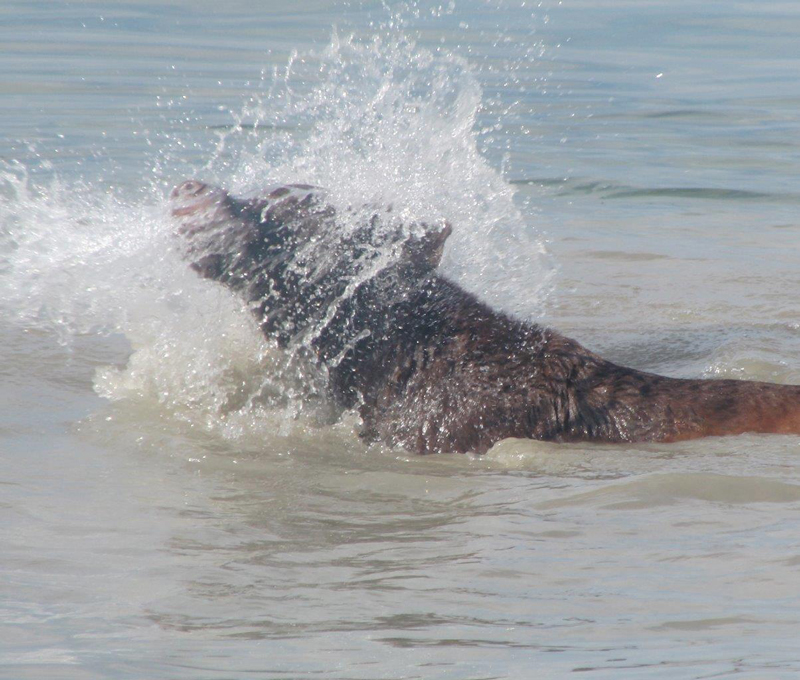 Niyol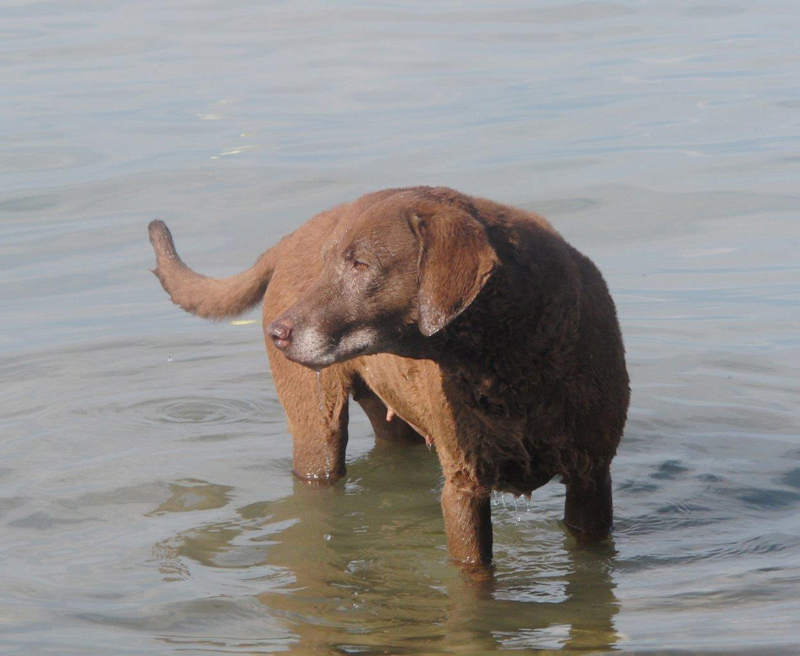 Mato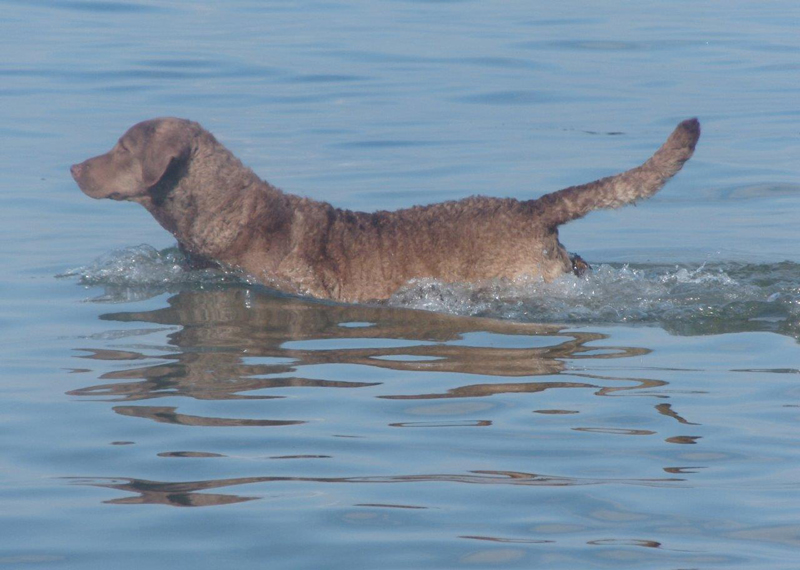 Gleam
---
SUCCESSFUL GLEAM
National Dog Show Lecco (I) 09/26/2015 1° exc. /CAC
Judge: Mr. S. Yla-Mononen (SF)
International Dog Show Bergamo (I) 09/27/2015 1°exc. CAC/CACIB
Jugde: Mrs. M Ceccarelli (I)
---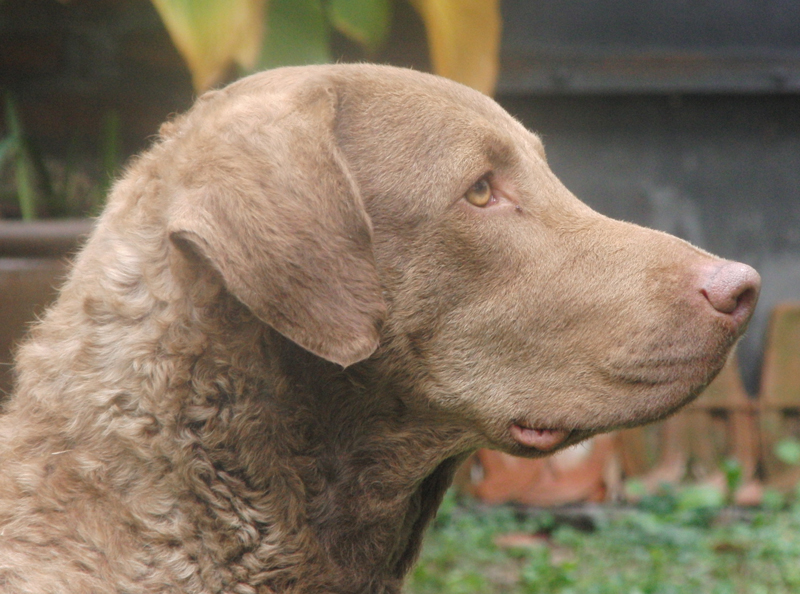 ---
DUCK HUNTING ON THE RIVER PO (I) September 2015
---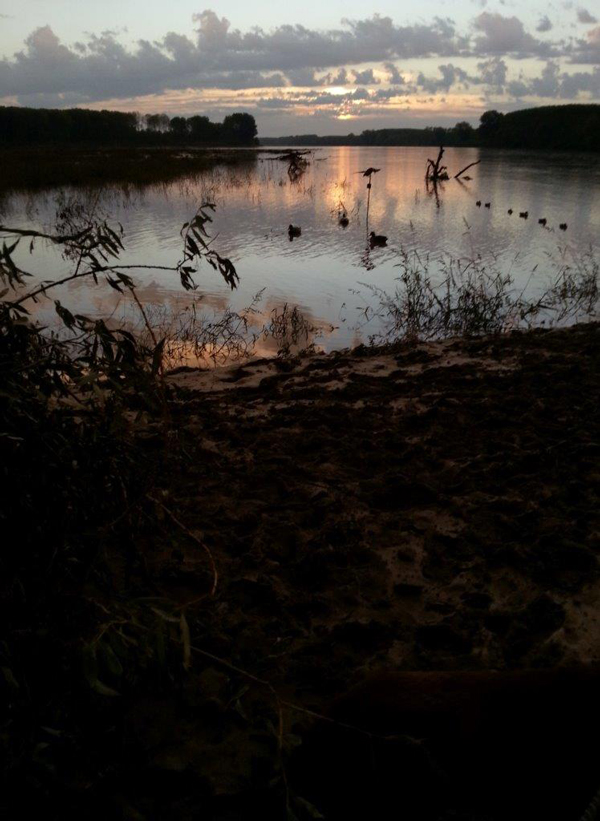 At about 04h30 AM we arrived on an island in the river to set up the decoys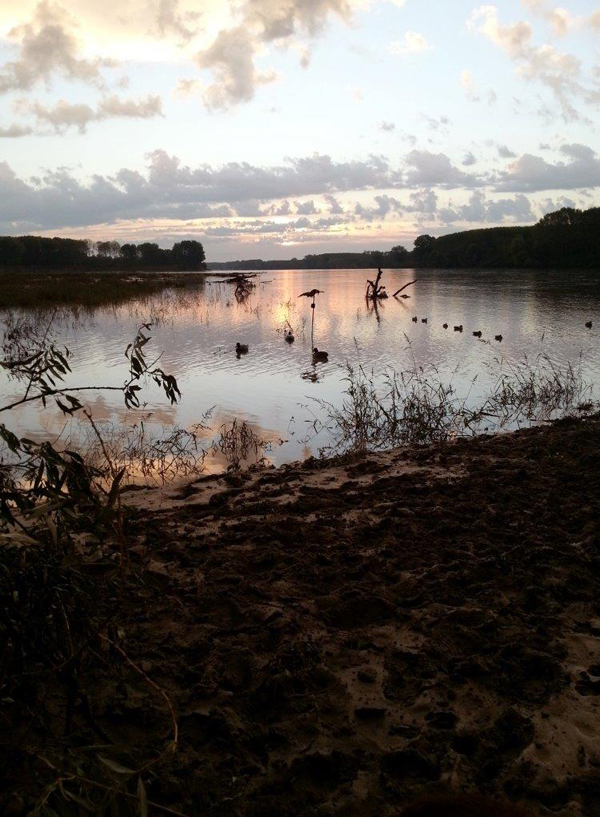 At the break of the day and full of hope we were waiting for the ducks...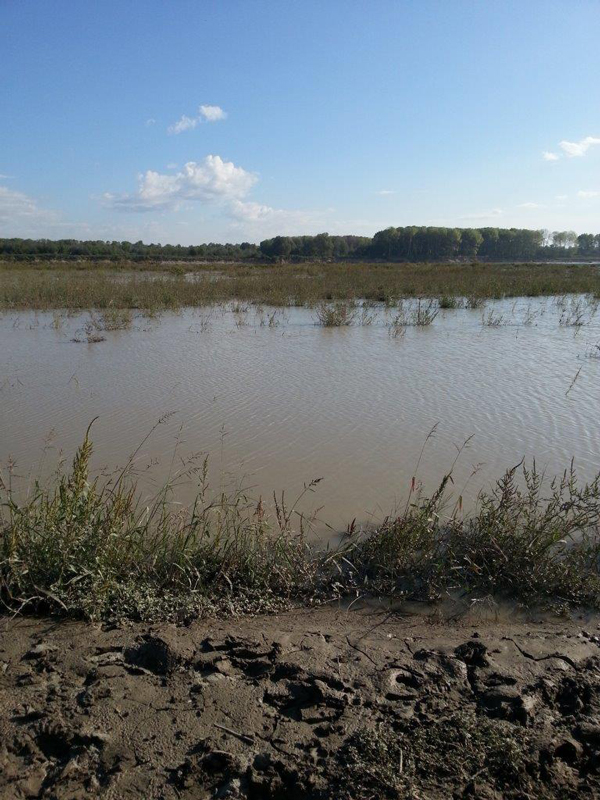 ... they came and Niyol retrieved all of them either out of the river or out of the swamp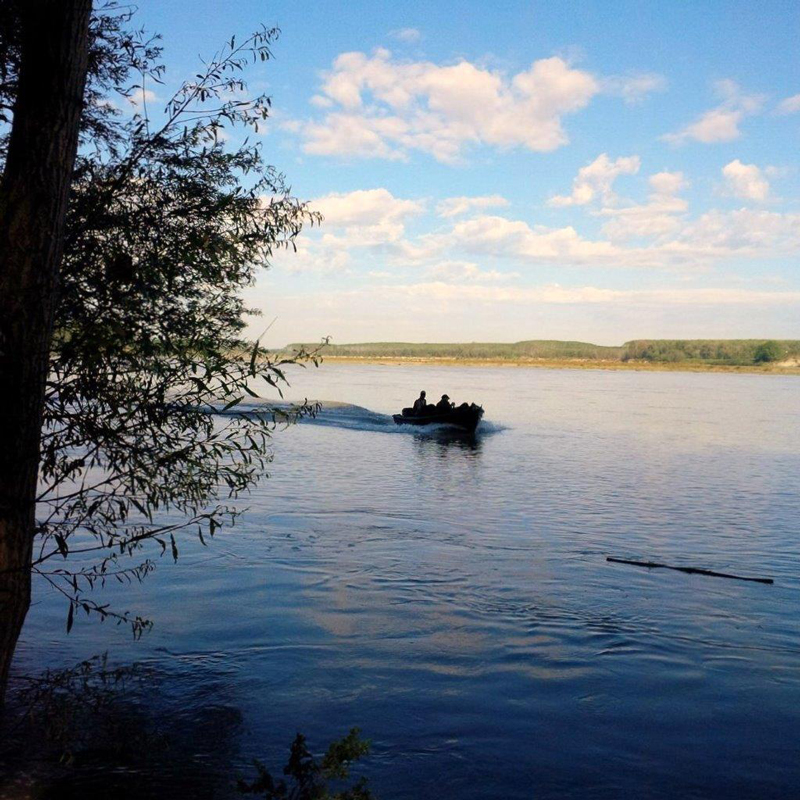 Around 10AM we headed back to the shore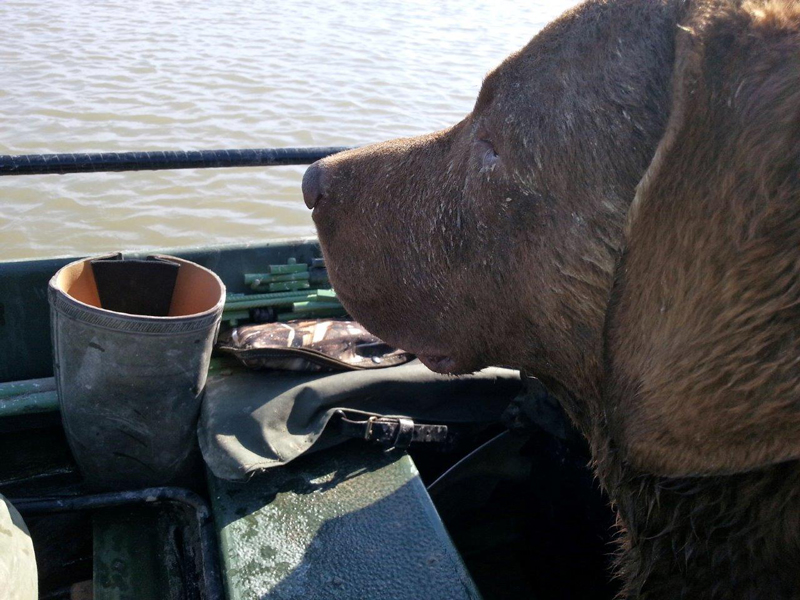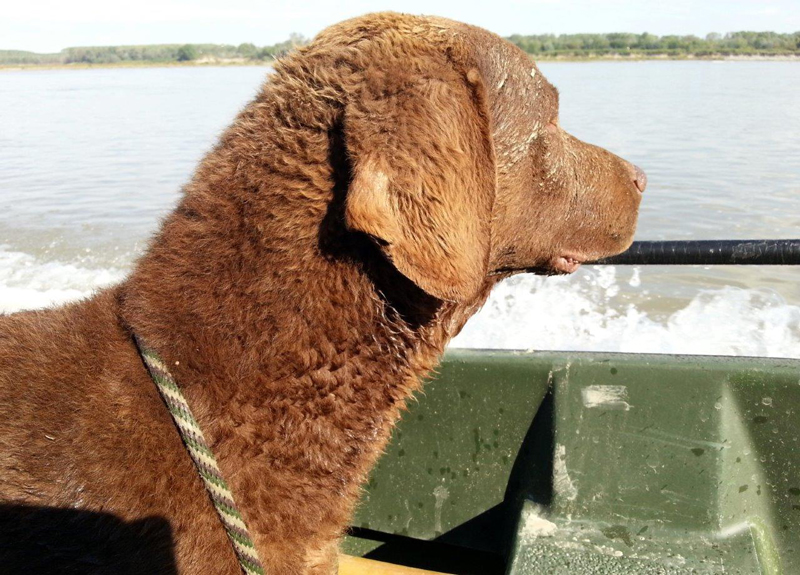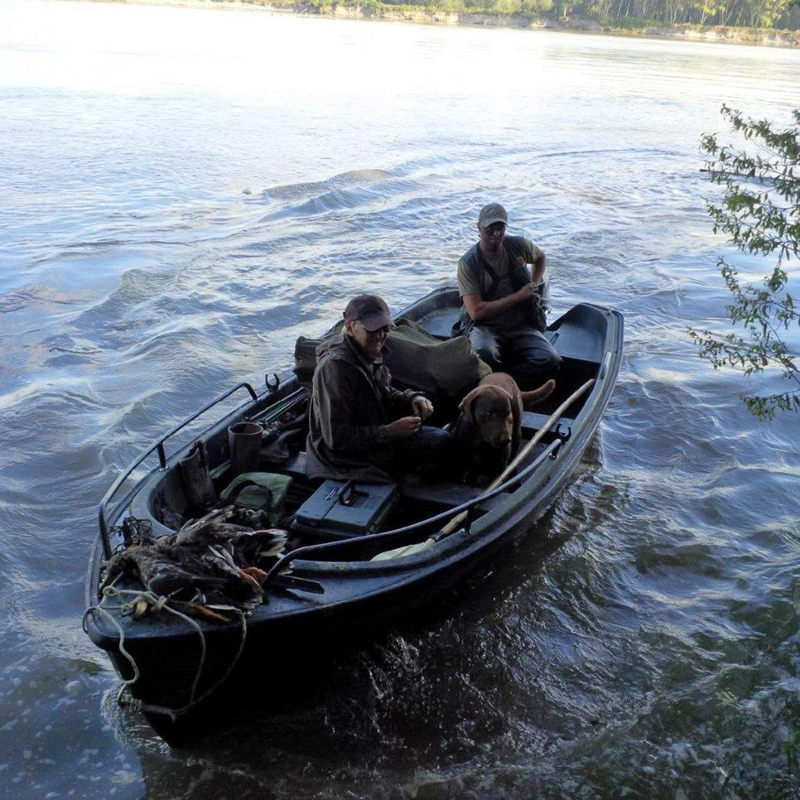 It was an unforgettable day, I'll always remember
---
WT S'CHANF (CH) August 16th 2015
Judges: Mrs. A. Möller (D) / Mr. J. Mente (D) / Mr. S. Hochreiter (A)

---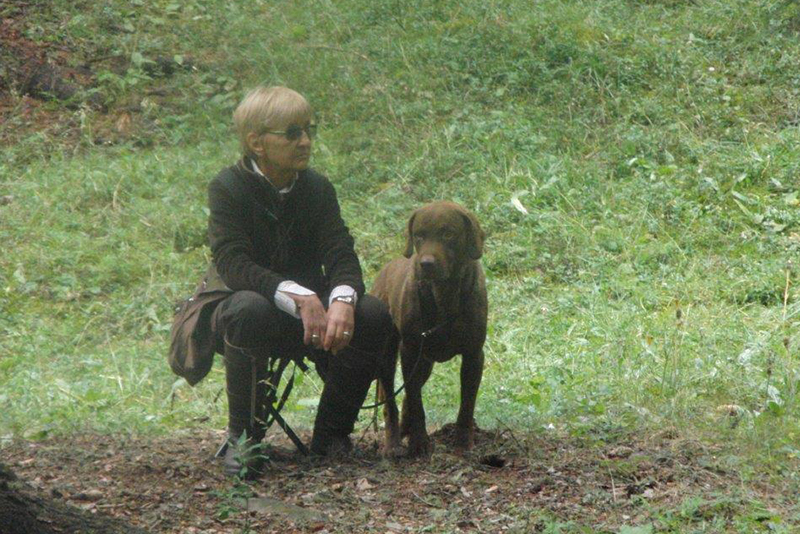 The major part of a Working Test is waiting, waiting, waiting...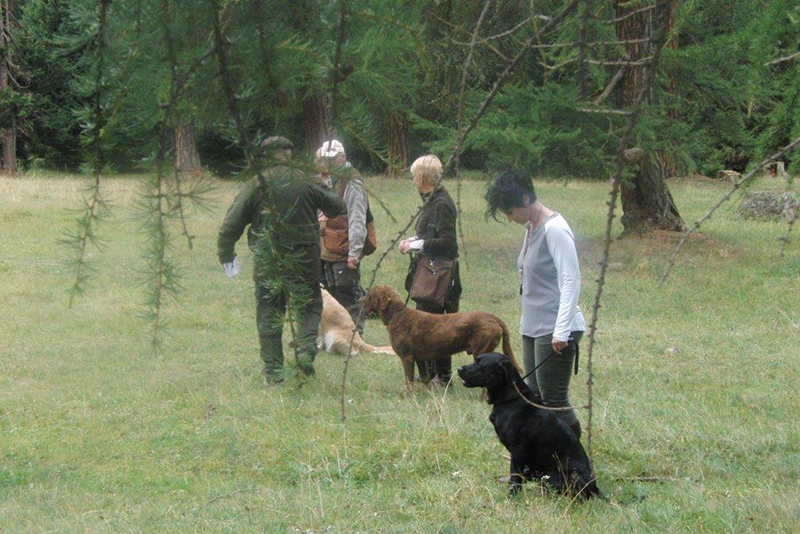 This and the following pictures shows Mr. Hochreiter's test: walking in line, for each dog 2 markings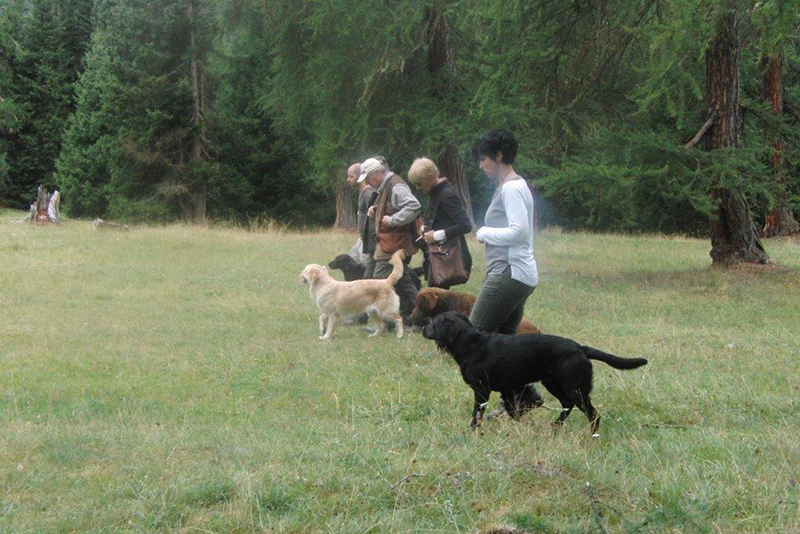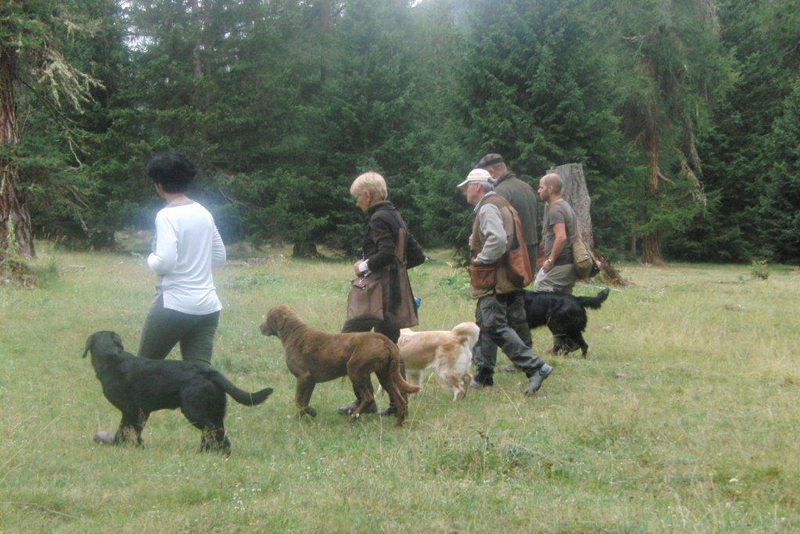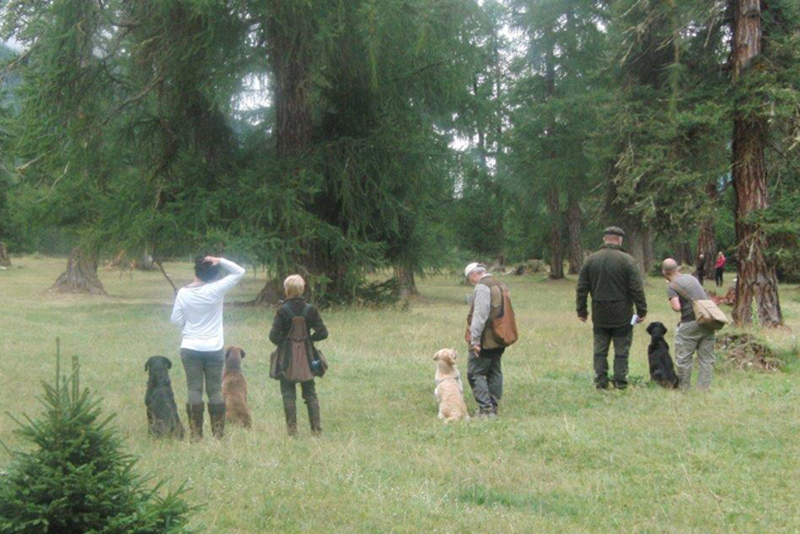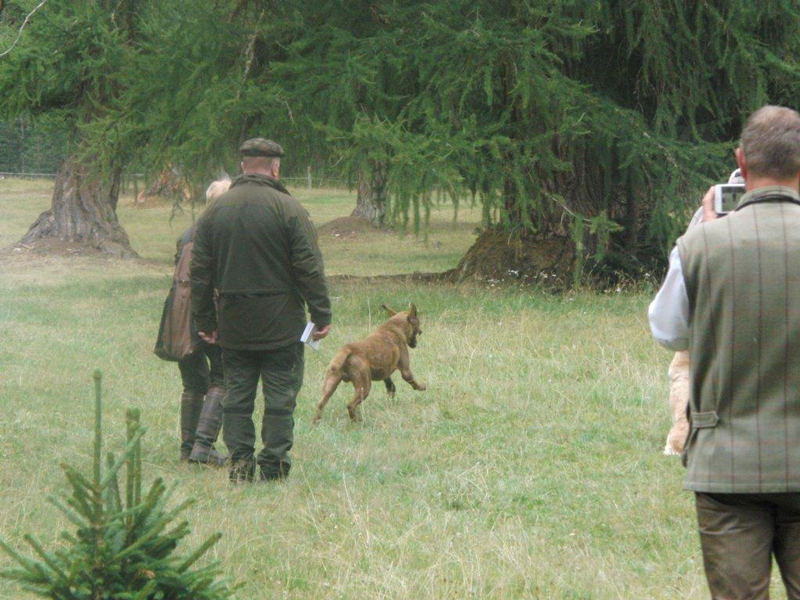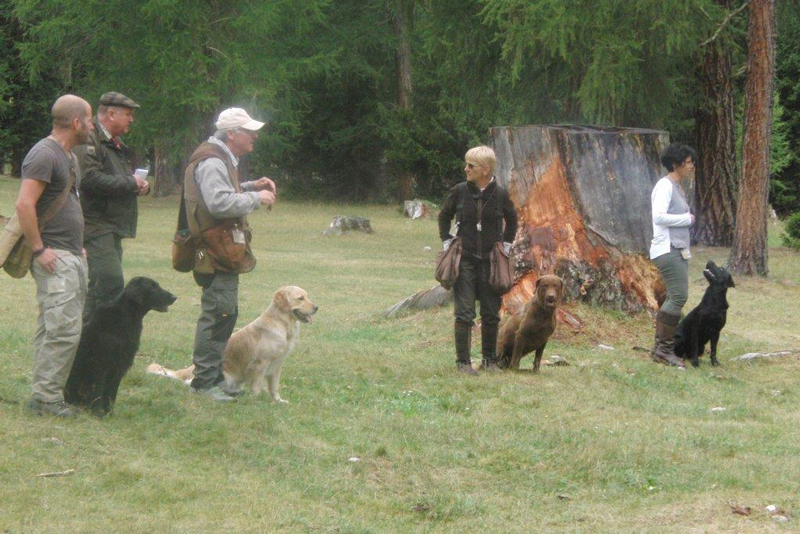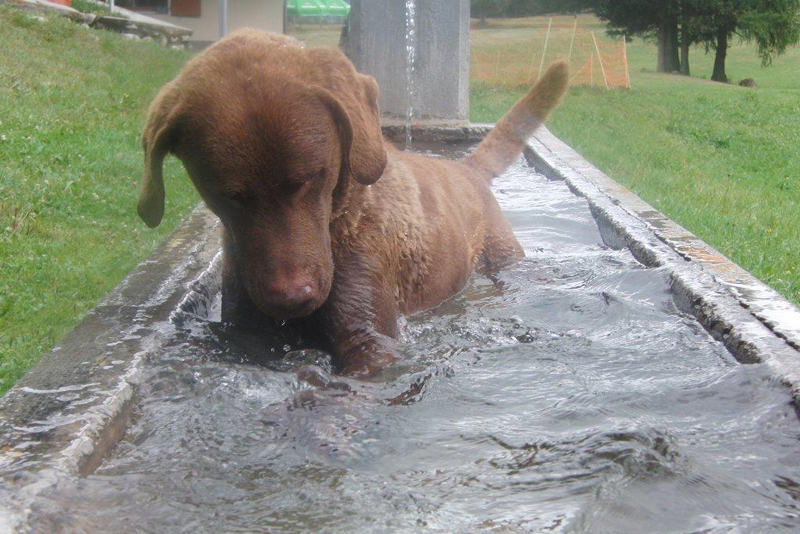 Finally, like every year, Niyol had fun in the fountain, he just loves to splash :)
---
CLA GAME FAIR HAREWOOD HOUSE (West Yorkshire, GB) JULY 31st 2015
---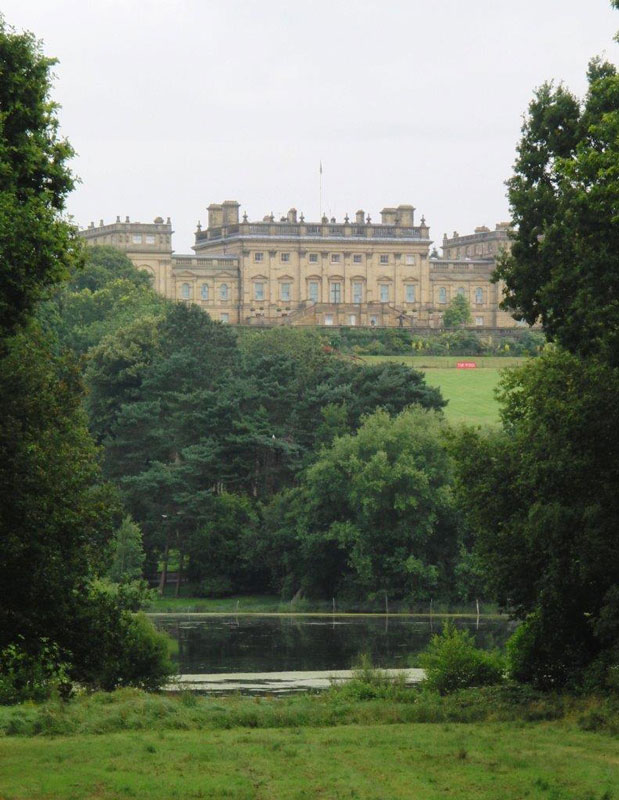 Harewood House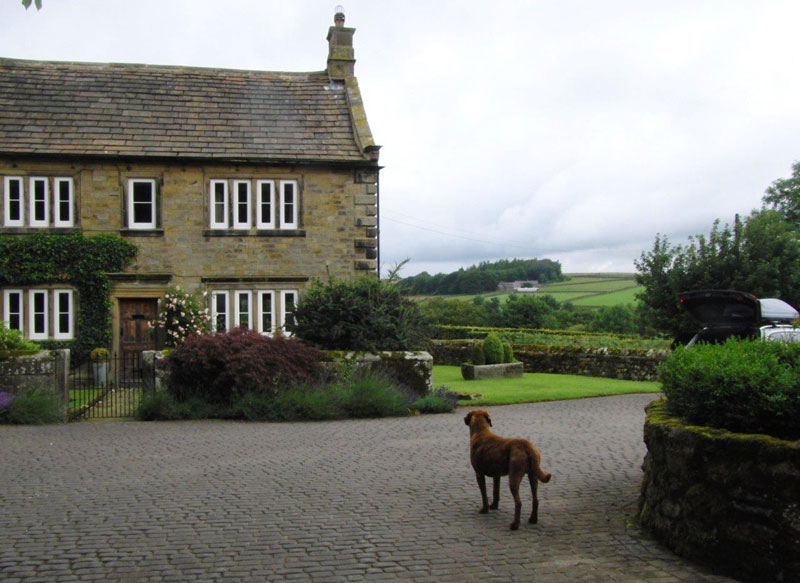 On Wednesday we arrived at the beautiful B&B close to Harewood House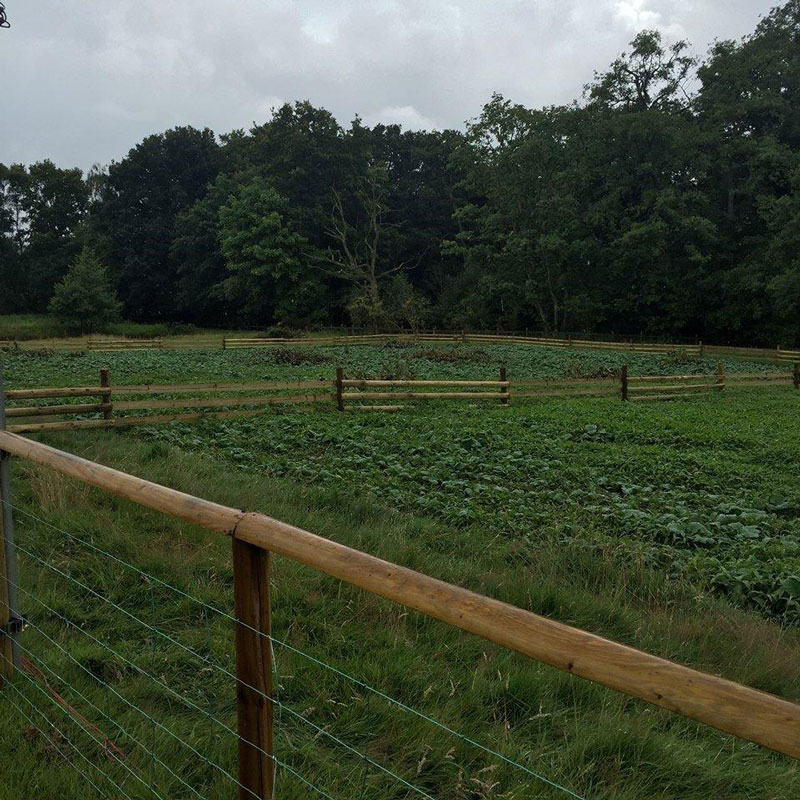 On Thursday we had a first look at the Int. Gundog Arena where the Euro Challenge took place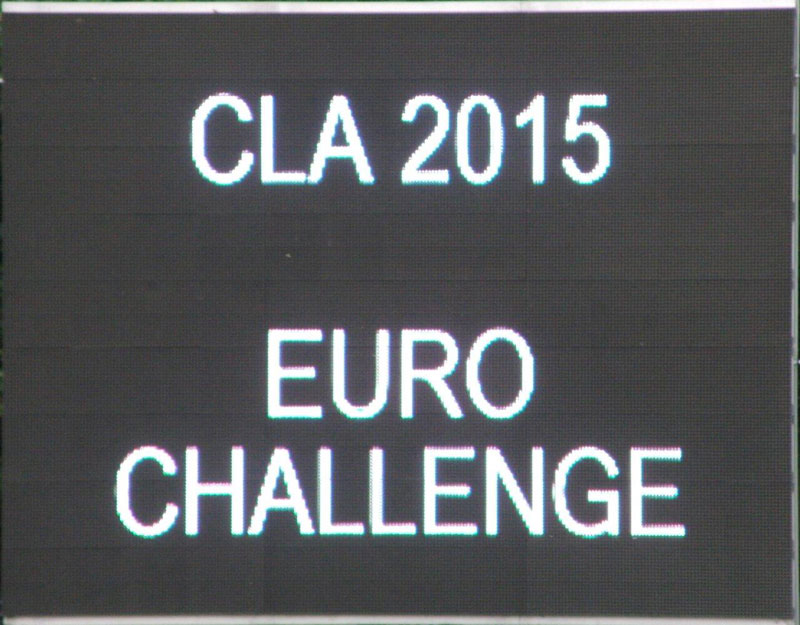 Judges: Jim Gale and Phil Allen; Chief Stewart: Phil Wagland
9 teams participated: Austria, Belgium, Finland, France, Germany, Italy, Netherlands, Switzerland and the UK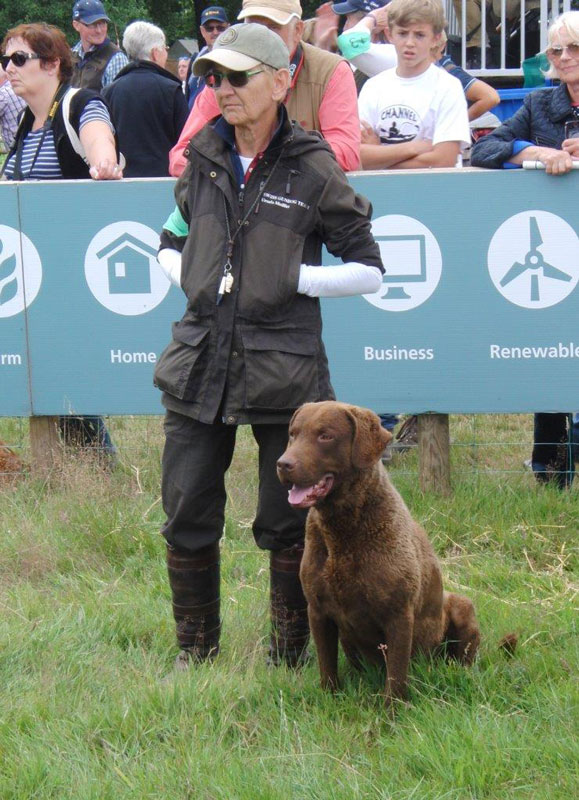 Me and Niyol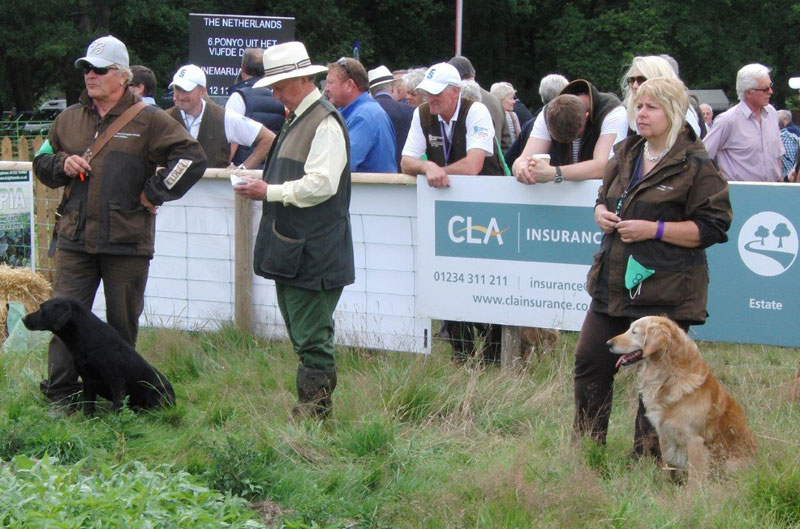 Our teammates Steve and Béatrice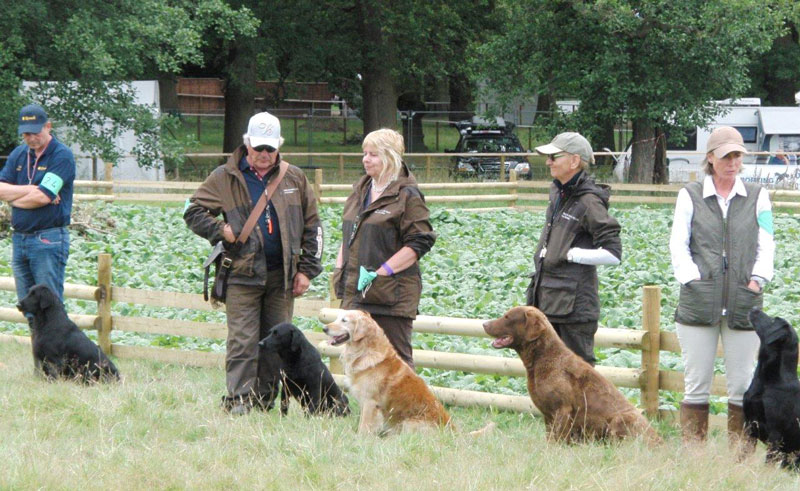 A really exciting test:
Drive, 3 teams in line, shots and flying dummy's on land, in the water, into the woods, even a running rabbit...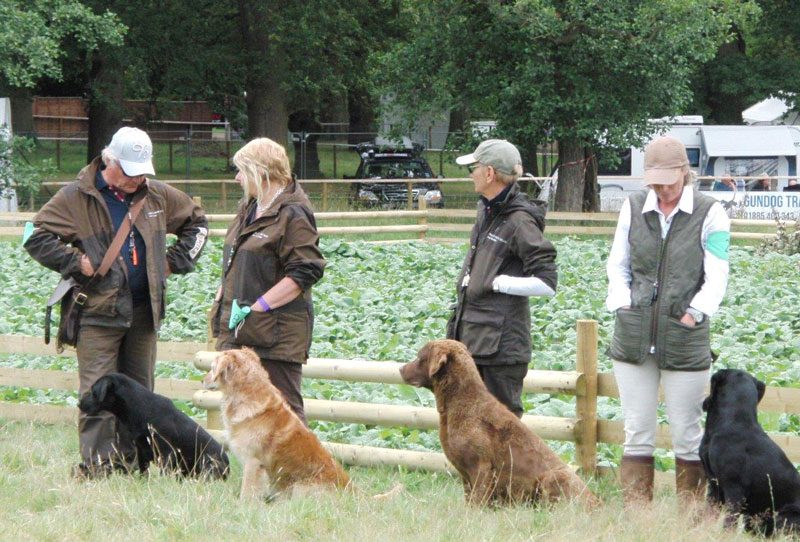 Nerve racking wait in line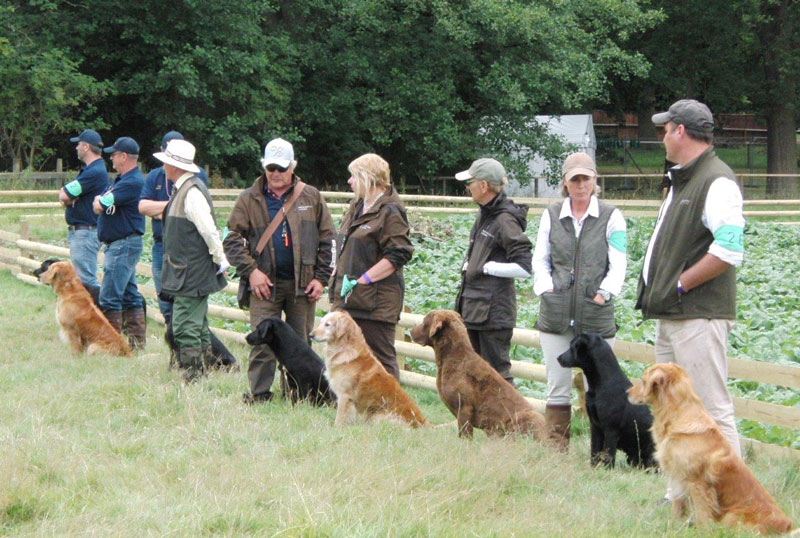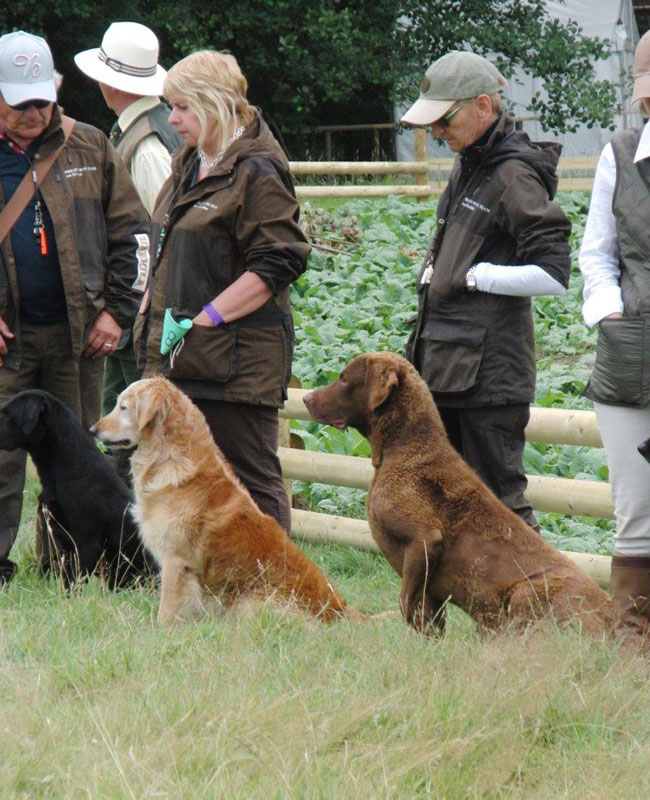 Even Niyol gets a little bit nervous and is eager to go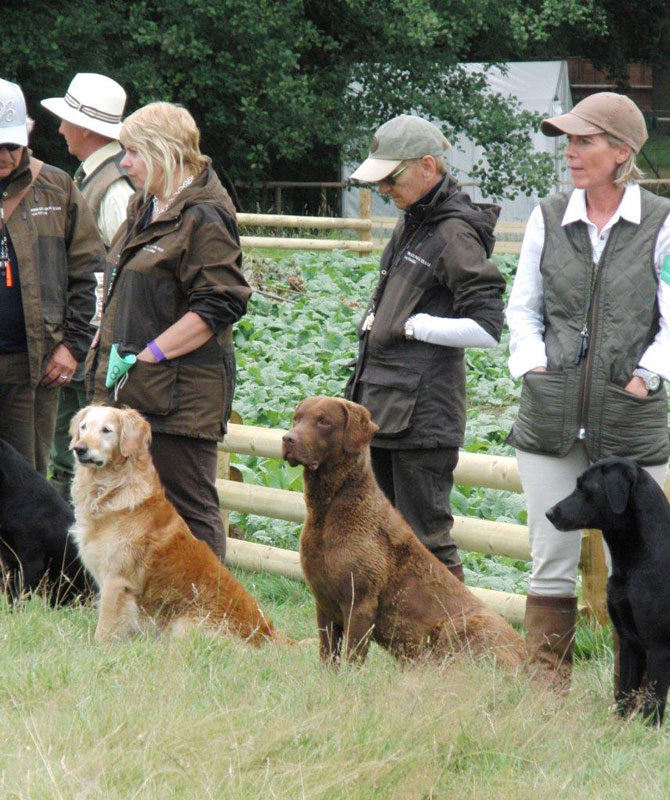 Finally the spook was over, no dog was running in!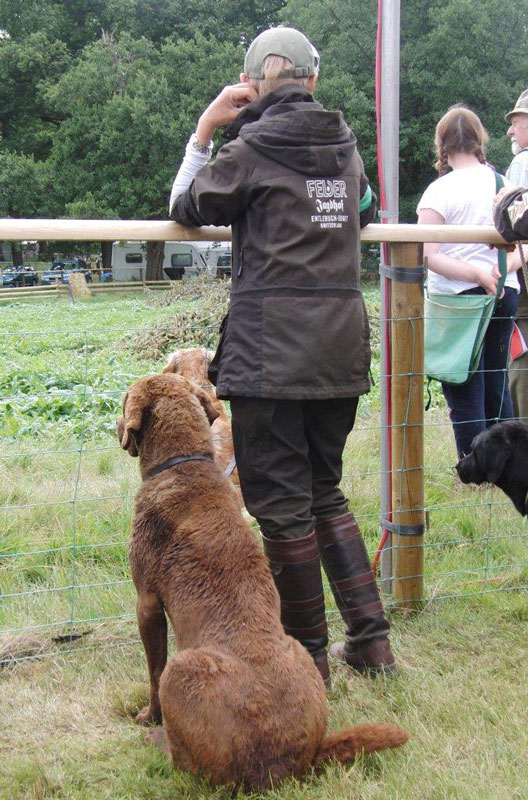 It's always interesting watching the other teams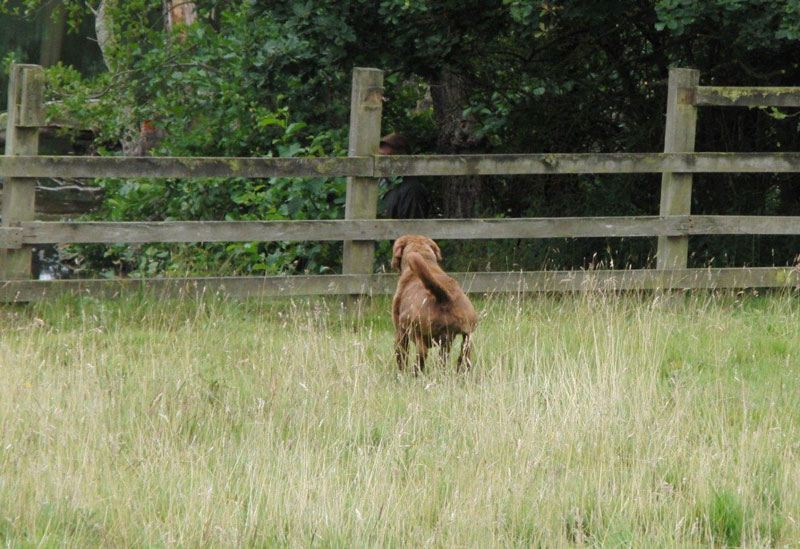 Behind the fence there was a hidden water where the dummy was thrown in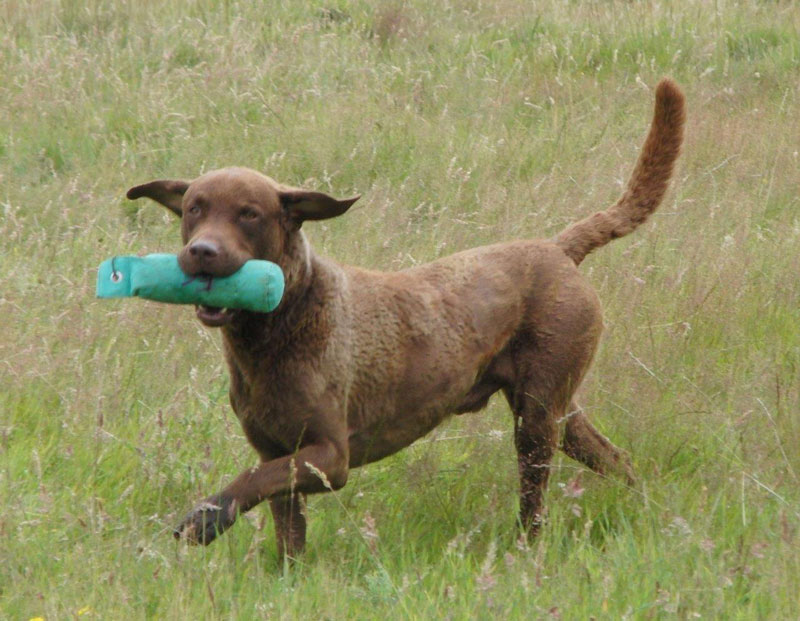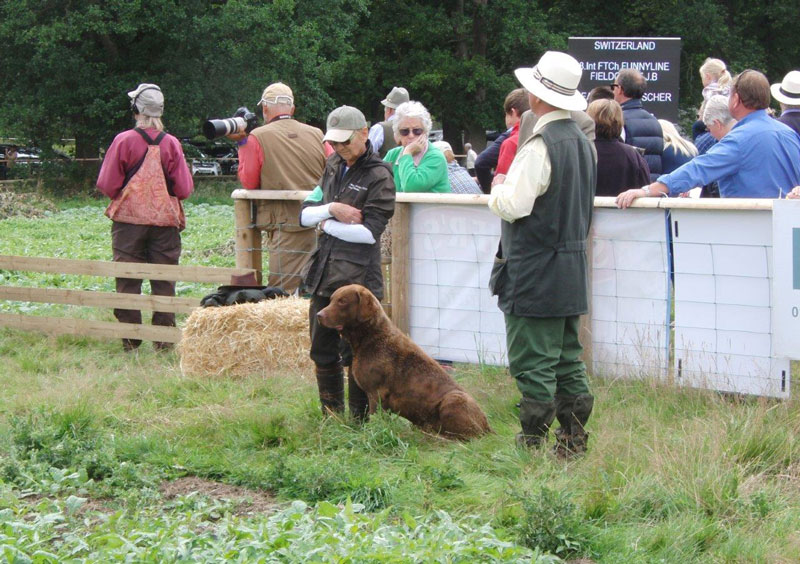 Niyol in waiting position for the test on the water: a blind on the other side at the very end of the field.
Once again, he did an excellent job.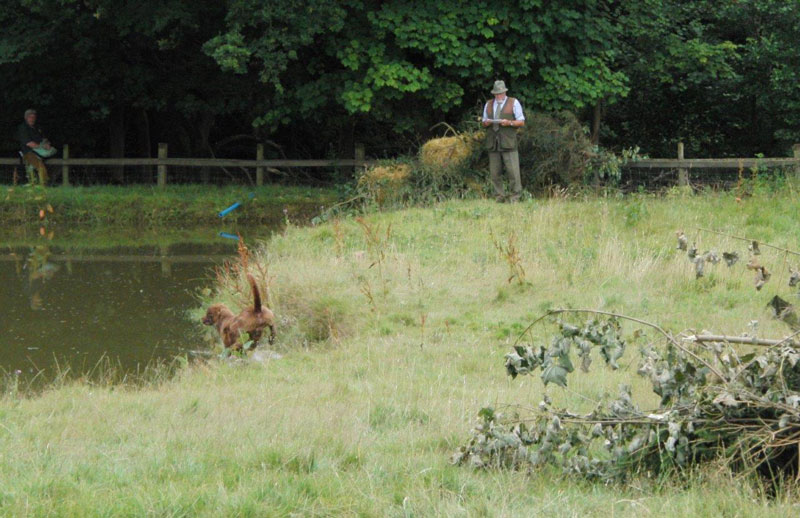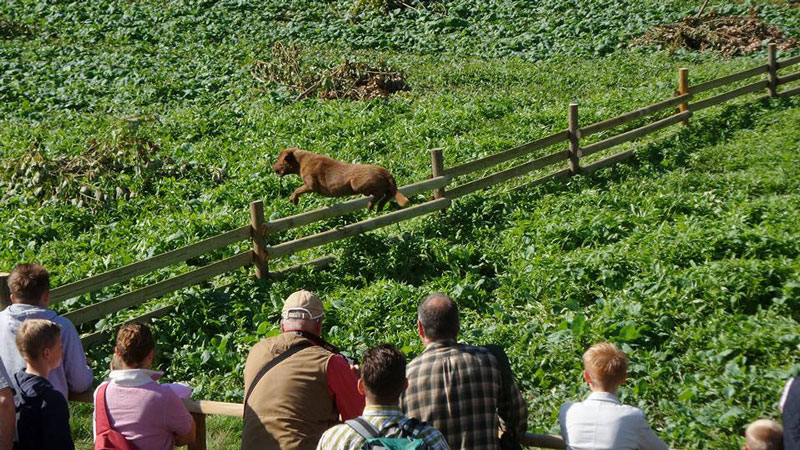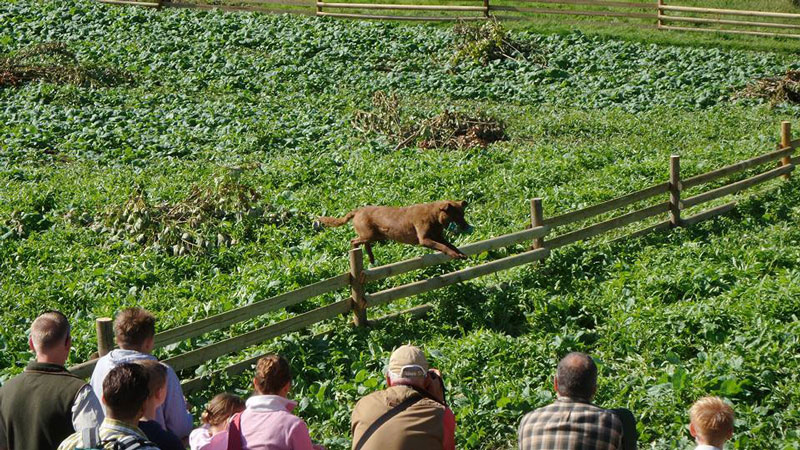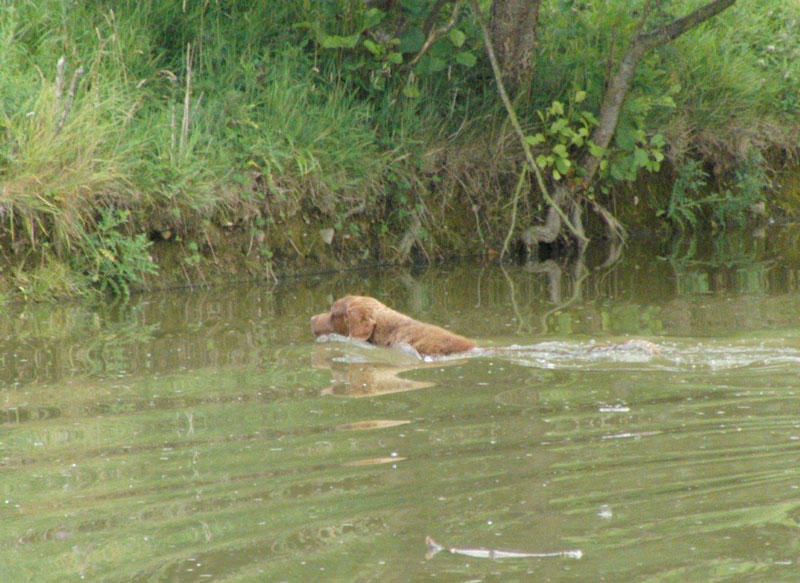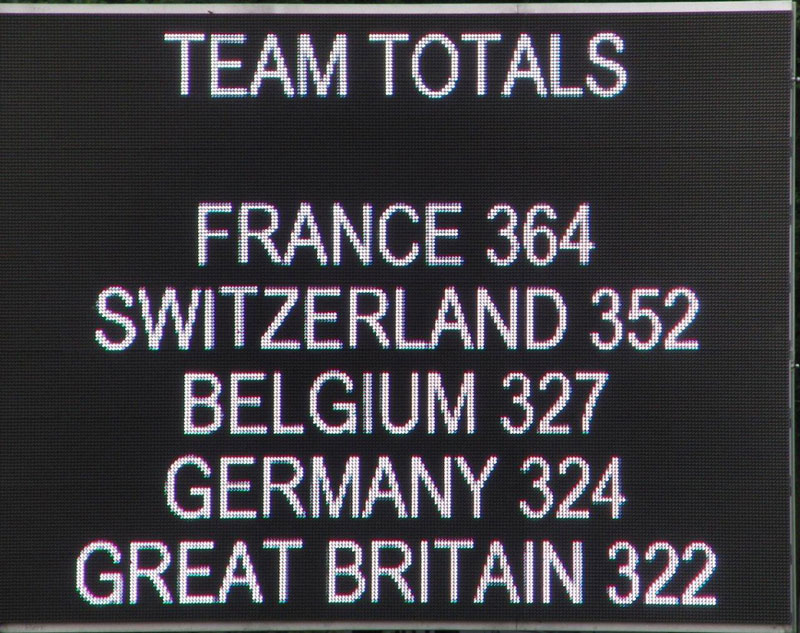 The final results: SWITZERLAND SECOND PLACE!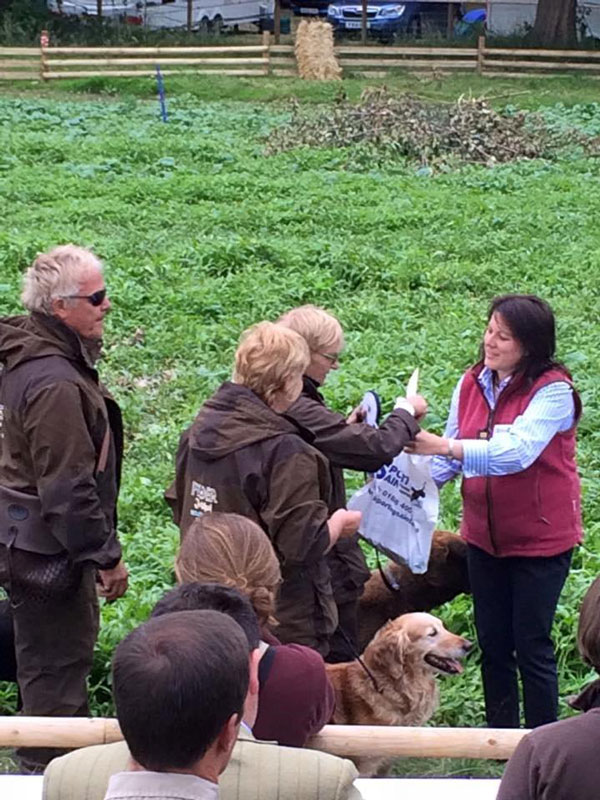 Price giving. We have been very proud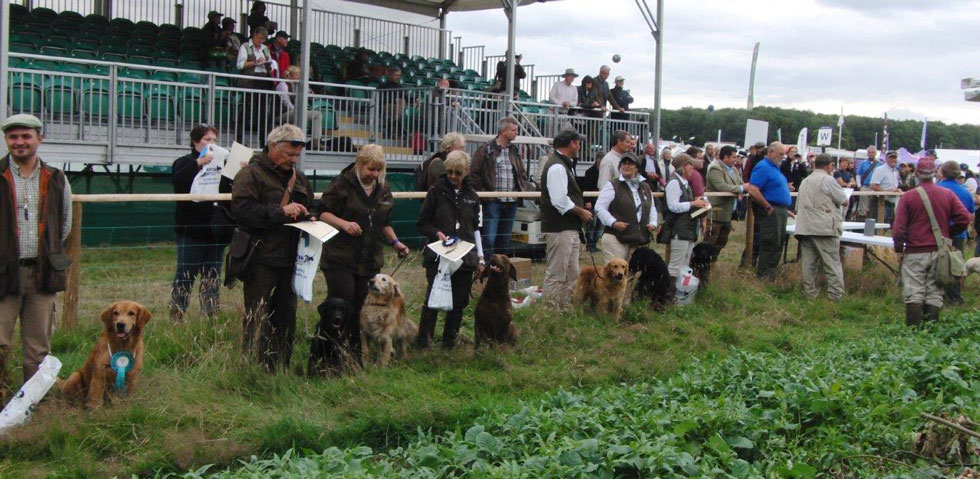 The winning team was France, Belgium took third place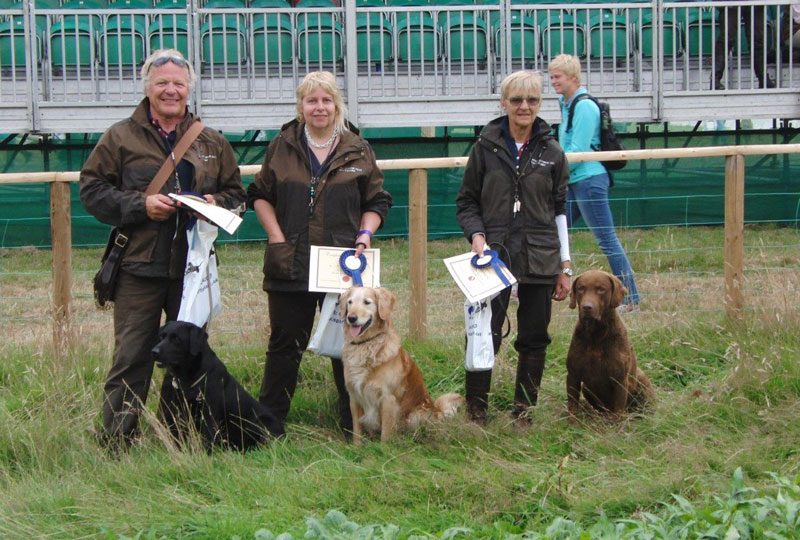 Swiss team: Steve Grütter (Captain) Olivertash Halo; Béatrice Lötscher Int.FTCh Funnyline Fieldquest J.B; Me and Niyol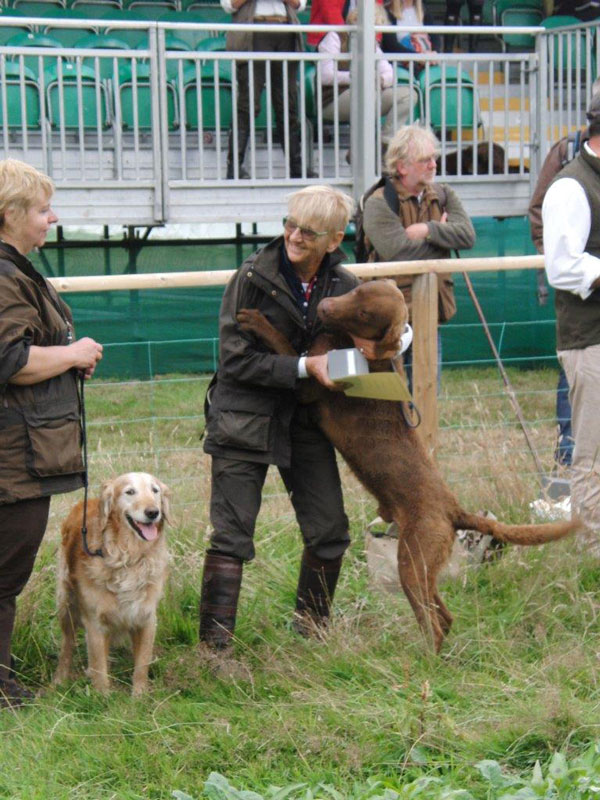 There was a special price for the best Golden, the best Labrador and the best "other Retriever".
Niyol was overall second and the best "other Retriever" with 113 points out of 120.
Winner and best Labrador was a dog from Finland scoring 117 points.
The best Golden was from France and scored also 113 points.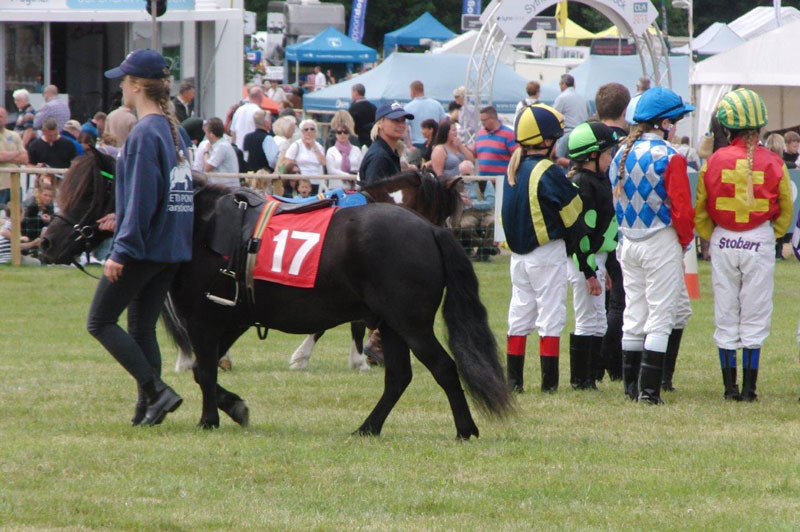 There is always a lot to see during the CLA.
This year I had a look at the kids riding the "Grand National" for pony's. Those little jockey's where amazing!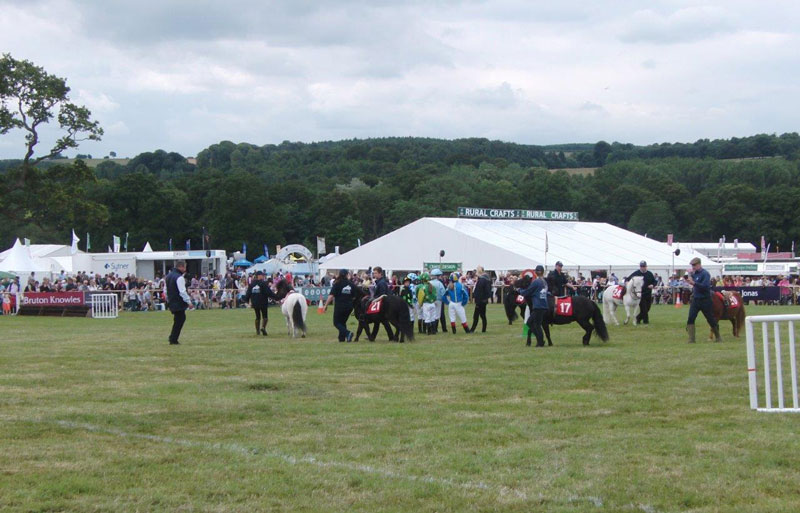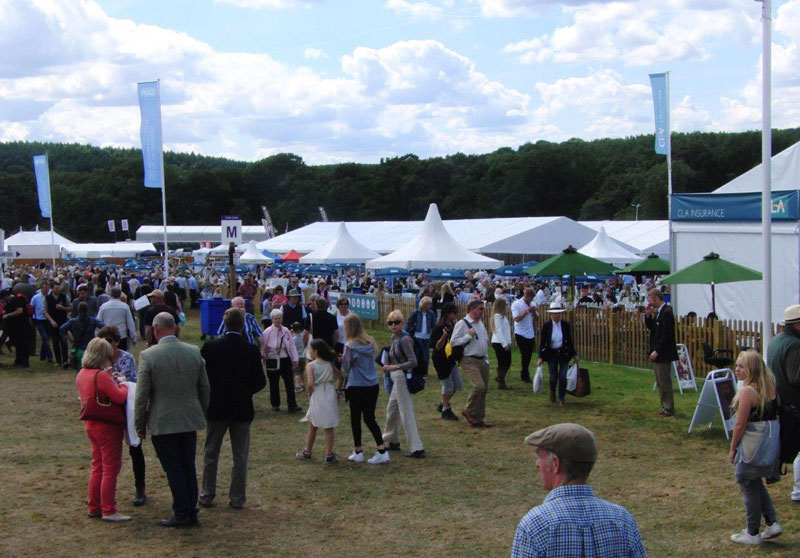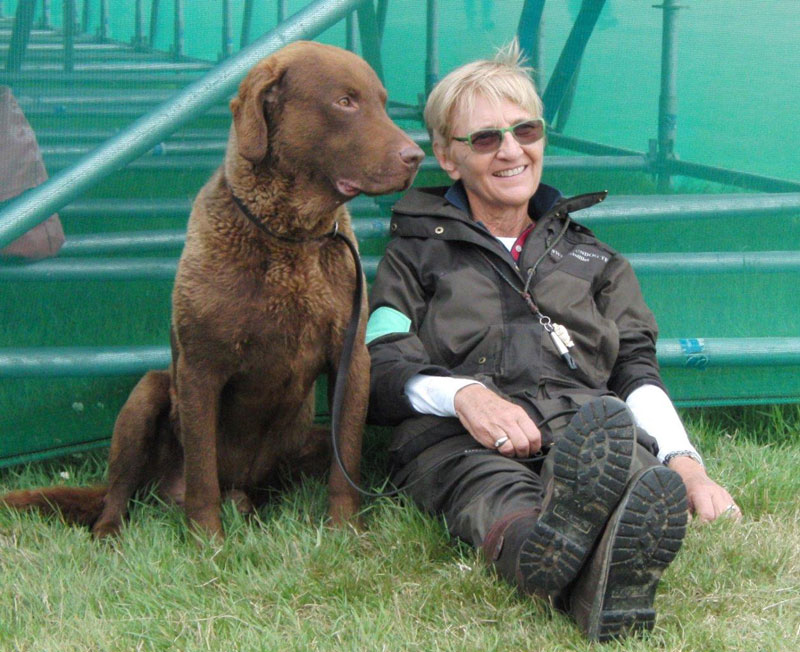 I had the best reason to laugh, Niyol did a fantastic and outstanding job!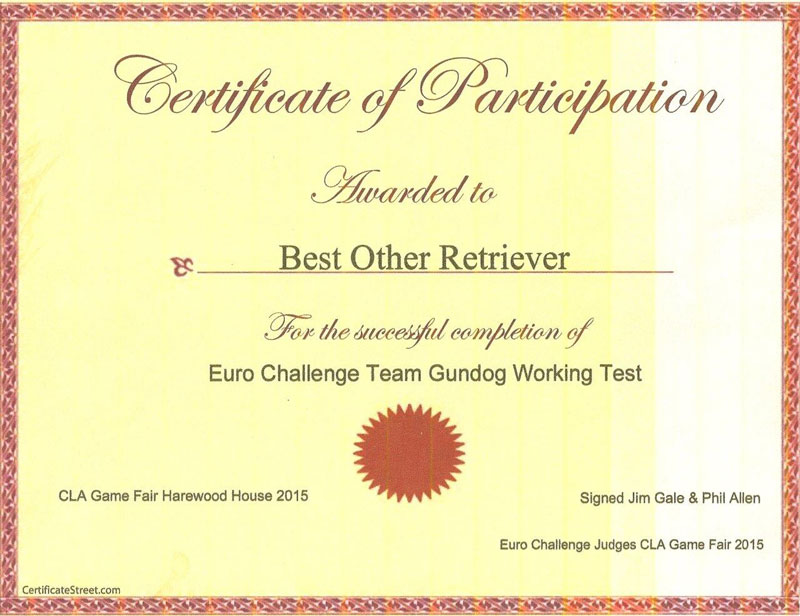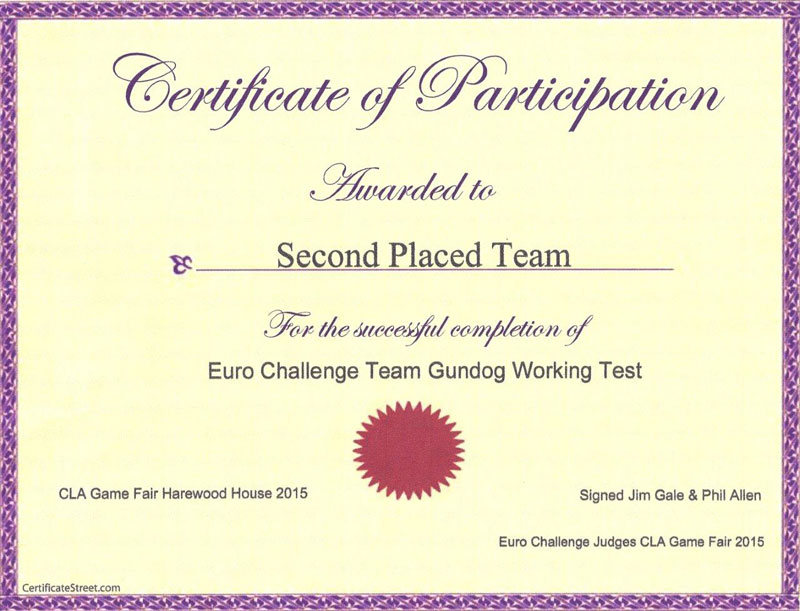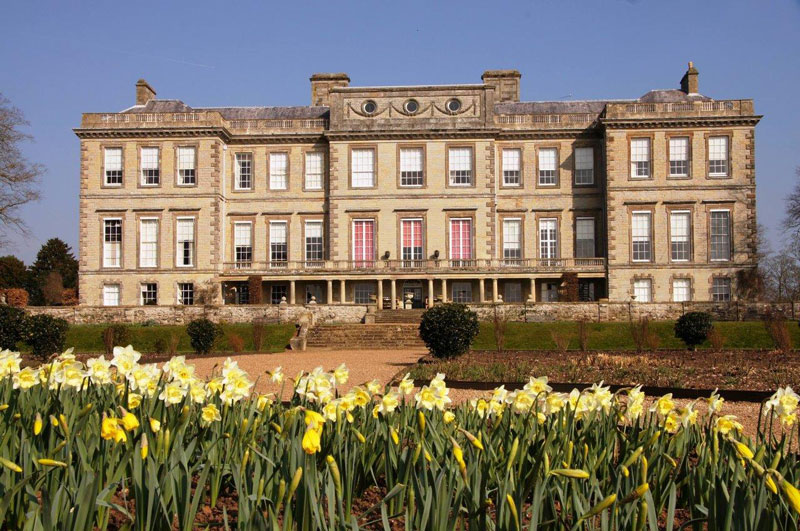 CLA 2016: July 29th to 31st at Ragley Hall (Warwickshire GB)
Hope seeing you all!
---
NOW IT IS OFFICIAL: GLEAM IS SWISS CHAMPION July 2015
---
---
WORLD DOG SHOW MILANO June 2015
---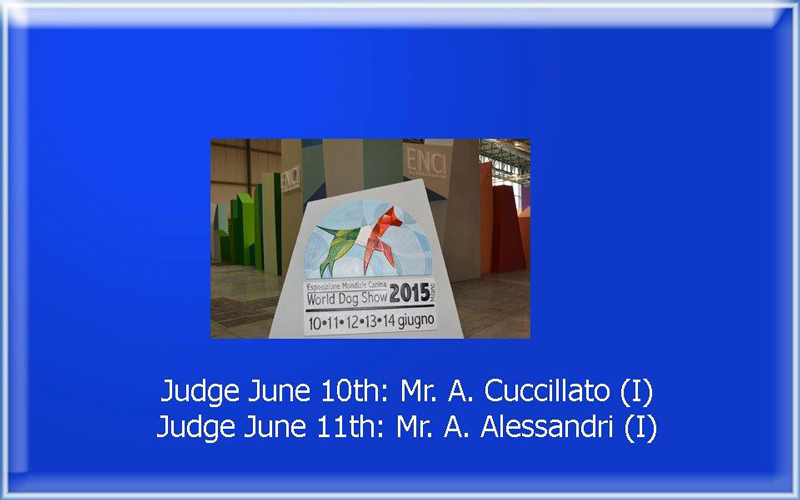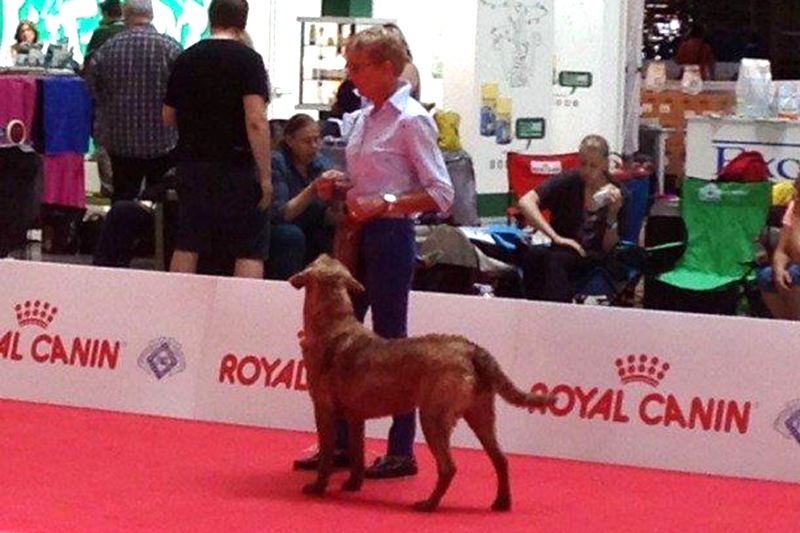 On both days the judges liked Gleam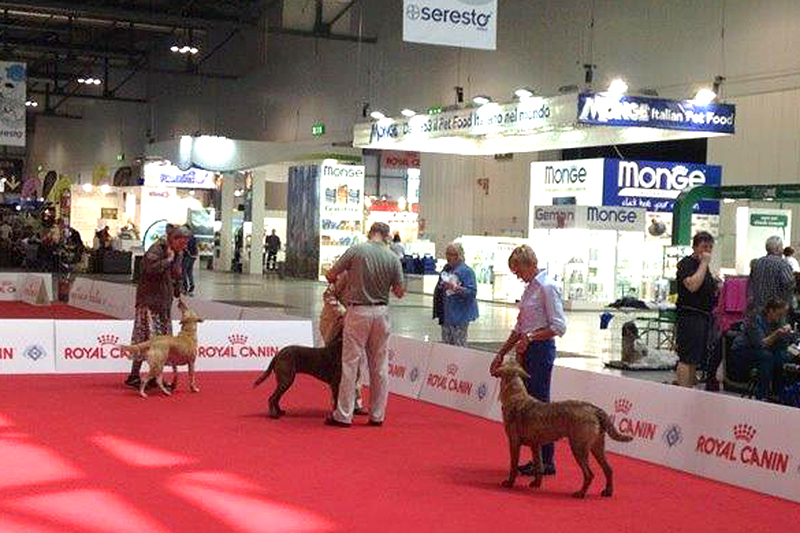 First day, Club Show Open Class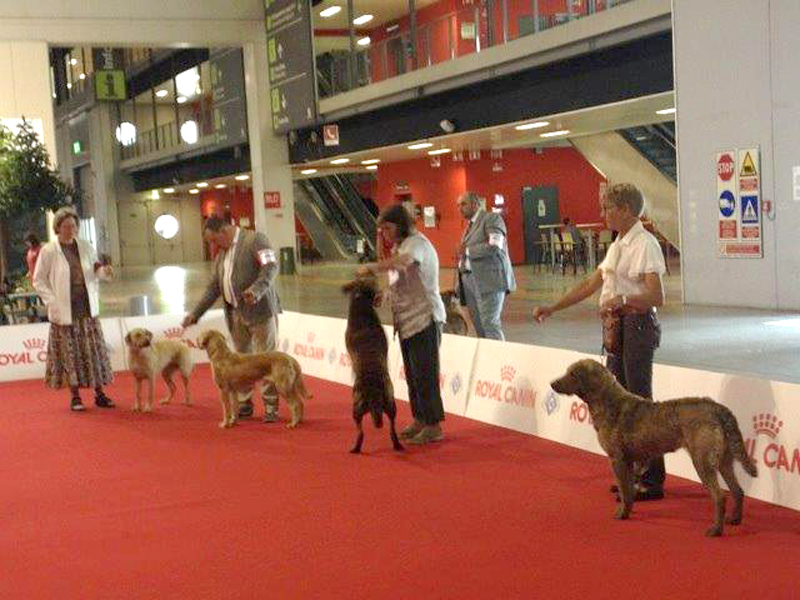 1st Exc. In Italy they distribute only one CAC/Res.CAC for all classes. Gleam earned the Res.CAC. Well done Gleam!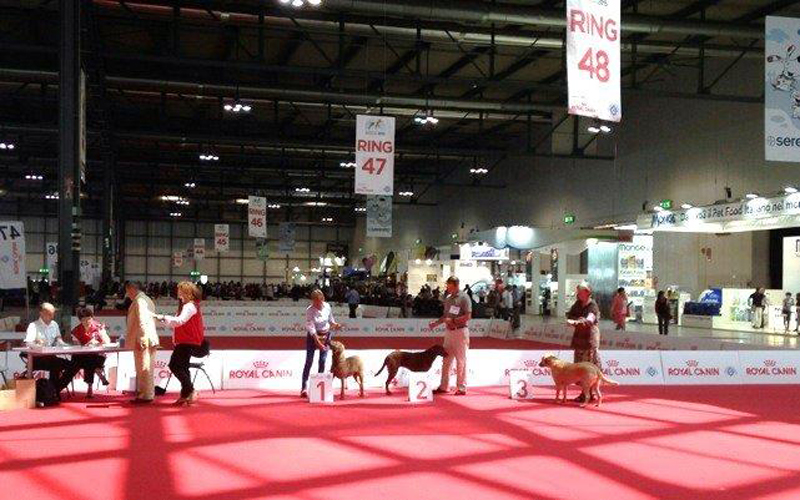 Also the second day was successful. 2nd Exc. and again Res.CAC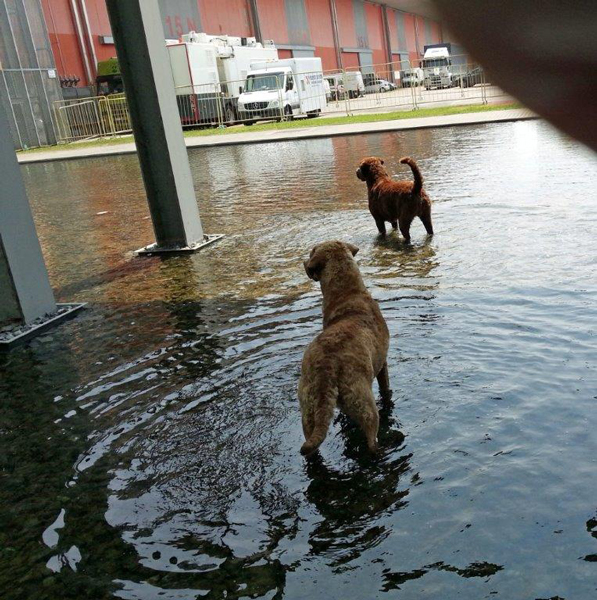 At the entrance to the show halls was kind of a "dogs swimming pool"...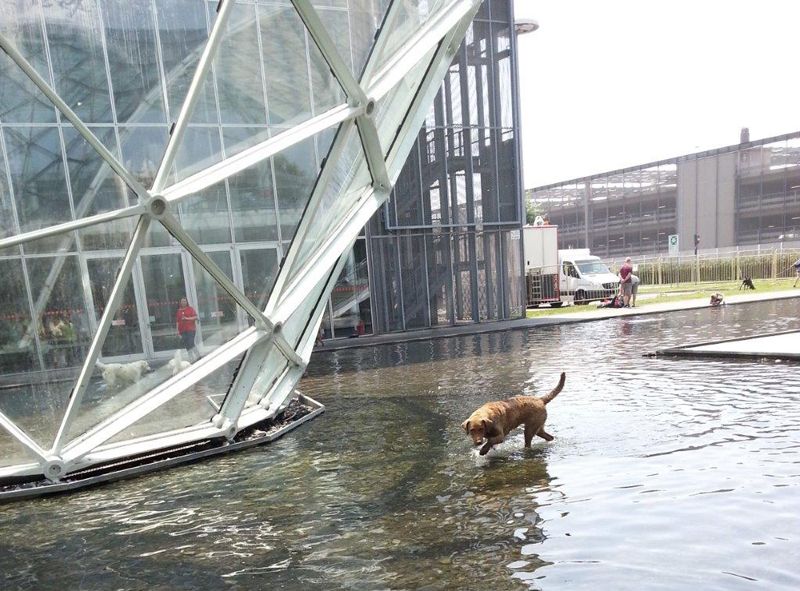 ... whenever we could we sneaked out and the dogs had fun and could relax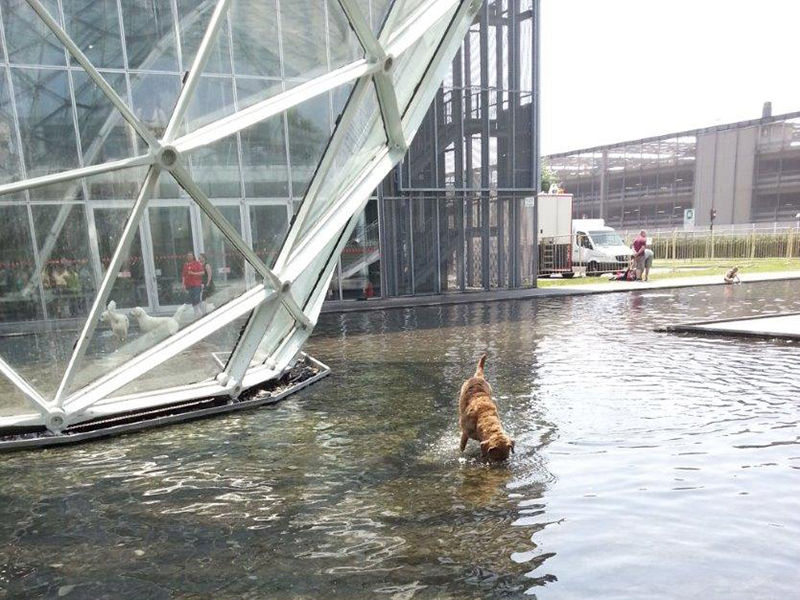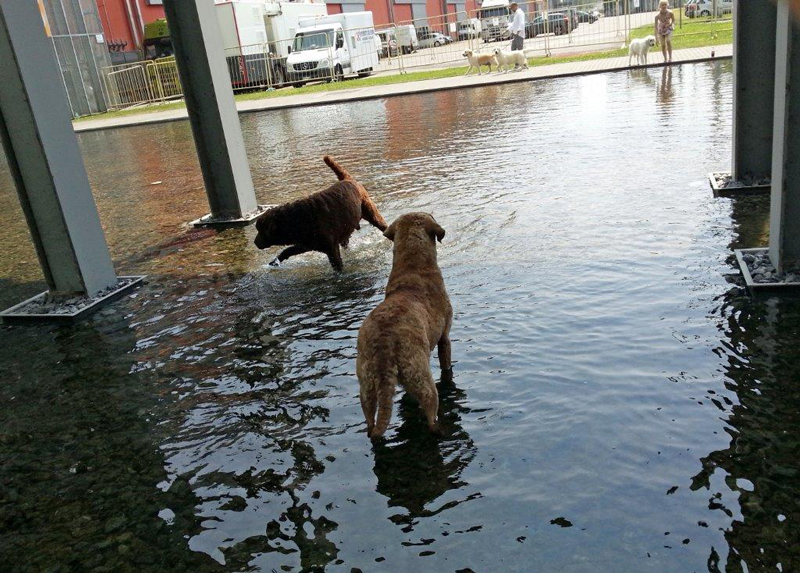 Gleam could fool around with her friend Beo which earned 1st Exc. working class and Res.CAC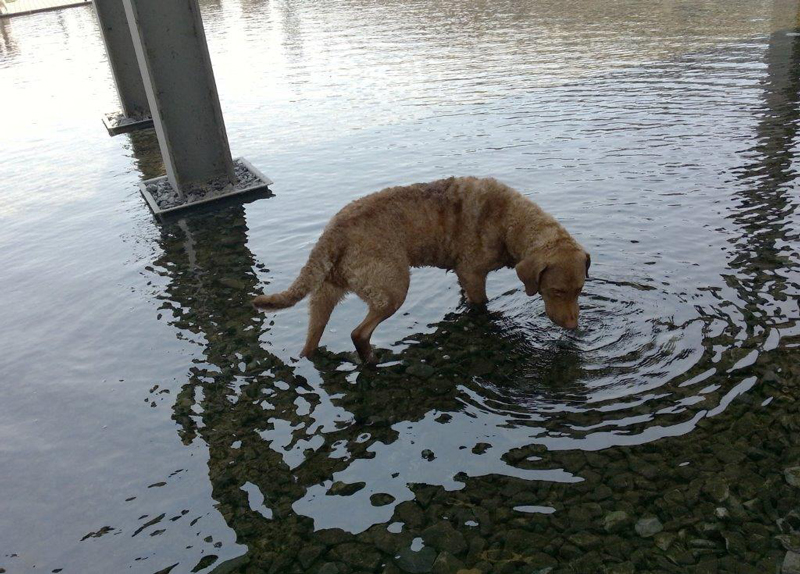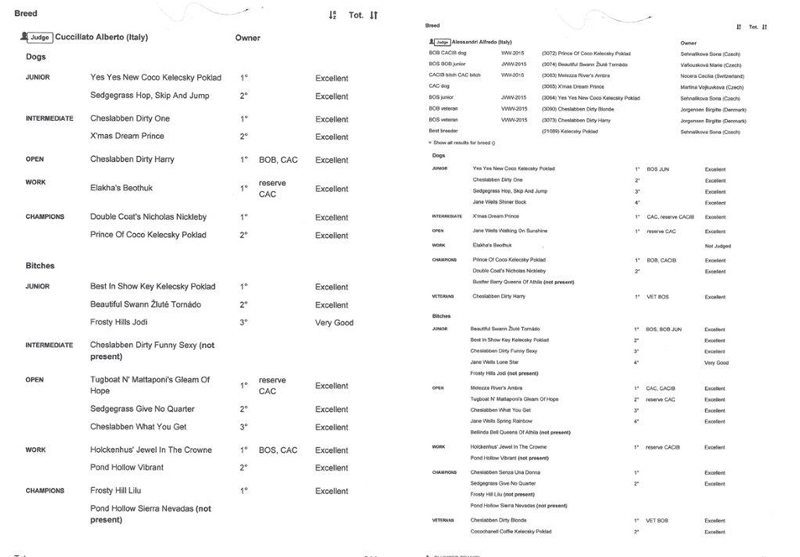 Final results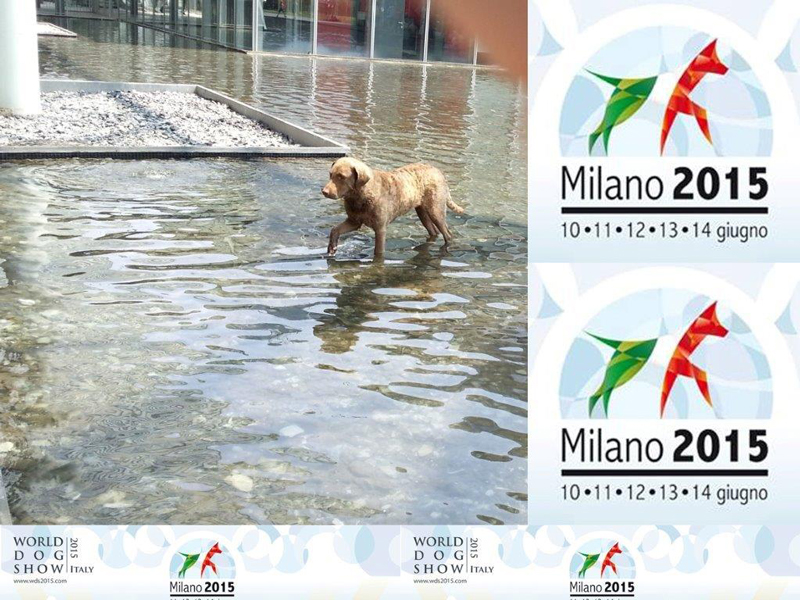 ---
RETRIEVER CLUB SHOW CH-AARAU June 7th 2015
Judge: Mr. Erling K. Pedersen

---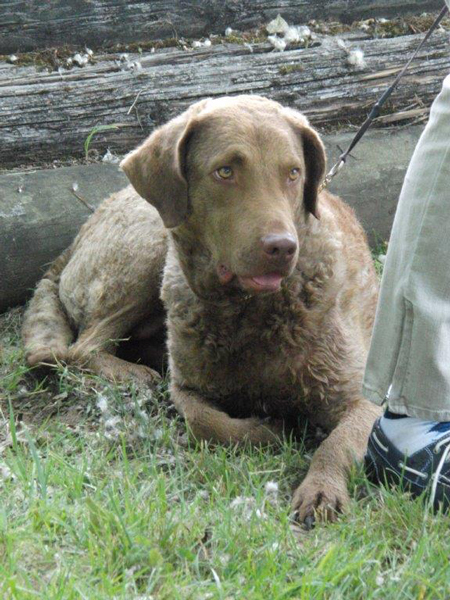 I was very proud of Gleam: CAC and BOB! Today she earned her last CAC to be honored with the title "Swiss Champion"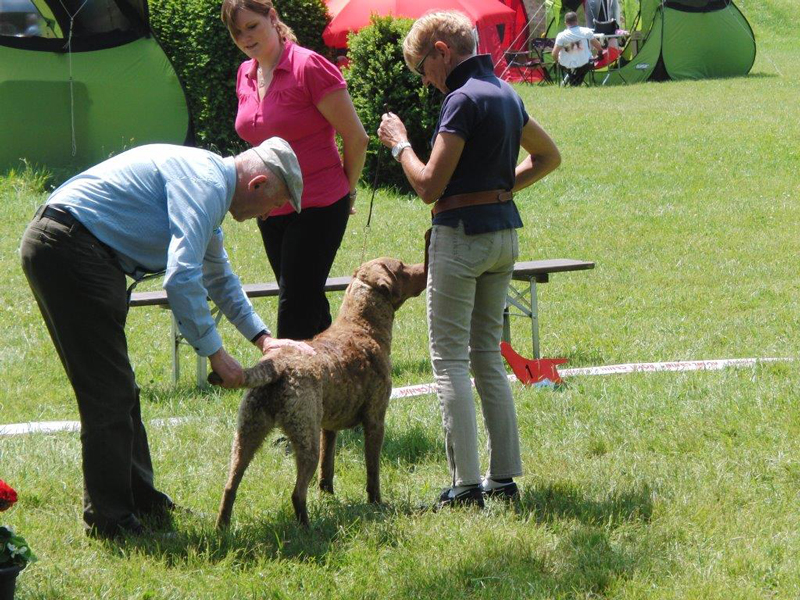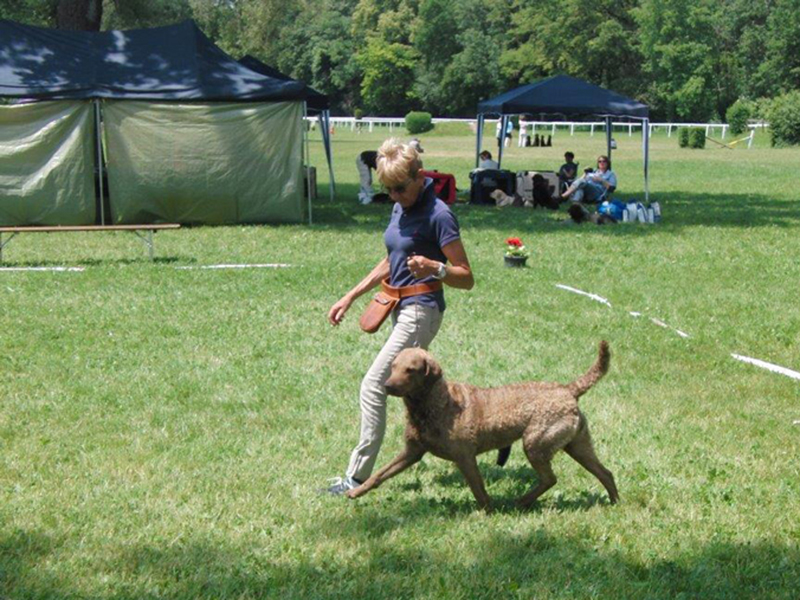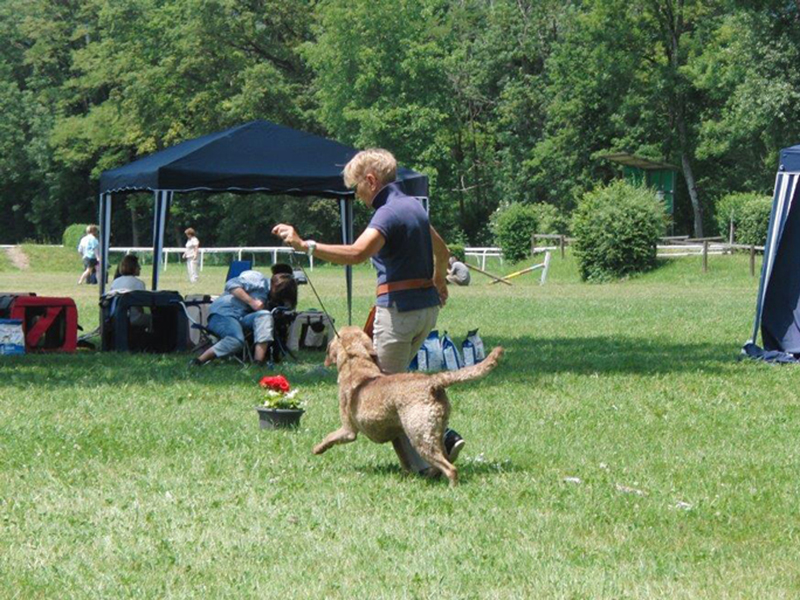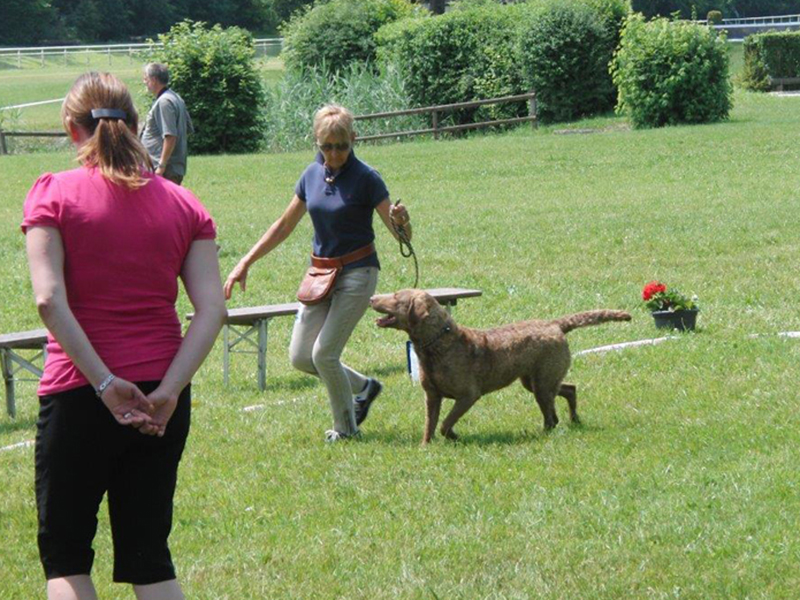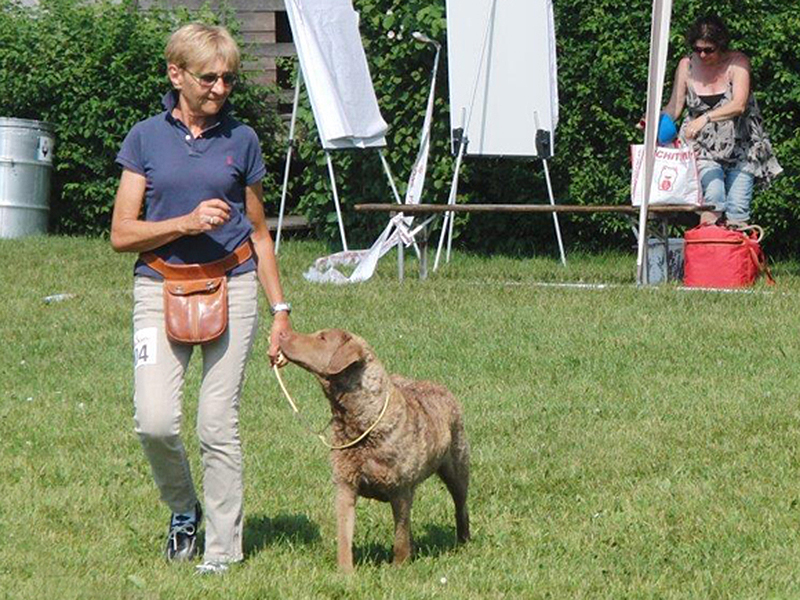 ---
WT TREVIOLO (BG) Italy
May 17th 2015

---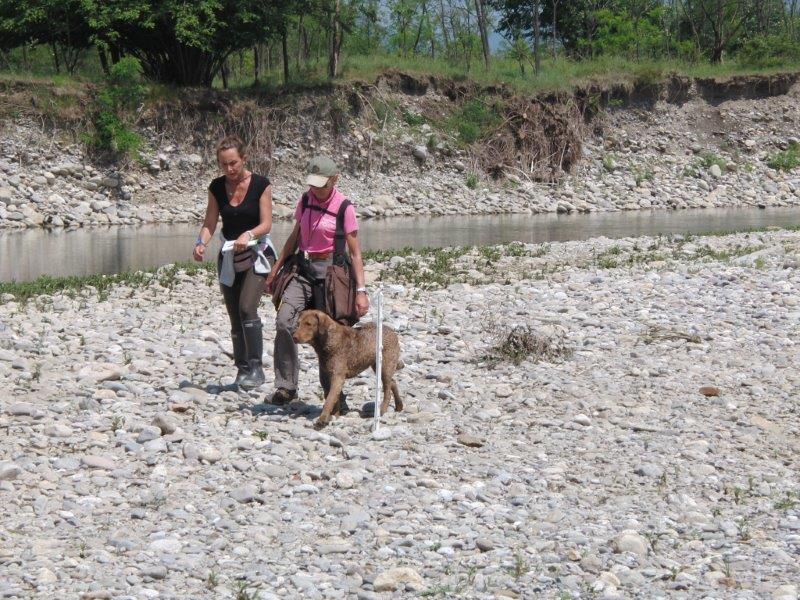 Gleam competed in the Beginners Class and she did quite well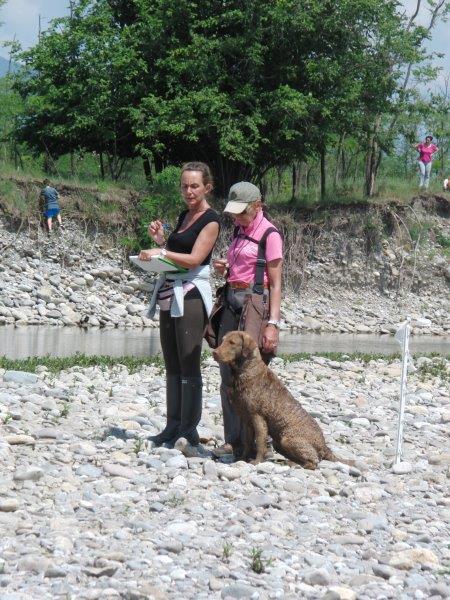 Her first test was on the water and I was a little bit afraid she would run in but she didn't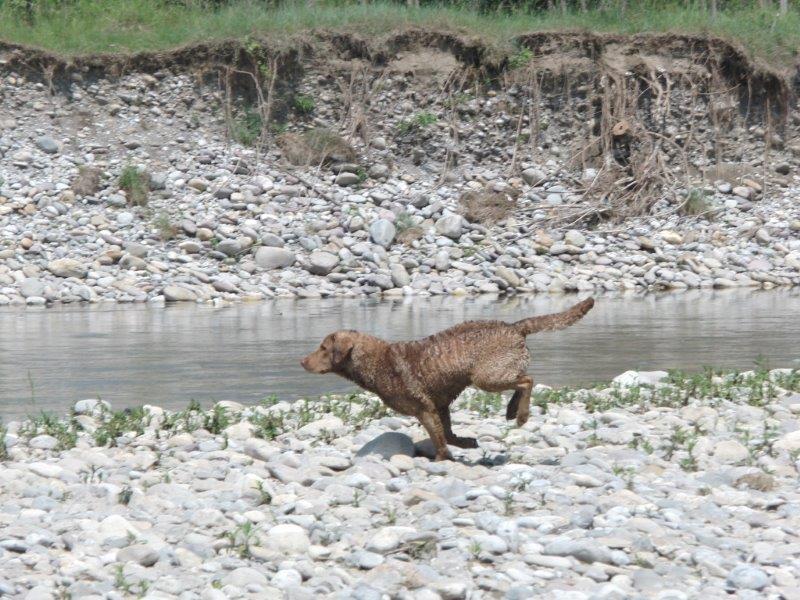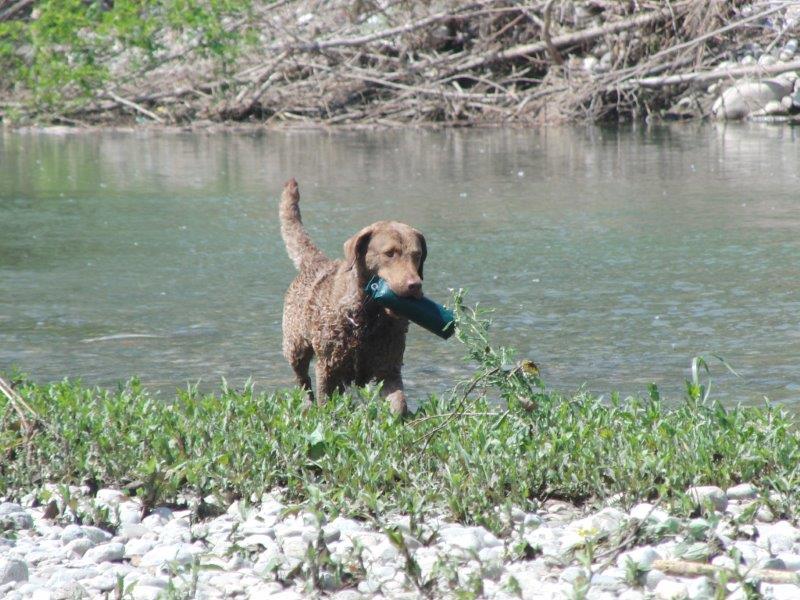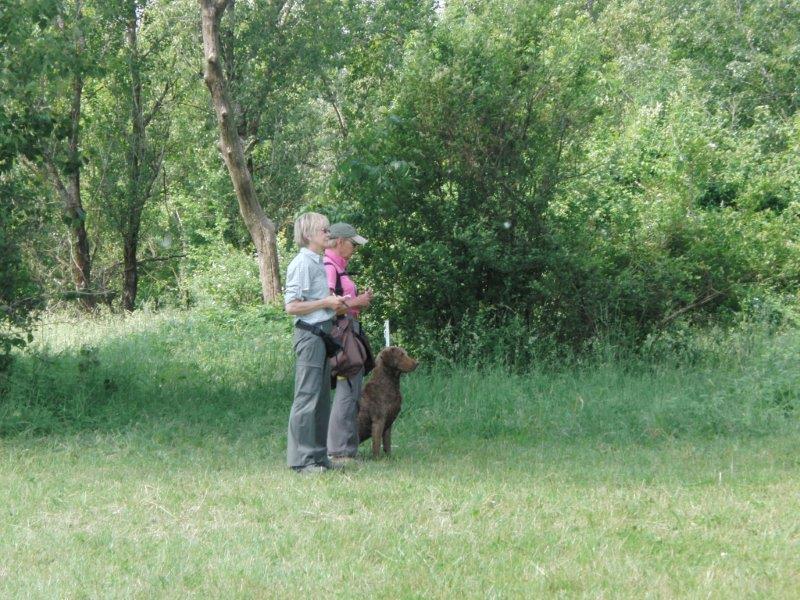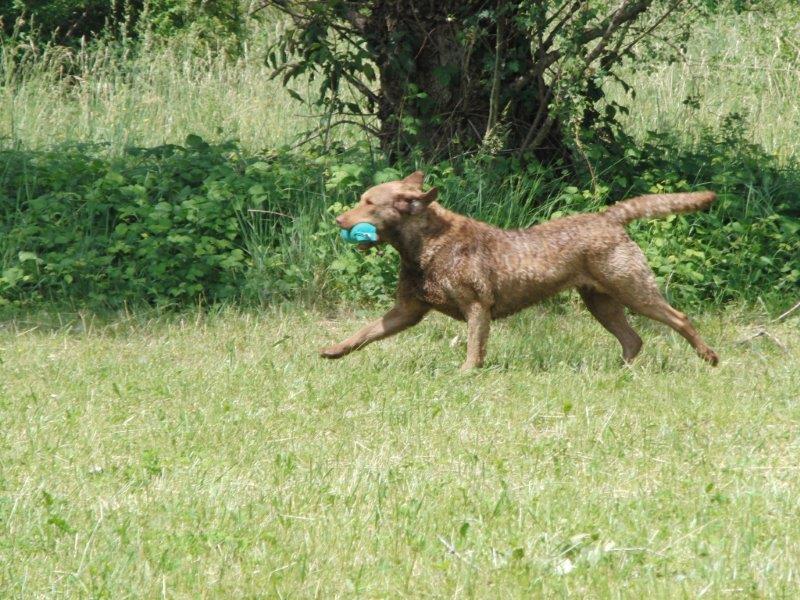 At the end she was placed 5th which made me very happy!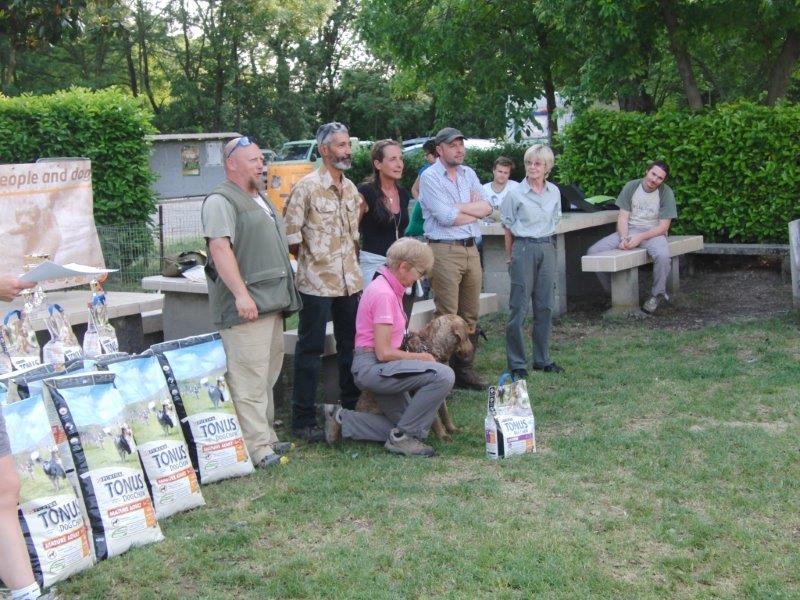 On this extremely hot day Fortuna was with us. But "fortune is brittle as glass" and "look before you leap"...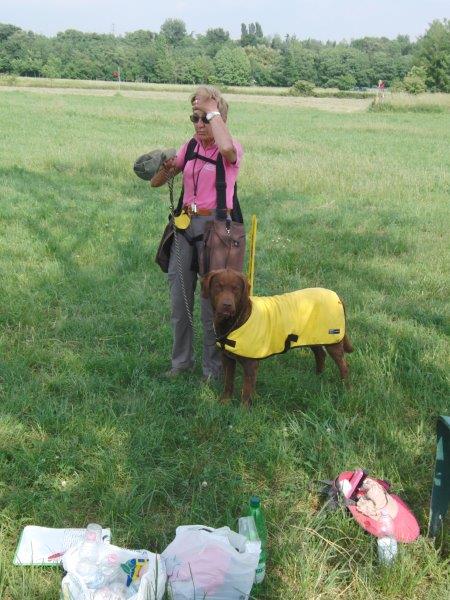 Niyol is wearing his cool-down blanket and it was very, very helpful!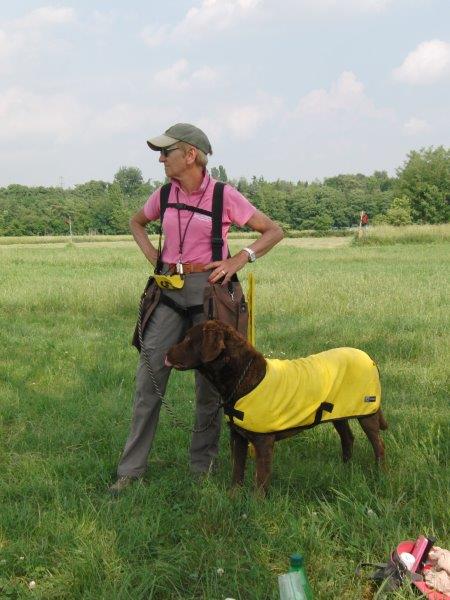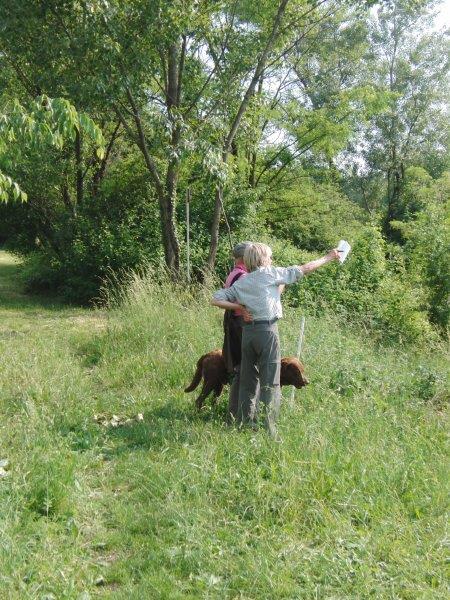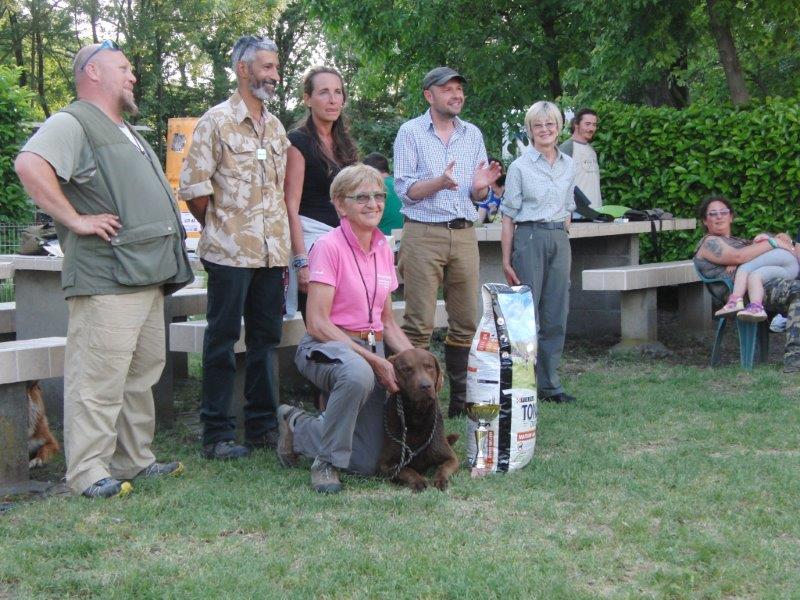 Niyol was the winning dog in Open Class. I was so proud of him and I thought to myself "yes we can"
---
TRAINING DAY WITH TIZIANO CAGNONI IN PONTE NIZZA (PV) ITALY
May 10th 2015

---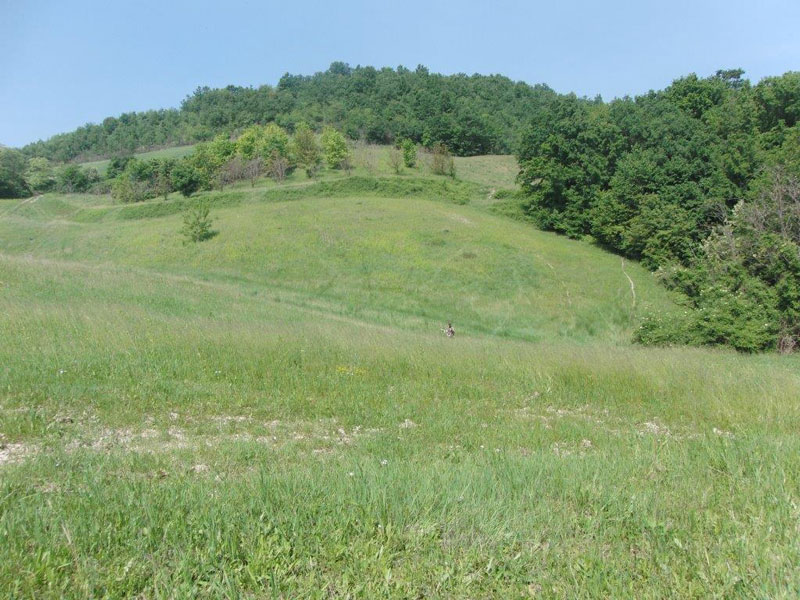 In Italy you find beautiful training possibility's. Ponte Nizza is only about 20 minutes away from Pavia.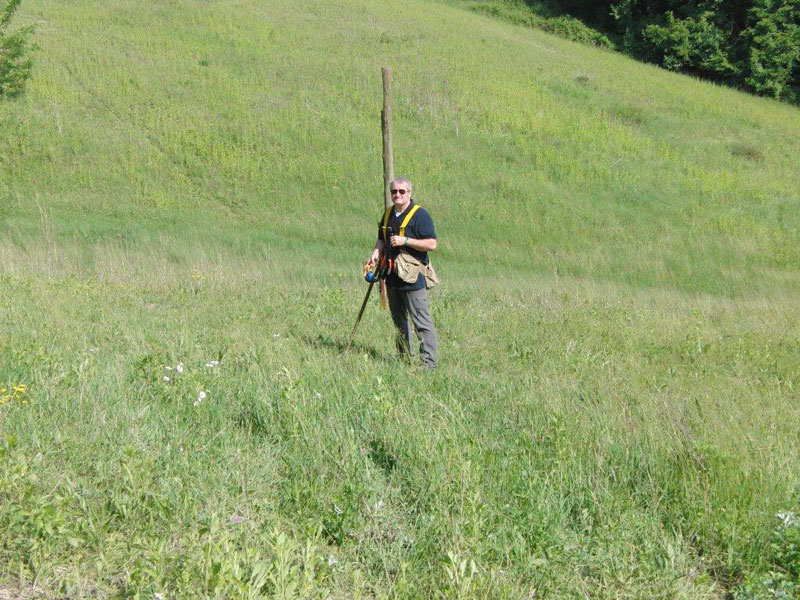 I love to train with Tiziano. He always builds up very demanding exercises either for youngsters or "champs".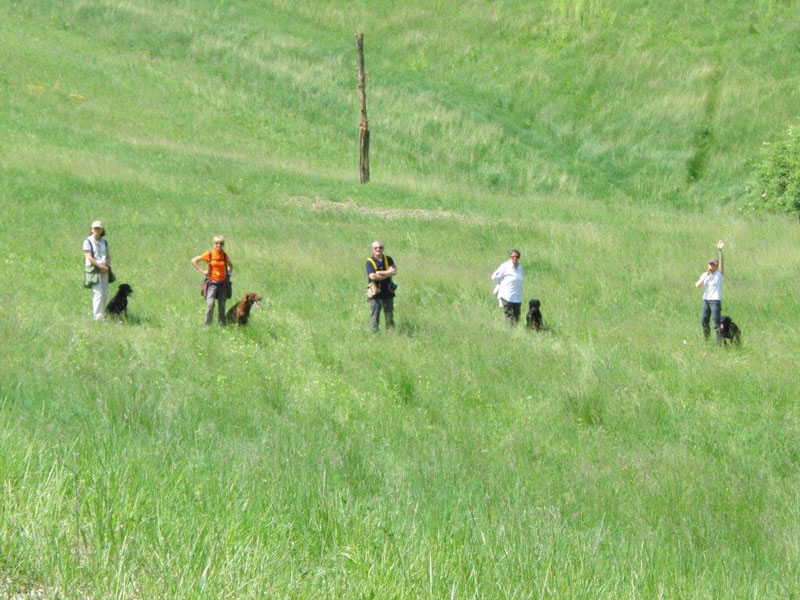 The "champs" group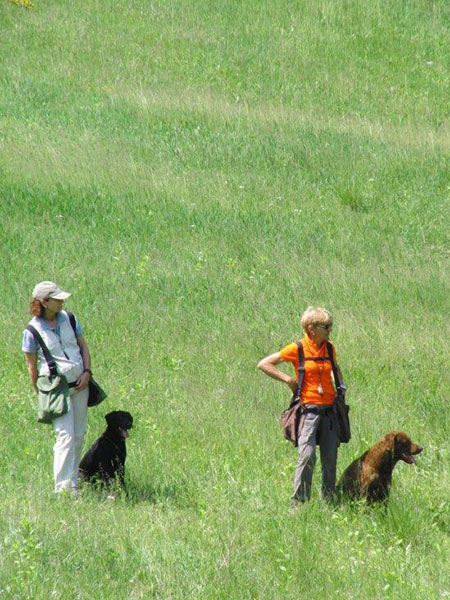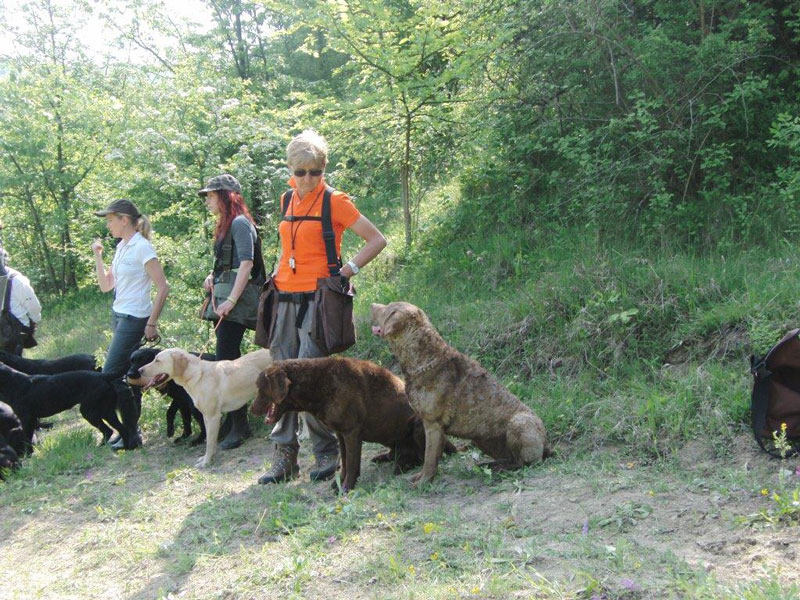 A little rest in the shade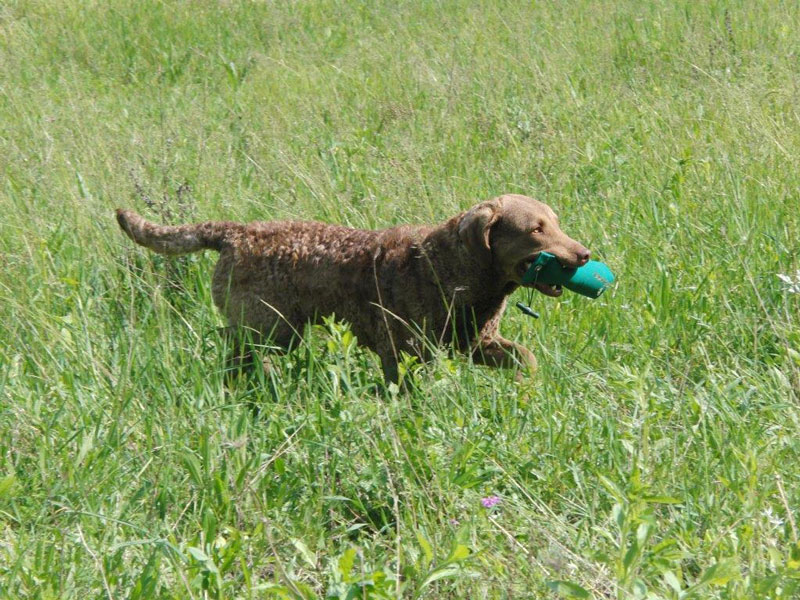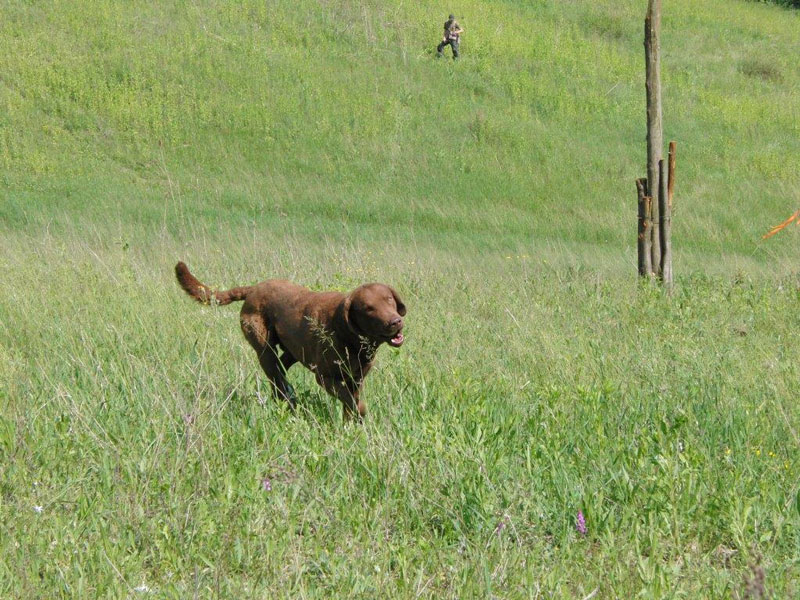 ---
TRAING DAY WITH ROBERTO ALBANESE IN LONATO DEL GARDA BS (Italy)
2nd May 2015

---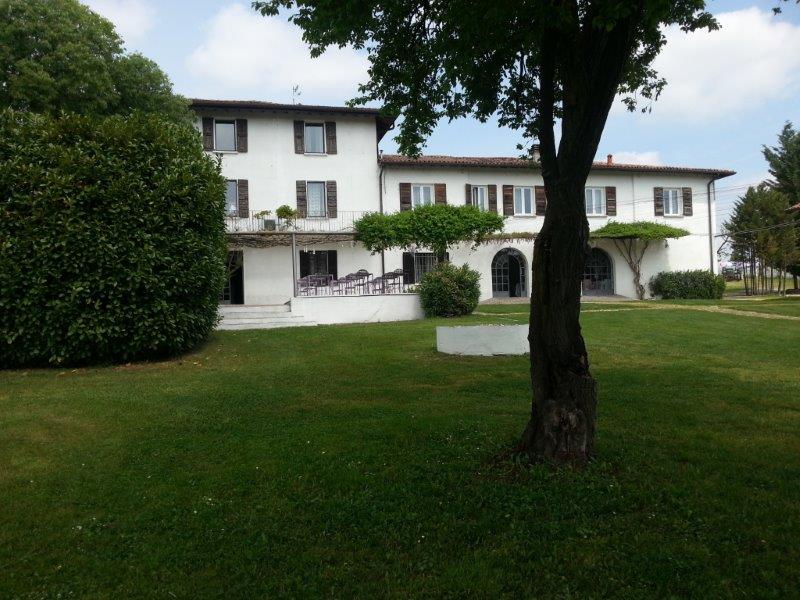 We could train on the fantastic grounds by the outstanding "Agriturismo Eroma"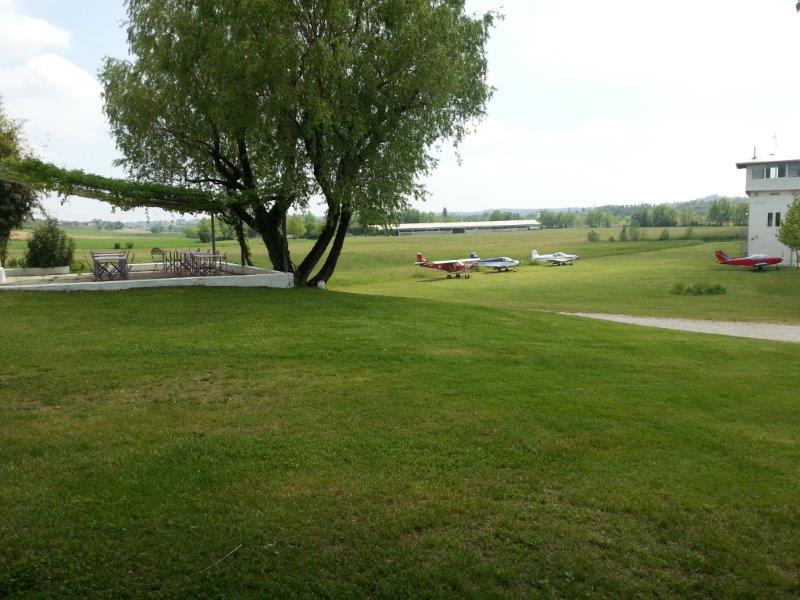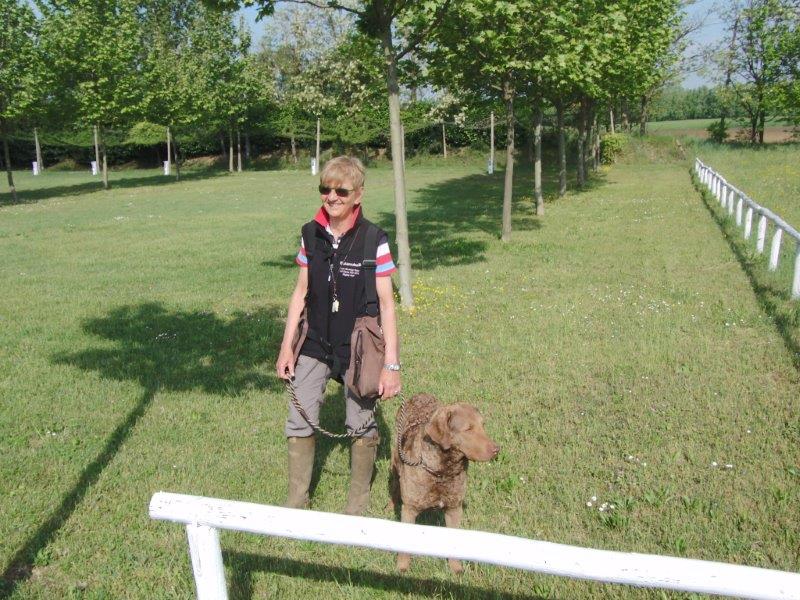 Gleam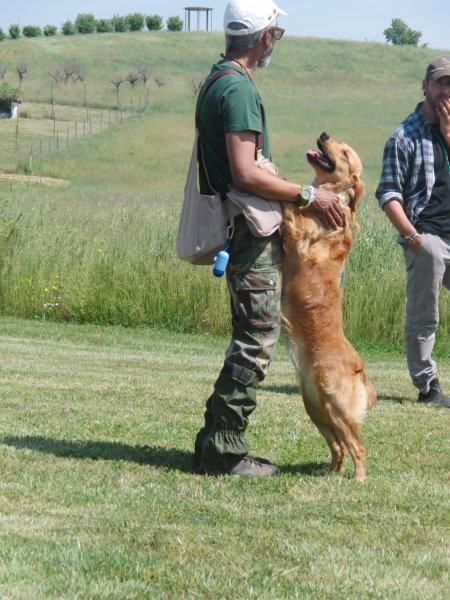 Roberto Albanese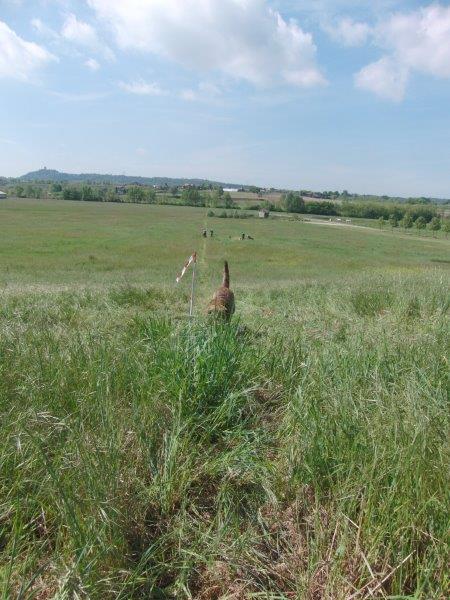 A long memory blind for Gleam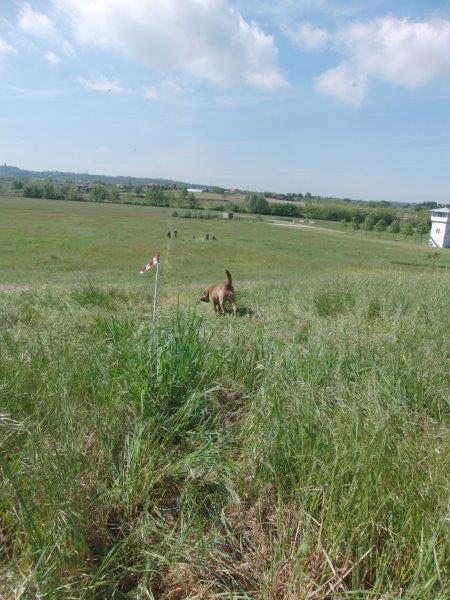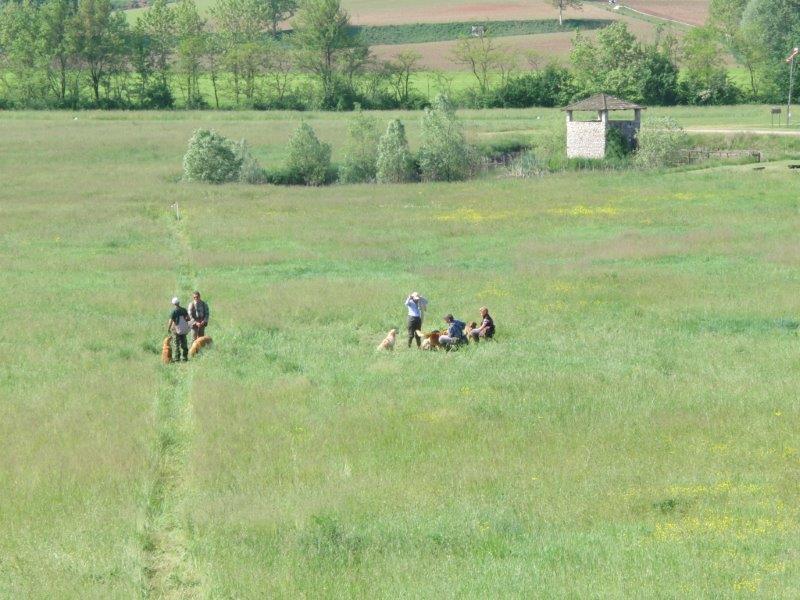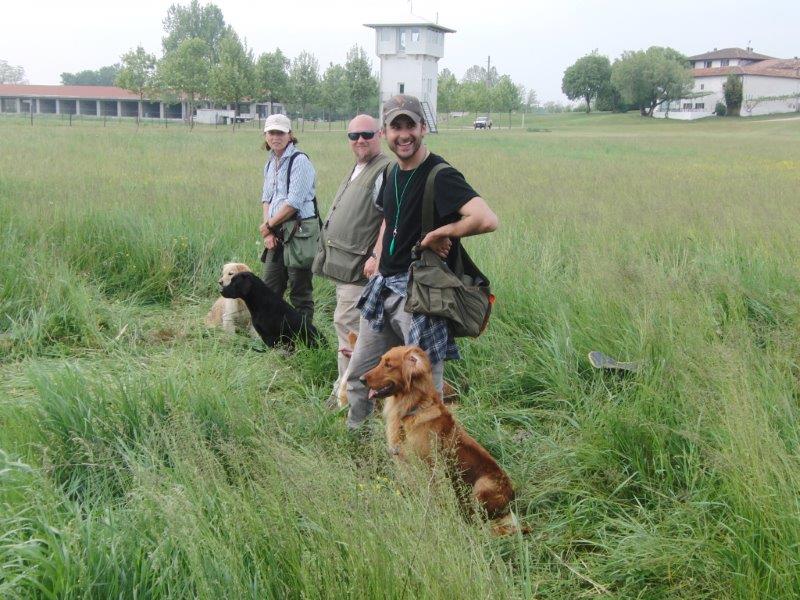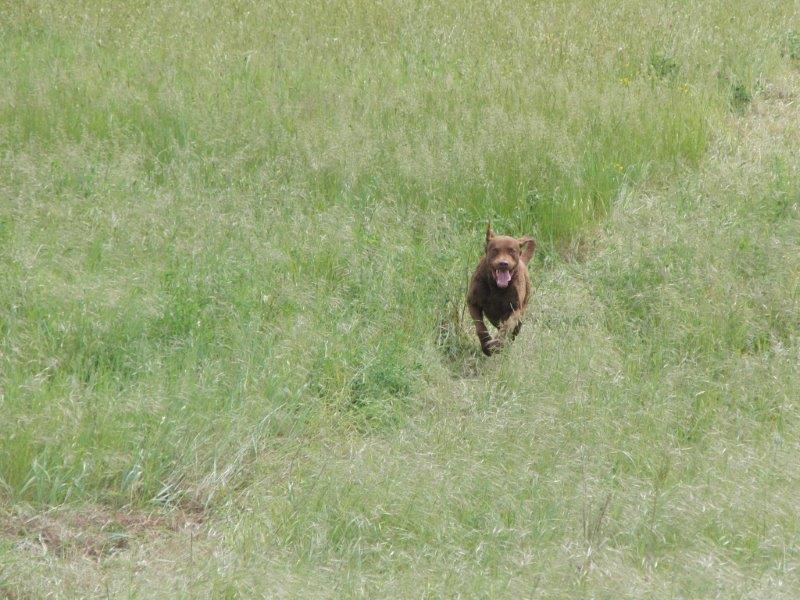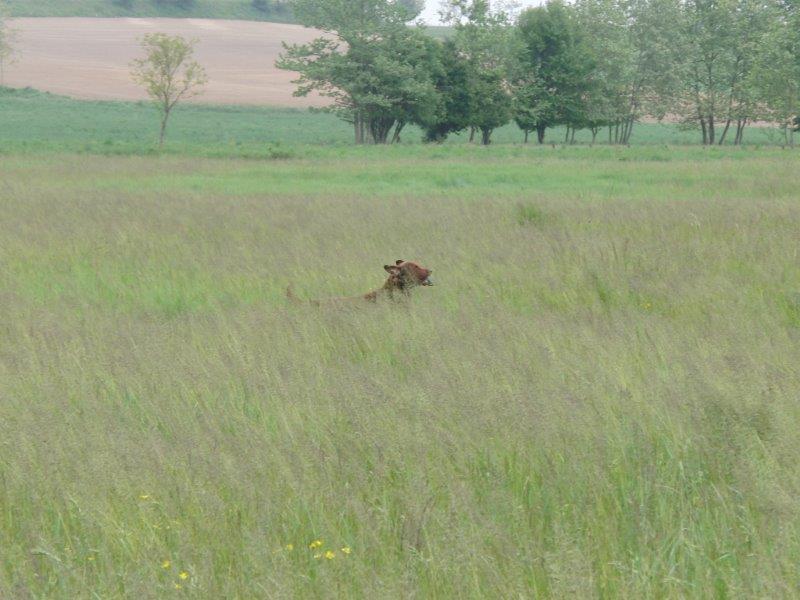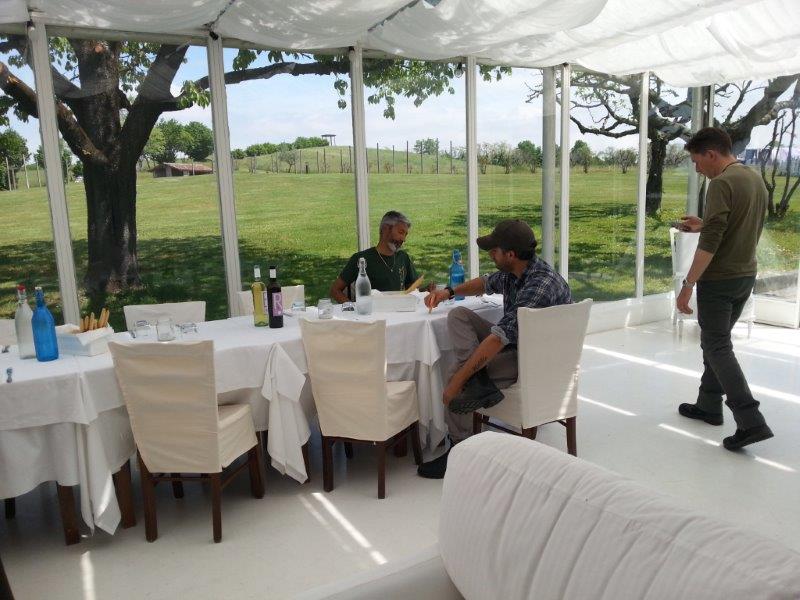 Finally lunch time and we all have eaten to much...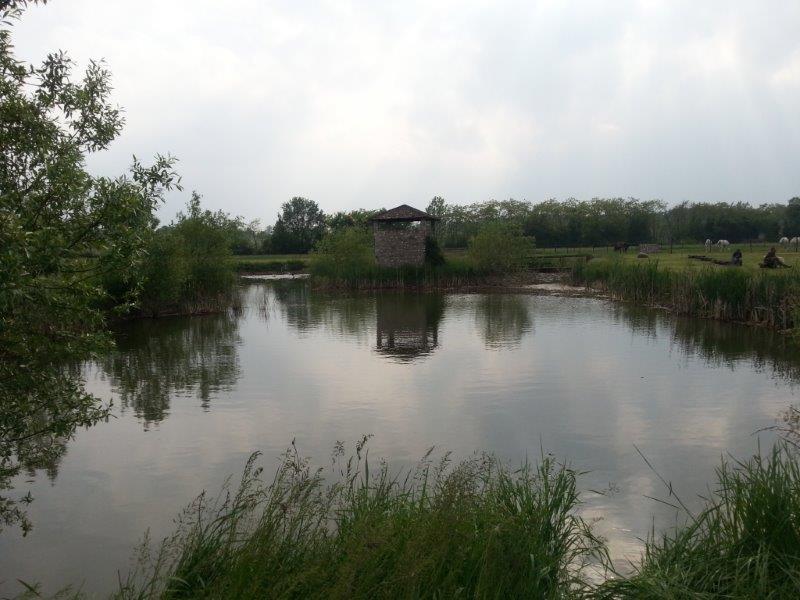 After lunch we did some water work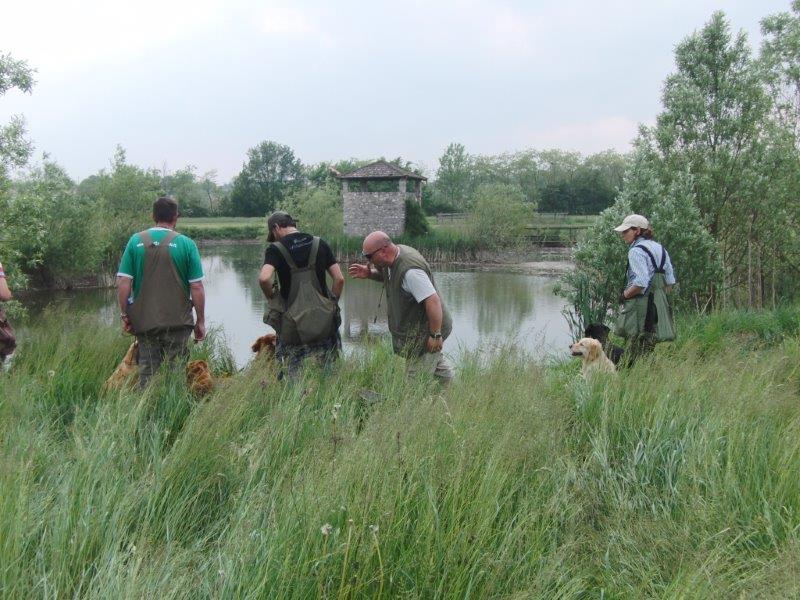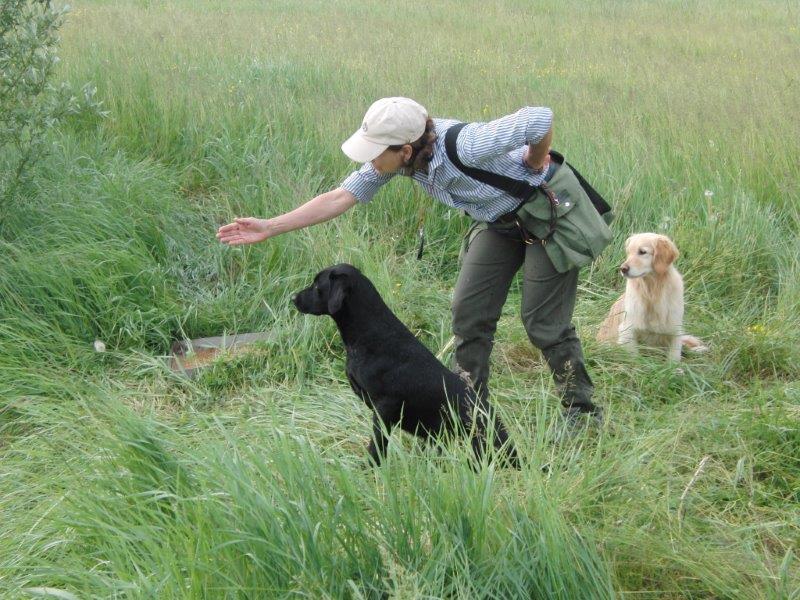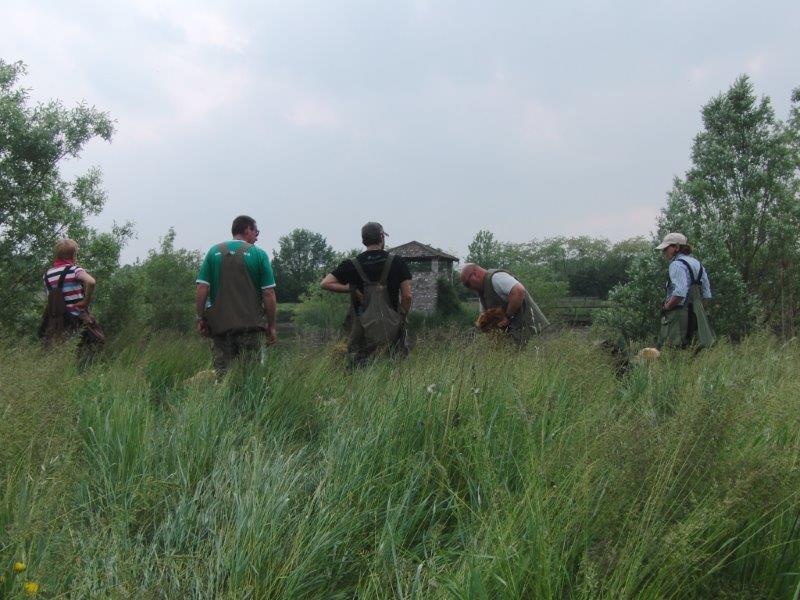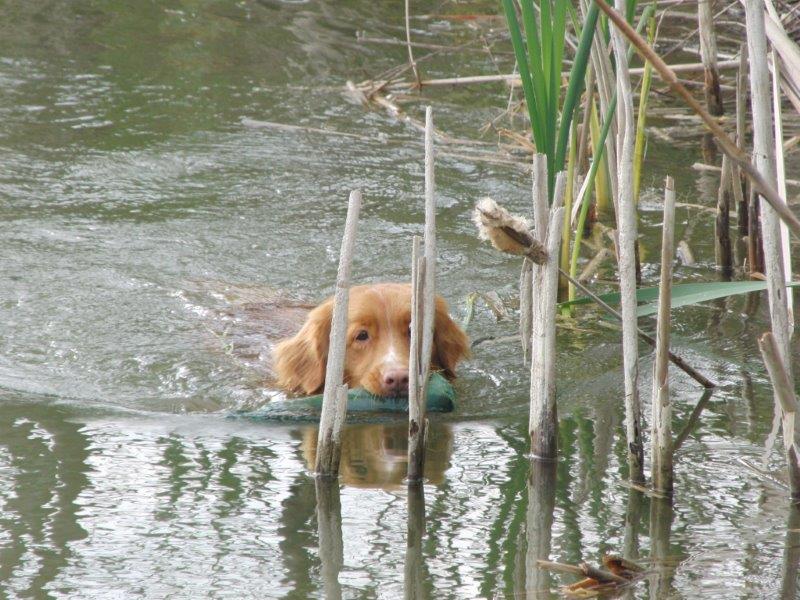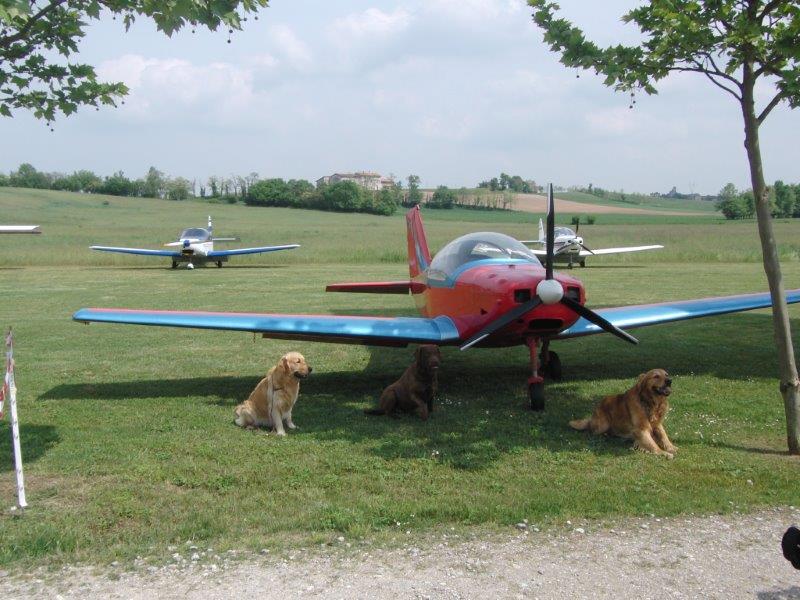 Either for lunch or dinner "the rich and famous" arrives by private planes...
---
TEAM EVENT CASTEGGIO (PV) Italy April 26th 2015
---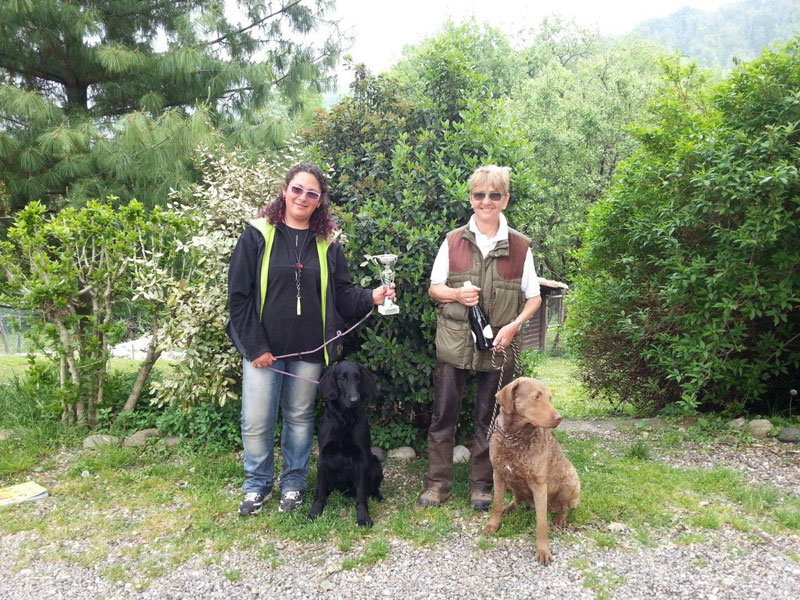 Novice Team "Well Done 3" took surprisingly 2nd place, really well done!
Roberta Brenna and "Rafa", me and "Gleam", Alberto Tabaro and his Labrador "Betty" (unfortunately Alberto had to leave right after the last test)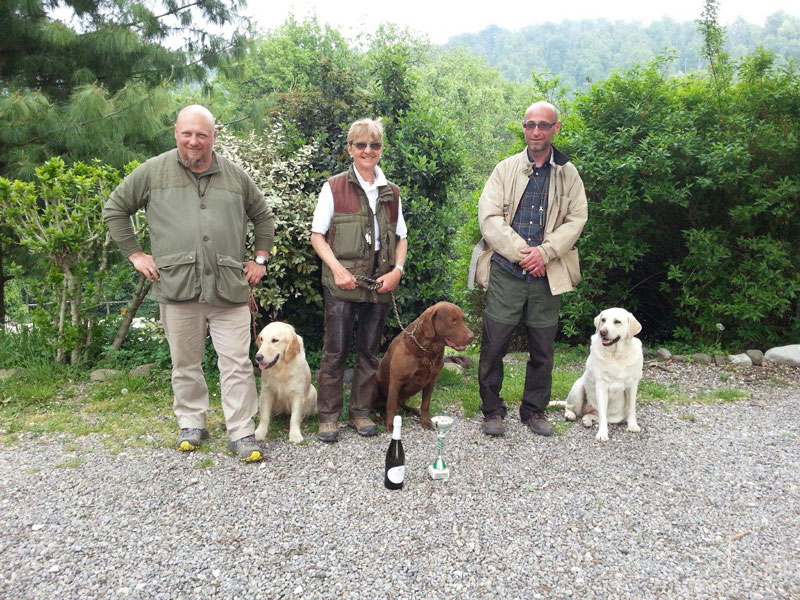 Open Team "Well Done 1" ended up on 3rd place therefore: well done!
Chicco Argostanzo and "Thelma", me and "Niyol", Simone Torreano and his old Lab "Birra" ("Birra" had to jump in because
his young bitch became in heat just before the event. The "oldie" did a great job!)
---
ANNUAL CHARITY WT IN WINDSOR GREAT PARK GB 18.04.2015
Judges: B.Kuen, V. Hugh-Smith, J. Hendry, P. Highfield, A. Buckland, P. Allen, A. Buckland, J. Stubbs, A. Rees

---
32 teams of 5 dogs, makes a total of 160 dogs! competed at the annual charity WT held Windsor great park. John Stubbs and a great team of helpers under its wing did an outstanding job to satisfy the competitors and they all have been more than satisfied! The 8 tests where wonderfully set and had smaller or bigger challenges either to dogs or handlers... It was a wonderful, unforgettable event, even the sun was out but it was rather chilly as you can see on the following pictures. Enjoy!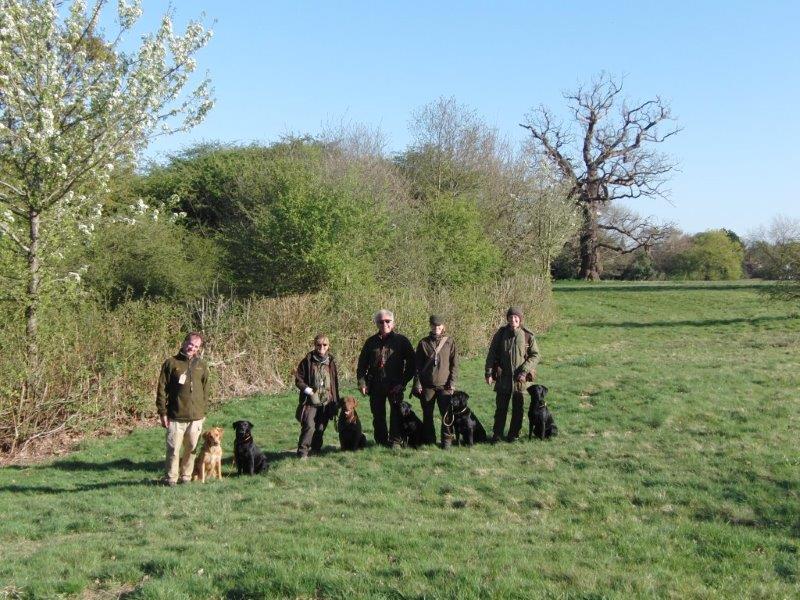 Swiss Team: Steve Grütter (Captain) Werner Haag, Jérémie Gueneau, Tanja Gewies, Ursula Moilliet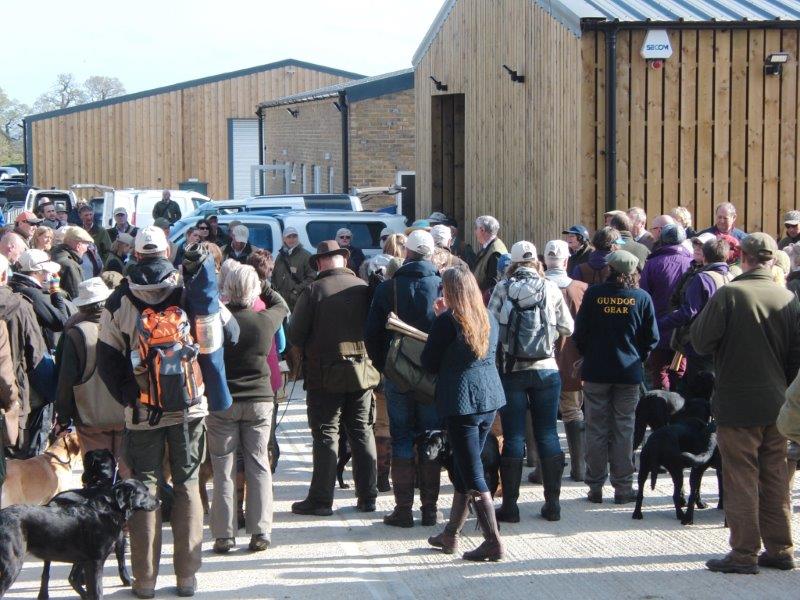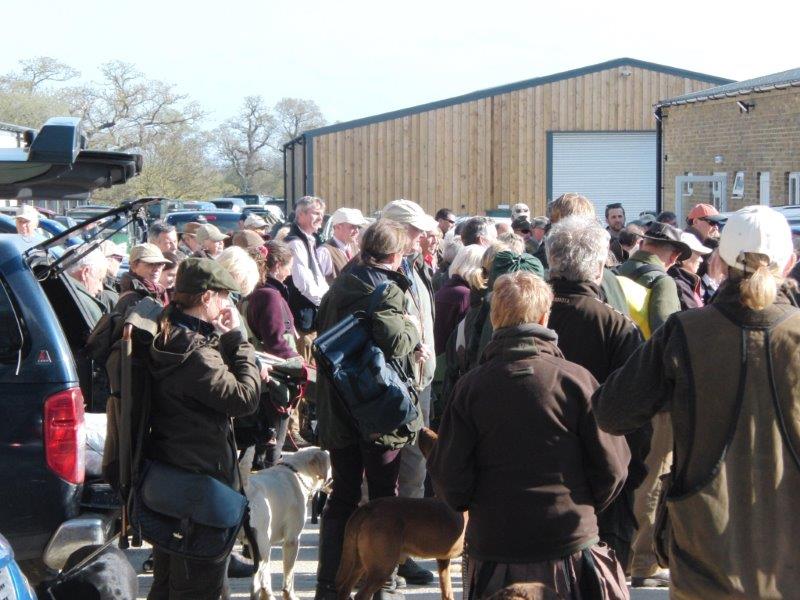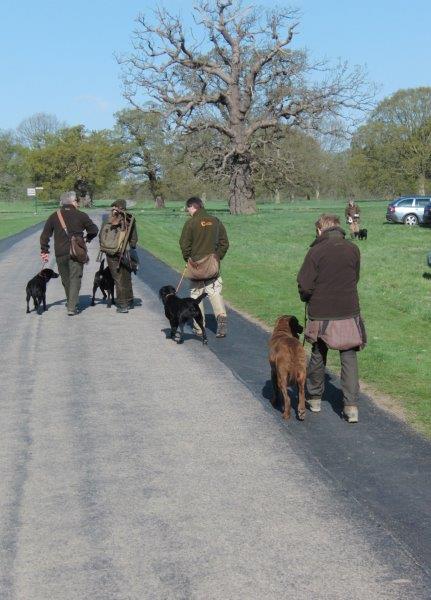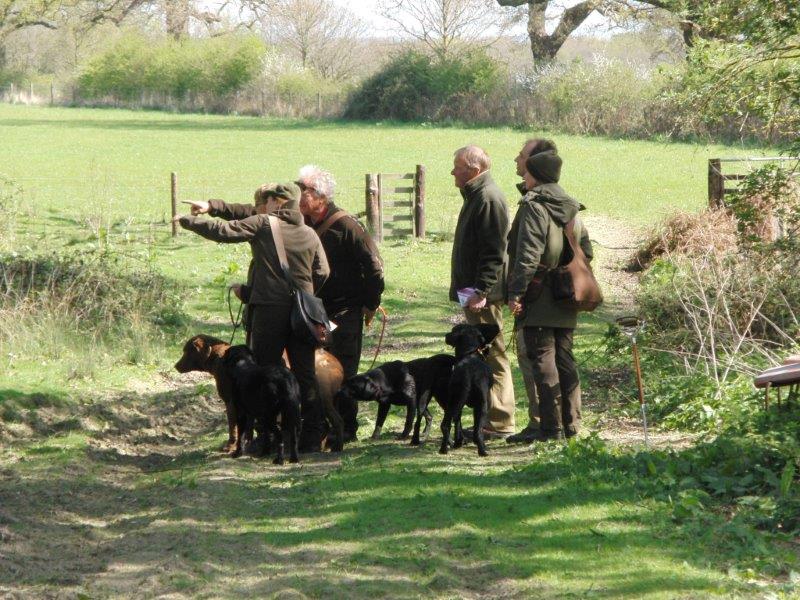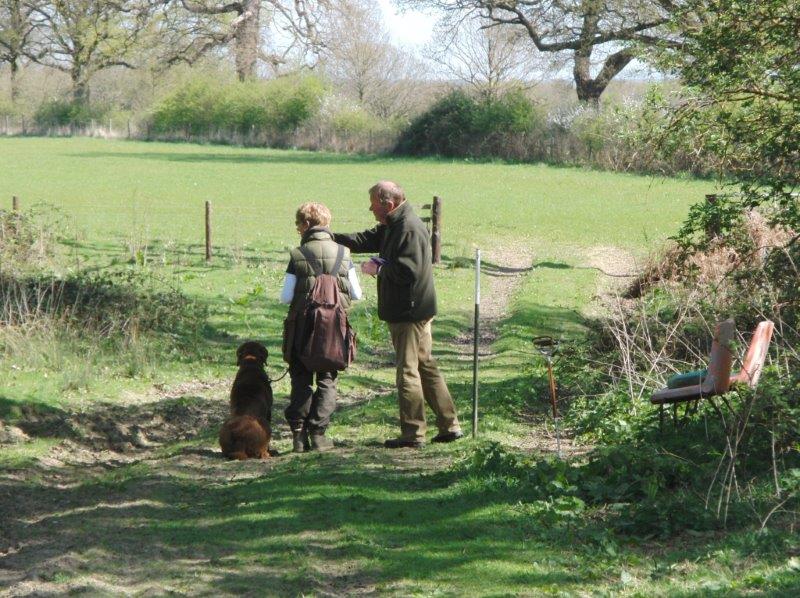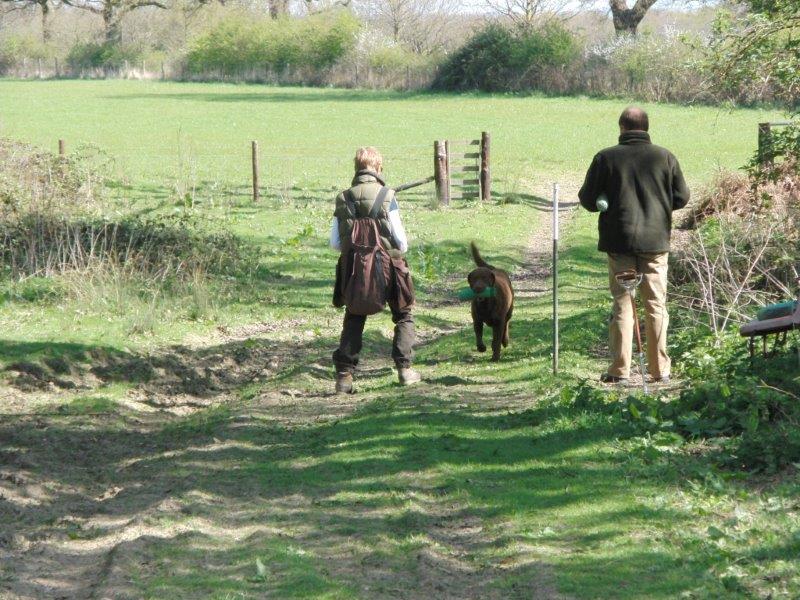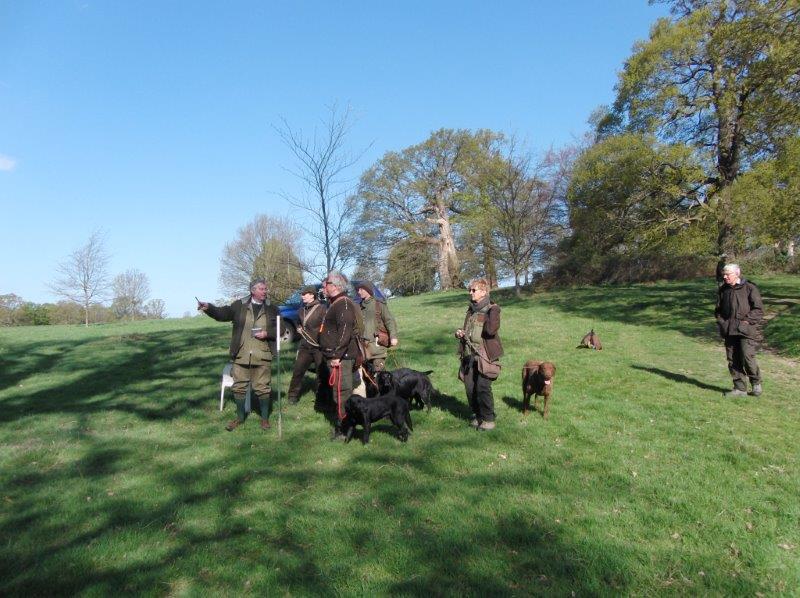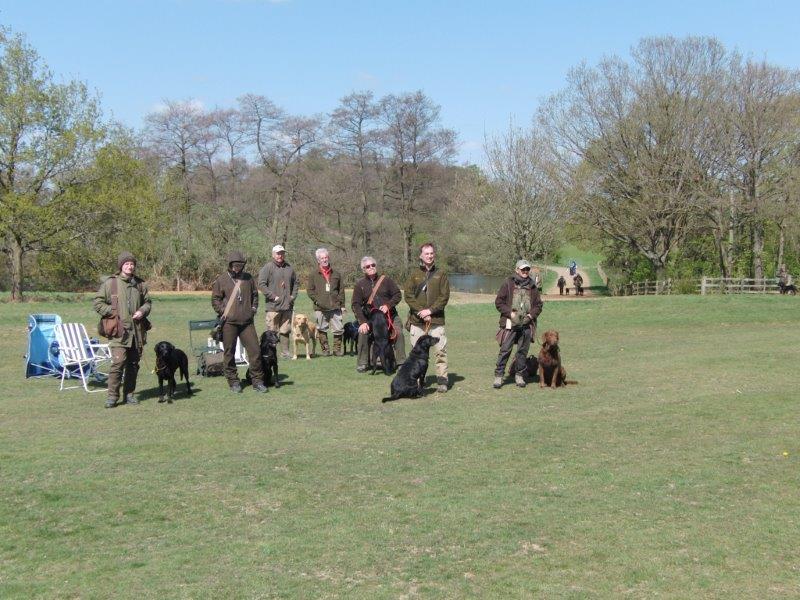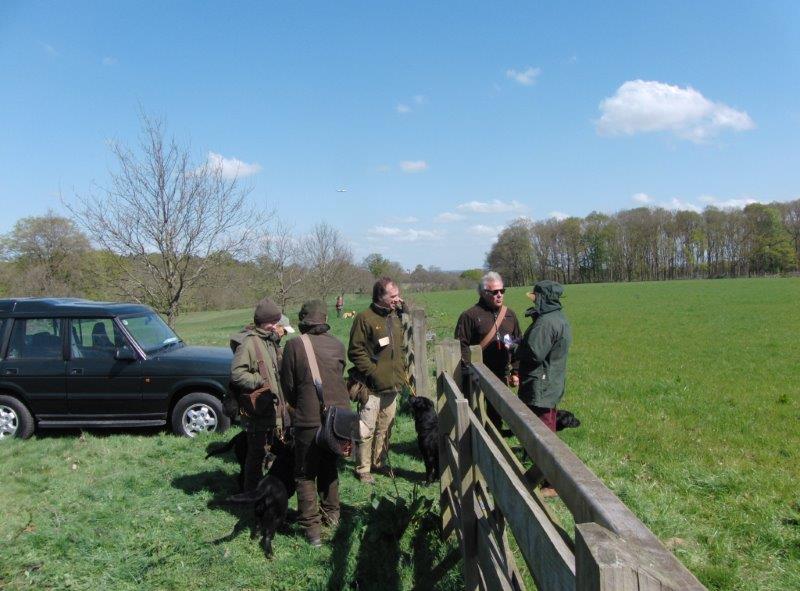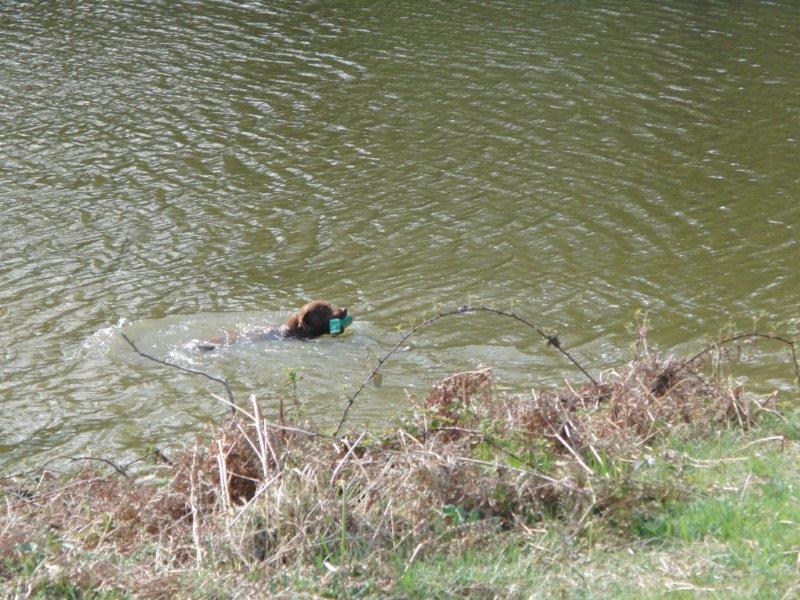 ---
MOCK-TRIAL CH-BÜLACH Easter Sunday 2015
Pictures by Tiziano C.
Judges: Silvia Mutter (CH) Martin Kuse (D) Heike Jansky (CH)

---
I took the opportunity with Niyol to participate in the first Mock-Trial held in Bülach.
Coming from the south I wasn't used anymore to the cold, snowy and rainy weather. Nevertheless it was worth being there, it was a great day, a great event! Because of the day prices were not only a book, a cap but also a chocolate Easter bunny.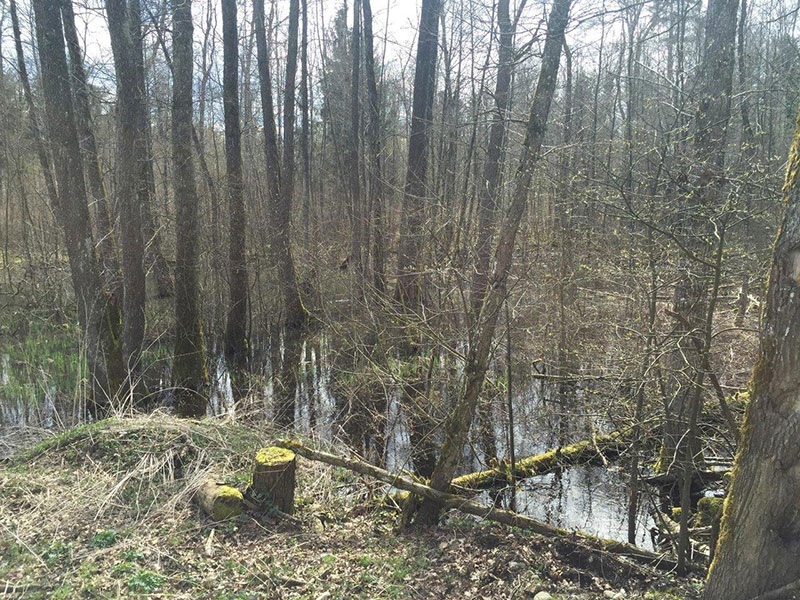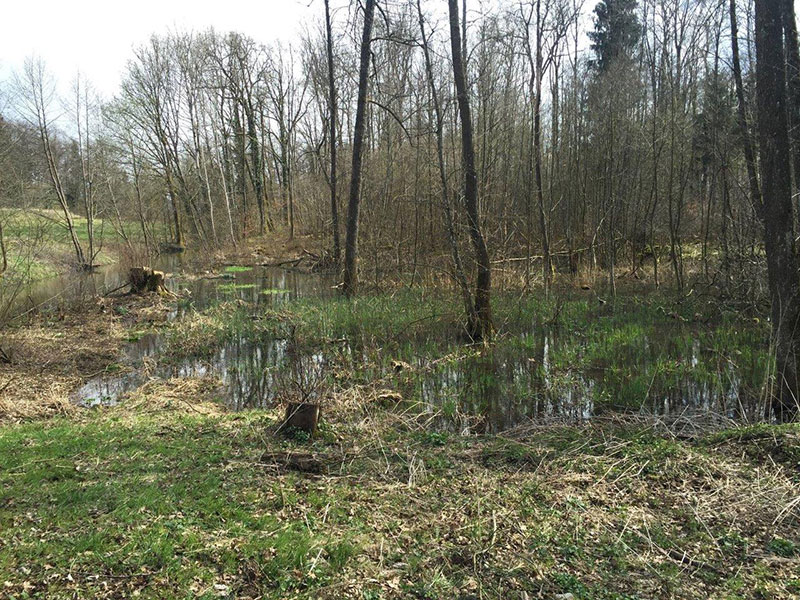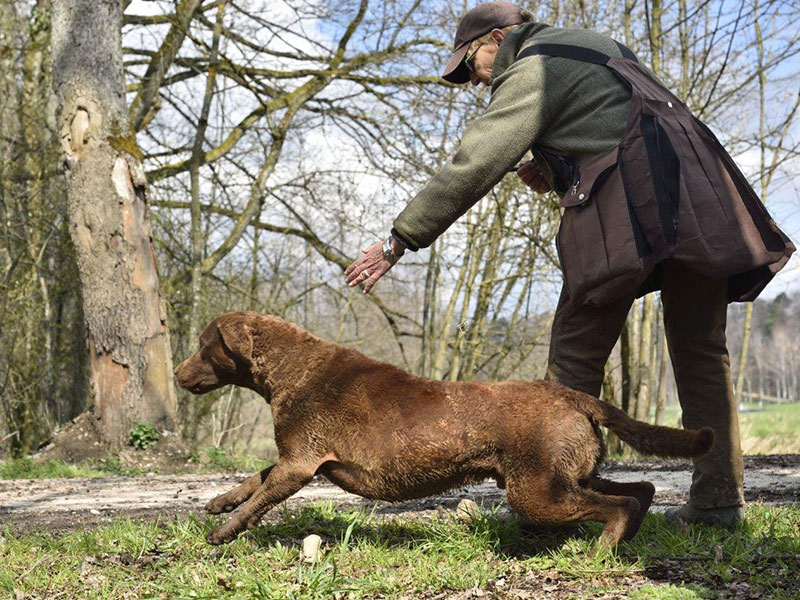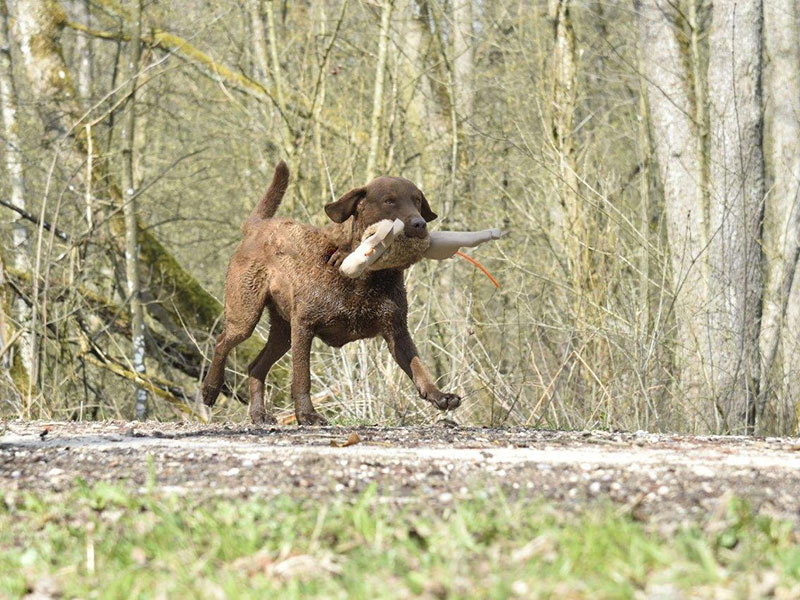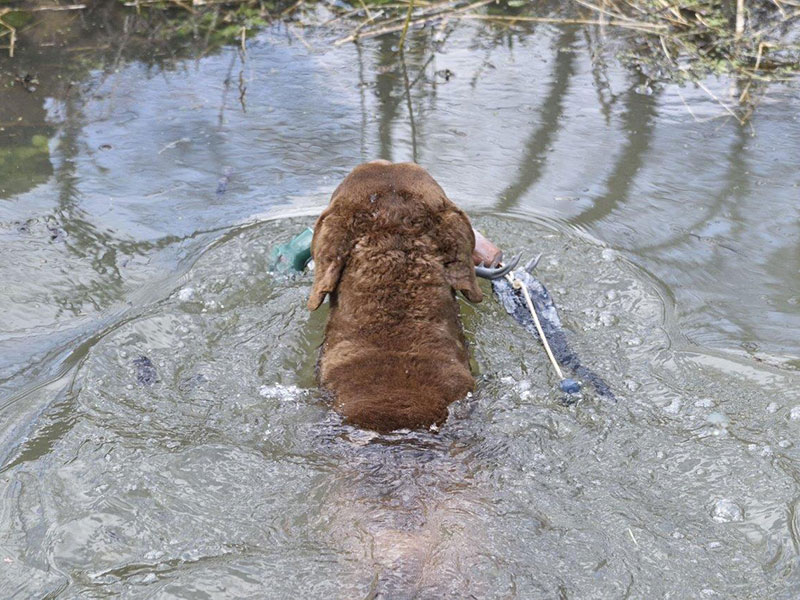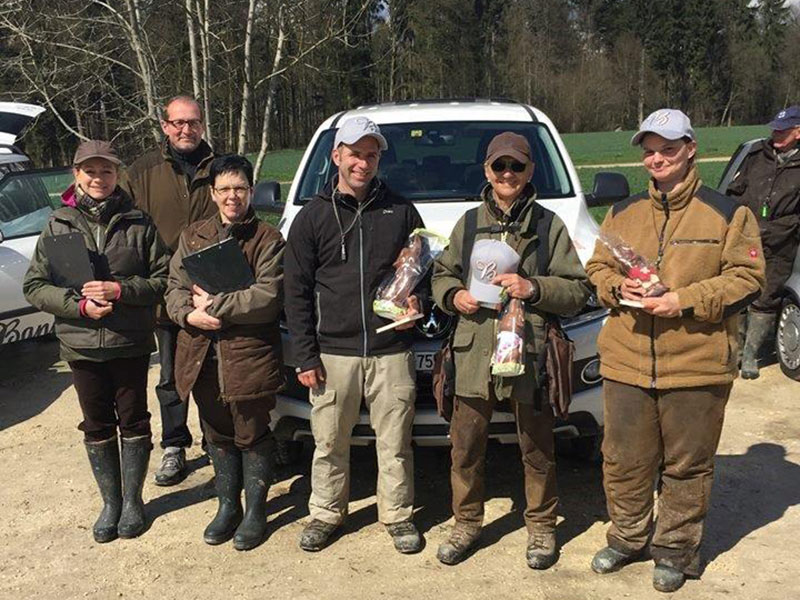 ---
MATO AND NIYOL HAD A LOT OF FUN IN THE SNOW
CH-Engadin March 2015

---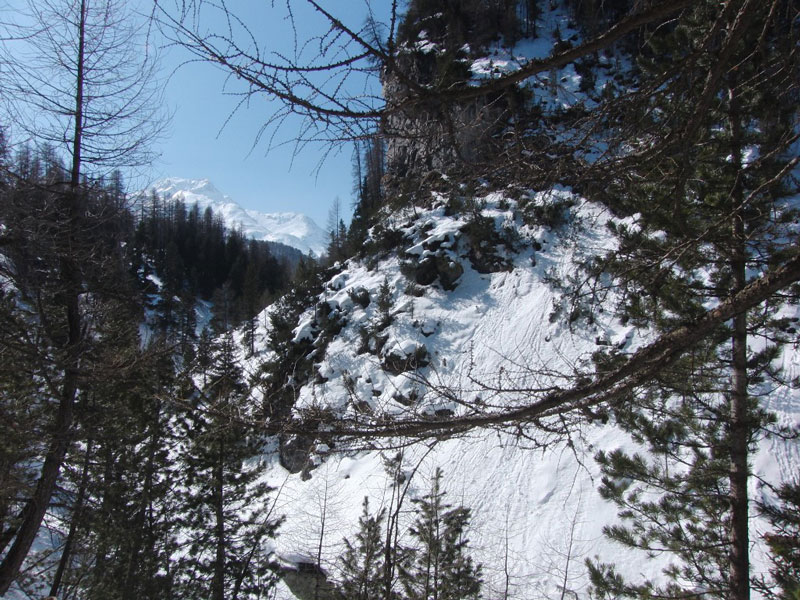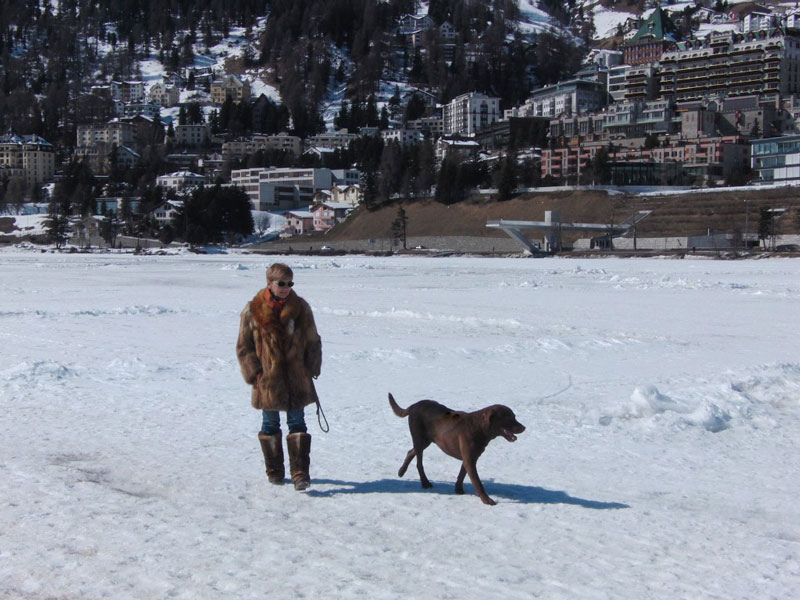 Walk on the frozen lake of St. Moritz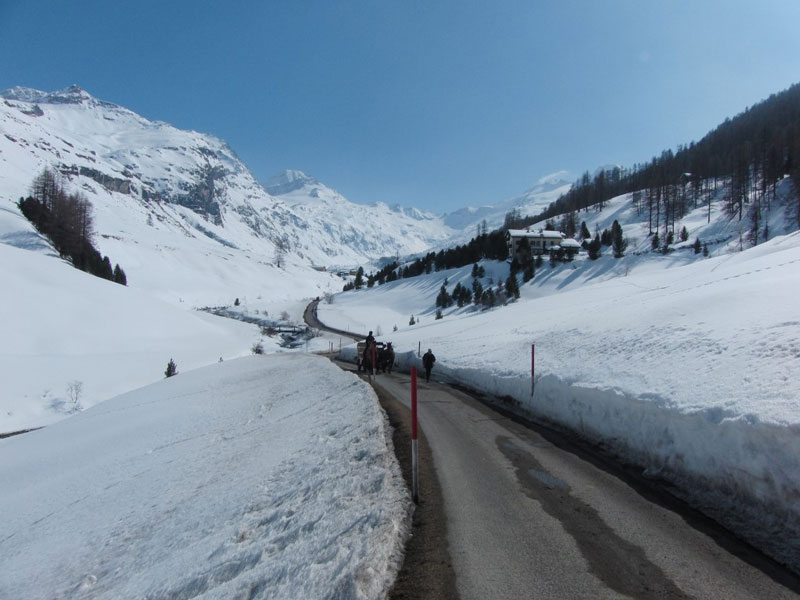 The Fex valley, no cars (except with special permission) allowed only horse-drawn sledges or coaches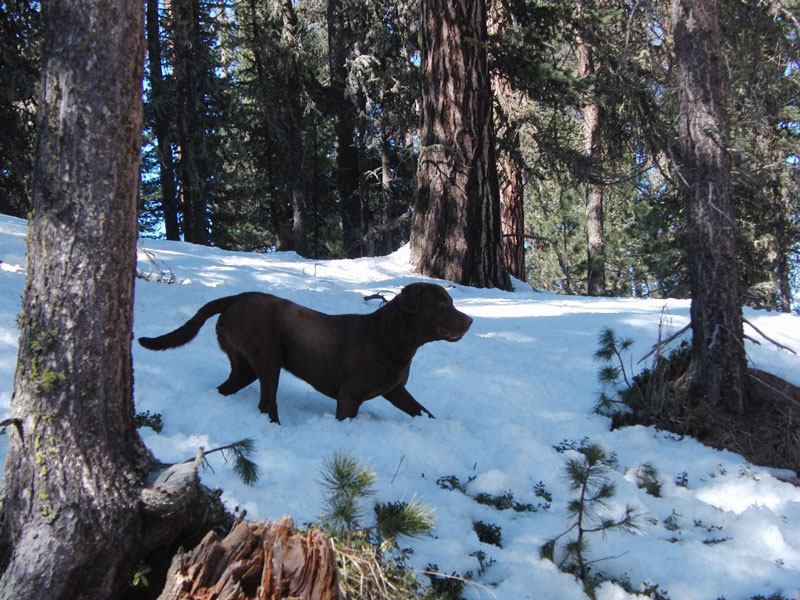 The Rosegg valley, same rules as above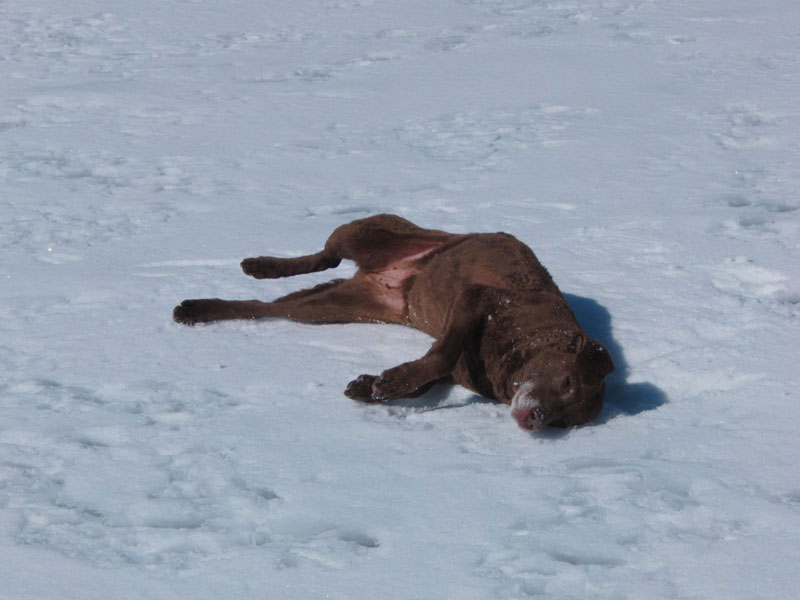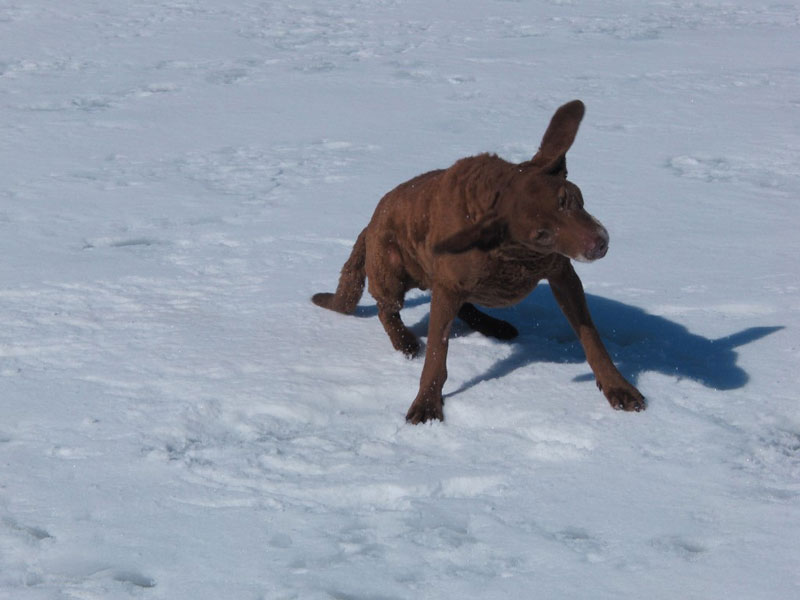 ---
HEARTIEST CONGRATULATIONS ON THE FCI AWARD "INTERNATIONAL BEAUTY CHAMPION"
March 2015

---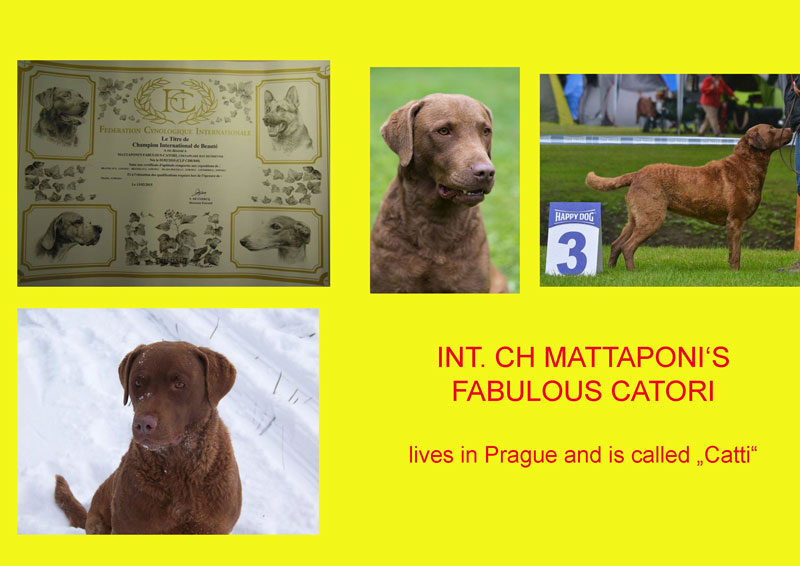 ---
ONCE IN A WHILE YOU GET SOME SNOW IN ITALY
February 2015

---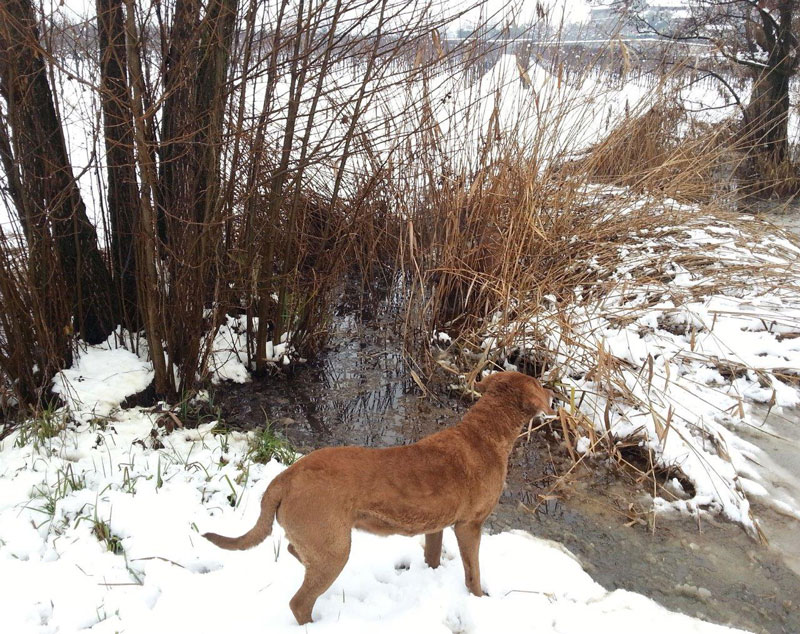 Here you see Mato even without glasses...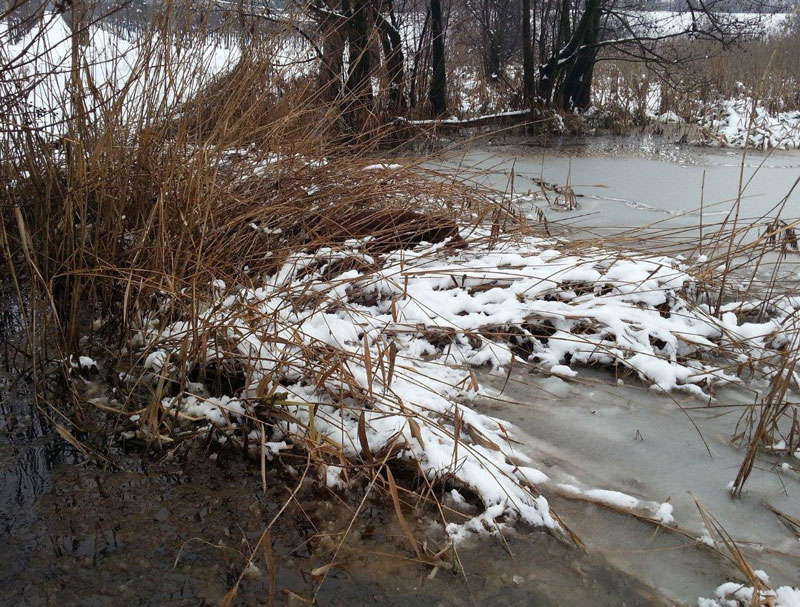 ... but to see Niyol you probably have to wear them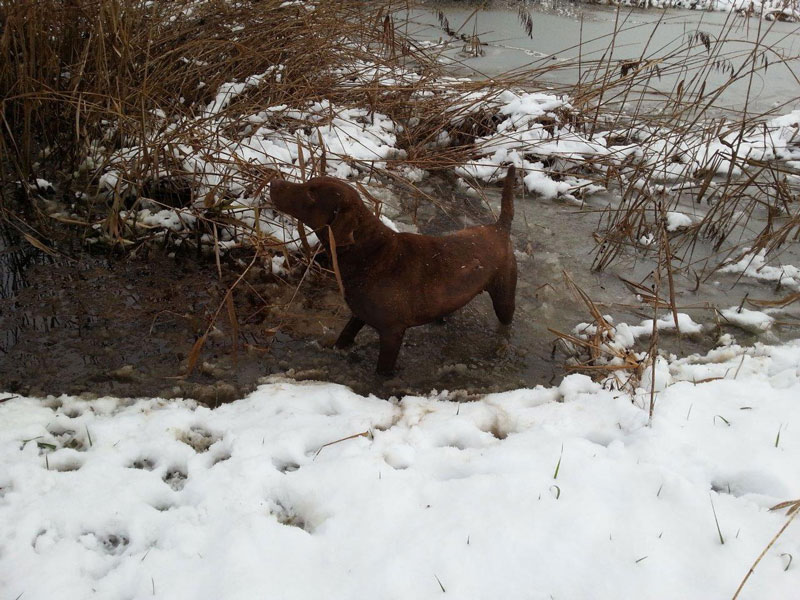 Niyol couldn't resist entering into the icy water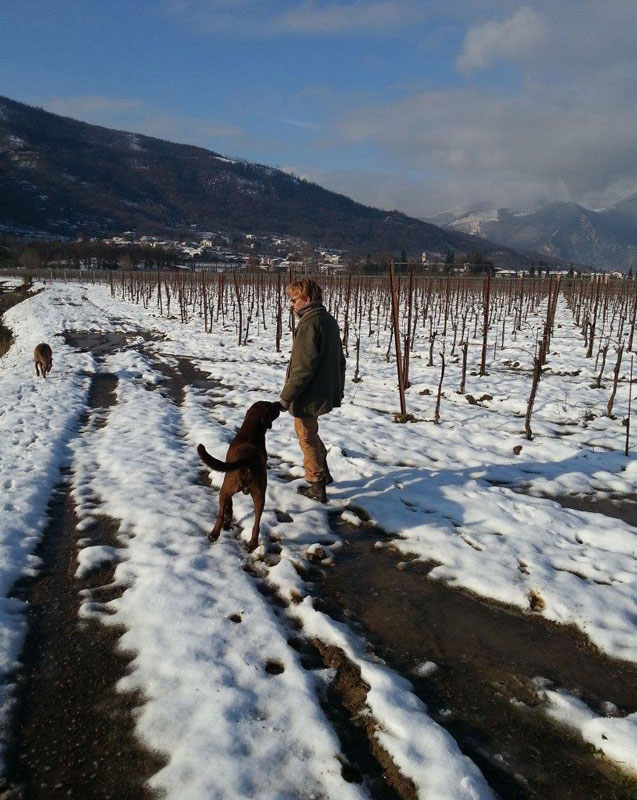 Two days after the pics above the sun came out and the snow melt away
---
EARLY CHESAPEAKE BREEDERS
---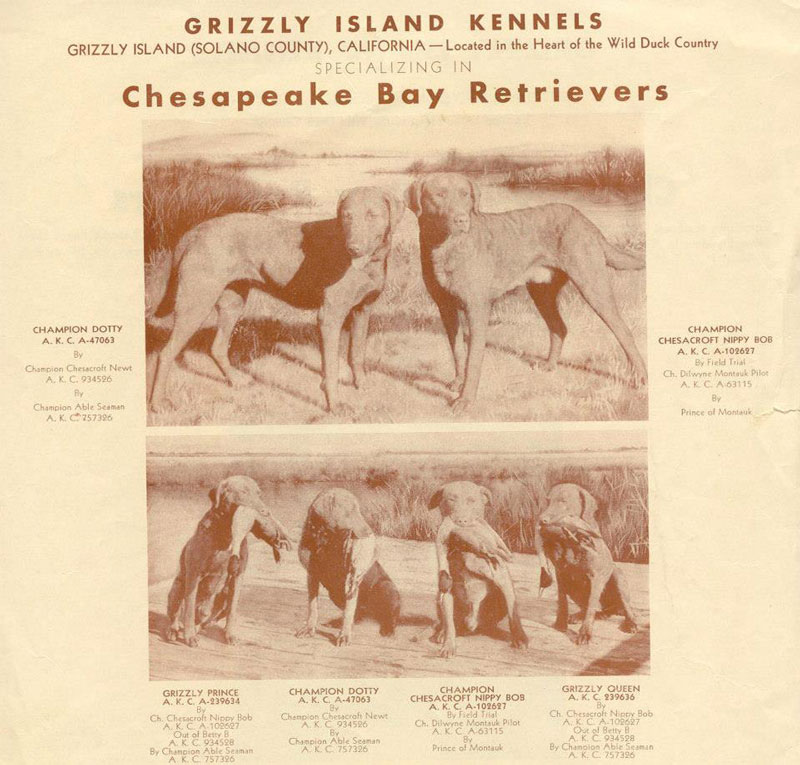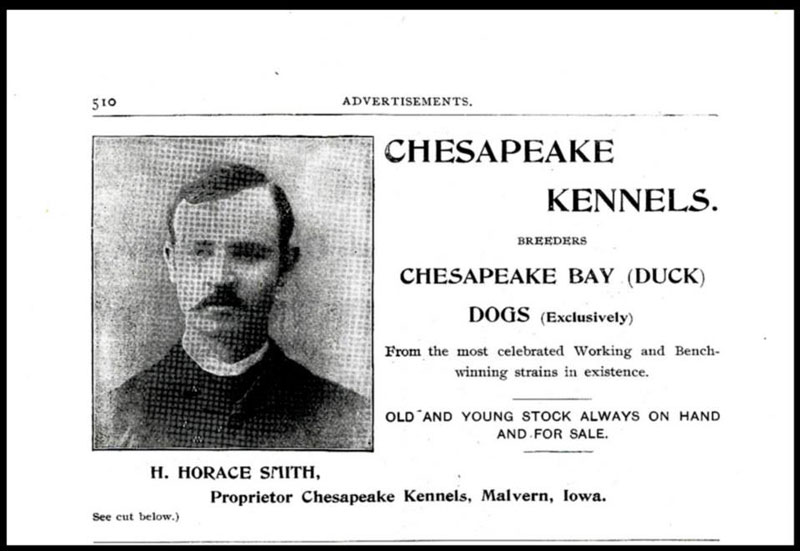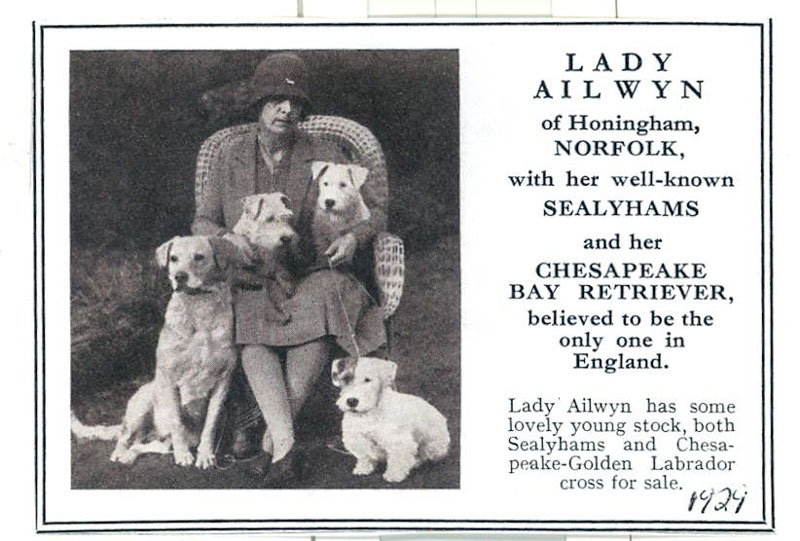 ---

BONNE ANNÉE! GULLUKKIG NIUW JAAR! FROHES NEUES JAHR! HOZHI NAGHAI! SCASTNY NOVY ROK! FELIZ ANO NOVO! GOTT NYTT ÅR! GUADS NEIS JOA! VOORSPOEDIGE NUEW JAAR! BUON ANNO! BLWYDDYN NEWYDD DDA! ÄS GUETS NEUS JOHR! FELIX SIT ANNUS NOVUS! GODT NYTÅR!