THE TWO MATTAPONIS TADI AND GLEAM WISHES YOU A HAPPY HOLIDAY SEASON
---
VIENNA (A) 22./23. October 2016
---
Once again I was invited by my friends to Vienna giving them a hand training their dogs. I have seen really nice Retriever's either in the beginners or in the advanced group. The training took place in the country side of Vienna at Altenmarkt an der Triesting. Here you see some impressions of the advanced group, unfortunately no pics of the beginners. It was an exciting, unforgettable weekend, many thanks to all the participants!
---
WT CASTEGGIO October 16th 2016
Judges: Mr. C. Argostanzo / Mrs. C. di Nardo / Mr. M. Hamilton / Mr. T. Shiels
---
Guy and Tadi participated in the "Debutanti Class". It's a class for inexperienced dogs, doesn't matter how old they are. Tadi was the youngest dog and he did really well, he ended up on 5th place.
---
TRAINING, CBR AUTUMN WT WEEKEND AND VACATION 09/27 -10/05 2016 GREAT BRITAIN

Photos by: Elli Lange (Moorhunde) Sue Worall (Watersplash) GM & UM Judges WT: Kaj and Catharina Lindström (S)
---

Traing with Jason Mayhew, Midhurst (Sussex) It really was worth it!

Jason with his Labs

Ground is covered with ferns, can you see Gaby's dog...?

Can you see Catherine's dog...?

Gleam

Guy & Tadi, Gaby & Wuno, Catherine & Theya

Gleam with her youngster Tadi, Wuno and Theya

A great place to stay: "The Swan" at Fittleworth

The WT took place at Bradwell on Sea on the gorgeous March by kindly permission of Richard Playle

Guy and Tadi

Guy and Tadi are expecting the ok of the judge

Chive and Elli. WINNER of the novice class

Esk and Sue Worall

Gaby and Wuno under judges order

Wuno

Tadi

Tadi

Tanner

Gleam 1st step

Gleam 2nd step

Gleam 3rd step

Gleam 4th step

Price giving. The Mattaponi gang was very successful.
Gleam got 1st place open class;
puppy class: 1st place Guy and Tadi, 2nd place Andy and Tanner, 3rd place Gaby and Wuno

During the CBR weekend we stayed in Little Baddow at the "Old Calf House". A wonderful holyday home either for people as well as for dogs

West Wittering beach (West Sussex). As you can see the dogs just loved it

A picturesque place to see: Bodiam Castle built in 1385 (East Sussex)
---
RCS CLUB SHOW BURGDORF (CH) August 21st 2016
Judge: Mrs. V. Neuburger
Photos by Kurt Schuhmacher
---

Tadi's first show. Even he doesn't looks like a puppy anymore I had to enter him in puppy class, 6-9 month.
He earned the qualification vv and was the winning puppy :-)

The judge liked Tadi's sister Theya very well but as Theya is a little bit shy she didn't perform well…
The judge said: "don't worry, she will learn, many females in this age perform like she did"

Group photo with some of the participating Chessie's. Number 238 was BOB, a real lovely female named Chesepi Jellico
---
TRAINING WATER RESCUE DOGS LAKE COMO (I) August 17th 2016
---
I spent a fantastic afternoon at the lake of Como with my friends and fabulous instructors Claudio Cazzaniga and Toni Fidenza and their dogs.

Tadi

Gleam

Tadi's sister "Mave" Claudios dog

"Mave", Claudio and his son Tommy

Toni's Golden "Kaly". She works outstanding!
---
GAME FAIR RAGLEY HALL (UK) July 2016
Photos by: Steve J. Davis Country Shots Photography / Marie-Eve Buchs / G.&U.M.
---

The Swiss Team: Steve Grütter (captain) / Béatrice Loetscher/ Ursula Moilliet The dogs: Steve's Tauro, Béa's Sheyenne and my Gleam

Before the big event Steve and I trained 3 days with Jason Mayhew and afterwards we knew exactly what we have or should do to be successful...

Beside dog training Guy and I did some sightseeing. This is an old church in Petersfield

Here we are at Hinton Ampner, it is the fulfilment of one man's vision

July 29th the Euro Challenge. Teams from France, Switzerland, Finland, Belgium, Netherlands, Italy, GB, Germany

The judges: Phil Wagland and Mick Newsman. Chief steward: John Cornforth

Last checks, concentrations, preparations and then…

… the Swiss team is ready to step up for the first test

Phil Wagland explains one of the tests in or at the hidden border of the water

This time Mick Newsman explains the task

It was an exciting, unforgettable day, we were in good mood even the Swiss Team struggled a little bit unlucky.
We ended up on 6th place. GB 1st / Belgium 2nd / Germany 3rd

On Saturday Tadi was the "big star".
There was a "Have A Go" event, everybody with a young, unexperienced gundog could enter.
I was very pleased how Tadi reacted to gunshots, judge and steward and all the crowd around him. He couldn't care less, he was steady, unimpressed and showed some good work.

If you ever go to Reddich: at the Hollybush you get a superb dinner

On the way back home we did some more sightseeing like Baddesley Clinton as well as…

… Coughton Court – a house of secrets and intrigues

Gleam and Tadi had a "sheep sightseeing tour". Safety first, when all the sheep's turned up we put them on a leashe

Goodbye England, we'll be back in September to join the CBR weekend
---
WT FONTANELLA (I) JULY 9th 2016
Judges: Mr. S. Zappavigna (I), Mr. E. Spadavecchia (I,) Mr. Z. Böszörményi (H,) Mrs. A. Böszörményi (H)
Photos by Marco Serra
---
After a long time I went with Gleam to a Working Test trying getting her "up dated" for the upcoming Game Fair end of July. I guess the judges didn't like her particularly even she worked quite well the scores where rather low… On top of this we got a 0, my fault, bad handling :-( Because it was previewed a real hot day the event started at 4PM which was a good idea on one side, on the other the last competitors needed almost a flashlight and therefore the judges had to cut down the tests…
Anyway, it was a great day, well organized various grounds and last but not least very good food!

After the event Gleam and her son Tadi had a nice cool down in the stream . They really enjoyed :-)
---
A LITTLE TRAINING SESSION WITH TADI AT TREVIOLO June 2016
My friend Angela took this lovely pictures
www.ah1foto.de
---
---
TRAINING WATER RESCUE DOG June 2016
---
Since we started with the training in May Tadi made huge progress. Now he swims with only one command to the boat, catches the towrope and turn on land. I really think he works nicely :-)
---
KANDA
---
On June 7th 2016 I had to say good bye to my beloved "old lady" Wakanda, called Kanda. She was an excellent show and working and hunting dog and overall a lovely pet. She never will be forgotten, she always stays in my mind and in my heart.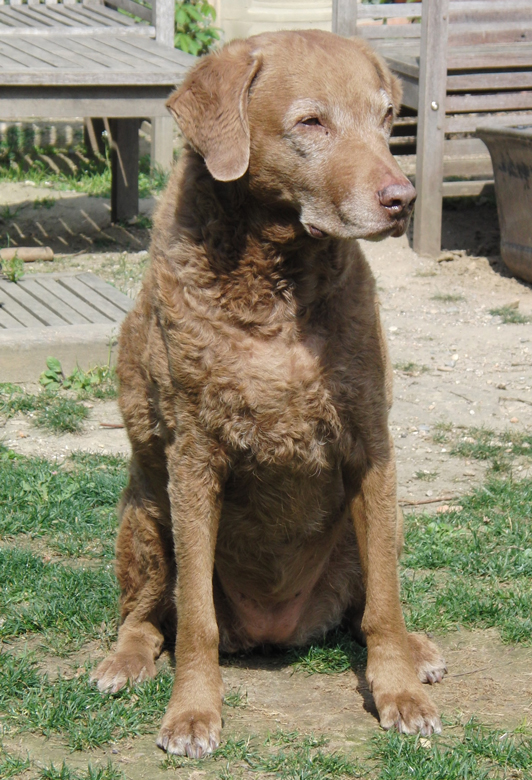 Wakanda March 2016
As Kanda always liked to stroll around on her own I choose the words of the Comanche Ten Bears to let her go:
"I knew every stream and every wood. I have lived like my fathers before me, and like them, I have lived happily"
---
BEGINNER'S COURSE WATER RESCUE DOG Lake of Como (Italy)
May 22nd 2016
---
It was a wonderful day at the lake of Como where Tadi started his career as a water rescue dog.
He learned a lot of new things like: How to jump in and out of a boat, swimming close to the boat and last but not least that strange black guys in the water are very friendly and not dangerous or frightening at all :-)
As Tadi enjoys swimming very much we'll continue beside the Dummy training this type of work, trying our best meet with success…
---
TADI AN HIS BEST FRIEND ROBERTINO
May 4th 2016 at Treviolo
---
---
MY YOUNGSTER TADI *6.12.2015
out of the litter Niyol x Gleam
---

February 20th 2016

March 13th 2016

March 20th 2016

March 20th 2016

April 1st 2016

April 6th 2016
---
WT CREMONA (I) March 13th 2016
Photos by Angelo Picoco /GM
---
After her litter slowly Gleam gets back in shape and also back to work.
Nice countryside and a well-organized Working Test! Gleam worked surprisingly well and we ended up on 3rd place.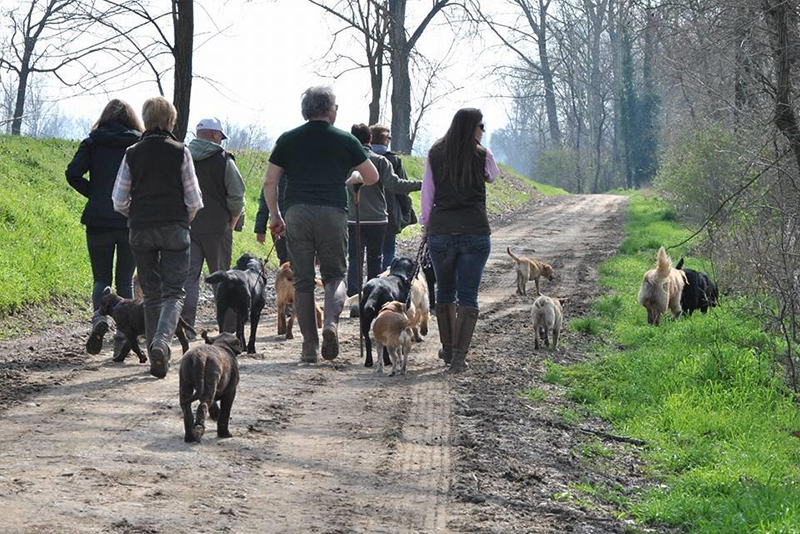 On the day of the event I still had three pups at home, Tadi the one I took and two girls which left the week after so brought all along and they had fun.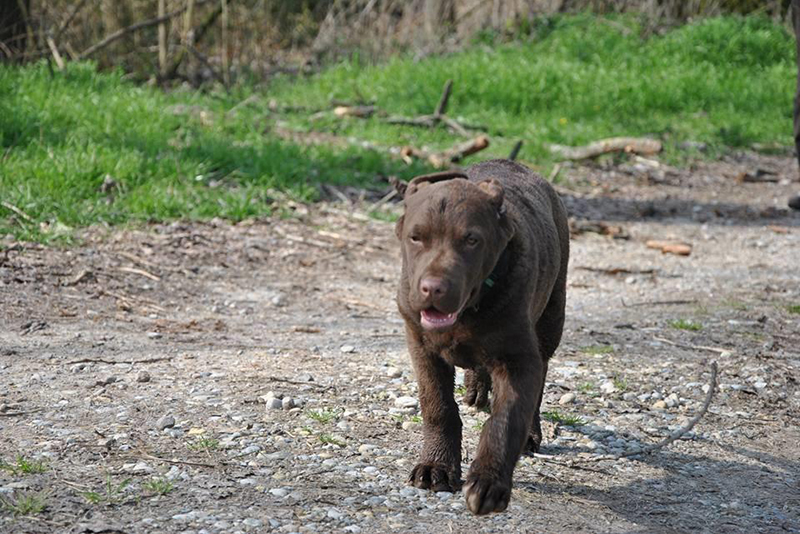 Tadi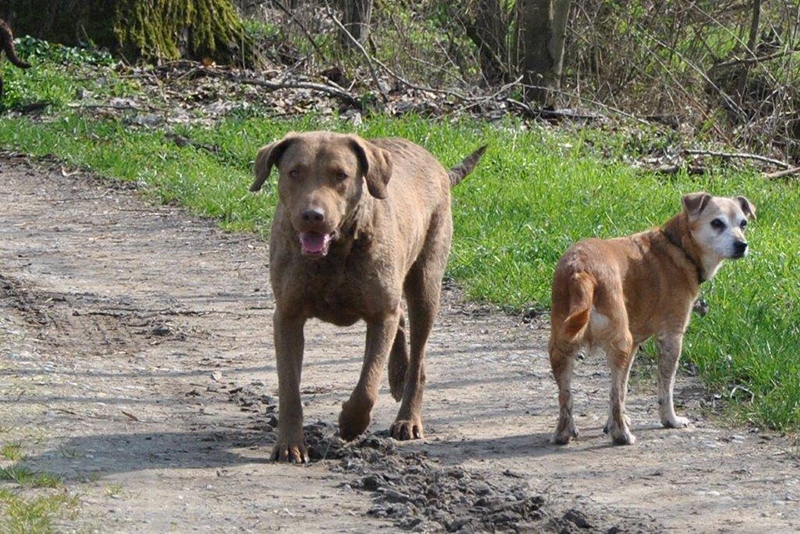 Gleam met after a long time her old friend Brandy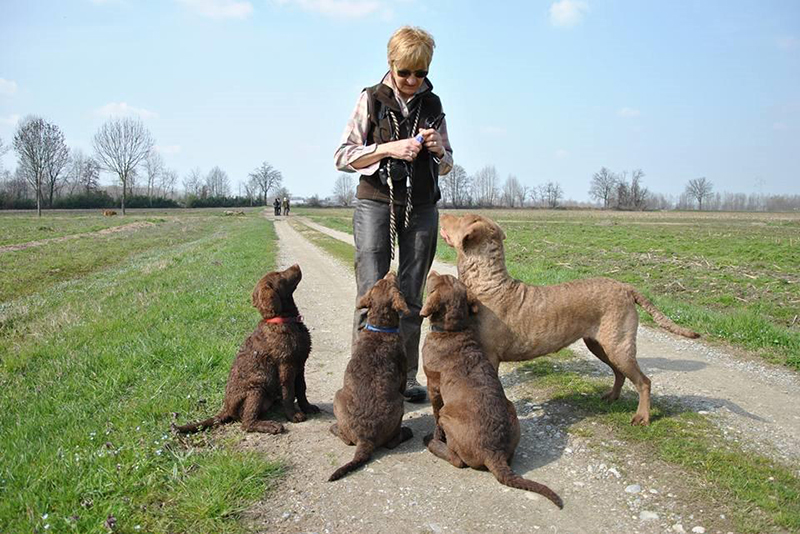 From left to right: Tainn, Taini, Tadi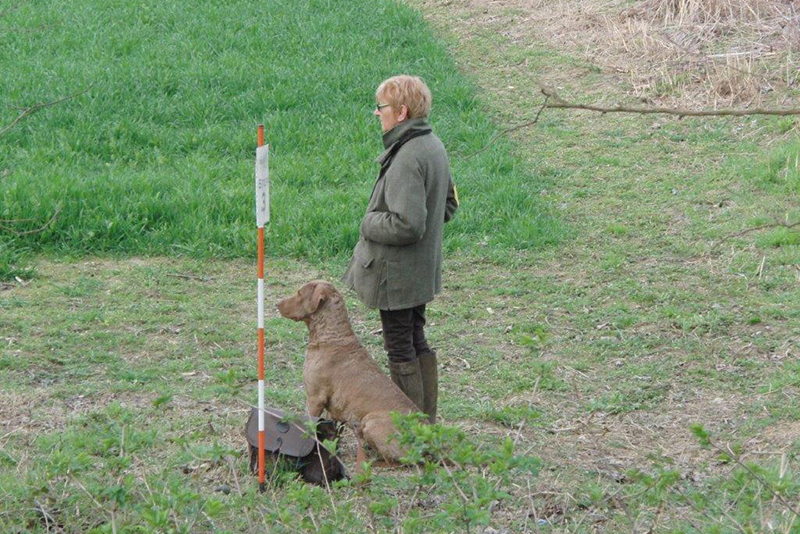 Our first step was number 3 and thanks God, the steadiness is still working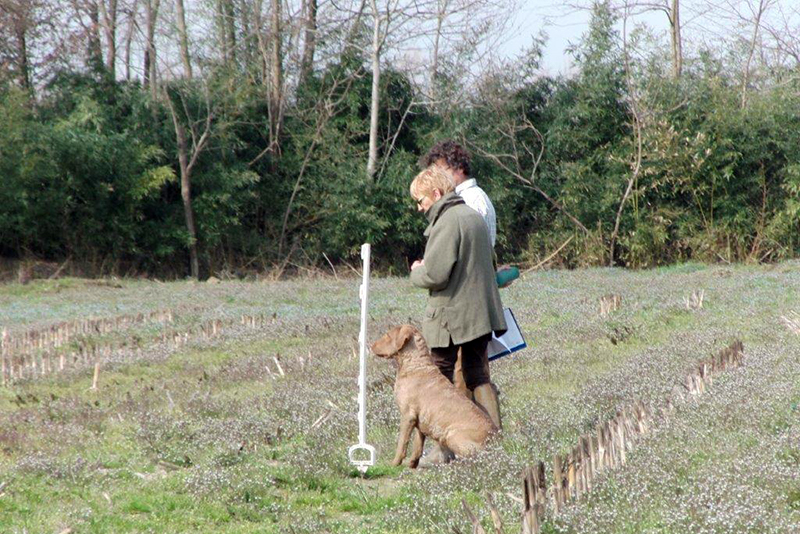 Step number 2: double mark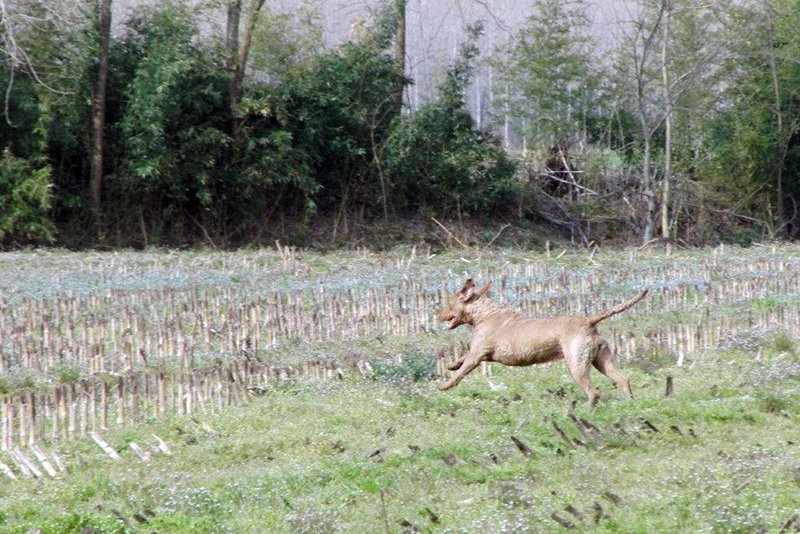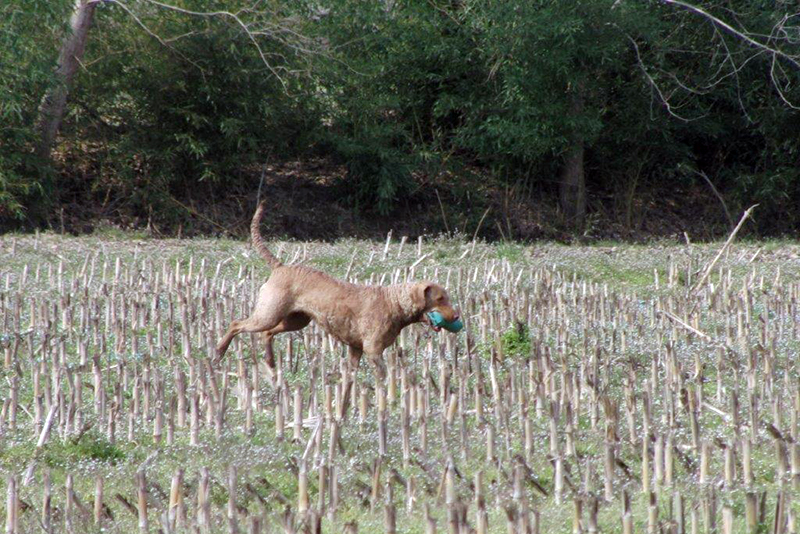 Step number 4: mark and blind

Turning back on step number 1: blind and mark
---
WHAT IS LIFE?
IT IS THE FLASH OF A FIREFLY IN THE NIGHT...
IT IS THE BREATH OF A BUFFALO IN THE WINTERTIME…
IT IS THE LITTLE SHADOW WHICH RUNS ACROSS THE GRASS AND LOOSES ITSELF IN THE SUNSET…
Poem by: Crowfoot-Blackfoot Chief 1836 -1890
---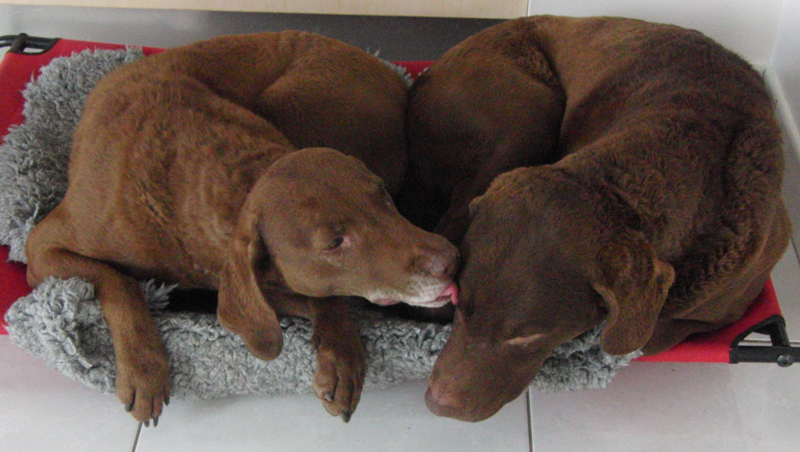 Very sadly Niyol in December 2015, Mato in January 2016 went over the rainbow bridge. Niyol had an accident, Mato got poisoned by strychnine...

They have been wonderful, fantastic dogs, I'll never ever forget them, they always will be in my hearth.
---
FEEDING INSTRUCTIONS 1938
---
---
HISTORY: EARLY CHESAPEAKES late 1890 - 1936
---

list of reference: The Chesapeake Bay Retriever published by The American Chesapeake Club 1997

list of reference: The Chesapeake Bay Retriever published by The American Chesapeake Club 1997

list of reference: The New Complete Chesapeake Bay Retriever 1994 J.& Dr. D. Horn

list of reference: The Chesapeake Bay Retriever published by The American Chesapeake Club 1997
---